Samsung CU8000 review: Two minute review
The Samsung CU8000 is the second most entry-level LED TV in Samsung's 2023 lineup, with the CU7000/7100 sitting below it. Sitting above these is Samsung's range of QLEDs, Neo QLEDs (mini-LED) and QD-OLED TVs. 
Samsung TVs often find themselves amongst the best TVs on the market, especially when it comes to picture quality in sets like the Samsung S90C. The Samsung CU8000 has an edge-lit LED panel so certainly won't hit these heights, but it does a decent job when it comes to color reproduction and when displaying brighter content, despite its low brightness levels. It also does a good job of handling reflections when viewing brighter images and is surprisingly effective when upscaling SDR content. But, its black levels and contrast are lacking and its poor backlight uniformity in darkened conditions mean it doesn't quite have the picture to make it a budget gem such as the Amazon Fire TV Omni QLED. 
Sound quality on the CU8000 is not the strongest. With 2.0 channel speakers totaling 20W, the sound is thin and overall lacking in power and punch. Speech levels are surprisingly decent in any sound mode, but there is little-to-no bass and trebles can sound harsh at higher volumes. This is one TV that you'll definitely need to pair with one of the best soundbars. 
Design is a real highpoint for the Samsung CU8000 and arguably its most standout feature. A sleek design with a razor-slim depth, super-thin bezel and attractive dark finish, the CU8000 is a really good-looking TV. It has two easy-to-install feet that can be placed in two positions for those looking to place on furniture, but it would also look stunning on the wall using one of the best TV wall mounts. 
Gaming performance on the Samsung CU8000 is solid enough, with motion feeling smooth despite only having a 60Hz panel. Graphically, it's colorful and clean-looking, but the lack of next-gen gaming features including no HDMI 2.1 ports with 120Hz and VRR support might put some people off. For more casual gamers, there is the useful Game Hub, which provides access to cloud gaming apps including Xbox cloud gaming and is a welcome inclusion on the CU8000. 
Tizen is one of the better smart TV platforms available, with a neat home menu, or 'Smart Hub', layout and access to a wide array of apps. It also offers plenty of recommendations that aren't plastered across the screen, which prevents them from becoming overwhelming. There are numerous settings to tweak the picture to get it as close to perfect as you'd like, with plenty of room for experimentation. 
With the Samsung CU8000,  you get a big screen from one of the world's biggest TV brands, such as a 75-inch for around roughly $999/£999/AU$1,800 or an 85-inch for roughly $1,600/£1,500/AU$2,700 if that's what you're after. Just-average picture quality and features hold it back from being the Black Friday steal it could be, but if you're after a solid and affordable second TV, the CU8000 should do the job. 
For our review, we tested the 75-inch version of the Samsung CU8000.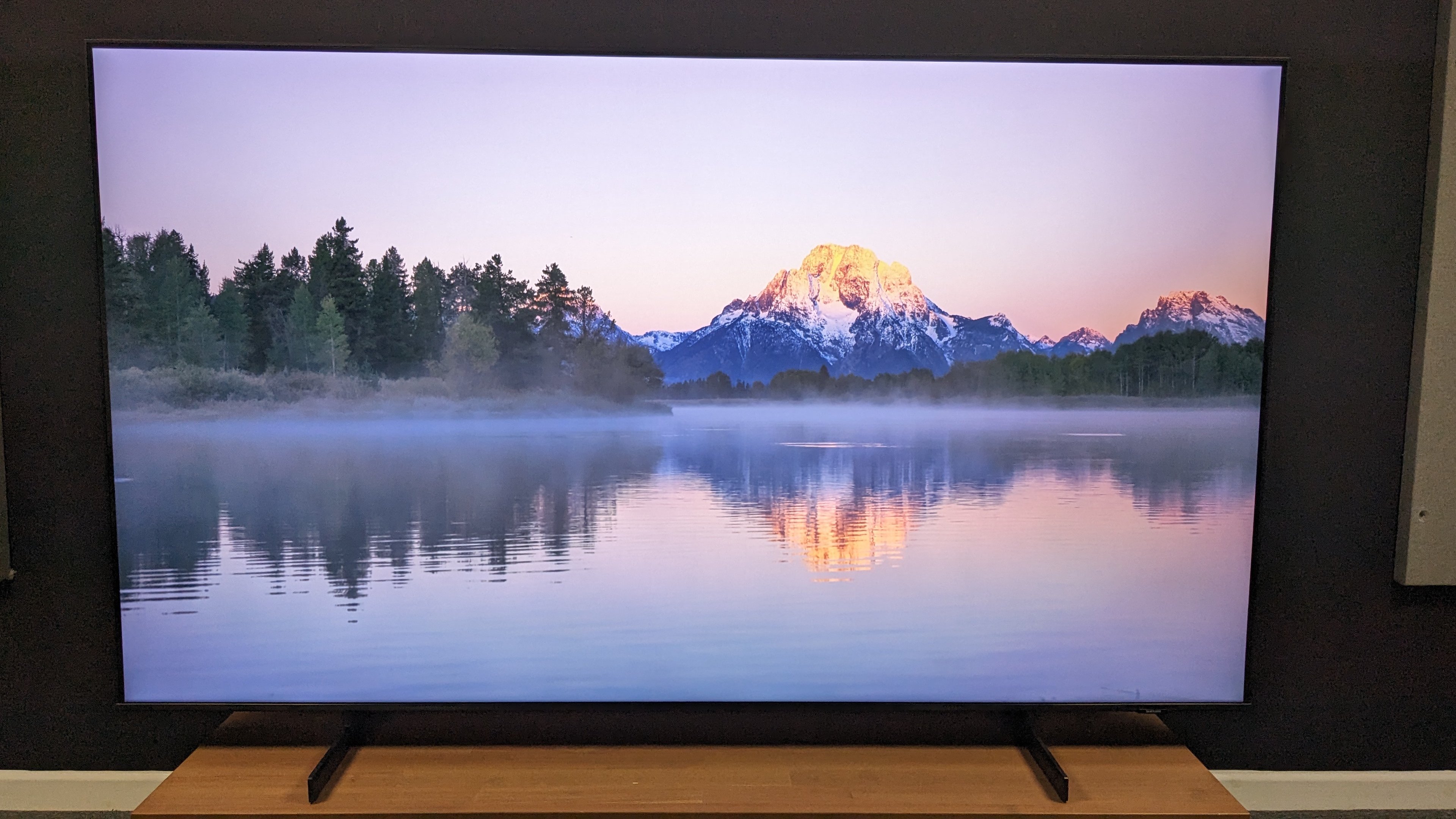 Samsung CU8000 review: Prices and release date
 April 2023 
 Prices start at $399 / £370 / AU$895 for the 43-inch 
 Up to $1,597 / £1,499 / AU$2,695 for the 85-inch 
 The Samsung CU8000 is one of Samsung's entry-level LEDs in its 2023 TV lineup, with only the CU7100 below it. As such, it's the second cheapest 2023 Samsung TV. At the time of release in April, prices for the Samsung CU8000 were as below: 
43-inch: $399 / £499 / AU$899 
50-inch: $449 / £549 / AU$995 
55-inch: $529 / £679 / AU$1,199 
65-inch: $649 / £849 / AU$1,499 
75-inch: $999 / £1,199 / AU$1,999 
85-inch: $1,699 / £1,899 / AU$2,999 
At the time of writing, several months after release, CU8000 prices have dropped across the entire range of sizes, with particularly large price drops in the UK, averaging around 30%. For the 55-inch version, the Samsung CU8000 sits at $499 /£499/ AU$1,195, which makes it the same price as the Amazon Fire TV Omni QLED. For the 75-inch Samsung CU8000, the size used in our review, you're looking at $949 / £925 / AU$1,795 which is a great price for such a big screen.  
Samsung CU8000 review: Specs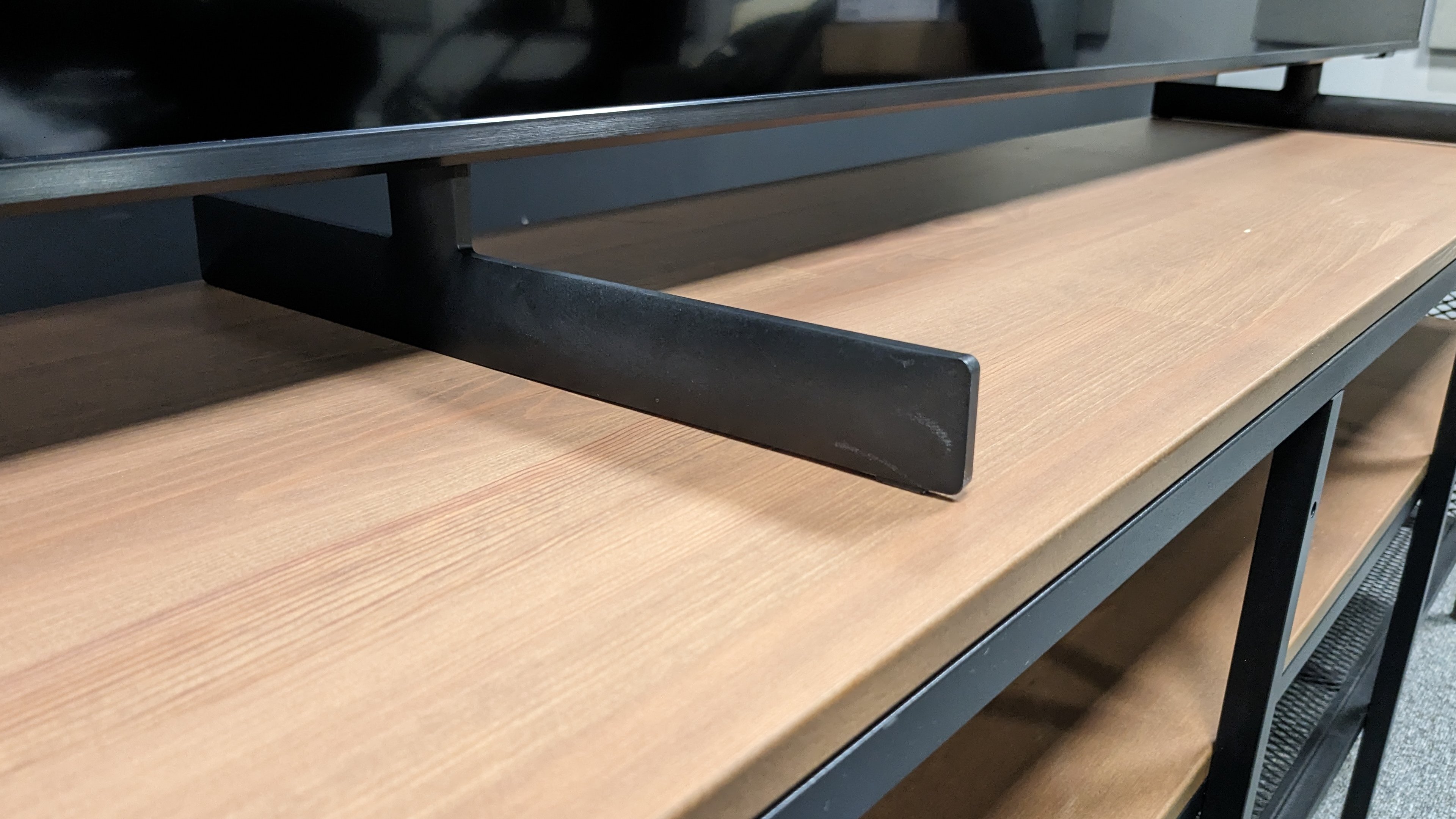 Samsung CU8000 review: Features
 Tizen smart TV platform 
 Edge-lit LED panel  
 No 120Hz or VRR gaming support 
As an entry-level LED TV, the Samsung CU8000 isn't packed with as many features as more premium models and even in comparison to other budget TVs, like the Amazon Omni QLED, it lacks some of the features you would hope for, especially from a brand like Samsung.
The CU8000 has an edge-lit LED backlight, meaning it doesn't have the same picture quality as higher-end models and even struggles in comparison to similar models, again like the Amazon Omni QLED. In terms of HDR, the CU8000 supports HDR10+ as well as the usual HDR10 and HLG, but as with all other Samsung TVs, it doesn't support Dolby Vision.
In terms of gaming features, there isn't a wide array of options available. The CU8000 doesn't make itself the most standout in terms of gaming performance, with ALLM and HGiG support, but none for 120Hz or VRR. There is, however, Samsung's Gaming Hub that does collect cloud gaming options via Xbox, Luna and more into one place, with some game recommendations and trending information also included. 
For audio, there are 2 channels with 20W total power output, but no Dolby Atmos or DTS:X support. The CU8000 does come equipped with Q-Symphony, a feature that can add another layer to the audio experience when a Samsung TV and compatible Samsung soundbar are paired together. 
The Samsung CU8000 comes equipped with the 2023 version of Samsung's own Tizen smart TV platform. Tizen provides a smart hub as a home page packed with apps including Netflix, Prime Video, Disney Plus, Apple TV Plus and many more. The home page provides plenty of TV  show and movie recommendations based on your viewing and also shows what's trending on each app.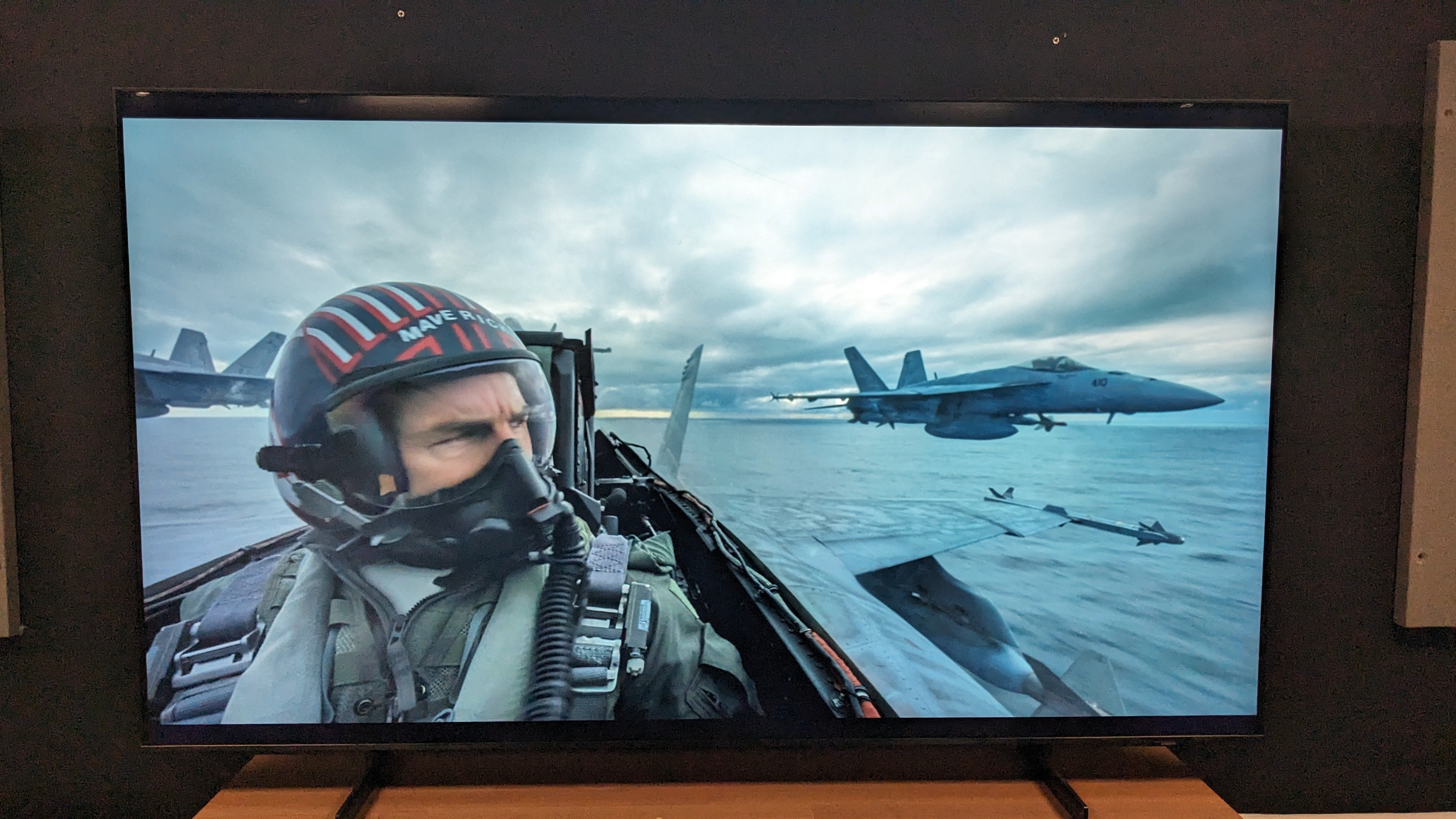 Samsung CU8000 review: Picture quality
 Colors are vibrant  
 HD/SDR picture looks good 
 Black levels lacking plus backlight blooming 
The Samsung CU8000 comes equipped with a standard LED panel with edge-lighting, so it doesn't have the strongest picture features on the market. And while it succeeds in some areas, it is definitely lacking in others. 
Viewing standard dynamic range (SDR) TV shows, including low-resolution and live HDTV via antenna, the CU8000's picture was surprisingly detailed. Despite a large 75-inch screen to fill, low-resolution TV shows weren't as fuzzy as expected, with textures still looking decent. HDTV looked even better, with bright colors and sharp detail on the screen. That's not to say the image was perfect as there were still some colors looking a little overblown, particularly greens, but considering its LED panel and 75-inch size, SDR content didn't look bad at all.
Moving on to 4K HDR movies and TV shows, the particular highlights within each different type of image were once again the colors. When measuring the DCI-P3 coverage (the color space used to master 4K movies and digital cinema releases) in Filmmaker mode, the CU8000 yielded a result of 88.32% and a BT.2020 coverage of 64%. That's a decent enough result for a budget TV, but it also demonstrated one of the shortcomings of a model with a standard LCD panel as opposed to a QLED or OLED one. 
Measuring Delta-E values (the margin of error between the test pattern and what's on screen) for color point accuracy, the result was 2.4 (we typically look for this to average below 3). and the grayscale average Delta-E was 2.9. Again, those are respectable numbers for a TV like the Samsung CU8000, so it's no surprise its colors looked decent in some of the TV shows and movies I viewed. 
First viewing demo footage on the Spears & Munsil UHD HDR Benchmark Blu-ray, the CU8000 demonstrated the dynamic colors I had seen in the SDR TV shows, but suddenly looked a little more overblown than before. More neutral tones looked best, including scenes of a mountain within a desert landscape, but when it came to black levels and contrast, the Samsung CU8000's shortcomings became obvious. For example, when viewing any night footage, such as a night sky within a city landscape, the black of the night sky took on a gray hue.
When viewing The Batman, during a particularly dark fight scene within the opening of the movie, the Samsung CU8000 again struggled with black levels and shadow details and another shortcoming of the CU8000 became apparent: backlight uniformity. 
When viewed in brighter conditions, the backlight issue wasn't too obvious, but when the lights were dimmed or turned off, it was hard to overlook. The Batman arguably became difficult to watch, as the CU8000 struggled to control its backlight and the image took on a white overall glow and the movie's dark, moody tone was lost. 
Watching the throne room fight scene from Star Wars: The Last Jedi streamed from Disney Plus in 4K and Dolby Vision, the CU8000's colors improved again. Red was a prominent color in this scene, and it looked dynamic but not overblown, while the skin tones were true-to-life and natural. One thing that I noted was the lightsabers seemed a bit dimmer than I'd expected, lacking the same crisp and bright punch I'd seen on other TVs like the Amazon Omni QLED. 
When measuring the peak HDR brightness levels of the CU8000 using Portrait Displays' Calman calibration software, the results were 292 nits and 324 nits on a 10% window in Filmmaker mode and Standard picture mode, respectively, which explains the dull-looking lightsaber in the Star Wars Dolby Vision scene. Despite its low peak brightness levels, the CU8000 did handle screen reflections well, even with harsh overhead lights turned on in our testing environment. 
Finally, when watching the two mission scenes from Top Gun: Maverick to check motion handling, the CU8000 did a decent enough job of processing the fast, panning shots as the jets accelerated across screen, though motion judder became obvious in certain intense moments. Thankfully, going into Settings>Picture>Picture Clarity>Judder reduction and making some minor adjustments improved the motion handling, and it did so without leading to the dreaded soap opera effect.  
Picture quality score: 3.5/5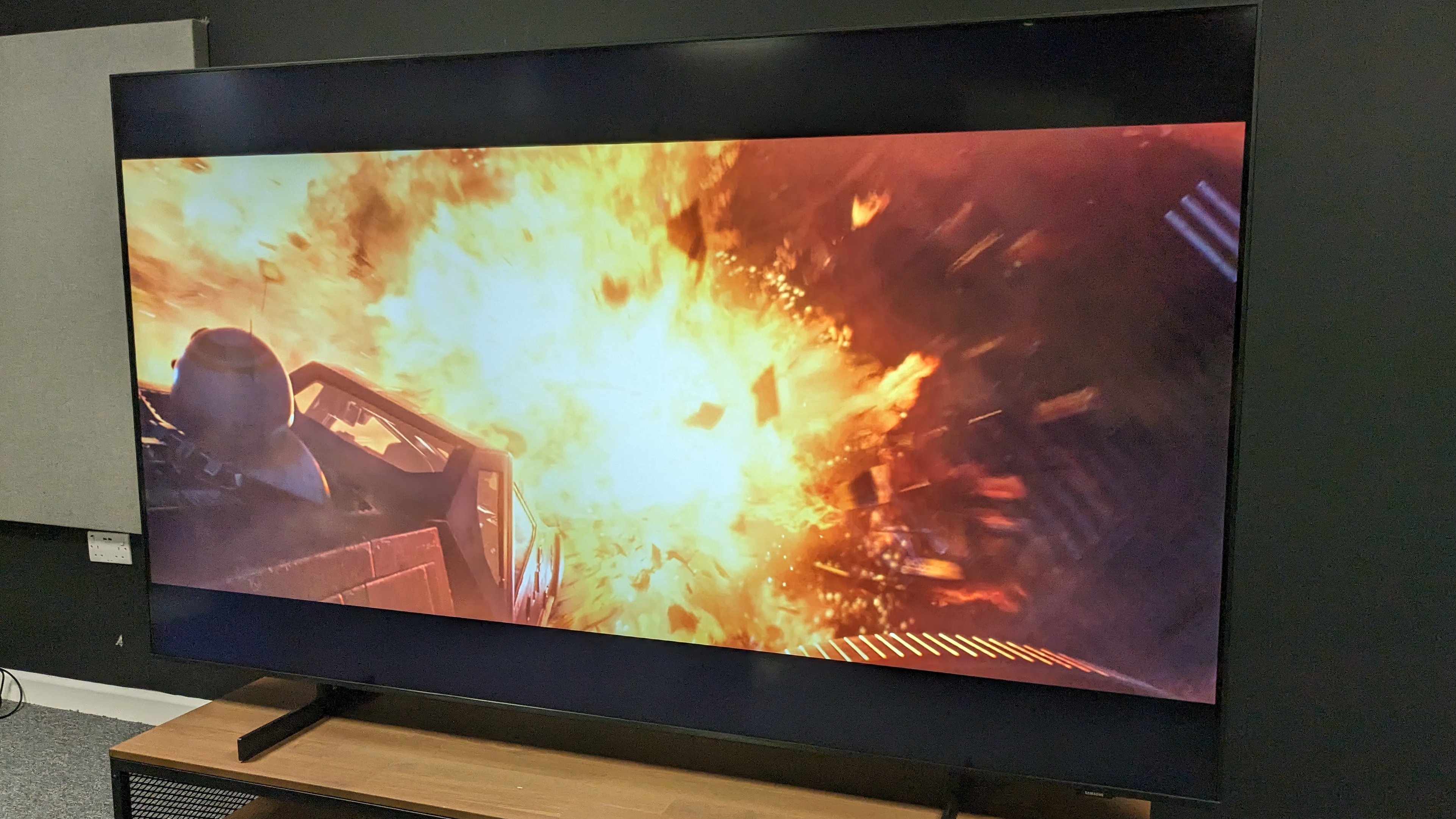 Samsung CU8000 review: Sound quality
 2.0-channel speakers 
 Decent speech levels 
 Thin-sounding audio quality 
The Samsung CU8000 is an extremely slim TV, and whilst that certainly makes it an attractive TV, it does not do any favors for its audio. With a 2.0-channel speaker configuration and 20W of power, the CU8000's audio is incredibly basic and very much on the thin side. 
There's no Dolby Atmos or DTS:X support, as you'd usually expect on TVs around this price, though other budget TVs like the Amazon Omni QLED at least try and make up for this with better built-in sound. The Samsung CU8000 doesn't do the same, unfortunately. Watching the Batmobile chase from The Batman, bass levels were minimal with the rumble of the Batmobile's engine almost non-existent. Speech levels were solid enough, but treble and mid-range were also paper-thin, especially in Standard sound mode. Switching to Amplify, everything was heigthened especially in terms of volume, but not really improved.
Also checking out Top Gun:Maverick, speech levels maintained their decent level within the audio mix, but again sound was too direct and thin-sounding to create any real sense of immersion. Switching to Adaptive Sound, the CU8000 took on a slightly more surround-sound feel, but it also made the sound clinical, with any sort of warmth disappearing.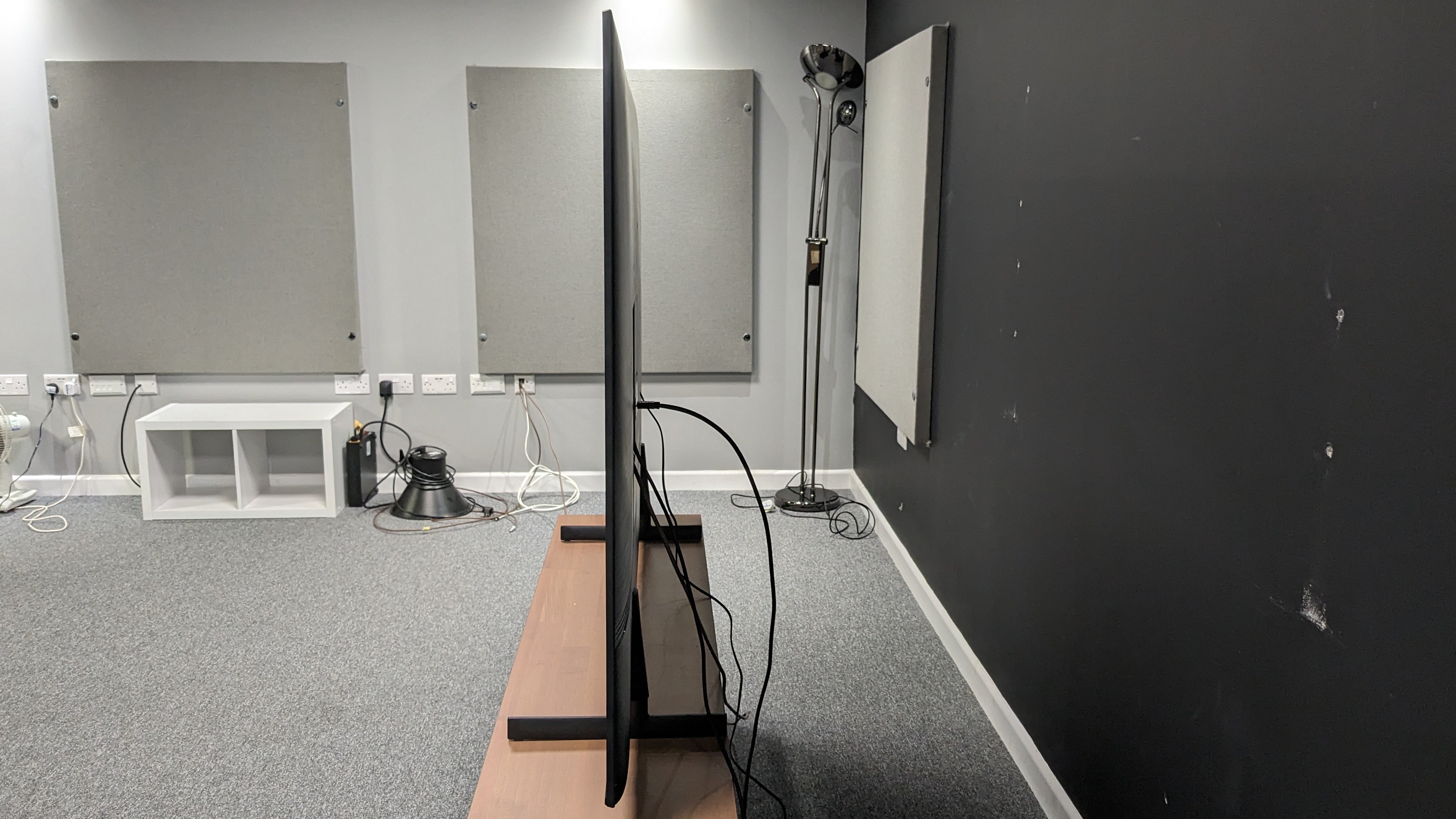 Samsung CU8000 review: Design
 Very sleek and attractive design  
 Easy to install feet, with two positions 
 Feels more expensive than it is 
Samsung has made a habit of designing good-looking TVs (I'm thinking of its 2023 QD-OLEDs, the S90C and S95C, in particular). It's great to see that it hasn't forgotten its dedication to design for budget models as well, as the Samsung CU8000 is a very attractive TV.
Featuring what Samsung calls an AirSlim design, the CU8000 is seriously thin – razor-thin in comparison to other TVs, and with a dark finish. Thanks to its minuscule depth, it would look seriously good mounted on a wall. But if that's not your plan, there are two very easy-to-install feet that can be placed in two positions based on preference. I had it in the 'narrow' position during testing and it felt solid. 
The TV itself is very appealing to look at, with a marginal trim around the outside and a super-slim bezel that makes it look more expensive than it is. Despite the slim design, there's a reassuring 'quality' feel to it. 
The Samsung CU8000 also comes supplied with two remotes, one of which is the more minimal smart remote, named the solar cell remote, whilst the other is the more standard Samsung remote with numbers and so on. Each remote feels decent enough in quality, with the solar cell remote in particular looking clean and visually appealing, but it's nice to have both options.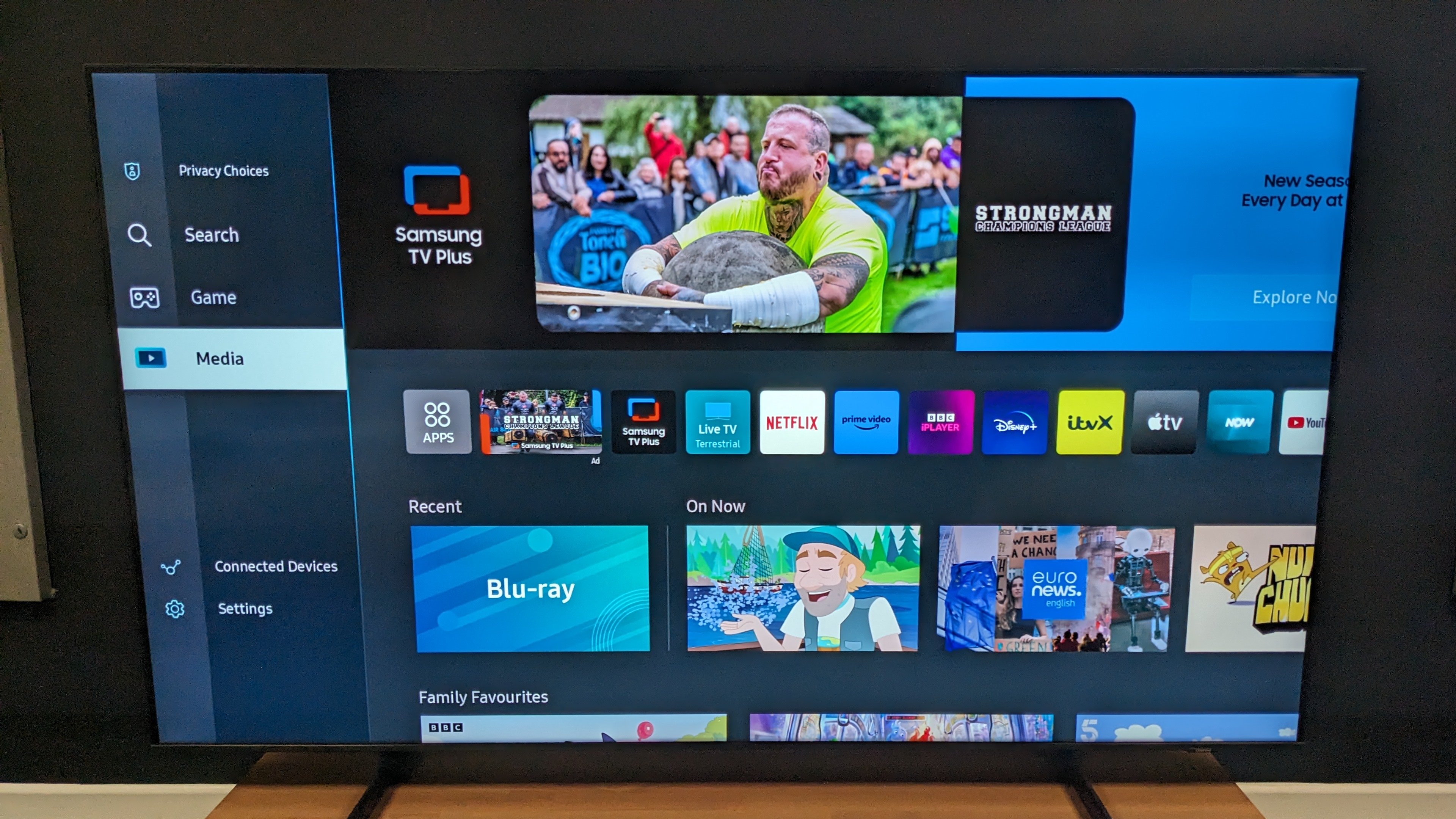 Samsung CU8000 review: Smart TV & menus
 Tizen smart TV platform 
 Smart hub 
 Plenty of settings options to tweak 
The CU8000 features the 2023 version of Samsung's own Tizen smart TV platform. This itself feels like an improvement over last year's version, with quicker response times and a more streamlined appearance. 
The Smart Hub, the 'home' menu of Tizen, is where you can find all the apps that the CU8000 has at its disposal, of which there are many. (Samsung has always had one of the strongest catalogs of smart TV apps.) And with access here to all you'd expect, such as Netflix, Prime Video, Disney Plus, Apple TV+ and in the UK all the Freeview apps, such as BBC iPlayer, ITVX and so on, there really is something for everyone. Also on the smart hub, Tizen will show any trending shows by app and make recommendations based on genre as well. 
It's worth noting, however, that, as usual, Tizen does not support Freeview Play in the UK and rather uses its own Samsung TV Plus platform for live TV. 
When it comes to settings, there are plenty of options such as contrast, brightness, sharpness, and motion that will enable you to customize the picture to how you like. There are also plenty of preset picture modes to dig into and again these can be tweaked as well. Being able to tweak picture settings and see the effect clearly on a full screen, without menus blocking the picture, is a really handy feature as well. Tizen still stands as one of the best TV smart platforms around and it's great to see it on the CU8000.
Smart TV & menus score: 4.5/5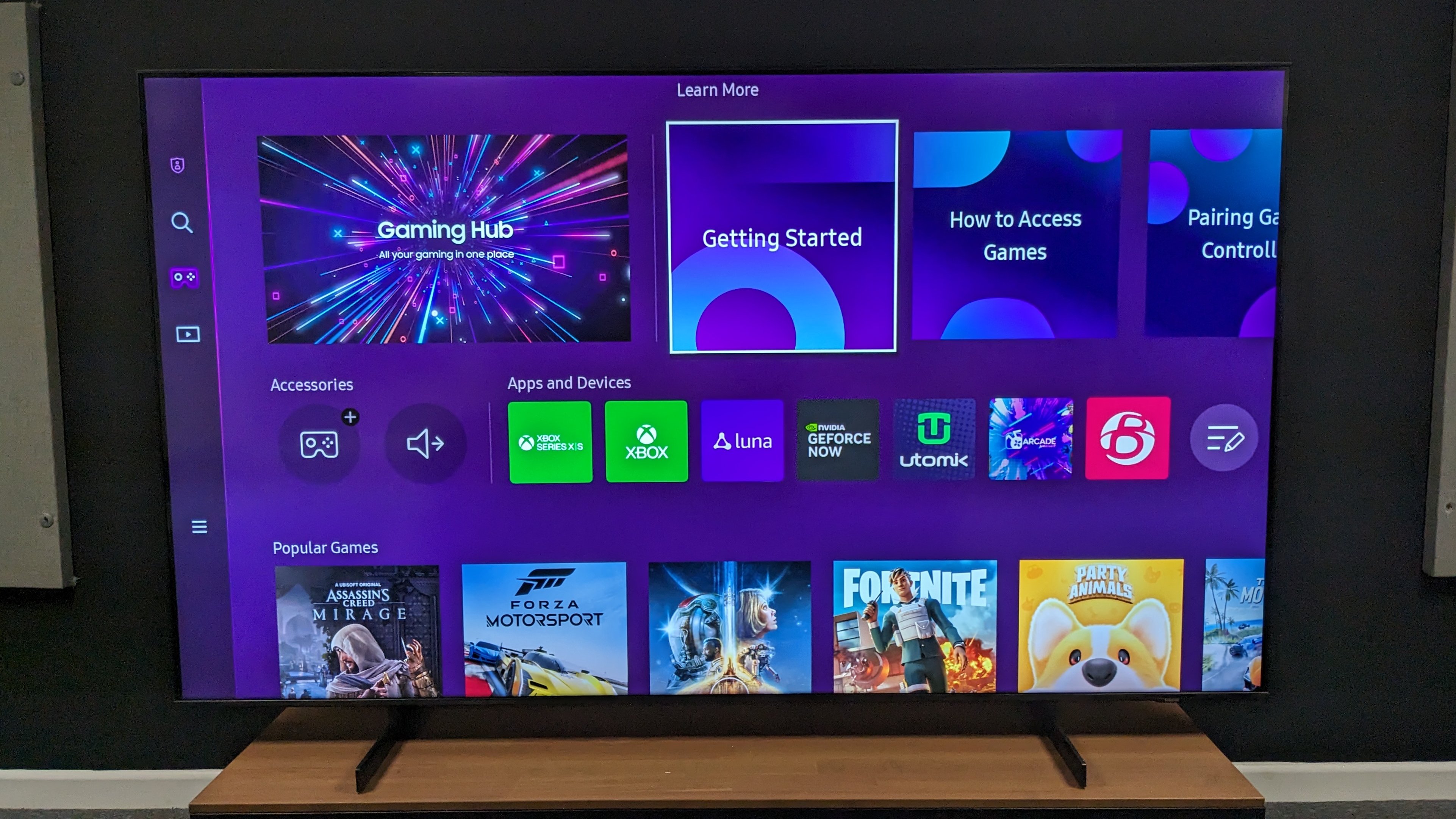 Samsung CU8000 review: Gaming
 Gaming hub 
 10ms input lag time  
 No 120Hz or VRR gaming 
When it comes to gaming, the Samsung CU8000 is a little light on physical features to get the best experience for gamers. With no HDMI 2.1 ports, there's no 120Hz or VRR support. And with no Dolby Vision compatibility, there's no Dolby Vision gaming, a feature that's supported by other budget TVs such as the Amazon Omni QLED. 
Graphically, the Samsung CU8000 is perfectly adequate. Playing Battlefield V on Xbox Series X, colors were as crisp as they were when playing HDR movies and TV shows and actually looked more natural in the game itself. Textures weren't as sharp, however, which resulted in plain-looking terrain sometimes, but they were still decent enough.
In terms of gaming performance, despite having no real gaming features, the CU8000 handled motion well enough. When measuring the CU8000's input lag time with Game mode switched on, it clocked in at 10ms, which is an excellent score for a TV of this type. 
During an intense woodland battle in Battlefield V, switching between targets still felt smooth and despite not feeling as smooth as TVs with 120Hz, the CU8000's performance was solid enough. 
One welcome feature in the CU8000 is the inclusion of Samsung's Gaming Hub. This collects together all things gaming such as cloud gaming apps including Luna and Xbox, trending information, and recommendations on other video games and even the Xbox Series X itself to allow for easy navigation of anything gaming-related. 
The CU8000 isn't going to take over the gaming world anytime soon, but it still performs well enough for those not too worried about having next-gen gaming features.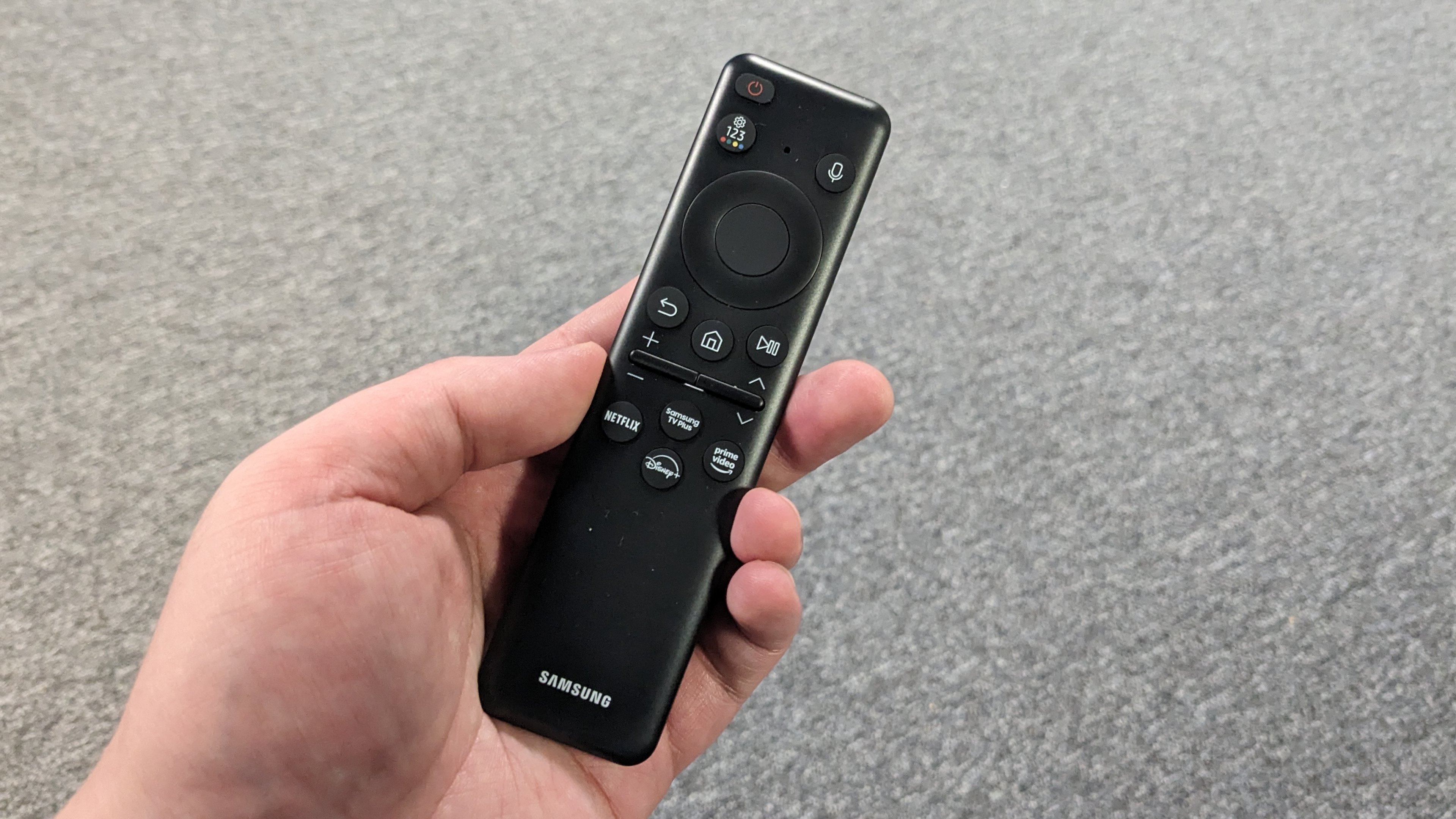 Samsung CU8000 review: Value
 Good budget price 
 Decent enough level of features 
 Better TVs available for similar price 
It's hard to argue that the Samsung CU8000 doesn't have a solid, budget price. At $399 / £370 / AU$895 for the 43-inch model, it has an acceptable level of performance for the price to accommodate most people. It's also possible to get a big screen, such as the 75-inch, for under $1,000 / £1,000 / AU$2,000, if that's what you're looking for. 
But, when lined up against the Amazon Fire TV Omni QLED, the Samsung CU8000 doesn't hit the same level of value. The Omni QLED beats the Samsung CU8000 in picture, sound and features, and to top all it off, is the same price or cheaper in every size, although a 75-inch Fire TV Omni QLED option isn't available in the UK or an 85-inch one in the US.
In terms of picture quality and overall performance, a lot of TVs beat the Samsung CU8000. But, if you are a Samsung fan and are looking for a budget LED TV, maybe as a secondart set for the bedroom, the CU8000 should suffice.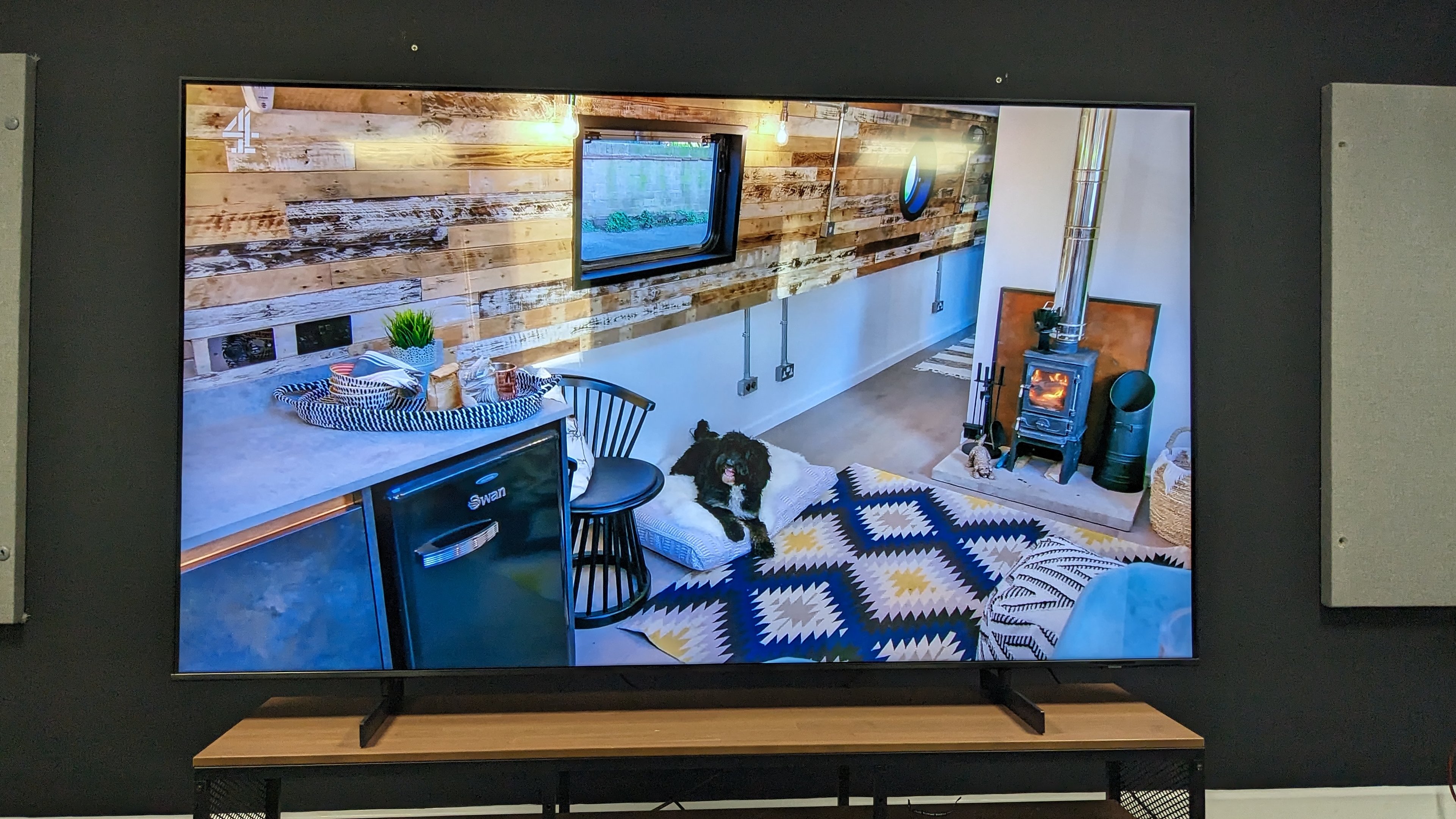 Should I buy the Samsung CU8000?
Buy it if...
Don't buy if it...
Also consider...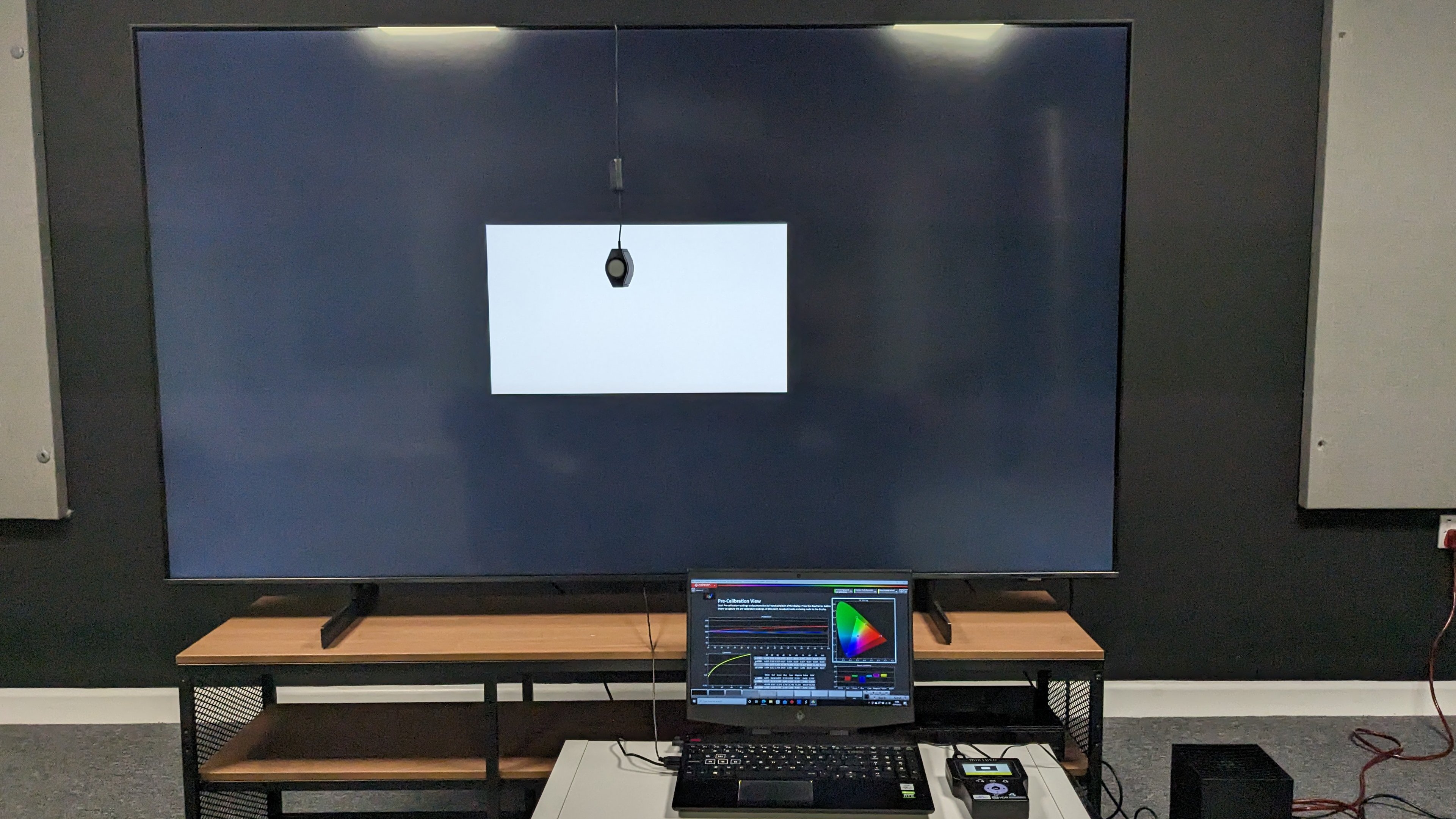 How I tested the Samsung CU8000
When testing the Samsung CU8000, I first viewed several different sources such as SDR and HDR movies and TV shows through 4K Blu-ray, streaming and live TV via antenna. I also tested video game performance using an Xbox Series X. Whilst doing this, I tested the out-of-the-box picture presets to determine which was best. 
One thing to note is that I have been previously using the Xbox Series X to test HDR content but now have access to the Panasonic DP-UB820, a UHD Blu-ray player that is compatible with multiple HDR formats including Dolby Vision. For future reviews, I will be using this to test 4K Blu-rays, but for the CU8000 testing, I viewed the same movies on both the Xbox Series X and DP-UB820 to get a comparison. 
After some running-in time, I then took measurements of the Samsung CU8000 using Portrait Displays' Calman calibration software. I used this to measure and record the CU8000's SDR and HDR peak brightness levels on a 10% and 100% window. Alongside this, I measured the Delta E averages (the margin of error between a test pattern and what's shown on screen) for grayscale, color point accuracy and gamma. Test patterns were made using the Murideo Seven 8K test pattern generator.
As well as these tests, I also measured  DCI-P3 and BT.2020 color space coverage. This demonstrates how faithfully a TV can render extended color space from UHD sources. Finally, I used the Leo Bodnar 4K input lag tester to measure the input lag of the TV while it was in its Game mode. 
First reviewed: October 2023