Happyfox sounds like something that Bob Ross would accidentally insert into one of his paintings, but it's a company headquartered in Irvine, California.
Its primary products are all software as a service (SaaS) support platforms, and the most important of these is a help desk solution that offers extensive integrations.
With a strong reputation to uphold, are recent price increases and stronger competition making this Happyfox less appealing?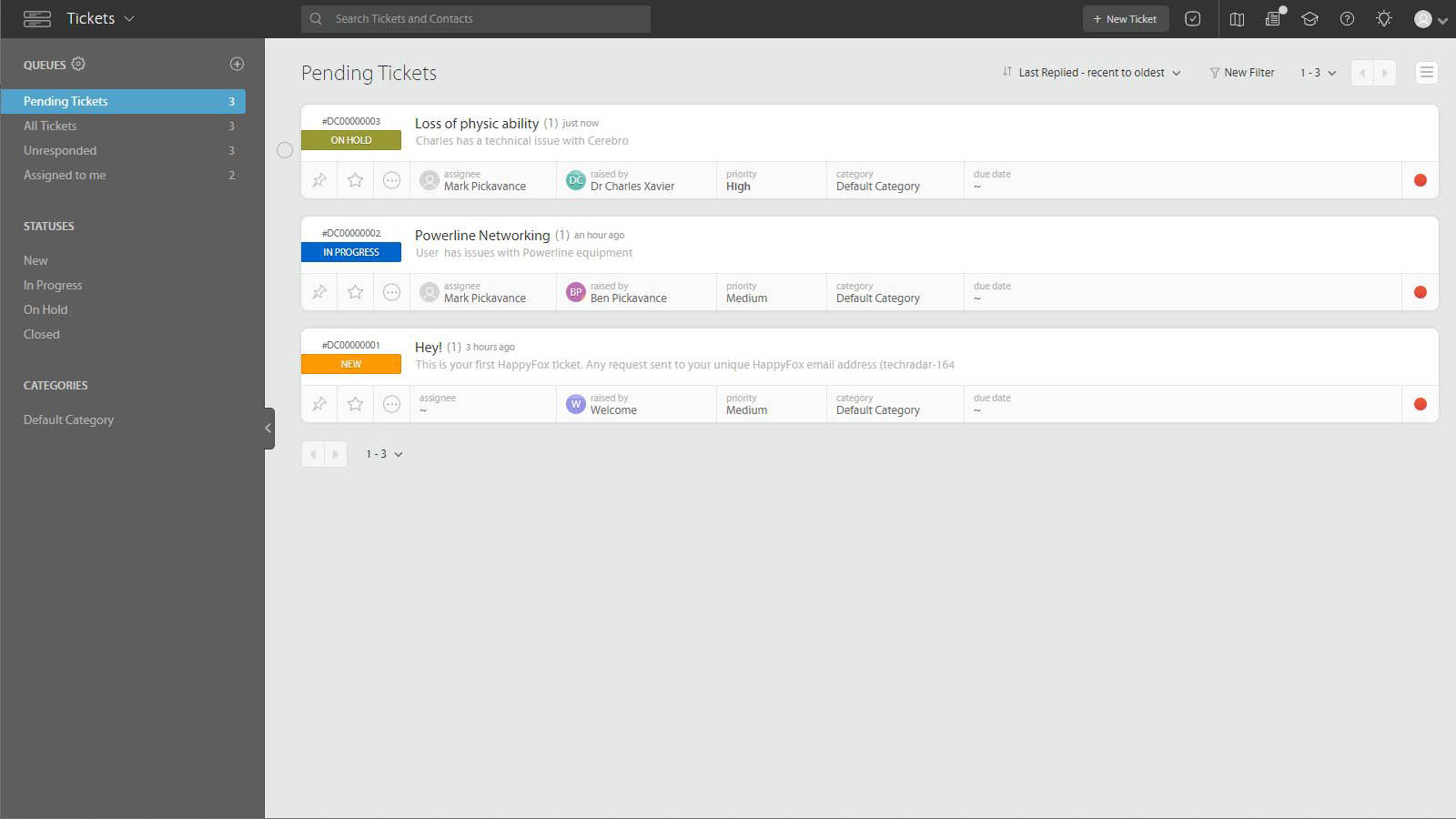 HappyFox: Features
Helpdesk solutions are invariably built around a ticketing system, and Happyfox has one of the slickest of these we've seen.
It is so elegant that Happyfox could easily be deployed without a training programme in a small business, almost overnight.
Tickets can be manually created, via email, be generated by a customer portal or automatically by social media postings. Whatever the entry channel, the information is handled by an automated process to link it to existing requests or other tickets from the same source.
The system has internal code running designed to avoid two agents trying to resolve the same issue from two tickets and repeating the exercise. That tickets can be merged is a very useful facility.
A smart rule system can automate initial responses and direct the customer to a self-help system while they wait for an agent to be available.
These are just a few of the features of Happyfox that are designed to reduce the agent workload and streamline enquiry responses.
What's also a strong point of this solution is its multi-lingual nature, as the system supports more than 35 languages inherently. And, the knowledge base can also be created with translated help contents to support more nationalities natively.
One minor complaint we have is that there is no download-and-try option with Happyfox.
To get access to a trial, you must accept a 30-minute demo of the product where the Happyfox representative will discuss your needs.
While the company might have convinced itself that this is a better way to snag potential customers, we'd contest that given even the smallest hoop to jump through most IT managers will head to a competitor with a downloadable trial.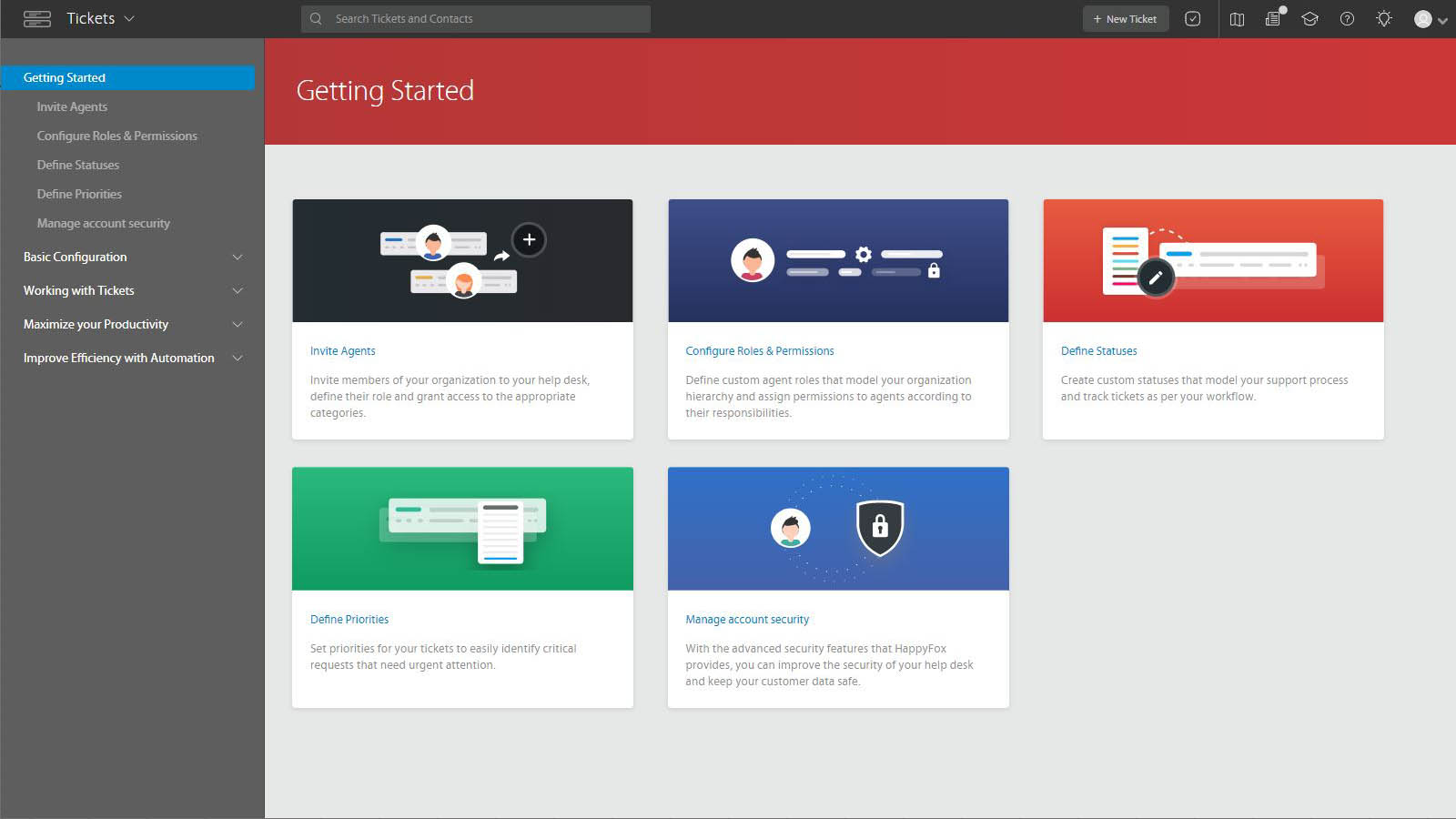 HappyFox: Interface
Within the practical constraints applied by web-based applications, Happyfox has a very slick and uniform interface that feels mature.
However, if you don't like the way it looks or even the fields presented within ticket creation, for example, you can change it all.
This is easily one of the most customisable help desk tools we've seen, and the changes that can be made are more than just a re-branding exercise.
Custom fields, categories, statuses, priorities are all available, and many more areas can be tailored to specific business needs.
When the system is first initialised, Happyfox asks some basic questions about the industry the system is going to be deployed and uses general templates to provide the typical needs for those. But once the system is up it can be dramatically altered if those aren't the preferences that are required.
Our only concern about interface customisation is that an obsessive manager might be tempted to change things all the time because they can. Some control must be exercised over this process, or agents will become confused about what to expect when they come to use the system.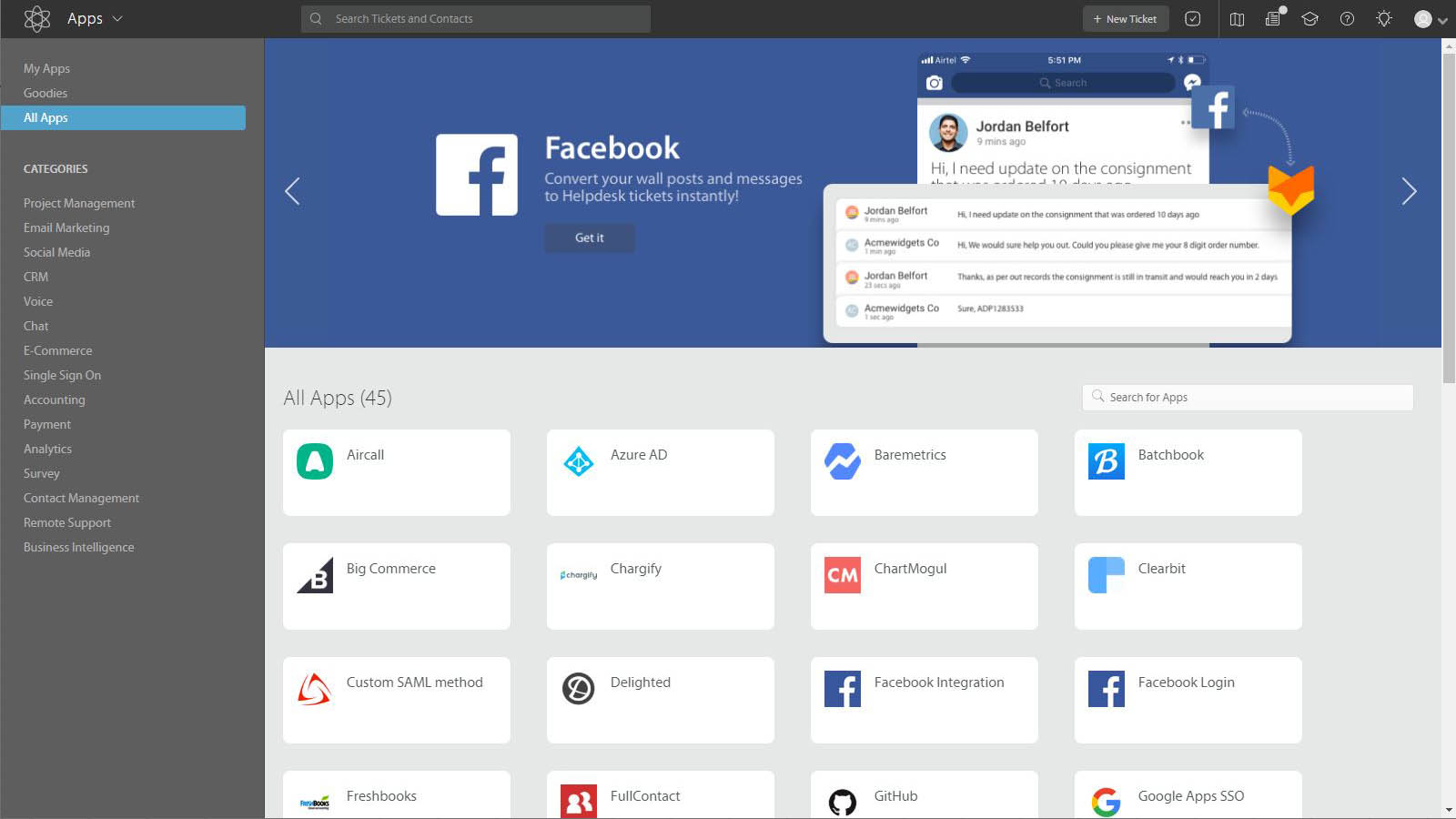 HappyFox: Security
HappyFox claim to take data privacy very seriously and have even published an extensive whitepaper on their various security practices. 
They uses AWS (Amazon Web Services) for their cloud infrastructure which comes with some obvious security benefits including 24/7 security, biometric access to servers, backup power and fire suppression systems. 
HappyFox claims to 'primarily' use data centers based in the EU and USA. They also assure users that their Security Team undergoes extensive background checks and training.
When creating and maintaining applications, HappyFox use a Secure Software Development Framework which includes checking for common vulnerabilities like XSS (Cross Site Scripting). All applications are stored on Amazon EC2 servers. AWS ensures that no two virtual machines share a common memory space, which would make it easier to intercept private data. 
Data transmission from users to HappyFox via the official App or API occurs via encrypted HTTPS/TLS connection (using at least TLS 1.2 protocol, RSA and 2048 bit keys). Data at rest is protected using 256-Bit AES encryption. Backups are also encrypted in the same way and stored offsite.
From the client side, HappyFox supports logging in via 2FA (two-factor authentication). Managers can also enforce their own password policy e.g. by requiring password to be changed at fixed intervals and setting a minimum password length. They also reassure users that passwords stored in the database are protected using a secure hashing algorithm.
Access to agent login can also be restricted to a specific whitelist of IP addresses e.g. those of your office site. The company are keen to stress though that some security features depend on your pricing plan. 
HappyFox also claims to run regular internal security audits and operates a bug bounty program in partnership with HackerOne to give penetration testers a strong incentive to find flaws in their system they can fix first.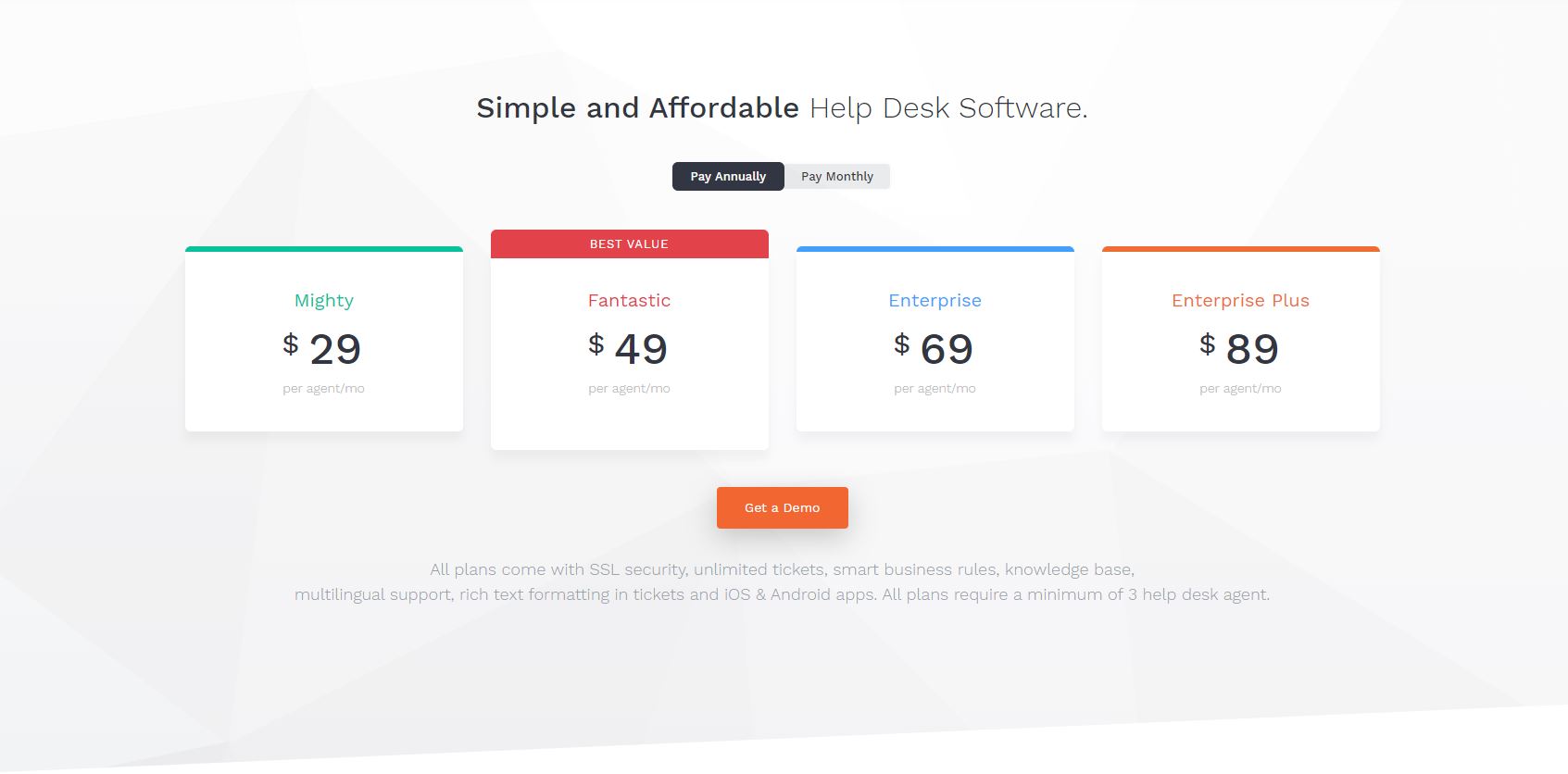 HappyFox: Plans and pricing
The pricing of service desk software is currently polarizing into cheap products that are looking for high volume customers and those with more expensive solutions which offer tools that can be tweaked to fit more exactly into a business and its processes.
Happyfox sits somewhere in between those two positions, offering both very reasonably priced plans and those which cost a large amount upfront.
For the purposes of this review we're going to follow our traditional pattern for help desk software software by discussing the cost per agent when paying monthly or annually. 
However HappyFox offer a range of pricing options beyond this, including plans which support an unlimited number of agents (we've calculated that your staff would need to number at least 40 or so before you break even on this).
If you're willing to pay upfront there's also a two year savings plan as well as a 3-year contract which is billed annually. 
Whether you find all these pricing options helpful or overwhelming is a matter for your organization but we strongly suggest you check out HappyFox's pricing page after reading this review to see which works best for you. 
The 'Mighty' plan costs $29 per agent per month if paying annually or $39 if paying monthly. It includes most of the features we'd expect to see from a help desk entry level tier including 'omnichannel' ticket creation, SLA Management, your very own knowledge base, SSO (Single Sign On) via Google Workspace, SAML and Azure, SSL Certificate hosting and migration assistance. 
The 'Fantastic' plan costs $49 per agent per month if paying annually or $59 per agent per month if you pay monthly. It includes everything in the 'Mighty' plan along with a multi-brand helpdesk, SLA breach notification, custom ticket queues, optional EU data center and 24/7 e-mail support.
HappyFox claim that their 'Enterprise' plan is their most popular tier. It costs $69 per agent per month if paying annually or $79 per agent if paying monthly. It includes everything in the 'Mighty' and 'Fantastic' plans as well as the aforementioned proactive agent collision (to make sure that no two staff are working on the same issue unknowingly). You also receive 24/7 e-mail and chat support. Enterprise subscribers benefit from task and asset management too.
The highest-priced tier is Enterprise Plus, which costs $89 per agent per month if paying annually or $99 per agent if paying monthly. This may seem a lot but is your only option if you want 24/7 phone support in addition to e-mail and chat.
Other perks include everything in the other three pricing plans as well as agent scripting, a 2TB attachment store, all-time reporting history and a customer success manager. 
Every pricing tier gets almost all the third-party integrations, with only RingCental Phone integration, Microsoft Dynamics CRM, Stripe and Send SMS being limited to the 'Fantastic' plan or higher.
Previously Happyfox supported third-party chat, but it decided to remove these those options and make both these functions exclusively in-house. This is done through Happyfox Live Chat whichs costs $29, $49, 149 or $299 per agent per month if paying annually., depending on the tier chosen. Each tier allows an unlimited number of agents but only a certain number of chats per month. This could effectively double the cost of your subscription if you want to offer live chat to customers. 
Unlike other help desk solutions we've reviewed, all plans require a minimum of 5 help desk agents, which may make HappyFox unsuitable for smaller organizations. This said non-profits and educational institutions are eligible for a discount.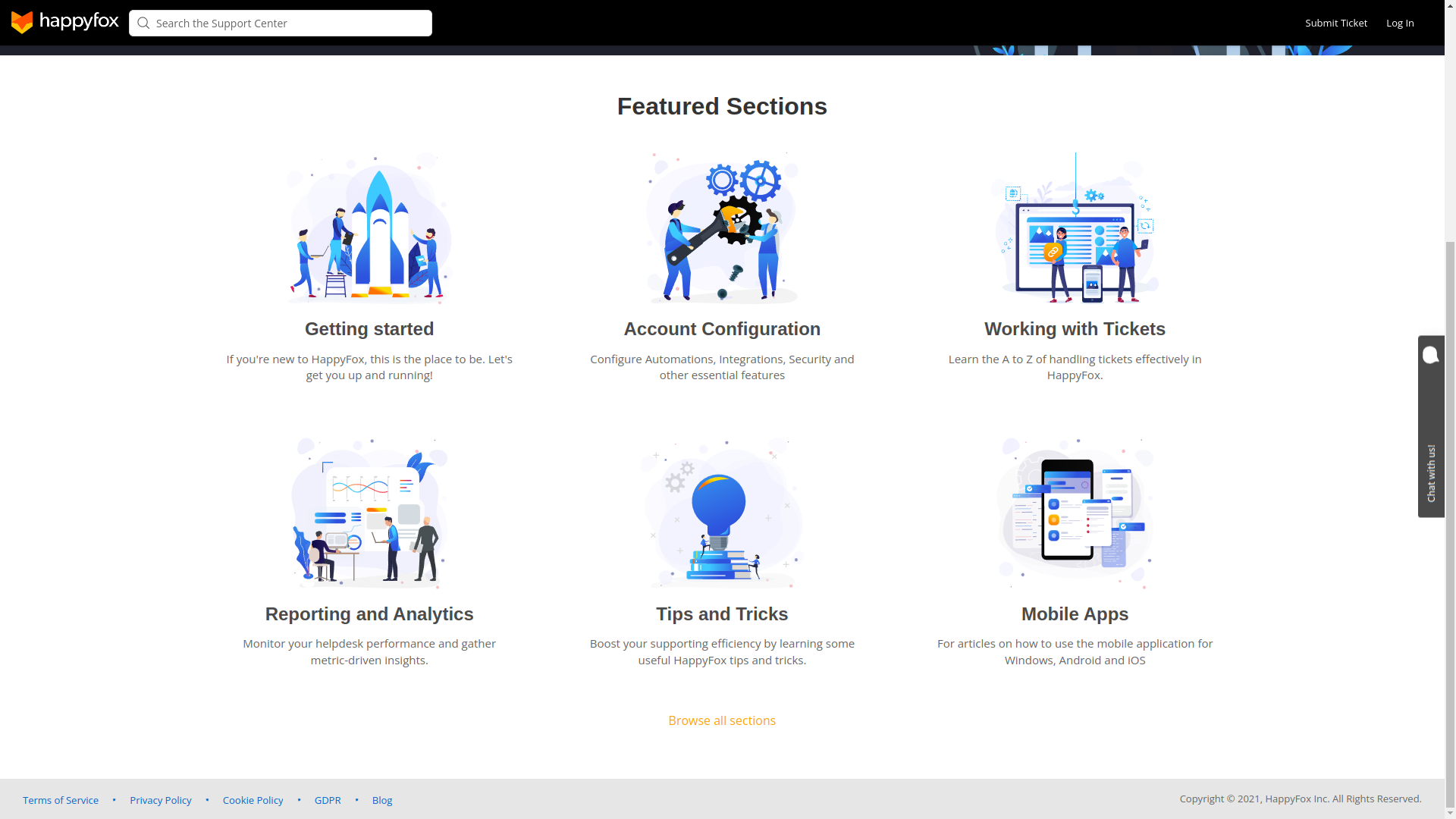 HappyFox: Support
The HappyFox website has extensive 'Resources', which you can access from the main page. 
We were delighted to find a number of free e-book guides on common topics like chatbots and building your own knowledge base. This is supplemented by a number of free webinars on how to use HappyFox products more effectively such as by integrating Microsoft Teams. HappyFox also maintain a blog which contains useful tips on more holistic topics like workflow management. 
The Support Center itself is extremely easy to navigate and the articles are clearly illustrated with step-by-step instructions. New users will be extremely grateful to see the "Getting Started" section, as well as one on configuring your account.
It's just as well that these online resources are so extensive as the level of support you get beyond this depends very much on your pricing plan. Those who subscribe to the lowest 'Mighty' tier will find that they're not entitled to any support from HappyFox themselves whatsoever. 
You'll need to upgrade to at least the 'Fantastic' Plan to receive 24/7 e-mail support. Beyond this you'll need an 'Enterprise' subscription for 24/7 support or to sign up to the most expensive 'Enterprise Plus' plan in order to speak to a human being on the phone.
HappyFox: Final verdict
Even with the additional expenses and a cost per agent that can easily be bettered, Happyfox users are generally very pleased with this solution due to the effectiveness of the ticket handling solution and the solidity of the platform.
We'd put it up there with Vivantio Pro and Freshservice as the best in class, but both those products are overtaking Happyfox in inherent functionality they offer at the lower tier plans. And for the cost-conscious, Zoho is much cheaper.
We've also highlighted the best live chat software.