Load up MiniTool Power Data Recovery and you may not be impressed by its relatively basic interface – but spend a bit of time with this data recovery software and you'll find plenty of hidden power.
Power Data Recovery can hunt down photos on inaccessible partitions, crashed operating systems, formatted drives and from images you've deleted on conventional hard disks and SSDs, and it goes into more restoration detail than many of its rivals.
Combine its skillset with a decent free version and some relatively generous pricing for the paid upgrades and you've got a tempting photo recovery app.
To help keep all your media secure, we've also tested and rated the best photo cloud storage.
MiniTool Power Data Recovery: Plans & pricing
Decent pricing and a reasonable free version - but avoid its monthly subscriptions 
If you opt for the free version of MiniTool Power Data Recovery, you'll access an app that can work on an unlimited number of PCs. The free variant has a mediocre 1GB data recovery limit, though, and it doesn't include support for bootable media or for loading previous scans.
If you want to pay for MiniTool Power Data Recovery then all of those features get reactivated, and you'll benefit from unlimited data recovery, file previews and extra features. And if you're willing to sign up for the long haul you benefit from better value: it costs $99 (£80) for a lifetime license that includes upgrades and support for up to three PCs.
That lifetime option looks to be even better value when you consider that a one-year license still costs $89 (£72), and both deals are better value than many pro-level photo recovery utilities.
At the other end of the scale, we don't recommend this app's monthly subscription – it still costs $69 and only offers one month's worth of free upgrades. At that price, you may as well stump up the cash for the longer-term options in case you need to restore more photos in the future.
MiniTool Power Data Recovery: Features
Straightforward mainstream features in an old interface - and without high-end abilities 
MiniTool Power Data Recovery can restore photos from a broad array of devices. It can scan and recover from hard disks, SSDs, USB drives, and SD cards, which means that you'll be able to find your lost photos in most mainstream situations.
This app has decent file support, too: it can recover hundreds of different files. It will also serve up previews of more than 70 file types. 
For photographers and photo editors, that means you'll get previews of JPG, PNG, GIF and PSD files alongside loads of extra types. We were particularly impressed that MinitTool Power Data Recovery supports rarer image formats like TIFF.
And if you're trying to find other kinds of media, expect previews for MP3 and MP4 files and AVI, WAV and OGG media.
There's even support for common document formats like Microsoft Word, Powerpoint, Excel and Publisher files as well as PDFs and documents saved in the Open Document Format such as ODT. 
The MiniTool website claims that you'll need to download the file previewer separately but it's free of charge. It also comes bundled with paid versions of the utility at no extra cost. 
That's an impressive array of conventional features, and elsewhere this tool can scan and recover files from lost and raw partitions and crashed operating systems. It works with formatted drives, optical media and corrupted hard disks. 
While there are certainly apps that recover an even greater number of file formats from a broader range of devices, this is rock-solid for mainstream photo recovery tools and you'll have to pay for beefier packages.
MiniTool has a neat feature that allows users to select and scan individual folders, which is an ideal time-saving solution if you know exactly where you need to scan for forgotten photographs. There's also an options menu where users can choose to prioritize photos or other kinds of files during scans. Paid versions of the apps also support loading the previous scan so you can quit and resume when you want.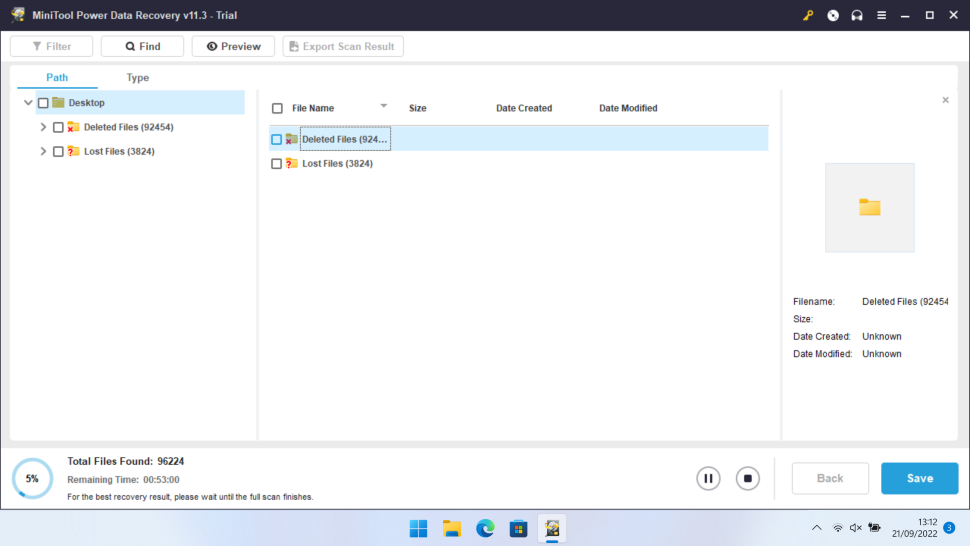 It's easy to use all of these features, too. MiniTool Power Data Recovery has a straightforward interface that instantly displays exactly where it's possible to search – including any attached devices or external drives – and users can easily navigate scan results using a familiar Windows Explorer-style interface. Filtering and searching are readily available, and it's possible to see results and recover files while scans are still ongoing.
Those scans only offer moderate speed levels, but they don't take up a huge amount of system resources – so you can easily go about the rest of your day while you're hunting down those lost pictures.
MiniTool Power Data Recovery isn't as impressive in some areas. Its interface looks outdated and downright ugly compared to many slicker tools you'll find elsewhere.
Go beyond this purely aesthetic concern and you'll find missing features, too: lots of more expensive apps, like EaseUS Data Recovery Wizard, support a wider variety of files and devices – elsewhere you'll find advanced abilities like RAID and NAS drive support.
Unsurprisingly, you also don't get extensive backup software options or tools that can repair damaged photos or videos. And while MiniTool does include support for file systems like NTFS, FAT32 and exFAT, this app can't handle more obscure systems such as ext3/ext4 partitions used by the Linux operating system.
That does mean that alternative tools offer better features for professional and high-level photo recovery.
MiniTool Power Data Recovery: Support
A handy manual and FAQ section plus 24/7 e-mail support for registered/paid users 
As you've seen, the MiniTool Power Data Recovery GUI is very intuitive. Still if you run into difficulties, there's a dedicated manual on the main site. This covers basics like system requirements, installation and registration. There are also sections for more advanced topics like recovering data from multiple drives.
The support page also has a helpful FAQ section. MiniTool claim to offer 24/7 technical support to users but priority is given to registered and "licensed" i.e. paid customers. They do offer tips on how to speed up responses to queries for help including providing screenshots and being clear about which specific version of the utility you're using.
There's a live chat, but it's only designed for "Download, Purchase and License" issues, not technical support. This is a shame, as it would seem like an easy way to get the help you need without firing off e-mails. 
How we tested
For our data recovery tests we used a virtual machine with a clean install of Windows 11. The only third-party tools installed besides MiniTool Power Data Recovery were VLC Media Player and GIMP. 
Data files
The files we chose for recovery are an album of Mozart's Music available from the Internet Archive. 
We did this as we wanted to see how the utility performed with a wide variety of files.The album included 4 music files (2 in Mp3 and 2 in FLAC) format, 6 JPG image files of album covers (with thumbnails) and 2 PNG image files. The files also included 2 XML files, a torrent file and an 'SQLite' file containing details of the album. There were 25 files in total. 
We copied the files in the music album to a 512MB virtual NTFS-formatted hard drive, which was then attached to the Windows 11 virtual machine.
Data tests
The tests were performed one after the other on three separate virtual drives:
1. File deletion: the album files were simply deleted from the drive and the Recycle Bin emptied. No other data was copied to the drive. We then tried to recover the files. 
2. Delete & format: The files were deleted as outlined above and we also performed a 'Quick Format' using the 'Disk Management' utility built into Windows 11. We then tried to recover the files from the formatted partition. 
3. Recover corrupted files: We used the freeware program 'Victoria' to overwrite the volume header of the drive containing the files with zeroes. The drive didn't mount automatically in File Explorer and showed as being unpartitioned in Windows "Disk Management" utility. We then checked if the utility could see it and if so, recover the files. 
We do not believe that running data recovery tools in a virtual environment has a significant effect on how they function. Still, if you're considering buying software we encourage you to read all reviews thoroughly and make sure that the developer offers a refund policy.
Test results
During testing, we found that when we ran a test for the very first time, the utility would quickly detect the volume but would pause file recovery at around 75%. It would then finish around ten minutes later. This was surprising as our benchmarks were being done on just 25 files of around 100MB each.
However, whenever we rebooted the machine and ran the tests again, MiniTool Power Data Recovery seemed to spring to life, detecting files within seconds and offering to store them on the hard drive. This was a minor inconvenience but we were unable to account for why the tool would be so slow on first run then perform flawlessly the second time. The issue persisted even when we installed the utility into a new Windows 11 virtual machine. 
In our first test, we simply tried to recover data that had been deleted from the drive. MiniTool's app discovered 32 separate files, which we copied to a hard drive. Amongst these were all 25 of the original files, which we could open without issue. The remaining files related to system information and the Recycle Bin. 
Our second test was done on a drive where the files had been deleted and then the partition "quick" formatted using Windows Disk Management. This time MiniTool Power Data Recovery found 19 files based on their "raw" data. This included all of the image files and both MP3 files but the remaining audio files, XML files, torrent file and sqlite file didn't make it. As the files were recovered from 'raw' data, the filenames were also missing. 
Finally we simulated a corrupted hard drive. The utility was able to see this immediately as "Unallocated Space"  under "Devices" and began file recovery of  54 files. Amongst these were all 25 of the original files present and intact, with the remainder being either duplicates based on 'raw' data or system files. We were very impressed to see this, as not all data recovery utilities can detect lost partitions, let alone restore all the missing data.
Unlike other free tools we tested with data limits MiniTool Power Data Recovery played very fair: we ran three tests to recover a total of around 300MB of data in total and this was deducted correctly from our free allowance. 
MiniTool Power Data Recovery: Final verdict
MiniTool Power Data Recovery does a decent job of finding and recovering mainstream photography files, and it's got a couple of handy features that can speed up the process.
Its paid options offer reasonable value if you're happy to sign up for a longer length of time, and the free version is worth consideration if you just want to recover smaller amounts of data from mainstream sources. It's certainly more generous than many other free products that only offer 500MB of data recovery. As you've seen, the utility also only counts actual data recovered towards your limit. You can choose to preview files to check if they're worth restoring to stay under the 1GB limit if you wish. 
That said, you'll find broader system and format support from rival photo recovery apps that don't cost much more, and MiniTool Power Data Recovery suffers from an outdated interface and a lack of high-end features. This is an effective tool for basic photo and file recovery, but it can't tackle much beyond that.
Should I buy?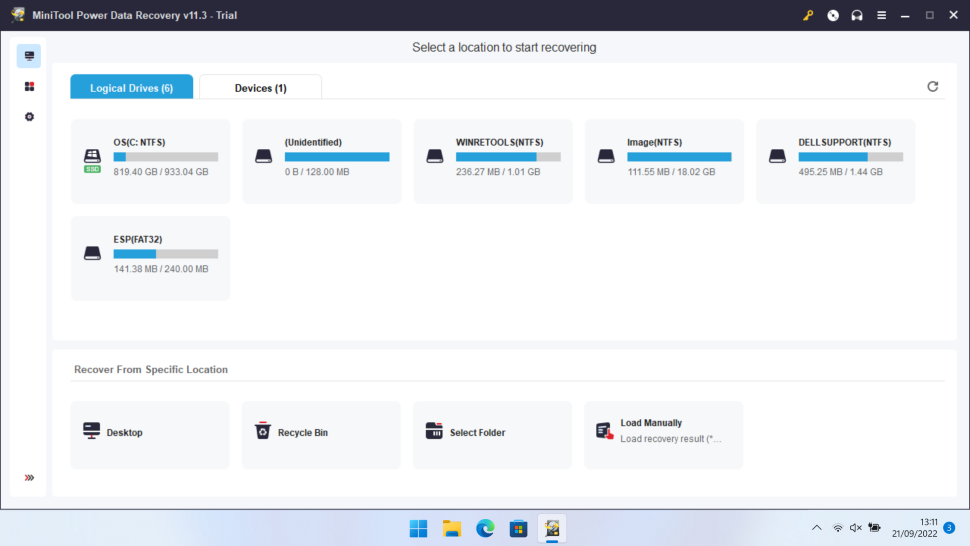 Buy it if…
Don't buy it if...