One-minute review
The Philips Hue Smart Button is a wireless controller for the Philips Hue smart lighting system. It works in a similar way to the Hue Wireless Dimmer but is smaller, offers two different mounting options, and is intended to be a quick and simple way to control a bulb, a room, or an entire home with a press.
The button can be programmed to control Hue lights in several different ways. There's a brief tap and a longer press-and-hold, each of which can be set to do different things. It's also possible to have the button set a scene depending on the time of day, or it can cycle through several pre-programmed scenes with each subsequent press. A long press is used to dim whatever lights the button is programmed to control.
A wall-mounting plate is included in the box, along with a small disc that's the size of the button itself. Both can be fixed to the wall with the supplied adhesive strips, and the button itself snaps magnetically into place on either plate.

Philips Hue Smart Button: specs
Philips Hue Smart Button: performance
Wireless, powered by a CR2032 coin battery
Attaches magnetically to included wall plate and adhesive disc
Soft plastic finish with discreet status LED
The Philips Hue Smart Button works very much like other Philips Hue accessories, including the Wireless Dimmer and the Tap Dial Switch. Lights respond quickly to a press, and it can be set up to either control Hue lights directly or via the optional Hue Bridge.
You don't need a Hue Bridge to use the Smart Button, but installing one will unlock greater functionality for both your Hue lights and accessories – most notably the ability to control your lights from the Hue app when away from home.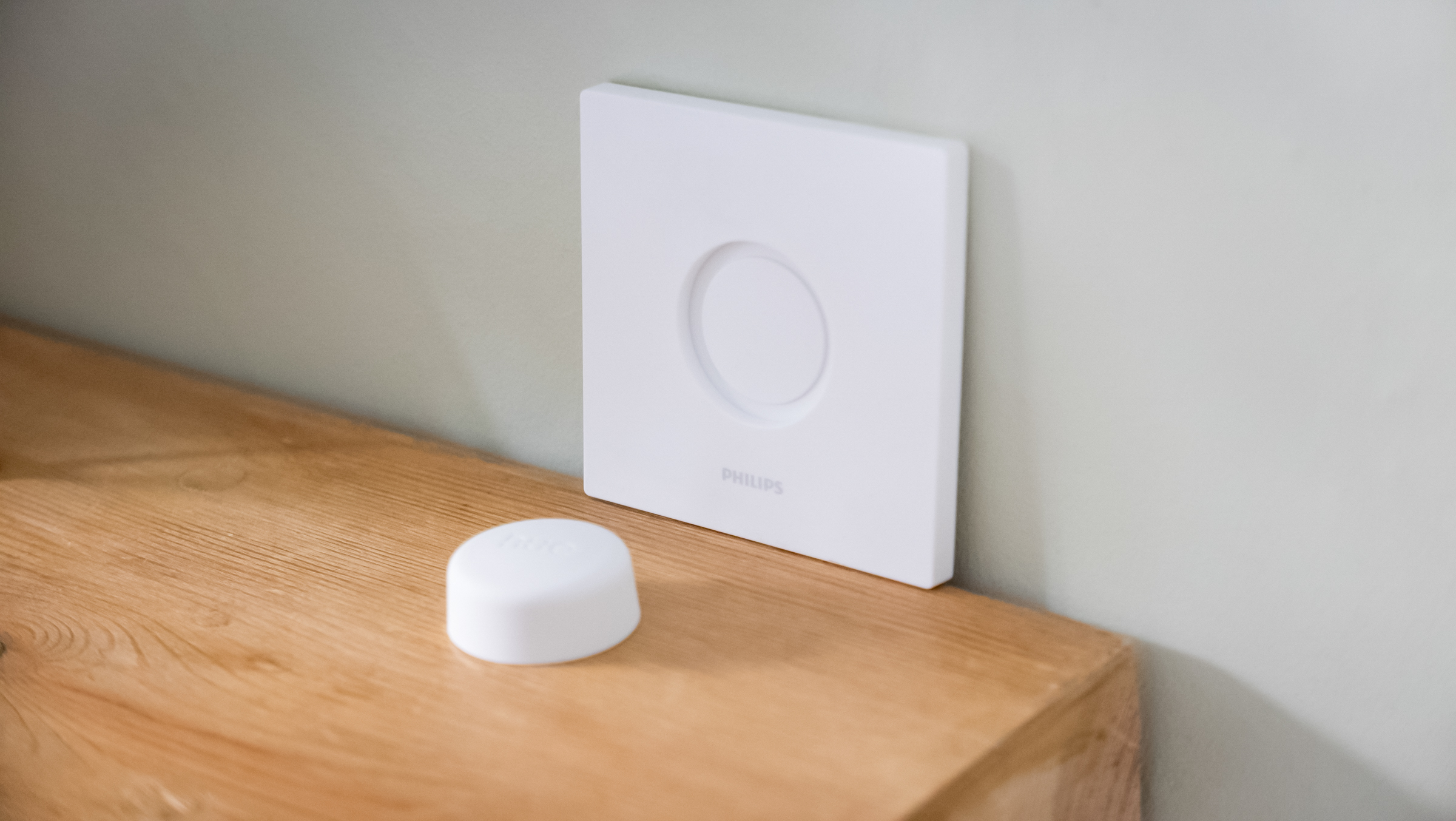 The button itself is made from a soft-touch, slightly rubberized plastic that gives it a premium feel. It's a nice finish but one that has a habit of attracting dust and quickly looking unclean. The clicking action feels fairly premium, and we welcome the LED that's hidden beneath the plastic surface and can only be seen when illuminated. This helps alert you to any connection problems and blinks green when the button is pressed.
The mounting plate can be stuck to any interior wall with the included adhesive strips, or mounted with screws, if you prefer. The button also comes with a much smaller mount, which is also magnetic and features adhesive strips on the back. In our opinion, opting for the latter results in a much cleaner setup and means you won't have the Philips logo slapped across your wall.
Philips Hue Smart Button: app
Quick and easy setup
Simple to configure
Fairly limited customization options
As with other Hue accessories, adding the Philips Hue Smart Button to your lighting system is done via the Hue app. The setup process is quick and easy, giving you the opportunity to name the button (something like "Hallway") and assign it to a room of lights. Alternatively, the button can be tasked with controlling one or more specific Hue lights and lighting strips, or a specific zone similar to one that includes every Hue light in the household.
As well as Hue lights, the Smart Button can control the Hue Smart Plug in exactly the same way. This means it can be used to fire up a heater, a fan, a lamp or pretty much anything that plugs into a wall outlet.
Using the Hue app to change how the button works is easy. You can pick which lights, rooms or zones it controls (ranging from a single light to an entire home), and configure what happens to those lights when you give the button a quick press or a press-and-hold.
By default, a single press activates a time-based lighting setup. Here, your lights will adjust to a certain setting depending on the time of day, with each 24-hour period sectioned into five different lighting presets, each mimicking natural sunlight at that time of day. This means cool, bluish white light in the morning; warmer, more yellow light in the afternoon and evening; and a darker, dimmer orange glow at night. You can change the time and lighting setting for each of these to suit your needs.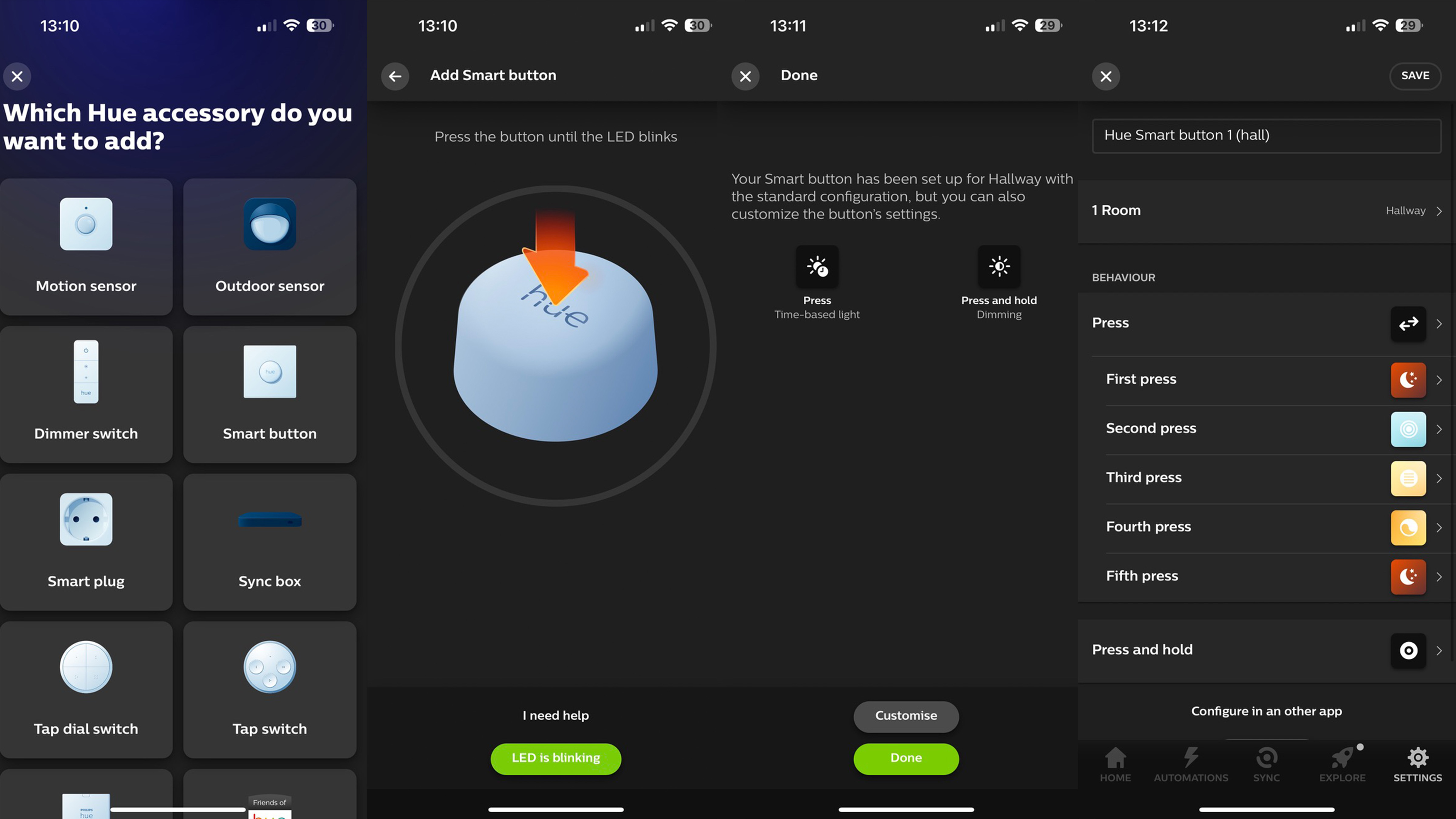 Alternatively, a press can cycle your lights through a range of presets. Up to five different lighting scenes can be added, with each button press skipping to the next one.
Lastly, there's the press-and-hold control. This is far more limited, and it can only be used to either dim a certain set of lights or turn off every Hue light in your home. The latter is pretty useful, especially if you mount the Smart Button by the front door, ready to be pressed to turn everything off on your way out.
Unfortunately, there's no way to configure this more deeply. We'd like to have a long press turn all the lights off but also turn on a single lamp in the lounge to act as a burglar deterrent. This limitation sums up the Philips Hue Smart Button: it works very well but only if you don't expect too much from it. More possibilities for customization would have been welcome.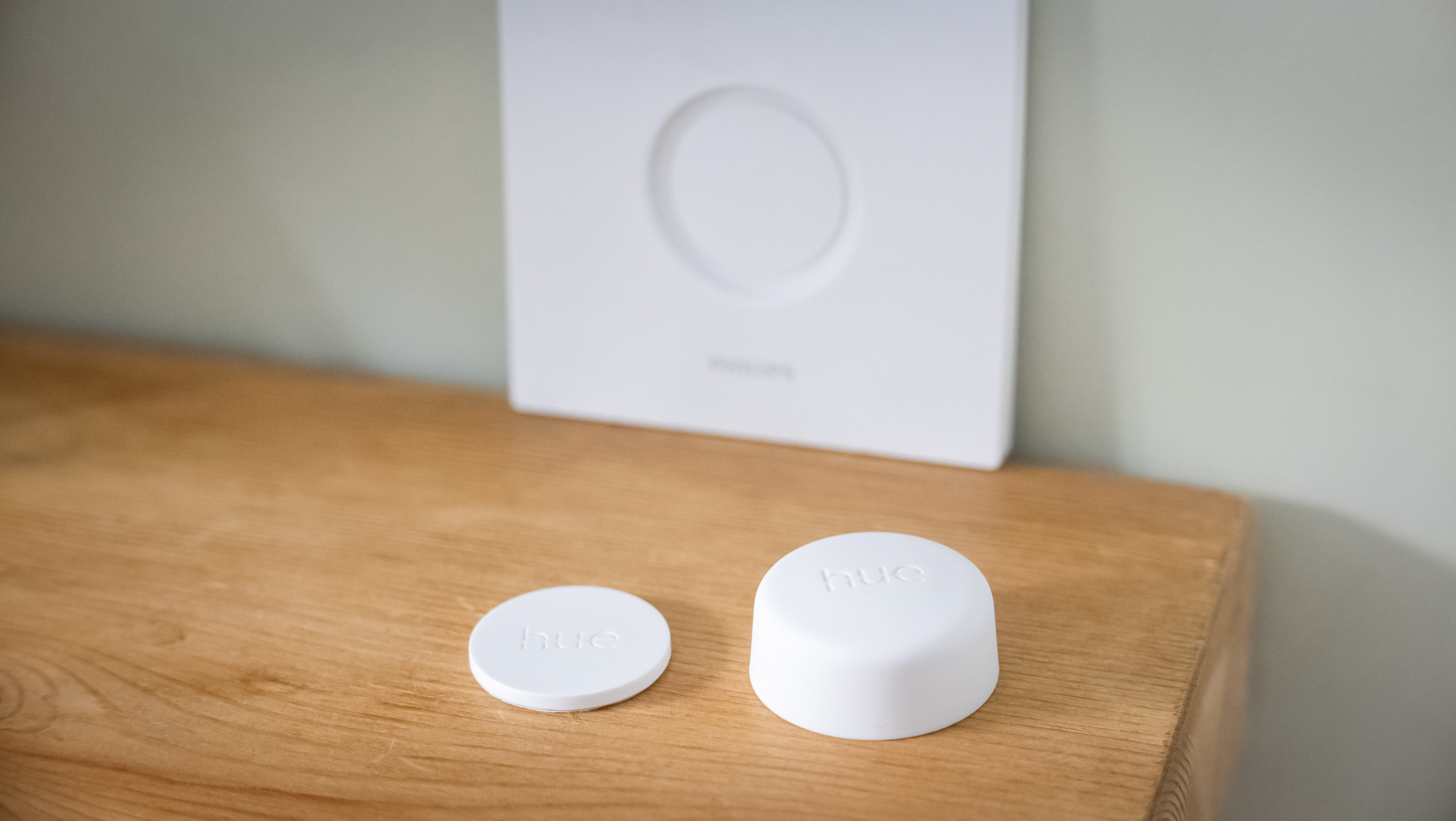 Philips Hue Smart Button review: Should I buy?
Buy it if...
Don't buy it if...
Philips Hue Smart Button review: Also consider
If you want to add more smart lighting to your home, here are a couple of options to consider...
Philips Hue Smart Button review: How I tested
I added the switch to my Hue lighting system
I set up and used the switch as part of my daily routine
I fitted the Smart Button to a wall in my hallway and configured the switch to cycle a Hue light bulb in the hall through several scenes when pressed, then turn off all of my Hue lights with a long press.
I also experimented with the settings and used the Smart Button for other uses, including as a portable dimmer switch for my lounge Hue lighting. Being wireless, the button also spent time on my bedside table and at my desk where it was configured to control office lighting.
Read more about how we test
First reviewed September 2023