HP Dragonfly G4: One-minute review
A perfect laptop may not exist, but the mighty HP Dragonfly G4 sure comes pretty damn close. 
One of the best thin and light laptops of 2023, this HP notebook is a bit of a rarity, being a business laptop that doesn't feel bulky or business-y for that matter. In fact, it takes on an Ultrabook approach, with its thin and light form factor, sleek and stylish design, and battery life that will outlast your own. And it does that so well I would consider this among the best Ultrabooks I've tested. 
That makes it the best laptop to take with you on business trips or if you're traveling for a long period and need something with a lot of power. 
The Dragonfly G4 also has very few faults. There are only two flaws I could think of – the subpar speakers and the missing SD card slot, and neither of those are deal-breakers. 
That near-perfection will cost you a lot of money, however. Like many business laptops and Ultrabooks, this one has a high price of entry, one that most consumers won't be too keen to pay. It may not strictly be a laptop for business professionals, but its steep price tag will certainly whittle down its list of potential buyers.
HP Dragonfly G4: Price & availability
How much does it cost? Starting at $1,760 / £1,439.99 / AU$2,735 
When is it available? Available now
Where can you get it? Available in the US, UK, and Australia
I wish the price and availability of the HP Dragonfly G4 were more straightforward than it is, as only the base model sporting an Intel Core i5-1335U, 16GB RAM, 512GB storage and a 13.5-inch WUXGA+ touch screen is available across the US, UK, and Australia. No matter where you are, though, you're going to spend quite a bit to get one of these, as that base configuration goes for $1,760 / £1,439.99 / AU$2,735. 
The unit reviewed here will set you back even more at $2,279 (about £1,879 / AU$3,595). And that jump in price is just for an upgrade to the Intel Core i7-1365U. While this exact configuration, with 16GB RAM and 512GB to go along with that i7 processor, is not available in the UK or Australia, ones with the slightly weaker Intel Core i7-1355U are, and those go for £1,679.99 / AU$3,390.
To add to the confusion, US customers have the option of ordering a custom build. The starting price of the customizable version is $2,548 (about £2101 / AU$4019). And, that comes with a surprisingly smaller 256GB SSD, not to mention a non-touch display.
Though this laptop is quite expensive, it's really typical with mobile workstations that manage to balance performance and a gorgeous display with portability. The Apple MacBook Pro 14-inch (2023), for instance, starts at $1,999 / £2,149 / AU$3,199. It comes with the M2 Pro SoC, 16GB RAM, 512GB SSD, and a Liquid Retina XDR display. Of course, you'll have to transition to the Apple ecosystem, which comes with its own benefits and limitations. Plus, any kind of hardware upgrades come at significant cost; the max configuration will cost you a whopping $3,099 / £3,349 / AU$4,999.
That said, the Dell XPS 13 Plus (2023) also hits a lot of the same marks and starts at a significantly lower price for its base model. For $1,249 / £1,198.99 / AU$2,398, you get an Intel Core i5-1340P, 16GB RAM and 512GB SSD, along with a gorgeous 13.4-inch FHD+ OLED touch display. You can spend a little more at $1,499 / £1,719.38 / AU$3,281.30 and upgrade to a 3.5K OLED touchscreen along with an Intel Core i7-1360P and 32GB RAM. However, the Dell comes with a somewhat disappointing seven-hour battery life compared to the HP Dragonfly G4's almost 13 hours of power. 
HP Dragonfly G4: Specs
The HP Dragonfly G4 comes in four configurations, with the base model fitted with an i5-1335U, 16GB RAM, and 512GB storage and our review model coming with an i7-1365U and the same memory and storage. 
It's a bit of a tricky one, however. The highest (and by that, I mean, the priciest) model comes with the same chip and RAM as the base and has half its storage capacity. The price difference, we're speculating, may be due to the fact that it has Windows 11 Pro 64 installed, a version of the OS designed specifically for businesses. 
To complicate things further, if you opt for a custom build, you may have to pay more. That's even if you get a lower storage capacity. Be aware that some configurations only come with a non-touchscreen display; if you want a touch display, be sure to double-check that it's what you're getting before you commit.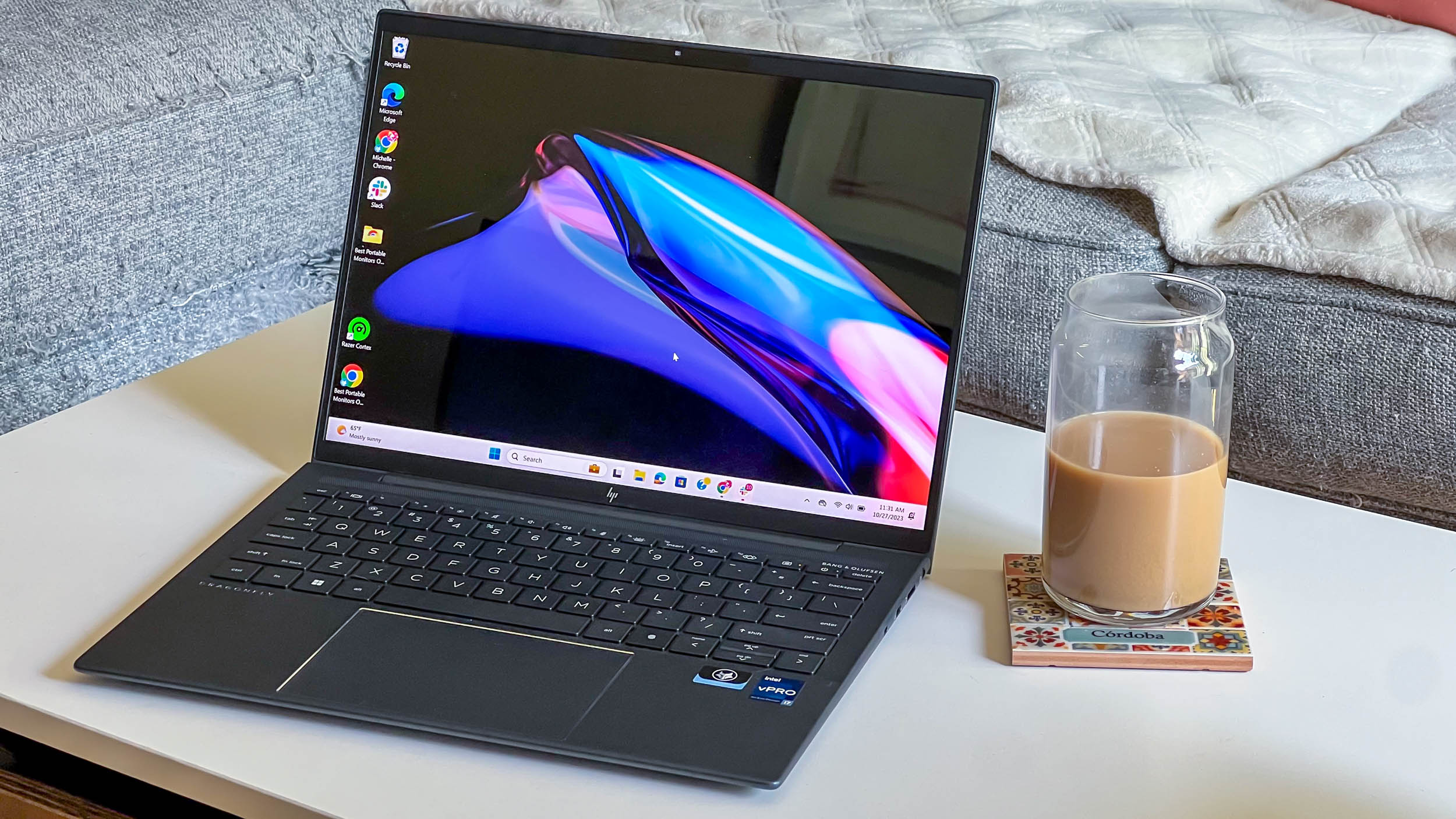 HP Dragonfly G4: Design
Portable, lightweight and robust
Great-feeling keyboard, responsive trackpad
Excellent port selection
I cannot talk up the HP Dragonfly G4 enough, especially when it comes to its design and build. This clamshell laptop is made for travel or hybrid work, with its lightweight yet robust design that makes it the ideal travel or commute companion. 
I took it on a month-long trip around Europe, moving from one city to another with it in my backpack, and it not only survived – it thrived. And that was even after being squished inside the laptop compartment regularly. Even its premium-feeling outer shell, made of 90% recycled magnesium that helps keep its weight down to under 2.5 pounds, got away without any scratches. That's really impressive considering that I took it out on trains and planes to squeeze in a bit of work. Meanwhile, the hinge is pretty robust and keeps that display stable.
Its portable nature isn't just based on its weight alone. This 13-inch device is sleek and thin, making it so much easier not just to carry around but also to handle. It may not be as portable as a tablet, but its form factor did make me think more than once that I might as well be holding a tablet with a keyboard folio attached.
Image 1 of 2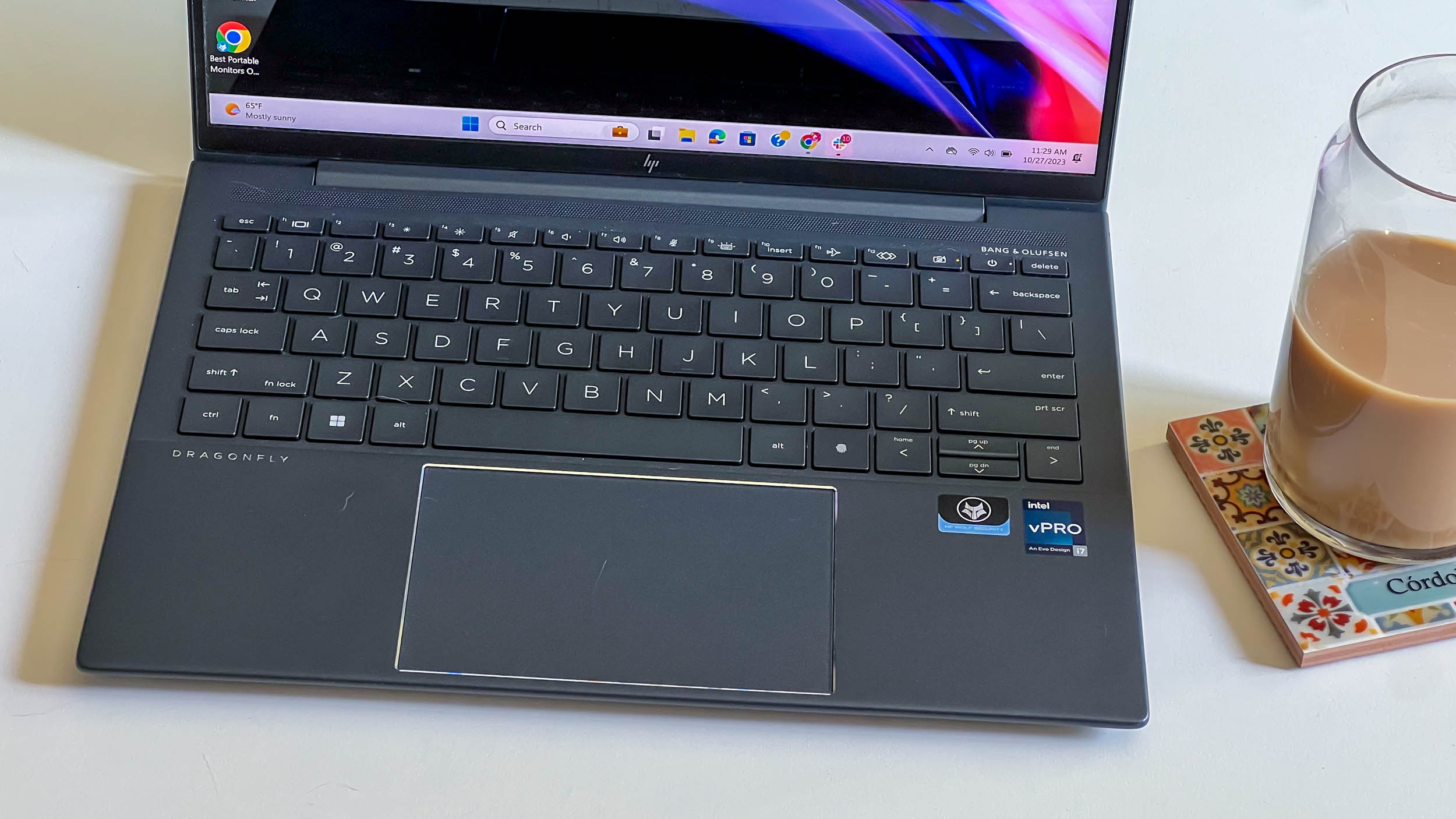 Image 2 of 2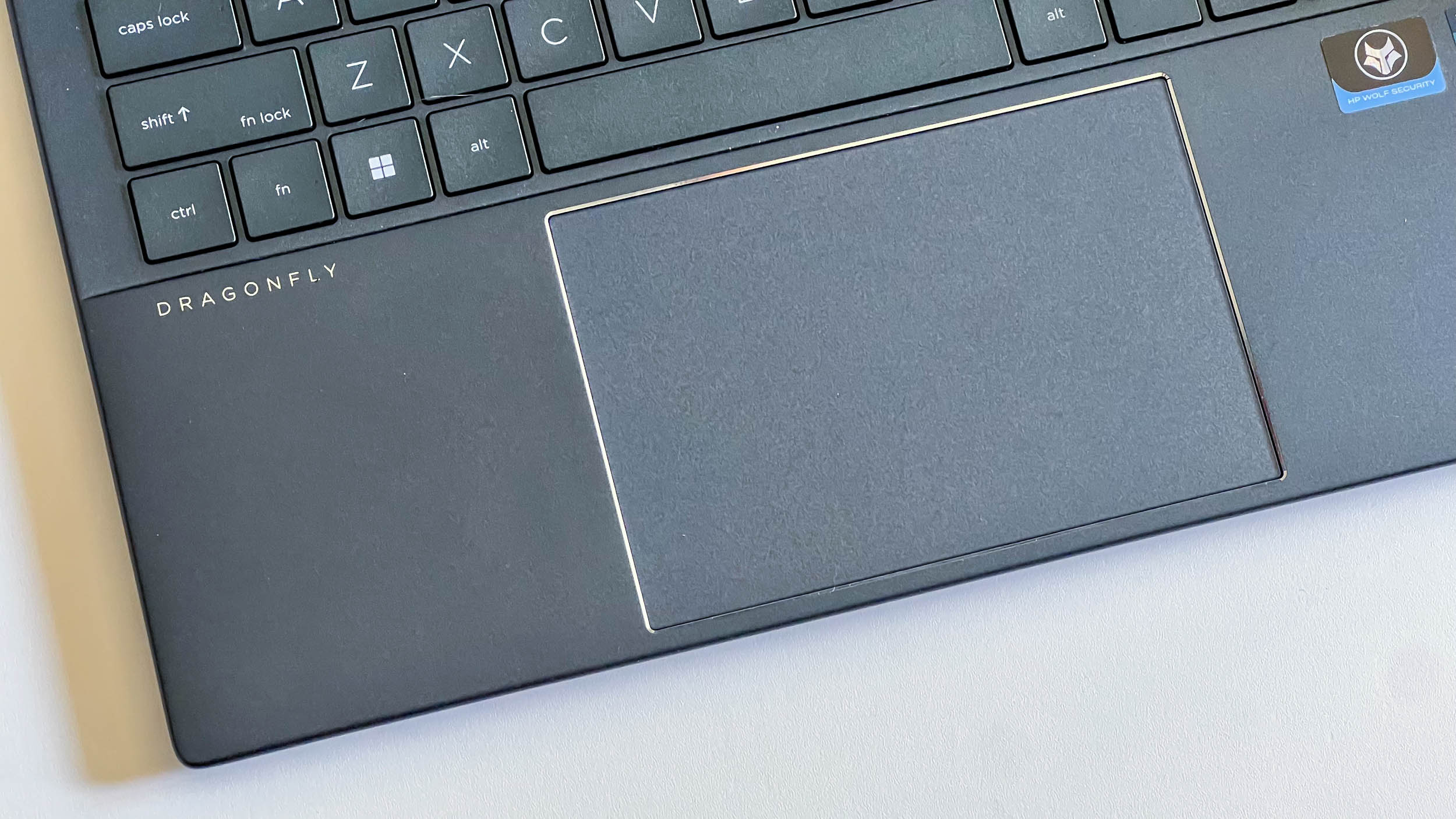 Popping it open, you'll notice that everything is nicely centered – so much so it would make Wes Anderson proud. I absolutely despise laptops with a trackpad that sits more on the left, for example, because while I do see the purpose of that alignment, it just wasn't something I could get used to. Fortunately, I don't have to worry about that here. Even the speaker above the keyboard is nicely aligned to it.
Speaking of the keyboard, it's incredibly comfortable and satisfying to type on. While the tiniest bit squishy with keycaps that are on the smaller side, I didn't experience any missed or wrong presses during my time with it – and I've clocked in more than 40 hours a week on it. The trackpad also feels premium and responsive, with good, if not perfect, palm rejection.
Image 1 of 2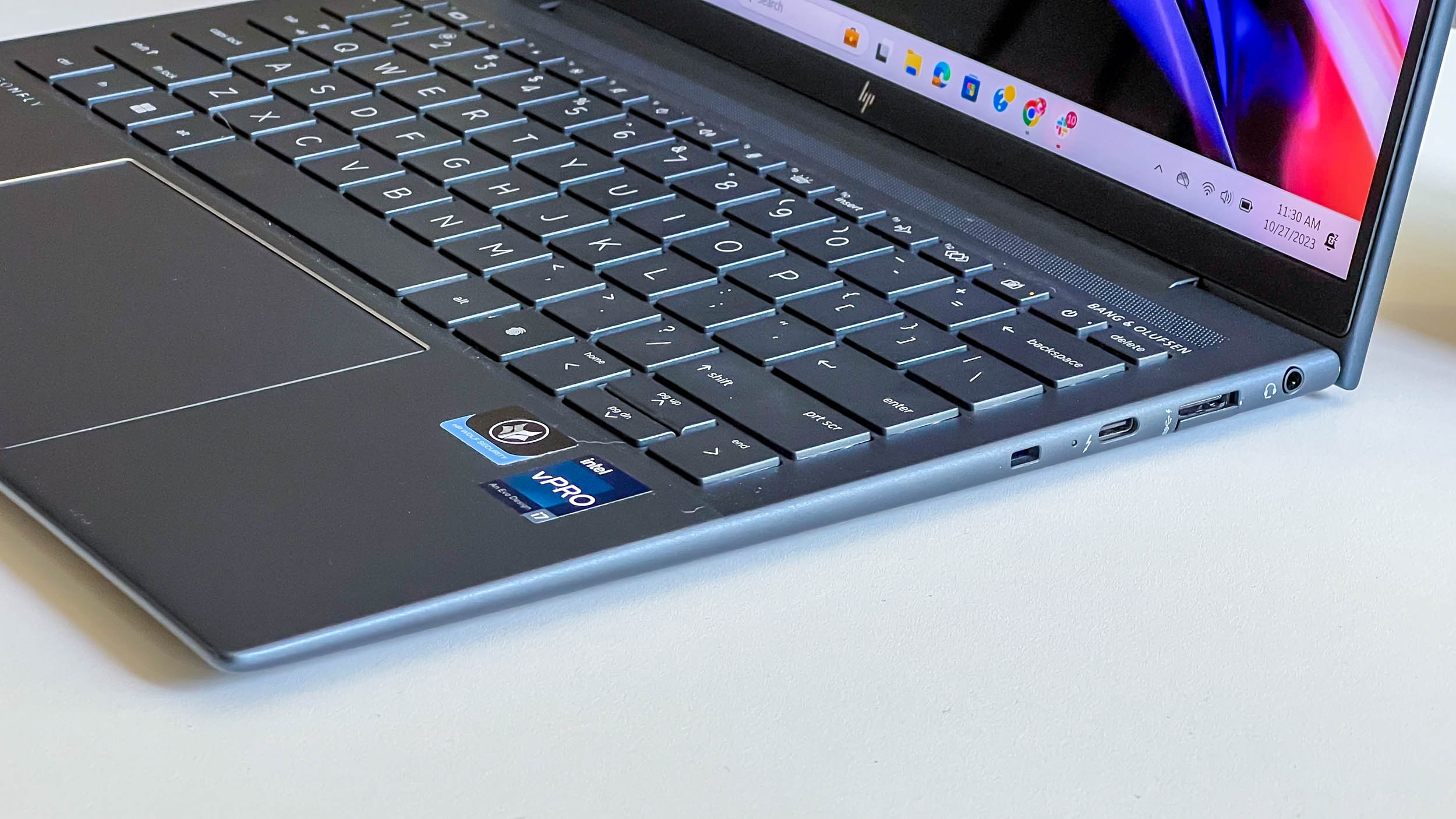 Image 2 of 2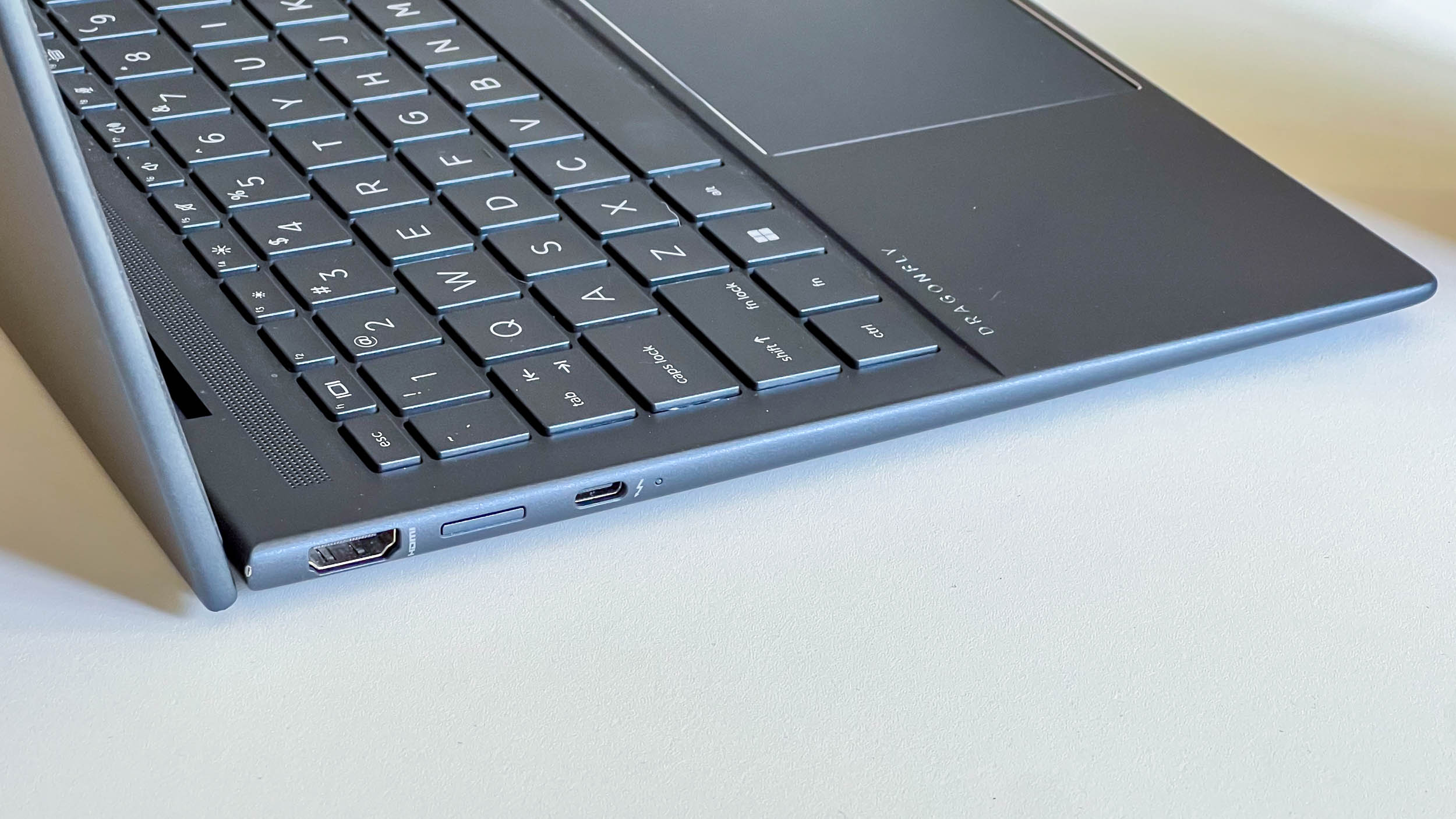 Finally, there's a great selection of ports here, especially for a small laptop. The Dragonfly G4 comes with two Thunderbolt 4 with USB-Cs, one USB Type-A with Power Delivery, an HDMI 2.1 port, a headphone / mic combo jack, and Nano lock slot. These are basically all the ports I need to stay productive all day long.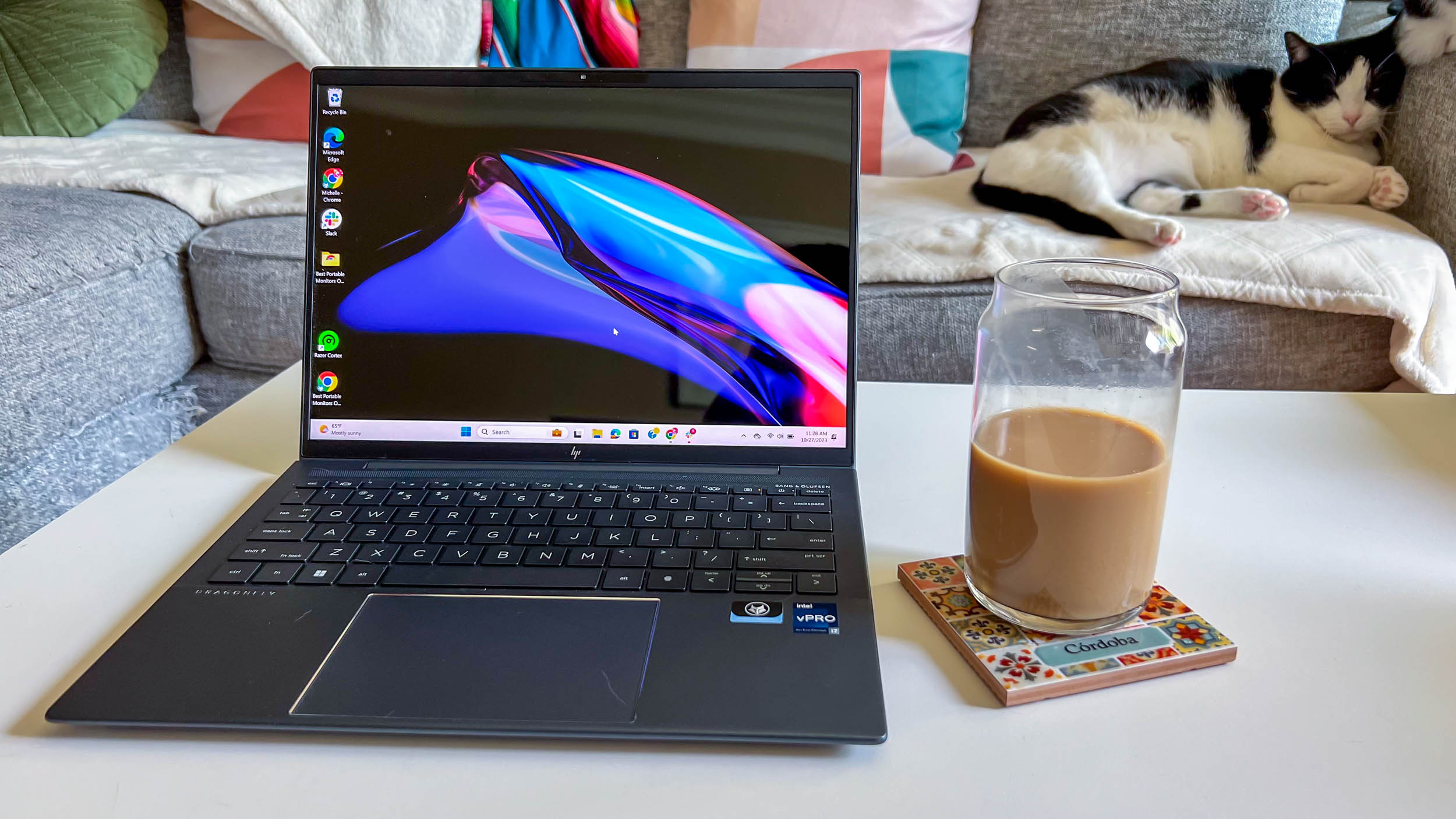 HP Dragonfly G4: Performance
Fast, real-world performance and stays cool under pressure
Gorgeous display for productivity
Great webcam and dual-camera feature
HP Dragonfly G4: Laptop benchmarks
Here's how the HP Dragonfly G4 performed in our suite of benchmark tests:
3DMark: Night Raid: 14,453; Fire Strike: 4,326; Time Spy: 1,590
GeekBench 6: 2,215 (single-core); 7,408 (multi-core)
25GB File Copy: 735.7MBps
Handbrake 1.6: 12:41
CrossMark: Overall: 1,357 Productivity: 1,344 Creativity: 1,415 Responsiveness: 1,231
Sid Meier's Civilization VI: Gathering Storm: 27.36 fps
Web Surfing (Battery Informant): 12 hours and 44 mins 
On paper, the HP Dragonfly G4 looks a little underwhelming, performance-wise. Comparing its benchmark results with its predecessor and a similarly specced Lenovo ThinkBook Plus Gen 4, it got lower scores on the Crossmark test, as well as only very slightly better scores than the Dragonfly G3 on Geekbench in both single- and multi-core performance as well as Handbrake 1.6.
While that is slightly disappointing, coupled with the fact that it can get a little loud when pushed, its real-world performance matters more, and that's where it shines. Slow-downs weren't a thing with this laptop even when I've had 25 tabs open on Chrome, several Windows apps running, and I've been editing batches of high-resolution images on Adobe Photoshop or Lightroom all at the same time.
In fact, I can't recall a time when this laptop even struggled. It manages to export 10 or more edited RAW images from Lightroom to JPEG in no time, while handling other apps and an overloaded Chrome window. And that's all while keeping things surprisingly cool – a noteworthy feat considering its thin chassis. It does get slightly warm, but not too warm to sit on your legs when you're working on the couch.
The speakers are nothing to write home about, with its mids a bit recessed so you're not really getting richer and fuller sound, and the low end being underwhelming. However, audio quality is only slightly better than that on most laptops anyway, so it's hard to fault it for that.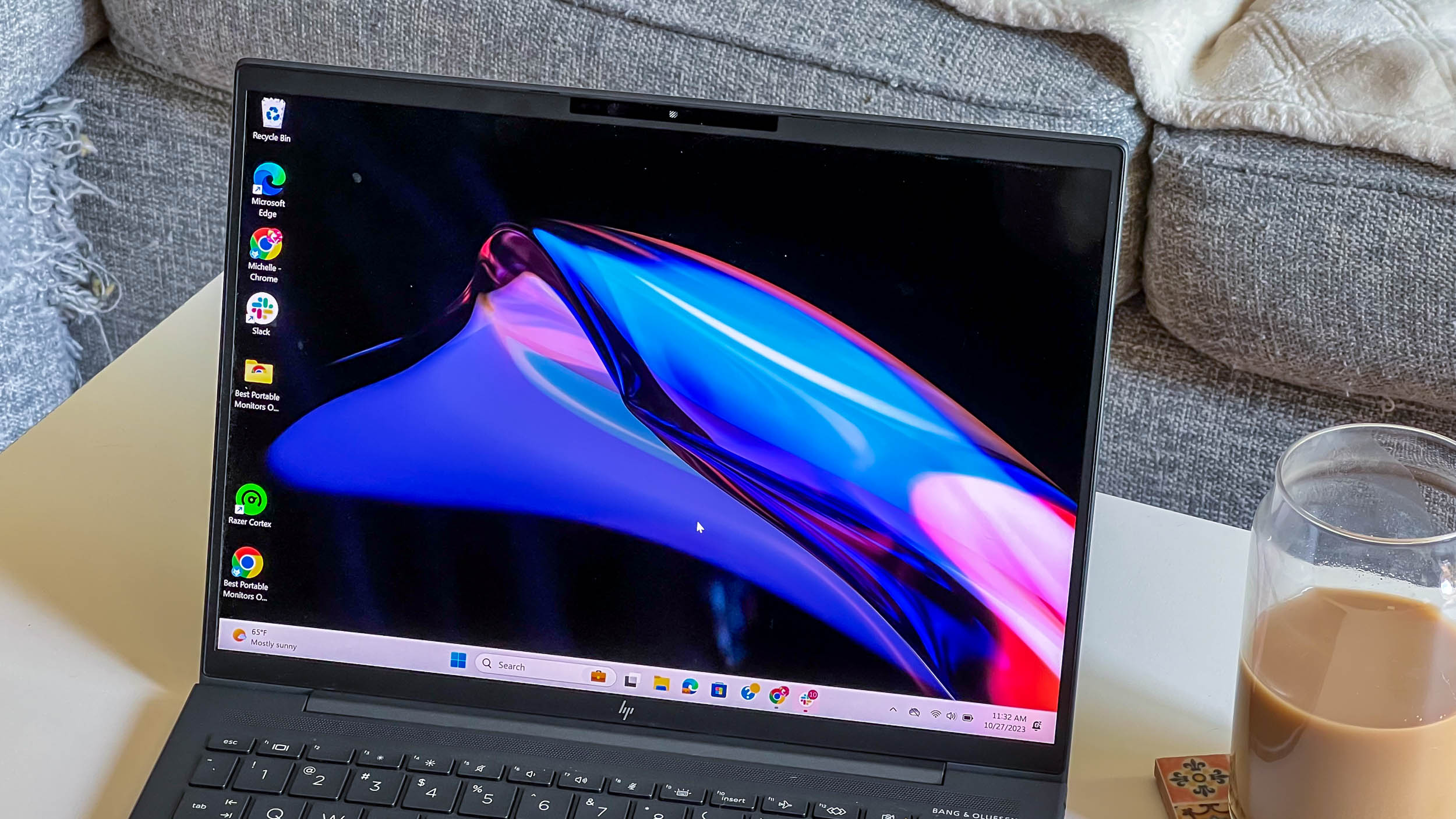 The 13-inch 1280p display is an absolute stunner, giving out a bit of extra real estate for productivity and then blasting your eyeballs (in a good way) with 391 nits of brightness, 113.3% sRGB coverage, and an average Delta-E color accuracy of 0.14 (these numbers are based on our benchmark results). It's actually a slight improvement over the laptop's predecessor, the HP Elite Dragonfly G3. The paltry 80.2% DCI-P3 coverage, however, means that this isn't going to be the best for cinematic video editing.
The Mixer feature in myHP app lets you use the laptop's built-in webcam and a second webcam simultaneously, with the option to automatically switch from one webcam view to another using face tracking. Auto switching isn't as fast, but it does work well and is useful if you have a multi-display setup. The app also offers 2160p 4K resolution, and not just for the built-in camera, for sharper video feeds, as well as a slew of tools like saving the footage as PDF, snapping stills, starting a livestream, auto framing, and picture enhancements. 
The webcam's footage itself is clean and crisp, with good dynamic range so that the highlights are not overblown. It comes with an anti-flicker feature on the myHP app but the movements are still not the smoothest at times. Overall, though, the picture quality is excellent, just what you'd need for professional-looking footage during video meetings with clients and colleagues.
Performance score: 4.5 / 5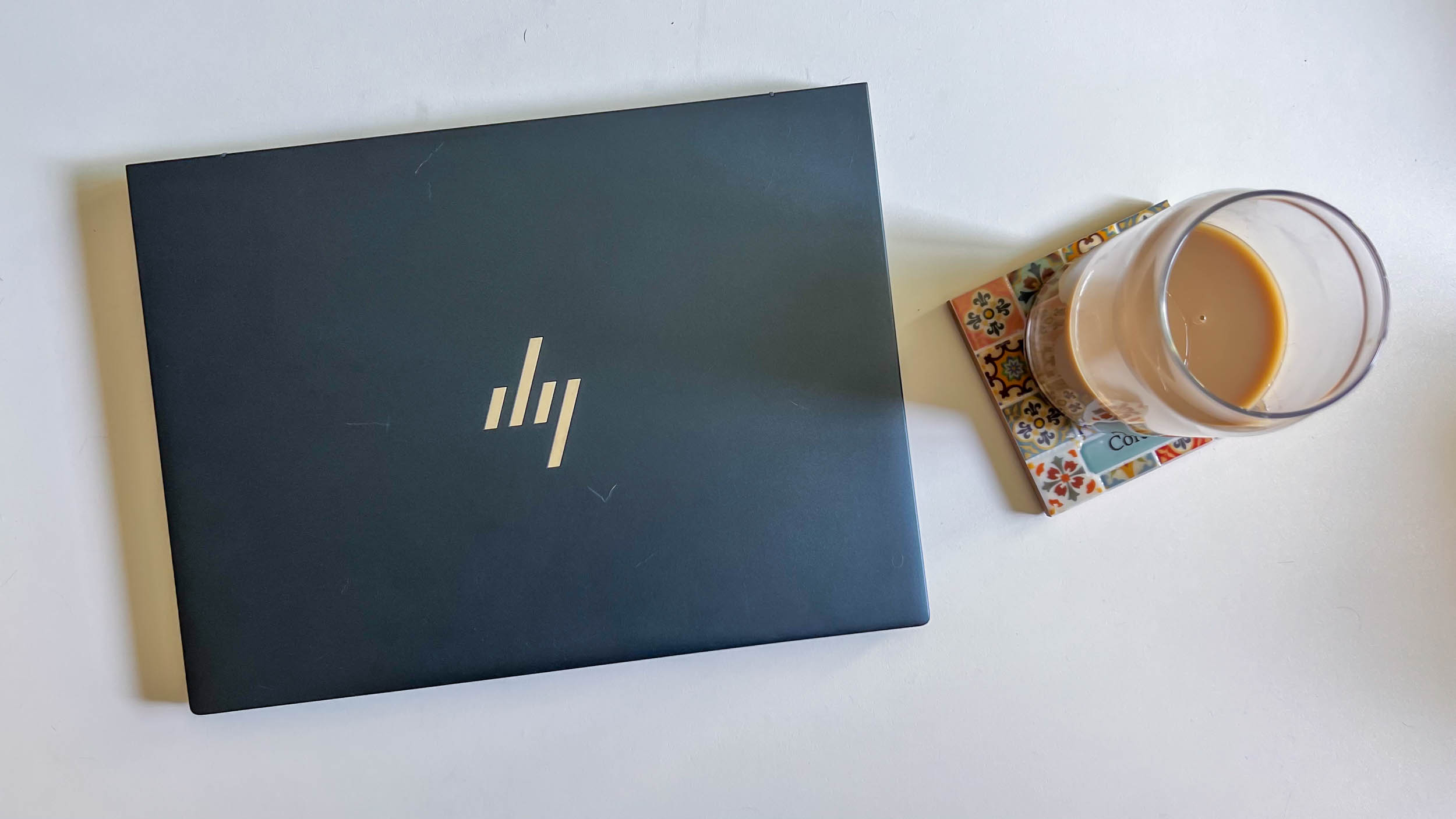 HP Dragonfly G4: Battery
Lasts you more than a whole work day
Just under 13 hours in our benchmark
On the battery front, the HP Dragonfly G4 delivers exactly what professionals want from their work or business laptop. I was actually surprised the first couple of times I used it for work, as it lasted me an entire work day and then some. That's partly thanks to the Intel Core i7-1365U powering it, a very power-efficient chip that consumes very little energy with its TDP of 15 W.
I've talked about how the Dragonfly G4 is the near-perfect laptop for traveling professionals and business pros who regularly travel for work, and its longevity only contributes to that. Traveling with it for a month around southern Europe and northern Africa was extremely convenient, as I only needed to charge it after a full day's work – at times, longer, depending on my usage. What's more, I could charge overnight, use it on a long-haul flight or an all-day train ride, and never have to worry about running out of juice, indirectly affecting my productivity.
Indeed, this is backed by our benchmark. Our Web Surfing (Battery Informant) test yielded an average of 12 hours and 44 minutes of battery life, at times lasting a little over 13 hours. That isn't as long as the MacBook Pro 14-inch (2023), but that still gives you an entire workday at full charge, if you're the type to typically put in more than nine hours. 
Should you buy the HP Dragonfly G4?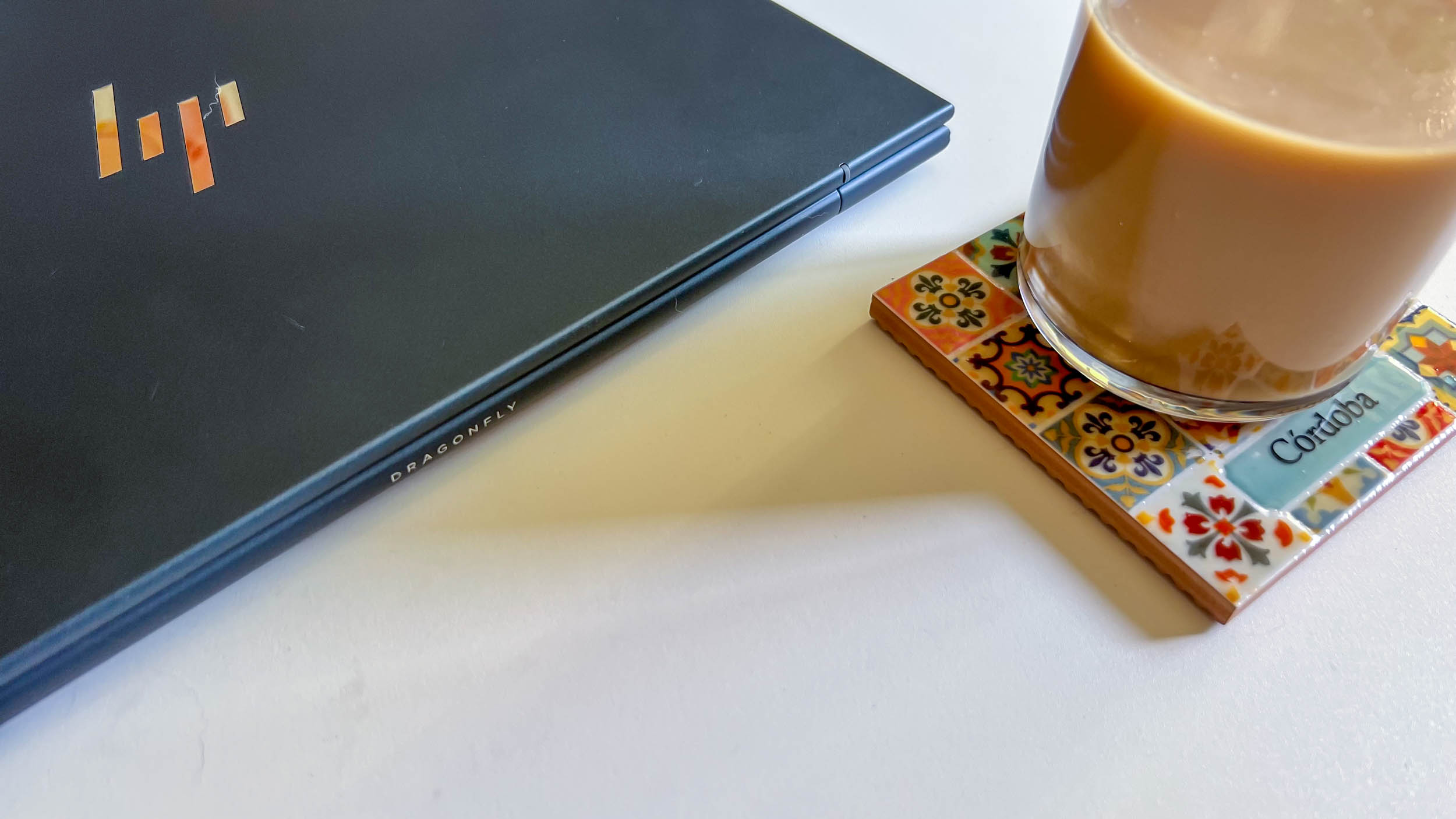 Buy it if...
You need a business or work laptop for travel or hybrid work
The HP Dragonfly G4 is incredibly lightweight, portable, and robust – making it the perfect travel companion whether you regularly travel for work or are living the digital nomadic life.
You want a powerful laptop that will last you an entire workday
This Windows laptop is a powerful portable machine, but it's power-efficient as well, with up to 13 hours of battery life. Plus it keeps cool under pressure.
Don't buy it if...
You're on a budget 
The Dragonfly G4 is very expensive, so if money is tight, I would look elsewhere. There are other great work laptops out there that won't break the bank (see below).
HP Dragonfly G4: Also consider
If the HP Dragonfly G4 has you considering other options, here are two more laptops to consider...
How I tested the HP Dragonfly G4
I tested it for a month while traveling around Europe
I used it as my main work laptop and for media consumption
We ran our usual suite of standardized benchmarks
Due to its thin and lightweight design, I decided to take the HP Dragonfly G4 with me on my month-long trip around Europe and northern Africa, during which I was working remotely. So, it served as my only work computer as well as my main tool for streaming movies and shows for that entire month, doing my day-to-day tasks on it that also include editing high-resolution images on Photoshop and Lightroom.
Apart from my real-world testing, our testing team also ran our suite of standardized benchmarks on it to assess its CPU and graphical performance as well as its display and battery life.
With years of extensive experience testing and reviewing laptops, and as one of the Computing editors at TechRadar, I have all the right tools to determine whether or not a laptop is worth your time and money. You can trust me to put them through their paces and make the right recommendations.
First reviewed October 2023