Leesa Oasis Chill mattress review: Two-minute review
I slept on a queen sized Chill mattress for three weeks, testing it in all areas of comfort and performance, to see how it compares to the rest of today's best mattresses. I also enlisted the help of a panel of others to get a more rounded overview for this review. 
This mattress comes in two firmness options, cushion-firm and plush. I tested the cushion-firm option and found it very comfortable. Despite the fact that you don't really sink into the mattress, there is something cozy about the top layer which hugs the body on all sides. As someone who can sleep in all sleep positions, I did find that sleeping on my back or stomach was the most comfortable on this mattress. The Oasis Chill Hybrid is reinforced in the center to provide support in the hips and lower back area which makes for a great sleep experience and removes any pain or pressure you may have. 
Getting in and out of bed is a breeze and there was never any concern of slipping off in my sleep. The motion isolation capabilities are also top-notch, making it a good choice for those with fidgety partners. 
This hybrid mattress was designed with plenty of cooling properties, however, I found the breathability of the mattress to be lacking. Despite having a hybrid design, cooling cover, and memory foam with cooling properties, I consistently felt warm at night (during October of all times). 
With the ability to try the Leesa Oasis Chill Hybrid mattress under a 100-night trial, it's well worth seeing if the mattress suits your body or not. Returning is free, though if you decide to keep it, a 10-year warranty is added to the mix. 
Leesa Oasis Chill mattress review: Design
13.5-inch hybrid mattress with 6 layers of foam and springs
Cover and foam layers designed to promote cooling
Option to add an Ultra Cool Mattress Protector 
This hybrid mattress has six layers comprised of coils and foams and is 13.5 inches tall. It's designed specifically with cooling in mind, and is available in two different firmness feels.
On the bottom is a base foam layer that provides long-term support for the mattress. Above this layer is the individually wrapped coil system, reinforced along all the edges of the mattress for edge support. There are also multiple rows of reinforced coils in the center of the mattress, designed to support your hips and keep your spine in line, to prevent back pain.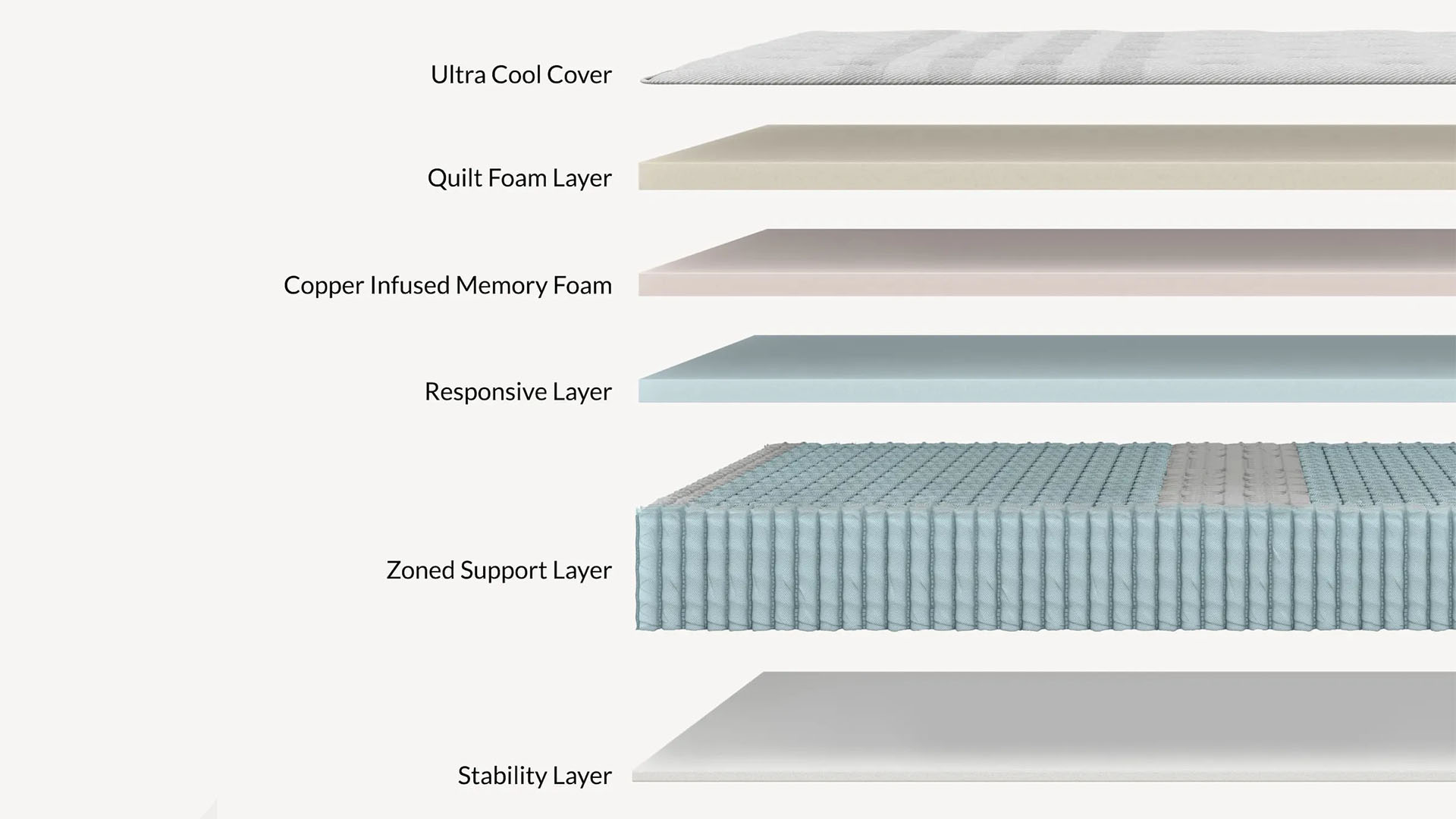 The next three layers are foam layers. Above the coils is an adaptable foam layer which helps the mattress spring back after your body weight is removed. From there you have a memory foam layer infused with copper which is supposed to create an antibacterial sleeping environment and disperse heat, thereby making the mattress cooler. The last foam layer is a quilt foam infused with gel that assists with the mattress' breathability. 
All the foams in this mattress are CertiPUR-US certified. This is important because it means that while the mattress isn't organic, it has low VOCs and is free of the most harmful chemicals.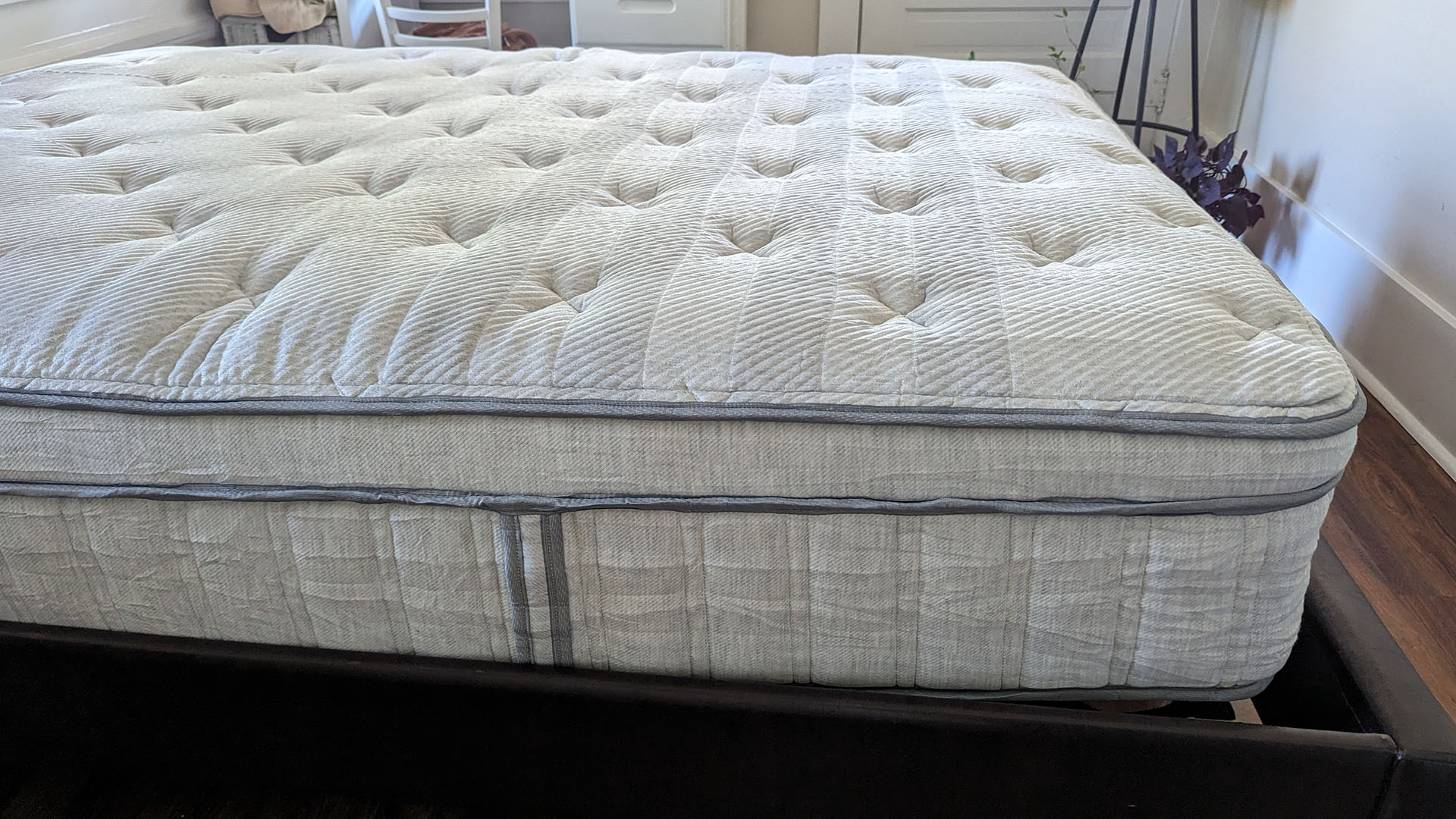 Last but not least, there's the super soft cover. This includes cooling fibers that Leesa says will disperse heat to leave your body at 88 degrees Fahrenheit – which according to them is the ideal temperature for sleep. The cover is not removable, however, there are handles that make it easier to move.
From my experience testing mattresses, I feel as if the materials are top quality and put together well for long-term use. 
Design score: 4.5 out of 5
Leesa Oasis Chill review: Price & value for money
Officially a premium model, usually discounted into upper mid-range 
Decent value for a hybrid
Sits in the middle of Leesa's range in terms of price
The Leesa Oasis Chill Hybrid has a MSRP that is in the premium price bracket category, but regular sales take it down into the upper mid-range. . From the materials to the feel, I'd say that the price matches the value. Among Leesa mattresses, it's not the cheapest option, but it's also not the most expensive either (see how it compares a pricer option in TechRadar's Leesa Sapira mattress review). 
Here's the current pricing for the chill Hybrid, along with the prices you can expect to pay: 
Twin size: MSRP $1,259 (usually sold at $1,049)
Full size: MSRP $1,559 (usually sold at $1,299)
Queen size: MSRP $1,679 (usually sold at $1,399)
King size: MSRP $2,039 (usually sold at $1,699)
Generally, today's best hybrid mattresses cost more than all-foam models, and this Leesa is pretty well priced within its category. I wasn't especially impressed with the cooling here (as I'll get on to later), but if you go down the specialist route, the best cooling mattresses also tend to sit in the premium price bracket.
You'll usually get two free pillows bundled in with your mattress, which is nice, but otherwise the extras are pretty standard – free delivery, 100 night trial, 10 year warranty. 
Like many bed brands, Leesa has regular sales. However, if you're looking for a particularly strong discount, your best bet is around a national holiday – the Labor Day mattress sales in September, Presidents' Day mattress sales in February, Memorial Day mattress sales in May, 4th of July mattress sales, and of course the Black Friday mattress deals at the end of November.
Leesa Oasis Chill mattress review: Comfort & support
Choose between cushion-firm (reviewed) or plush feels
Cushion-firm has a supportive but huggable feel
Most comfortable sleeping on back and stomach positions
I ordered the Leesa Oasis Chill Hybrid in the cushion-firm comfort level. Leesa doesn't provide a firmness rating, but I can say that a 15lb weight sunk about half an inch when placed in the center. In my opinion, it's a 6 out of 10 on a firmness scale.
When laying on the mattress, my body, which is 5'5" and weighs 175 lbs, does not sink in too much. It's a supportive surface that isn't hard by any means. I'd describe it as cloud-like, with an almost buoyant feel. The sleep surface is quite responsive and springs back immediately when pressure is removed. It doesn't contour, but rather seems to hug the body instead. 
Sleeping in the back and stomach positions feels most comfortable on the Leesa Oasis Chill Hybrid mattress. My hips and lower back feel completely supported, and the mattress seemed to relieve some pressure points in my hips. It's not uncommon for me to want to sleep on my side too, however, that sleep position was not as comfortable. I felt like my hips and shoulders needed to dip in further into the mattress so that my spine could be aligned in the side sleeping position. Unfortunately, this did not happen. Perhaps a larger or smaller body would find the side sleeping position more comfortable on this mattress. 
Image 1 of 3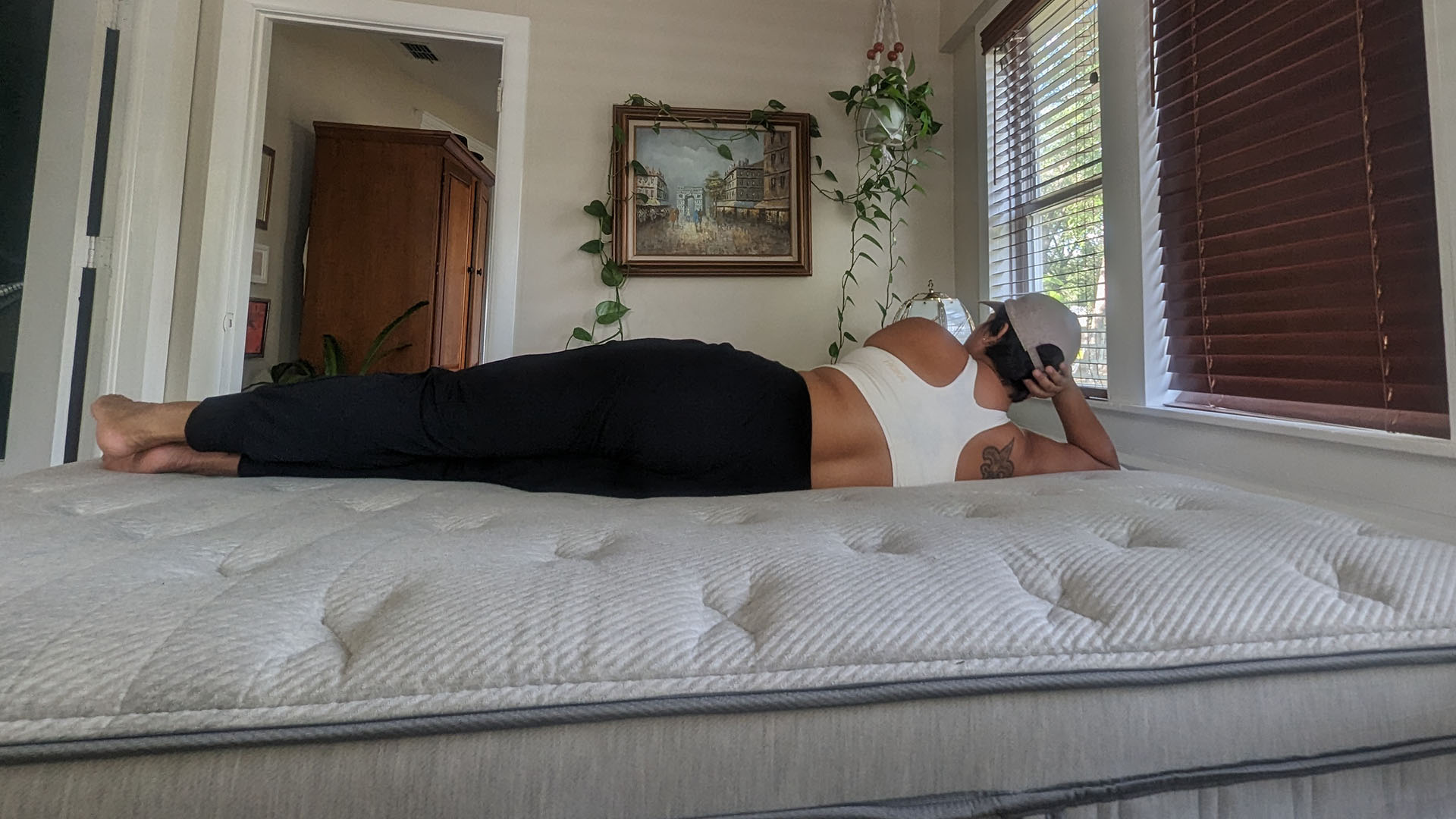 Image 2 of 3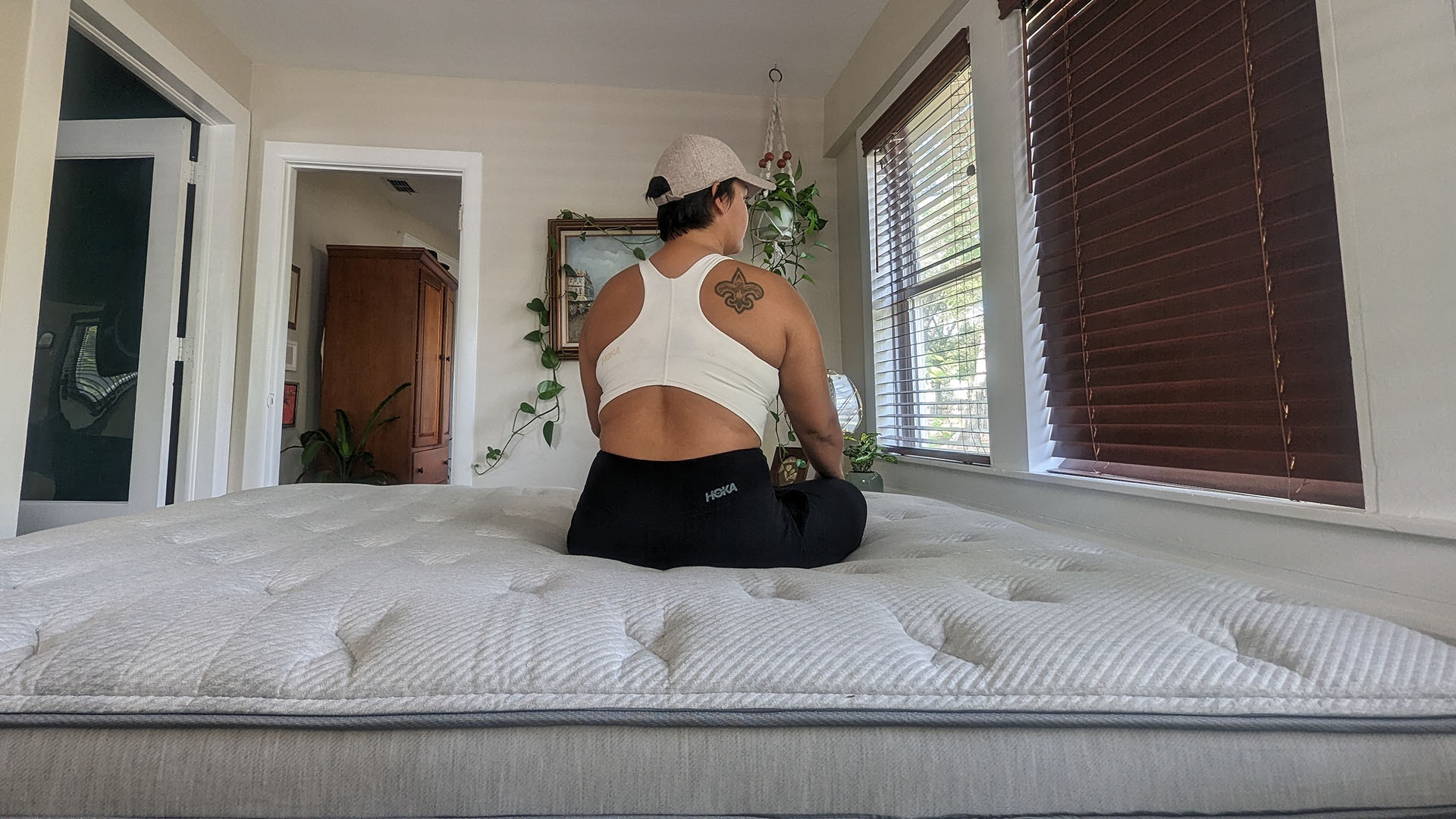 Image 3 of 3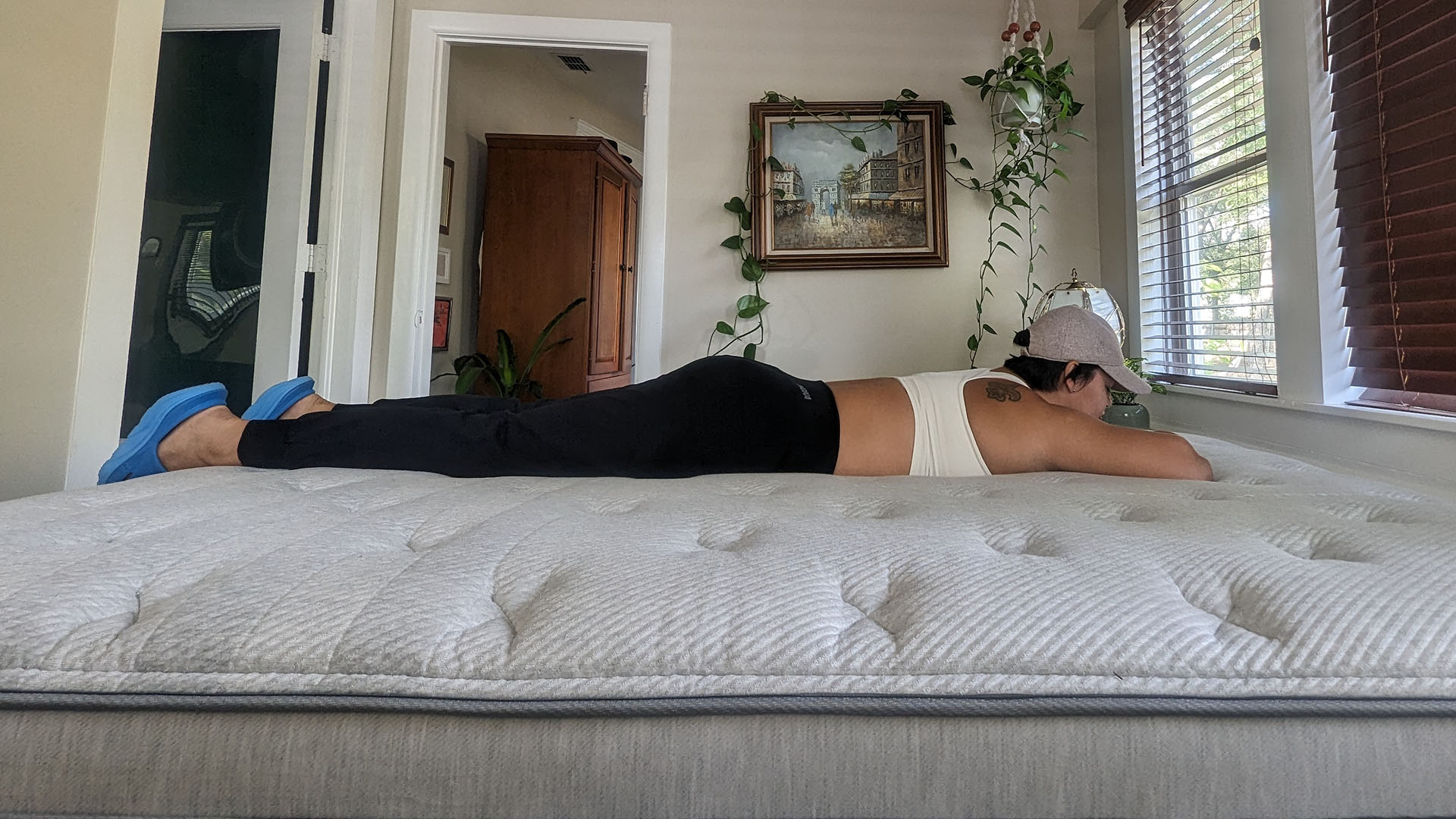 I had a friend sleep on this Leesa mattress who was smaller than me in height and weight. They found that sleeping on their back and side felt most comfortable. On a scale of 1-10, they rated it as a 5.5 in terms of a firmness level. 
Leesa Oasis Chill mattress review: Performance
Temperature regulation could be better
Exceptional edge support along the sides
Solid motion isolation capabilities
While comfort is important to consider when buying a mattress, I also made sure to assess the temperature regulation, edge support, and motion isolation, through an assortment of tests and personal sleep experiences. With all of this information, I can provide more insight into the overall value of the Leesa Oasis Chill Hybrid mattress, and who it might suit best. 
Temperature regulation
As a hybrid mattress, the Leesa Oasis Chill Hybrid is inherently more breathable than, say, an all-foam mattress. However, as someone who doesn't run hot at night, I was surprised by how warm I got sleeping on this mattress – especially given that it's specifically designed for cooling, with a copper-infused memory foam layer meant to absorb excess body heat and a quilt top cover with special fibers meant to keep your body at exactly the right temperature.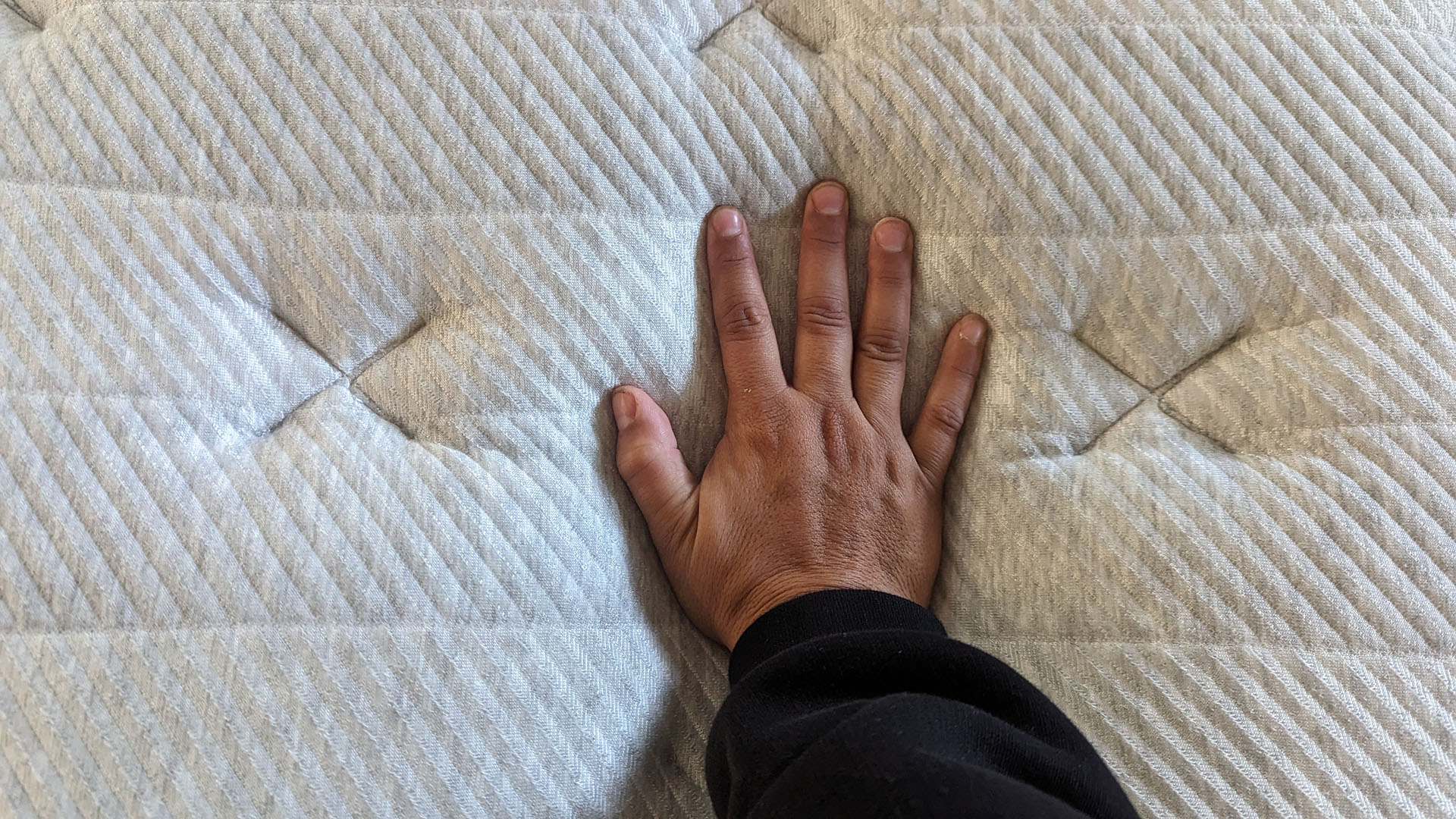 I tested this mattress in October when nights were between 60-75 degrees Fahrenheit. I even used a fan and slept under lightweight sheets and a comforter, but despite that, there were quite a few nights where I woke up sticky with sweat and had to throw the comforter to the side. I have tested over a dozen [edit if required] mattresses, and I generally don't have this issue. 
This mattress may not be a good choice for couples – who create more body heat – or those who run hot at night. Perhaps, adding the cooling mattress cover protector to your order will help. 
Temperature regulation score: 3.5 out of 5
Motion isolation
Motion isolation refers to how well a mattress absorbs movements, and is important for light sleepers and couples who don't want to be disturbed by their partner's movements. To test the motion isolation on the Leesa Chill, I placed a wine glass in the center of the mattress and dropped a 15lb weight from a distance of 4, 10, and 25 inches away. The wine glass remained steady when the dumbbell was dropped at 25 inches away, but swayed a bit at 10 inches, and toppled over at four inches. These results are pretty common for most mattresses.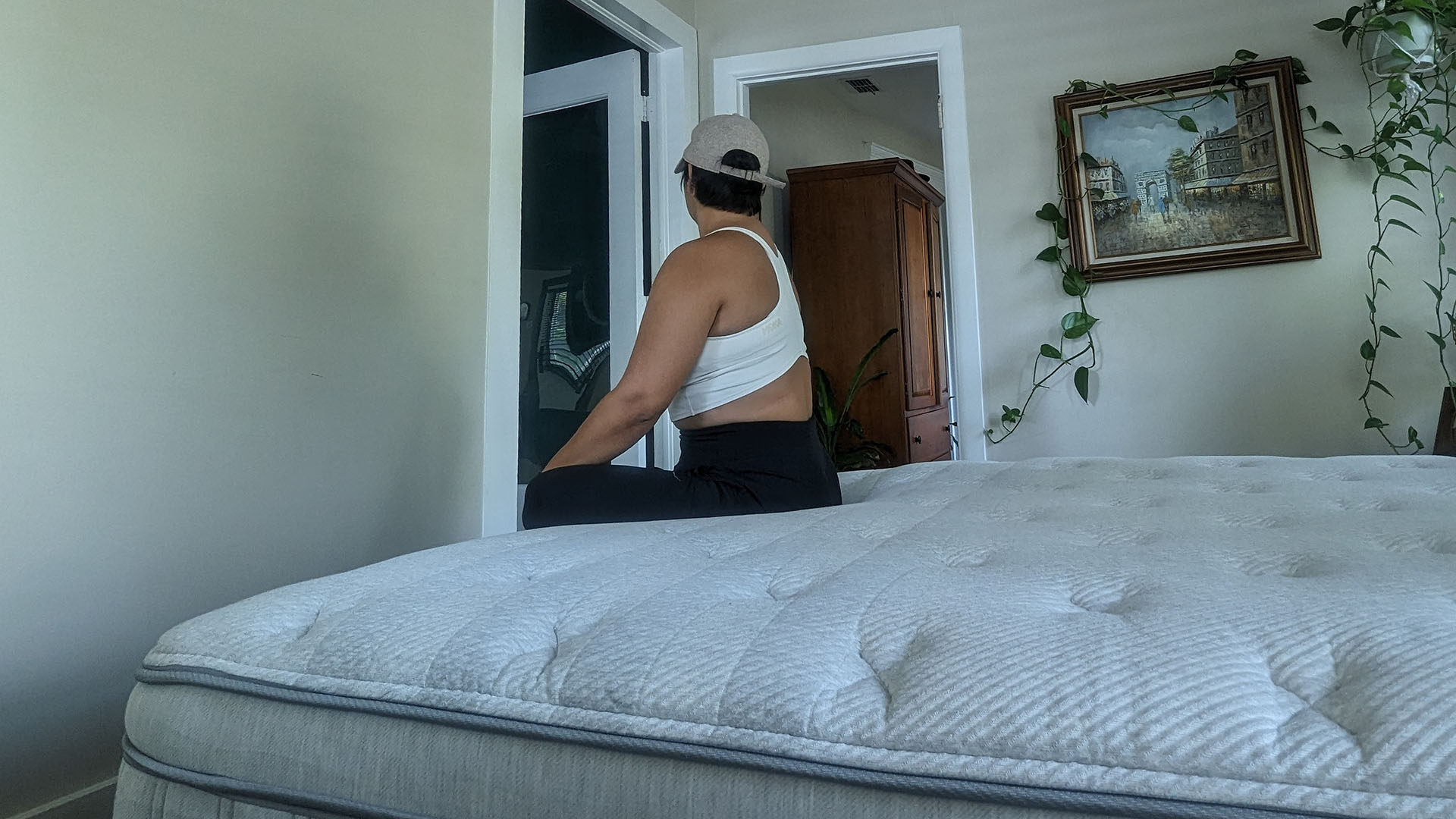 I combined this test with real-world experience by having someone else in bed. I didn't feel the other person get in and out of bed, but I did feel them change sleep positions. If I was in a deep sleep, I probably wouldn't notice them moving at all. Ultimately, I'd say this mattress has solid motion isolation capabilities and is a good choice for couples, unless one of them is a particularly light sleeper. (For the most complete motion isolation, look for an all-foam mattress – most of today's best memory foam mattresses absorb movements extremely well).
Motion isolation score: 4 out of 5
Edge support
Though it may seem trivial, you want your mattress to have good edge support so you don't slip off in the middle of the night and can more easily get in and out of bed. The Leesa Oasis Chill Hybrid has great edge support along the entire perimeter. This was expected as the two outer rows of coils around the whole mattress are comprised of higher gauge springs, which means they're more reinforced.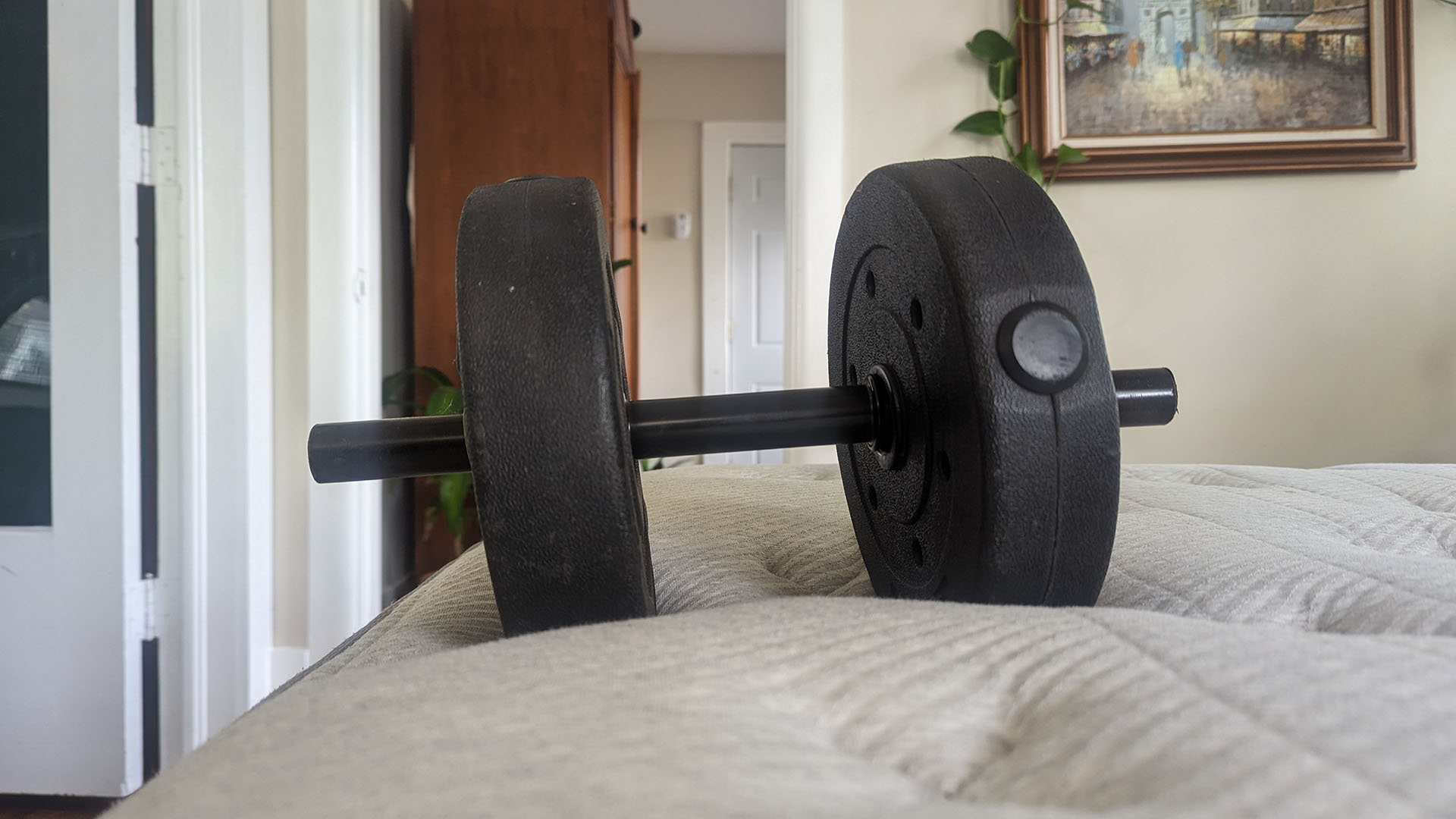 I never felt like I was going to slide or slip off when I slept near the side of the bed or even when I sat on the sides or the foot of the bed. The additional support became even more apparent when I placed a 15lb dumbbell on the edge. It didn't roll off and only sank half an inch. 
Edge support score: 5 out of 5
Leesa Oasis Chill mattress review: Customer service
Mattress delivered vacuum-packed, rolled and boxed
Free delivery with set up and removal service option
100-night trial with free return after 30 days
Customers will be happy to hear that the Leesa Oasis Chill Hybrid is delivered rolled and vacuum-packed in a box to your door – for free. Keep in mind that the mattress is assembled upon ordering, so it takes five to nine business days to be assembled before it's shipped – if you're in a particular rush, there are beds with far shorter delivery times.
There is an option to add an in-home set up and old mattress removal service, but it's a little different than you'd expect. Leesa delivers the mattress to you in a box and then their partner has up to seven business days to set up and remove the mattress in your home. 
Image 1 of 4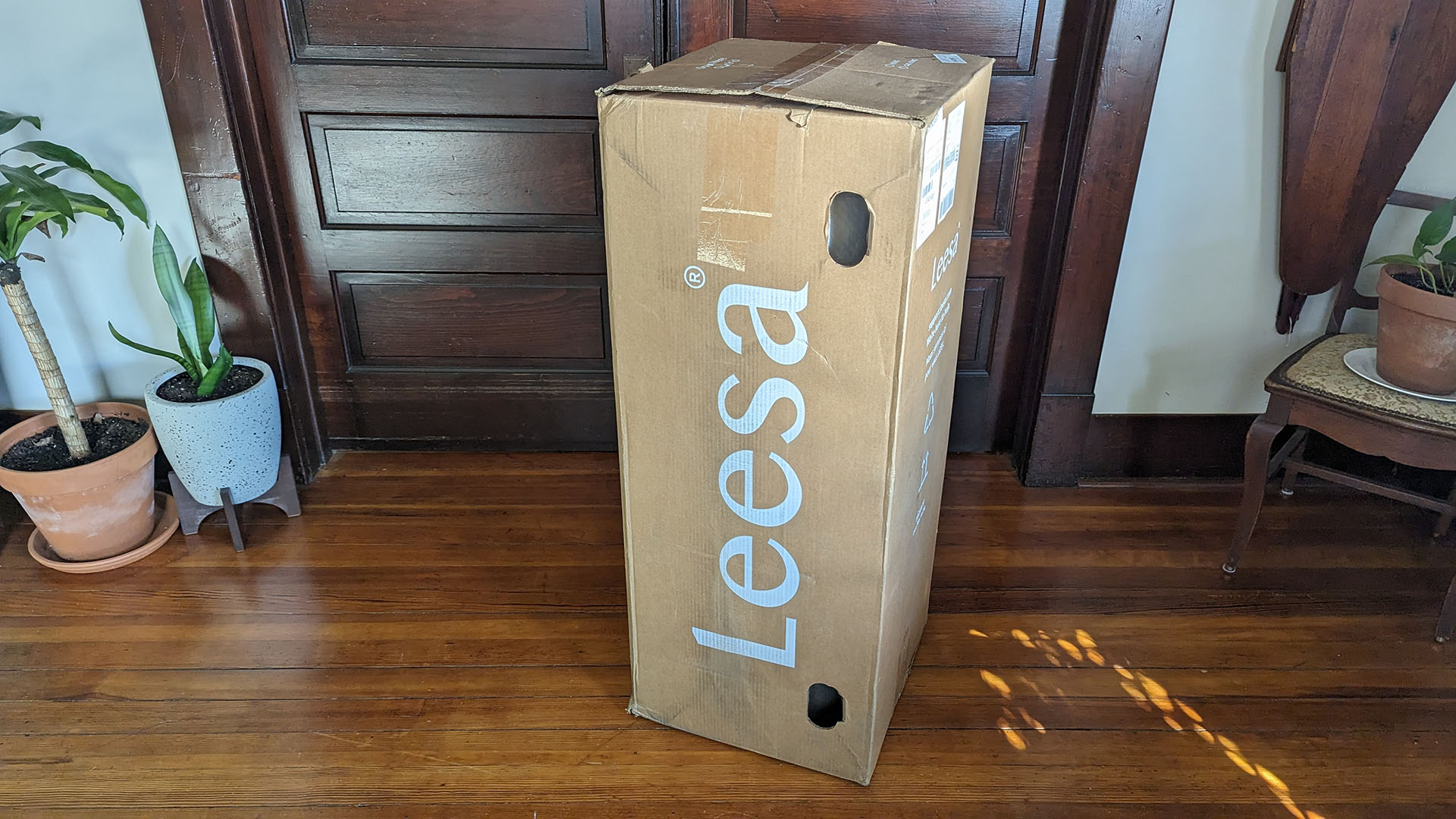 Image 2 of 4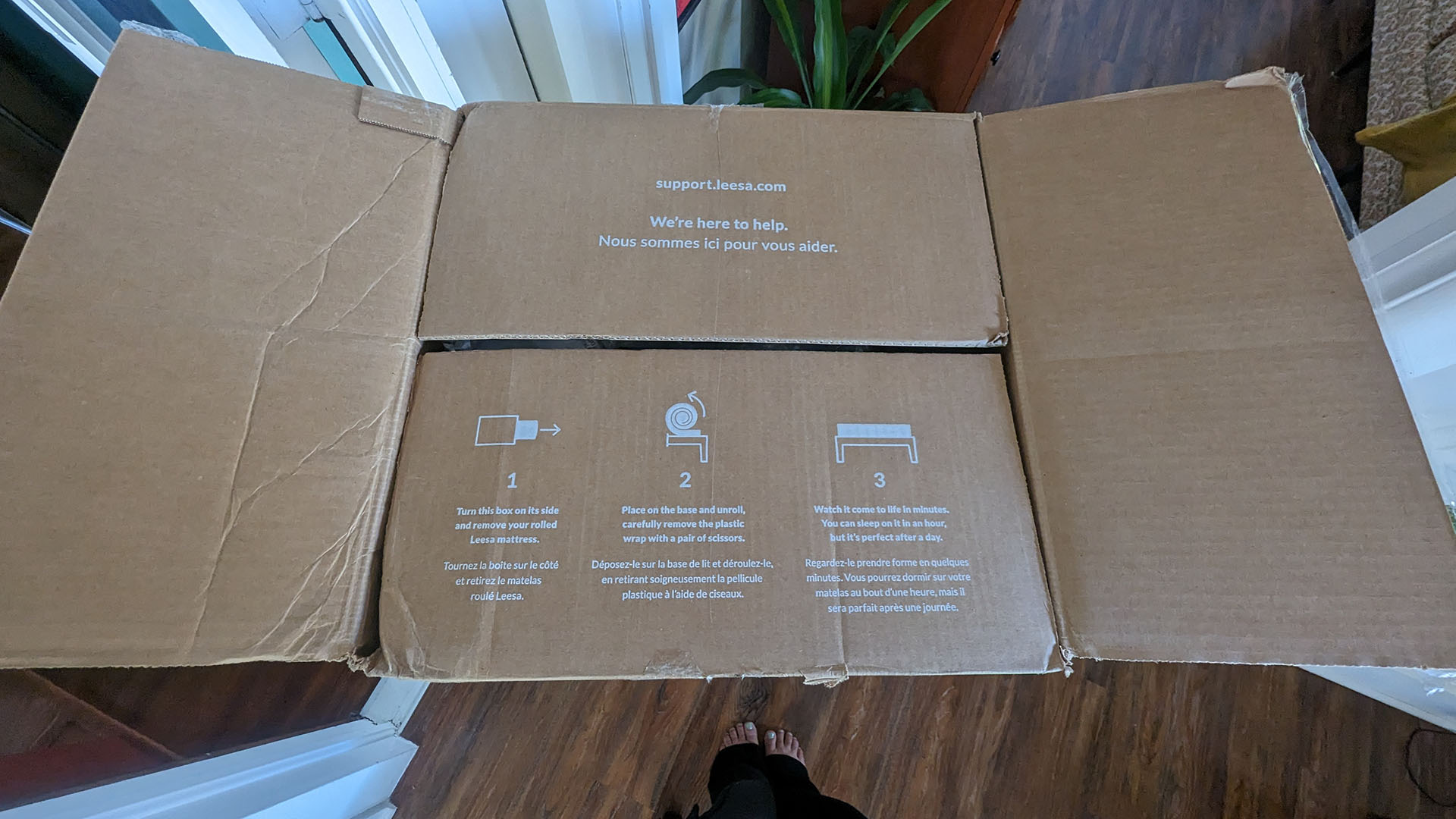 Image 3 of 4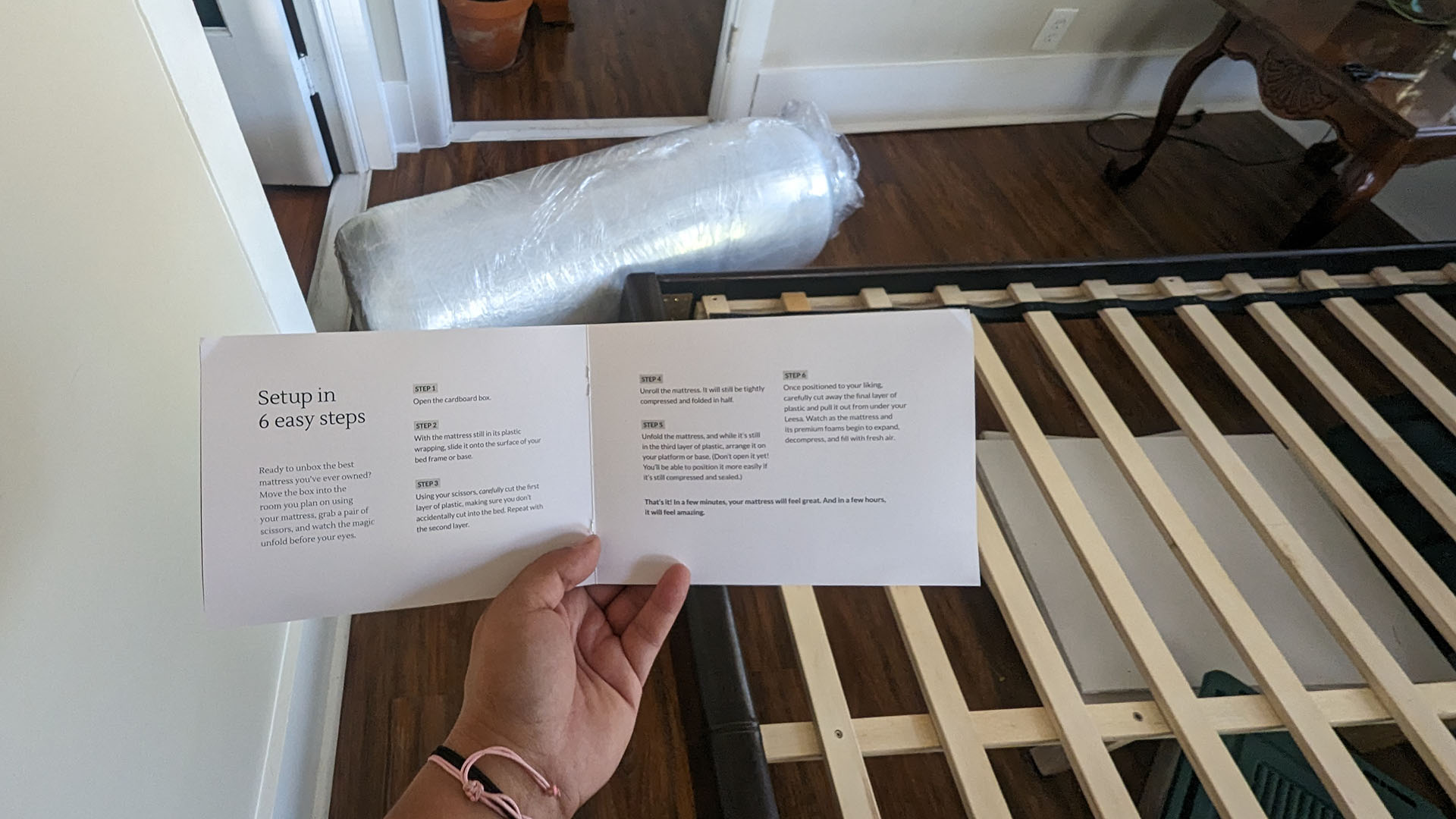 Image 4 of 4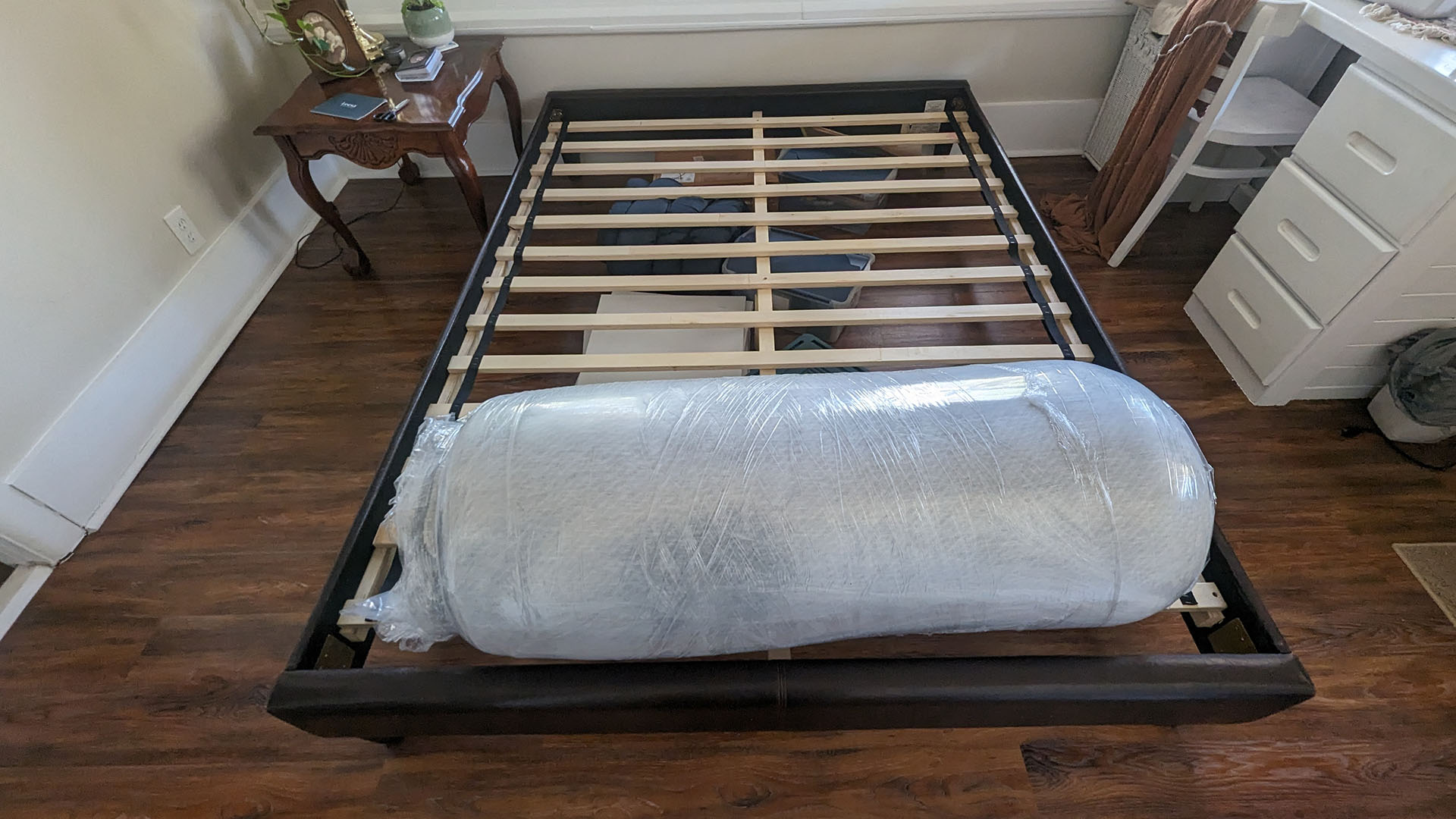 I was able to move the mattress on my own into my room and remove the packaging with ease. There were no off-gassing smells and the mattress seemed to inflate immediately. Leesa notes that it could take up to an hour for the mattress to fully inflate and days for it to fully firm up. 
Leesa offers a 100-night trial, which is pretty standard (again, some brands are more generous here, with some offering up to a full year's trial). You just have to sleep on the mattress for 30 days before you go through a free return process. The 10-year limited warranty offered is also standard, which means they'll replace or repair the mattress if there is a defect in the craftsmanship and/or materials. 
One of the most notable aspects of Leesa is that it donates one mattress for every 10 sold to a child or family in need. 
Customer service score: 4 out of 5
Leesa Oasis Chill mattress review: Specs
Leesa Oasis Chill mattress review: Other reviews
A new mattress with very few reviews as of October 2023 
Buy direct from Leesa for best pricing
Also available at MattressLux.com, Better Mattress, and other resale sites 
At the time of writing (October 2023), the Leesa Oasis Chill Hybrid is still fairly new to the market so there are only two reviews of the mattress online. For some reason, you can't see these two reviews on the website, but I was able to see one of them via Google. The reviewer pointed out that this mattress' reported cooling properties did not work well, and they found themselves sweaty and uncomfortable at night. 
If you'd like to look at the reviews on your own as they come in, you might find them on Leesa, Google, or other sites where they sell the mattress like MattressLux.com and Better Mattress.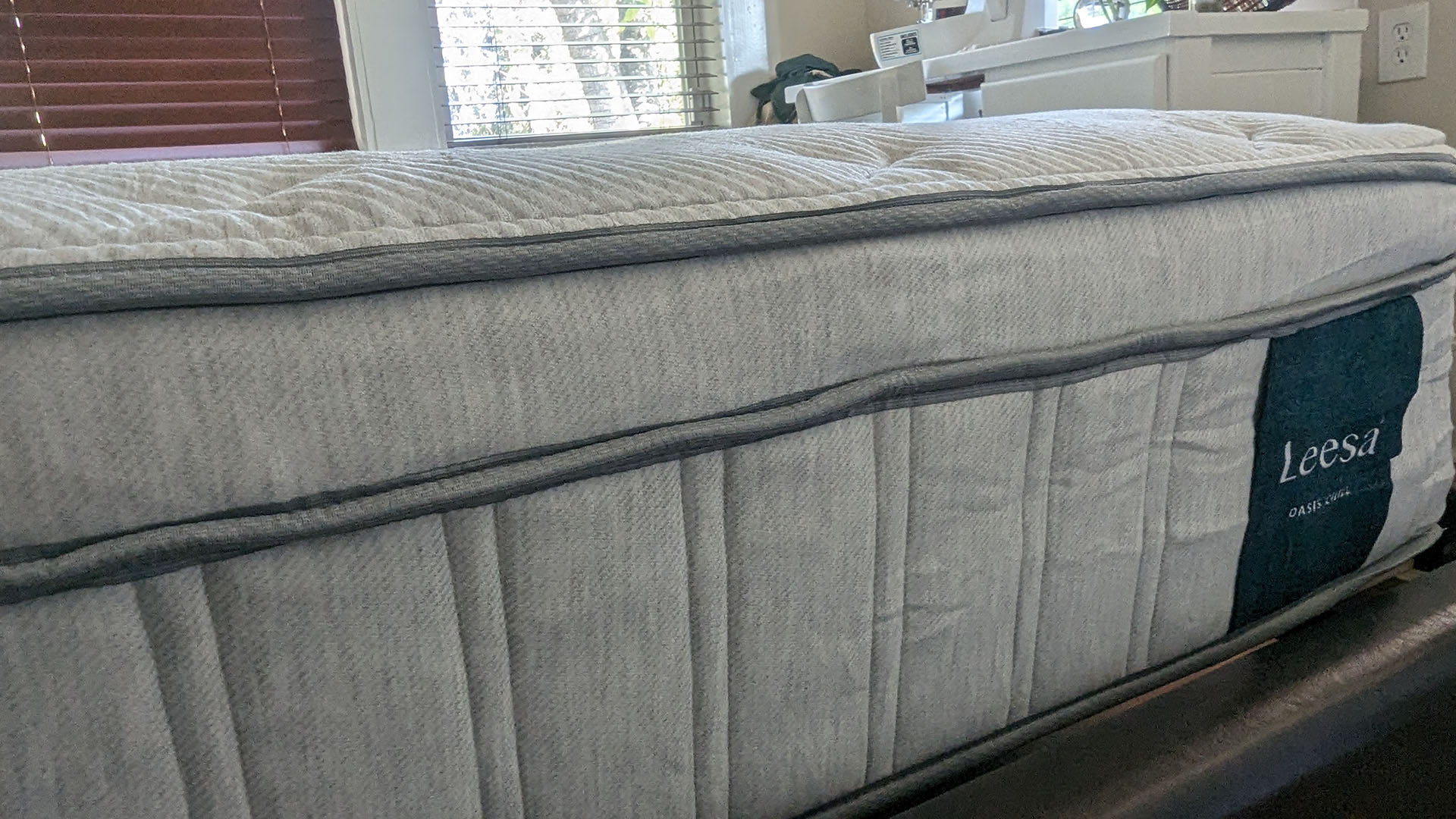 Should you buy the Leesa Oasis Chill mattress?
Buy it if...
✅ You like to sleep on your back and stomach: The hybrid design offers incredible hip and back support that keeps your spine in line.
✅ You suffer from joint and back pain: Sleep on this hybrid mattress that has a reinforced center and you'll quickly find your joint and back pain disappearing. At least the cushion-firm version helped alleviate hip and lower back pain I'd been dealing with for months.
✅ You have a fidgety partner: Enjoy a seamless night of sleep with the Leesa Oasis Chill Hybrid. Through our testing, we determined that you likely won't feel your partner move or get in and out of bed at night. 
Don't buy it if...
❌ You have a tendency to get hot at night: Despite a design that is meant to promote cooling, the Leesa Oasis Chill Hybrid isn't as breathable as I hoped – I found myself getting hot at night during the testing period. Head to TechRadar's cooling mattress guide for alternatives at a range of price points.
❌ You prefer to sleep on your side: Due to the center coils of the mattress being reinforced, the Leesa Oasis Chill Hybrid doesn't offer enough give in the hip area for side sleepers. Something like the Helix Midnight mattress would be a better choice for most side-sleepers.
❌ You have a smaller budget: As an upper-premium mattress, the Leesa Oasis Chill Hybrid is fairly expensive. If you're on a tighter budget, check out the Cocoon Chill mattress, which is more affordable and comes with a phase-change cover that our testers found regulated temperature very effectively.
How I tested the Leesa Oasis Chill Hybrid
I tested a queen-sized, cushion-firm Leesa Oasis Chill Hybrid in my Dallas, Texas, home for 3 weeks. The testing period was during October when night temperatures ranged from 60-75 degrees. The bed was made with a light comforter and microfiber sheets. I had a friend sleep on the mattress one night. I also ran standardized tests to determine the mattress' softness, edge support, and motion isolation. 
First reviewed: November 2023