Asus ROG Swift OLED PG27AQDM: Two-minute review
There's a lot to say about the Asus ROG Swift OLED PG27AQDM, and if you ignore its price tag, it's almost entirely positive. Asus knows how to satisfy gamers, and this monitor does its job for everyone except for maybe those that prioritize getting the highest resolution possible.
This Asus ROG Swift display is not going to look quite as sharp as the best 4K monitors with its 1440p resolution. But, this is a 26.5-inch monitor that will presumably be sitting just a couple feet away from you where that won't matter, especially for competitive gamers who prefer smaller screens. 
So, if you're willing to splurge and have been saving up for one of the best gaming monitors for your setup, the Asus ROG Swift OLED PG27AQDM is worth consideration. Its high price is most likely due to the inclusion of that OLED panel as well as all the custom heatsink Asus has crammed in to minimize potential burn-in.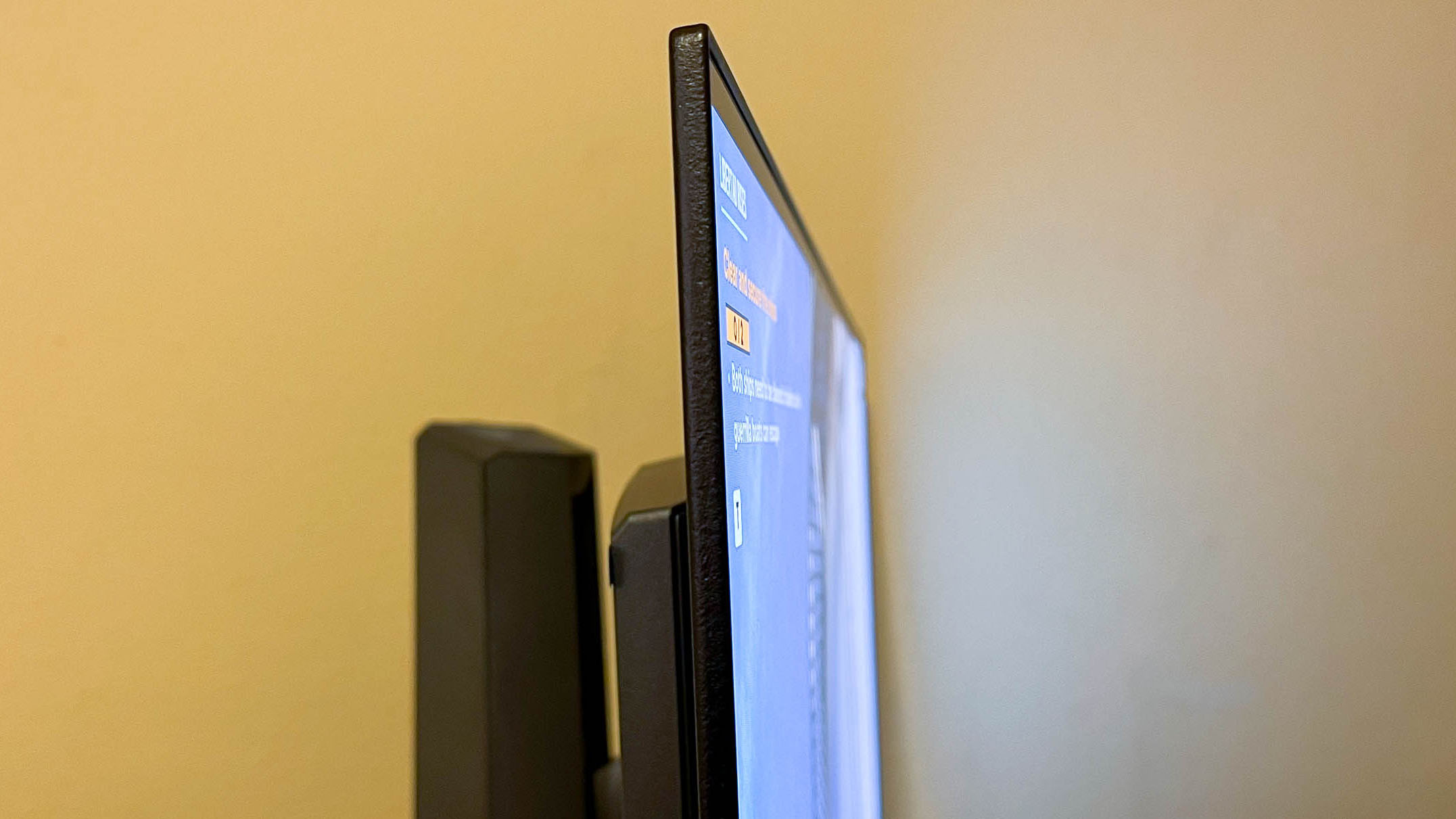 Surprisingly, this is a very sleek monitor. The panel itself is very thin and where the heatsink is attached is not that much thicker. Also adding to that slim figure are its almost non-existent bezels.
Image 1 of 2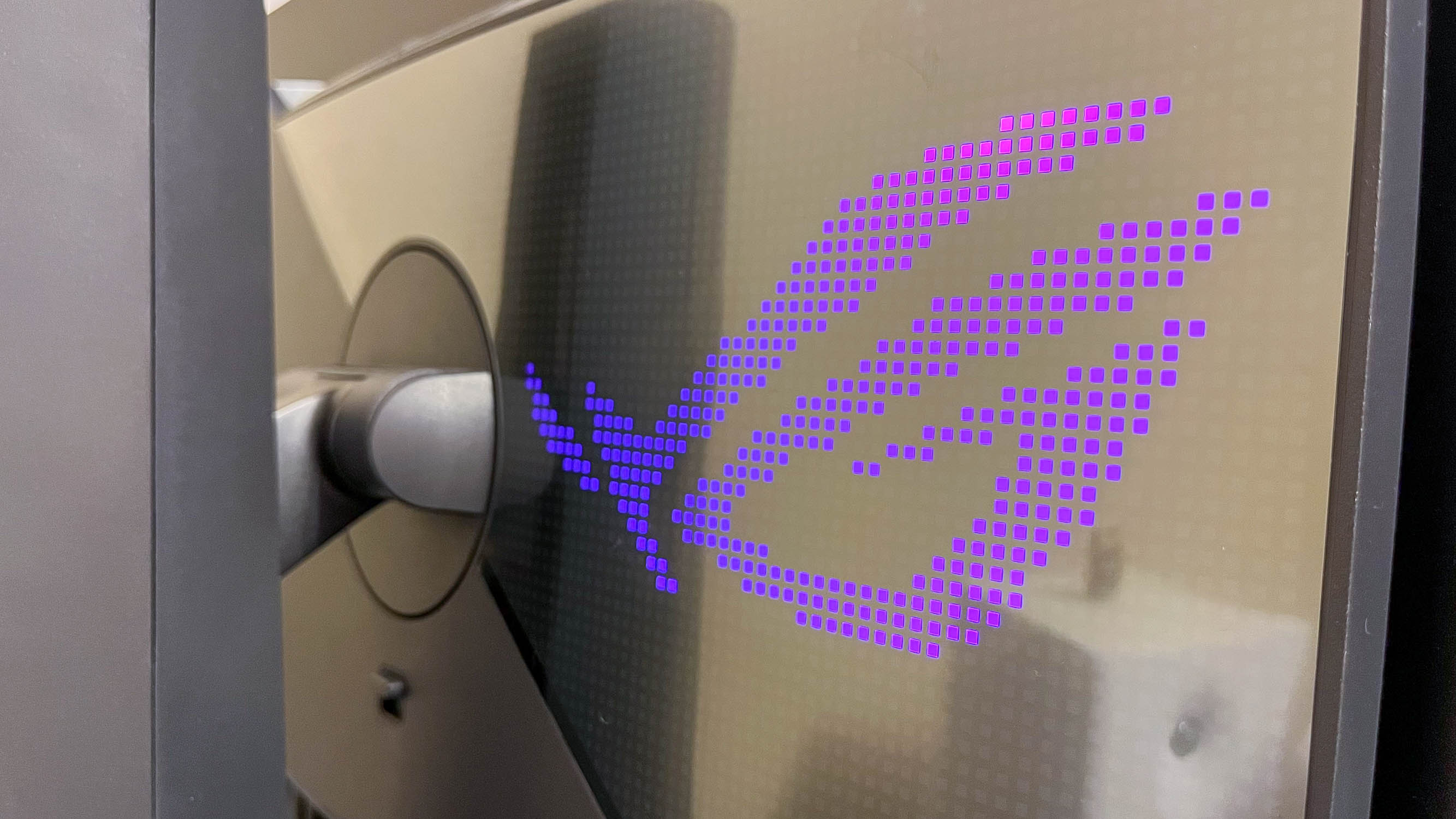 Image 2 of 2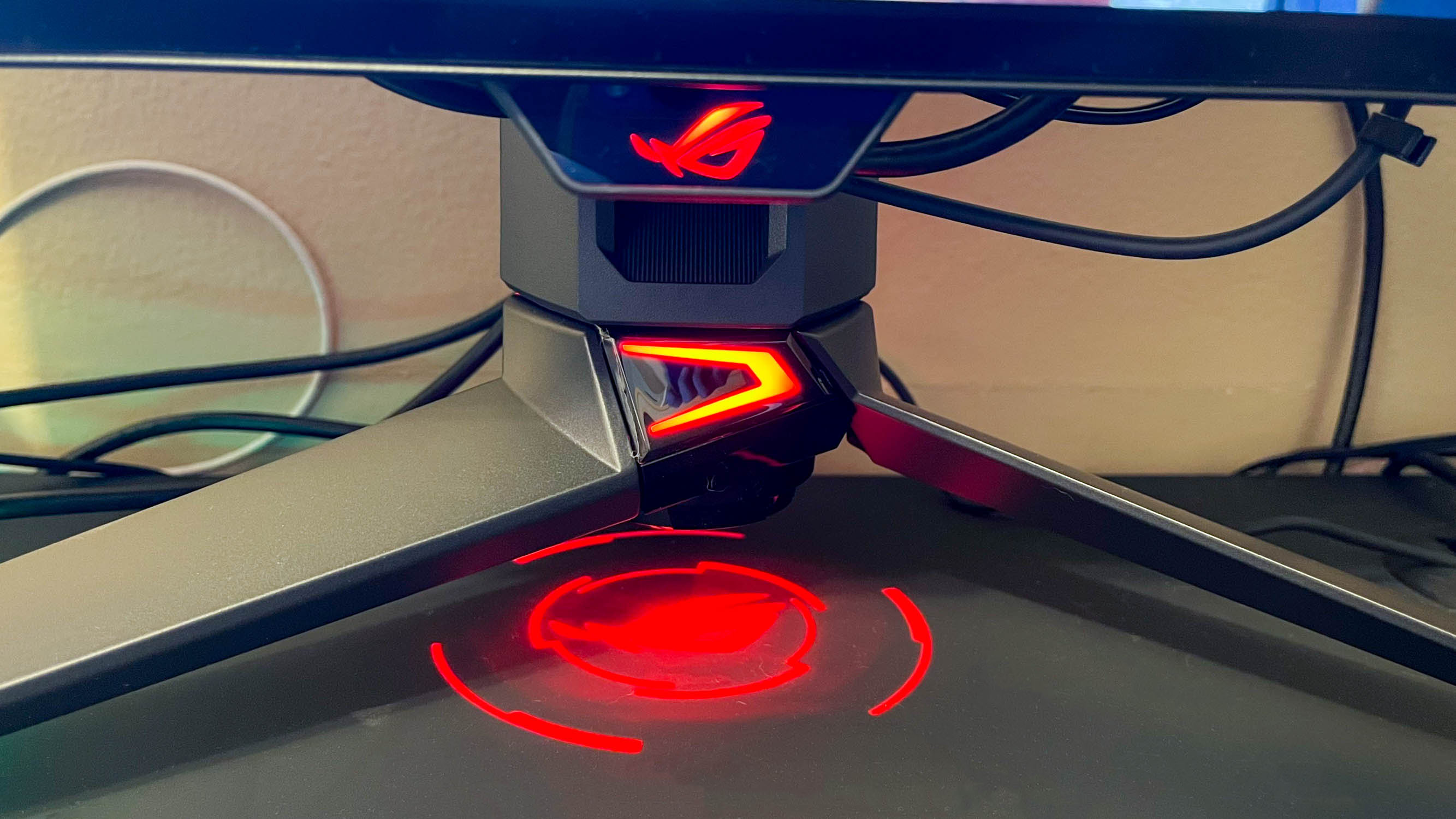 Asus also made sure that the Asus ROG Swift OLED PG27AQDM can't be mistaken for anything other than a gaming monitor. That's most noticeable through the included backlighting, which is controlled through the OSD menu. There are two zones: an RGB one displaying the Asus logo on the rear cover with five different presets and a red LED projecting down at the desk from the base of the Asus' stand. That unfortunately can only be dimmed or turned off.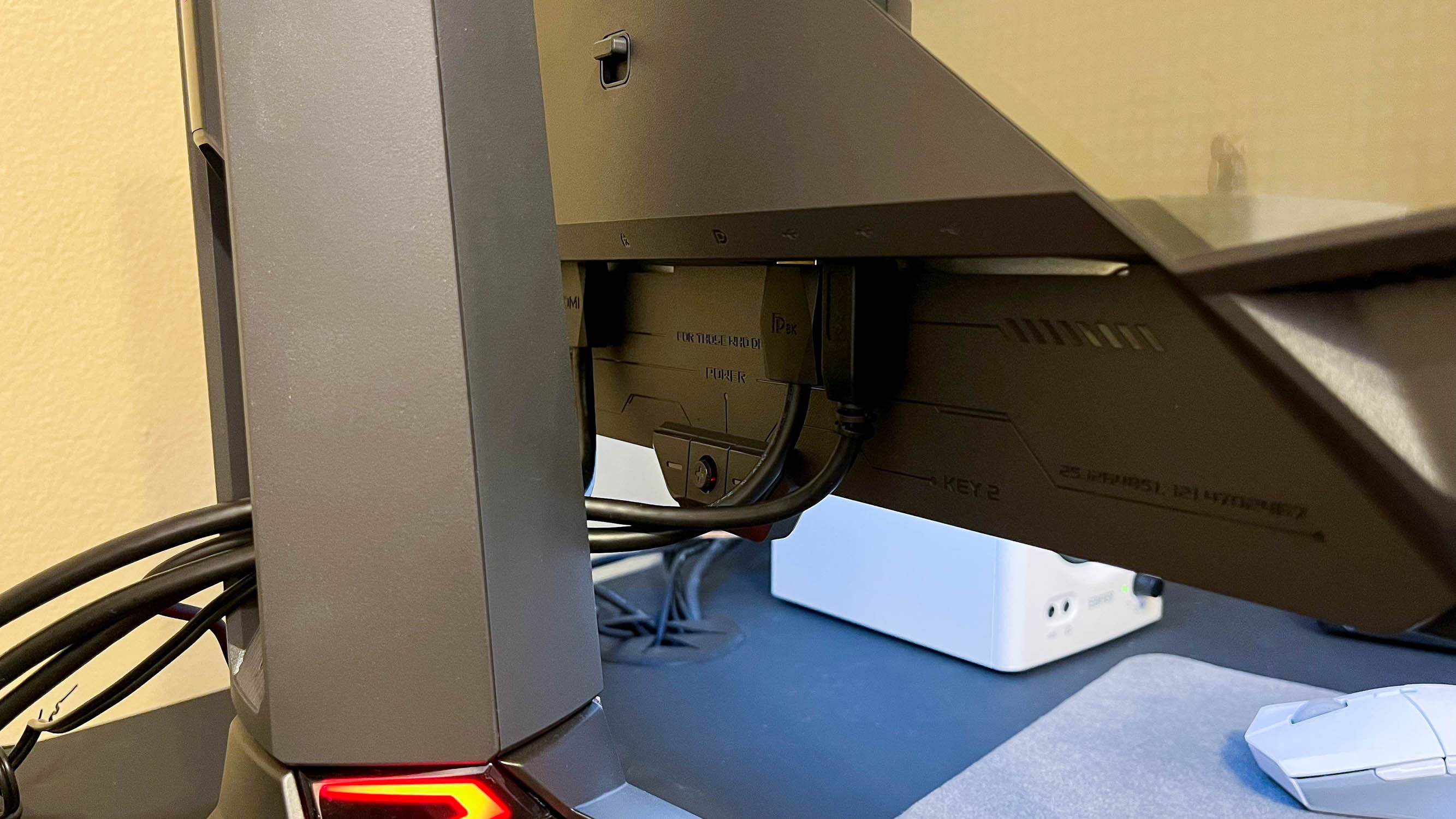 Whether you care about RGB or not, the ports are a key consideration when looking at gaming monitors, especially if you like to have multiple sources connected. There's a DisplayPort and two HDMI, as well as a USB hub though you only get two usable ports. And, while the lack of USB-C is typical for these types of monitors, it would have been appreciated here. After all, anyone dropping $1,000/£1,00 on a display is probably not going to want to buy another one just to use with their Ultrabook or Macbook when it's time to get some work done.
That said, gamers have quite the number of features on hand to make the most of the Asus ROG Swift OLED PG27AQDM. To start, it supports both AMD Free-Sync and G-Sync and will automatically show you one or the other depending on the graphics card of your computer. It also lets you change the screen size with just a few presses in the OSD menu or software. If you like playing CS:GO in a 1080p resolution at 25 inches, you can do so that easily.
There are also a number of screen modes to adjust the color temperature and brightness based on what kind of game you're playing (or if you're watching a movie) as well as a Shadow Boost option that will brighten shadows to help you see enemies in the dark.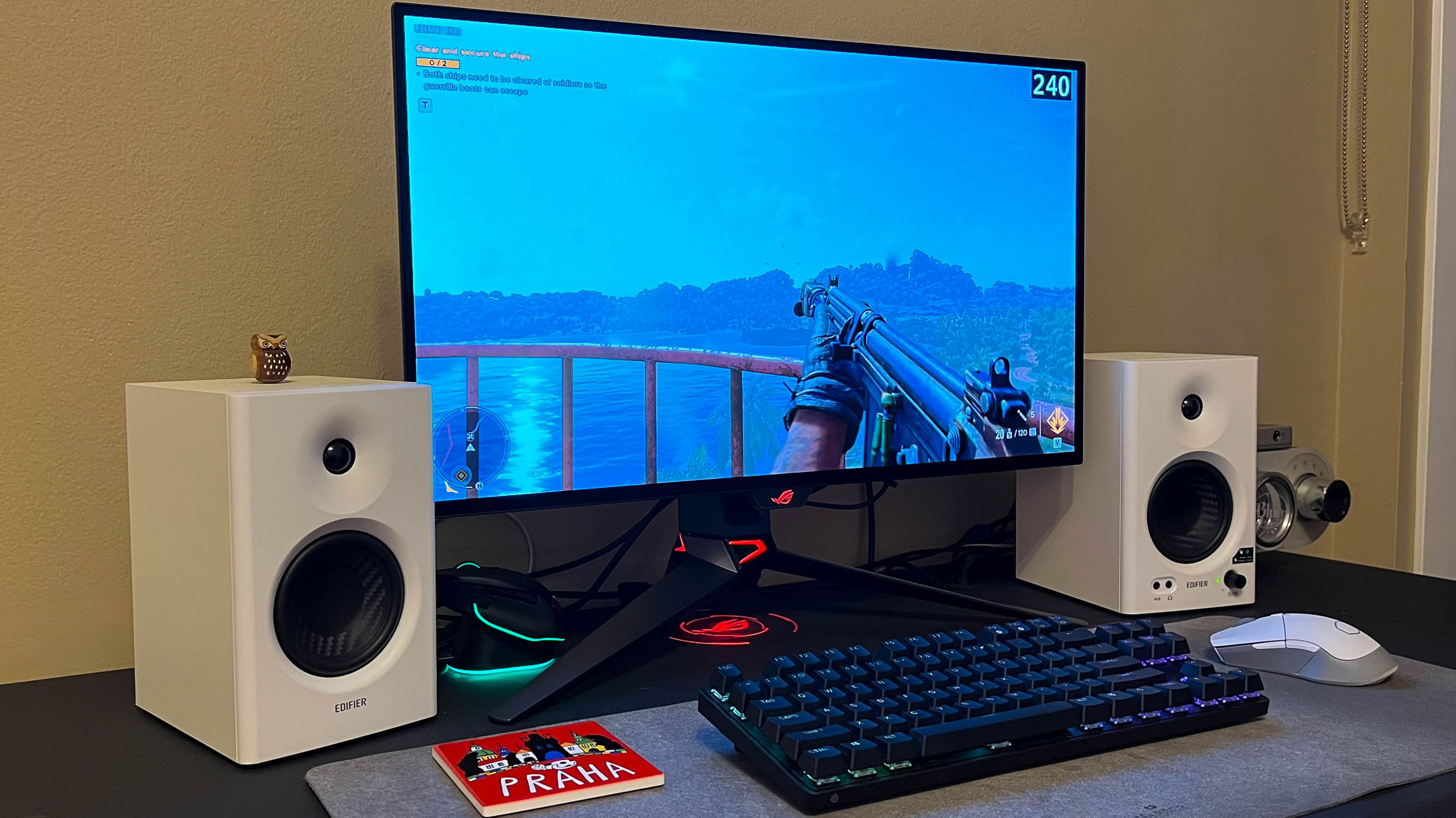 HDR is also available. However, if you turn on HDR, those various presets as well as the Shadow Boost are disengaged. Instead, there are a few HDR presets available to choose from such as HDR Game and HDR Cinema to name a few.
Unfortunately though, the HDR comes in the ever disappointing HDR10 standard. When toggling the HDR on and off for games like Far Cry 6 and Battlefield 2042, I had trouble seeing much of a difference. It was more noticeable with a game containing much more shadow such as Control, where the HDR did offer a more natural-looking environment and a little more dynamic contrast. However, it's not the eye-popping experience that I experience when enabling HDR on a monitor with a Vesa-certified rating. Really, outside of that price tag, this is the biggest disappointment here.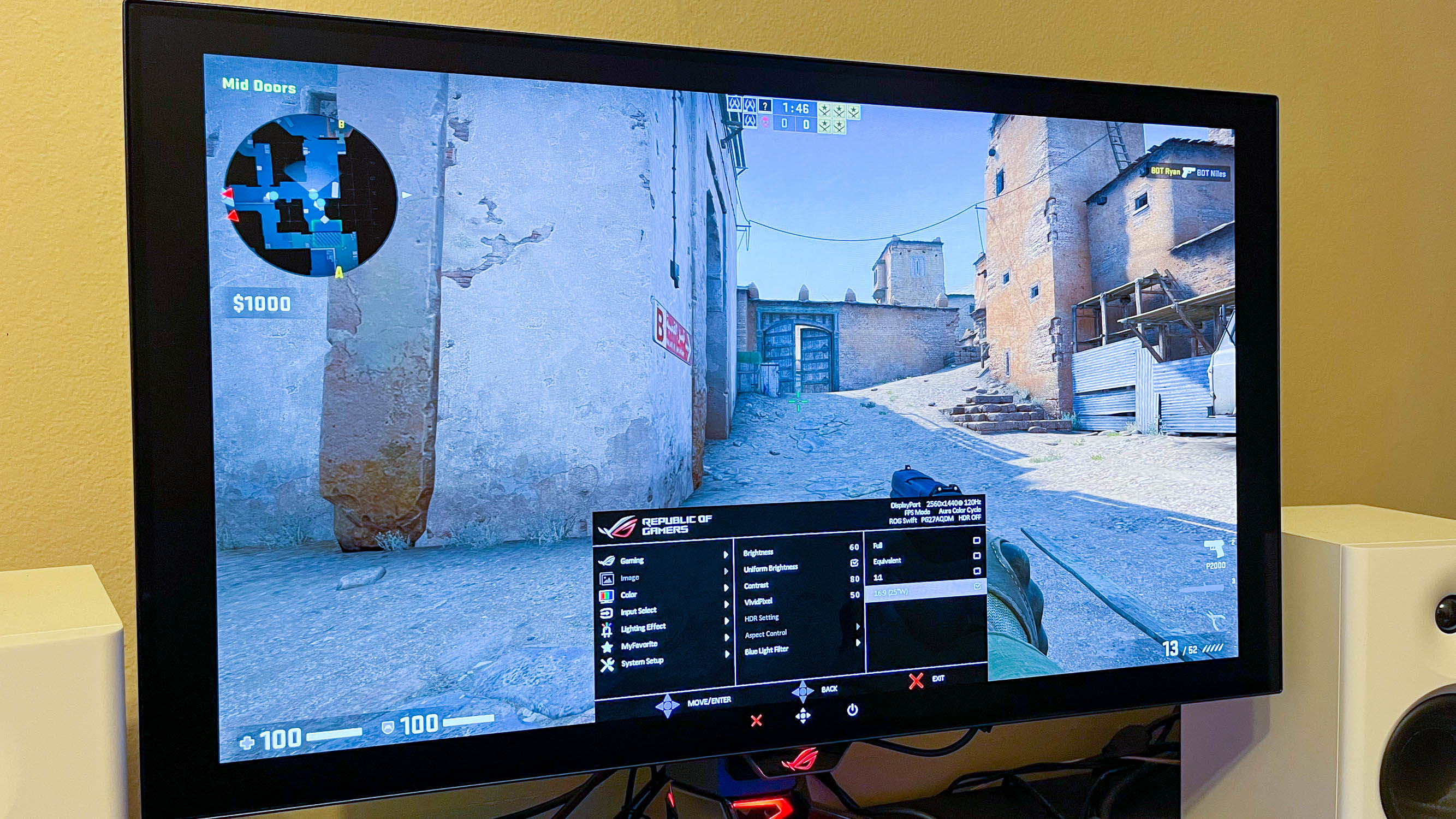 Luckily, that's the worst aspect of this monitor. Sure, it's not 4K, but its 1440p OLED screen is nice and sharp for just about any game I played on it. And, with a color coverage of 135% sRGB and 99% DCI-P3, it represents colors very well.
What really keeps everything looking crisp is the Asus ROG Swift OLED PG27AQDM's 240Hz refresh rate and 0.3ms gray-to-gray response time. This thing is fast! Even without any V-sync enabled, I almost never experienced ghosting, screen tearing or lag. And, if I did, it was in something poorly optimized or an issue on the PC side. All the games mentioned above performed flawlessly and looked really good.
Asus ROG Swift OLED PG27AQDM: Price & availability
How much does it cost?  $999.99 / £1,099.99 / AU$1,999 
When is it available? Available now
Where can you get it? Available in the US, UK, and Australia
Spending almost as much on a monitor as you would on a gaming PC might seem like the new norm, but it's still hard to swallow. At $999.99 / £1,099.99 / AU$1,999, Asus is asking a lot for this model. Sure, you're getting that OLED panel. You're also getting a 1440p at 240Hz combo in the specs department. And, that can be pricier than one might expect.
The Samsung Odyssey G7, for instance, is also 1440p at 240Hz and goes $676 / £499 /  AU$999. Of course, there's no OLED panel, and it doesn't have some of the features that the PG27AQDM has. Still, it's not hard to find similar performance for $300 less. Other speedy 1440p monitors will also fit into this price-range.
If you want speed but can sacrifice on the resolution, you can spend much, much less. The Monoprice Dark Matter 27-inch gaming monitor, for instance, goes for $299 / about £220 / AU$420 and 1080p at 240Hz performance while also coming with a solid Vesa-Certified HDR400. 
Asus ROG Swift OLED PG27AQDM: Specs
Should you buy the Asus ROG Swift OLED PG27AQDM?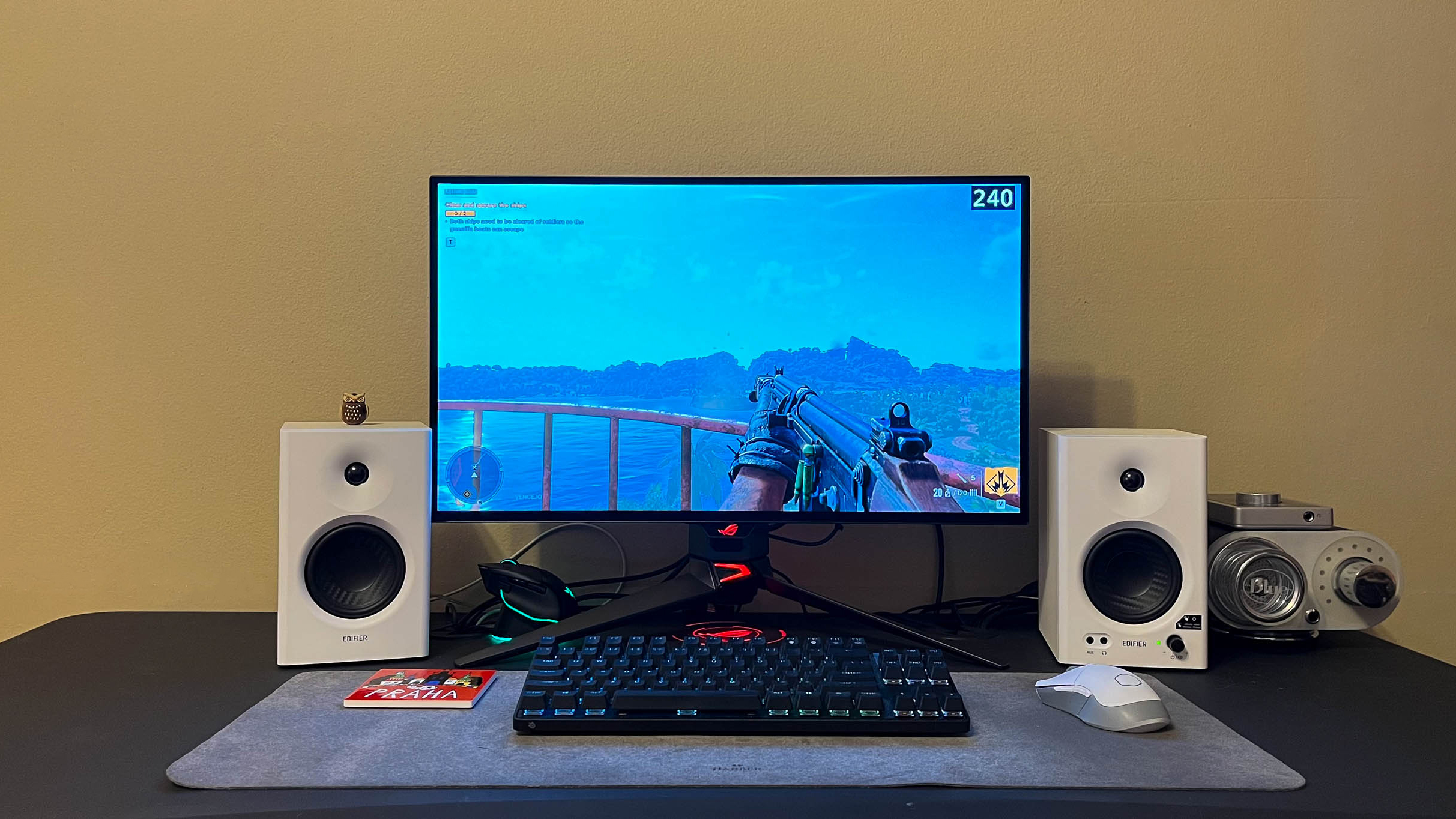 Buy it if...
You want fast performance
With its 240Hz refresh rate and 0.3gtg response time, there are very few monitors that can go faster. And, none of them have an OLED panel.
You want gaming features
Not only is the Asus ROG Swift OLED PG27AQDM with both AMD and Nvidia's proprietary v-sync, but it comes with the ability to change the aspect ratio to a typical esports-size monitor with just a press of a couple buttons.
Don't buy it if...
You're on a budget
If you're willing to skip the OLED panel and maybe the speedy performance, you can get a capable monitor for far less than this display's $1000 asking price.
You care about HDR
HDR10 always seems to disappoint. And, on such a pricey model as this, it disappoints just a little more. If you really want that deep contrast, look for something with a Vesa-certified HDR rating.
Asus ROG Swift OLED PG27AQDM: Also consider
How I tested the Asus ROG Swift OLED PG27AQDM
Tested over a week
Tested with different and different kinds of games
All included features were explored
To test the Asus ROG Swift OLED PG27AQDM Gaming Monitor, I spent a week with it, playing all sorts of games from fast-paced titles like Battefield 2042 to more graphically intense single player titles like Control and Far Cry 6.
While testing, I spent plenty of time checking for ghosting, screen-tearing, and latency while also toggling HDR to see what effect it had. I also checked out the various features included to see how they worked. For this review, I used two computers. One had an Nvidia GeForce RTX 4090 while the other had an Nvidia GeForce RTX 3060.
Having spent the last few years reviewing tech gear for gaming and otherwise, I've gotten a feel for what to look for and how to put a piece of kit through its paces to see whether it's worth the recommendation. And, I've spent even longer playing computer games so I have an understanding of what gamers look for to get the most out of their titles.
We pride ourselves on our independence and our rigorous review-testing process, offering up long-term attention to the products we review and making sure our reviews are updated and maintained - regardless of when a device was released, if you can still buy it, it's on our radar.
First reviewed May 2023