Majority Oakington: Two-minute review
The term 'all-in-one audio system' gets bandied about a lot to refer to a speaker that has multiple uses but Majority has taken the term to heart with the Oakington as there's very little it can't do – or play.
The Majority Oakington lets you play from CDs, tune into FM, DAB or DAB+ radio, plug in a device via an aux cord or USB cable, and connect via Bluetooth to stream music. This Swiss army knife of a music machine is only missing Wi-Fi streaming and it'd fill out the bingo card of all the modern ways of listening to music (sorry, vinyl fans, but I said 'modern').
This range of features is impressive enough when you consider its £159 ($200 / AU$300) price tag – that's a great price for a device this versatile, especially with the Oakington boasting the design flair of a designer speaker of 10x that price.
Perfect it is not, however. There's no one massive flaw with the Majority Oakington, but I did butt up a few little quirks and kinks that stop this being an otherwise glowing review.
The Oakington is a little complicated to set up and use, which admittedly only means that it's harder to use than a simple press-and-play speaker, but I did have to spend some time poring over the instruction manual when using the device. 
That is to say, people who are technophobic might find the Oakington a little overwhelming. I've tested countless audio devices for TechRadar, including some of the best DAB radios and best Bluetooth speakers, and I'm slightly ashamed to admit that a large number of problems I had with the device were solved by randomly hitting different buttons until something worked.
Jumping between all of the Oakington's audio inputs did raise another annoying issue, and that's that volumes varied quite a bit between them. I'd barely be able to hear Bluetooth music and then deafen myself when jumping to DAB. Am I being dramatic? A little, and I don't want to seem to accentuate the negatives, because overall this is a handy multi-functional device with just a few teething problems.
Majority Oakington: Price and release date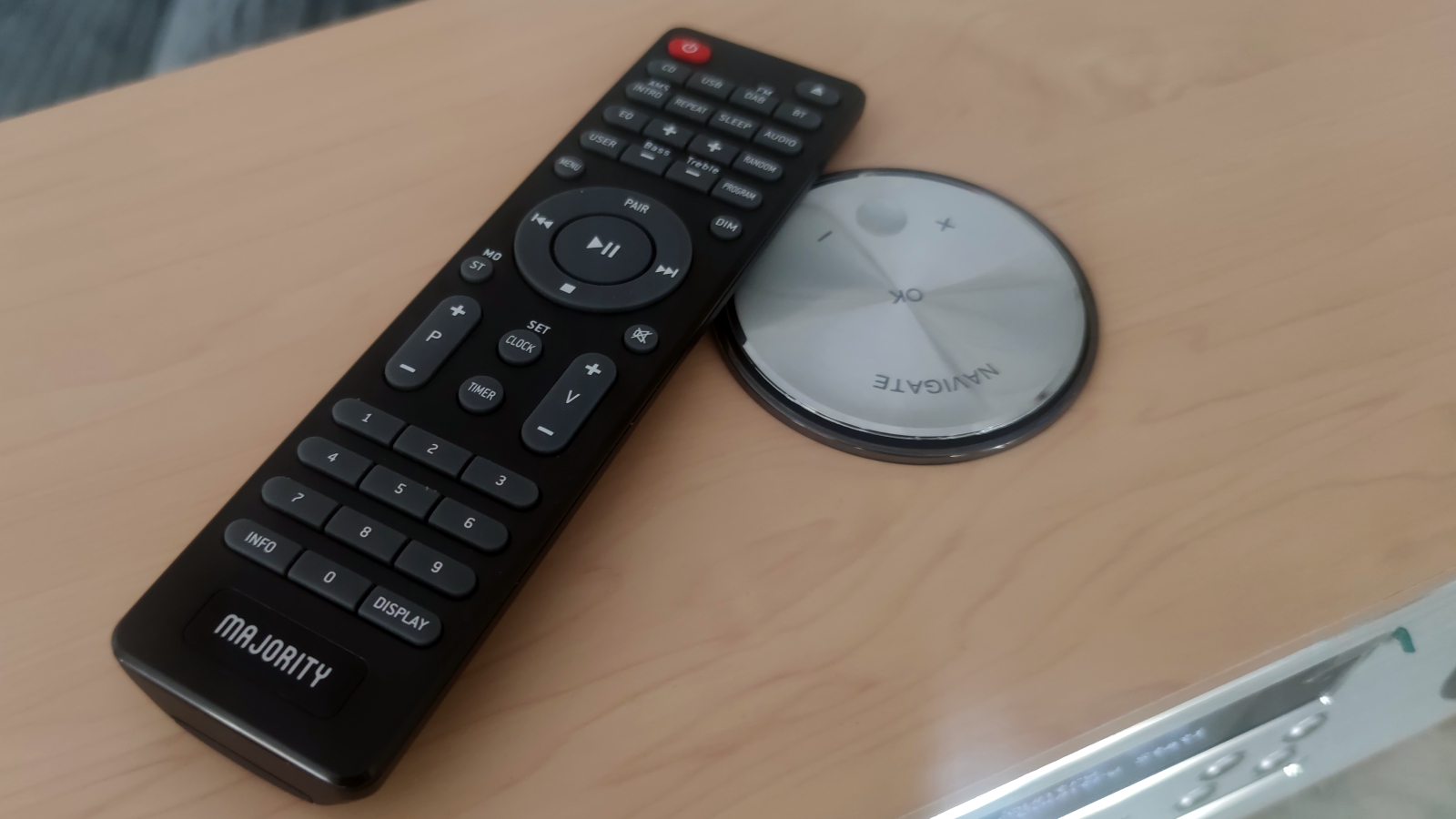 Released in 2018
Originally priced at £159 ($175 / AU$265)
The Oakington was first released in 2018 and it's remained a popular entry in Majority's line-up of digital radios ever since.
The device originally cost £159 ($200 / AU$300). But five years after its release, it's generally sold for £139 ($175 / AU$265), which is the price that every online retailer sells it for at the time of writing and so we've reviewed it with this lower price in mind. Just note that Majority mainly ships its products in the UK, and while it does offer a few products in the US, we couldn't find the Oakington on sale there.
That's a fair price for this speaker given that it doubles as a radio and a Bluetooth speaker. For context, our top-rated DAB radio, the Roberts Revival RD70, currently goes for £179 (roughly $225 / AU$340). While you can of course get any old DAB for a fraction of the price, this all-in-one audio tool justifies its price when you consider it's also a Bluetooth speaker, CD player and so on.
However, if you're interested in the Oakington, you might also want to check out Majority's Homerton 2, which costs the same amount and has Wi-Fi for extra connectivity like Spotify Connect and other Wi-Fi streaming apps. 
Majority Oakington review: Specs
Majority Oakington review: Features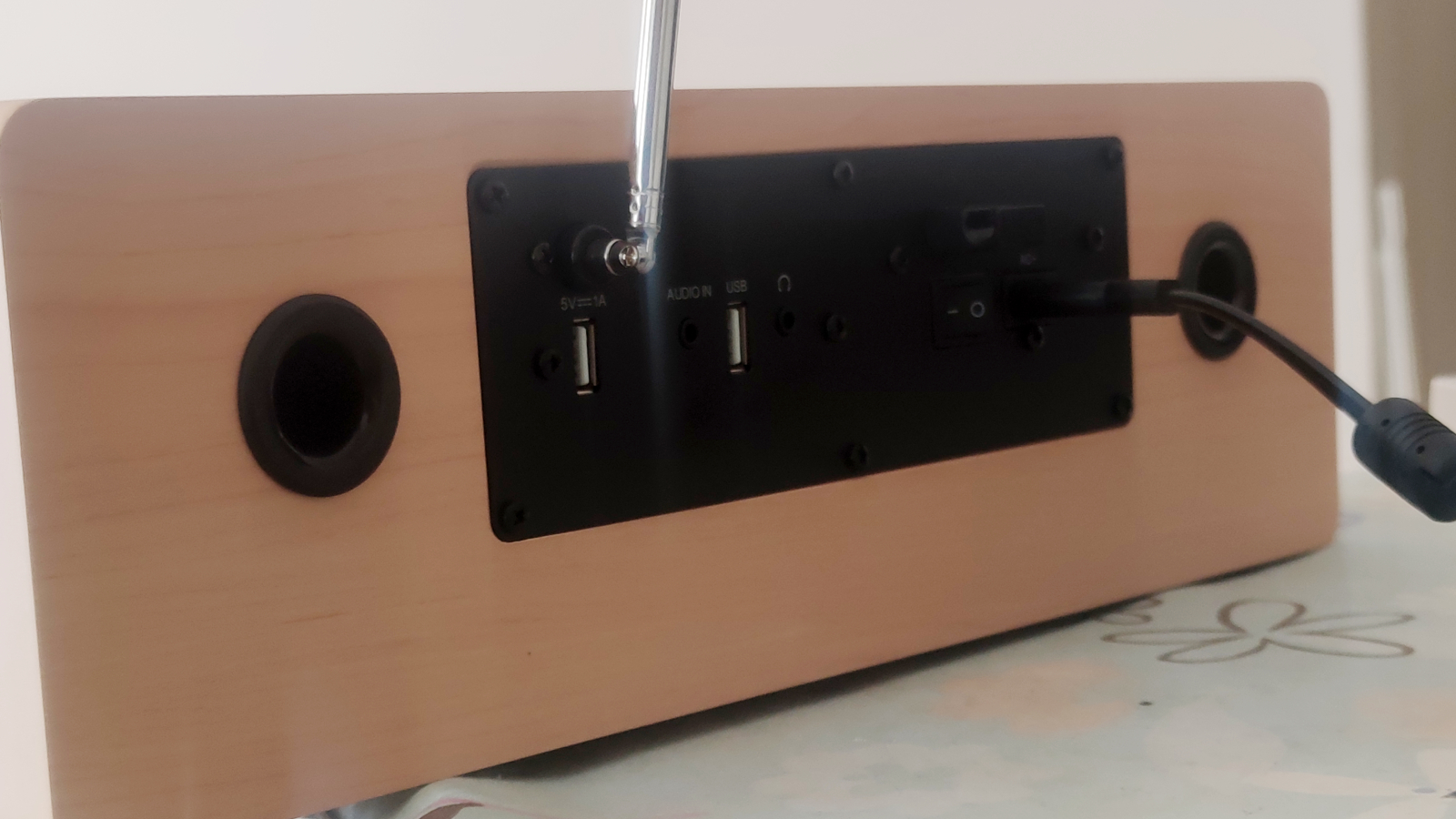 Long list of connectivity types
Mains connection but AAA batteries for remote
Tricky set up process
As previously mentioned, the Majority Oakington has a long list of ways to listen to audio. You can connect it to your phone for Bluetooth, extend the antennae to catch some FM, DAB or DAB+ channels (the latter ensures that it's future proof), plug in either an aux or USB cable to listen to tunes or simply pop in a CD. Such a wide swathe of listening options puts the Oakington in good stead for people who like variety.
As you'd expect, audio quality varies by input, as does volume – more so than you'd expect for such a device. When I first set up the DAB channels I'd just been listening to Bluetooth by streaming music and had to crank up the volume pretty high to hear anything streamed that way. Suffice to say, turning the radio on resulted in a really huge volume increase. This continued through the testing period when changing inputs, which means you'll have to have your finger on the volume rocker on the remote or ready to spin the dial on the machine itself if you like to change input a lot. It's easy to switch input thanks to the remote, though. Depending on what you're switching to, the Oakington will sometimes take a few moments to get its act together to actually switch over.
Being a mains-powered speaker, you don't need to worry about battery life here… except for the remote, which takes two AAA batteries. You get two with the radio, but once those run out you'll need to pick up some more.
There are more features on offer here too. You can use the Oakington to charge your phone or another device via its USB port, which is particularly handy if you're streaming music from the device. There's an alarm function that turns on your music at a certain time, perfect for people who like to wake up to the radio. There's also a headphone port that you can use if you want to listen quietly – however, there's a catch on this last one. You can't use headphones that have a built-in microphone which, in this day and age, is the vast majority of them. In fact, I don't own a single pair of headphones that don't have a microphone (and I test audio; I've got many), which limits this functionality somewhat.
Given the broad range of features, the Majority was a little finicky to set up. As I've already mentioned, I spent lots of the testing time glued to the manual, especially when setting it up and using the extra tools like switching to the aux input. This stops becoming an issue the more you use the speaker, but it's worth pointing out if you're not a tech-head.
Case in point, that has cropped up as I'm writing this – the remote has a few easy-to-press buttons to play from CD, Bluetooth, radio or USB, but to listen from the aux cable, you have to press the button on a different row of the remote simply titled 'audio'. Or, like me, you can simply start pressing random buttons on the device until the aux-in starts working.
One feature missing from the Oakington is any kind of voice assistant, which is far from a deal-breaker but is worth flagging given how commonplace they are in Bluetooth speakers. If you want Alexa or Google to tee up your next song, you're going to have to forget it.
Majority Oakington review: Design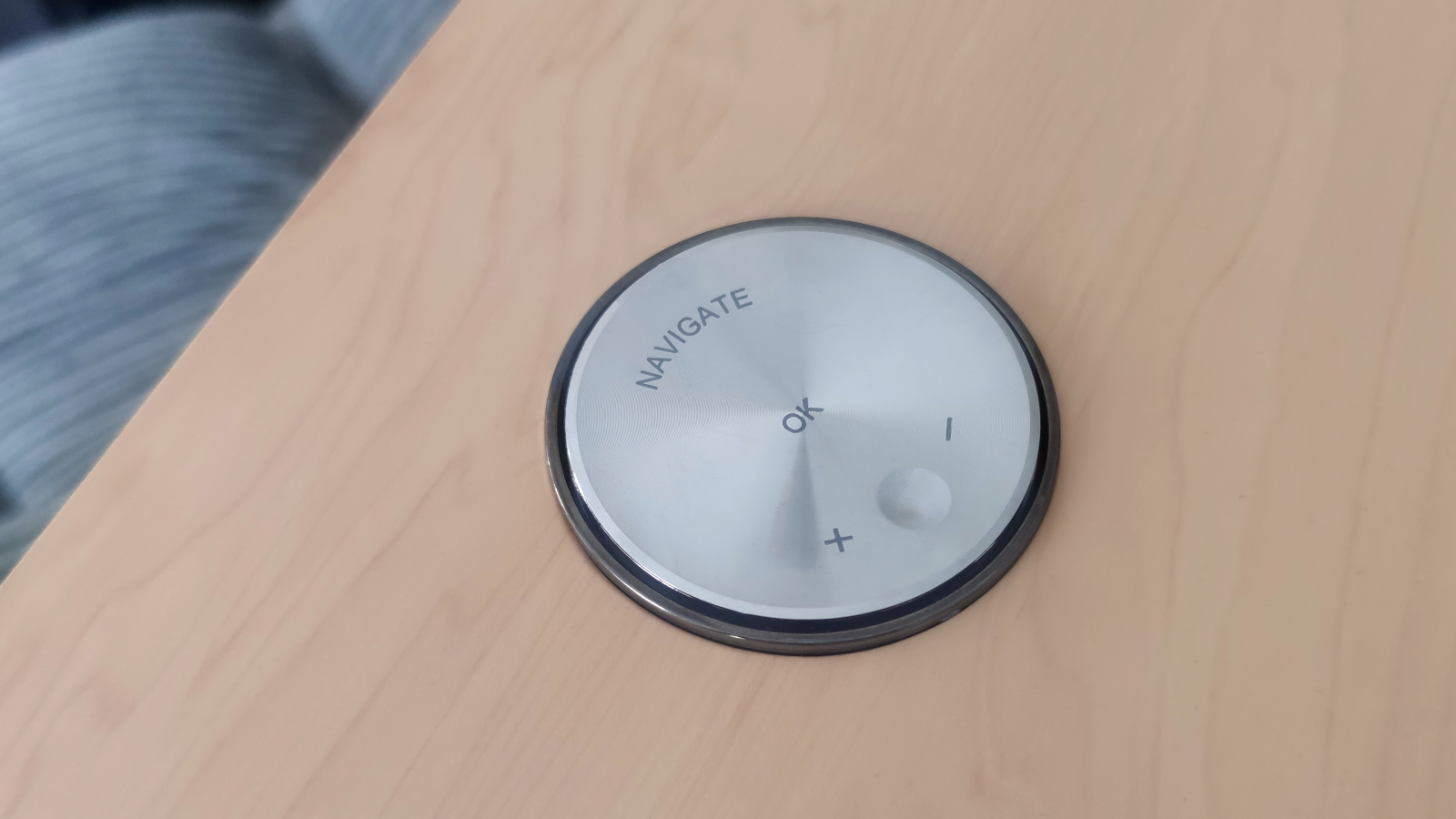 Classy wooden design in two colorways
Not too big, but has top-mounted dials
Remote works most, but not all, of the time
Beauty is in the eye of the beholder, but in my eyes, the Oakington is a good-looking device – definitely more so than lots of its rivals. It comes in two color options, light or dark brown, with both using a wooden look to fit naturally into lots of home decor.
The front of the device offers two speakers, a small LED screen, eight buttons and a CD slot. The top of it has a dial that you can rotate to change the volume or press in as the device's 'select' button, and the back has the power port and switch and four separate input or output jacks (more on these later).
Despite what pictures suggest, it's not too big, measuring 40 x 20 x 13 cm and weighing just shy of 4kg. It's not a portable device per se – nothing with a power cable really is – but it won't take up too much space in your home. We wouldn't recommend stacking other things on top of it though, not if you want to be able to change the volume without the remote.
Onto that remote: it gives you all the functions you need, with more functions than on the body of the Oakington, but I'd say it's possibly too big and complicated for the device it controls. In the testing time, I was frequently having to consult the manual to work out how to enable simple tasks.
Some other reviewers have called the remote's connectivity spotty, and this was the case for our review sample too – I'd sometimes have to press a button twice to have it pick up the signal. Saying that, I didn't find it too much worse than most remotes that come packaged with TVs or similar devices. 
A more annoying issue was that the Oakington has 32 volume levels, and as I'll get into later, the volume varied a lot by input, so I found myself changing it a lot. On the remote, this can mean lots of hammering at the volume up or volume down button to have an audible difference – in these circumstances, I'd end up eschewing the remote and utilizing the rotating dial on the device since it was much quicker. It just involved standing up! 
Majority Oakington review: Sound quality
A good rather than great listen
CDs or Bluetooth streaming lacked bass
EQ presets offer minor tuning adjustment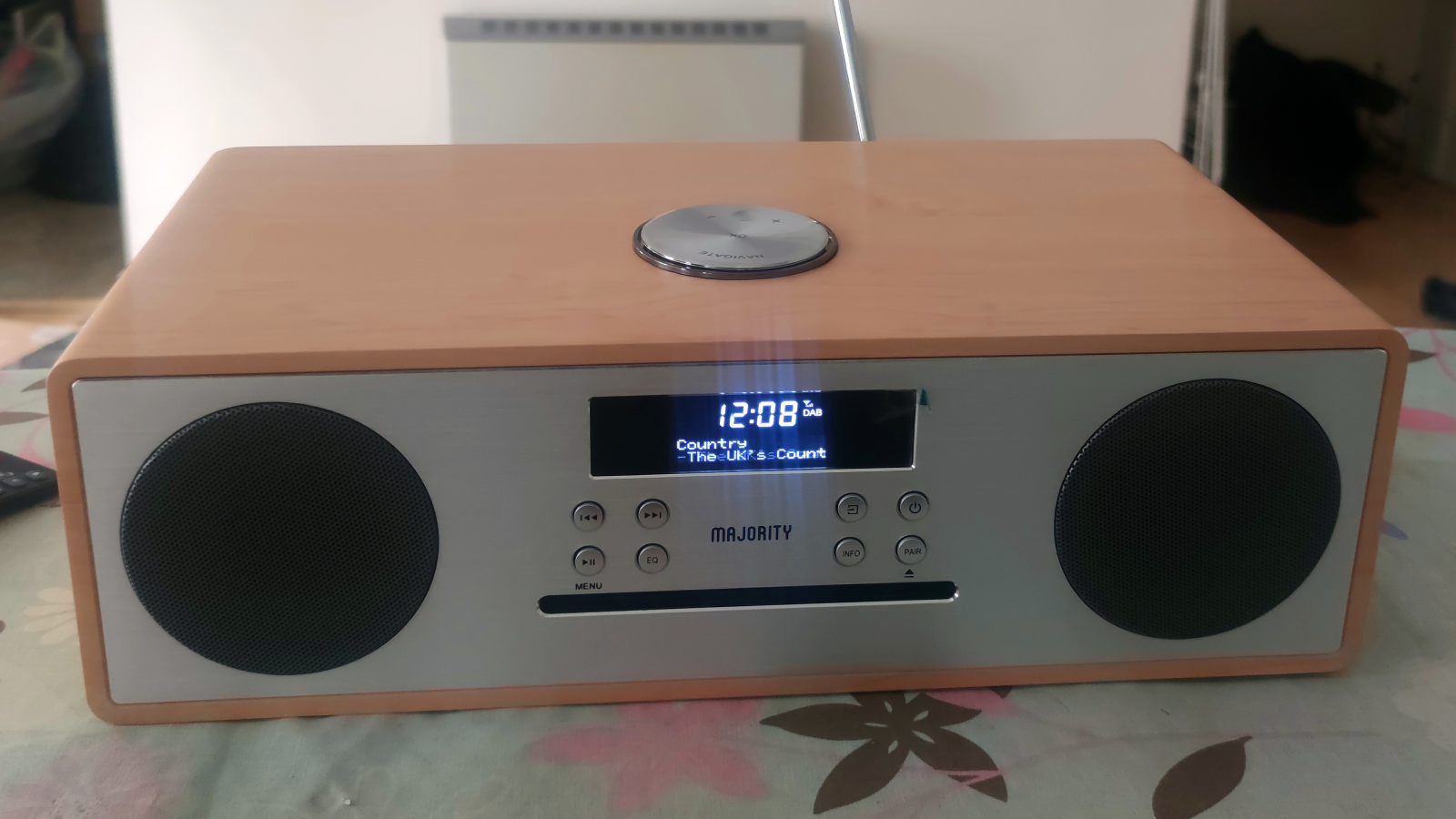 The Majority Oakington provides good audio, but it falls short of 'great' for a few reasons. It doesn't quite stack up to many Bluetooth speakers on the market, but if you're only planning to use it for, say, FM radio functions, then that won't matter to you.
When listening to a CD or Bluetooth streamed music, the lack of bass is palpable – if you want thumping bass then you might have to look elsewhere. You can adjust the EQ with a control on the remote, but this didn't seem to have a huge impact in tests. There's an EQ button as well that cycles through presets: normal, class (which we presume is meant to be classical), pop, rock and jazz, but the changes between each sounded pretty minor.
As mentioned before, I had trouble with the wildly variable volumes of different inputs, and for some the max volume was too low. Bluetooth music maxed out at such a low volume that I couldn't make out the song at the other end of the same room, and couldn't hear songs from one room over. To reiterate, that's at maximum volume, so this is only good news for your neighbors.
The lopsided balance is easy to criticize but it's not a deal-breaker here, and I can see some users finding the sound of the Oakington just fine. That's particularly true thanks to the sound stage which, bass aside, provides a lot of depth. 
Majority Oakington review: Value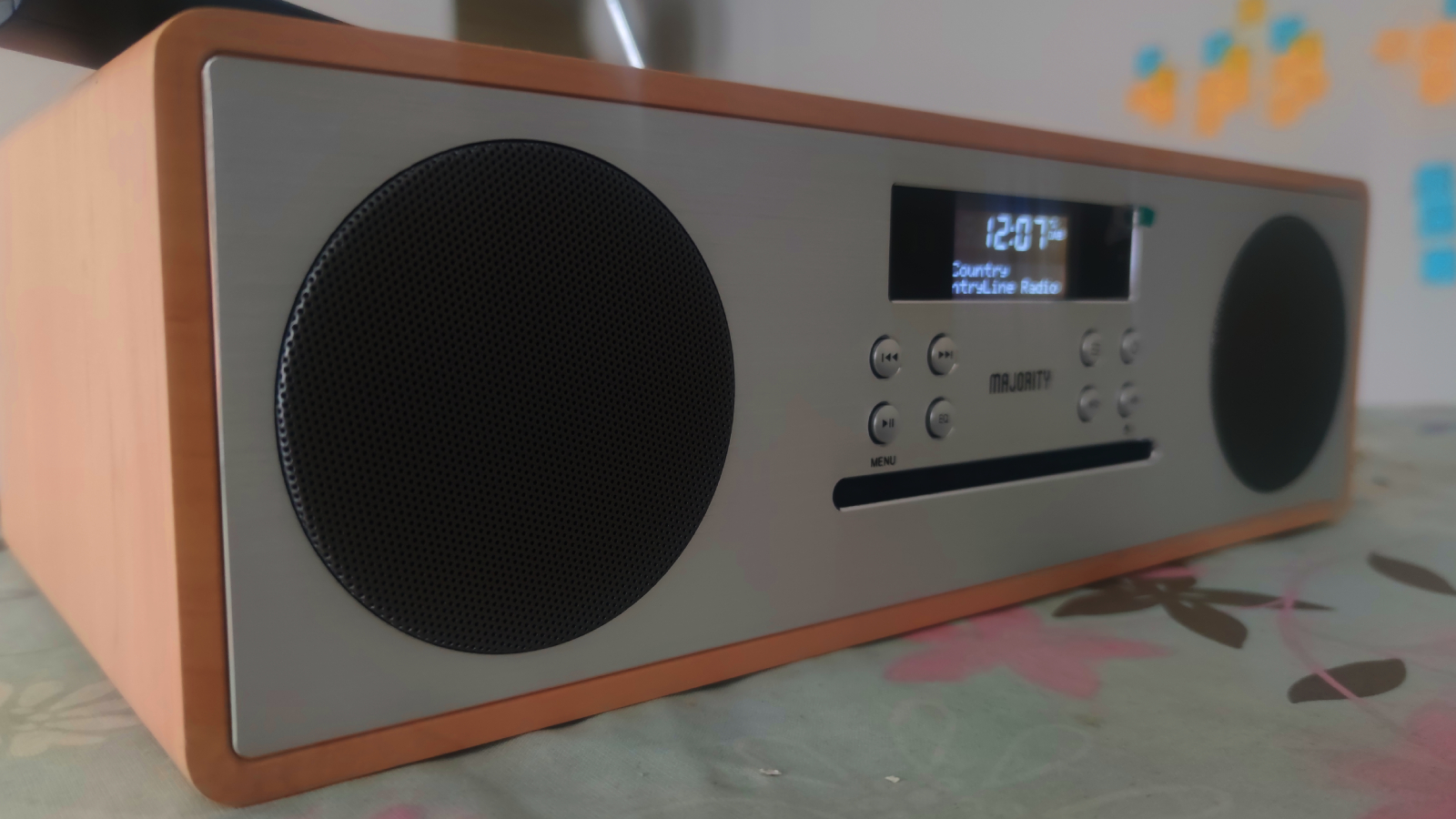 Given that you're getting about five devices all packaged into one with the Majority Oakington, it's pretty easy to recommend as a good-value audio device.
Of course, you could get each of those five devices separately for a much lower price, but Majority crams them all into one body and at a price lower than all of them combined. I'd call it a good value device for the features and audio props you get.
Should I buy the Majority Oakington?
Buy it if…
Don't buy it if…
Majority Oakington review: Also consider
How I tested the Majority Oakington
Tested for two weeks
Tested with a range of audio inputs
I used the Majority Oakington for two weeks prior to writing this review. This was mainly split between Bluetooth streaming and DAB radio (as you can see from the images in this review!) but I made sure to spend time testing the other inputs too. 
A lot of the testing time was spent scratching my head while staring at the manual. I should also flag that I moved the Majority about in my flat quite a bit, partly to test its signal and audio power in different locations, but mainly just to find a spot where I could play Bluetooth music and actually hear it. 
I joined the TechRadar team in 2019 and spent several years testing just about every kind of tech under the sun (though my primary role was in the phones team). Since leaving to join TR's sister site What to Watch in late 2022, I've continued to provide tech reviews for TechRadar including headphones, running earbuds, portable speakers, smartphones, robot vacuums and more. 
First reviewed in November 2023