Dyson Solarcycle Morph Desk: Two-minute review
The Dyson Solarcycle Morph Desk lamp is essentially an upgraded version of the Lightcycle Morph that has been available in select markets for a while. Like the Lightcycle, the Solarcycle Morph also comes in two variations – a desk and a floor lamp. For this review, I was sent the desk version, which is currently the only model available in Australia where I am based.
With the update comes a sleeker design compared to the Lightcycle, moving away from an industrial look to what I think is a showpiece, especially in its Ambient mode where the light diffuses through its perforated stand.
Other than its Ambient mode, there are three other settings on the Solarcycle Morph – Task (focused white light), Indirect (warm light pointed upwards) and Feature (a spotlight for decorative items in your home). So, as you've probably surmised, the light temperature can be adjusted, plus there's a daylight tracking option that sets the lamp to mimic sunlight hues inside your home. So it can even be your wake-up call in the morning.
From the different modes, you've also probably realized that the lamp can be adjusted into different angles – the entire stand turns 360º on its base, as does the jointed arm so the optical head can point in a heck of a lot of directions.
Amongst its other headline features are a motion sensor capable of sensing movement from a foot or two away, plus auto-brightness depending on the ambient light. The lamp also goes into standby mode after five minutes of no motion detection. It can even be scheduled to turn on and off intermittently in the evening hours while you're away on holiday to give the impression that someone's home.
As nicely as it's designed, its base has a large footprint, taking up a heck of a lot of desk (or bedside table) space, while the rest of it can tend to feel quite fragile. It's hard to test the lifecycle of the LED bulb, but Dyson promises that it will last you up to 60 years with no change in the light quality, thanks to the heat sink within the swivel beam of the lamp.
Its physical controls are touch and slide, but you can also use the MyDyson app to control the Solarcycle Morph, including setting up schedules.
Unlike other smart lights, there's no way to control the Solarcycle Morph via voice assistants. During my testing, that really wasn't a dealbreaker for me as a lot of the other features aren't found on any other smart light I've tested. Despite that, I still find it hard to justify its premium price.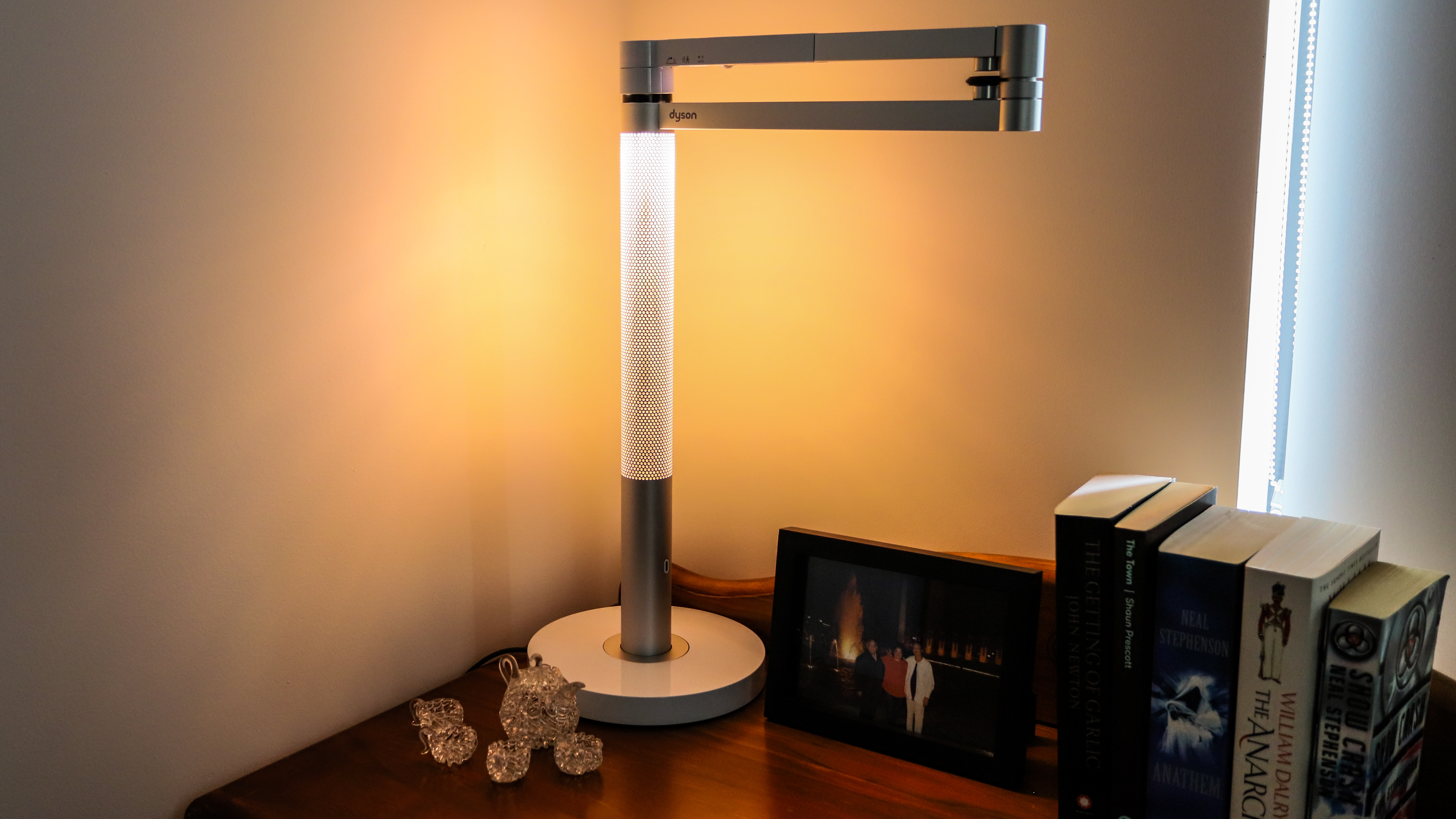 Dyson Solarcycle Morph Desk review: Price and availability
Desk lamp retails for $649.99 /  £499.99 / AU$899
Floor lamp priced at $849.99 /  £649.99 / AU price TBA
Available to buy now in select markets
There is no denying that the Dyson Solarcycle Morph is an expensive lamp, even the cheaper desk version. Sure, it does a lot of things that no other smart lamp can match but, at $649.99 /  £499.99 / AU$899, it's still very premium.
While the Solarcycle Morph Desk is available to buy in most markets, the floor version – which will set you back $849.99 and  £649.99 in the US and the UK respectively – is yet to come to Australia, potentially being available Down Under some time in 2024.
While it might be hard to justify the high price, it's also just as difficult to compare it with any other smart light, even Philips Hue, as there's really nothing else quite like it on the market. It's probably just a matter of time before dupes become available, but if you have the cash to spare, the Solarcycle Morph might just be the best lamp you get for your home.
Value score: 3 / 5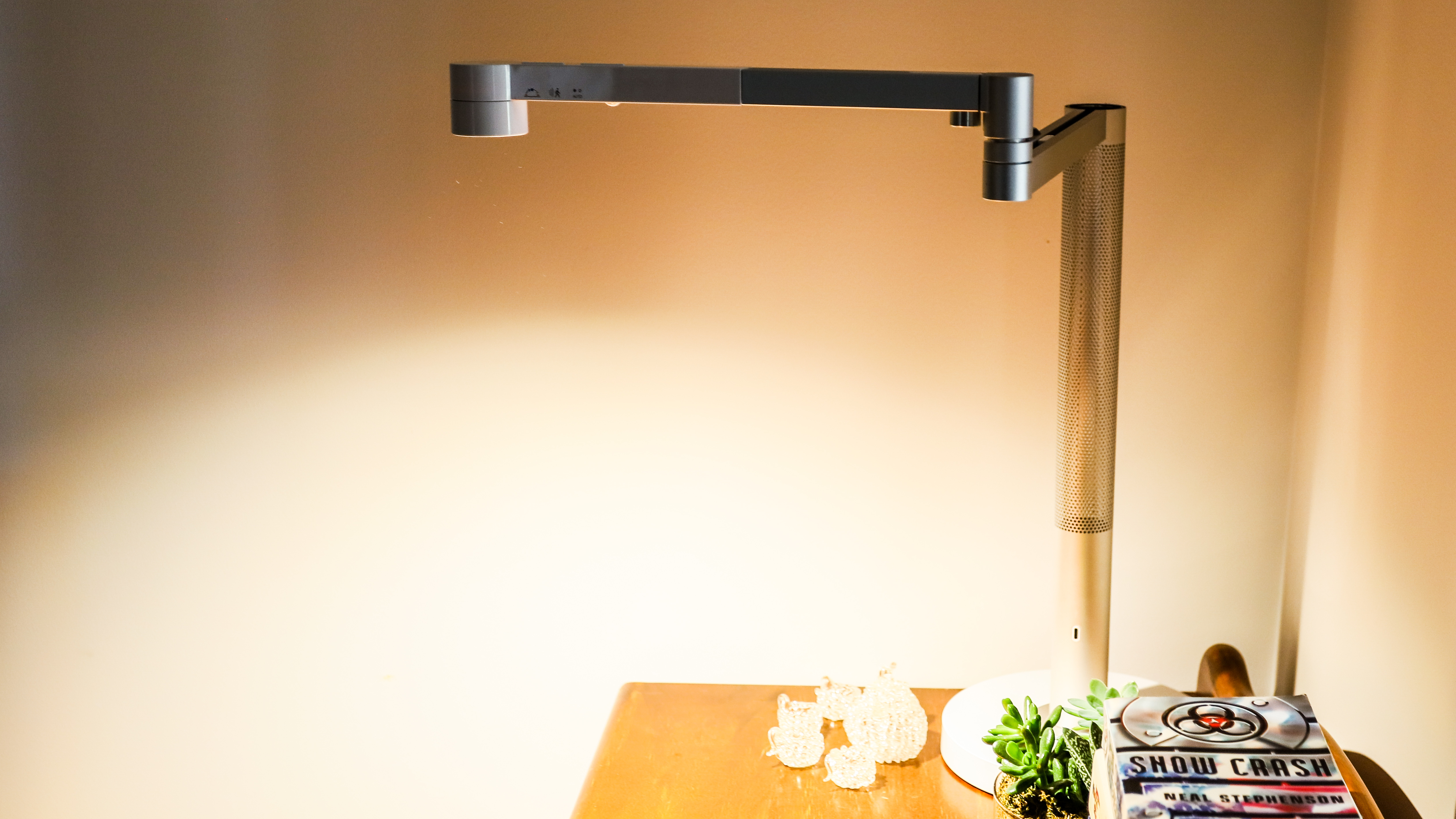 Dyson Solarcycle Morph Desk specs
Dyson Solarcycle Morph Desk review: Design
Clean, modern design
Large, heavy base
Integrated USB-C port
While Australia gets just one silver and white colorway of the Solarcycle Morph, there are two other options in select markets, including the US. These are a full black option and a brass one with black accents.
As with all things Dyson, the design aesthetic is simple and elegant. It might be tubular and plain, but once set up, the Solarcycle Morph looks beautiful. The only part of it I am not a fan of is its round base which, for a desk lamp, is rather large and very heavy. Most of the 3.5kg weight of the lamp is in that base.
Another element that's a bit of an eyesore if visible is the power brick, which is as big as what we used to get with some laptops from a few years ago. That said, depending on how you place the lamp, it could easily be hidden, as the cable is quite long.
Image 1 of 3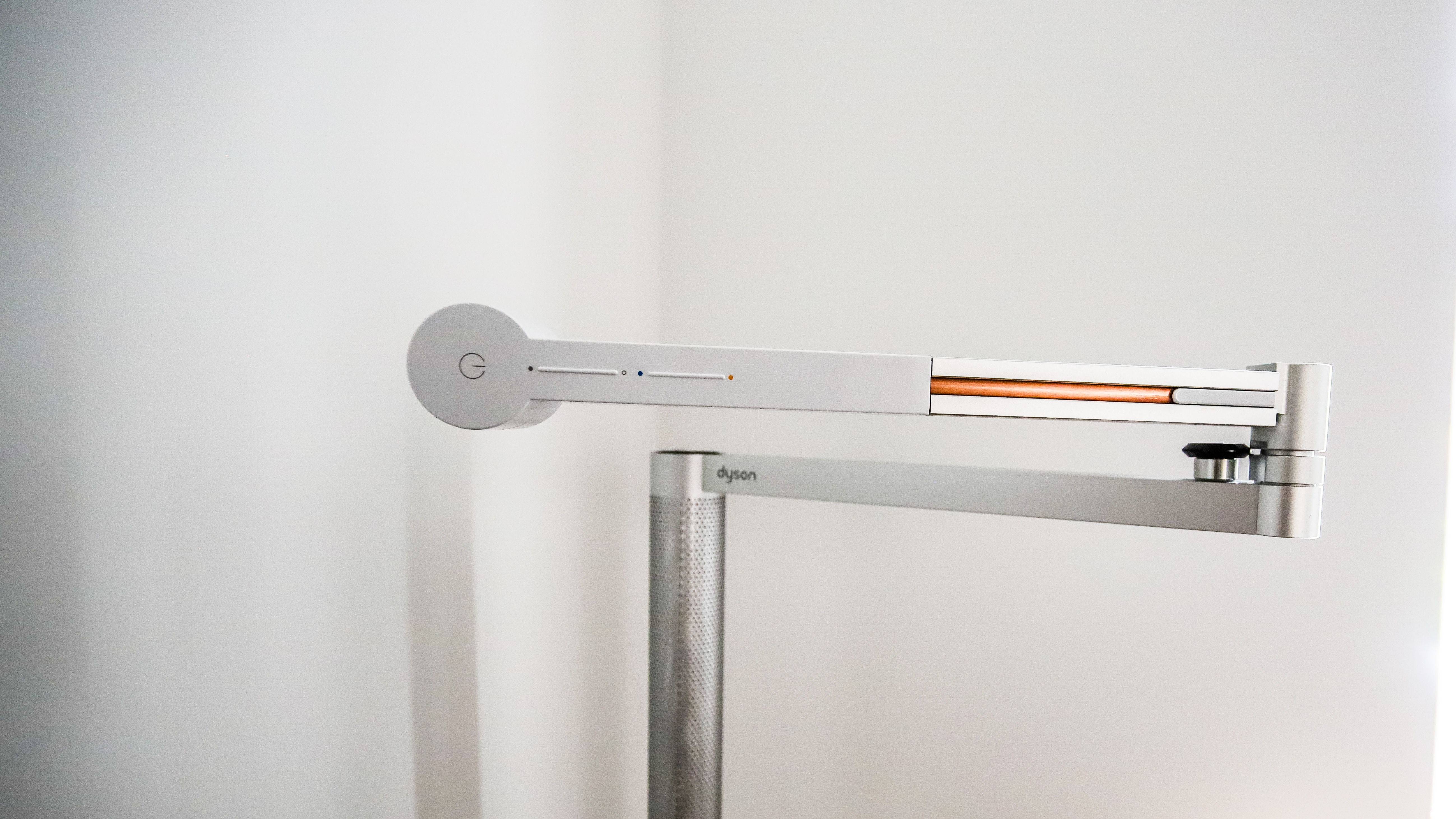 Image 2 of 3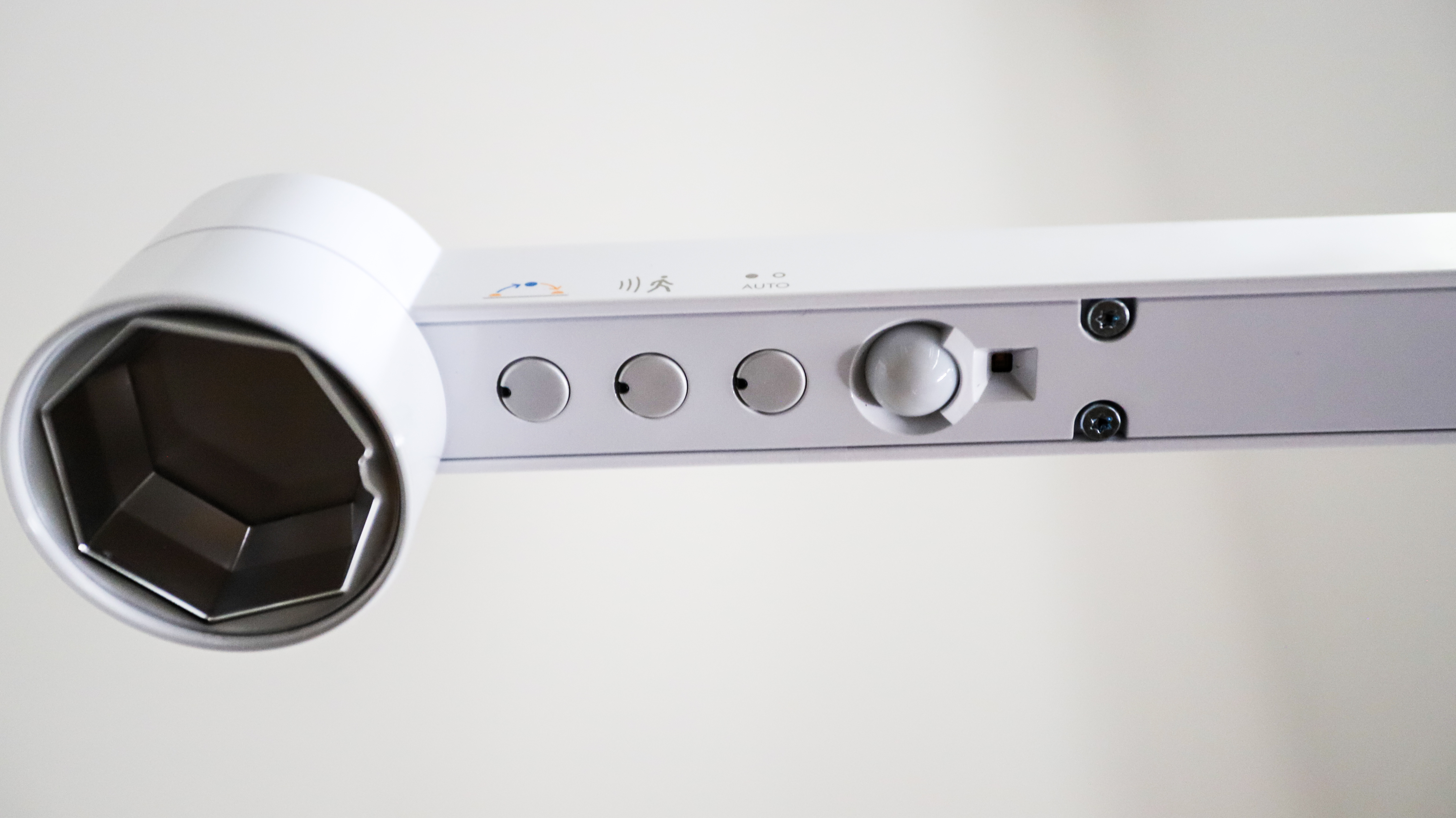 Image 3 of 3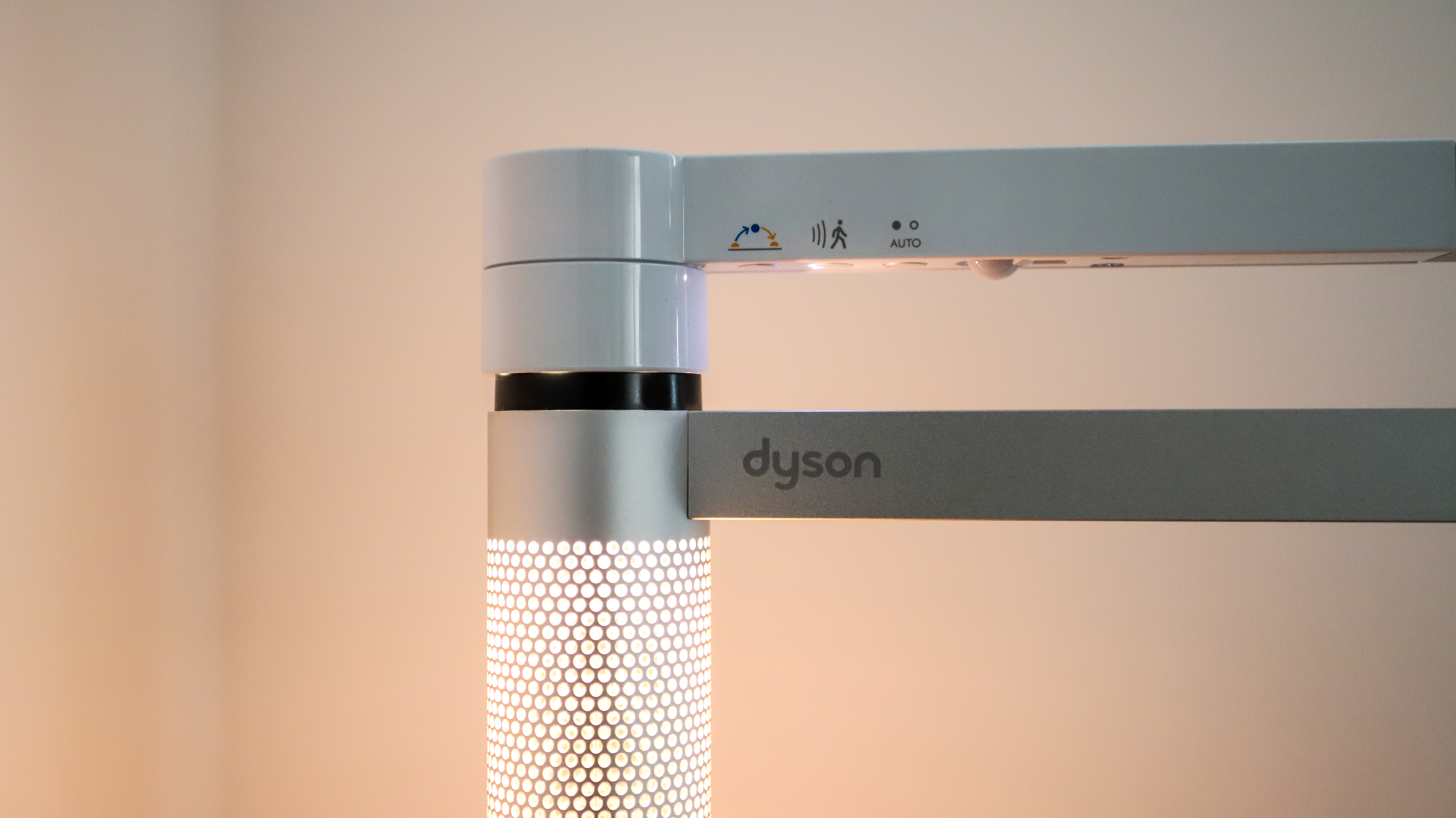 Move your eye upward from the base and that's where the beauty lies. My review unit was a matte-silver hollow tube that features a 5V/1.5 amp USB-C port in its lower third, so you can charge a phone or tablet. There's perforations the rest of the way up the tube, which can turn 360º on the vertical axis. The perforations aren't for heat dissipation, but for setting the lamp to its Ambient mode.
This is possible because the optical head housing the LED bulbs can be positioned face down for the light to diffuse through the holes, providing mood lighting. To keep it from swivelling away by accident, a circular magnet pops up from the top of the tube to lock the optical head in place. The arm pivots a full 360º horizontally around its joint, as well as turning around a full 360º so you can point the optical head at any angle.
There are physical controls on the top and bottom of the pivoting part of the arm. On the top, there's a copper tube, which is the heat sink to keep the LEDs cool, in turn extending their life and quality that, Dyson promises, will last up to 60 years. Also on the top, towards the optical head, are two sliders – one to adjust the light temperature, the other to change the brightness.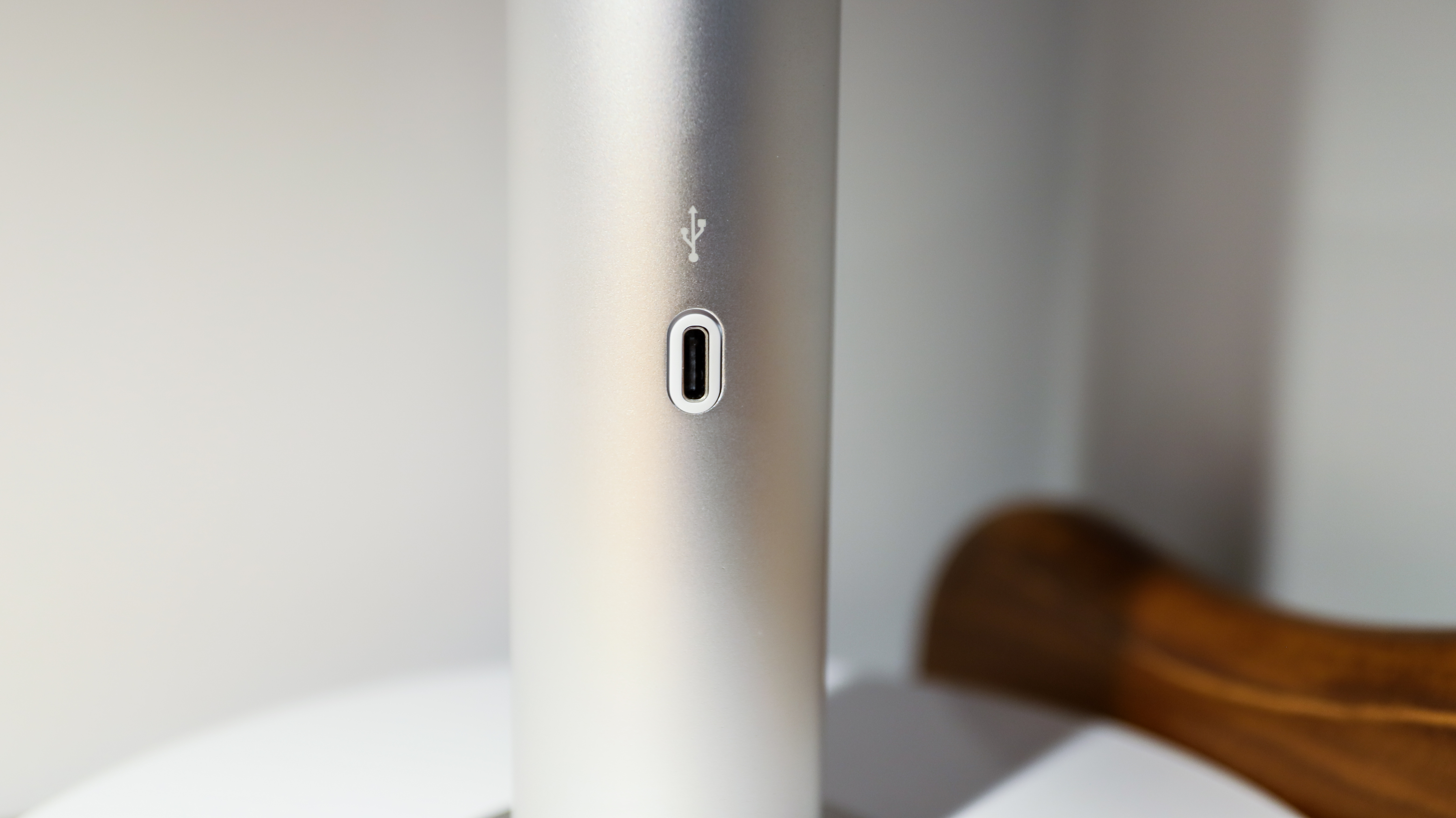 On the underside of the pivoting arm are three buttons. The one farthest to the optical head controls the brightness sensor – pressing this one will turn the sensor off, which is on by default right out of the box. The middle button is for the motion sensor that, when on, will adjust brightness gradually as you approach or move away from the lamp, and also put the Solarcycle Morph into standby mode if no motion is detected in 5 minutes. The button closest to the optical head is the synchronization button that allows the lamp to mimic the light temperature of the daylight cycle in your location. 
There are lights on these buttons that glow if the sensors are on – if you see them flashing, don't panic as that's just a firmware update being pushed out via the MyDyson app.
The top of the optical head is a touch-sensitive control to power the lamp on and off. This is extremely sensitive and I found that if I mistakenly – very gently – touched that spot while making angle adjustments or using the sliders and buttons, I'd switch off my lamp.
Design score: 4.5 / 5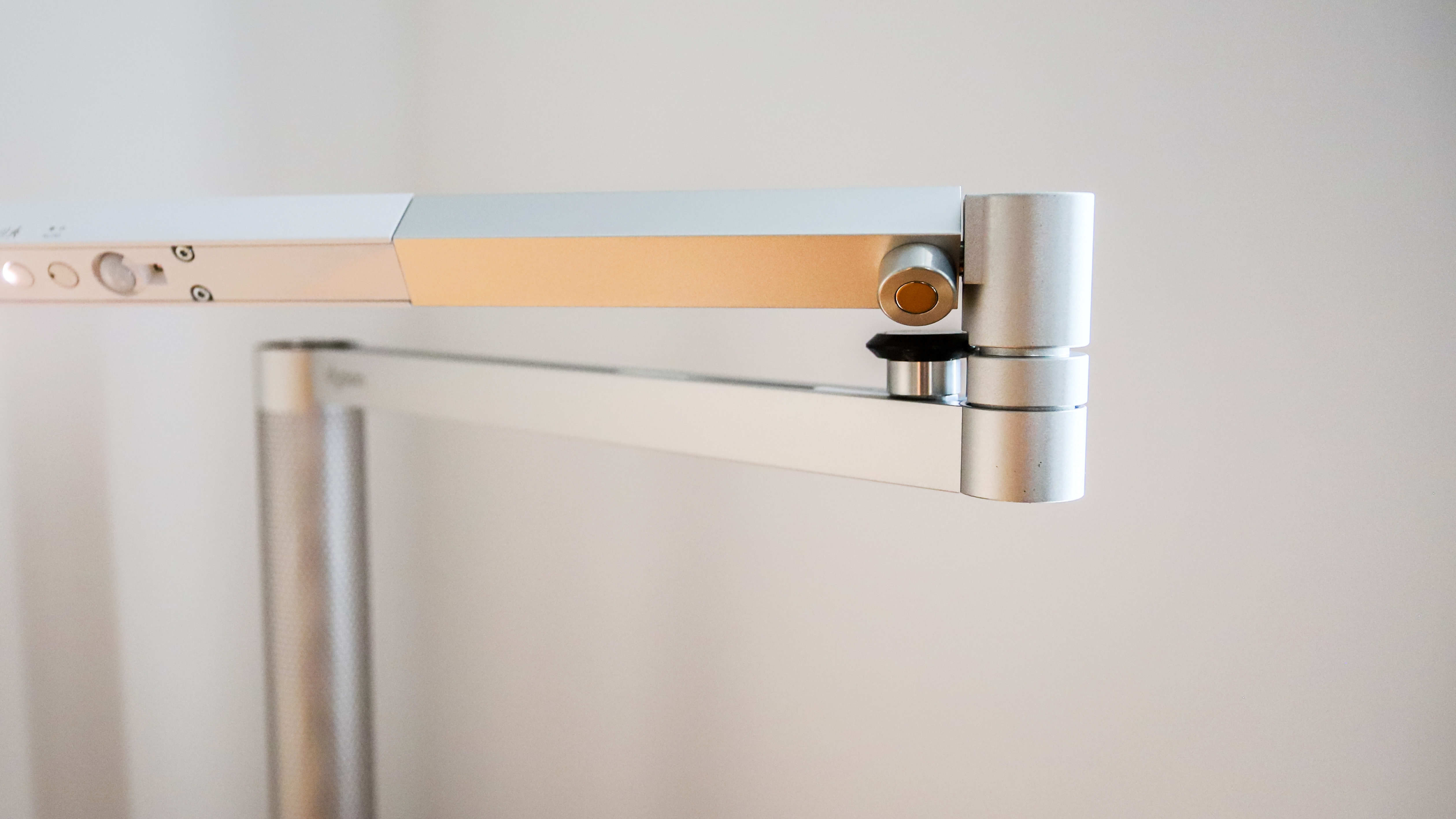 Dyson Solarcycle Morph Desk review: Features
Useful motion sensor
Auto-brightness sensor
Versatile light settings
As I've already mentioned, the Solarcycle Morph is extremely versatile. Just given the plethora of physical adjustments there are, it's easy to envision how the four main modes – Ambient, Indirect, Task and Feature – would look. You can have custom settings for your light too, but you will need the MyDyson app for this. In fact, the app gives you full control of the lamp so you don't need to touch the Solarcycle at all… except to perhaps give it a wipedown to keep it clean.
While its standout feature is its ability to mimic the daylight cycle in your location – which you can set in the app – I think it's the motion sensor that should be the headline act here. It's both very handy and equally annoying too... at least to me. Of course, for this to work, you need to leave the lamp on standby. Dyson doesn't specify what the maximum distance is for motion detection but I found it's capable of picking up movement about a meter (or 3 ft) away. This allows the lamp to turn on, but will remain dim if the motion is still distant. As you approach, the lamp will increase brightness automatically. It goes back into standby mode after 5 minutes if no motion is detected after it's turned on.
Image 1 of 3
Image 2 of 3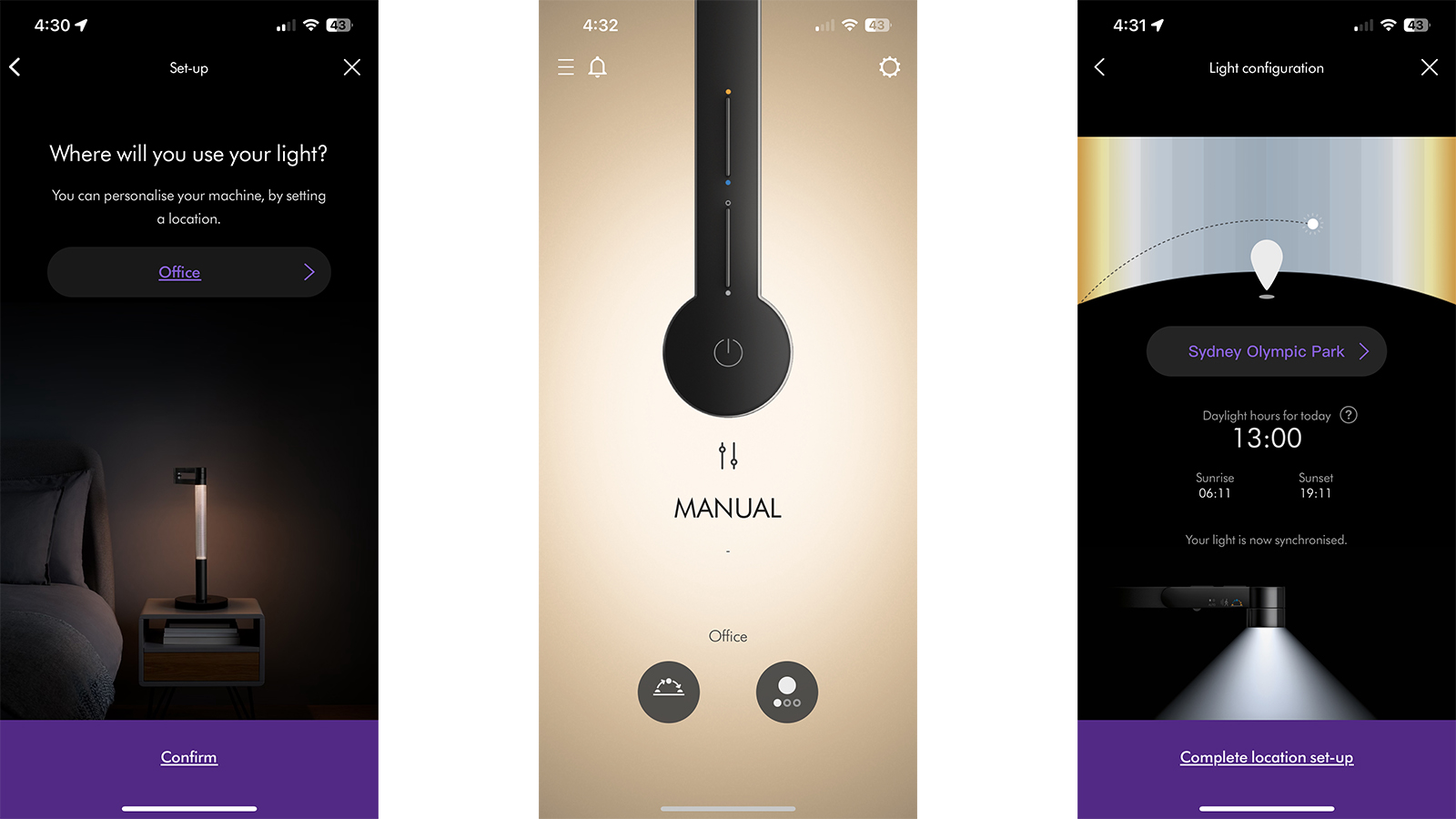 Image 3 of 3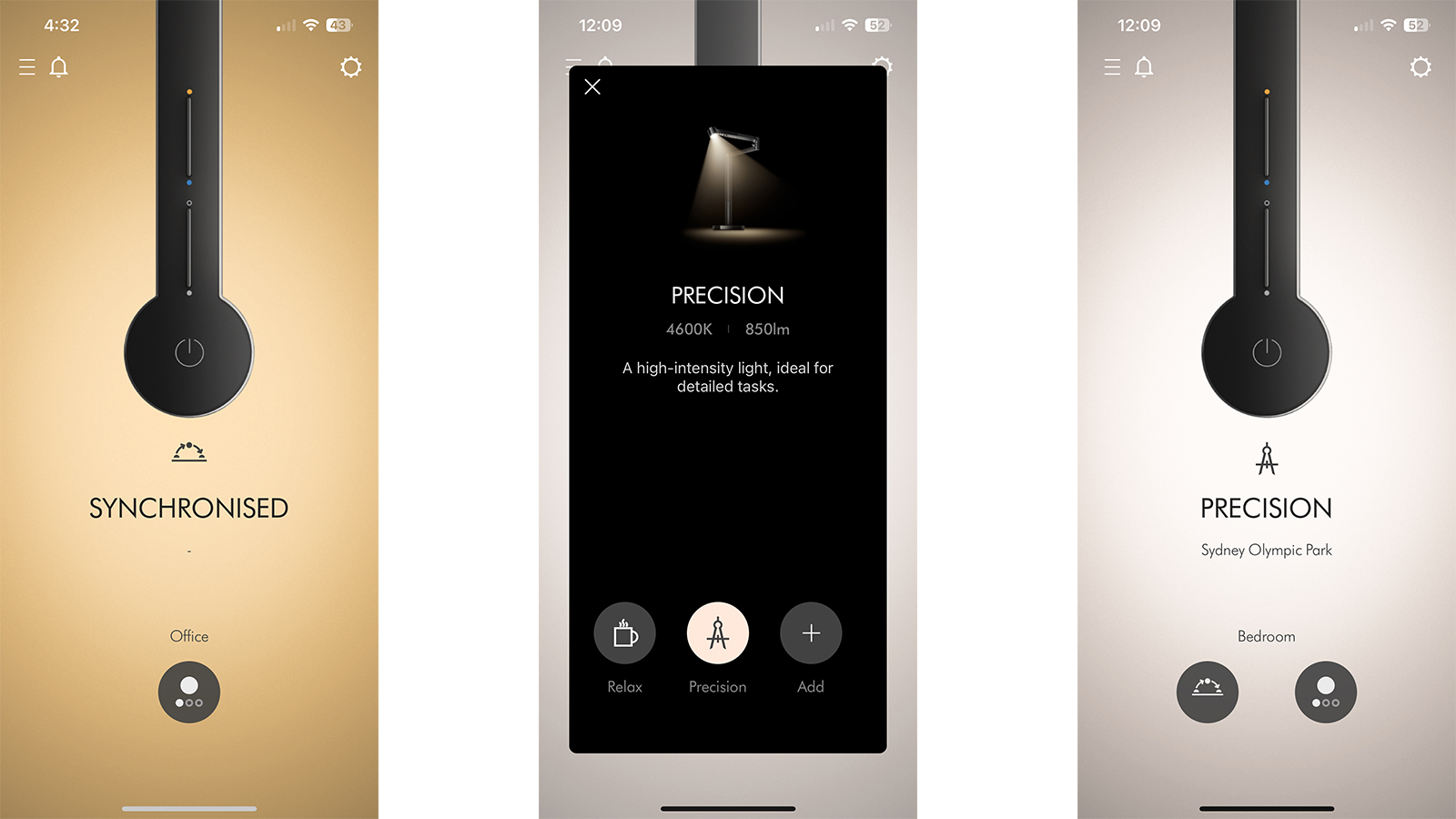 This is where I found it annoying. I used the Solarcycle Morph in my home office, and even though I was at the desk typing at my keyboard, it couldn't detect that movement and kept going into standby mode. It happened during video calls too and I make a lot of hand gestures when I talk!
I also like the fact that if I'm going away on holiday, I can set the start date in the app and the lamp will power on periodically between 4pm and 11pm in a time zone to tell possible intruders that people are still inside the home. 
The lamp is capable of auto-brightness too, which is handy to have, depending on where you position it. I appreciated it when I was using the Solarcycle Morph in my home office, which doesn't get a whole lot of natural light, but it was a little disconcerting in the bedroom as the change can be quite sudden and distinct.
I cannot finish this section without waffling on about the lamp's Ambient mode – it's absolutely stunning. In this mode, if your lamp is set at its brightest, it will reduce brightness automatically with light temperature dropping between 1800K to 3400K, depending on what hue it's already set at.
Features score: 5 / 5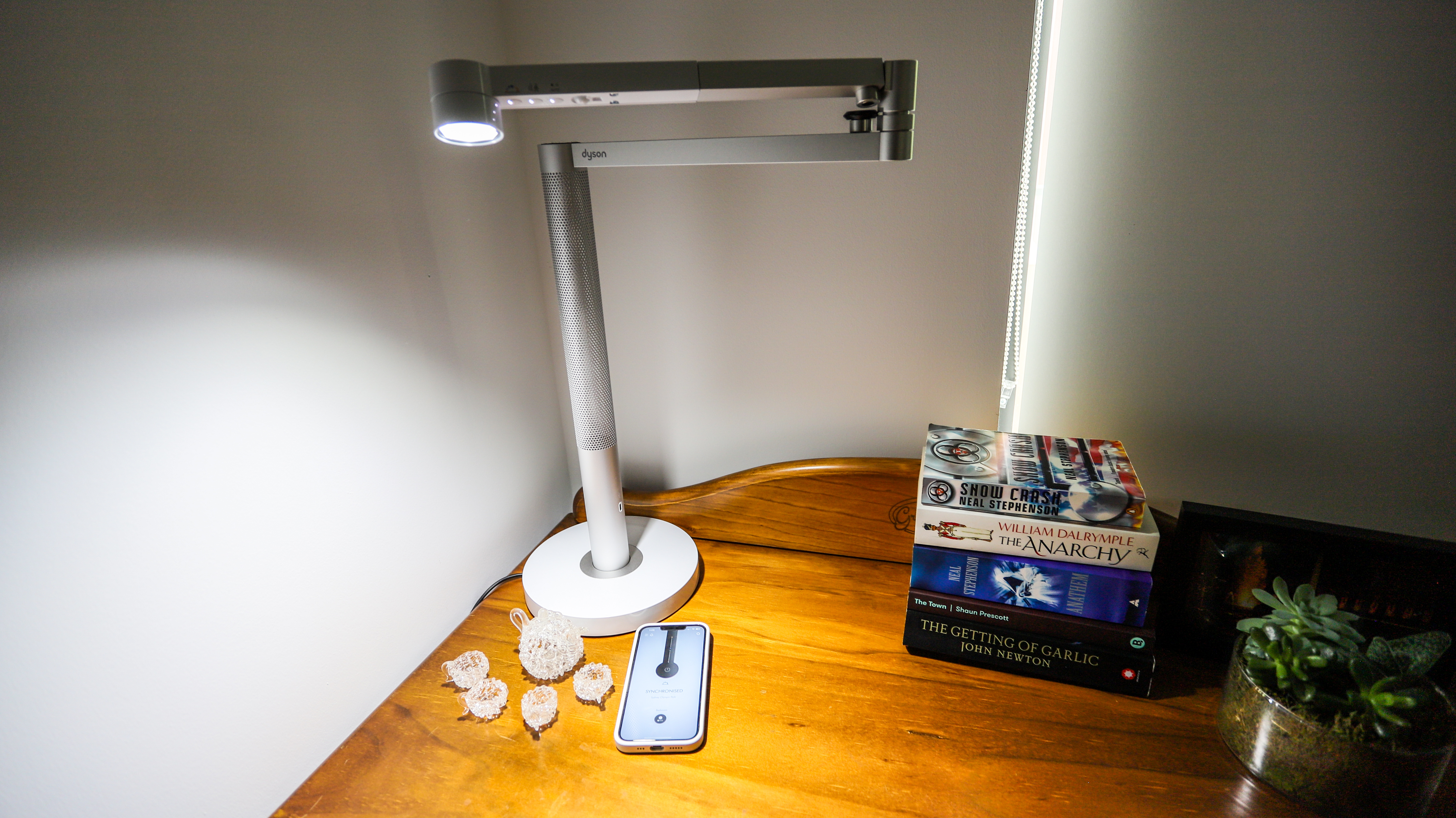 Dyson Solarcycle Morph Desk review: Performance
60-year lifecycle
Sensitive controls
Good brightness
While the Solarcycle Morph matches the light temperature of some other smart lights out there (2700K to 6500K when not in Ambient mode), it isn't as bright as some popular smart bulbs on the market today. For example, the Philips Hue White Ambiance smart bulb tops out at 1,600 lumens and the Nanoleaf Essentials Matter bulb is 1,100 lumens. While a maximum brightness of 850 lumens is enough for a bedside or desk lamp, it's not quite enough to light up a whole room.
Dyson claims the Solarcycle Morph will last up to 60 years, without any damage to the light quality. I couldn't test this for this review of course, but Dyson engineers have used a simple heat sink – that's also a lovely trim adding to the overall look of the lamp – to make sure the light lasts as long as possible. You'll see the slim copper tube on the top of the swivel arm – it houses a few drops of water that evaporates as heat from the LEDs build up. If you were paying attention in science class at school, you'll know that evaporation results in cooling. And because the tube is also sealed, the water drops condense inside and are ready to carry on being an effective coolant.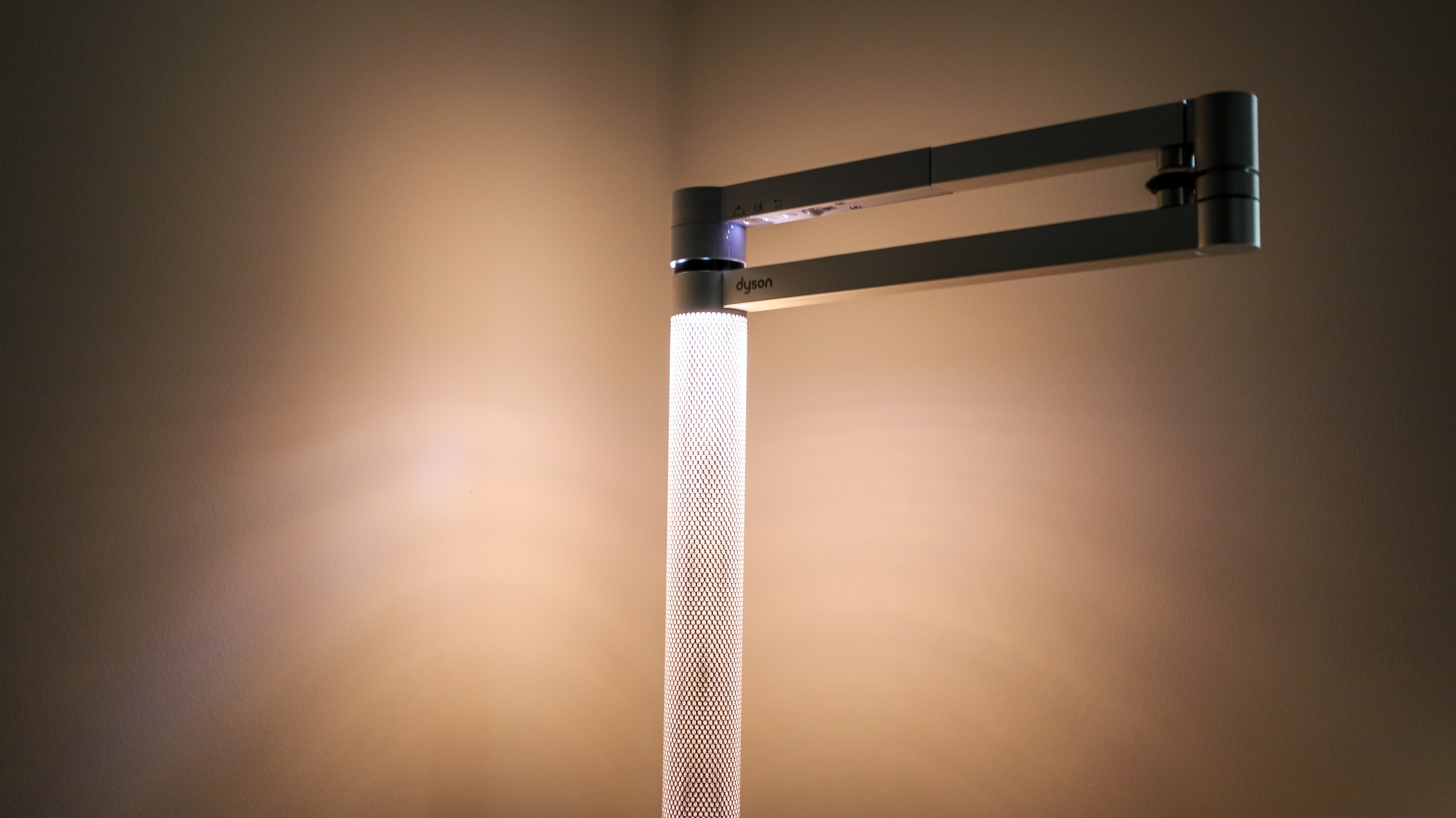 As I've already mentioned, I found the motion sensor both excellent and annoying. Excellent because it can pick up movement from about two feet away – although it did pick me up a couple of times while I was approximately three feet away – and it turns on, but annoying because it can't pick up fingers and arms moving while I'm just inches away. 
Another little annoyance I found was if I didn't completely exit the MyDyson app, it failed to connect to the light the next time I opened the application on my phone. I'd have ignored it if this happened once in a while, but it happened often. Perhaps a firmware update will sort this out at some point…
Other than that, I have absolutely no complaints about the Solarcycle Morph's performance. It does everything it says on the tin, and does it remarkably well.
Performance score: 4.5 / 5
Should I buy the Dyson Solarcycle Morph Desk?
Buy it if...
Don't buy it if...
Also consider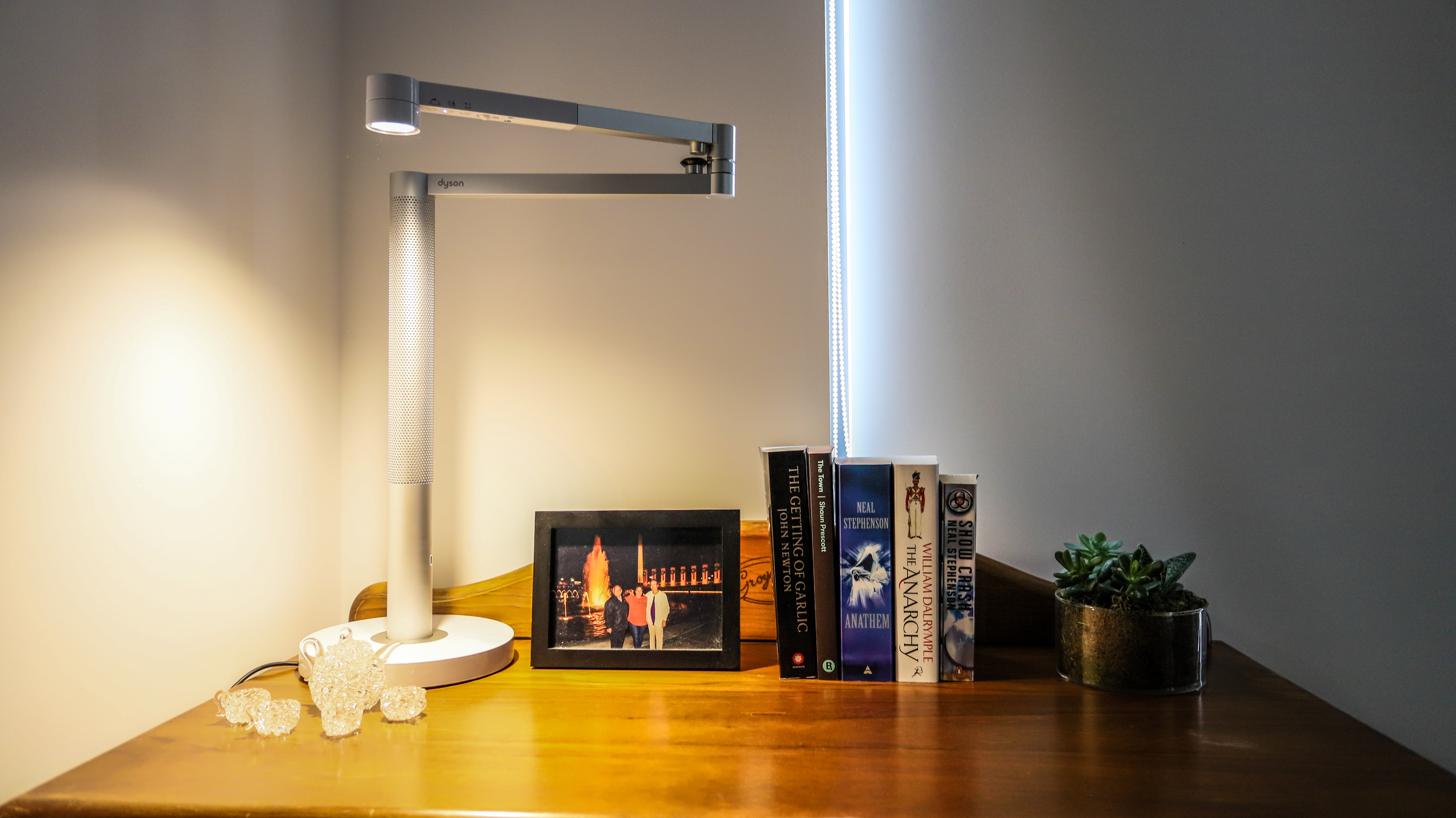 There really aren't any like-for-like alternatives to the Dyson Solarcycle Morph, although opting for a smart bulb or two from Philips Hue or Nanoleaf could be a decent alternative as you can adjust the light temperature and brightness to suit your needs. Where the Nanoleaf smart bulb supports colors by default, you can get white or color globes in the Philips Hue range. You can find out more about the former in our Nanoleaf Essentials Matter Smart Bulb review.
While neither of these will do everything that the Solarcycle Morph does, you can use them to mimic sunlight in the morning to wake up. A lot of smart light systems offer this feature. None are going to be showpieces like the Dyson, but you could find yourself a beautiful lamp stand.
How I tested the Dyson Solarcycle Morph Desk
Tested in two different rooms
Left it on standby most of the time to test the motion sensor
Tried different modes and settings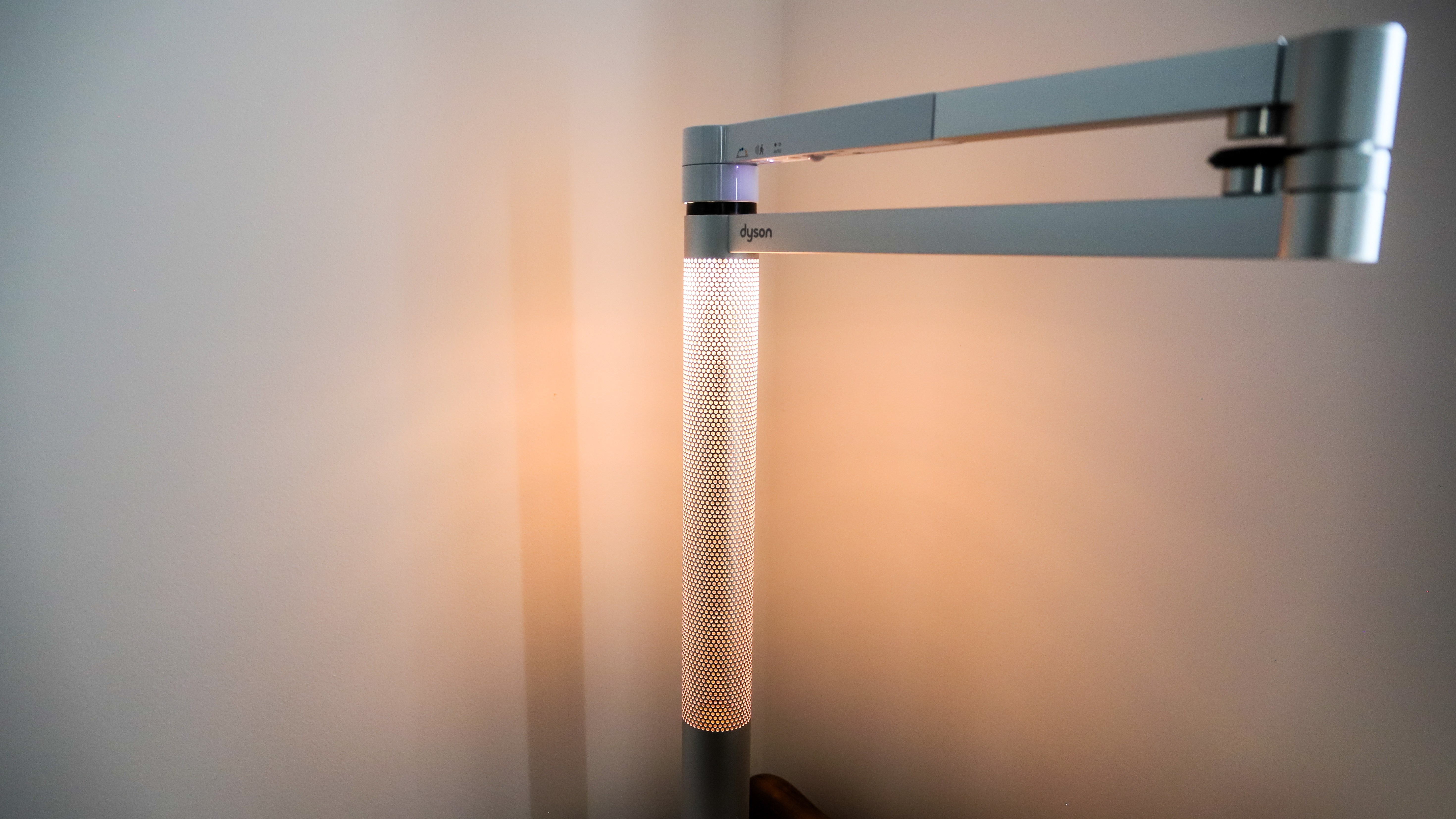 I was sent the Dyson Solarcycle Morph for testing for just a few weeks, and I used it in two different locations in my own home. It was initially set up on work desk in my home office, then moved to the bedroom.
In the first location, I left it on standby most of the time to see how well it would react to me leaving my desk and returning at random intervals. In the bedroom, it was set up to turn on at 6:30am.
To see how well it responds via the app, I saved custom settings for light hues I personally prefer – which tend to be on the warmer side than white light – and I tried out all the presets as well.
Read more about how we test
[First reviewed November 2023]