Hyte Y70 Touch: Two-minute review
To say the Hyte Y70 Touch is the culmination of a major PC building trend we've seen over the past few years feels like it doesn't do this case justice.
Back in ye olden dæges, even the best PC case was just an aluminum box with a panel that would open up to let you dig into the guts of your computer. But like every other kind of electronic device, it was purposefully designed to hide everything on the inside. After all, who wants to look at printed circuit boards, soldered ICs, and maybe a dusty fan mounted onto the CPU that 95% of people never bothered to clean?
We've come a long way since then, and as PC enthusiasts and gamers invest serious money into their builds, the impulse to show it all off became too great to ignore. We've since introduced plastic side panels, then tempered glass, and in the last five or six years, we've started to see cases that resemble the kind of glass housing once reserved for museums so builders could show off their hard work.
What they haven't really done before, however, is have an off-the-shelf case that integrates functionality into this cutaway case design, since glass is glass and it's only really good for looking through and providing a small measure of physical protection. 
Hyte, on the other hand, decided to swap out the corner panel of its already excellent Y60 PC case for a 4K interactive touchscreen that has literally stopped several of my coworkers in their tracks this past week so they could gawk at the video wallpaper, clock, and Twitch chat window embedded into the touchscreen along the corner edge of the Y70.
To be fair, they weren't around to watch me stumble through the process of setting up the touchscreen, since it's really just a second Windows display like any one of the best monitors you'll find, though its 1100x3840p resolution makes it a meh-level second display without Hyte's Nexus software. 
Once you install and run the software, it will do all the hard work of actually configuring the display to embed widgets, system information like CPU temperature, and even app shortcuts to put your favorite software a quick touch away.
Of course, to get the case's display to work, it needs to be connected to your graphics card via a DisplayPort connection, so you'll need a graphics card capable of multimonitor support as well as a free DisplayPort output. Nearly all of the best graphics cards, and even most of the best cheap graphics cards, will come with at least two DisplayPort connections, but if you're already running a multimonitor setup, you will likely need to do some cable juggling to make sure your graphics card can run the touchpanel.
Image 1 of 6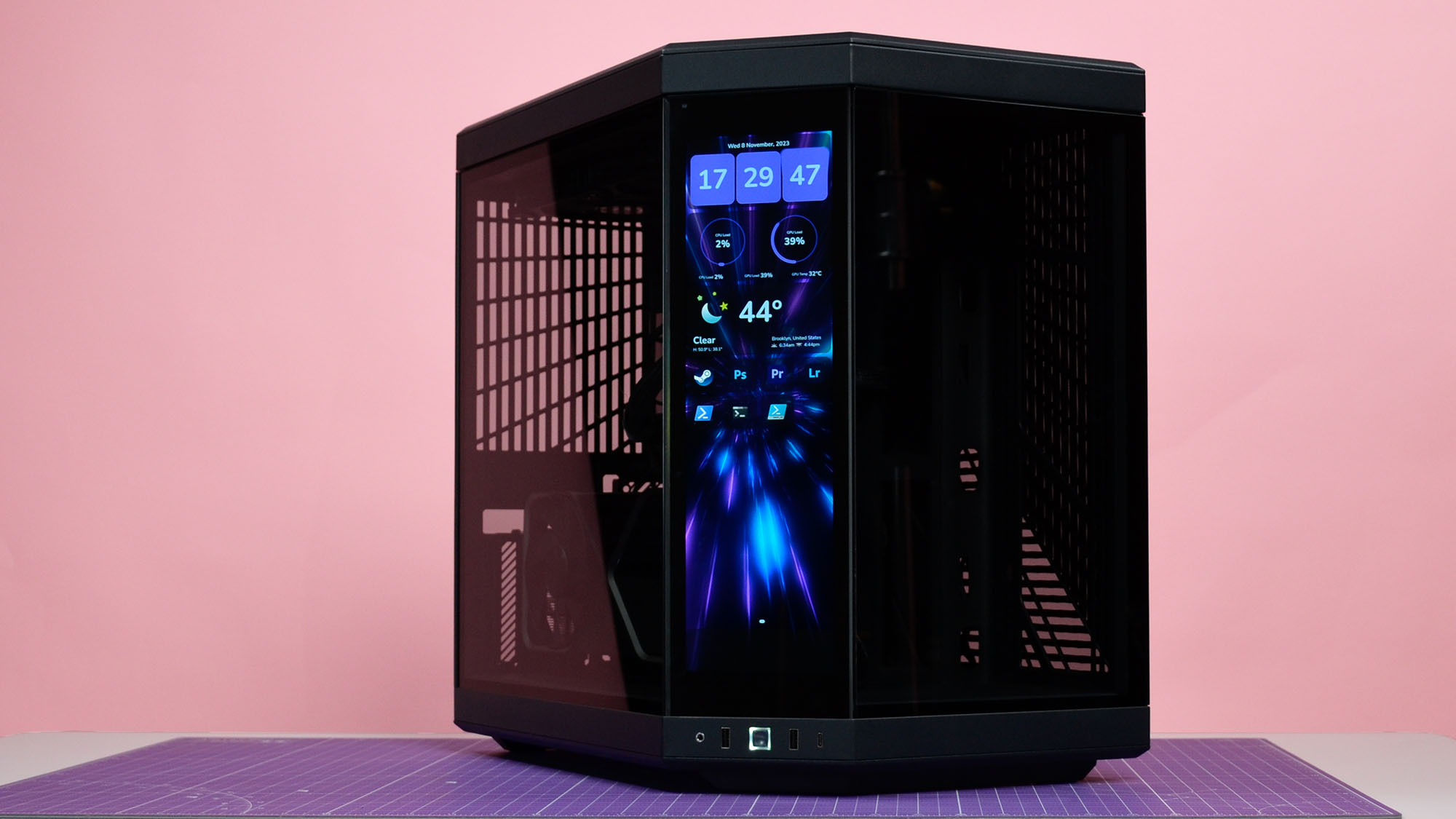 Image 2 of 6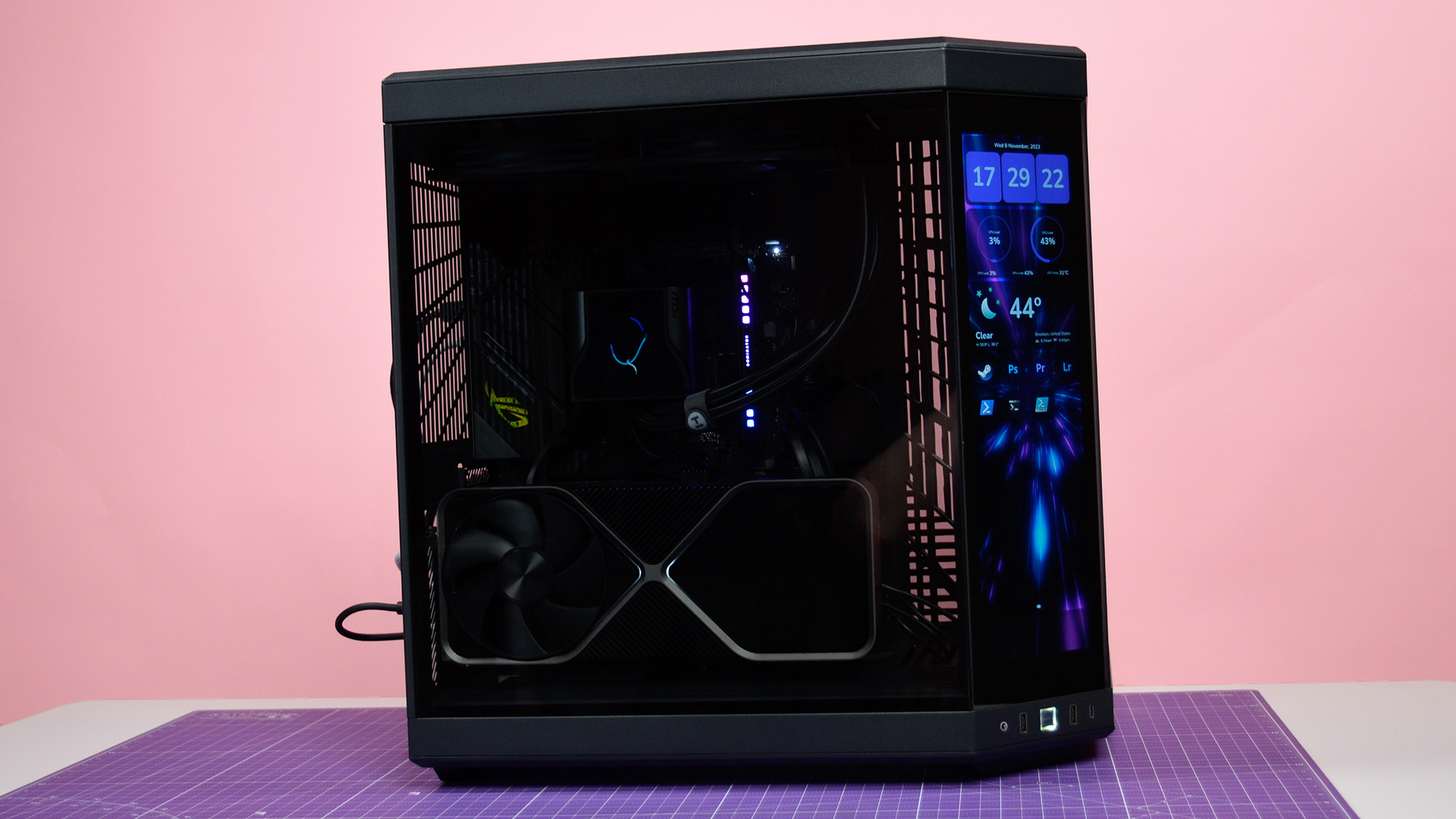 Image 3 of 6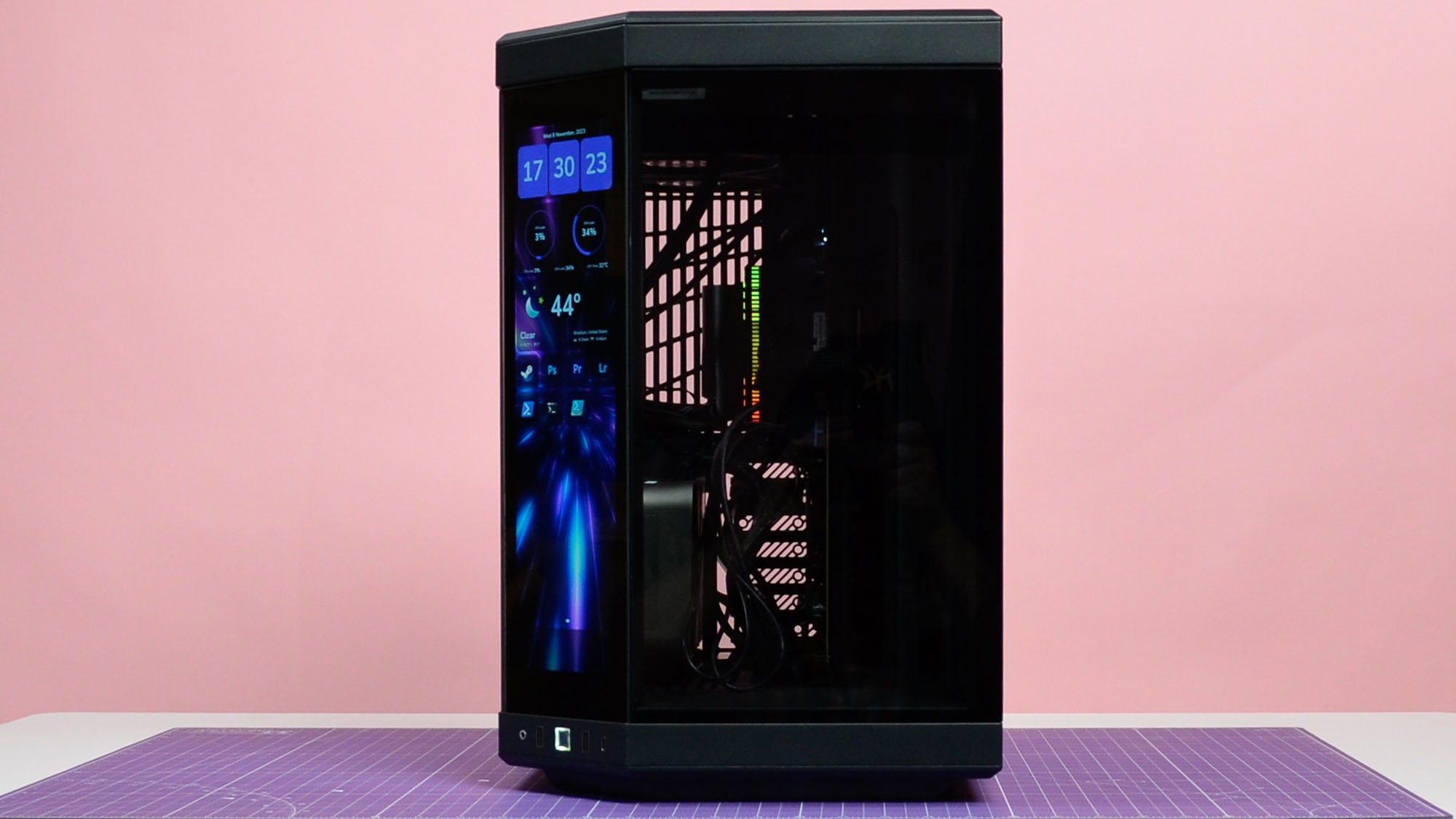 Image 4 of 6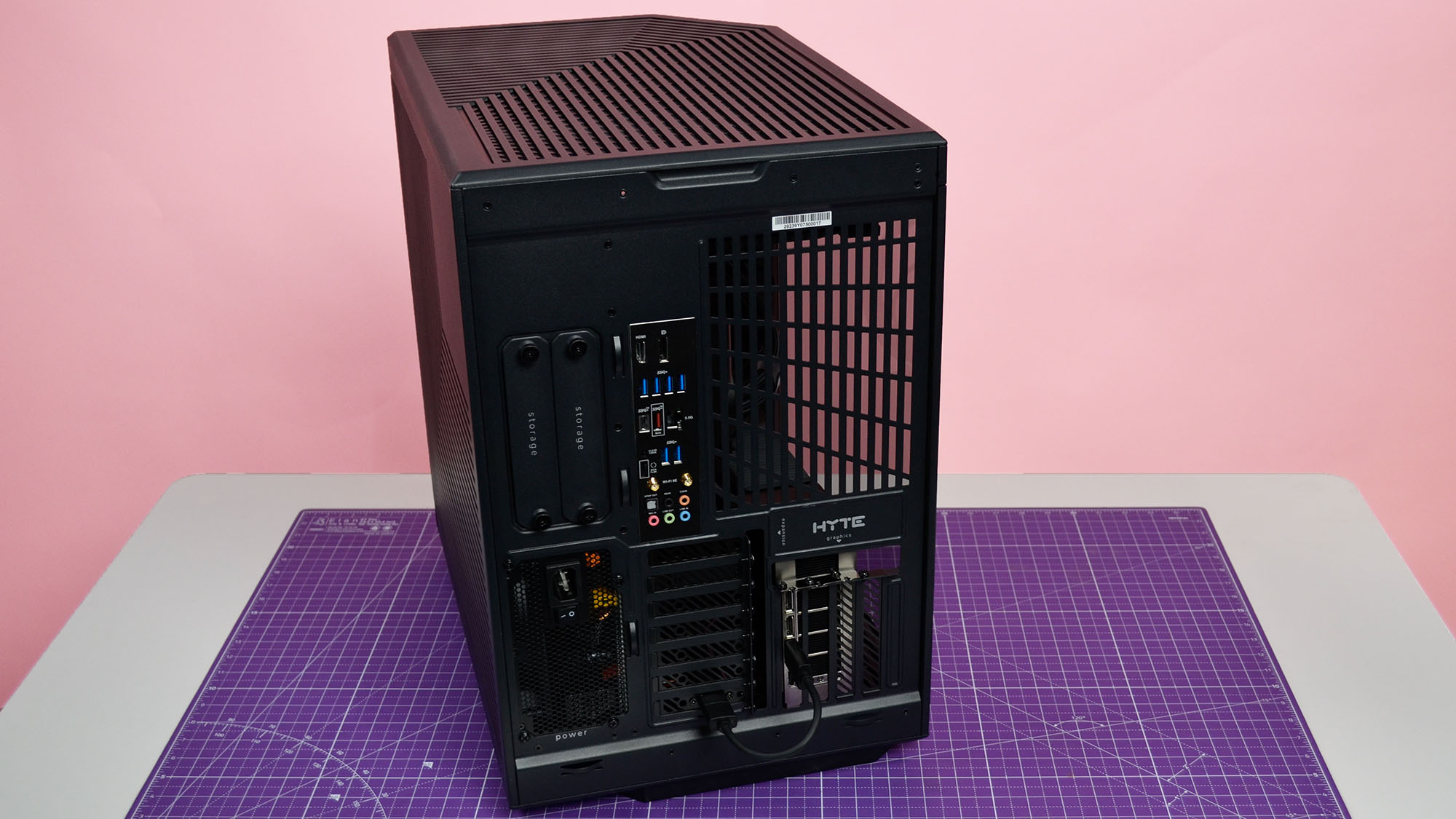 Image 5 of 6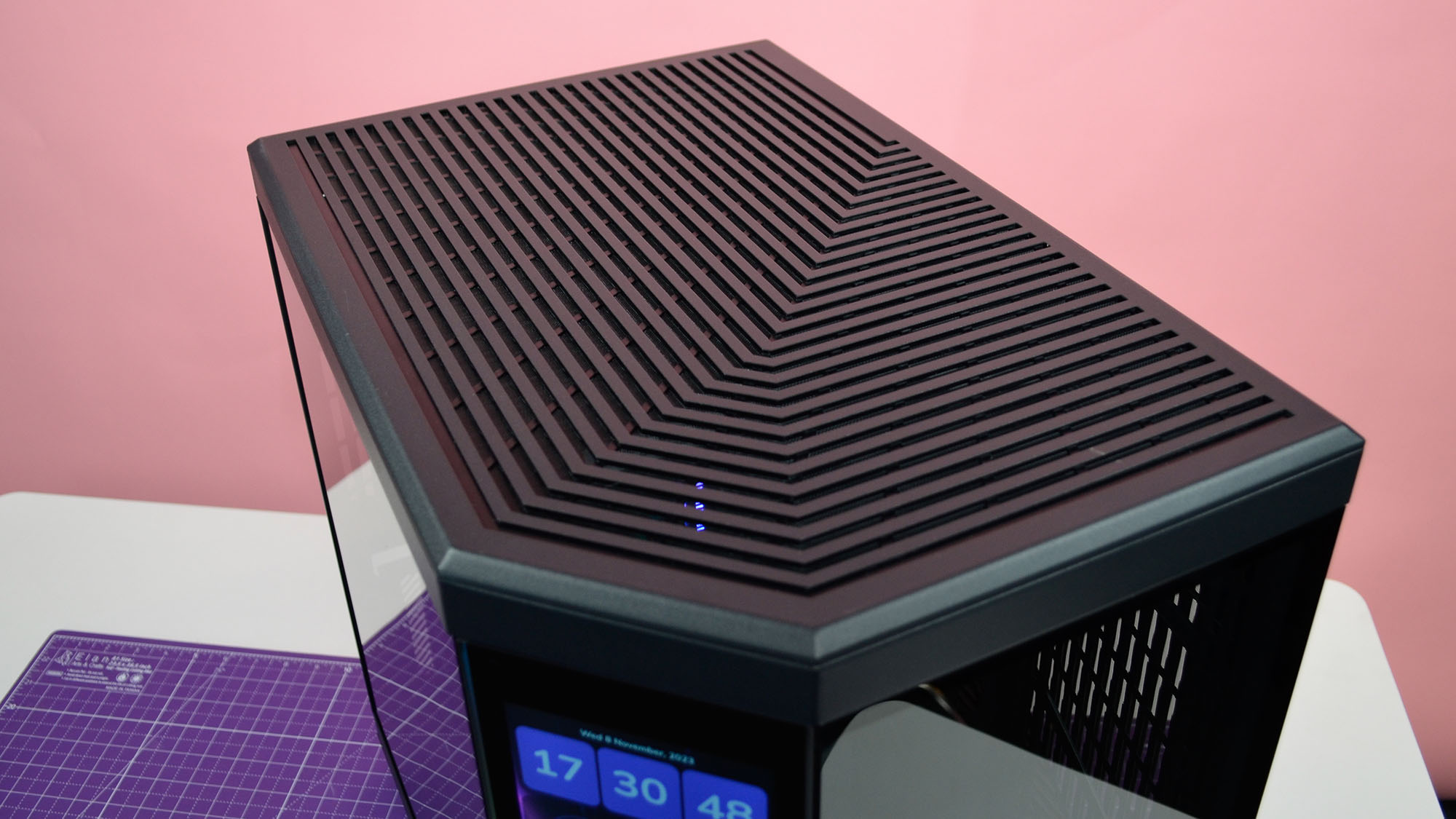 Image 6 of 6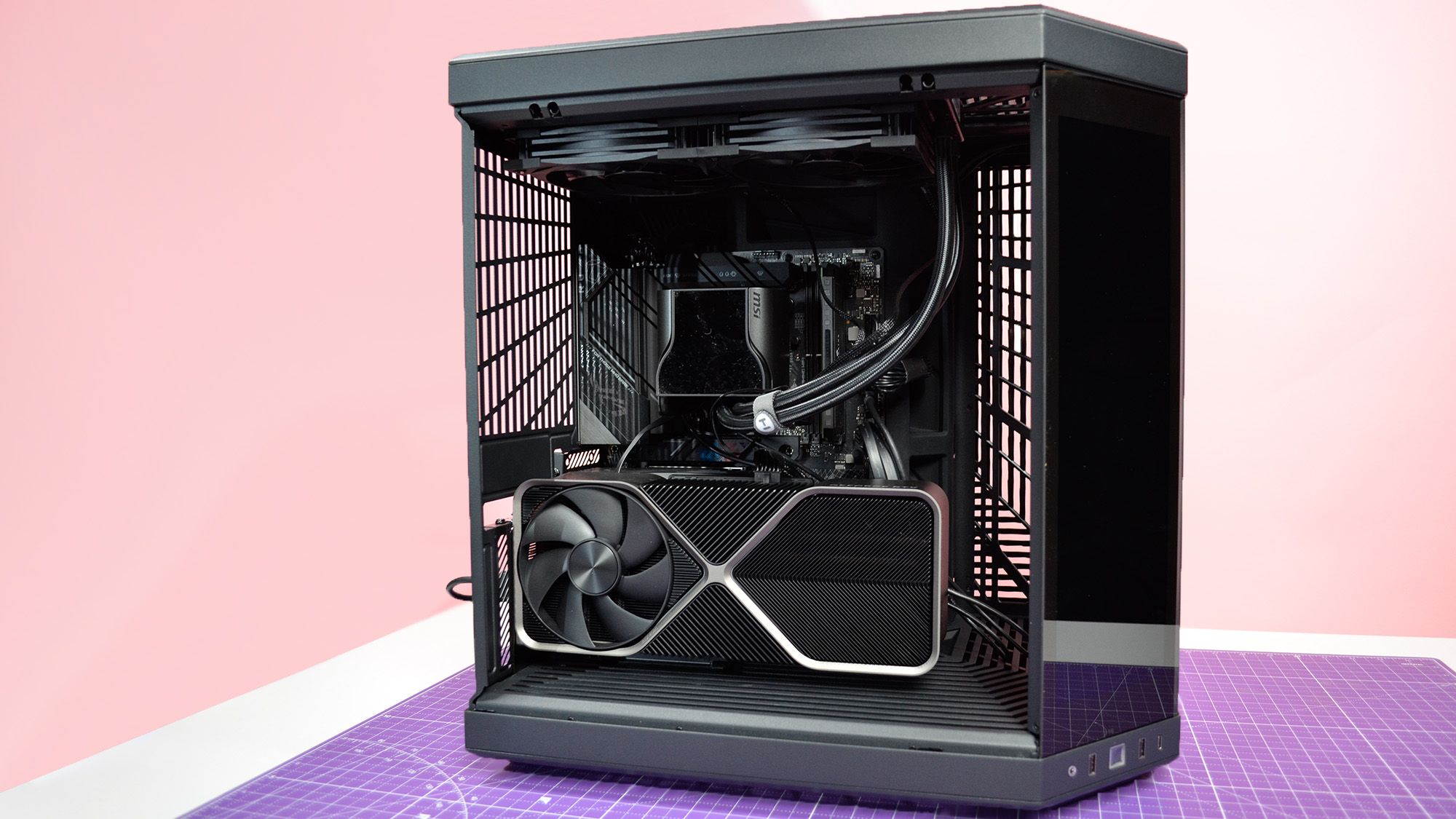 As for what you can do with the touch panel, there's actually quite a bit, including adding widgets for quicker access or displaying system information, or possibly taking a break from playing the best PC games to play a Tetris-style brick dropper instead.
And while this might feel a bit gimmicky, the program shortcuts are an absolute lifesaver as someone who has dozens of windows open on my desktop at any given time. 
Finding the shortcut to launch Photoshop on my desktop comes in varying degrees of difficulty depending on how much junk I've dropped onto my desktop over the past few weeks. Being able to turn slightly and touch the Hyte Y70 Touch's display to bring up photoshop is the kind of small thing that adds up to minutes and hours of reclaimed time over weeks and months of use.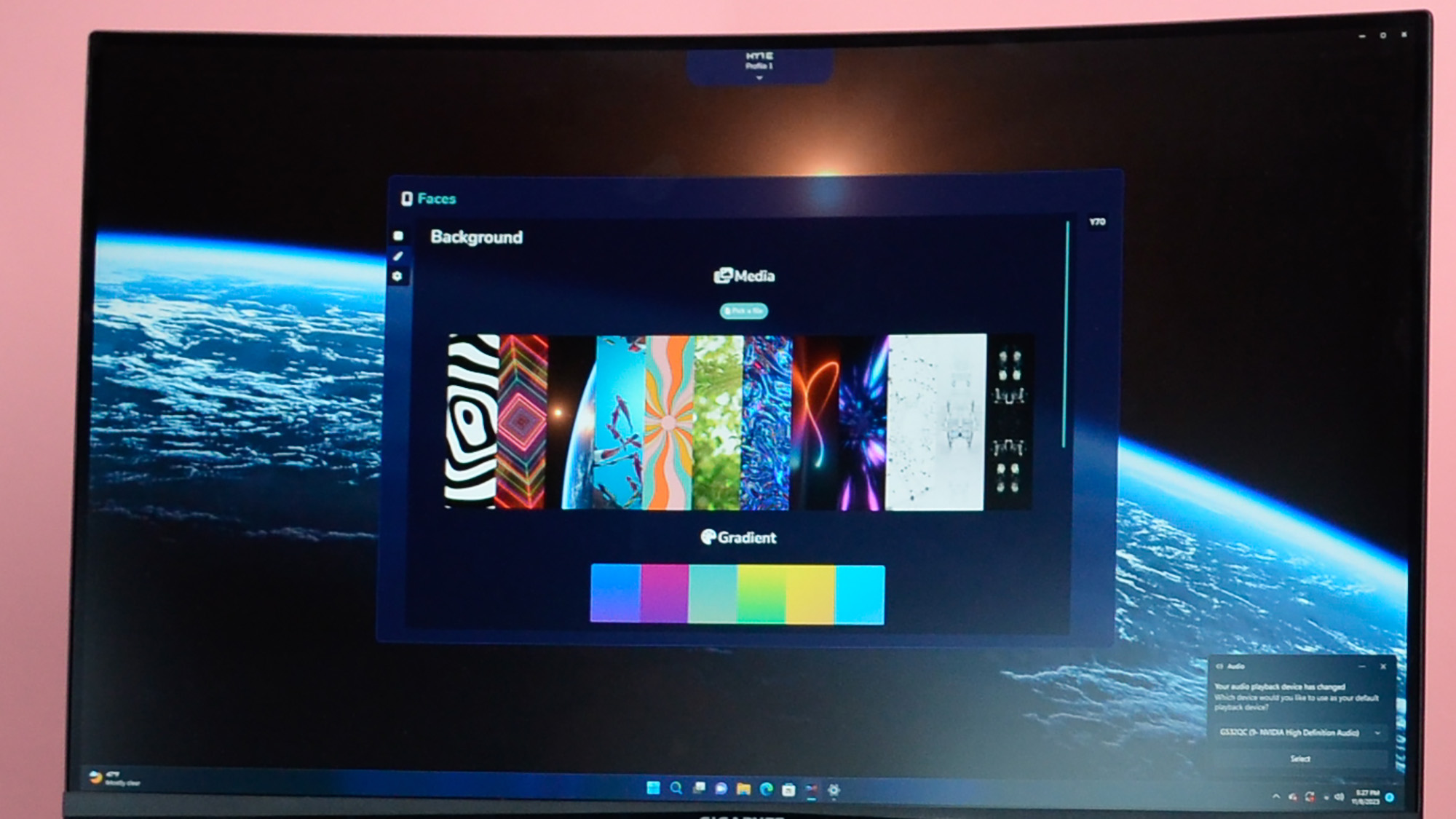 The Nexus software is more or less fine, and it comes with a number of presets that you can run as live backgrounds on the display. One thing to note is that you need to use this software to setup the touch display properly, so once you've built the PC and have successfully booted it up, download and install the software before you do anything else and work through Hyte Nexus.
It's through this software as well that you can build up pages of widgets, turning the Hyte Y70's front-corner panel into something with a smartphone-like interface, making it about as intuitive as it gets.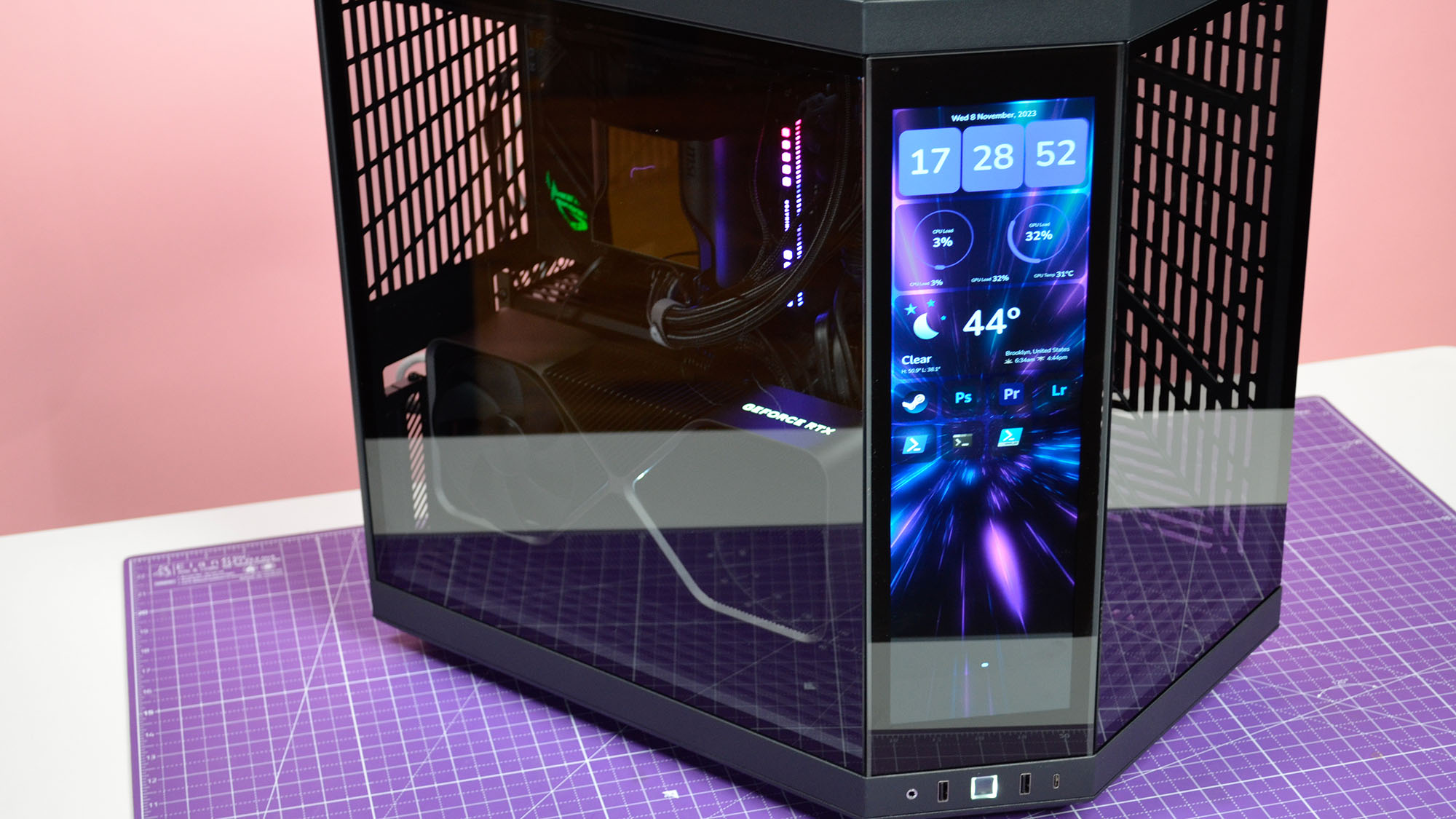 When it comes to actual hardware, the case doesn't come with any fans, but it has room to install up to 10 chassis fans, as well as a 360mm long x 125mm thick radiator on the side and another 360mm long x 68mm thick radiator along the top. You have a lot of options for cooling the rig, but definitely focus on intaking air from the bottom and back of the case, as the front and side walls are glass, so you'll have to be conscientious about proper airflow.
Fortunately, as a dual-chamber case, many of the hottest components are separated to allow for easier cooling and air circulation. The biggest and most obvious way this is done is through the vertically mounted GPU thanks to an included riser. It doesn't hurt that it also shows off your GPU.
In terms of rear capacity, there are two internal drive bays that can fit a pair of the best hard drives at 3.5-inches, or up to four 2.5-inch SATA SSDs. The PSU bay is roomy as well, making cable management easier than with a tighter mid-or-full tower case, which can jam even the best PSUs.
There's more than enough room in the front chamber, so whichever of the best graphics cards you install, the Y70's 16.6-inch GPU clearance is more than enough. It is also able to vertically mount up to a four-slot card, so if that Nvidia Titan RTX refresh ever comes along, you just might be able to fit it in here. 
This extra capacity also makes cable management a much easier problem to solve, and even though this is a very premium PC case, it's incredibly user-and-newbie friendly. You'll still have to know where and how you should install various case components like fans and lighting, but the easy-open case gives you all the room you need to work, even if you barely know what you're doing.
And while I am going to rave about this case from here to CES and beyond, it's not all lovely touchscreens and roomy interior. If there's one complaint I have with this case, it would be its price. Coming in at $359.99 / £349.99 (about AU$560), this is significantly more expensive than the Hyte Y60 or Lian-Li O11 Vision, which comes in at just $139.
Of course, none of those cases have a 4K touchscreen interface built-in, so the price isn't unreasonable for what you're getting, but this is a premium case nonetheless, so those on a budget might want to shop around for something more in line with their budget.
Hyte Y70 Touch: Price & availability
How much does it cost? $359.99 / £349.99 (about AU$560)
When and where can you get it? Available in US right now, with UK and Australia availability coming in December
The Hyte Y70 Touch is available in the US right now for $359.99, with a December launch planned for the UK and Australia. The UK retail price will be £349.99, and should sell for about AU$560 in Australia.
This is a roughly 80% price increase over the Hyte Y60, though that case does not include a touch display. 
Hyte Y70 Touch: Specs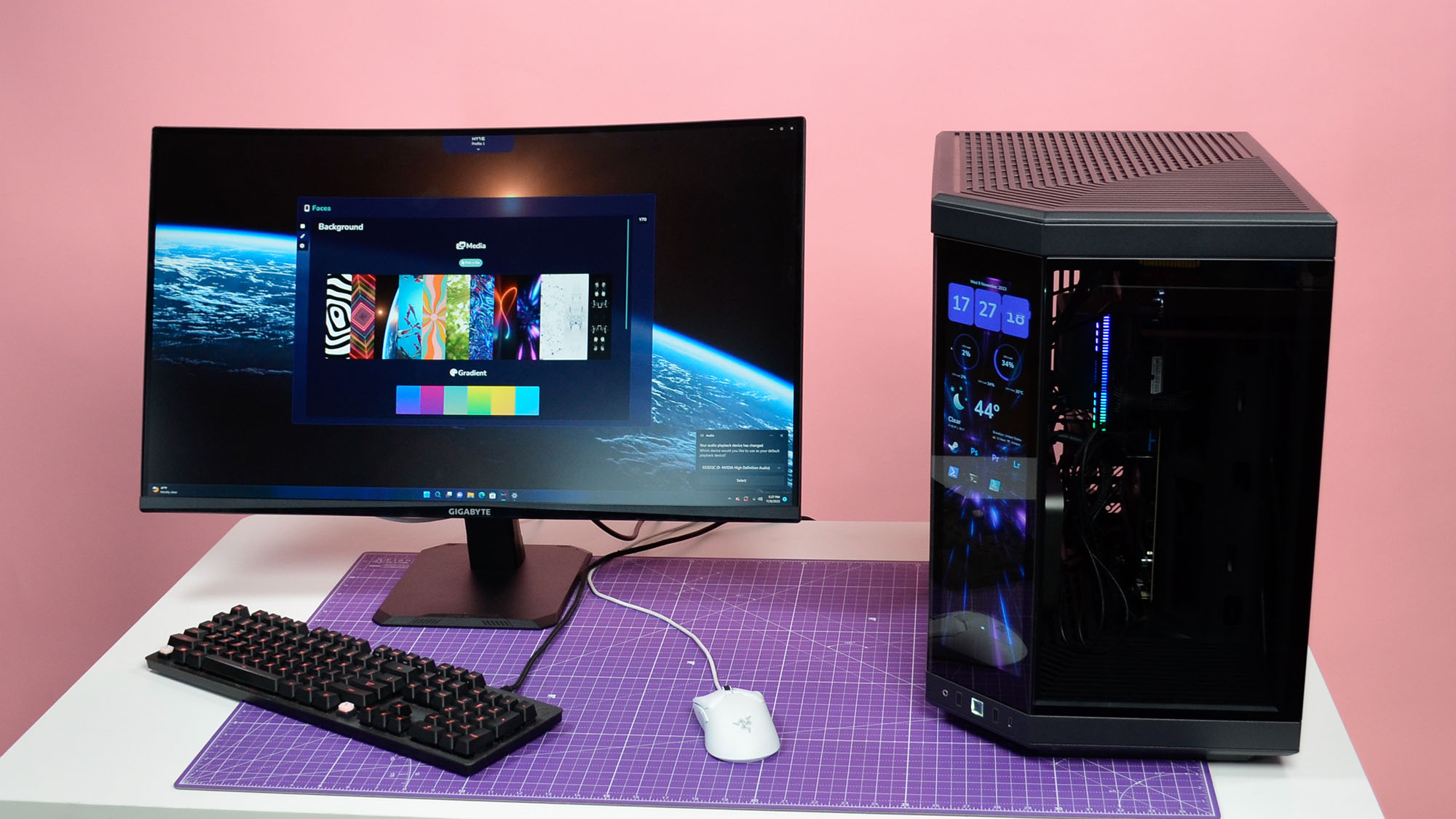 Should you buy the Hyte Y70 Touch?
Buy the Hyte Y70 Touch if...
You want an absolute showpiece
The Hyte Y70 Touch will draw a crowd if you let it. I know from personal experience.
You want to have a host of functions and apps at your fingertips
The 4K touchscreen on the Y70 makes it easy to pull up apps, track Twitch chat, and monitor system conditions with ease.
Don't buy it if...
You're on a budget
This is a very premium PC case, so if money's tight, forget about the touchscreen and opt for the Hyte Y60 instead.
You have limited desk space
This is a honking big PC case. If your desk looks like the aftermath of Verdun, you might want to go for something with a smaller footprint.
Hyte Y70 Touch: Also consider
If my Hyte Y70 Touch review has you looking for other options, here are two more PC cases to consider...
We pride ourselves on our independence and our rigorous review-testing process, offering up long-term attention to the products we review and making sure our reviews are updated and maintained - regardless of when a device was released, if you can still buy it, it's on our radar.
First reviewed November 2023