Lenovo Legion 5 Slim 14: Two-minute review
Lenovo has been on a roll in 2023 with plenty of affordable gaming laptop options, and the Lenovo Legion 5 Slim 14 is the latest one of the bunch. A sleek, stainless steel-looking finish with the logo machine-carved into it, it's a very simple yet distinctive aesthetic that stands out from the traditional black-colored crowd. 
It's on the slimmer side compared to some other laptops, but when looking at the Razer Blade 14 or the Origin EON 16SL, it's harder to place this machine under the best thin and light gaming laptops, though it could easily net a spot on best cheap gaming laptops. That said, thanks to its very lightweight and 14-inch display, it really is a portable machine that can easily fit into most bags without weighing them down.
As with most other Lenovo gaming laptops, the majority of the port selection is located in the back, which can be inconvenient for some as it requires a bit of reach. Thankfully the back ports are labeled with icons to make locating them easier. 
The major benefit to using three sides for ports is a robust port selection that includes two USB Type-A ports, two USB Type-C ports, an HDMI port, an SD card reader, an audio combo jack, an e-shutter for the webcam, and a charging port. However, it's disappointing to see an ethernet port missing from the bunch, which is bizarre considering that there was plenty of space to put it in the back.
Opening the laptop up, we have the standard Lenovo laptop keyboard and touchpad, which is certainly not a bad thing. The keys are well-sized and well-spaced with a satisfying snap while the touchpad is responsive and just as snappy as the keyboard. There's a soft white backlight for late-night typing, a more subtle option compared to the glare of RGB.
The specs are solid with an AMD Ryzen 7 7840HS CPU, up to an Nvidia GeForce RTX 4060 GPU, 16GB RAM, 1TB of storage, and a lovely 14-inch WQXGA+ 120Hz IPS (2880 x 1800p) display. There's a nice balance between what gives solid performance but which also keeps the pricing more budget-minded. 
As a result, we have some quite competitive benchmark scores that nearly match what the best gaming laptops with a much higher pricetag put out, which has been something that Lenovo's also mastered this generation. And general performance with the best PC games nets some truly impressive results.
Sound quality is also pretty solid, especially since the speaker is located above the keyboard. Audio is clear whether you're streaming movies, listening to music, or gaming, and at high volumes the sounds don't lose too much. The webcam is 1080p but is of average-at-best quality, requiring great lighting for a clearer image. It comes with a physical e-shutter, which is excellent for safety and should be standard on any laptop. All in all, this is a very solid win for Lenovo–and any gamer on a budget, for that matter.
Lenovo Legion 5 Slim 14: Price & availability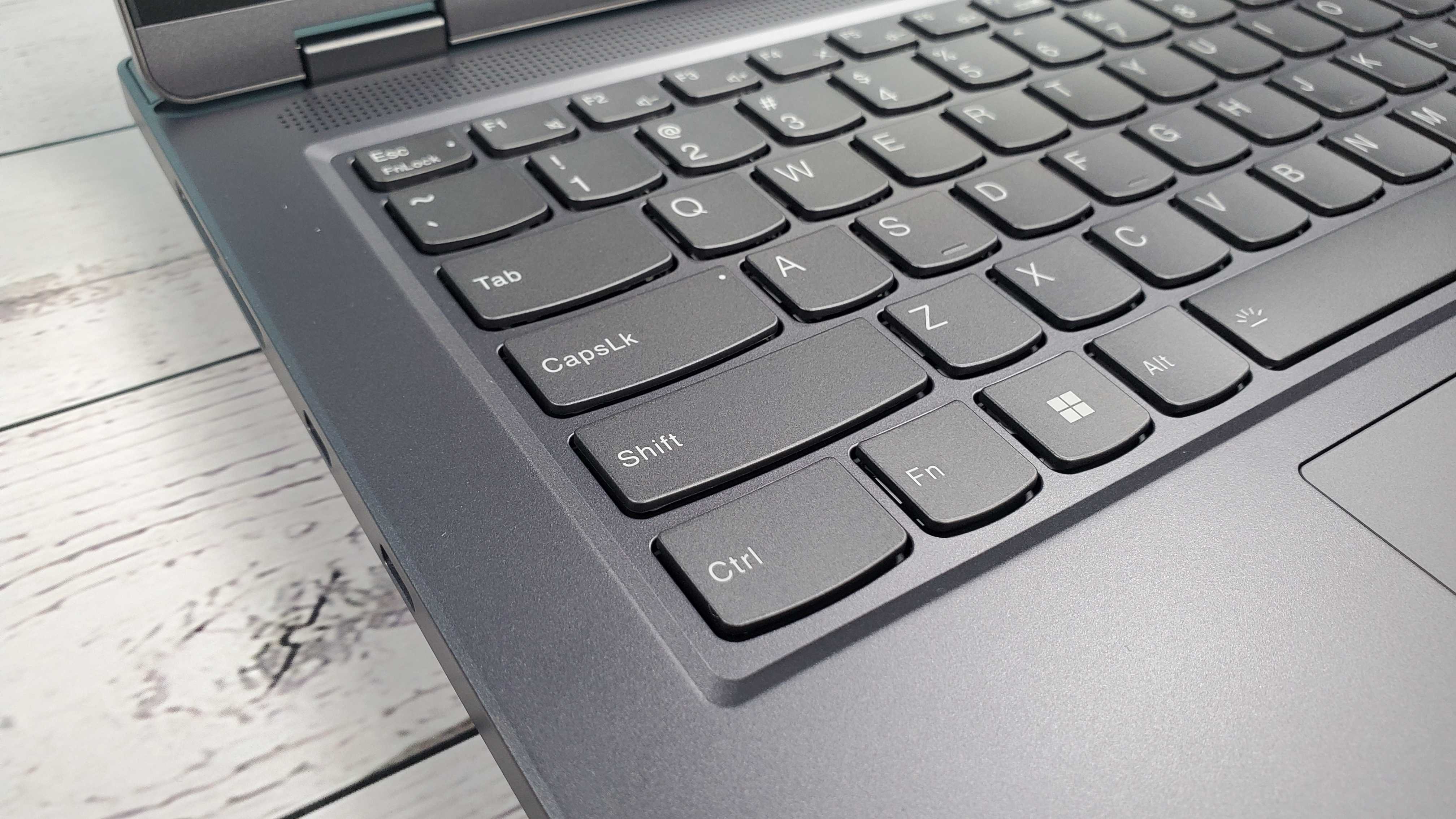 How much does it cost? Starting at $1,439.99 / £1,399.99 (including VAT) / AU$2,949
When is it available? Available now
Where can you get it? Available in the US, UK, and Australia
Pricing is quite good for the Lenovo Legion 5 Slim 14, starting out at $1,439.99 / £1,399.99 (including VAT) / AU$2,949 though, at the time of this writing, there's a discount making it about $200 cheaper. My review unit is a bit pricier at $1,634.99 / £1,630 (including VAT) / AU$2,998 thanks to the RTX 4060 replacing the RTX 4050 in the base configuration. The most expensive configuration will run you $1,884.99 / £1,780 (including VAT) / AU$3,397, which is still lower than a lot of competing gaming laptops, thanks to keeping the RTX 4060.
The UK version has similar pricing to the US, though there's an interesting difference in that you can opt for no operating system, which saves you £90 off the cheapest configuration. And the Australian version doesn't come with that option, like the US.
The Legion 5 Slim 14 compares best in price with the Origin EON 16SL starting at $1,949 / £1,763.64 (around AU$3,050) and one of Lenovo's other offerings, the Lenovo Legion 5i (2022) starting at $1,099.99 / £1,293.49 / AU$2,349. The latter is a truly budget option while the former offers similar specs and pricing, really boiling down to which aesthetics you prefer.
Lenovo Legion 5 Slim 14: Specs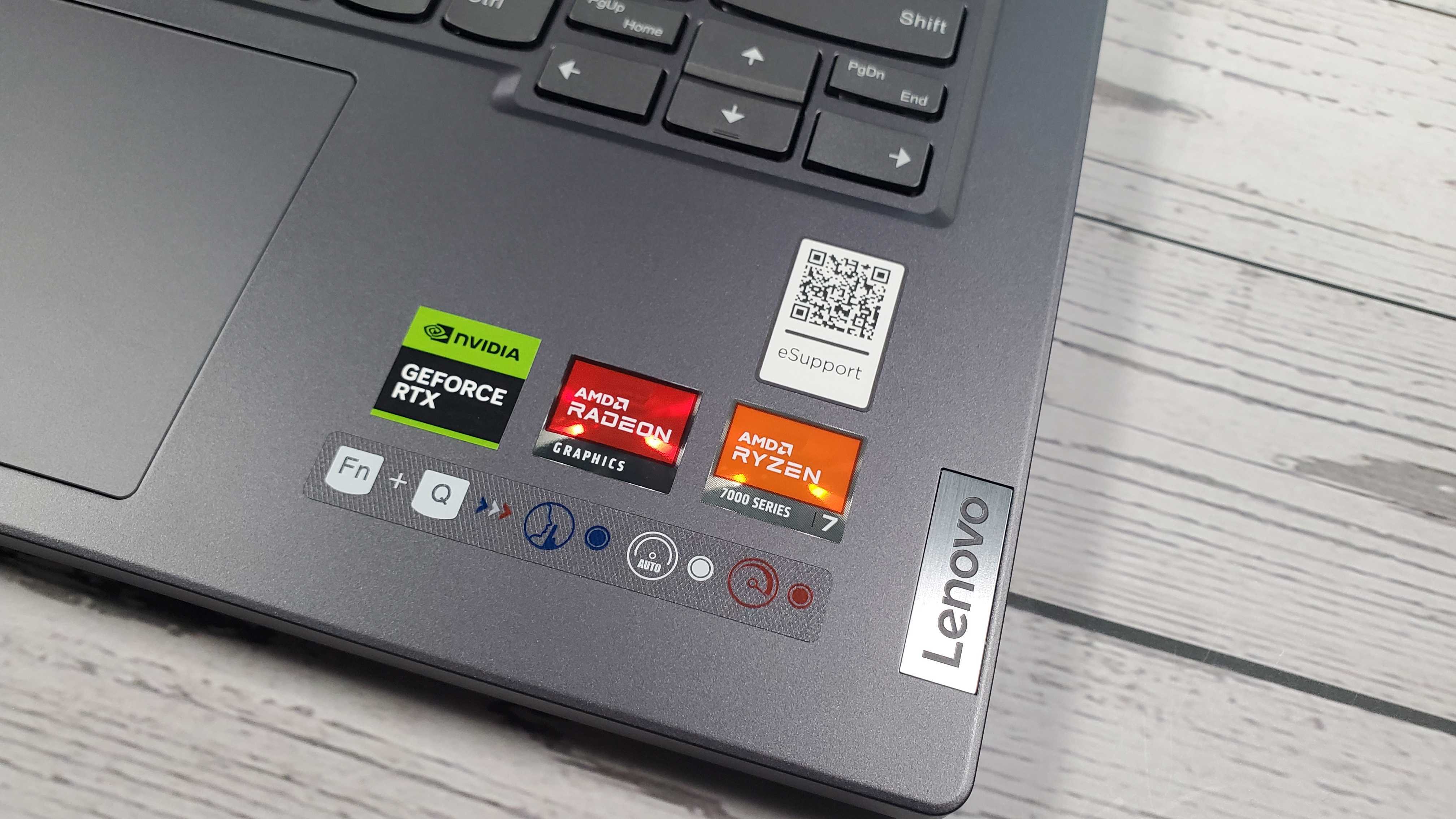 The review unit I received comes with the following configuration: an AMD Ryzen 7 7840HS CPU, an Nvidia GeForce RTX 4060 GPU, 16GB RAM, 1TB of storage, and a 14-inch WQXGA+ 120Hz IPS (2880 x 1800) display.
The Lenovo Legion 5 Slim 14 doesn't come in separate models, allowing buyers to somewhat configure the CPU, GPU, RAM, and storage space. The US and Australian versions let you choose between 16GB and 32GB of RAM, while the UK model only has 16GB. Another oddity with the Australian version is that if you choose the Ryzen 9 7940HS CPU, then you can only choose the 16GB RAM option.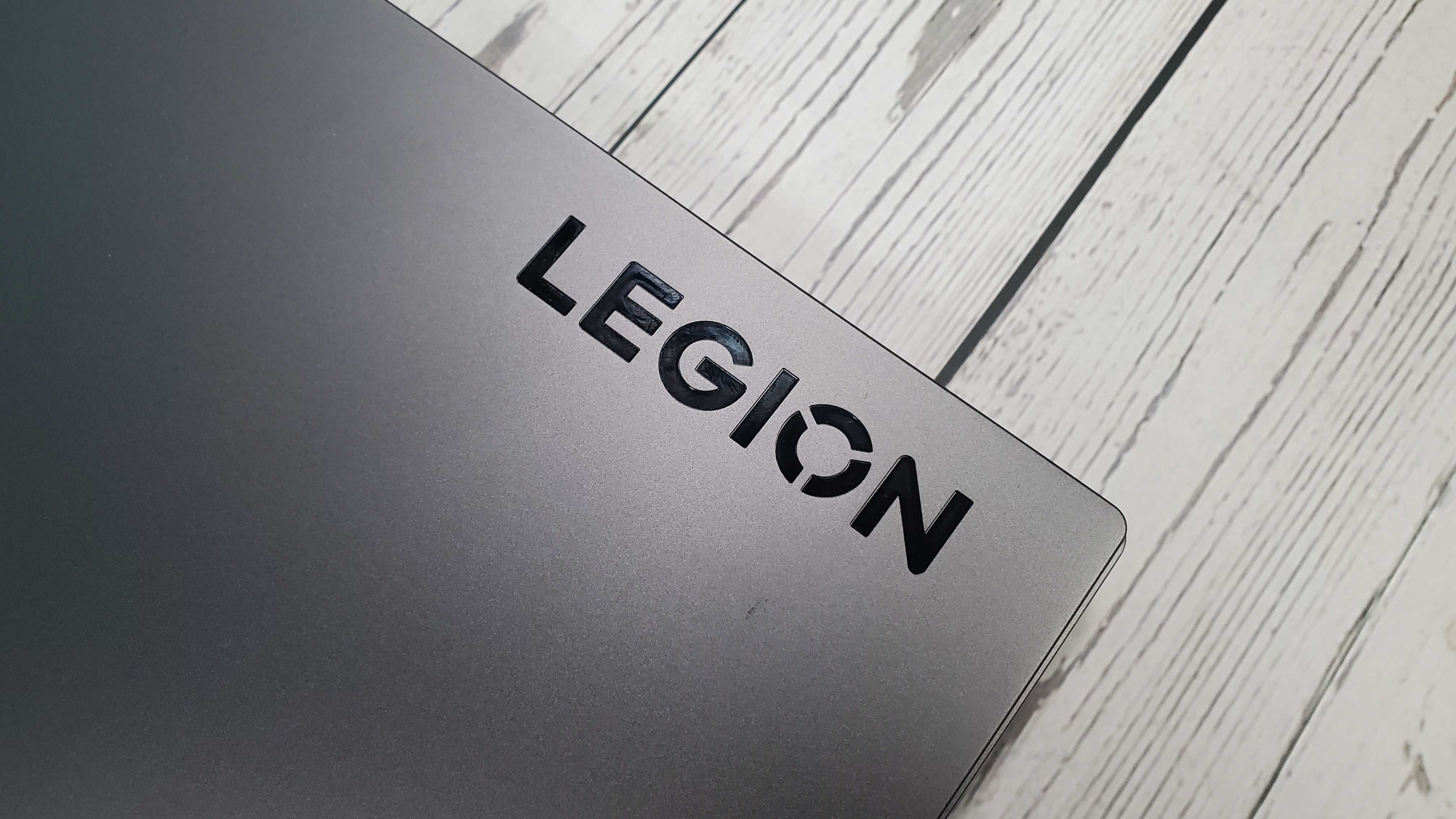 Lenovo Legion 5 Slim 14: Design
Solid port selection
Excellent display
Great keyboard and touchpad
Lenovo tends to use a stainless steel-type look for most of its gaming machines, with the manufacturer's logo machine-carved into the side. It gives the laptops a very distinctive and appealing aesthetic, which really works to stand out against the sea of boring black laptops that gamers so often get saddled with. 
Though it says Slim in the name, it doesn't look very thin compared to other laptops in that particular market, though the weight and 14-inch display size make up for it as it's quite manageable carrying it around.
Port selection is solid, including two USB Type-A ports, two USB Type-C ports, an HDMI port, an SD card reader, an audio combo jack, an e-shutter for the webcam, and a charging port. 
Pretty much every option except for an ethernet port, which makes little sense both because it's a gaming laptop and a stable internet connection is paramount to competitive play, as well as the fact that it has ports on the back and plenty of space there to stick an extra port there.
Image 1 of 8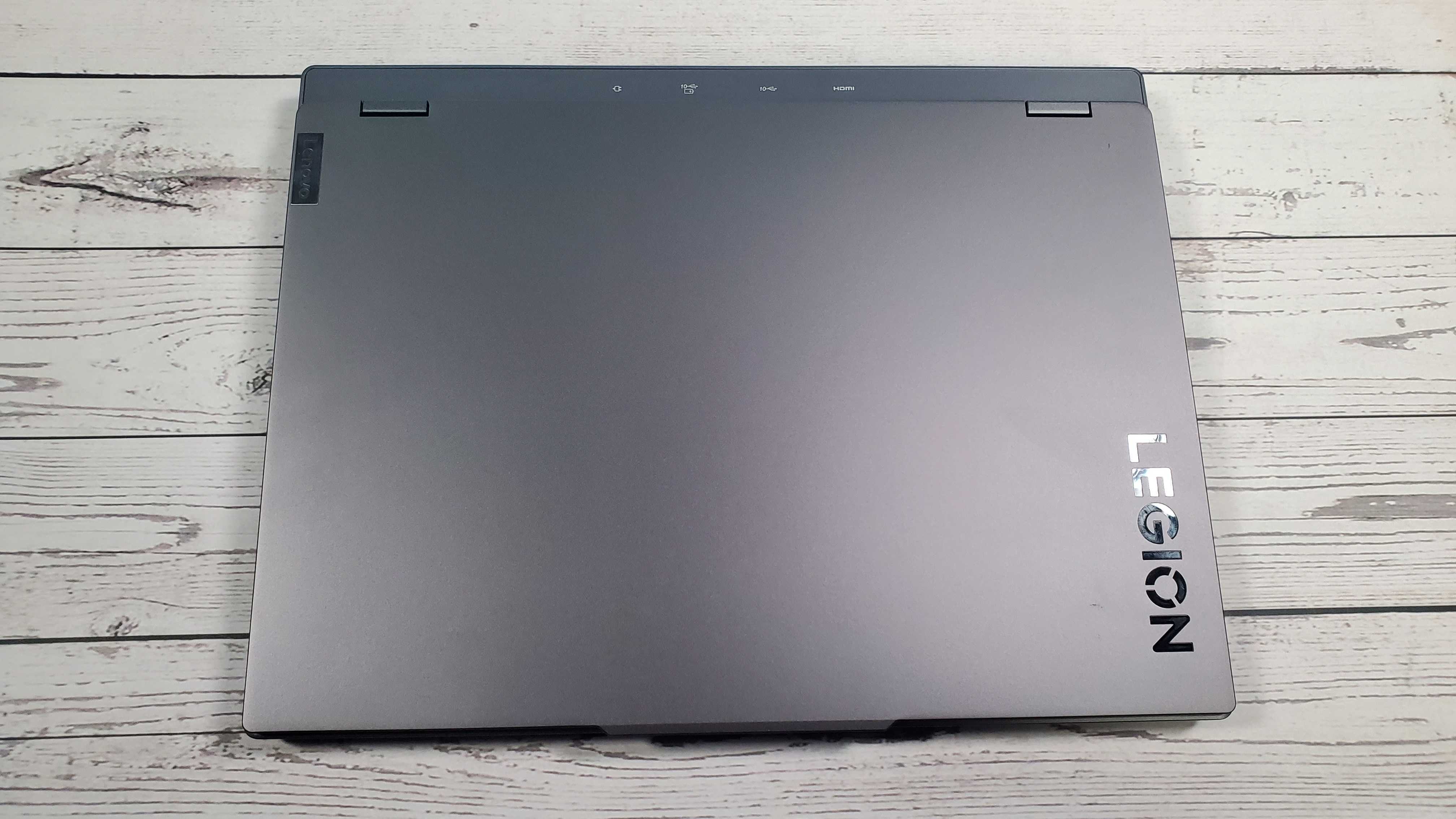 Image 2 of 8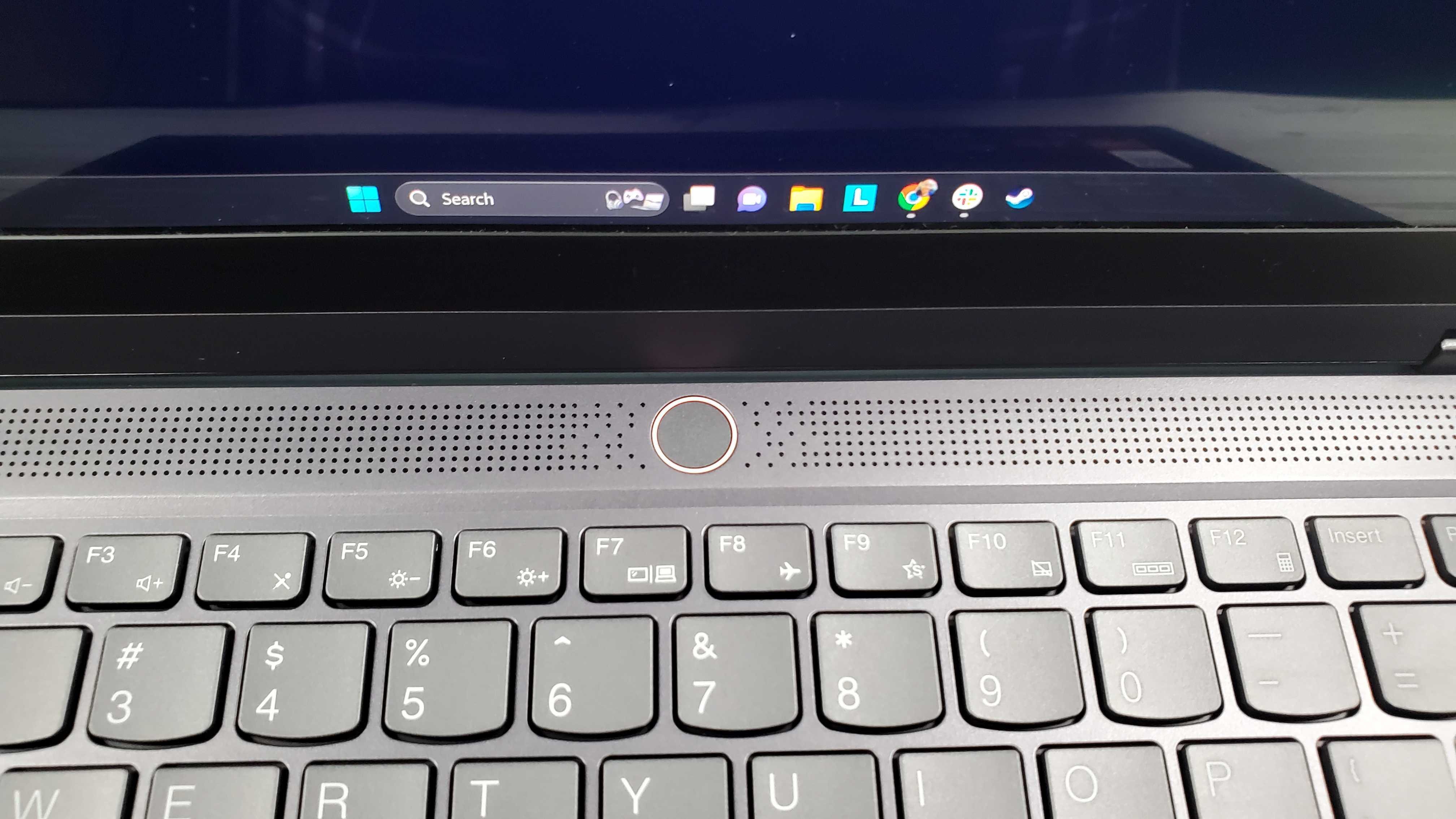 Image 3 of 8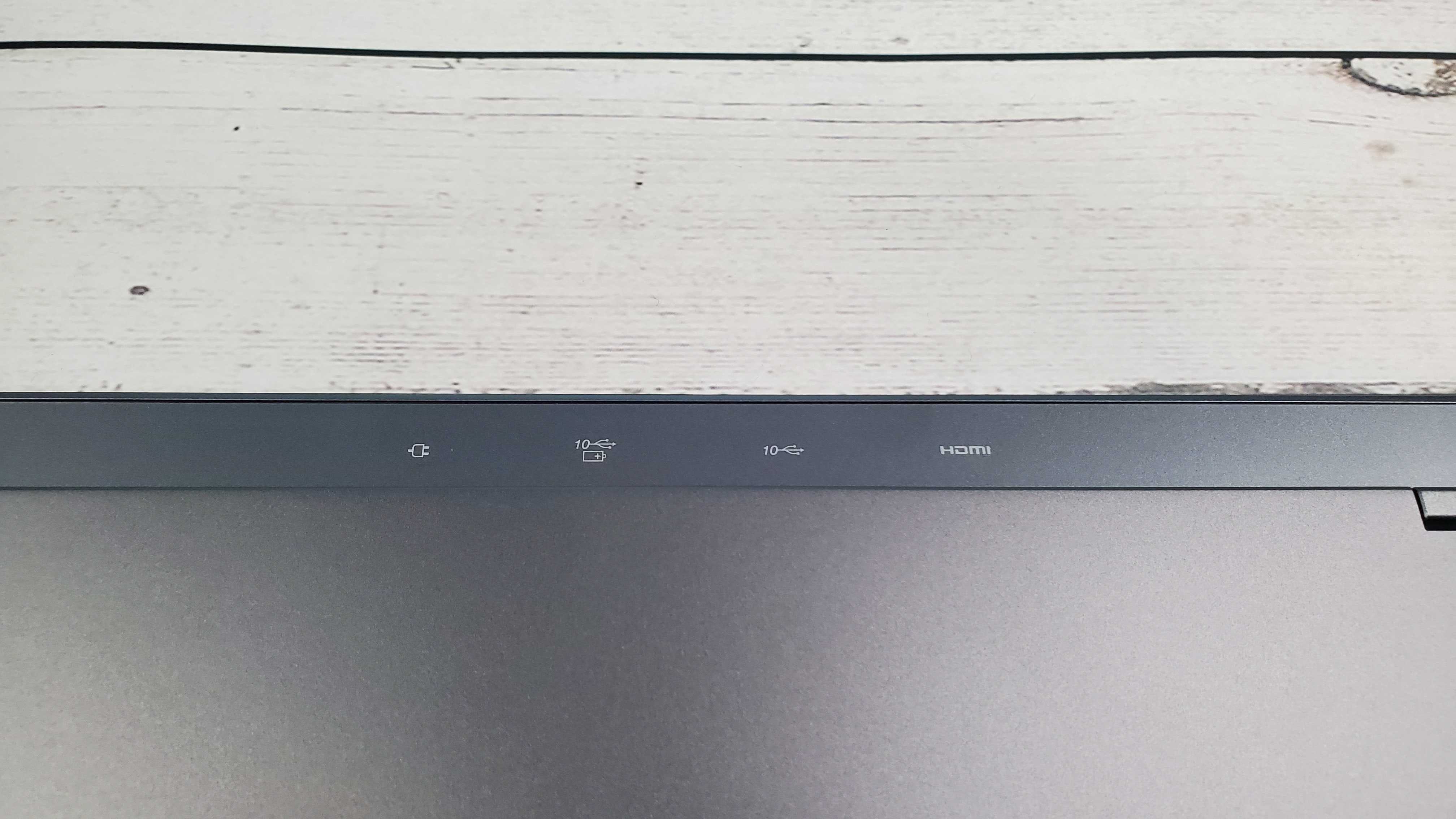 Image 4 of 8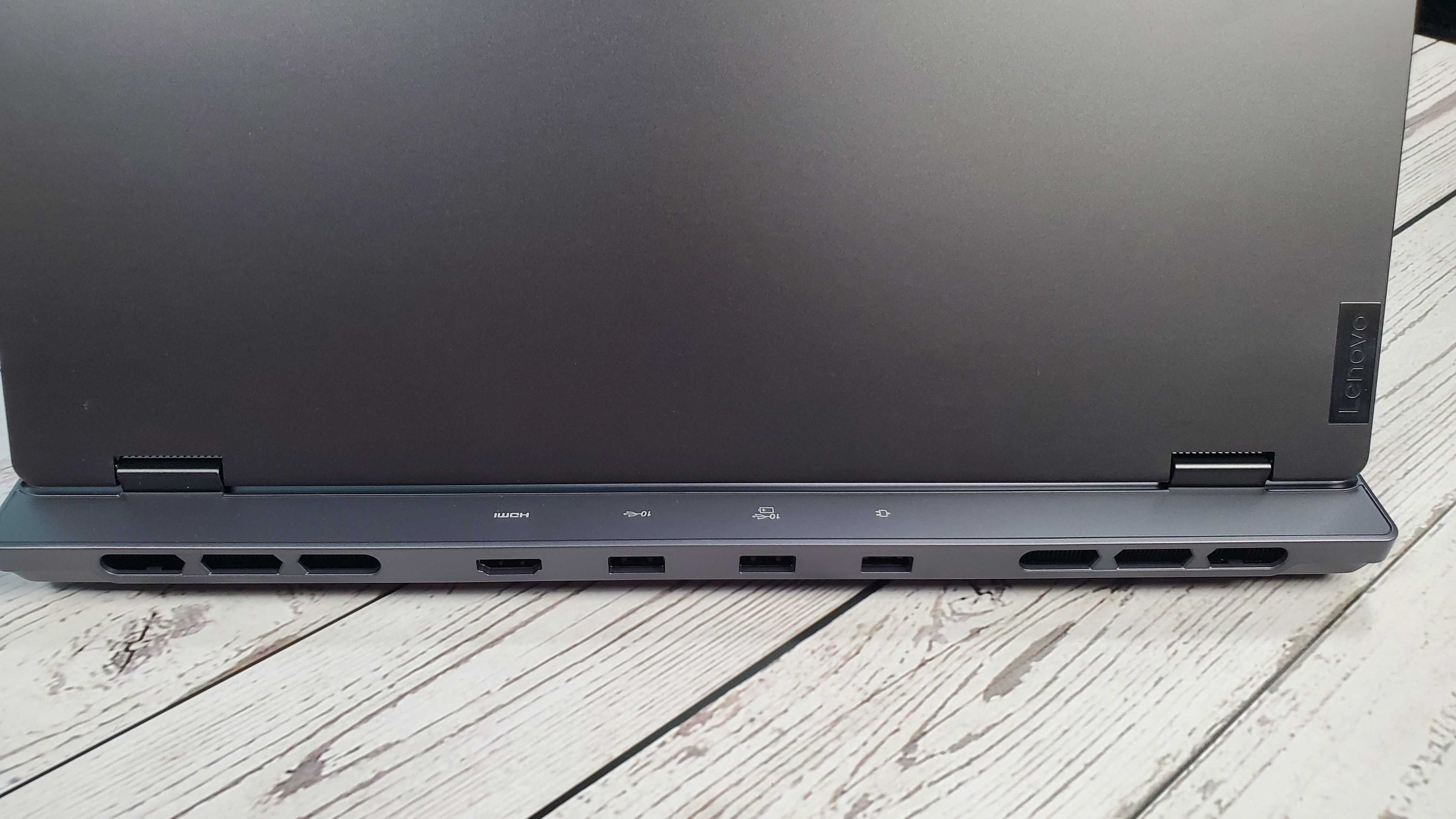 Image 5 of 8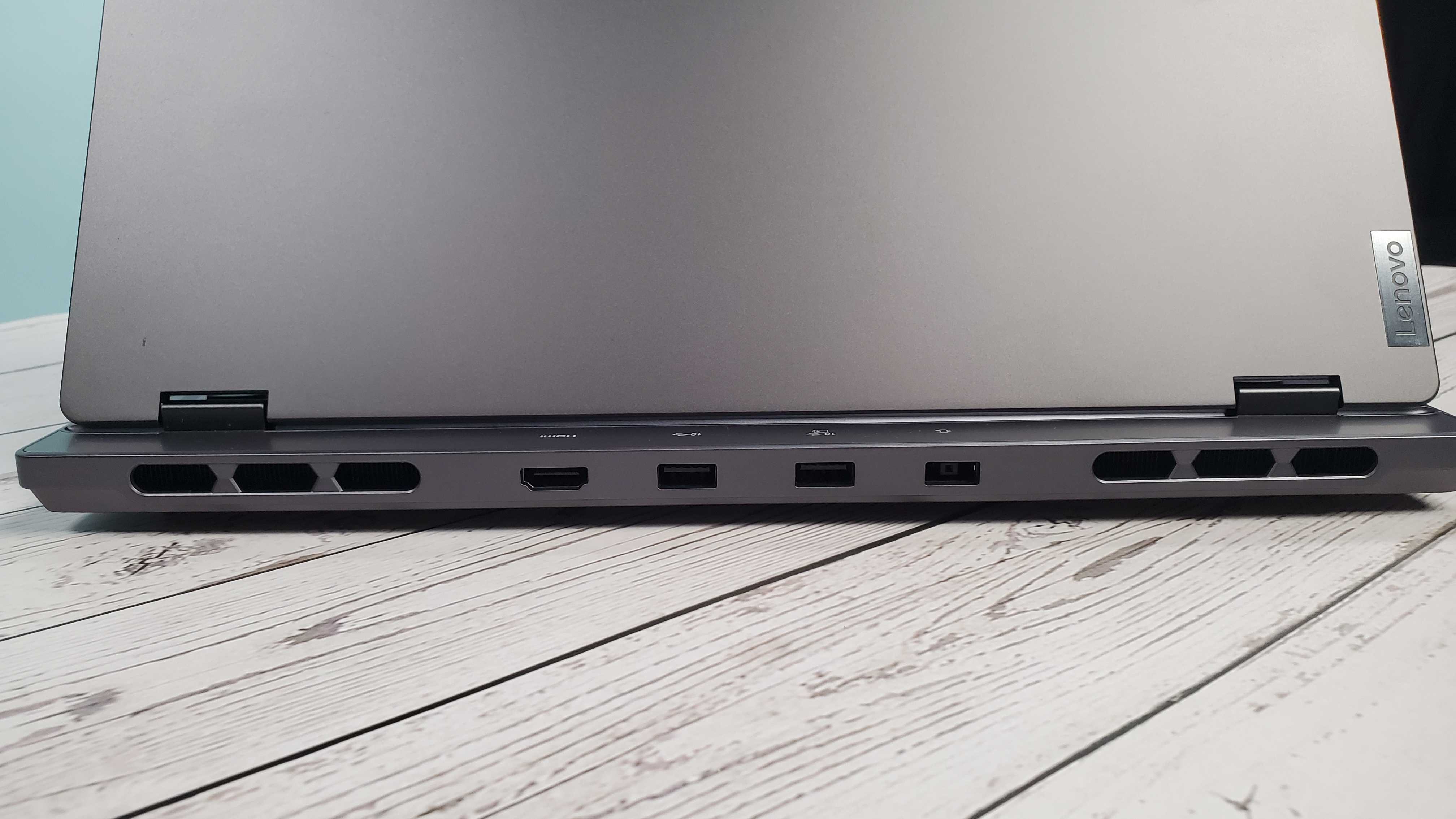 Image 6 of 8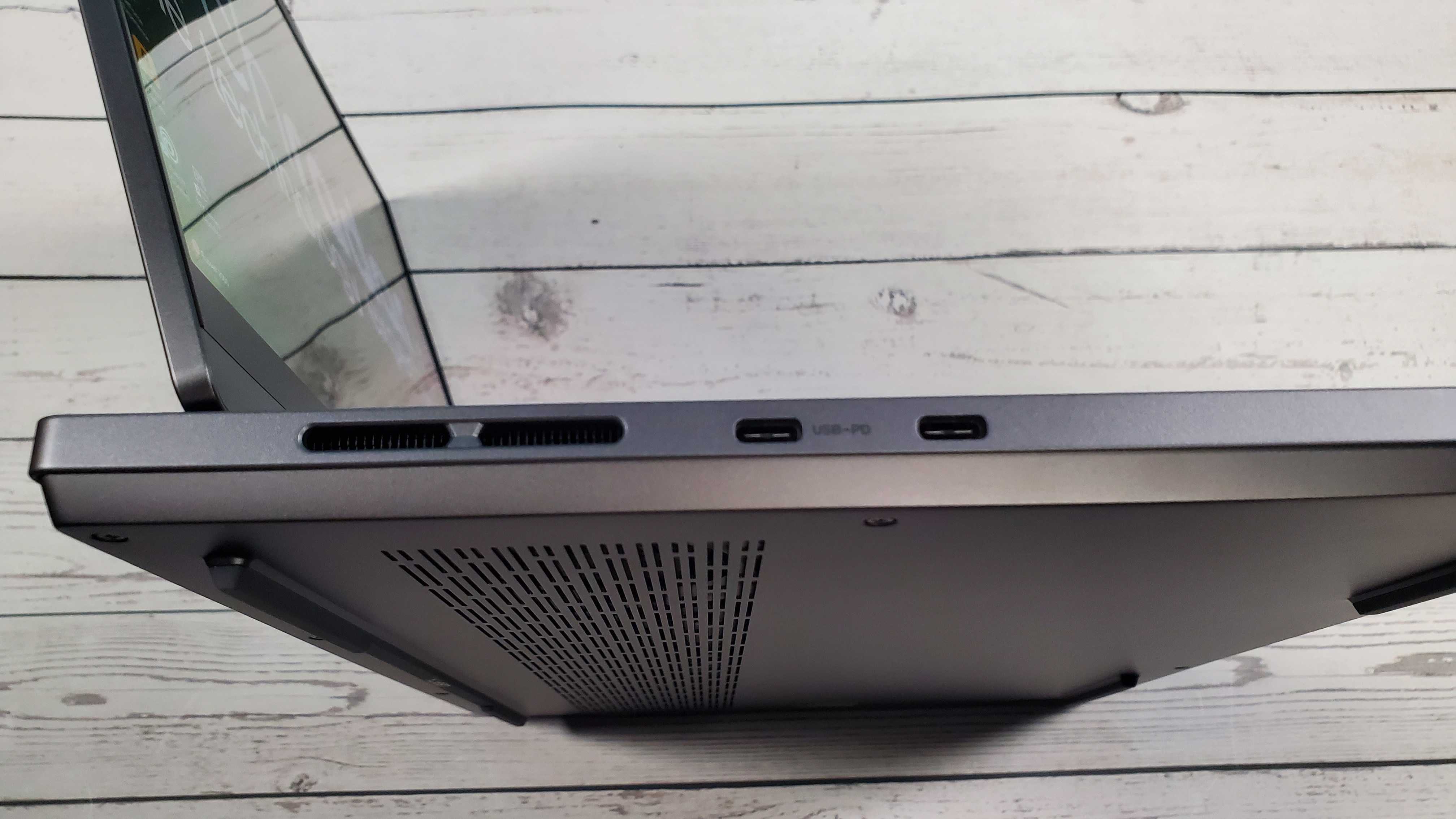 Image 7 of 8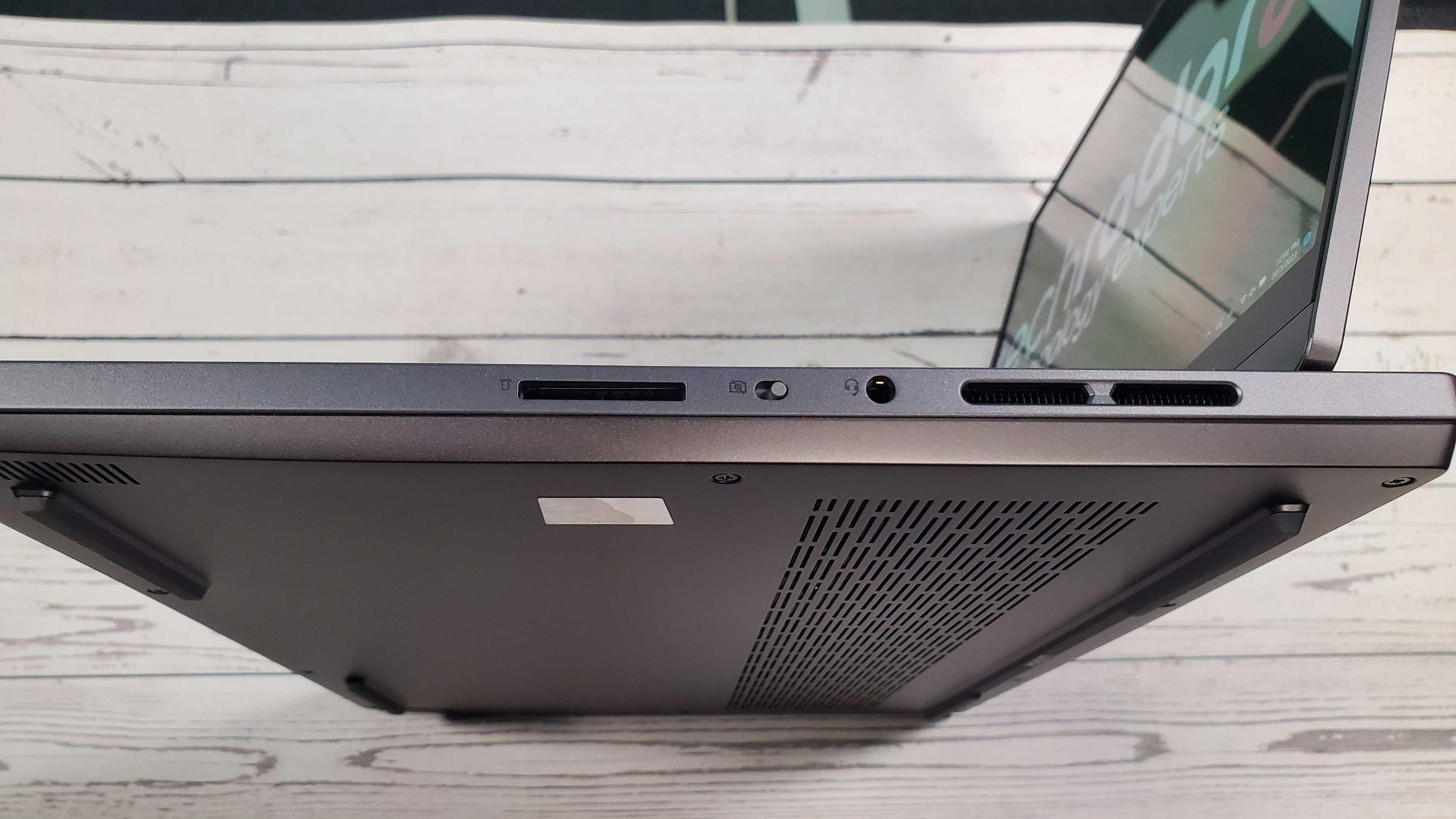 Image 8 of 8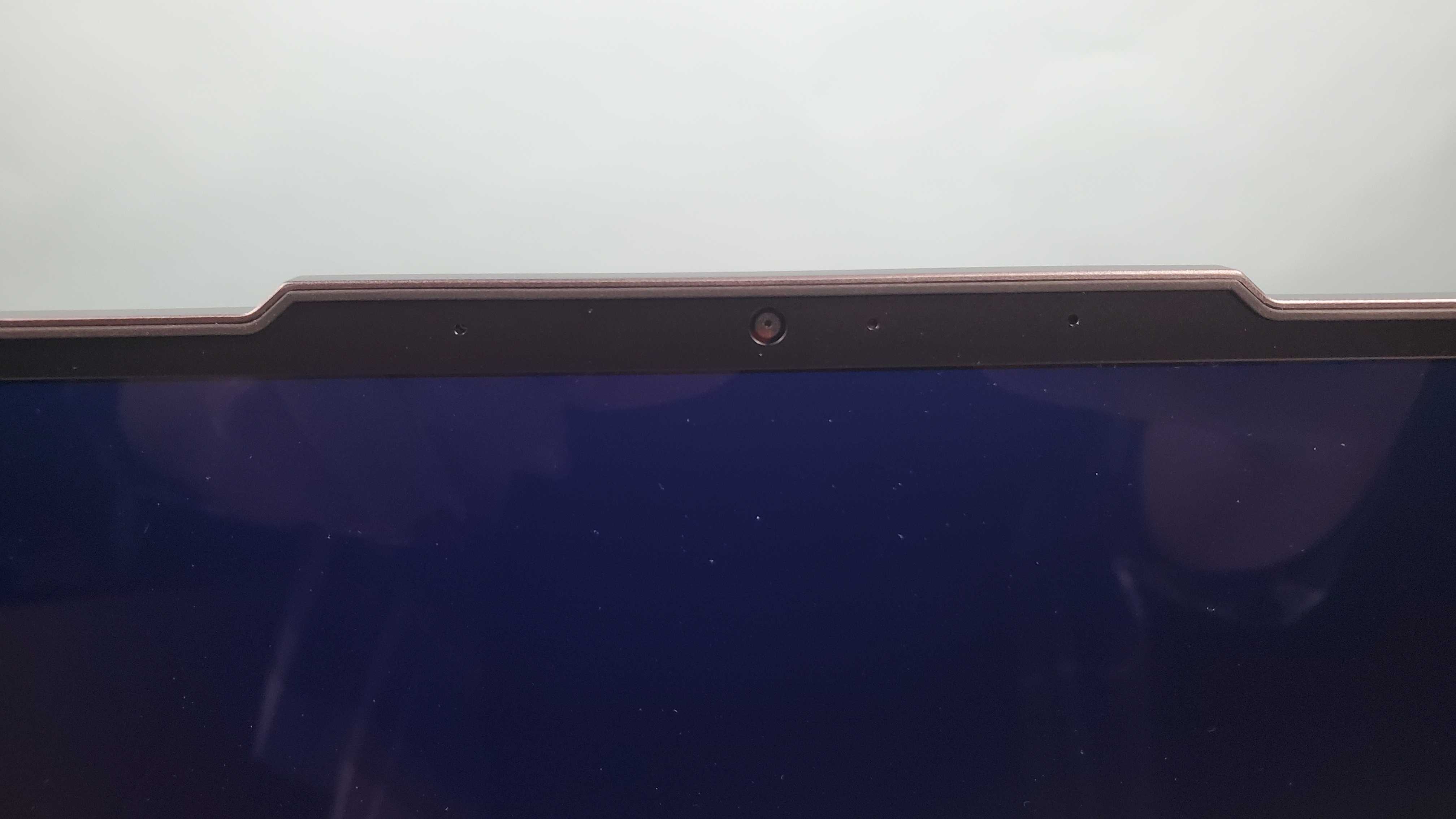 Its display is the crowning 14-inch jewel with WQXGA+ 2.8K (2880 x 1800) resolution, 120Hz refresh rate, with up to 500 nits of brightness, 100%DCI-P3 color gamut, and HDR support. The result is a screen that showcases any game with a lovely depth of color and brightness. The color gamut also means that creatives can use this laptop effectively.
The keyboard is the same reliable Lenovo one, meaning wide keys that have a nice snappiness and a white backlight that's much easier on the eyes while still useful for late-night typing. The trackpad is also the same quality type, with an equally snappy feel and high responsiveness.
Unfortunately, the webcam is also more of the same, needing work office-level lighting to make your image look good. It's fine for conference calls but grab one of the best webcams if you need to stream. 
The sound quality is also very good thanks to the speaker located above the keyboard, allowing you to hear the various layers of instrumental music, as well as vocals, and sound design. Ideal for gaming for sure.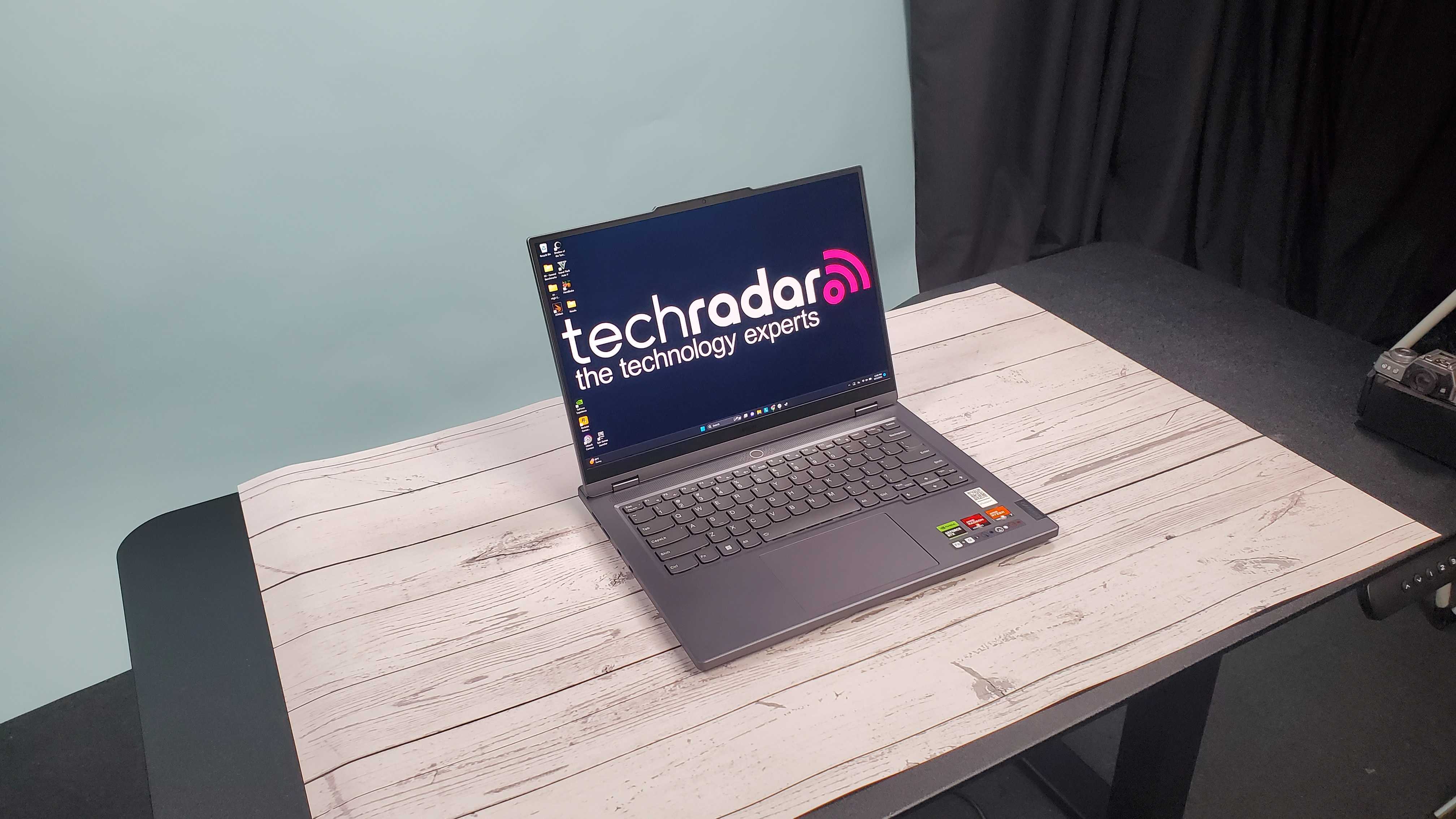 Lenovo Legion 5 Slim 14: Performance
Solid all-around performance
Doesn't play nice with ray tracing
Lenovo Legion 5 Slim 14: Benchmarks
Here's how the Lenovo Legion 5 Slim 14 performed in our suite of benchmark tests:
3DMark: Night Raid: 49,967; Fire Strike: 24,906; Time Spy: 10,540; Port Royal: 5,951
GeekBench 5: 1,951 (single-core); 11,595 (multi-core)
Cinebench: 16,671 (multi-core)
Total War: Warhammer III (1080p, Ultra): 87 fps; (1080p, Low): 207 fps
Cyberpunk 2077 (1080p, Ultra): 94 fps; (1080p, Low): 122 fps
Dirt 5 (1080p, Ultra): 63 fps; (1080p, Low): 95 fps
25GB File Copy: 19.3
Handbrake 1.6: 4:26
CrossMark: Overall: 1,886 Productivity: 1,834 Creativity: 1,987 Responsiveness: 1,753
Web Surfing (Battery Informant): 7:46:44
PCMark 10 Home test: 7,871
TechRadar Movie Battery test: 4 hours and 33 minutes
General performance is impressive, especially for its cheaper price point. Benchmark scores are comparable to more expensive gaming laptops including for 3DMark, PCMark10, Cinebench, and Geekbench. It shows that you don't need tricked out specs in order to deliver great performance and that affordable laptops can offer a lot to even more hardcore and professional gamers.
Its results in non-gaming benchmarks like the 25GB File Copy, Handbrake, and Crossmark tests are quite good, pairing well with its high color gamut. Creatives can rest assured that they'll be able to double this laptop as an editing and creative machine.
The AMD CPU gives the Lenovo Legion 5 Slim 14 an edge in terms of more CPU-heavy tasks, while the RTX 4060 runs even AAA games at high settings like a dream. If you need ray tracing and resolutions higher than 1080p, you need to prepare for those framerates to drop significantly, with the worst offender being Cyberpunk 2077.
Ventilation is solid between productivity work and normal gaming sessions, though not as excellent as I would have expected considering how much Lenovo brags about the cooling system. According to the manufacturer, it features phase-change thermal compounds, hybrid copper heat pipes, air intake and exhaust systems, and a 12V dual liquid crystal polymer fan system. But temperatures can still get quite a bit hot on the underside.
Performance score: 4.5 / 5
Lenovo Legion 5 Slim 14: Battery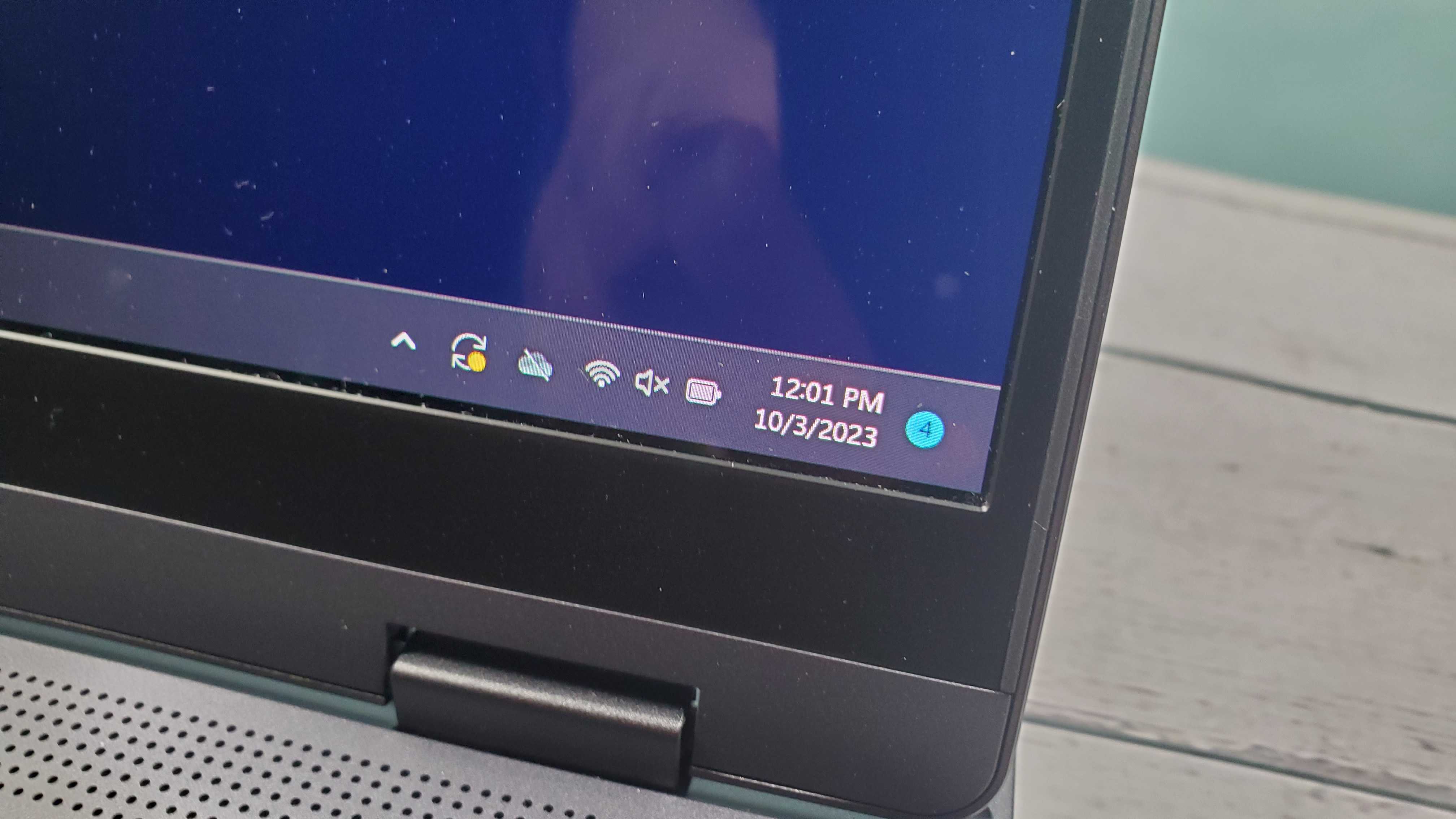 Works well with normal use
Not so much with video streaming
The battery life is very interesting, as it scored very well on the web surfing testing, nearly netting eight hours. I also found that it lasts for about seven hours when using it for daily productivity work. 
However, on the TechRadar movie test, it managed only four and a half hours. Extremely inconsistent results on opposite ends, though still better than most other gaming laptops.
Should you buy the Lenovo Legion 5 Slim 14?
Buy it if...
You want an easy-to-carry laptop
Though it's a little thick to be called "Slim" the 14-inch screen and uncumbersome weight still makes it extremely easy to carry around.
Don't buy it if...
You want a better webcam
The webcam in this is pretty average, especially if you plan on using it to livestream.
Lenovo Legion 5 Slim 14: Also consider
If my Lenovo Legion 5 Slim 14 review has you considering other options, here are two more laptops to consider...
How I tested the Lenovo Legion 5 Slim 14
I tested this laptop for about two weeks
I tested the gaming performance as well as productivity work
I used a variety of benchmark tests as well as high-end PC games to test this laptop.
To test out the Lenovo Legion 5 Slim 14 I used a full suite of benchmarks to rank both CPU and GPU performance, with more emphasis on the latter. I also tested out frame rate performance on max settings with a range of high-end PC games like Cyberpunk 2077, Dirt 5,  Marvel's Spider-Man Remastered, and more.

This laptop would primarily be used for gaming, specifically hardcore gaming. Due to its GPU and high color gamut, it can also be used for creative and editing projects, and its CPU means that productivity work is a breeze as well.

I've tested out many laptops, especially gaming ones, which gives me plenty of experience with properly benchmarking them. I also have extensive knowledge of testing out general performance such as framerate and graphics.
First reviewed October 2023