Dreame L20 Ultra: Two-minute review
If you just care about how the Dreame L20 Ultra cleans; it's a dream. In fact, I'd go so far as to call it one of the best robot vacuums you can buy right now, but it has to be, as it's also one of the most expensive, and it'll cut through grime as efficiently as it cuts through your savings.
Dreame has a huge variety of robot vacuums in its line-up and the L20 Ultra is the biggest and best, bristling with features, tools, and tricks.
Its suction is one of the most powerful on the market and it comes with retractable mops, customizable cleaning plans, smart AI to avoid obstacles, and adjust cleaning based on surface type; the list goes on. Your home will be clean with the Dreame, and it constantly surprised me with what it could scrub up during the testing period.
This comes at a price. Not only is the Dreame L20 Ultra one of the most expensive robot vacuums you can buy, but it has lots of parts that you'll have to replace regularly. The funds will keep leaving your account even after that hefty up-front payment, so this is only really an option for people who can afford the most premium model available. It's certainly one to look out for in the Black Friday robot vacuum deals too.
From the get-go, ease of use is a major boon. The L20 Ultra will automatically create a 3D map, identifying different surfaces and making a note of immovable obstacles like walls and furniture. It can update that map on the fly if you move furniture around (or leave the box it came in in a stupid location and keep shifting it because you can't figure out where best to store it).
However, lots of the robot's extra features (that are, after all, what you're paying for) are fiddly to activate or even understand. If you're not tech-savvy, you're probably not going to be able to make the most of what you're paying for. 
Its obstacle recognition isn't quite there yet, either: it worked wonders 90% of the time in my home, but the Dreame started trying to eat shoelaces a few more times than I'd consider healthy.
That's not to be down on the Dreame L20 Ultra; I started this introduction by calling it one of the best robot vacuums and that's not wrong. It's stacked with features and excels at its job – it's just a little tricky to recommend over rival devices that'll do a similar job and won't cost nearly as much.
Dreame L20 Ultra review: price and availability
Unveiled August 2023
Costs $1,499.99 / £1,099 / AU$2,799 
Extra price for regular part replacement
Announced at the annual August tech event, IFA 2023, the Dreame L20 Ultra was available to buy in the US by September of the same year, though took a little while to roll out to other regions.
The Dreame L20 Ultra isn't for the faint of heart or light of funds – it's one of the priciest robot vacuums you can get, and will certainly cost you more than simply hiring a cleaner. It's actually a lot pricier in the US, so if you live in the UK, you can ignore lots of my price criticisms.
You'll have to shell out $1,499.99 / £1,099 / AU$2,799 for the unit, which is pretty fair when you consider all the top-tier features and abilities the Dreame L20 Ultra has, and most robo-vac brands have similarly priced offerings. However, if you're on a budget, you'll find plenty of more affordable options from brands like Eufy, Roomba or Shark — and Dreame itself.
The financial drain won't end with the up-front cost though, as lots of the device requires frequent replacing or refuelling. Hide your bank cards, and hide your PIN numbers, for this is the full price list: 
You can buy all of the above (save the cleaning solution) in one bundle for $89.99 (around £74, AU$141). Just note that we couldn't find these parts on sale in the UK or Australia as of writing.
That is to say, you will likely be spending upwards of $100 or equivalent each year just keeping the device running (not including water or electricity), so it's a real financial investment.
Dreame L20 Ultra: Specs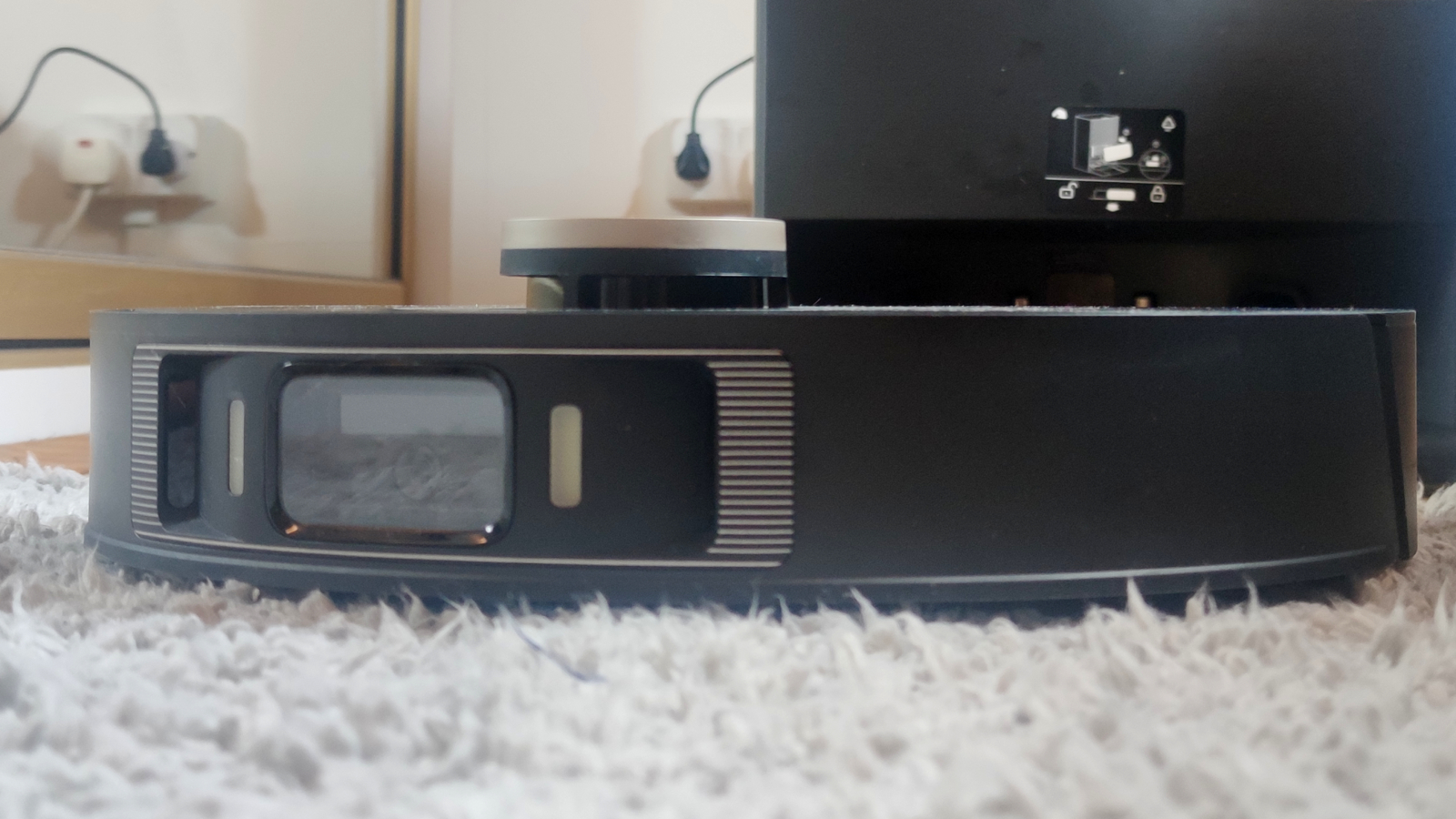 Dreame L20 Ultra review: Design
Large rounded cylinder
Giant base station
Onboard microphone
The Dreame L20 Ultra package consists of two, equally-comically-large parts: there's the flying saucer of a robot vacuum itself and its humungous base station.
Let's start with the base station: it's 60.7 cm tall, 42.6 cm wide, and 49.9cm deep (when you factor in its ramp, though for the majority of its body, it's a little shallower). Much of this body is for water storage or dust bags. A towering black monolith, you'll need somewhere in your home with sufficient space for it and one that offers easy access at the lower level for the vacuum itself.
The dust bag fits 3.2 liters of dust before it needs to be replaced, while the water tank and waste water tank both hold 4.5 liters. That's 'forget about it for weeks' levels of quantity. 
The robot vacuum itself is also pretty big compared to some rivals; you wouldn't want to face this at Robot Wars. It's 10.3 cm tall, and Dreame rather vaguely says that its body is 35 x 35 x 35cm. Either way, it's a big circular entity, and heavy too at 4.3kg, though its heavyweight status doesn't reduce its ability to clean (or to fit in small areas!). 
Atop the robot are its LIDAR scanner and three control buttons, which provide some functionality, but using the app is still a lot more convenient. When it's cleaning it has two front-facing lights that can be incredibly bright, but this just means its LIDAR is effective whether or not your home is well-lit, and it'll only turn on its lights if the lighting is poor.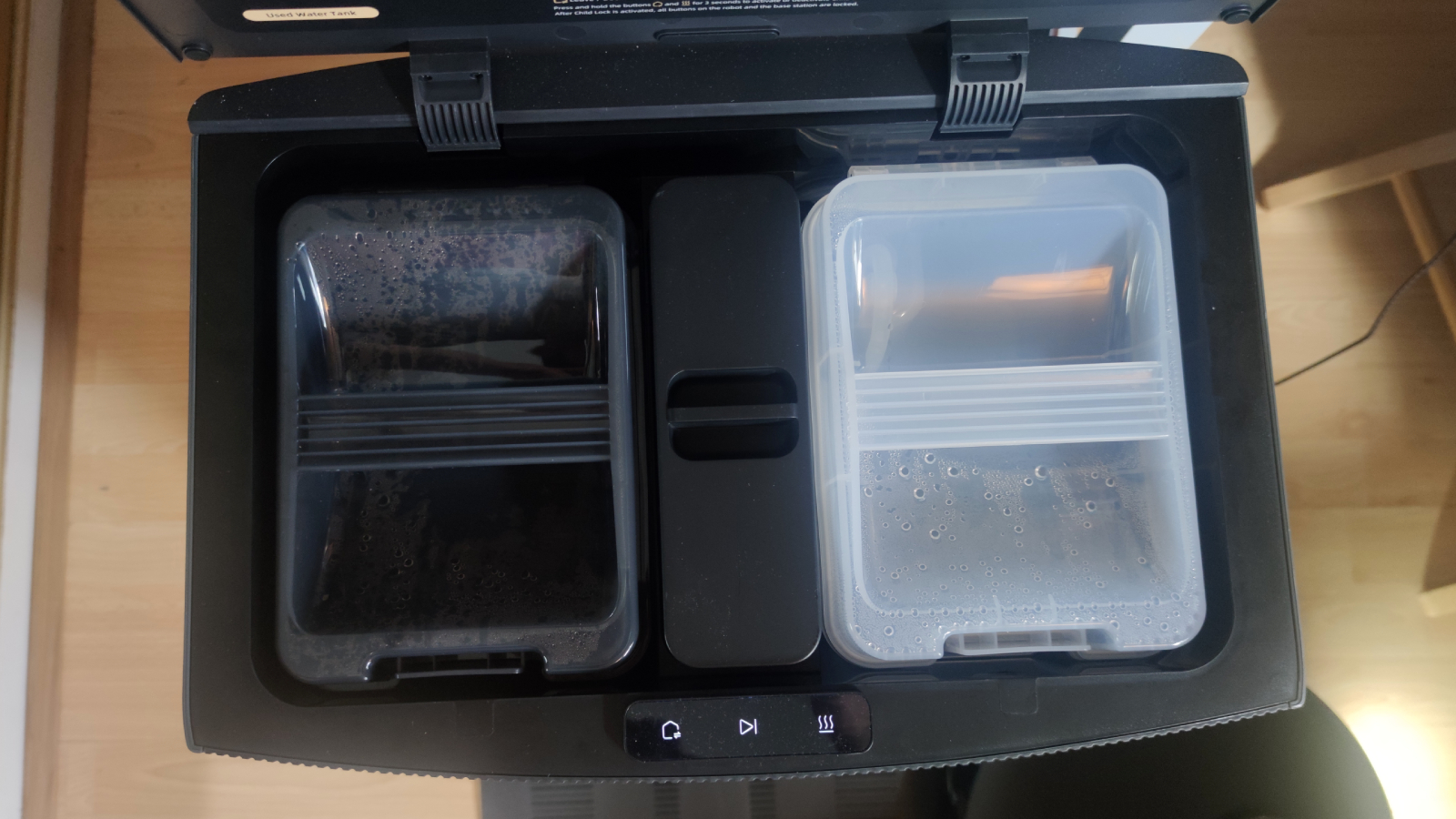 Underneath are its two mops and tri-pronged side brush, but they don't poke out too much, meaning the Dreame has a circular body to look at top-down.
There's also a microphone on the robot, which keeps you updated with what it's doing or what order you've issued it. This is a really handy accessibility feature, though it's also pretty scary if you forgot you scheduled a clean!
Dreame L20 Ultra review: Performance
Powerful suction, plus mopping power
Creates and updates 3D map
Sometimes fails to recognize obstacles
The name of the Dreame L20 Ultra's game is ease of use – as you'll read about in the 'App' section below it's easy just to press 'play' and let the robot do all the work for you.
The robot has a suction power of 7,000 Pascals – that's significantly better than Dreame's previous robots, with the 10s Ultra hitting 5,300Pa, and given that the average for a robot vacuum is around 6,000Pa, it shows that this is great for picking up dirt. Over the testing period, there was not a single time that the Dreame failed to pick up something it should have done, and it even collected some items I expected it to miss.
That's the first part of the L20 Ultra's process; the second is mopping, which it does with its two built-in mop pads. This mostly worked great too, resulting in squeaky-clean floors, though there were a few marks around my flat that it didn't manage to remove. Good for spilled coffee stains, but not so great for angry kitchen muck, though its Deep Clean mode (which takes a lot longer) got rid of most of the marks missed by the standard mode.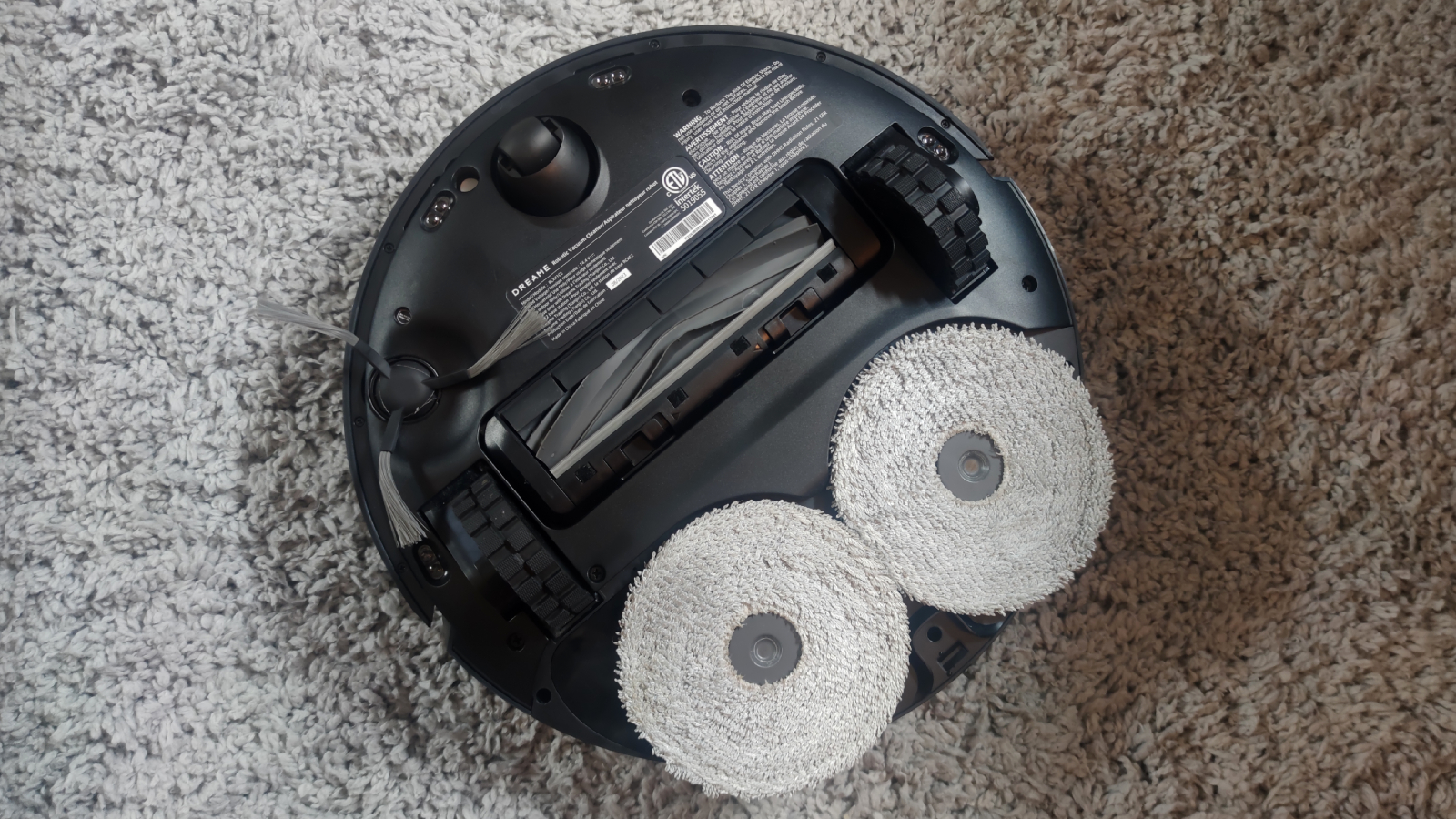 Every time you run the Dreame, it'll create a new 3D map based on the existing one, so it can recognize if you've moved furniture or closed a door that was previously open. This was generally very handy as it meant I didn't need to be so fastidious about tidying the testing area, though a wall-long mirror at one side of the apartment constantly confused the thing. Don't worry, Dreame, that's not a whole new room I'm asking you to clean!
I did sometimes cause cleans to finish early by accidentally standing in the way when it was scanning an area. Even though I moved straight away, the Dreame assumed that an area was blocked, and didn't bother trying again. So it's best to keep out of the thing's way, lest you dissuade it from doing its job.
One word of warning: while you can enable a quiet cleaning mode, the robot is loud. Dreame cites the minimum noise as 63dB, which is just above the average sound of conversation. It's loudest at the end of a clean when it empties its tank. If you've got a nervous pet (or just hate loud noises), make sure to turn on quiet mode, or only activate it when you're out of the house!
The L20 Ultra is self-emptying, so you don't need to worry about removing its contents after every session. The dust bag provided lasts 75 days according to Dreame, and you can buy more once you run out. You'll need to replace the water more frequently (and empty out the dirty water), but each will last you several hundreds of meters squared of cleaning before you need to do so (though I'd recommend cleaning out the water more frequently, as it can get nasty!).
For a vacuum of its size, I was surprised by how effectively the Dreame cleaned in nooks and crannies, with its mop extension managing to fit into corners that could easily have been overlooked.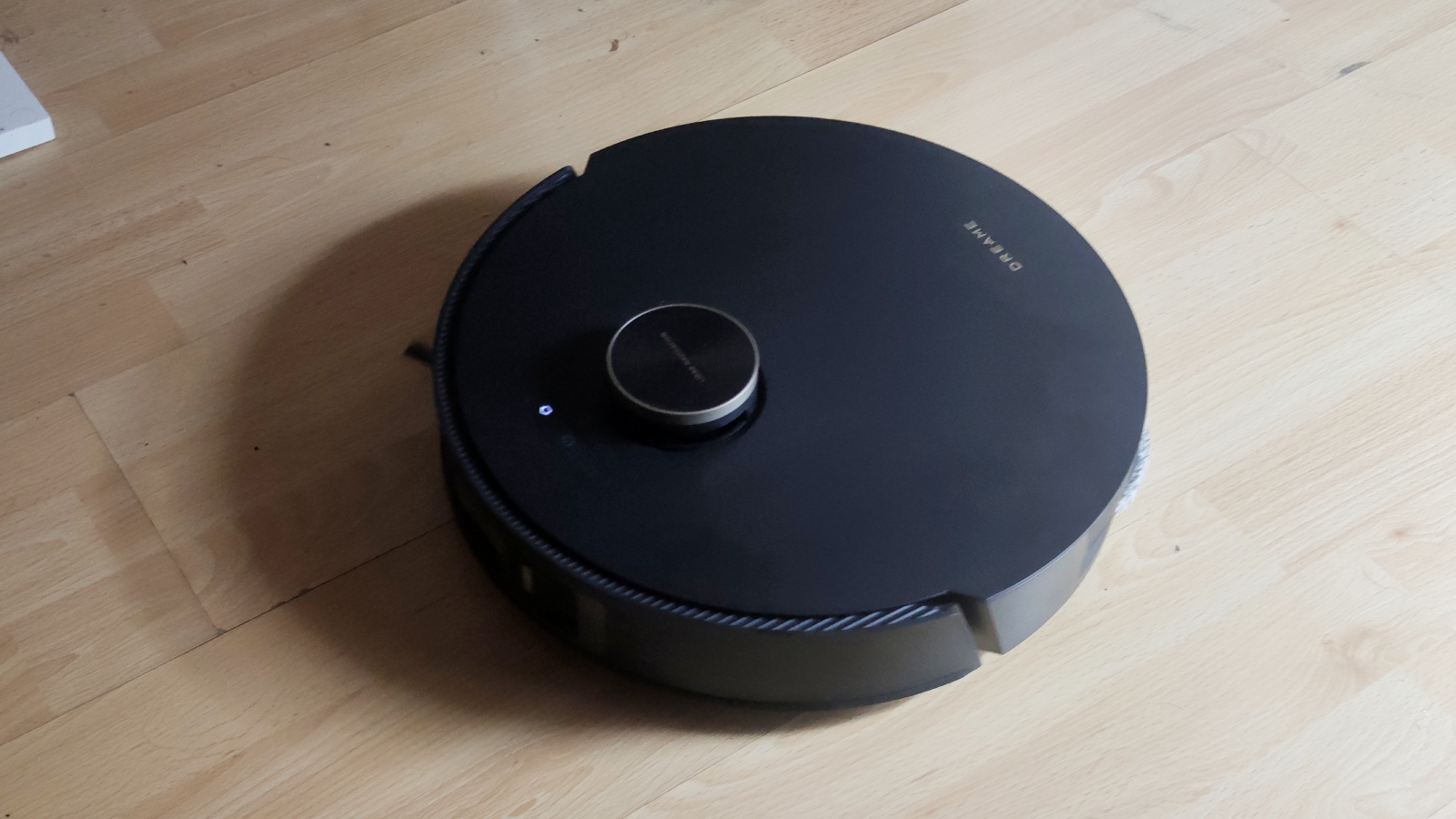 The Dreame is smart enough to detect different surfaces, and amend its cleaning plan; my floor is largely vinyl wood with a few carpets, and the robot could identify these latter emplacements. It'd avoid these during its cleaning routine, returning once everything else was finished; it'd know to lift the mop pads and slow down its speed to better vacuum in the thicker material.
If you have a home with various floor types, you can rest safely knowing that the robot will clean them all equally – without your input to boot, as I never had to program in different cleaning areas (though there is the option to mark carpeted areas in the app).
An issue I had several times during the L20 Ultra's testing phase is that the robot didn't always accurately identify smaller objects like pieces of string, wires, and shoelaces, and would end up getting itself caught when it sucked these things up. More often than not it was smart enough to recognize and avoid obstacles, but I did have to rescue it on occasion when it got itself tied up (literally). One could call the object recognition 'hit or miss'.
At other times the obstacle recognition was a little overzealous. In the app, it would frequently flag things that weren't obstacles at all: edges of carpets were the main offender but hanging fabrics that didn't touch the ground (and wouldn't get in the vacuum's way) were also culprits.
Dreame L20 Ultra review: App
App is easy to use...
... but hard to master
Onboard camera can be activated through app
To use the L20 Ultra, you have to download the Dreamehome app, available on the Play Store and App Store. This lets you set up the vacuum (which took a few tries for me, as it struggled to find the robot at first), check on its status, and set up various cleaning modes.
Simply telling the robot to clean is easy, with a simple play button on the first page (and another telling it to return to the base station), but if you like you can get further in depth, for example setting carpeted areas, deciding on the cleaning order or setting how frequently the Dreame will return to its base station and clean the mop.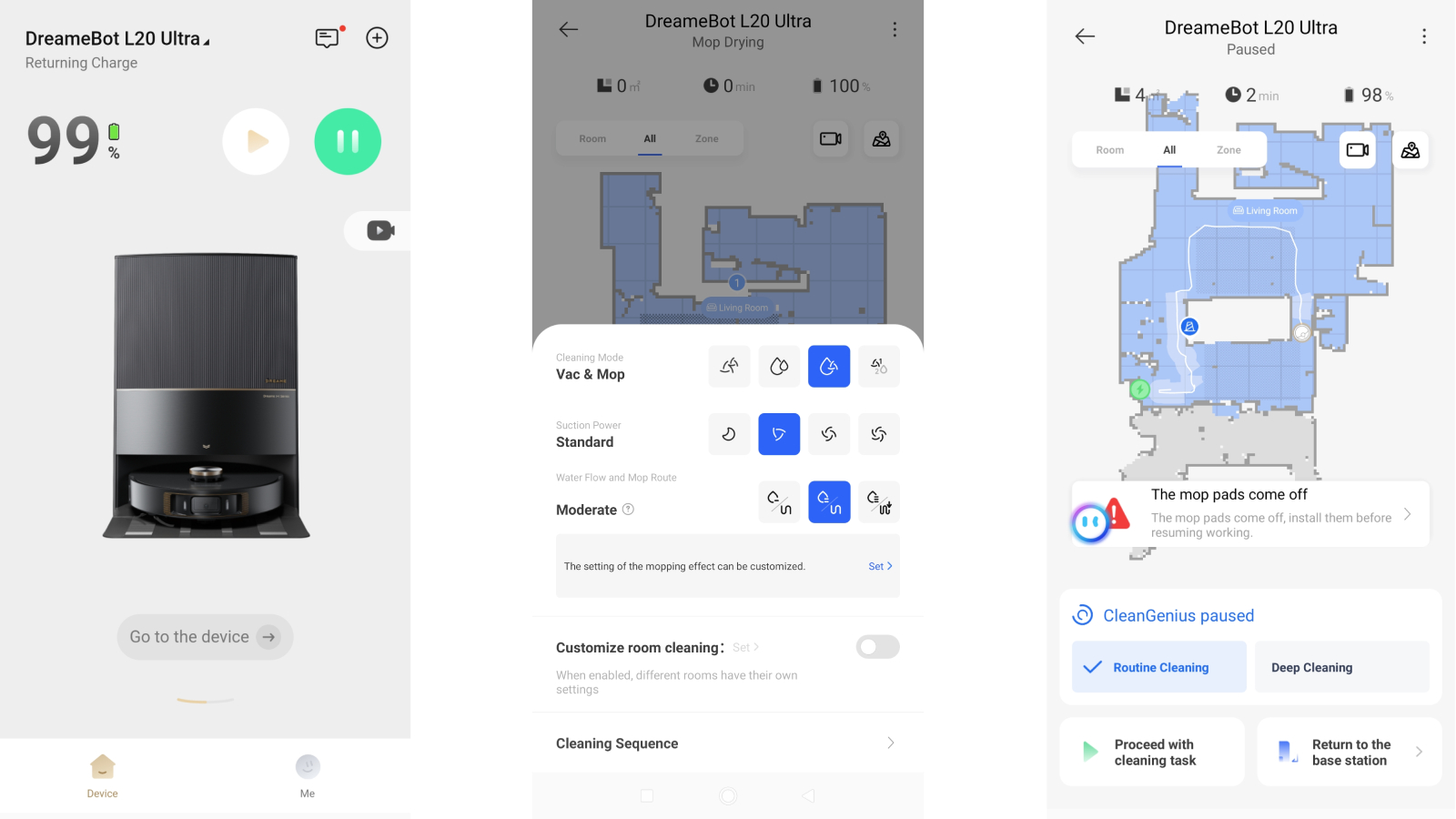 During a clean, the app tells you the size of your cleaning area, its battery percentage, and how long it's been cleaning for. And after the cleaning, you can check its route, which items it's classified as an obstacle, and a history of its cleans. There's also a scheduling tool for future cleans which is hidden in the menus.
The Dreame L20 is a feature-heavy robot, and this means that the app has lots of options and menus too, but this means that some of its tools are a little buried or hard to find. I couldn't quite figure out how to use the zoning or room tools, for example, and I literally review tech for a job – some users will find the app too fiddly, with a steep learning curve when you first buy the L20.
You can also use the Dreamehome app to activate a camera on the L20 Ultra, letting you watch the robot as it trawls your home. There's even the ability to pilot the thing yourself, turning it into a roving ersatz security camera. An alarm on the robot goes some way to mitigate security concerns, as you'll be able to hear if someone remotely turns on the camera – though in a big enough home, you could miss this sound.
Smart-home owners will find plenty of options with Apple's Siri, Amazon's Alexa, and Google's Google Assistant all letting you control the robot using voice controls. Well, you can start, stop and pause, but for other functions, you'll need to stick to the app.
Dreame L20 Ultra review: Battery life
Lasts 180 minutes at a push
That figure is even higher without multi-clean
Hoover is fairly slow
You're going to need a fairly large house to find the Dreame L20 Ultra's battery lacking. The company states that its 6,400mAh battery will last you for 180 minutes (or 3 hours) of cleaning. That goes up an extra 30 minutes if you only want either mopping or vacuuming alone!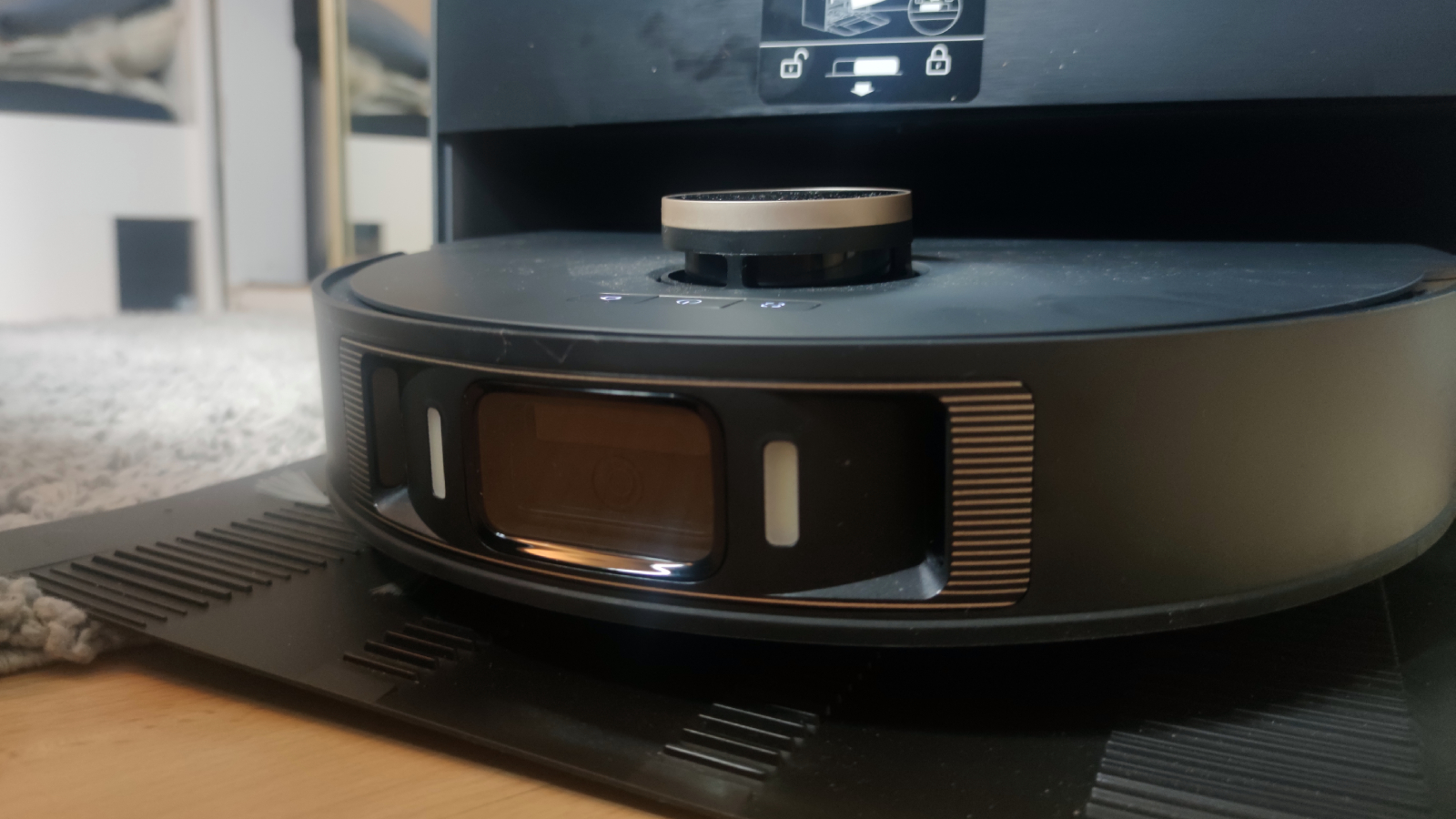 In my testing, the Dreame seemed to go through 1% of battery every two and a half minutes: to me, 180 minutes seems to be the high end of what you'd achieve.
That's an absolutely stellar battery life, although depending on the size of your home, you might need it. The Dreame doesn't exactly move at Ferrari speeds, and it took up to 45 minutes to do one lap of my flat which has roughly 20m2 of 'cleanable' floor space (ie, not covered by furniture, drawers or the massive box the vacuum cleaner came in). It sometimes did this a lot quicker though, with a record of 28 minutes for that same space (perhaps with some furniture moved here and there though).
By default, the Dreame will do two laps too: one for vacuuming, and one for mopping, though you can change this if you don't need either, and the latter was quicker. Either way, for me that was generally around an hour of cleaning.
Still, that means I was only using part of the Dreame's battery, with the 3-hour cleaning limit smashing loads of rival devices. If you have a larger house, you'll find that the robot will dock mid-clean to power up, which can take a few hours to get to full.
Should I buy the Dreame L20 Ultra?
Buy it if...
Don't buy it if...
Also consider
The Dreame L20 Ultra is a great robot vacuum, but it's not without competition. Here are some alternatives you might want to consider before splashing out.
How I tested the Dreame L20 Ultra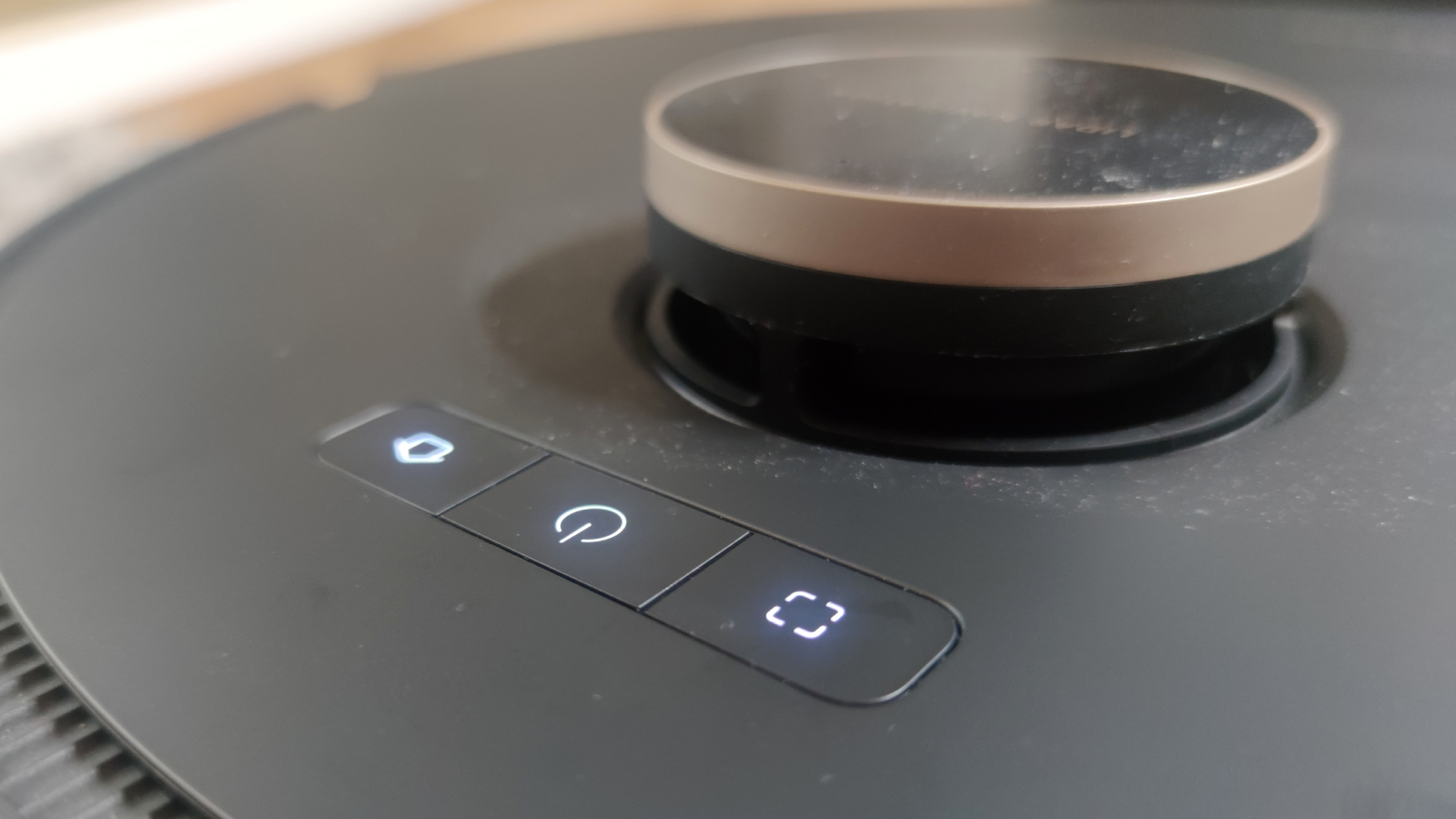 I set up the Dreame L20 Ultra myself, physically connecting the base station and wirelessly connecting to the robot, in order to fully understand the process. 
The testing window for the Dreame was three weeks, although I continued to use it after that while I was writing this review. In this window I ran cleaning tests every two or three days; for some of these, I artificially added solids like mud or foodstuffs to ensure the flat was dirty enough to clean (not that I needed the help with that…). I also varied the process after the first week, testing out different cleaning modes and not tidying up obstacles (other than the ones that would stop the robot from accessing the entire flat).
The testing size for the flat has already been mentioned; the Dreame app calculated the cleaning space as around 17m2 to 20m2 depending on how much furniture I moved out of the way. The area was largely vinyl wood flooring but included a kitchenette and bathroom (both tiled) and two large carpets: one shag and one acrylic.
First reviewed October 2023