Two-minute review
Apple's October reveal of the MacBook Pro 16-inch (M3) range was both an unexpected, in terms of its timing, and a risky one. We expected that Apple would bring out a successor to the M2-based MacBook Pro 16-inch (2023) at some point, but few Apple watchers thought it would happen a mere 10 months later.
It's a risky move for several reasons. For a start, it risks annoying people who bought the last MacBook Pro 16-inch – particularly the maxed-out M2 Max model – and who will have thought they'd have some time before the very expensive laptop they just purchased was superseded. While trying to stay at the cutting edge of computing products is a ridiculous and expensive pastime, and while the reveal of the M3 Pro and M3 Max doesn't suddenly make the M2 versions redundant, I can see why this might leave a bitter taste in the mouth for a lot of people.
It also risks making the whole M2 generation look like a misfire which Apple is keen to move on from. While the leap from M1 to M2 wasn't huge, it didn't feel like a misfire – at least not until Apple launched not just the M3 at its October Scary Fast event, but also the M3 Pro and M3 Max, along with replacements for 10-month-old laptops and a new iMac that completely skipped the M2 altogether.
The good news is that with a starting price of $2,499 / £2,599 / AU$4,299, you're getting the performance upgrades of the M3 series for the same price at the previous generation started at; well, that's good news for people who held off buying the M2 Pro or M2 Max 16-inch MacBook Pro, although it could be seen as yet another insult to anyone who did buy those laptops, especially if they did so only a few weeks ago.
As with previous models, you can choose a variety of configurations, including M3 Pro or M3 Max chips, and up to 128GB of unified memory – and you'll want to make sure you nail your options before you buy, as you can't upgrade the laptops afterwards. Of course, the better specs you go for, the more money this already-expensive laptop is going to cost.
Also, unlike the new 14-inch MacBook Pro, there isn't a more affordable option with the base M3 chip, so I can only recommend the MacBook Pro 16-inch to people who have the budget and need for such a powerful machine.
If that's you, then this could be your new favorite laptop. It keeps the same best-in-class screen from previous models, with a stunning 16.2-inch display with a sharp 3456 x 2234 resolution and Liquid Retina XDR tech, offering 1,600 nits of peak brightness for incredible vividness and dynamic contrast. The ProMotion tech also allows for 120Hz refresh rates, which keeps the macOS operating system, and any app you run (or website you scroll through) feeling fast, smooth and responsive.
A great array of ports, including plenty of USB-Cs, a HDMI and memory card reader, gives professionals plenty of flexibility when using the Apple MacBook Pro 16-inch (M3) when out and about.
Performance-wise, this is an impeccable workstation, with Apple building on the already impressive M2 Pro and M2 Max MacBooks. There wasn't a task the new 16-inch MacBook Pro couldn't handle during my testing, even when editing 4K footage with multiple 4K and 8K video files, and it also did an impressive job of running the latest games. That's right: with the new 16-inch MacBook Pro (and the 14-inch model), Apple might have just come out with the first gaming MacBook. No longer is its 'Pro' range of MacBooks all work and no play.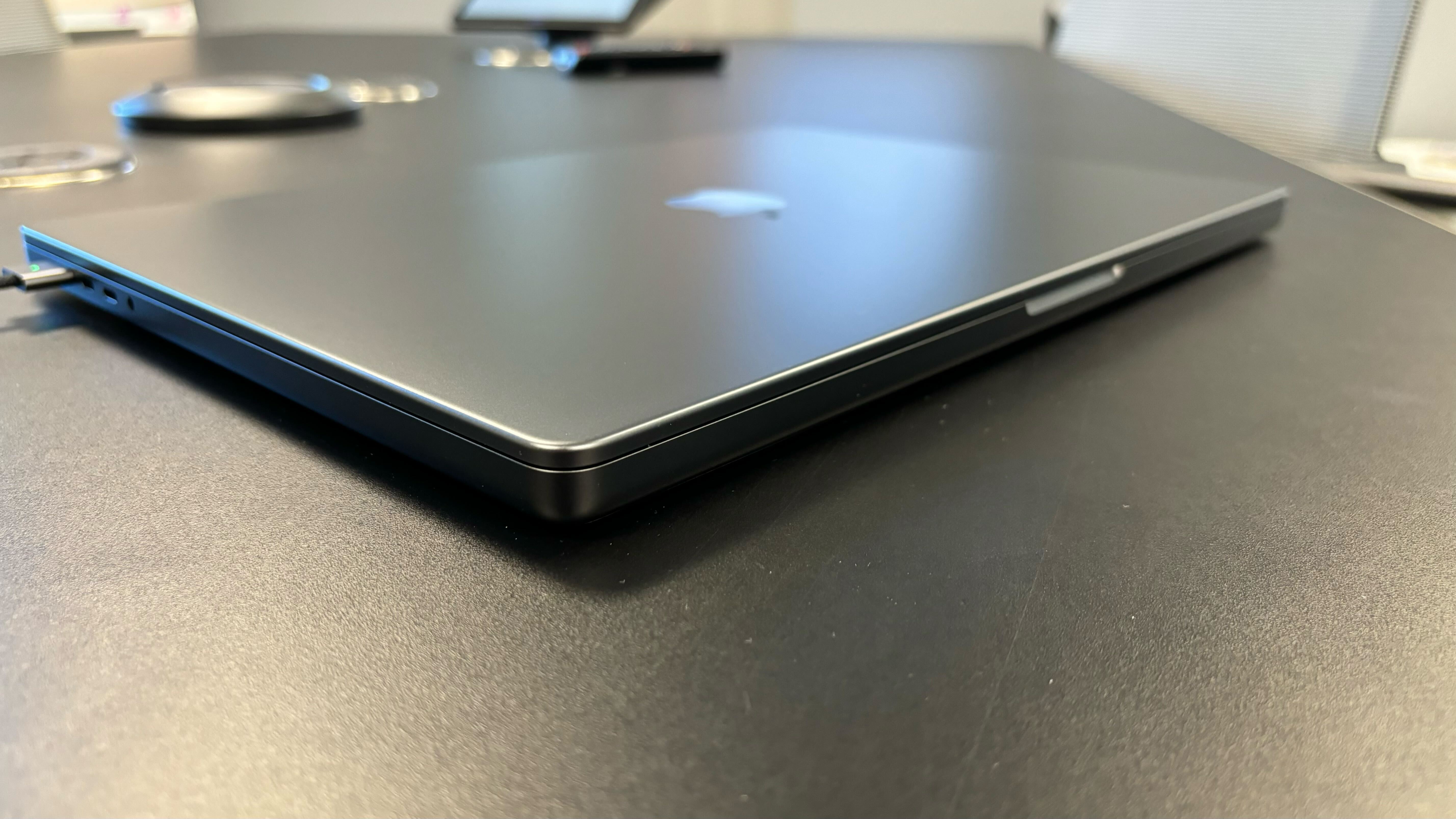 Apple MacBook Pro 16-inch (M3) review: Price and availability
Official release on November 7
Starts at $2,499 / £2,599 / AU$4,299
Same starting price as previous model
The MacBook Pro 16-inch (M3) was announced at Apple's Scary Fast event on October 30, and is released on November 7, 2023. That makes it little over nine months since the last model was released, on January 24, 2023.
The launch may well have set a record (and not a terribly good one) for shortness of lifespan for a new device, as the 16-inch MacBook Pros with M2 Pro and M2 Max chips were discontinued as soon as Apple announced the new M3 Pro and M3 Max versions. That's sure to annoy a lot of people who only bought what was the latest and most powerful MacBook Pros less than a year ago.
You'd also be forgiven for wondering if this new MacBook Pro 16-inch will itself become outdated in just nine months. That seems unlikely, but I'd have said the same in January of this year – there was a gap of 14 months between the M1 Pro and M1 Max 16-inch MacBook Pros and the M2 versions). And, while the M2 models, as well as the M1 models, are still supported by Apple, if no longer sold by it, I wouldn't blame you for being cautious. Always having the latest model of a MacBook is going to be difficult – and expensive – at the best of times, but for a new model to be replaced in just nine months definitely feels a bit cheeky. Would Apple attempt to do that with an iPhone?
At least Apple has kept the starting price of the new MacBook Pro 16-inch the same, at $2,499 / £2,599 / AU$4,299, which gets you a version with the M3 Pro chip, which comes with a 12-core CPU, 18-core GPU, 18GB of unified memory and 512GB SSD.
That means you're essentially getting a big boost with the M3 Pro, plus more memory (the rather odd 18GB compared to the M2 Pro model's 16GB), for no additional cost. That's nice for people who had been weighing up the M2 Pro version up until a few weeks ago, although it could be construed as another slap in the face for people who've bought the M2 Pro.
The good news, however, is that while Apple has stopped selling the M2 Pro and M2 Max MacBook Pro 16-inch models, other retailers are still selling them, and they will likely be quite keen to clear inventory to make way for the M3 generation. That means you may be able to pick up an M2 Pro or M2 Max model with a big price cut, especially during the upcoming Black Friday deals event – and because those laptops are less than a year old, you could get yourself a still-excellent laptop for a bargain price.
You can also get the 16-inch model with the same M3 Pro chip, 36GB of memory and 512GB SSD for $2,899 / £2,999 / AU$4,899.
The next step up comes with the more powerful M3 Max chip, which features a 14-core CPU, 30-core GPU, 36GB unified memory and 1TB SSD for $3,499 / £3,599 / AU$5,999. Finally, you can get a model with the M3 Max with a 16-core CPU, 40-core GPU, 48GB Unified Memory and 1TB of storage for $3,999 / $4,099 / AU$6,899.
You can also configure the new 16-inch MacBook Pro to come with 64GB or 128GB of memory, and up to 8TB of SSD storage.
The fully-specced out version will set you back an immense $7,199 / £7,299 / AU$11,699. If you're one of the few people who can a) afford this and b) need this kind of power, you'll need to allow for two to three weeks for it to be delivered.
The 16-inch MacBook Pro is certainly a premium workstation laptop with the price tag to prove it, and while this will put many people off, for many others who require seriously strong hardware for work, may see this as a good investment – despite fears that Apple could drop a follow-up nine months later.
Unlike the MacBook Pro 14-inch (M3) which launched alongside it, the 16-inch model doesn't come with a more affordable model with the base M3 chip. This is the first time the 14-inch and 16-inch MacBook Pros have differed (apart from their screen sizes).
Apple MacBook Pro 16-inch (M3): Specs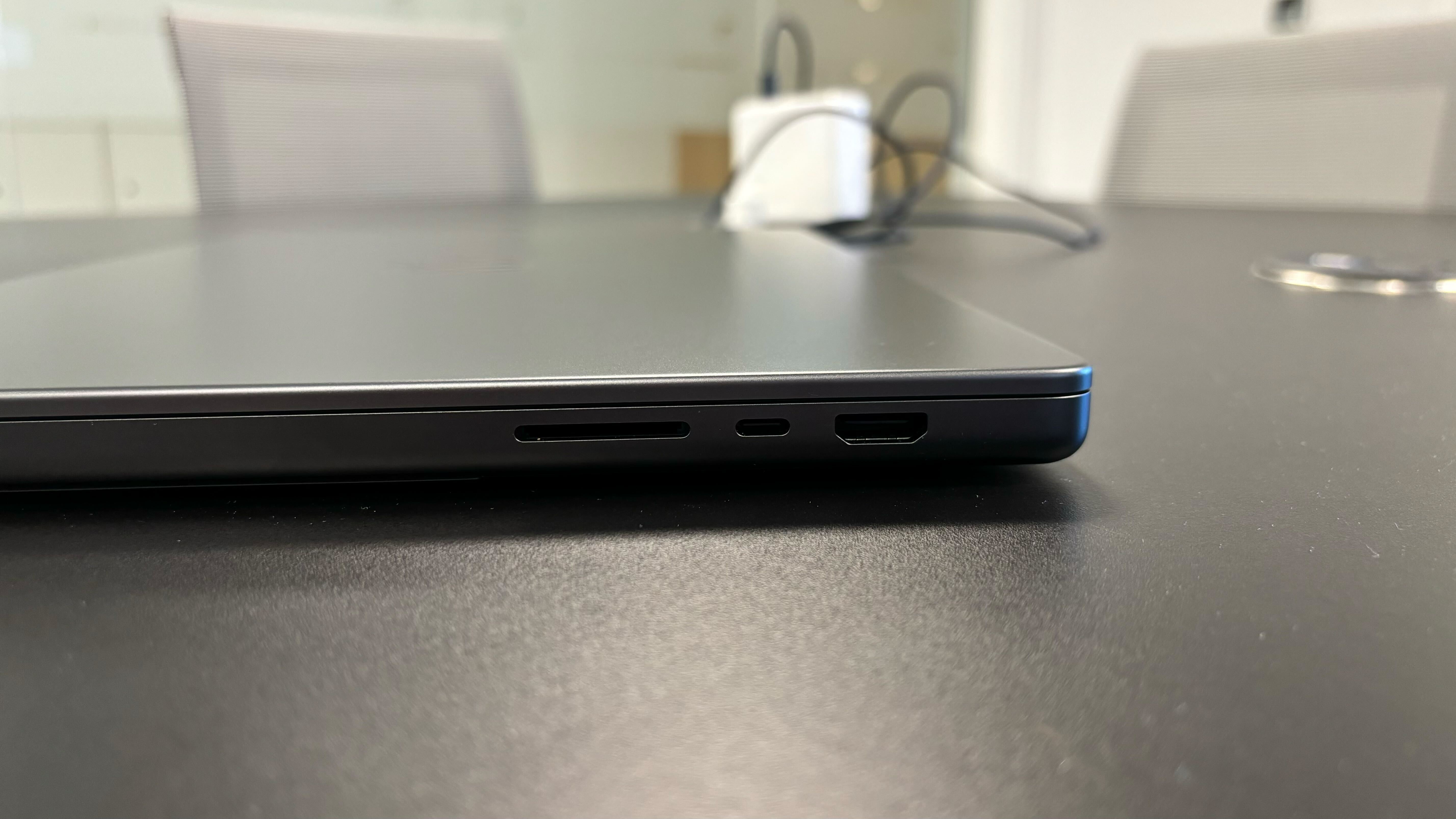 Apple MacBook Pro 16-inch (M3): Design
Same design as earlier model
New Space Black color option
Still the best screen you can get on a laptop
When it comes to the design of the MacBook Pro 16-inch (M3), Apple has hardly deviated from the previous model – the only change is a new color option, called 'Space Black', which Apple claims is made with a "breakthrough chemistry" that reduce the retention of fingerprints by creating am anodisation seal.
Apple sent me a MacBook Pro 16-inch (M3) in that color, and it looks great. Black can sometimes not be the most exciting color for tech to come in, but there's a nice metallic finish to Space Black that gives it a depth that other laptops of a similar hue often lack. It looks serious and professional, which is what you want from a mobile workstation like the 16-inch MacBook Pro. It would be nice to have some more vibrant colors with the next MacBook Air, however. I can also confirm that whatever (space) black magic Apple used to banish fingerprints works a treat – after handling it for days, the MacBook Pro 16-inch (M3) showed not a single fingerprint, whereas other MacBooks would be beginning to look a bit smudged by now.
There is a bit of a design oversight, I feel, as while the braided charging cable comes in black to match the color of the MacBook Pro it came with (much like with the 24-inch iMacs), the power brick that you plug into the wall socket remains white, which looks a bit ugly with the rest of the Black Space-colored MacBook Pro.
I should also point out that while I liked the new Space Black color, a few of my colleagues – especially the ones who usually use MacBooks – weren't too impressed, noting that it didn't look like a MacBook, and more like a standard black laptop. One even commented that it looked like a gaming laptop – which is interesting as Apple has been pushing the gaming abilities of its M3 lineup.
Aside from that, things are identical to the model released at the beginning of 2023, which itself was the same as the model from 2021, but to be honest, I don't mind. I feel Apple nailed the design of the first 16-inch MacBook Pro two years ago – the keyboard is comfortable and responsive (banishing the poor reputation older MacBook Pro keyboards suffered from), the Touch ID button lets you securely sign in and pay for things with a quick tap, and there's an excellent array of ports (SDXC memory card slot, three Thunderbolt / USB 4 ports, a full-sized HDMI port and headphone jack.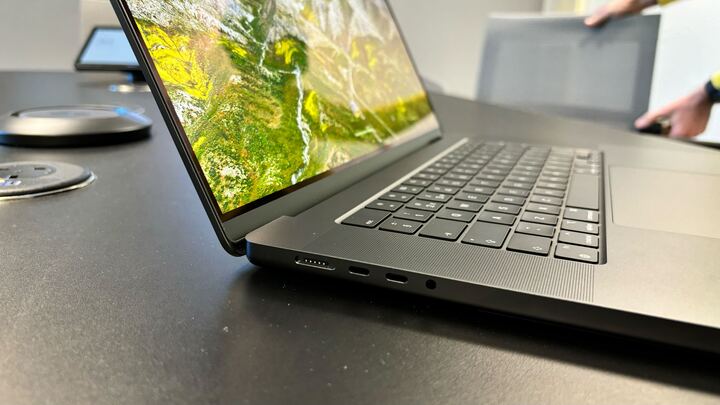 There was a fashion a few years ago to keep make laptops thinner and lighter, and that often came at the expense of ports. While that's fine for regular laptops, for workstations where you're likely going to want to plug in a lot of peripherals, such as hard drives, external monitors or projectors and memory cards, having only two USB-C ports, one of which often gets used to charge the laptop, just isn't enough.
With the MacBook Pro 16-inch (M3), you can leave pretty much all of your adapters at home, and plug everything directly in to the laptop – making it a far more convenient device for people who travel a lot. With the quality of the screen (I'll get to that in a moment), six-speaker sound system, studio quality mics and 1080p FaceTime HD webcam, the MacBook Pro 16-inch (M3) continues what I appreciated so much about the previous versions – that it offered excellent quality with its built in features which meant you didn't necessarily have to plug in external screens, microphones or speakers, which gives a level of flexibility to creatives working in film, animation, music and photography.
The slimline bezels around the screen still feel nice and modern (just compare it to the older 13-inch MacBook Pro to see what a difference a thin frame around the display can make), and yes, the 'notch' around the webcam remains, dipping down into the menu bar at the top of the desktop. The controversy over this was overblown back in 2021 when it debuted with the new 16-inch model, and it remains a non-issue now. macOS Sonoma, like the previous versions of macOS, adapts to it well, moving menu items to either side of the notch, and with the large 16-inch screen, you really don't notice it, as you get a large, unobscured workspace.
The 16.2-inch screen remains the best display you can get on a laptop, with a sharp 3456 x 2234 resolution and Liquid Retina XDR tech, offering 1,600 nits of peak brightness for incredibly vivid colors and dynamic range, especially with HDR footage. Mini-LEDs and local dimming help make dark scenes look absolutely superb, and the P3 wide color gamut and support for 1 billion colors allows for accurate tones that will be essential for video editors and photographers in particular.
Perhaps my favorite part of the 16-inch MacBook Pro's screen (which is also found in the 14-inch model), is the ProMotion technology, which supports up to 120Hz refresh rates, and can automatically adjust that rate to match onscreen content. This can be particularly noticeable when scrolling though websites or documents. Text, images and even moving footage all scroll smoothly and remain visible no matter how fast you scroll up and down. TV shows and movies also benefit from this – as well as computer games. Apple has been keen to emphasise the M3 line up's prowess when it comes to playing graphically-demanding games, and ProMotion is key selling point (high refresh rate screens are increasingly common in premium gaming laptops).
ProMotion also helps extend battery life of the MacBook Pro by reducing the refresh rate when it detects static content.
Finally, there's a MagSafe 3 port for easily connecting (and safely disconnecting) the power supply. It's good to have, especially if you forget the MacBook Pro 16-inch (M3) is plugged in and pull it away, as the charger will disconnect safely without damaging any ports. It also means you don't lose one of the USB-C Thunderbolt 4 ports when it needs to be charged – though you can use one of those ports to top up the battery if you leave your MagSafe 3 cable behind.
So, the MacBook Pro 16-inch (M3) doesn't do anything new design-wise, but that really isn't a bad thing. Why tinker with such a great design? Sure, Apple could have added a touchscreen, or even *shudder* resurrect the Touch Bar above the keyboard, and at 1.62kg (3.6lbs), it is a heavy laptop to carry around, but honestly, this would just be tweaking for tweaking's sake – and could come at a cost (such as dropping some of the ports for a lighter and thinner design). I don't want Apple getting complacent, but for now, I am perfectly happy that the company has stuck to a tried-and-tested design.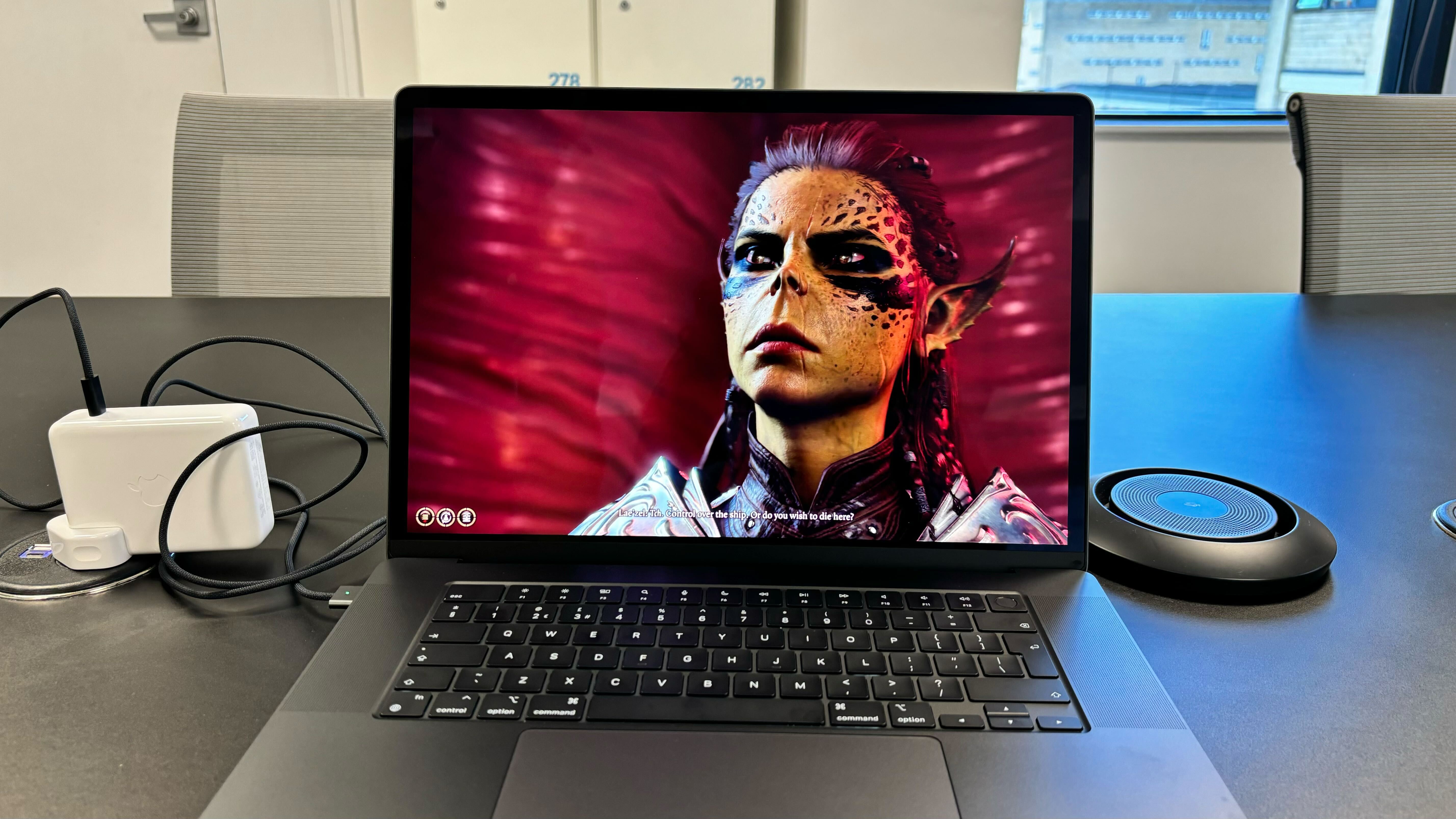 Apple MacBook Pro 16-inch (M3): Performance
Superb performance
Big leap over M1 Pro and M1 Max
Can play modern games
Apple made some big claims about the M3 Pro and M3 Max chips at its launch event in October, and it sent me the MacBook Pro 16-inch with the high-end M3 Max (with 16-core CPU and 40-core GPU) and 48GB of unified memory, which is the most expensive preconfigured MacBook Pro 16-inch you can buy.
There are less powerful models, and you can also configure the MacBook Pro 16-inch to come with more memory and SSD storage, and I recommend you think carefully about what configuration suits your needs. The model I received will be overkill for a lot of people, unless you're planning on doing some seriously intensive workloads when it comes to graphics rendering and video, but as this is an Apple device, it's notoriously impossible to upgrade yourself, which means the specs you choose before you buy are going to be the ones you'll have to live with.
If you do go for a lower-specced model of the 16-inch MacBook Pro (M3), then you won't get the exact experience I got with the highest-end model, but even at the lower specs, you're going to get a very good experience.
According to Apple, the M3 Max inside the 16-inch MacBook Pro delivers up to 45% faster CPU performance than the M2 Max, and up to 20% faster graphics performance. That's not a bad step up in just 9 months, and is probably enough of a gap to make M2 Max owners regret their purchase. However, it's not enough to justify replacing an M2 Max model with the M3 Max – even if you get a good trade-in price.
Benchmarks
Here's how the MacBook Pro 16-inch (M3 Max) performed in our suite of benchmark tests:
Cinebench R24 CPU: Single-Core: 140; Multi-Core: 13,122
Geekbench 6 Single-Core: 3,219; Multi-Core: 21,345
Blender: Monster: 207.7; Junkshop: 125.5; Classroom: 87.8
Battery Life (TechRadar movie test): 24 hours and 35 minutes
When it comes to the older M1 Max, the gap is more pronounced, with Apple claiming 80% faster CPU speeds, and 40% faster graphics performance. However, it's clear that when Apple talks about performance gains, it really wants to address owners of Intel systems (be they older MacBooks or Windows 11 PCs), and here the performance gains are much larger, with Apple claiming the M3 Max 16-inch MacBook Pro is up to 5.3 times faster than the fastest Intel-based MacBook Pro. 
That's an impressive boast, but bear in mind that the last MacBook Pro to come with an Intel chip was back in 2020, but Apple is referring to the 2019 MacBook Pro 16-inch model, which came with a 9th generation Intel Core i9-9980HK in its top configuration.
In our own independent benchmark tests, we definitely saw a good leap between the M3 Max and M1 Max MacBook Pro 16-inches, with a 35% increase in Geekbench 6 in single core CPU performance, and a huge 69% increase in multi-core performance.
Cinebench R24 saw a similar leap, with a 25% gain in single-core performance, and 98.9% increase in multi-core. This tracks, with the M3 having more cores that perform better, so multi-core performance increases as you'd expect.
The GPU performance also brought big increases according to the Cinebench test, with a leap of 188% for the M3 Max. These are all very impressive results.
But what do they mean for real-world use? In our Handbrake encode test, where we take a 4K video and re-encode it at 1080p, the M1 Max completed the task at 61fps (frames per second), while the M3 Max did it at 107fps, an increase in 76.6%, and with the higher fps, the task completed much more quickly – and this is how the new M3 series of chips can impact you, as there's a noticeable cut in the time it takes to complete workloads, especially graphics-intensive ones.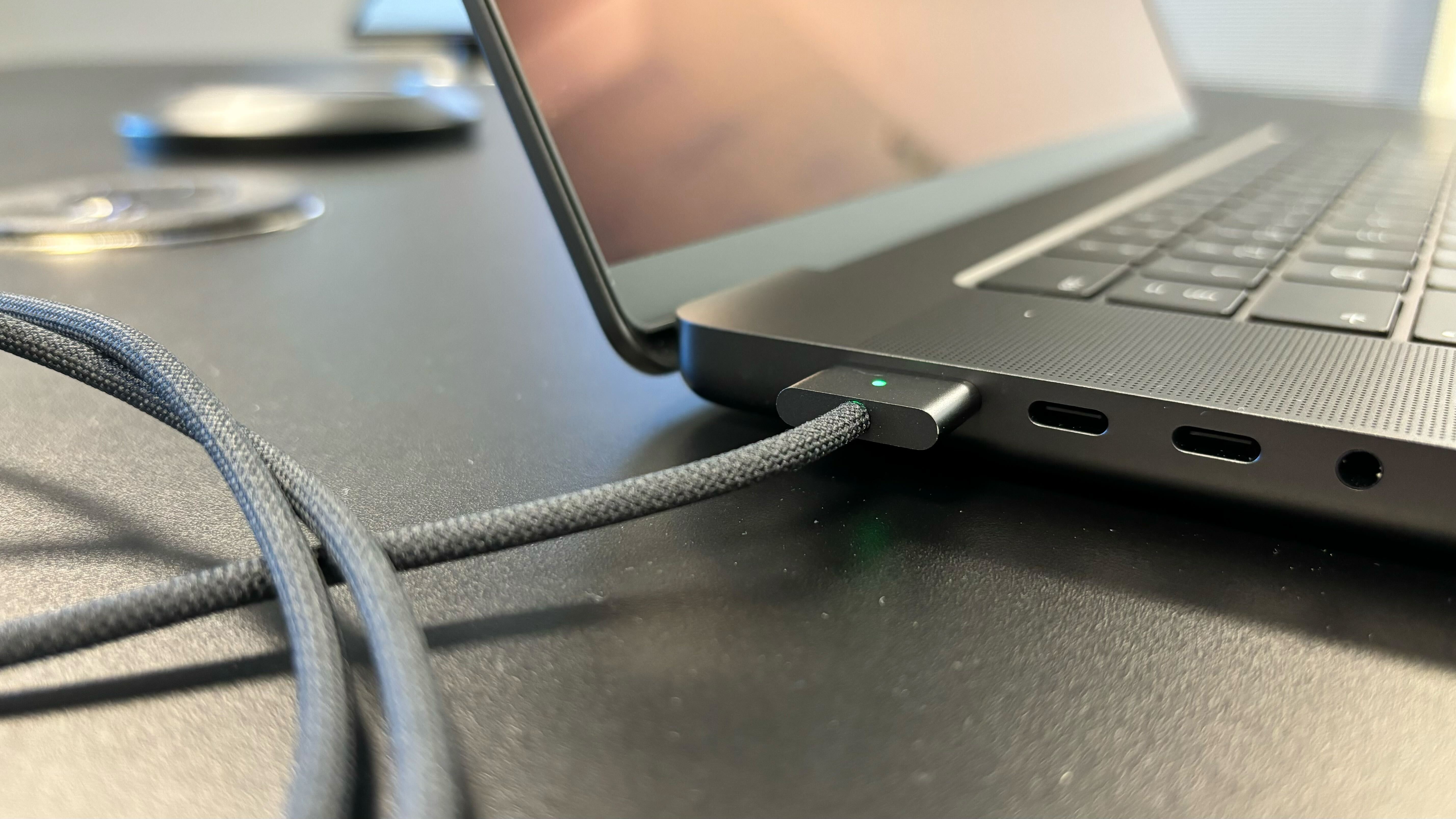 In my day-to-day use of the MacBook Pro 16-inch (M3), I was really impressed with how fast macOS Sonoma ran, allowing me to have a large number of applications open and running at once, plus a Chrome browser full of open tabs. The performance of the MacBook Pro 16-inch with M3 Max makes working on the laptop fast and fluid, and again, it feels like it's an experience that's been designed to speed up workflows, especially for creatives. Opening up and editing 4K videos in Premier Pro was incredibly quick, and I was able to add effects and use AI-enabled tools and see the results instantly, rather than having to wait for scenes to render. By speeding up workflows like this, I was able to complete the editing much more quickly, and for professional video editors, this means projects can be completed faster, which could enable you to take on more work. Suddenly, this very expensive laptop looks more like a wise investment.
One of the most exciting developments with the M3 family of chips is Apple's focus on gaming performance, and I was keen to put this to the test.
Running games such as Shadow of the Tomb Raider, I was able to get 108fps at the highest settings at 1200p resolution (twice what we managed on the M1 Max), and in Total War: Warhammer III, it hit 58.2fps.
I also loaded up Baldurs Gate 3, a turn-based RPG that's just launched, and is a popular game with a version made for Apple's M3 lineup. On the M3 Max-powered MacBook Pro 16-inch, the game looked fantastic, with many graphical settings on 'Ultra'. The ProMotion display also puts in good work, allowing me to cap framerates at 120fps, and while I might not often hit that in a graphically-busy game like Baldurs Gate 3, the ability to reach higher frame rates makes for a much smoother experience. There were a few times when odd graphical glitches appeared, such as strange lines in shadows, but they were only temporary, and it could be down to driver support for the new M3 chips.
I also played Baldurs Gate 3 on the new iMac 24-inch (M3), and while it was nice to play on an iMac, the power difference was clear, as the graphical settings had to be lowered, and there were still hitches in performance.
The MacBook Pro 16-inch (M3), then, has the potential to rival many of the best gaming laptops based on this showing – and it even looks the part if you go for the Space Black color option. Impressively, while the fans did kick in, they never got as loud as most gaming laptops get when powering through games, though the part of the chassis just above the keyboard did get noticeably hot to touch while gaming.
Apple MacBook Pro 16-inch (M3): Battery life
Over 24 hours in benchmark test
Shorter for intensive tasks
Gaming drains it even faster
Since the switch to Apple silicon, the battery lives of all flavor of MacBook have been seriously impressive – especially the 16-inch models, which come with physically larger batteries, along with all the efficiency features of the M3 lineup.
Apple claims that the new MacBook Pro 16-inch 'delivers that longest battery life ever in a Mac', with a lithium-polymer battery with 100 watt-hours of capacity, offering up to 22 hours of video playback and 15 hours of web browsing.
In our battery life benchmark, where we ran a looped 1080p video until the MacBook Pro turned off, the battery lasted just over 24 hours – that's incredibly impressive. Now it's unlikely you're going to be using the MacBook Pro 16-inch for just watching a local video file, but it shows how far we've come – the fact that such a powerful laptop with a relatively large and bright screen can hit those kind of numbers is a real credit to what Apple has achieved with its M3 lineup.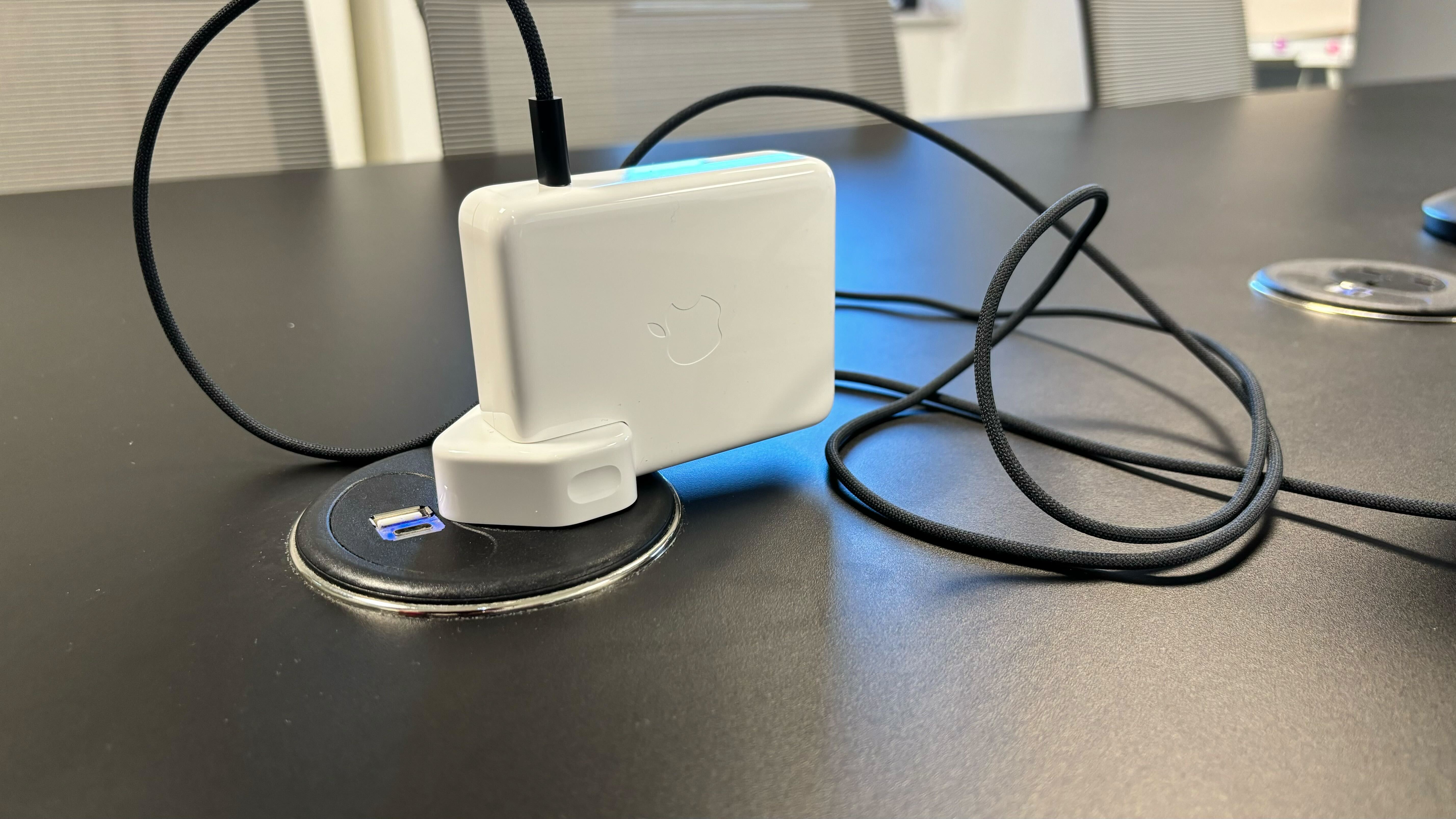 When using the Apple MacBook Pro 16-inch (M3) for more intensive tasks, the battery will deplete faster, but during my time with it, I never felt the need to charge it halfway through a day. The performance also remained consistent whether the MacBook Pro 16-inch (M3) was plugged into the charger or not – which is definitely nice to see, as some laptops reduce performance when on battery power to lengthen the time before it needs to be charged.
When gaming on the battery, the battery depletes even faster, and if you're playing a graphically-intensive game, you're looking at around three to four hours of battery life. That may sound shocking for a MacBook, but even the best gaming laptops often only last that long.
With the 140W USB-C Power Adapter included in the review sample I received, the MacBook Pro 16-inch (M3) charged up quickly, taking less than an hour to go from empty to 100%.
Apple MacBook Pro 16-inch (M3): Should you buy it?
Buy it if…
Don't buy it if…