Breville the All in One: One-Minute Review
Anyone who enjoys a bit of kitchen craft knows just how useful a food processor can be for boosting your culinary skills. However, if you don't get into the kitchen often, it's the kind of thing that's not necessarily top of mind, something that takes up a lot of space. If that describes you, you're probably better off with a more lightweight solution like the Breville All in One stick mixer. 
Sure, the motor isn't as powerful as what you'll get on top-shelf food processors or blenders, but this one device performs a much wider range of tasks and occupies a smaller overall footprint in your kitchen. The Breville All in One can be a food processor, a masher, an immersion blender or a whisk thanks to a quick-release motor handle that attaches to various tool heads. 
Obviously any tool's usefulness will depend on the types of food you gravitate towards when cooking, and kitchen appliances that try to do too many things can often end up doing them all poorly, but the All in One strikes an excellent balance between versatility and usefulness that makes it an exceptionally helpful tool in a wide array of circumstances. This makes it an excellent base accessory for any home cook – I think it's unlikely to sit in the cupboard unused for long periods of time.
This diversity can mean it gets overlooked since there really isn't one specific task you absolutely need it for… but it's such a versatile tool that it's helpful for the average cook and it'll remain useful even if they do invest further in more capable appliances for tasks requiring more powerful and dedicated devices.
There really is value here for most home cooks and its starting price isn't too bad either.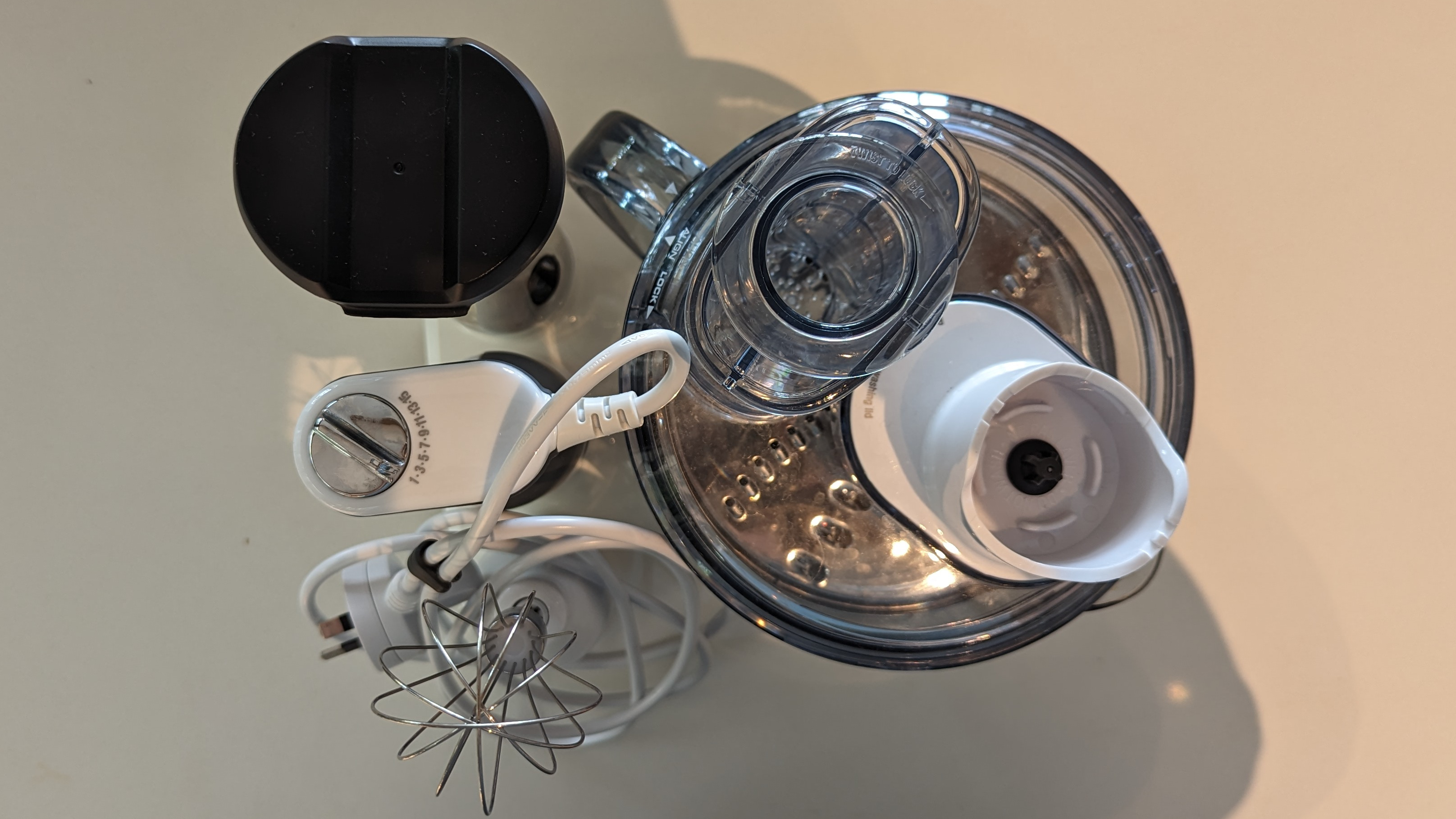 Breville the All in One review: Price and availability
Available in the US and Australia
 List price:  $159.95 / AU$269 
The All in One Stick Mixer is available in both the US and Australia Breville online stores for $159.95 / AU$269, but isn't listed in the UK's Sage online store at the time of writing.  
It might be worth checking out TechRadar's jug vs immersion blender explainer page to see if you're more likely to need a dedicated blender than what is on offer here, but for anyone who frequently mashes, grates, slices, chops, whisks and blends food, it's hard to imagine that this device won't come in handy for a multitude of applications. 
While you can get basic food processors for less than this price point, they're unlikely to offer any more power and will usually come with just the one dicing blade. The All in One has grating and slicing capabilities included alongside the standard food processing capabilities that practically justifies the price tag on its own.

You will only have basic blending capabilities, so I wouldn't really consider this to be a blender replacement, but throw in the mashing and whisking tools and you have a tool with a heap of perks bundled in for an entry-level price.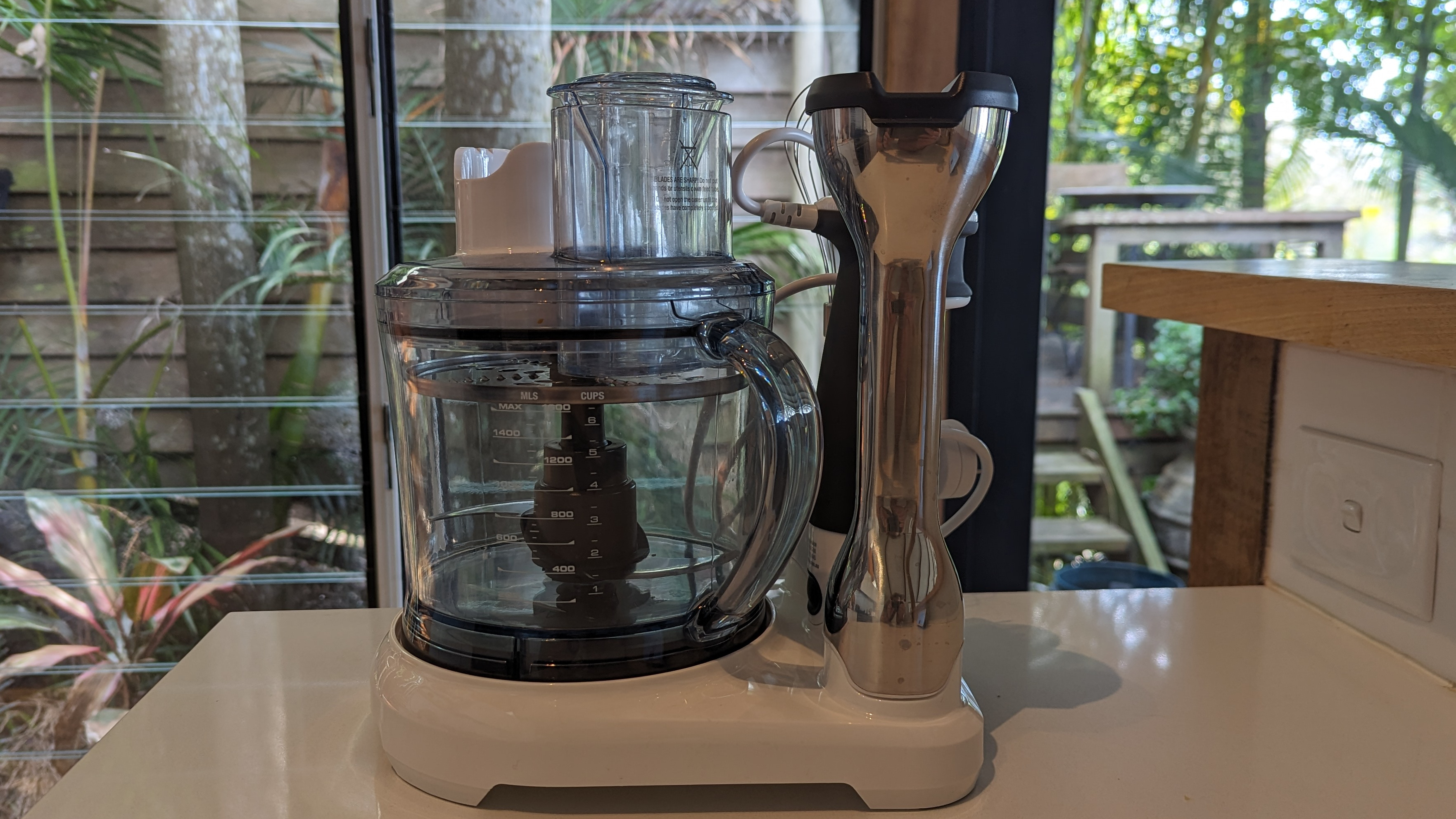 Breville the All in One: specifications
Breville the All in One review: Design and features
Great entry-level food processor
Grating and slicing blades included
Also beats, blends and mashes
The 6-cup (1.6L) food processor bowl comes with a textured base to ensure chopped food doesn't stick to the sides when using the S-blade attachment, and the reversible grating/ shredding disk saves you the hassle of having to manually grate vegetables for example. 
The variable slicing blade for the food processor isn't as refined as what you'll be able to achieve on a mandolin, but it does have 18 adjustable thickness settings – from 0.5mm to 6mm – so you can cut perfectly uniform slices in seconds. 
In addition to the food processing tools you also get a masher, a whisker and immersion blender heads. Each of these are pretty self-explanatory, and both the masher and whisker simply take some of the leg work out of processes you'd usually do by hand. While it doesn't always occur to the average home cook, but the stick nature of this appliance means it can be useful in several situations, meaning it will likely get used frequently.
There isn't a jug accessory that comes bundled with the All in One like with some other stick blender kits, but it is an omission that most home cooks will be able to find a workaround solution for. This makes it a little less appealing as a proper blender solution, but when you consider its limitations with crushing ice you really do want something more dedicated if you're going to be making a lot of smoothies. Blenders are also likely to be the most common device overlap here for products that people will already have, so it seems like a sensible omission.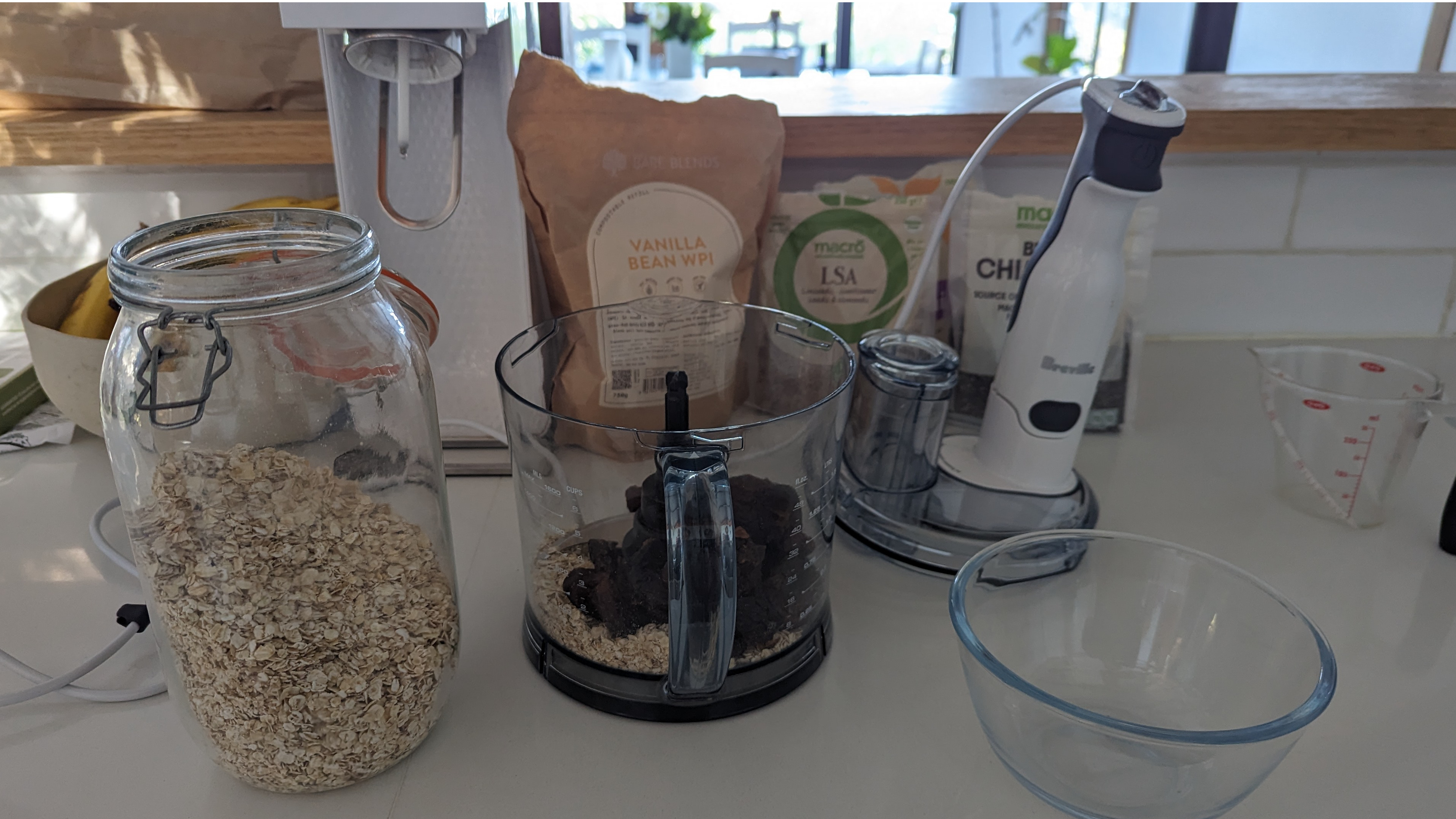 Breville the All in One review: Performance
Decent food processing capabilities
Excellent mashing and whisking
Reasonable immersion blending
During my testing, I used the Breville All in One to dice ingredients for a batch of peanut butter protein balls, a job that killed the motor on a Smeg Hand Blender that I used previously. The Breville device offered less power than its similarly priced Smeg competitor, but it was able to fully process all the raw ingredients as well as mix the dense combination of highly viscose date, peanut butter and maple syrup concoction. 
This task was definitely at the upper limits of what you'd want to use a handheld motor for, but the All in One proved perfectly capable of performing this task on this occasion. For those planning on regularly mixing batches of protein balls you might be better served by one of TechRadar's best food processor, for a more powerful device.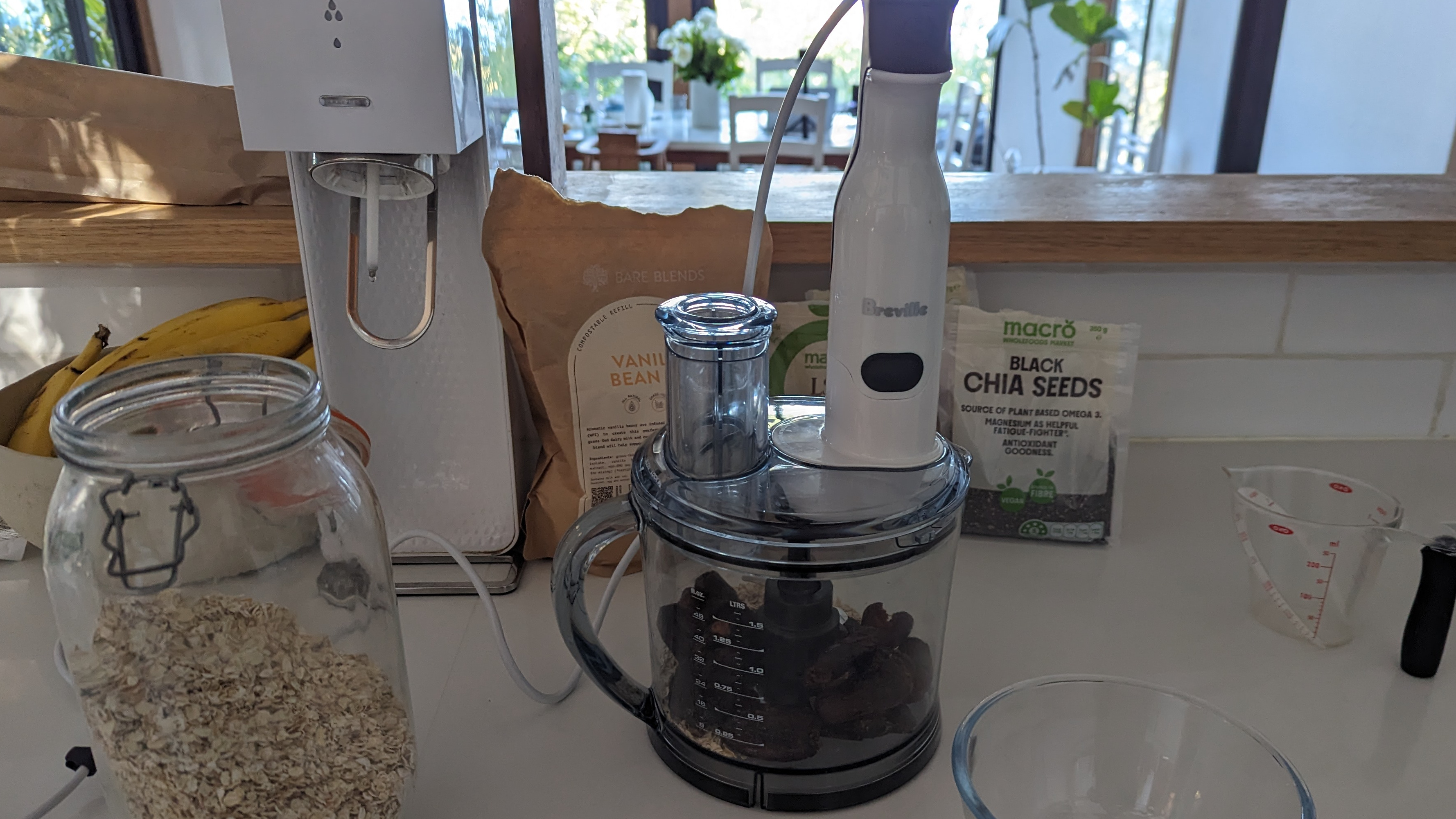 I also used the grater/shredder to process a few hundred grams of Grana Padano and Parmigiano Reggiano for a cacio e pepe dish, a really simple task that would have been a lot more work using a hand grater. But just about every grating task is made infinitely simpler by the electric blade's speed and consistency – once you have this tool in the kitchen it's hard to imagine having to go back to manual grating.
The immersion blender works well enough as a traditional blender. You might want something a little more serious if you're regularly trying to crush ice, but the All in One is more than capable of blending the vast majority of soups or smoothies.
Where the immersion blender shines is when you need to refine a sauce into a smoother consistency – you can simply plunge it into hot liquids rather than waiting for sauces to cool enough to put in a food processor.
The masher is great for anyone who likes a good potato mash (or anyone that makes their own baby food) and the whisk comes in handy a lot for baking and other egg-based recipes.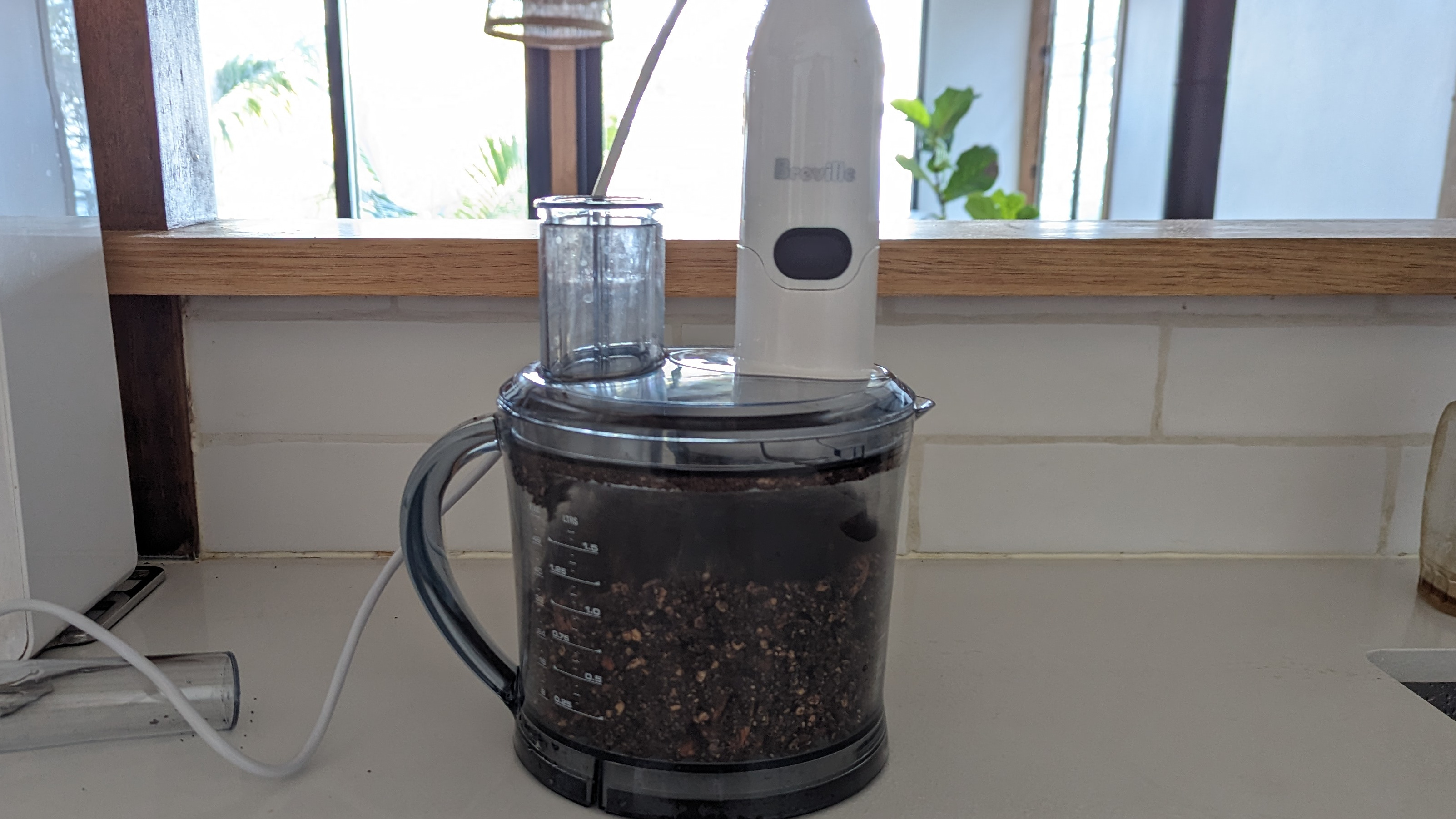 Should you buy the All in One from Breville?
Buy it if...
Don't buy it if...
Also consider
How I tested: Breville the All in One
I used the All in One for a month
I used it as my primary food processor
I tested all the other features and functionalities
I tested the Breville All in One by using it over a month with general kitchen tasks like grating cheeses and vegetables, and other food processing tasks like dicing nuts and combining date and peanut butter protein balls. I also used the device on multiple occasions to mash potato, plus whisked eggs and other ingredients for baked goods.

The immersion blender capabilities came in handy when I refining a beef brisket sauce in a pot while on the stove and I used the All in One to blend a light banana smoothie without ice in a jug. I benchmarked this against the Smeg '50s-style Hand Blender, which offers a similar array of attachments and features. 
First reviewed: October 2023