Google One VPN: quick menu
Google One VPN is a simple VPN that comes bundled with the tech giant's premium subscription service, Google One. When we say simple, we really, really mean it. There are barely any options, settings, or features. You can't even choose a location. Hit the Enable button and the app automatically connects to a server in your country, then goes to work encrypting your internet traffic.
Google has expanded its app range since launch and the VPN now works on Windows and Mac, as well as Android and iOS. There's no way to manually set it up on anything else but with no real features, there's not much reason to do that.
If you're hoping to unblock US Netflix or anything else, get connected in VPN-unfriendly countries, set up the VPN on a router, or anything even faintly advanced, then we can say absolutely, definitively, and without question, Google One VPN isn't the service for you.
If you're going to buy Google One anyway and you could use a lightweight service to protect your internet activities on public Wi-Fi, then it might be a different story. In this review, we'll look more closely at what Google One VPN offers, what it doesn't have, and find out whether this could be a smart choice for you. We're only reviewing the VPN element here. If you want details on the full package, you can check out our Google One review.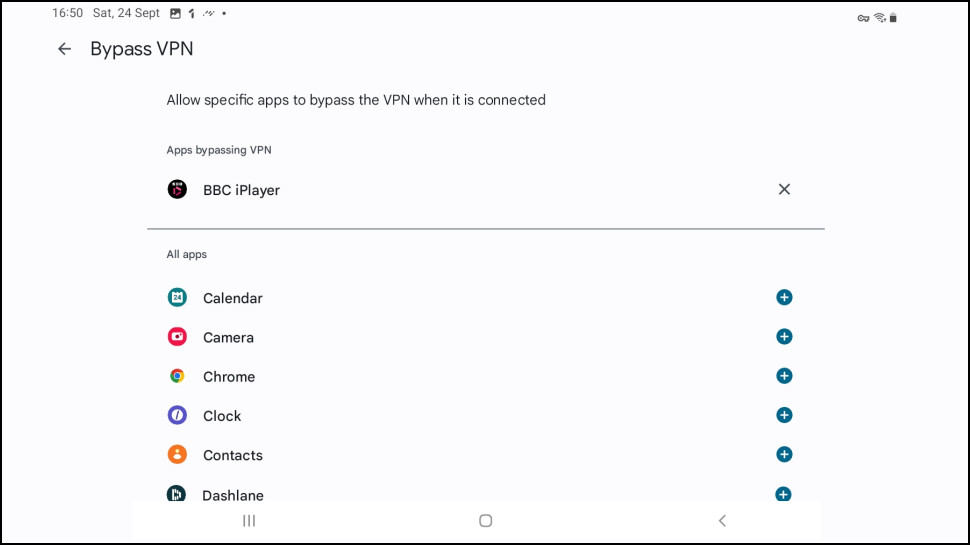 What is Google One VPN?
Although it's more basic than just about anything from the big VPN names, Google One VPN is a real virtual private network (VPN) that delivers the same fundamental security benefits. 
Turn it on, and the app directs all your device traffic through a secure encrypted tunnel. Snoopers aren't able to access your data on even the most insecure of public Wi-Fi hotspots, and with your real IP address replaced by Google One VPN's server, it's more difficult for companies to track you online.
The big omission is Google One VPN doesn't allow you to choose a new virtual location (pretend to be in the US when you're actually in Australia, for instance). As a result, it can't help you access US-exclusive Netflix shows, say, or any other content that isn't normally available in your country.
Although that's a major downside, it also looks like web companies won't spend as much time and effort trying to detect and block Google One VPN connections. We'll get more into this later.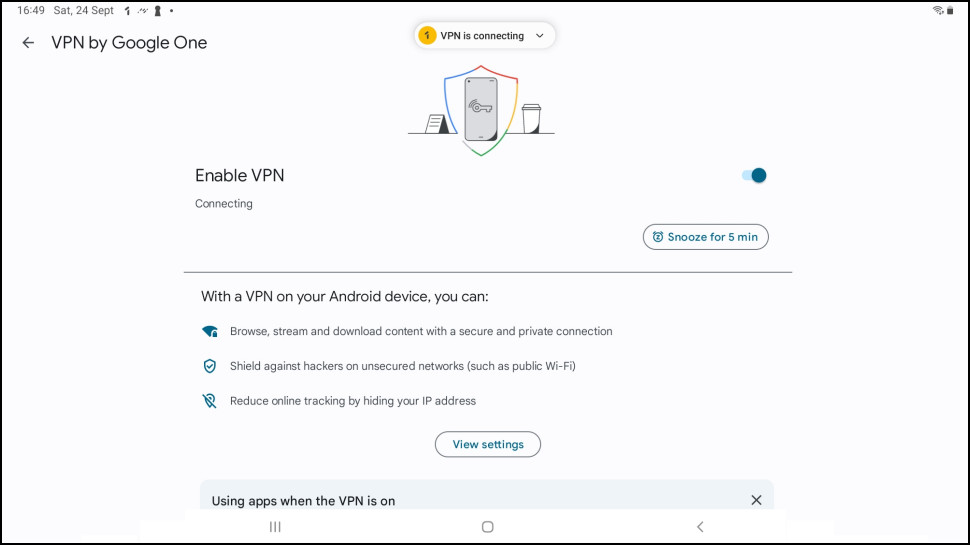 What are the apps like?
Google One VPN's Windows and Mac apps are just about as simple as you'll see. An opening dashboard lists two or three reasons you might use a VPN  such as reducing tracking, staying safe on public Wi-Fi, and browsing securely. There's an On/ Off button, an option to launch when your devices start, and that's it.
Google's Android and iOS offerings look a little more complex, at least initially, because they include panels relating to Google One's various cloud storage features. Tap one to explore how your storage space is being used. A Sync option can back up your photos, videos, contacts or calendars, and a Clean up feature wipes junk files to free up more space. If you're not interested in any of that, though, just tap the iOS VPN panel and you've essentially got the same stripped-back interface as the desktop app. 
Android users get a touch more functionality. A split tunneling feature allows you to choose apps that won't use the VPN, handy for anything that isn't compatible. A Snooze feature pauses the VPN protection for five minutes, then automatically resumes it, and integration with Android's system-wide kill switch protects you by blocking your internet if the connection drops. That's all good news, but the app is still seriously underpowered by usual Android standards.
There is a positive side to having next to no features; you've next to nothing to learn so anyone can use it. There's no need to understand technical concepts like protocols or even encryption. Just flip the switch when you need protection.
Unfortunately, the lack of features might compromise your privacy in some situations. Our tests showed the Windows app didn't have a kill switch, for instance, and when we forcibly dropped the connection, our real IP was exposed. The app didn't even warn us or try to reconnect, so Windows users could browse for hours, thinking they're protected, when they're entirely exposed.
Does Google One VPN store any logs?
Connect to most VPNs, and your login and user traffic is sent through the same server. That single computer knows your identity and where you're going online, allowing a malicious VPN (or anyone who can compromise the server) to log your activities and link them to your account.
Google One VPN is designed so that you log in using one server, but your browsing is routed through another. This way, the first computer knows who you are, but not what you're doing; the second knows what you're doing, but not who you are. Even Google can't see which sites you're visiting (which means it can't log them, either).
The service does log some very general data about VPN use: how many connections you've made in the last 28 days, for instance, and how many connections your account has active right now. But that's not unusual – most VPNs monitor the number of active connections to enforce 'maximum device' limits – and there's nothing here that can link you to any action online.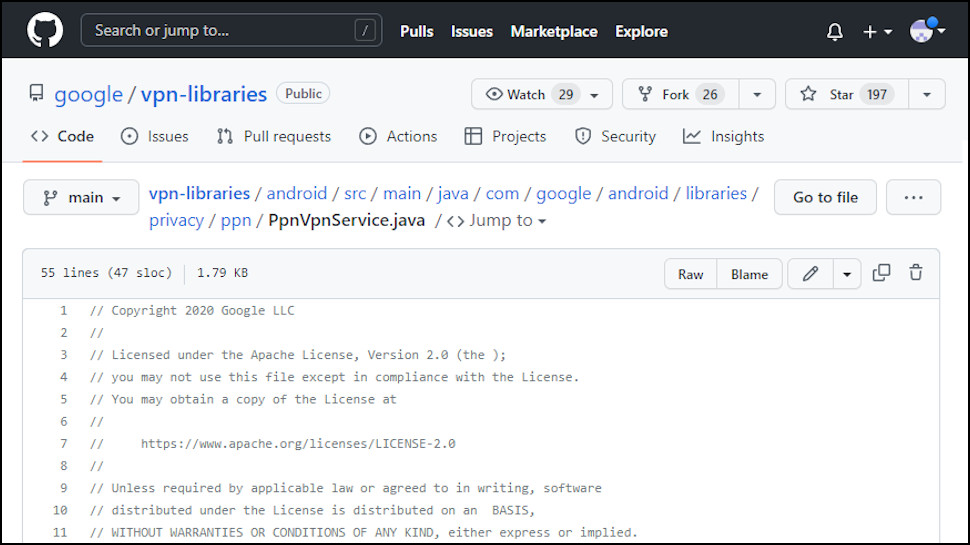 Google doesn't have the best of reputations for looking after user privacy, but fortunately you don't have to take its VPN claims entirely on trust. The company has open-sourced some reference libraries for its apps, allowing anyone with technical expertise to take a look at how it works, and in 2021 the VPN was audited by NCC Group.
The conclusions were generally positive, with NCC Group finding that the VPN worked as promised, and explaining how Google had taken measures to prevent the system being compromised (malicious employees can't simply install a backdoor on their own, for instance).
The report warned that the technical protections 'did not categorically eliminate the opportunity for Google to violate its privacy claims', but any audit of any VPN could make a similar point: things look great now, but it's possible a provider could cheat the system later.
Overall, although the system design, open sourcing and audit report will never win over the biggest Google skeptics, the reality is Google One VPN has more support for its no-logging claim than most of the competition.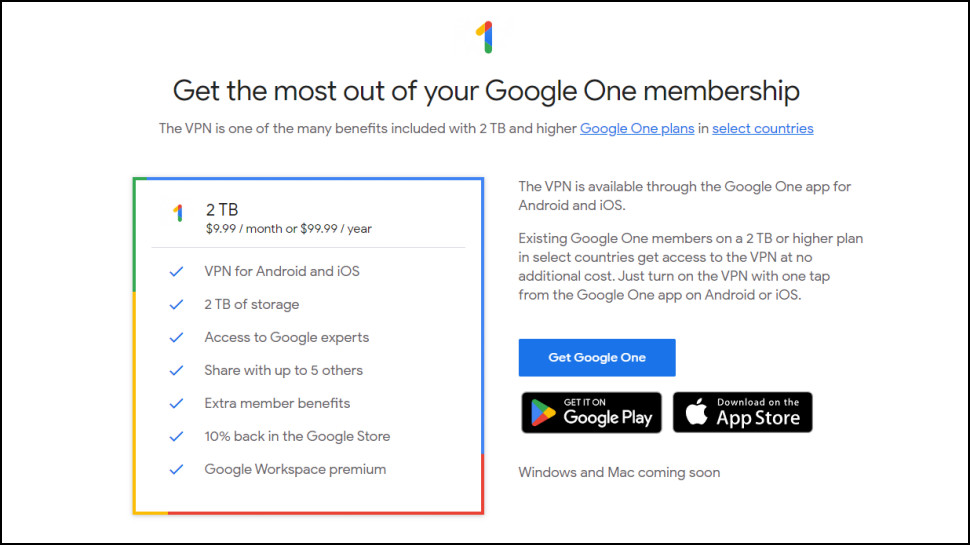 How much does Google One VPN cost?
The Google One VPN is available in the following countries for eligible Google One members: Austria, Australia, Belgium, Canada, Denmark, Finland, France, Germany, Iceland, Ireland, Italy, Japan, Mexico, Netherlands, Norway, South Korea, Spain, Sweden, Switzerland, Taiwan, United Kingdom, and United States
After signing up, you can travel to other countries and Google One VPN should still work, but it may not connect to a server in that country, which could lead to problems. If you use Google One VPN in Hungary, say, and it connects to a server in Germany, then websites may not serve you with the local content you expect.
The baseline Google One plan offers the VPN, 100GB of online storage, Google Photos editing features, and alerts if Google finds your personal details on the dark web. It's yours for a very low $1.99 billed monthly (regular VPNs ask $10-$13), dropping to $1.67 on the annual plan.
Higher plans add more storage and extra benefits, including premium Google Workspace features and up to 10% rewards on Google Play purchases. See our full Google One review for more details.
This could be good value in some situations. If you'll only use a VPN to protect yourself on public Wi-Fi when on holiday, for instance, giving an annual $4 to Google will cover you for a couple of trips. Bargain!
If you'd like to unblock content, get online in VPN-unfriendly countries, or do anything more complex, you can get a full-strength VPN for not much more. For example, Private Internet Access is just $3.33 a month on its annual plan. That's $2.03 over three years for a far more powerful VPN service.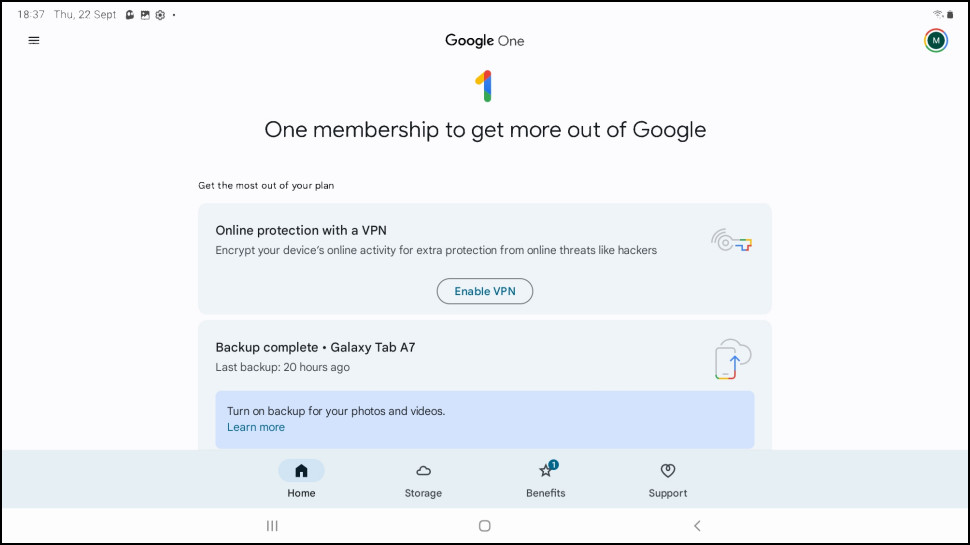 How easy is Google One VPN to use?
The Google One app doesn't even try to match regular VPNs for visual style. It's really just a web page, with different sections on the VPN and Google One's other features, and you browse it for whatever you need.
This still isn't difficult to use: all you have to do is hit the Enable VPN button, then an Enable VPN switch, and typically you're connected in around a second. Standard VPN apps usually require one tap rather than two, but that's the only significant difference.
Android users can make life even easier by adding Google One VPN to their Quick Settings menu. After that, there's no need to even launch the app. Connecting or disconnecting is then as easy as swiping down a couple of times and tapping the Google One VPN button.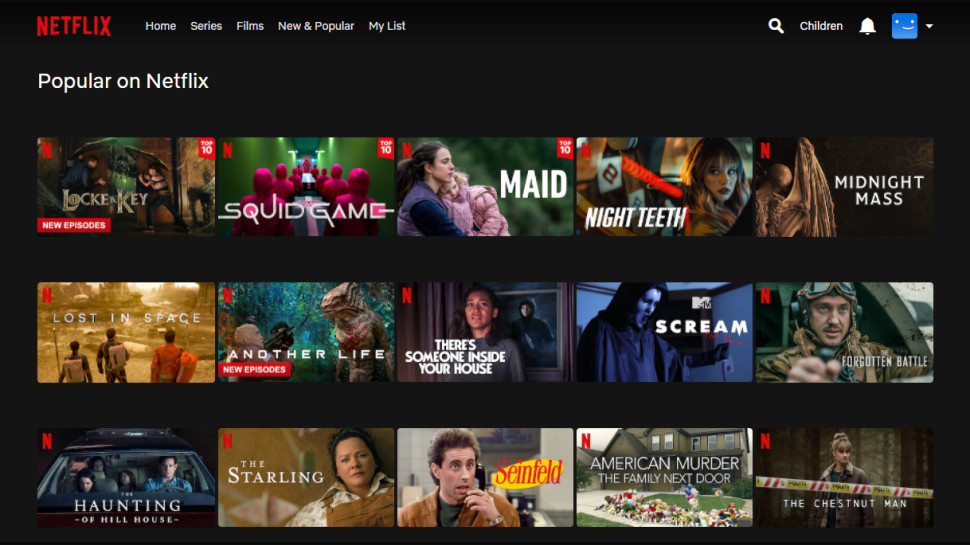 What does Google One VPN unblock?
Most VPNs let you connect to servers in different countries. This allows you to appear as though you're in Manhattan when actually you're in Melbourne. This may allow you to access content that isn't normally available in your country.
Google One VPN's apps automatically choose your server, though, usually one based in your own country. So, as you can't change your region, you won't be able to unblock anything at all.
One issue with streaming sites in particular is they often look out for VPN connections and block access if they detect you're using one. We connected to the VPN and then tried to watch Netflix, Amazon Prime Video, Disney Plus, and BBC iPlayer. None of the sites complained about Google One and we streamed content as usual.
Using a VPN can cause hassles on non-streaming sites, too. You might see annoying 'click all the tiles containing a bicycle' type CAPTCHAs, for instance, and some sites may block you entirely.
To test how the VPN handles this, we connected and accessed twelve websites (including Google) that can detect VPN use. The results were a real surprise. Commonly used free VPNs might be spotted on up to ten of our twelve websites, most commercial VPNs are detected by six to eight, but Google One VPN was flagged by only one website.
Looks like Google One VPN's 'we don't unblock anything' stance has at least one advantage: content providers don't have much incentive to spend time and money trying to detect its users, and that could mean you're far less likely to be blocked while legitimately accessing sites in your own country.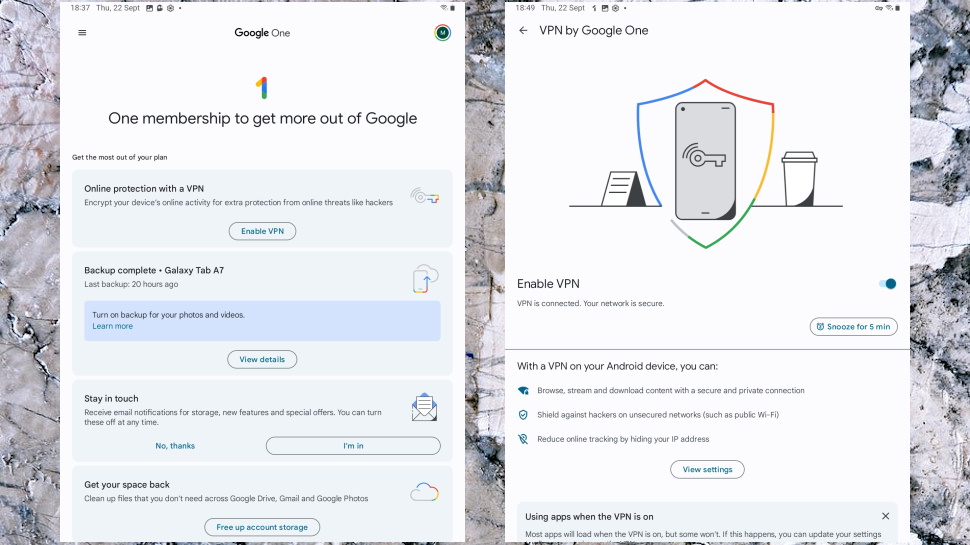 How fast is Google One VPN?
We tested Google One VPN's performance using several benchmarking sites and apps including SpeedTest, Measurement Lab, Cloudflare, and more. We did this from a US home with a 1Gbps fiber connection.
The results were a little below par, with Google managing average download speeds of 345Mbps. That's a very long way behind the market leaders - IPVanish, NordVPN, and Surfshark all beat 950Mbps in recent tests. Still, it's perfectly adequate for browsing, streaming, and most other internet tasks.
Final verdict: How good is Google One VPN?
Google One VPN is a very limited VPN which just won't work for most users. The inability to change location means it can't unblock anything. No desktop kill switch makes it poor for Windows or Mac privacy. It won't even try to get you connected in China or other countries that block VPNs. If you only need the VPN for occasional mobile use while accessing public Wi-Fi, and you'll make use of the 2TB online storage space and other Google One extras, then it might, just about, get the job done. Even there though, the likes of Private Internet Access offer a far more capable service for only a little extra cash.