Just about every  around promises to keep your kids away from 
Too often, we all hear stories about how the internet can be a dangerous place to be. After all, as it has matured, it is really a reflection of society.
As adults, we have many strategies to keep ourselves safe when online, from keeping our computer and software updated, using antimalware products, and even the basics like not giving our personal info out to people that we meet online. The reality is that for children who, depending on their age, may not understand these strategies or consistently implement them, it is even more dangerous for them to use the internet.
Therefore, additional effort is needed to keep them safe when online, and that is where the parental control app Bark comes in. Bark was founded in 2015 by CEO Brian Bason, who is also a father of two children. Today, Bark gets used by over 3,400 school districts and private schools to protect children when online. 
Bark: Features
Bark is a subscription monitoring service to allow for parents to monitor their children's online activity. It starts with Bark being able to monitor over 30 online activities, including texts, Instagram, YouTube, and other social media accounts. Once this is setup, Bark has ongoing content monitoring of your child's activity online. 
Bark supplies apps for both the iOS and the Android platforms. The Bark app is downloaded to the child's device, so that then the parent can customize the filters and limits.
When a potential event is detected, such as a cyberbullying event, a predator, a sexual event, violent threats, suicidal ideation or depression, the parent gets an alert so that they can intervene with their child. The alert can be sent to the parent in a choice of methods that include a text, an email or a push notification.
Bark also can work to set limits on children's time online. This includes website blocking to keep children away from sites that a parent does not want them visiting. There is also control of screen time, so that screen time after bedtime is controlled such as by shutting down streaming and gaming. These limits can also be imposed during the school day to improve focus.
Another feature is the location sharing. This allows the parent to keep tabs on where the child is. This is enabled via location sharing, and also check in.
Bark: Plans and pricing
There is a choice of plans that Bark offers to protect children online. Each has a full week long trial to decide if it meets your family's needs.
The entry point is the Bark Junior plan, which has an affordable starting price of $5/month, or $49 annually. It has some basic functions, such as managing screen time, having control which websites your kids can visit via filters, and knowing where the children are via location alerts, and also check-ins.
The higher plan is the Bark Premium plan, which has a cost of $14/month, or $99/year for a significant discount. It has the features of the lower plan, but adds monitoring what your child is doing on over 30 platforms, including texts, email, and even Youtube. Furthermore, the parent will get alerts if an issue is detected, such as cyberbullying, suicidal ideation, or online predators, among other concerning issues.
Finally, the top solution is the Bark Phone. More than just a plan, this one integrates with a Samsung A13 phone, that also includes the preceding Bark Premium plan for the entire family. The phone plan starts at $49/month for unlimited calls and text but only Wi-Fi data, goes up to $59/month to add 4 GB of data, and tops out at $69/month for 8 GB of data. It is designed to not look like a clunky 'Kids phone,' but allows the parent to customize the security needed. It enables the parent to block VPN installation, approval of new contacts, to block websites and apps, and even to remotely lock the phone should your child need a break. We also note that there is no cost for the phone, and it includes a charging cable, and case.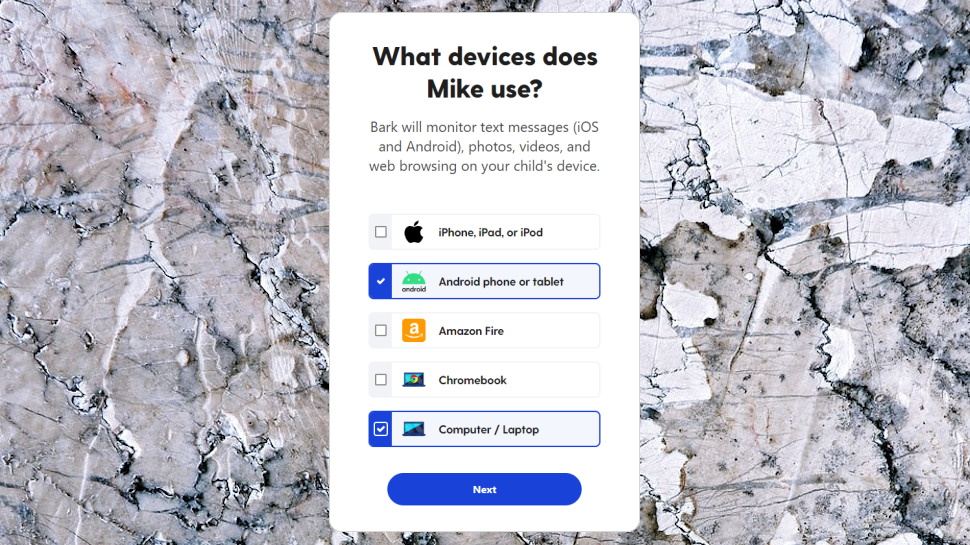 Bark: Support
There are multiple options to get support for Bark. For direct support, we found only a single option, a support portal, which had a provision to include a file to clarify the issue. We did not find other options, such as chat, a direct email, or a direct phone number.
For the self help support area, there were some choices, but again it was limited. One is an extensive FAQ, with articles covering a large variety of topics. We also liked the blog, and upon further inspection, it has plenty of recent content, with multiple articles from this month, such as the relevant "How to Stay Safe on Social Media: 7 Quick Tips." Our criticism, like the direct support, is that there are no other options, as we did not find a community forum, ebook, whitepaper, webinar, nor any video content.
Bark: Final verdict
Bark offers an innovative solution to the important problem of keeping children safe when online. We like features such as the ability to set limits on screen time, the free trial, the ability to keep tabs on a child's location, that the phone plan includes a decent device, and the affordable entry plan. 
Some downsides to keep in mind encompass the limited support options with a total lack of phone support, and that the base phone plan has no mobile data and is expensive for an essentially basic phone plan. 
Still, Bark can be an important tool for monitoring the social media activity of a child, and we appreciate that the non-phone plan supports multiple children at the same price point making this a better deal for a larger family.