Visme serves up an interesting concept: make information interesting and visually engaging. But the platform's scope stretches far beyond social media-friendly infographics, with graphic design software, a video maker, mockup software, and tools for building attractive documents and presentations that stay on-brand.  
Visme: Pricing & plans
Free option, subscription plans with heavily discounted yearly fees
Visme is subscription-based, with tiered plans offering more features as the price rises. All subscriptions are discounted when paying upfront for the year over the monthly charge. 
Basic is the free plan, which gives you more than enough to get a feel for what Visme is about, and what it can do for your business. Even better, there's no time limit. Use it for however long you need. It offers 100MB of cloud storage, limited access to templates and assets, and what Visme refers to as "regular" support.
The Starter plan is $29 a month (approx. £24 / AU$44) or $147 a year (approx. £122 / AU$219). You get access to all templates and assets, download projects as JPG, PNG or PDF, and receive email and chat support.
Pro is $59 a month (approx. £49 / AU$88) or $297 a year (approx. £246 / AU$442). Storage is increased to 3GB, with the ability to export your work as a PowerPoint presentation, HTML5, video or gif. It also comes with analytics and privacy controls.
Visme for Teams, a strictly commercial offering with bespoke pricing, is geared around online collaboration. .. 
Visme: Getting started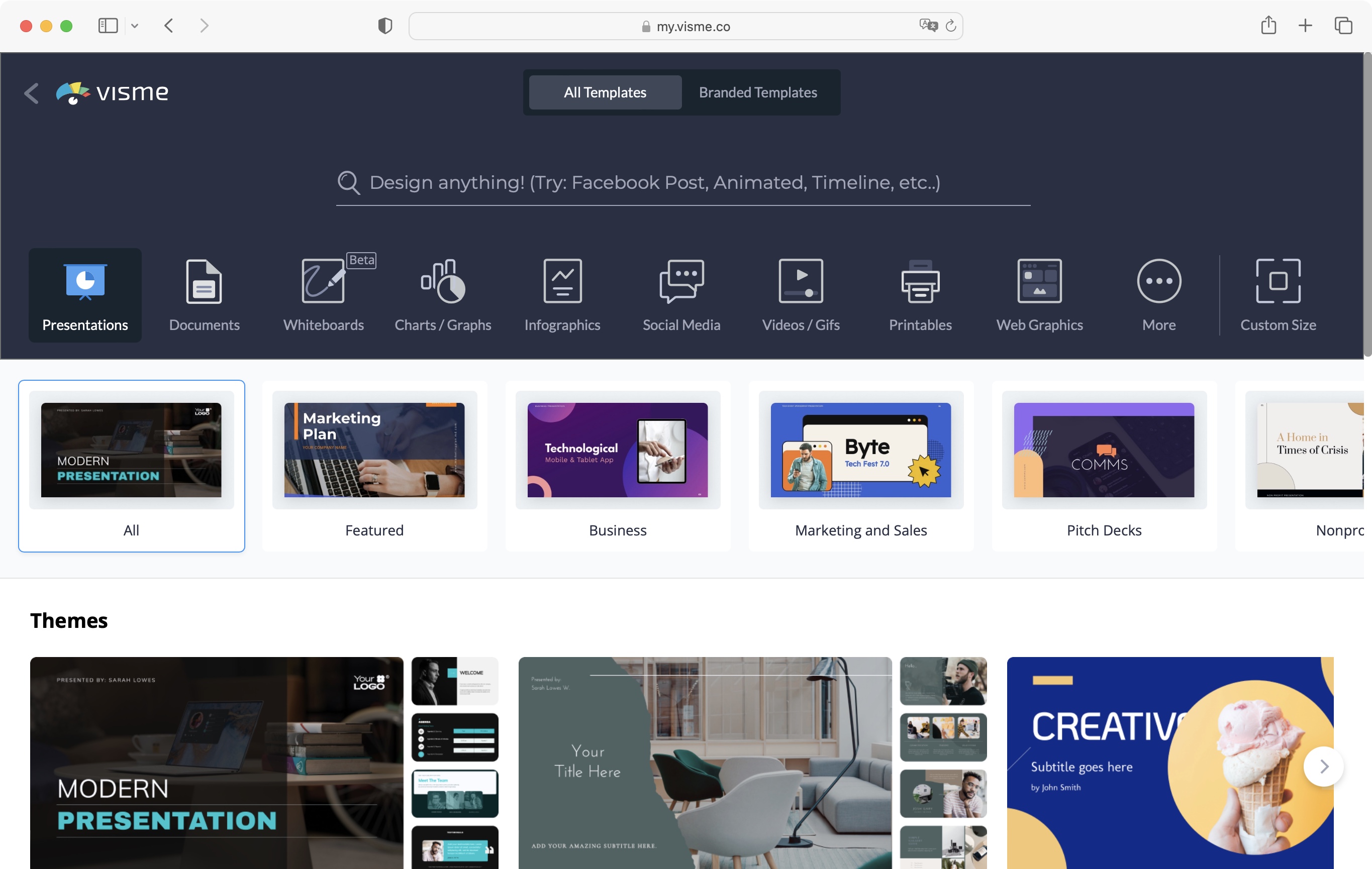 A vast array of templates, ordered by category, help you find the perfect starting point for your project 
Once you've signed up and signed in, you'll find yourself at the template selection stage. And there's a lot of them. Thankfully, they're broken down by category - Presentations, Documents, Social Media, Videos, Web Graphics and more. 
Each category is subdivided into genres. So, infographics are split into Statistical, Timeline, Location, and so on. There's also a search field at the top to help.
If all this is too much, each category has a blank template for you to use, and 'Custom Size' lets you create canvas dimensions down to the pixel.
An interesting function is 'Branded Templates'. This lets Visme explore your existing website, and extract your logo and current color palette, to base custom templates off of it. It's a neat idea, but we were sadly unable to get it to work - even pointing Visme towards techradar.com yielded no result, and the PNG logo we tried to upload, wouldn't work.
Visme: Online designer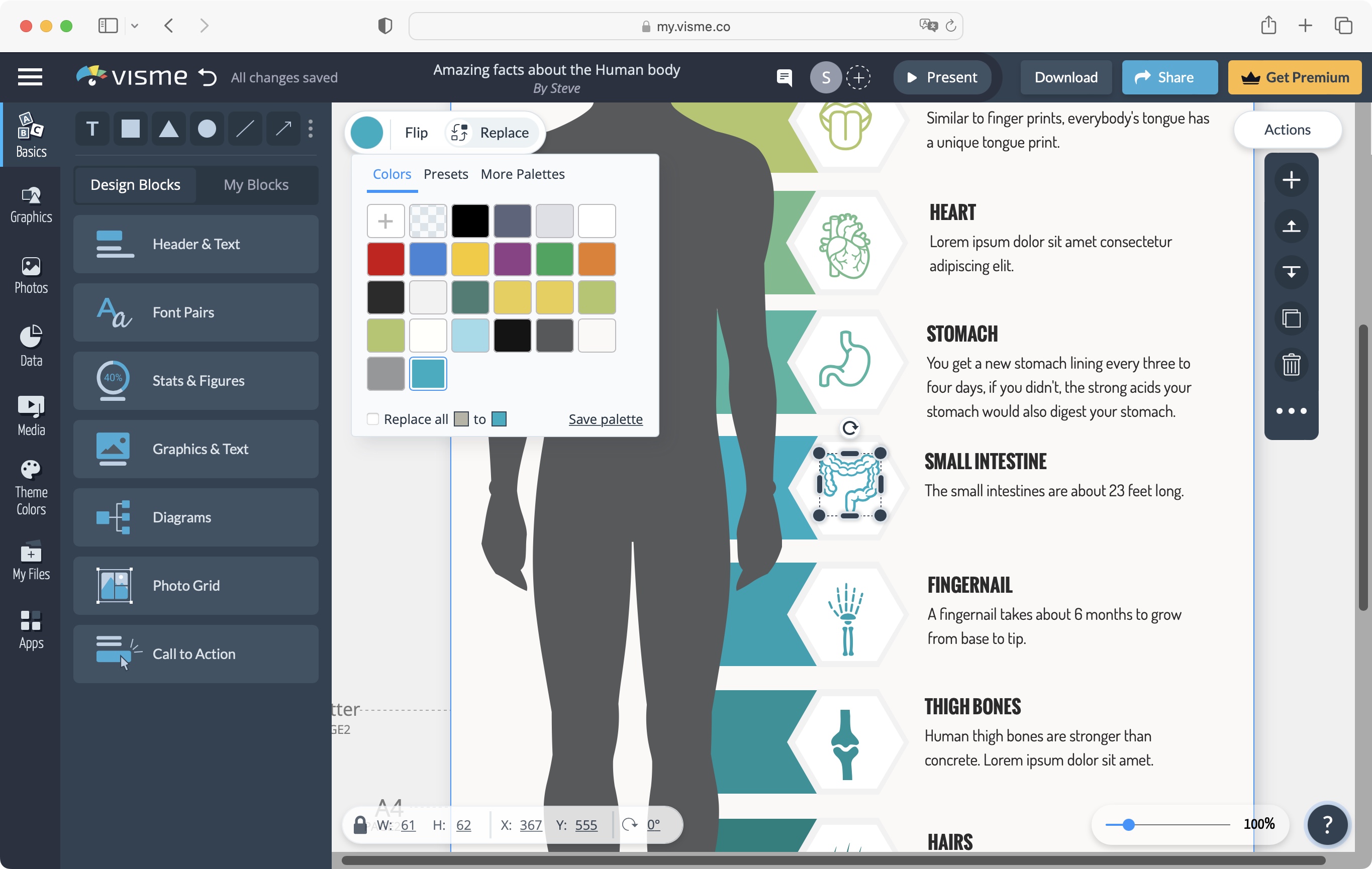 Extremely versatile, customisable and responsive interface, allows you to do pretty much anything you'd like with ease 
If you've used Canva, then Visme's overall layout will be familiar territory. The tools at your disposal will depend on the template you've chosen, but on the whole they are very well-organized. All elements you add to your project are easy to customize. You'll find a template is linked to a particular style and color palette - this is to make it easy to create a consistent look, but of course, this is more a guideline; you have the freedom to create what you like..
The left-hand sidebar contains all your elements, from shapes and stock photos and videos to any media you upload yourself. Replacing an existing image with a similar one is even easier. Select it and choose 'replace' from the popup menu, top-left of the canvas. This will take you to the same category where the original was located. That pop up menu is also where you get to change the object's default color, so it can better match the design you're creating.
The right-hand sidebar is where you create, reorder, duplicate and delete pages and sections. All in all, it's pretty much everything you'd expect from a document creation tool. What we greatly appreciated though - beyond the creative freedom and customization options - was the platform's speed and responsiveness. We didn't see any noticeable lag from adding an object, to moving it around, to editing text - we actually quickly forgot we were working in a web browser. But if you prefer to use a computer or laptop for graphic design, Visme has desktop apps for Windows and Mac 
Visme: Video maker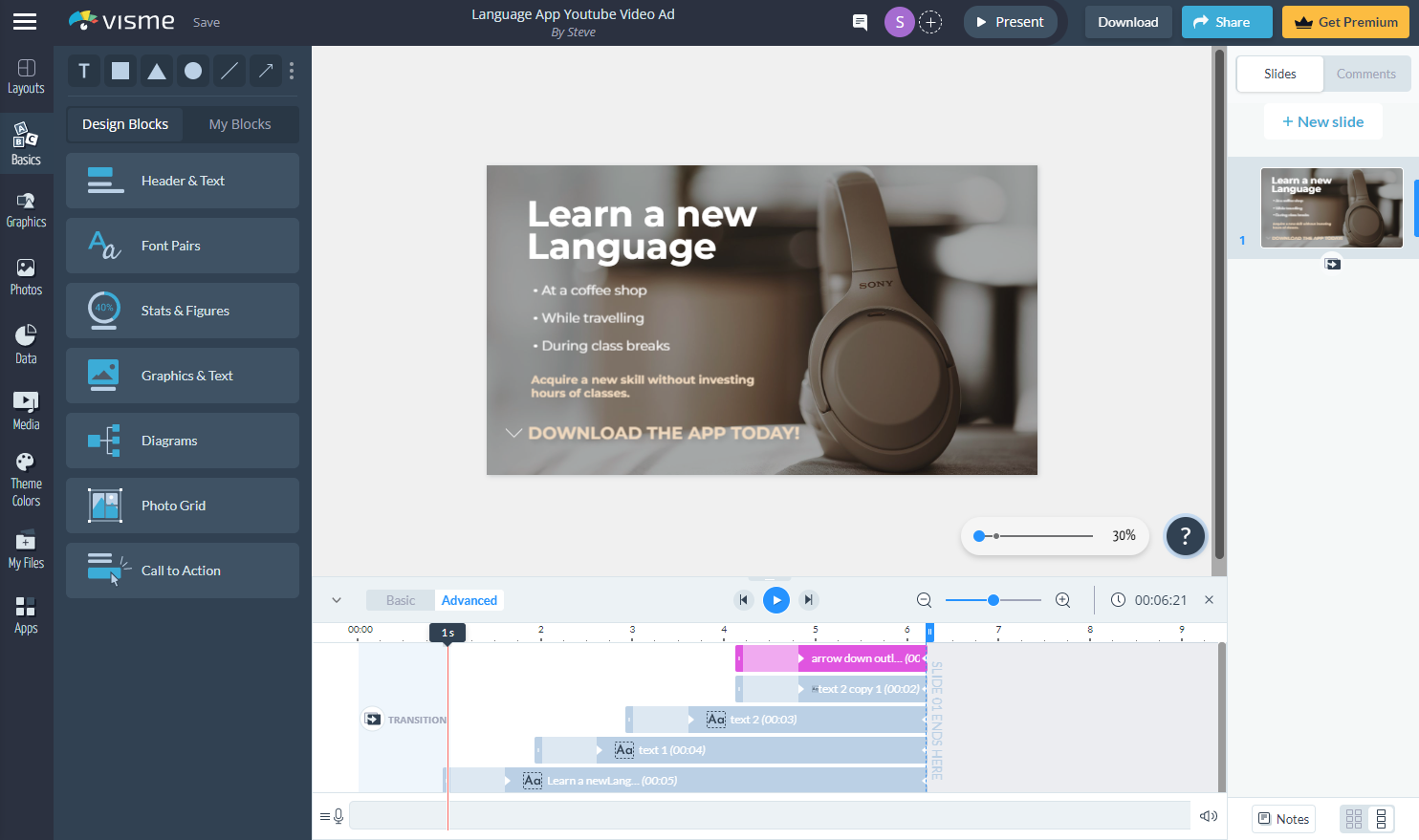 Simple online video maker for rapidly building explainers, promos, and social media ads 
Visme's video maker is just as straightforward to use. To the top of the screen, you'll find various formats like explainer videos, adverts, testimonials. It's a fairly exhaustive list, and clicking into each one opens up a series of associated templates. 
Select the template the best fits your project, choose the aspect ratio - super-important if you're publishing to mobile platforms, although free users can only opt for the 16:9 or widescreen canvas.
From here, the design process is more or less identical to using the platform's digital art tools. You're free to alter (or swap out) text and images to fit your organization's branding. 
The timeline, a familiar sight to those working with video editing software, is located at the foot of the screen. By default, it's set to the basic view - ideal video editing software for beginners, as it compounds all elements into a single clip. More experienced creators can switch to advanced view, which lets you see and precisely control each individual element. 
It's important to emphasize that this is a video maker in the same vein as Canva Video. It lacks the professional toolkit you'll find in the likes of Adobe Premiere Pro. Having said that, the video maker is surprisingly full featured, letting you work with multiple layers, trimming them and modifying them with ease
Overall, it's a helpful content marketing tool built to let you make simple videos quickly, to promote your brand, products, and promotions.  
Visme: Help & support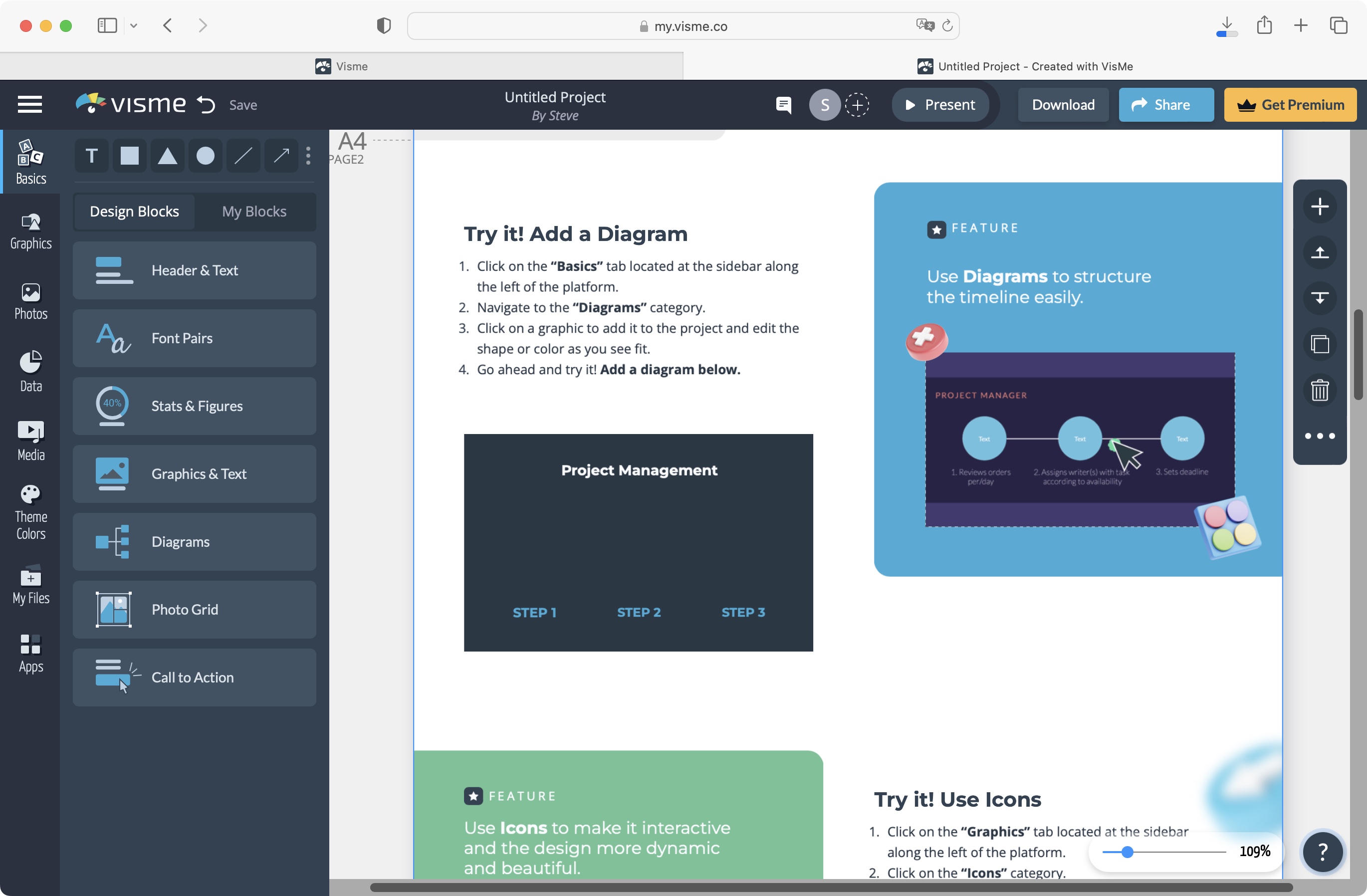 Documentation, and tutorials are provided to help you get the most out of Visme 
Despite the ease of creating and modifying a project, it's always far too easy to get lost in a new service. To that end, Visme has created a series of training guides to help you understand how things work. Most interesting of all, these guides are created as Visme documents which you can not only browse on the platform itself, but also alter. We found this a fun way to learn.
If this isn't enough, click on the question mark icon in the lower right. This unlocks video tutorials, and documents explaining different aspects of the service. 
And if you're still lost after that, there's always the option of chatting with technical support with actual humans (what a novel idea).
Visme: Share & export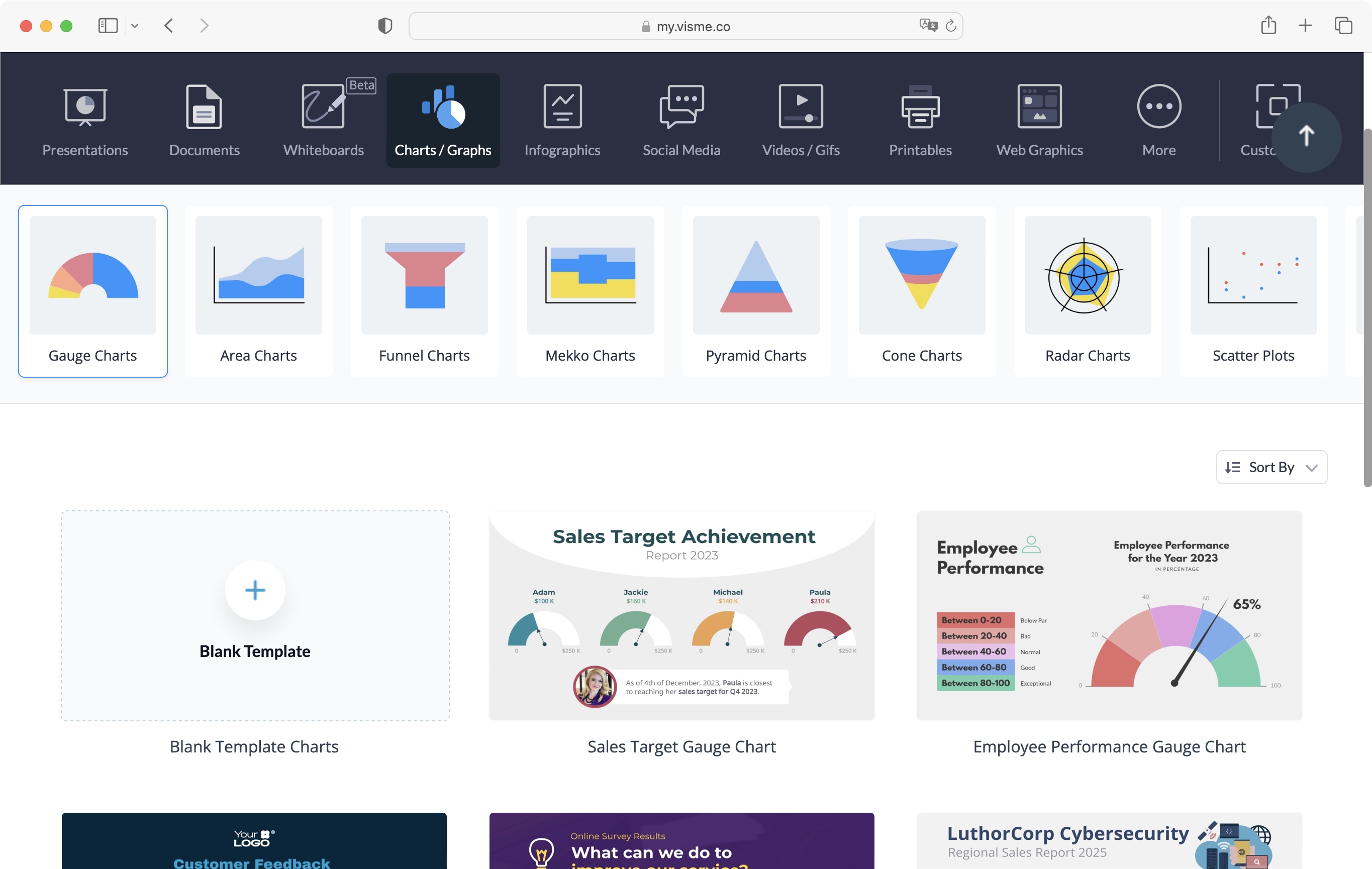 Multiple export and download options - for subscribers only 
Your sharing and download options are dependent on your subscription level. They are all available under the Download and Share buttons.
One downside we found - it isn't obvious which options are allowed and which are restricted until you select one, and face an Upgrade popup. The free plan doesn't allow any download options, not even JPG.
On the plus side, Visme gives you a lot of information as to what your chosen export option offers. For instance, PNG is "Recommended for projects with logos, illustrations and charts", while PDFs lets you choose to export your document with bleed marks, showing professional printers the areas that will be trimmed.
The Share options lets you publish your files to Visme's site. Once that's done, you can get ready-made code to embed it into another webpage, or just share the link with others. It's worth noting that this is a public space accessible to all. If you want to make your document private, you need to purchase the appropriate subscription plan.
Visme: Scoreboard
Should I buy?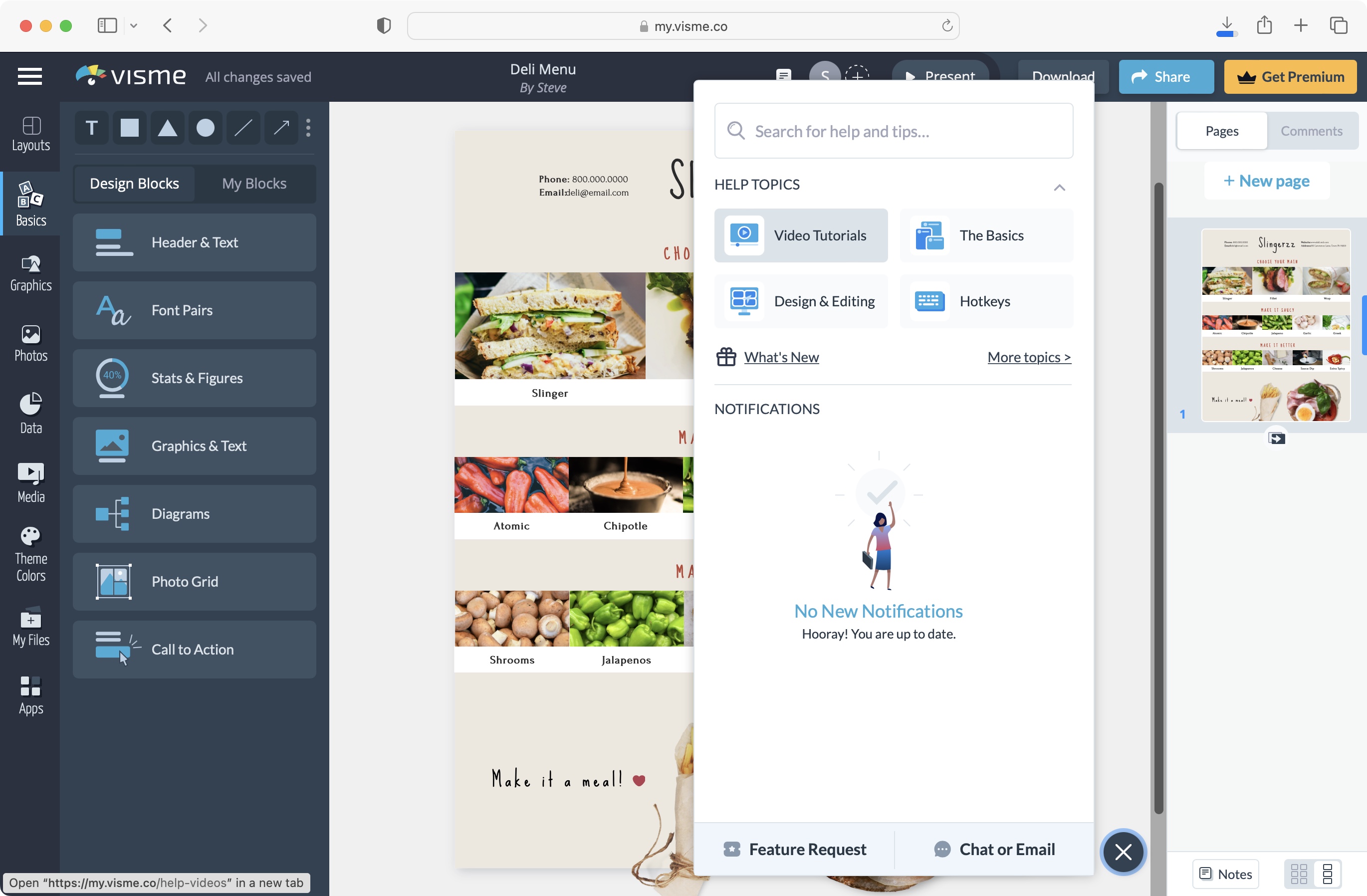 Buy it if...
You demand design and brand consistency across all designs, you need a simple online design app, or you enjoy versatility and customization features 
Don't buy it if...
You need an industry-standard creative tools for large, complex video and design projects.
Visme: Alternatives
For similar design tools, we recommending checking out our Canva review, Adobe Express review, and Canon Poster Artist review. 
For a video maker that offers even more, check out our Vimeo Create review and InVideo review.