The Ray-Ban Meta Smart Glasses Collection aren't officially called the Ray-Ban Stories 2, but they might as well be. They take everything that made the original Meta and Ray-Ban collaboration stand out, while improving upon those glasses to become worthy successors.
You'll find improved design options, with two frame styles, five frame colors, and a slew of lens options that allow you to customize your glasses between over 150 different combinations. The charging case, meanwhile, looks more classically Ray-Ban without losing any of the functionality of the case that came with the Ray-Ban Stories.
The cameras get a resolution bump up to 12MP, and image stabilization has been improved to help keep your recordings from looking too shaky. The built-in speaker's audio has also been given a boost, and there's a handy voice assistant that lets you control the glasses hands-free.
I had the chance to try out the new Ray-Ban Meta smart glasses ahead of their launch, and while I want to spend more time with them before passing a final verdict, I've been impressed by the improvements I saw. That said, I feel these glasses won't be a good fit for everyone – especially at $299 / £299 (Australian pricing to be confirmed). Unless you can think of a reason why you need these glasses yesterday, you might want to pass on them. 
Ray-Ban Meta Smart Glasses: Price and availability
The new Ray-Ban Meta Collection Smart Glasses are on preorder from September 27 until their October 17 release date, and they're available for $299 / £299 (Australian pricing to be confirmed). If you want to pick up a pair with Transitions or Polarized lenses this will cost you a little more, at £379 (US and Australian pricing to be confirmed) and £329 (US and Australian pricing to be confirmed) respectively.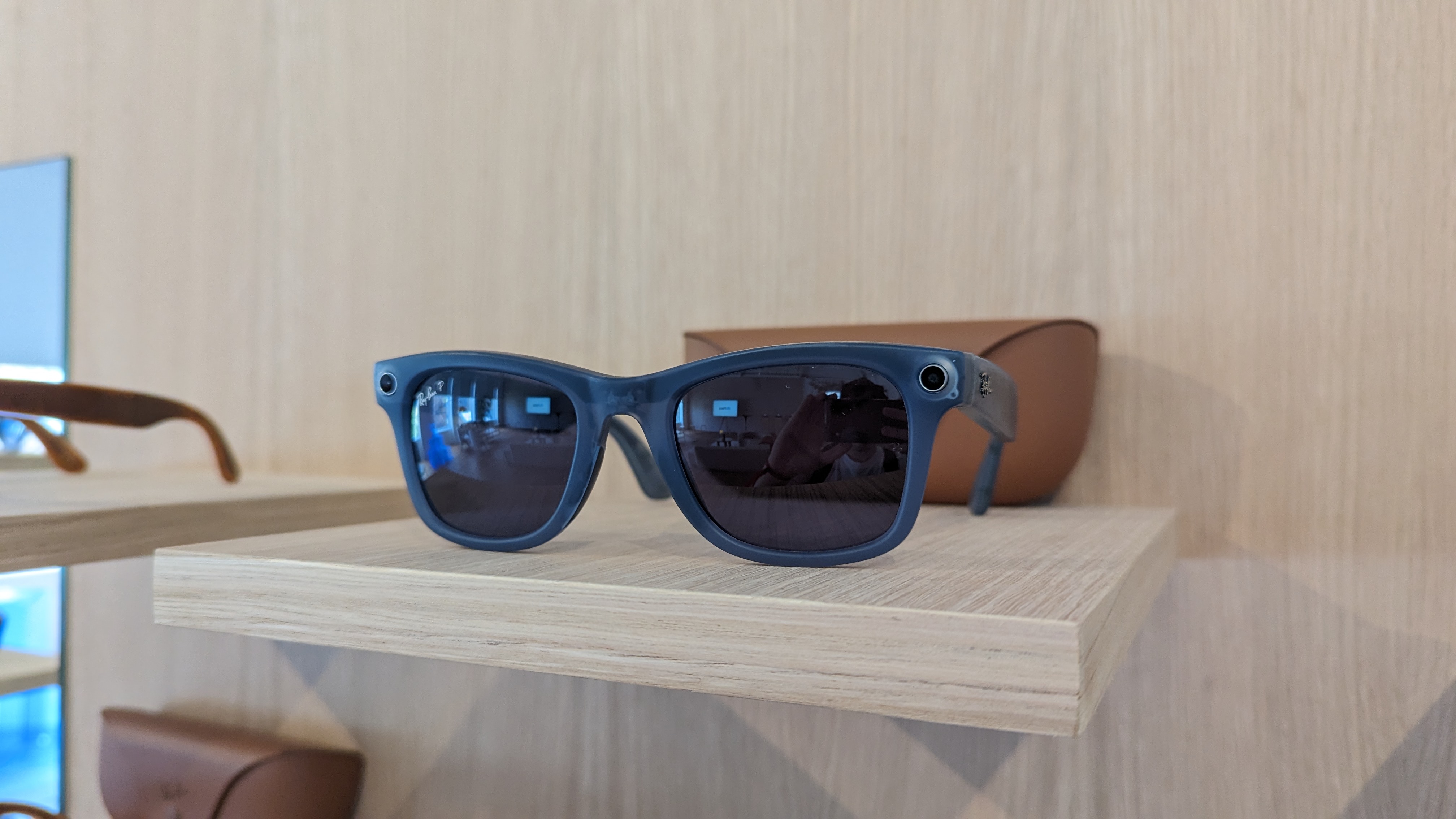 This price is the same as the launch price for the Ray-Ban Stories smart glasses, which were the first collaboration between Meta (then Facebook) and Ray-Ban, and is roughly on par with other smart glasses I've seen and tested. Just note that these are a very different kind of smart glasses to something like the Xreal Air glasses, so make sure you investigate your options before you order a pair.
Ray-Ban Meta Smart Glasses: Design
The Ray-Ban Meta smart glasses come in two shapes, and a range of different color options to suit different tastes.
Fans of the iconic Ray-Ban look can pick up a pair of Wayfarers (in standard or large sizes), or you can opt for the brand-new Headliner style that's been created specially for this collaboration. Both styles come in matte or glossy black, or you can choose a translucent material that comes in black, turquoise, or orange so that you can show off the technology inside your new specs – kind of like that translucent purple GameBoy you always wanted.
You can also outfit the glasses with a massive variety of lenses, from clear to prescription to polarized and a bunch more. All in all there are over 150 different combinations of frames and lenses, so you should be able to find one that suits you perfectly. No matter which combo you choose, the glasses have an IPX4 water resistance rating and boast 32GB of storage, which is enough for roughly 500 photos, and 100 30-second videos.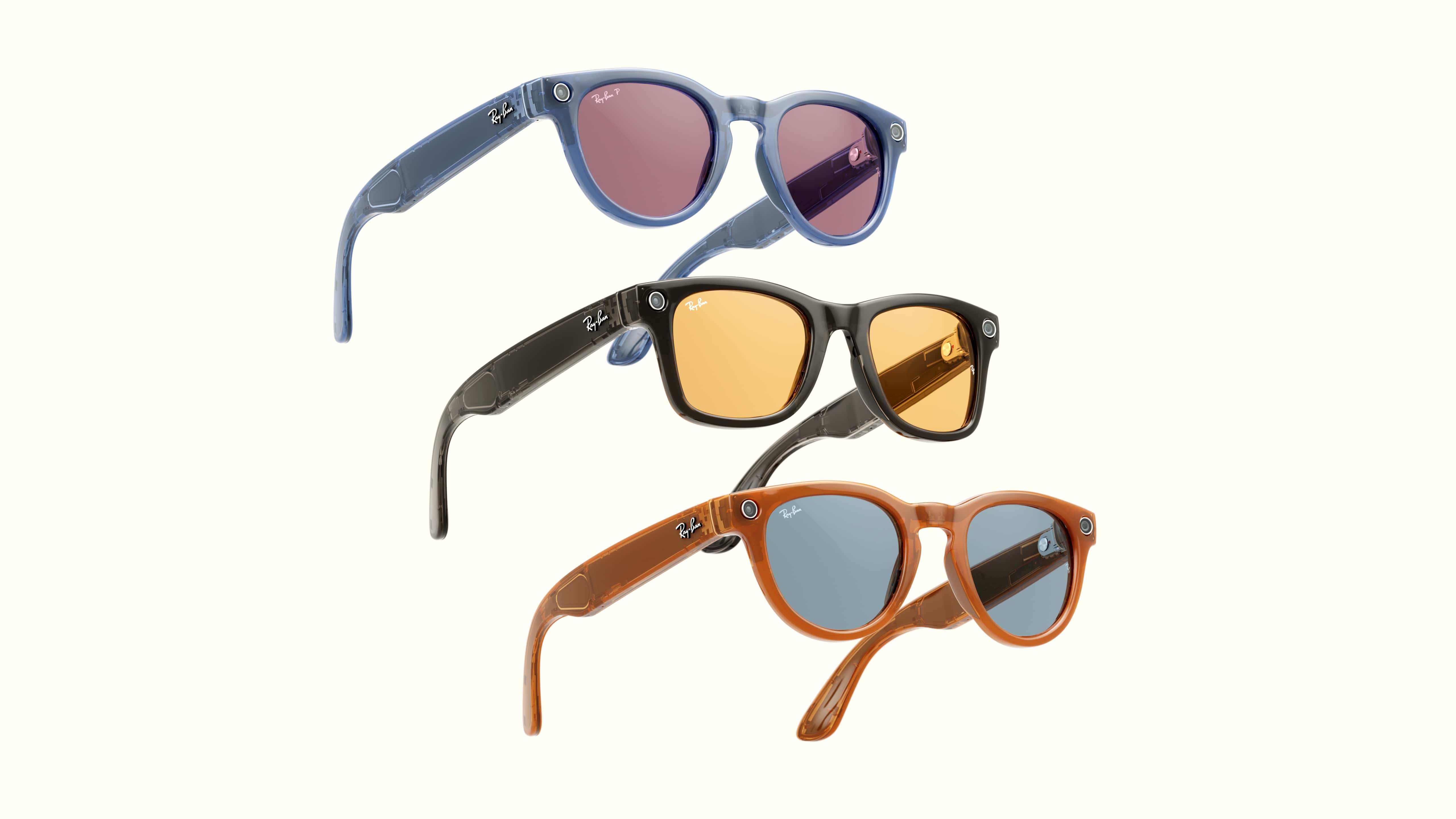 The camera is positioned on the right edge of the frame, just in front of the right arm. It also has a fairly large and noticeable light next to it, which activates whenever you're recording a video or taking a picture so that people around you know when the camera is and isn't on.
Best of all, the Ray-Ban Meta Smart Glasses feel just as lightweight as a regular pair of glasses. The Wayfarers come in at just 48.6g (or 50.8g for the large frames) and the Headliner frame weighs 49.2g, so it shouldn't be a challenge to wear these for long stretches.
Before I round off the design section of this hands-on review, I need to highlight the charging case – I love it. It looks just like a classic Ray-Ban case, but it has a USB-C port on the bottom and it can provide your smart glasses with an additional 32 hours of use thanks to its internal battery. It only takes 75 minutes to charge the glasses from 0% to full, or you can reach 50% in 22 minutes, which isn't too bad.
On their own, the smart glasses can hold four hours of charge. This isn't particularly impressive compared to smartwatches, for example, but considering the small size of the glasses it's not a huge surprise.
Ray-Ban Meta Smart Glasses: Performance
Smart glasses aren't just a fashion accessory, they need to be functional too – and based on my brief demo session with these Ray-Ban spectacles I'd say they do a good job of being a useful gadget.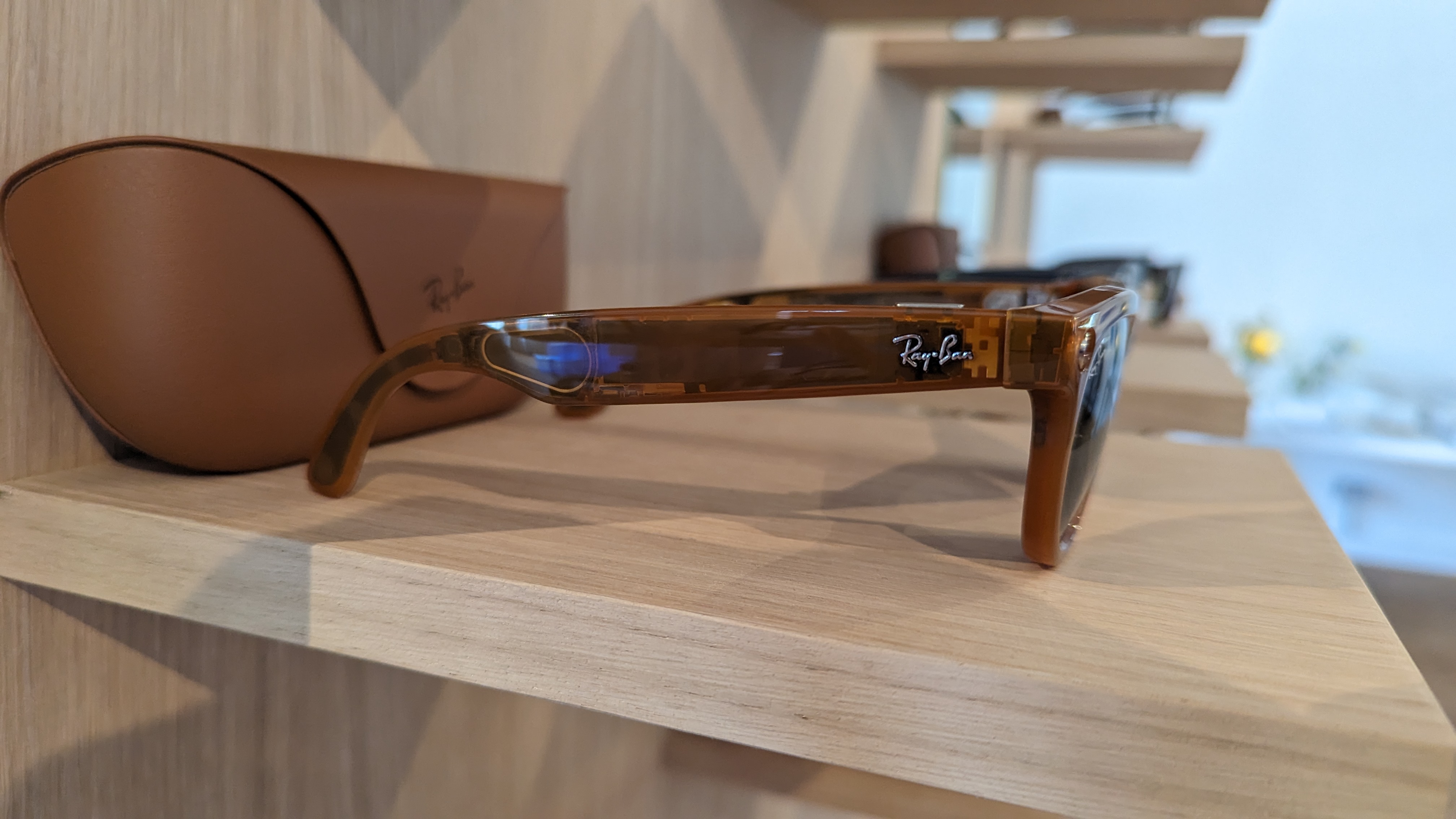 Its 12MP cameras won't produce images as crisp as the 50MP snappers found on most mid-range smartphones, though I found that images and 1080p video captured on the glasses looked fine. There's also a huge advantage over your phone in that you don't have to hold a phone while recording, which allows you to take a more active part in the footage you're capturing.
And you can seemingly get involved without too much fear of creating a super-shaky video. While I didn't give the glasses a massive challenge in the demo, I wasn't focused on keeping my head still either, yet I noticed that video playback looked reasonably steady for a camera worn on my face.
Audio from the glasses' speakers also sounds pretty good. I didn't have the chance to listen to the full range of tracks I normally rely on to get a feel for a gadget's audio chops, but what I heard didn't sound half-bad, and best of all audio leakage doesn't seem to be much of a concern.
I tried out the Ray-Ban Meta Smart Glasses at the same time as someone else, and I couldn't hear their music while I was standing fairly close to them (and it was apparently playing at moderate volumes).
I need to spend more time with the glasses before I issue my final verdict on their performance. Beyond giving the camera and speakers a more in-depth test, I also want to put the microphone array through its paces. While the audio I recorded did sound clear, I was testing the glasses out in a room with very little noise – I don't know how well they'll fare outside if I'm trying to record on a windy day or while I'm doing something active and breathing hard.
Ray-Ban Meta Smart Glasses: Features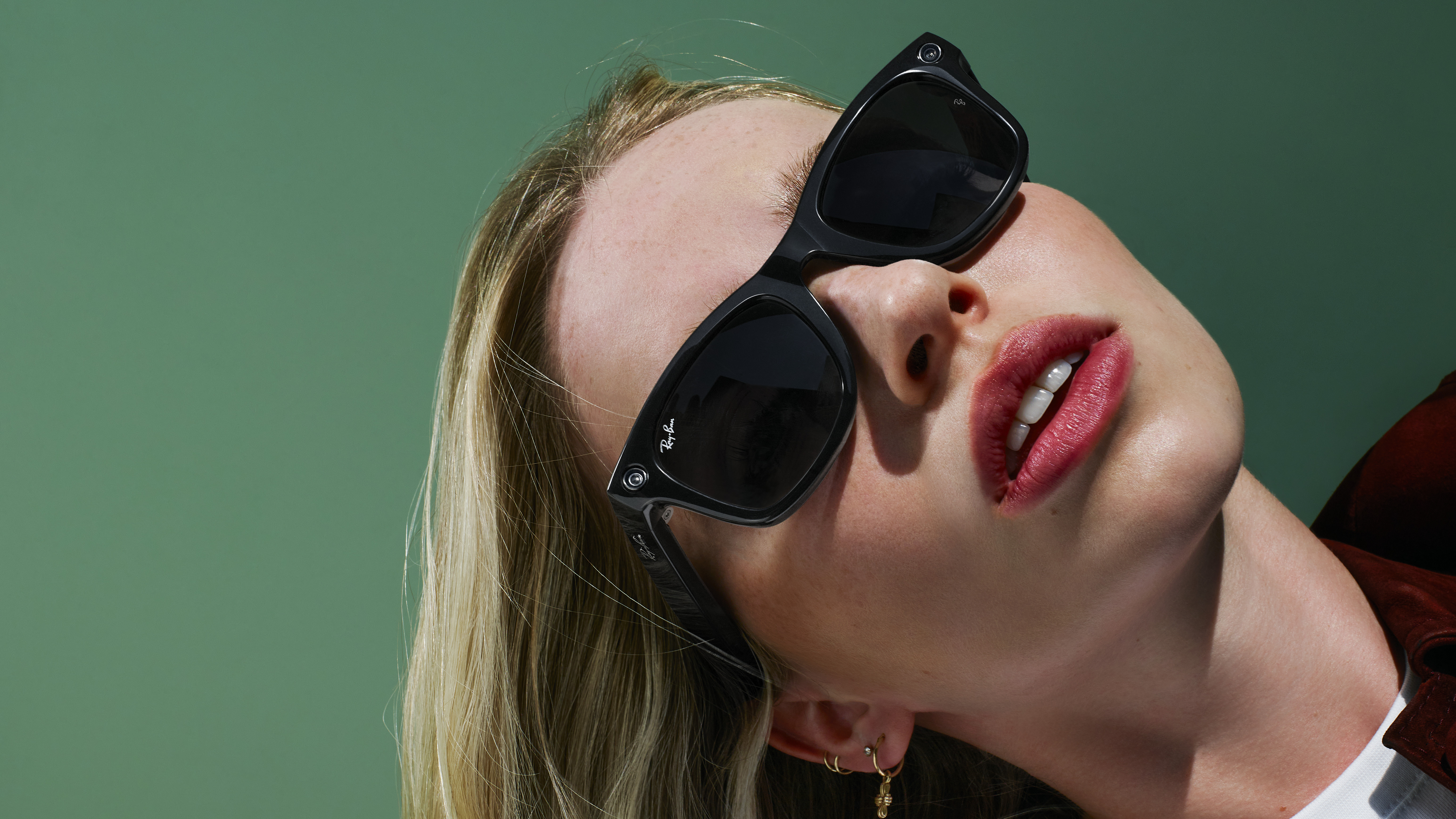 The Ray-Ban Meta Smart Glasses have two new features that you won't find on the Ray-Ban Stories that came before them.
The first is a simple voice assistant that allows you to record videos or snap pictures by speaking (using the wake word 'Meta'). If you're connected to your smartphone you can also ask the assistant to start a call with someone in your contacts, or send them a picture of where you are. 
The second is the ability to easily set up an Instagram or Facebook livestream that shows viewers a live feed from your glasses. I was able to set up a test livestream on Instagram, and literally at the push of a button I could swap from the smartphone's camera to the connected Ray-Ban Meta glasses I was wearing. I hope this feature is extended to other services like YouTube and Twitch too.
Ray-Ban Meta Smart Glasses: Initial verdict
The Ray-Ban Meta Smart Glasses Collection offers solid improvements over the Ray-Ban Stories in every single way. That said, I'm still not sure how comfortable people will feel about having a camera always on their face, or how those around you will feel about the camera either.
I need to test them further, but based on my demo I feel like these glasses exist to serve a specific use case. If you can think of ways in which these will enrich your life then the $299 / £299 (Australian pricing to be confirmed) might seem reasonable. However, if you like the idea of smart glasses, but don't have an immediate idea of how you might use these glasses, you might want to think twice about putting in a preorder.