Minisforum UM780 XTX: 30-second review
Specs
CPU: AMD Ryzen™ 7 7840HS, 8 Cores/16 Threads, up to 5.1 GHz
Graphics: AMD Radeon™ 780M
RAM: DDR5 Dual channel, upgradable to 96GB
Storage: Dual M.2 2280 PCIe4.0 SSD slots
Rear Ports: Dual RJ45 2.5G Ethernet, USB3.2 Gen2 Type-A, USB4, Oculink, HDMI2.1, DP1.4
Front Ports: USB3.2 Gen2 Type-A, USB4, Audio Jack, Clear CMOS
Connectivity: Wi-Fi 6E, Bluetooth 5
Audio Output: HDMI, DP, Audio Jack
Camera: None
Size: 130mmx125mmx62mm
OS installed:  Windows 11 Home (64-bit)
The Minisforum UM780 XTX is a mid-range mini PC that packs a significant punch, courtesy of its AMD Ryzen 7 7840HS processor and AMD Radeon 780M graphics. With an affordable price-tag, it stands out for its blend of performance, connectivity, and innovative features. The addition of the OCulink interface for external graphics support, alongside its efficient cooling system, makes it a versatile machine suitable for demanding gaming, creative work, and general productivity.
We've tested out loads of the best mini PCs, and the UM780 XTX certainly catches the eye. It sports a sleek, compact design with a magnetic top cover that allows for personalisation. Its versatility extends to mounting options, including vertical and wall mounting, making it a fit for any workspace. The full-metal build aids in cooling, and its internal components are easily accessible for upgrades.
This mini PC targets gamers and creatives - making it a fair alternative to some of the best video editing laptops - highlighted by its OCulink interface that enables significant graphics enhancements via an external GPU. The heart of this machine is the AMD Ryzen™ 7 7840HS processor, boasting 8 cores and a 5.1GHz max clock speed, making it adept at handling tasks like video editing and 3D rendering. The AMD Radeon™ 780M GPU is suitable for graphic-intensive tasks, including gaming and creative applications like Photoshop and Adobe Premiere Pro if you're trying to figure out whether to opt for the best laptop for photo editing or a mini PC. 
DDR5 memory, along with PCIe 4.0 SSD slots, provides ultra-fast data access and storage, which is essential for handling large files in creative tasks. The cooling system, featuring liquid metal CPU material and an intelligent fan, ensures smooth operation under load, which is crucial for long gaming sessions or heavy-duty applications.
Dual 2.5G RJ45 ports offer fast, stable network connections, vital for collaborative work and online gaming. The metal casing not only enhances the mini PC's aesthetics but also plays a crucial role in heat dissipation.
The UM780 XTX excels in performance across various benchmarks, indicating its capability in office applications, graphic design, photo editing, and gaming. It effortlessly handles Adobe Photoshop tasks with RAW files from high-end cameras like the Canon EOS R5 C and Sony A7 IV. Video editing with RAW Lite footage is smooth, though additional SSD storage is recommended for large video files.
In gaming, the mini PC performs well at high framerates and can be further boosted with an external GPU through the OCulink interface. Benchmark results, including a Crystal Disk Read of 4747 and a GeekBench CPU Multi of 12139, underscore its robust capabilities.
The Minisforum UM780 XTX is an excellent choice for professionals and gamers who need a compact yet powerful machine. Its versatility, performance, and design make it suitable for a range of tasks, from office work to creative projects and gaming.
The UM780 XTX redefines the potential of mini PCs, offering a powerful, versatile, and expandable solution. Its premium price is justified by its capabilities, making it a standout choice for those who need compact power and versatility in their computing needs.
Minisforum UM780 XTX: Price & availability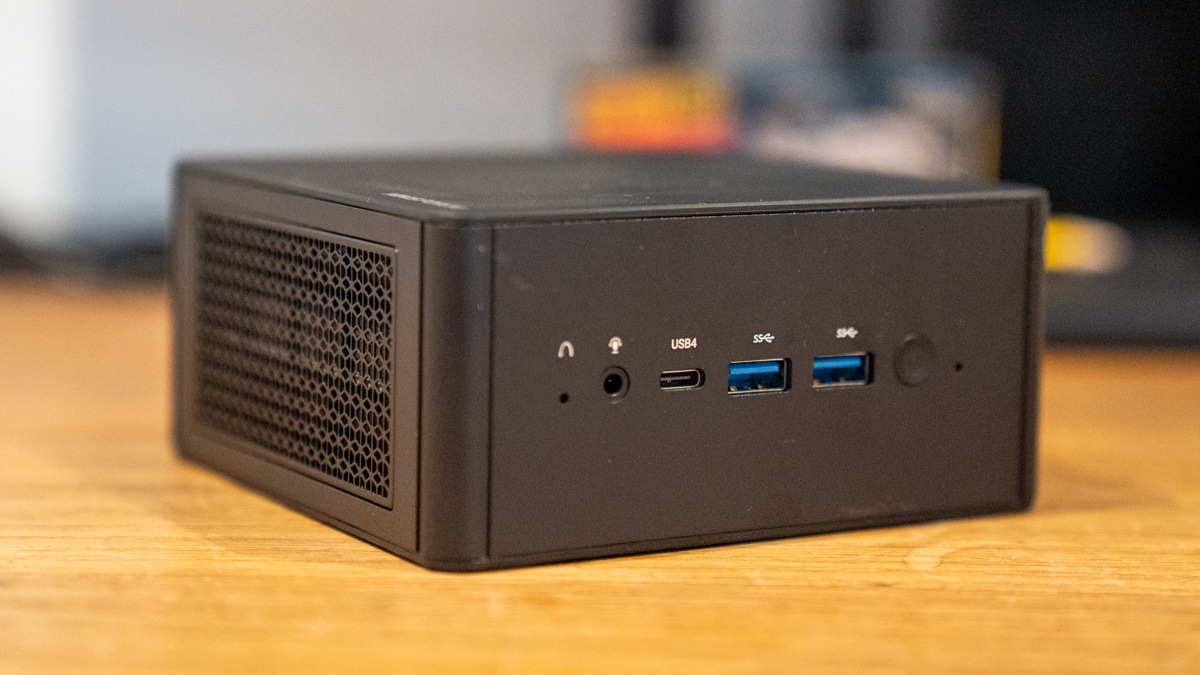 WIth 1TB SSD and 32GB RAM model, the Minisforum UM780 XTX positions itself as an appealing choice in the mid-range segment of high-end mini PCs. This pricing is quite competitive, especially considering the UM780 XTX's combination of an AMD Ryzen 7 7840HS processor and AMD Radeon 780M graphics, which together deliver desktop-level performance in a compact form. 
This blend of power and portability, offered at a reasonable price, makes the UM780 XTX an attractive option for a broad spectrum of users, from professional creatives to gaming enthusiasts. Available for purchase through both the Minisforum website and Amazon.
Minisforum UM780 XTX: Design & build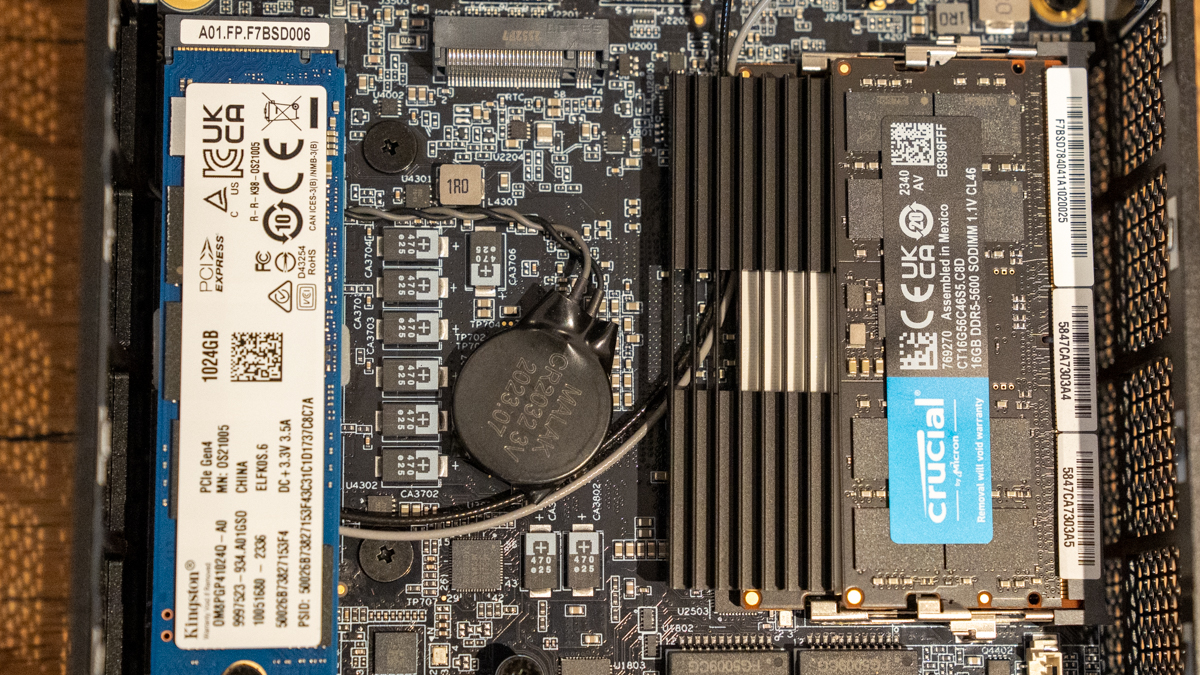 The Minisforum UM780 XTX boasts a sleek, compact design with a magnetic top cover that enables you to personalise the top with engraved plates. It's a nifty purely antithetic feature that certainly has appeal, especially if you couple this with the XTOOLS P2 or a similar high-end laser engraver. 
When it comes to mounting options, this mini PC offers a good amount of versatility, including vertical and wall mounting, fitting neatly into any workspace or desktop. The overall design is slick and high-end with a distinctive design; while not ultra-compact compared with some Mini PCs, it encases an impressive amount of power and expansion options. 
When it comes to connectivity, this is where the Minisforum UM780 XTX really stands out, with two Type A and one Type C USB on the front alongside the audio out and CMOS reset. All the main connectors have a good choice of video-out options with HDMI, DPI, and USB 4 alongside two network sockets and two USB Type-A.
With a full metal build that helps to keep things cool when under pressure and the ability to quickly access the inner workings through the top with simple tools and one slightly fiddly to remove and attach cable, this Mini PC offers great performance out of the box, but is designed to be upgradable if you feel the need.  
Minisforum UM780 XTX: Features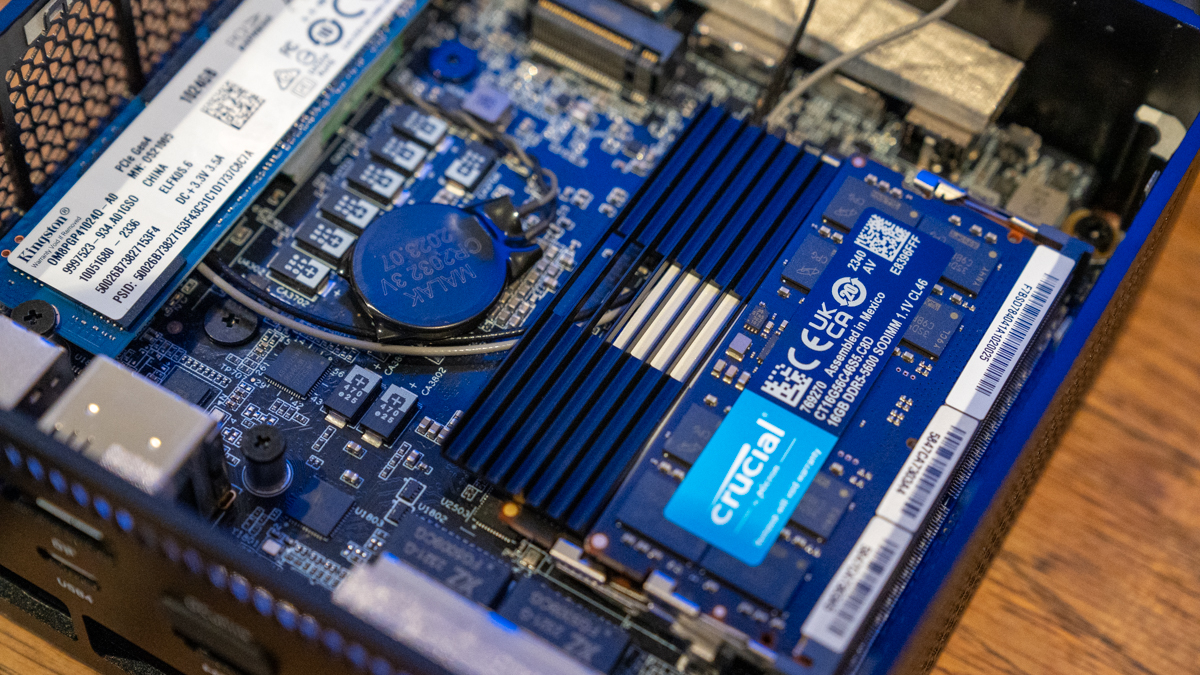 The Minisforum UM780 XTX is designed to cater to gaming enthusiasts, creative professionals or anyone looking for a Mini PC that has a bit of power. One of its standout features is the OCulink interface, which allows users to connect an external graphics card, significantly boosting the system's graphical capabilities. This makes it a flexible solution for users who may need extra graphical power for high-end gaming or GPU-accelerated tasks such as Premiere Pro (or any of the best Adobe Premiere Pro alternatives for that matter). 
At the heart of the UM780 XTX is the AMD Ryzen™ 7 7840HS processor, which boasts 8 cores and 16 threads, with a maximum clock speed reaching an impressive 5.1GHz. This high-performance CPU ensures that the system can handle demanding applications, multitasking, and advanced gaming scenarios with ease. The processor's speed and efficiency are particularly beneficial for tasks that require significant computational power, such as video editing, 3D rendering, and running complex simulations.
Complementing the powerful CPU is the AMD Radeon™ 780M GPU. With its maximum frequency reaching 2700 MHz, it offers substantial graphics processing power. This GPU is well-suited for creative tasks like photo editing in Photoshop, video editing in Premiere Pro or DaVinci Resolve, and using the best graphic design software.
Throughout, it provides smooth rendering and quick previewing capabilities. Essentially, paired with any of the best video editing monitors or the best monitors for graphic design, you'll be an unstoppable creative force. When it comes to gaming, the GPUs are able to handle the latest titles with the option to add an external GPU if you need a little more graphics processing power. 
Inside is the dual-channel DDR5 memory support, which, when combined with the system's two M.2 2280 PCIe 4.0 SSD slots, provides exceptionally fast data access and storage speeds, again a feature for both gaming and creative tasks. This configuration is ideal for professionals who deal with large files and require quick data transfer rates, such as video editors working with 4K RAW high-resolution footage or graphic designers handling large design files.
The Minisforum UM780 XTX also boasts an advanced cooling system to maintain optimal performance. The CPU is made of liquid metal material, and the system includes a high-silence intelligent cooling fan. This setup ensures that even under heavy workloads, the device operates smoothly and without overheating. Effective heat dissipation is crucial for maintaining the longevity of the components and ensuring stable performance during extended gaming sessions or while running resource-intensive applications.
Additionally, the dual 2.5G RJ45 ports provide versatile connectivity options, enabling fast data transfer and a stable network connection. This feature is particularly useful for collaborative work environments where quick file sharing and stable internet connections are essential. It also benefits gamers who require a high-speed, lag-free online gaming experience.
Finally, the Minisforum UM780 XTX metal casing not only adds to its aesthetic appeal but also plays a crucial role in heat dissipation, further enhancing the system's cooling efficiency. The durable build quality also means that it's highly portable, making it a great onsite solution for video plugged into an electric power generator or easy to transport for network gaming.
Minisforum UM780 XTX: Performance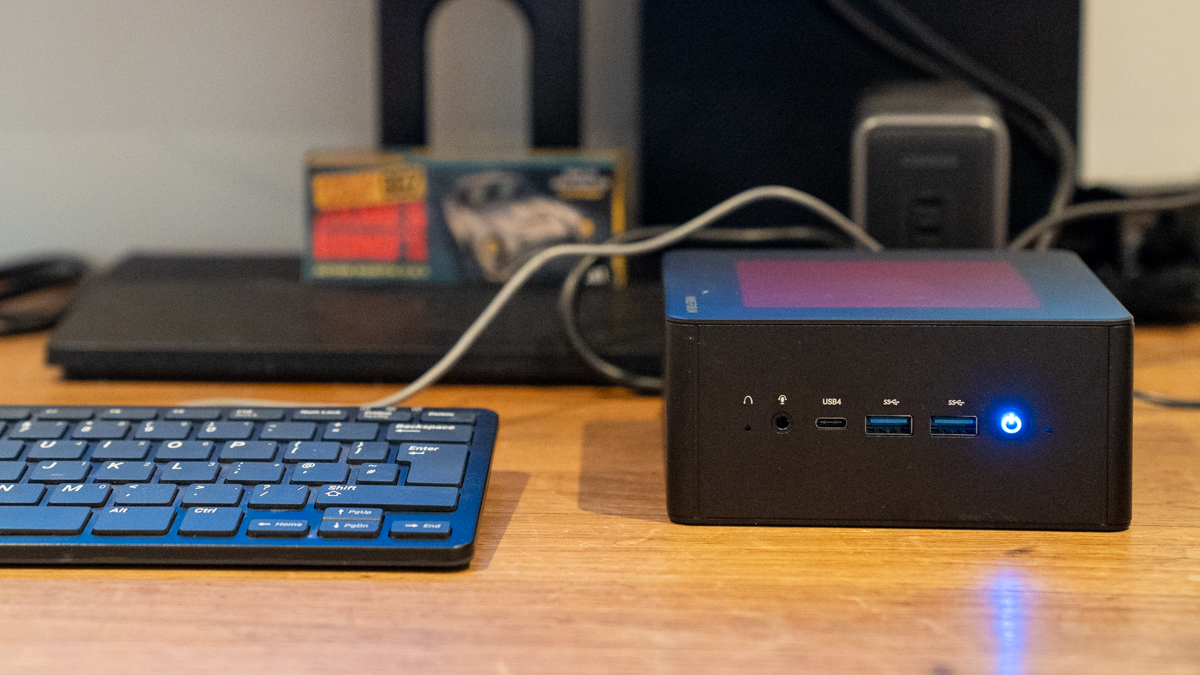 Benchmarks
Crystal Disk Read: 4747
Crystal Disk Write: 3842
GeekBench CPU Single: 2460
GeekBench CPU Multi: 12139
GeekBench Compute: 33198
PC Mark: 7310
CineBench CPU Multi: 1691
CineBench CPU Single: 1722
Fire Strike Overall: 7719
Fire Strike Graphics: 8377
Fire Strike Physics: 28203
Fire Strike Combined: 2883
Time Spy Overall: 3130
Time Spy Graphics: 2798
Time Spy CPU: 9565
Wild Life: 16725
Windows Experience: 8.2
The performance of the Minisforum UM780 XTX is exceptional, reflecting the quality of the build and hardware specifications. In office environments, this mini PC excels, easily keeping pace with the demands of various software suites. Its swift processing capabilities ensure that applications like Microsoft Office run seamlessly, and you can switch between Word, Excel and other applications without any lag or slowdown. As a space-saving alternative to the best business laptops (and certainly the best business computers), this mini PC is easily ready for business.  
When it comes to more demanding tasks like graphic design and photo editing, the UM780 XTX demonstrates that extra level of power. Yes, you will want the best monitor for photo editing for best results. But we found testing with Adobe Photoshop, particularly with RAW image files from high-resolution cameras like the Canon EOS R5 C and Sony A7 IV, the mini PC handles the enhancement of these images singularly and in batch well. 
The mini PC's performance extends impressively to video editing as well. Working with RAW Lite footage from the Canon EOS R5 C, the UM780 XTX manages the data-intensive task with relative ease. However, it's worth noting that the built-in storage capacity can fill up quickly when dealing with such high-level video files. Fortunately, the USB Type-C port enables a large SSD storage platform to be attached while maintaining superb transfer speeds.
Gaming on the UM780 XTX is also a good experience, with most games running smoothly at decent framerates, thanks to the combined power of the AMD Ryzen 7 7840HS processor and AMD Radeon 780M GPU. 
The integration of the OCulink interface, which allows the connection of an external GPU, helps boost gaming and video rendering. By plugging in an external GPU, you can run games at higher framerates and resolutions. 
Should you buy the Minisforum UM780 XTX?
The Minisforum UM780 XTX stands out as a high-performance mini PC suitable for a wide range of applications. From everyday office tasks to graphic-intensive gaming and professional creative work, it offers a level of versatility and power that is rare in compact PC solutions. Not only that, but you can fully customise the look and style of this Mini PC with the addition of the magnetic engraved top plate! 
Whether it's seamless multitasking, handling large RAW image files, editing high-resolution video, or enjoying high-end gaming, the UM780 XTX consistently delivers top-notch performance.
 Its blend of high-performance components, expandable memory and storage, and versatile connectivity make it a top contender in its class. However, its price point and design might limit its appeal to a niche market of enthusiasts and professionals.
Value: High-end performance at a reasonable price. (4.5/5)
Design: Compact, stylish with a customizable top cover. (4/5)
Features: Advanced technology, expandable, with innovative connectivity. (4.5/5)
Performance: Stellar in both professional and gaming use. (4.5/5)
Total: Powerful, versatile mini PC for diverse applications. (4.5/5)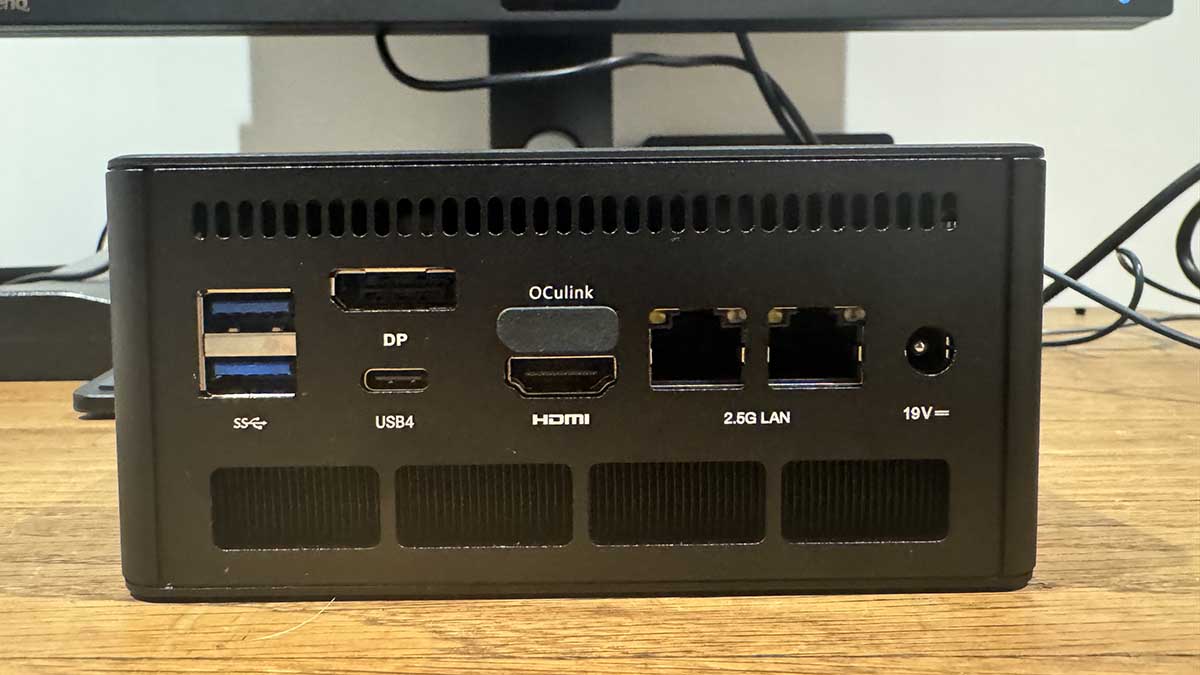 Buy it if...
Don't buy it if...