Coros Pace 3: One minute review
The Coros Pace 3 is a strong entry in the best cheap running watch stakes, and perhaps has even earned a place as one of the best running watches released this year. It's a slender and lightweight device at 32g with a nylon strap (39g, if you opt for silicon), but it's a powerhouse for evaluating your running performance, collecting plenty of information on stride length, cadence, heart rate zones, elevation and more, presenting it all in an accessible, legible format.
Music storage, a redesigned rear sensor array, a toggle on-off touchscreen functionality and improved satellite navigation tech have meant a small price increase, but it's still an excellent buy unless you own its admittedly similar predecessor. It's a superb stripped-back running companion and should serve most recreational road-runners very well indeed.
It isn't perfect by any means: its light, plastic construction and lack of a properly raised bezel mean it isn't particularly rugged and is unlikely to stand up to a great deal of punishment on your adventures. I wouldn't wear it on the trails, or while scrambling up mountainsides, for instance. It falls flat next to the best Garmin watches and best Apple Watches, too, purely from a "smart" perspective, with both offering far superior notification and third-party app interfaces, on-wrist payment options, and more ways to interact with your watch in general. 
However, this is what I mean when I say "stripped-back". It will be great in the middle of a race, and a terrific budget buy for fun-runners and annual marathon participants – but it has a long way to go as a lifestyle watch. Still, for under $250 / £219 / AU$399, it's a wonderful running watch and I wouldn't think twice about hitting the roads with the Coros Pace 3 on my arm. 
Coros Pace 3: Specifications
Coros Pace 3: Price and availability
Costs $229 in the US
£219 in the UK
AU$399 in Australia
The Coros Pace 3 is available worldwide, costing $229 in the US, £219 in the UK, and AU$399 in Australia. That's pretty cheap compared to most of the best running watches, such as the Polar Pacer Pro – and I'd place the Coros Pace 3 in a similar bracket to the Polar. 
Some of the best fitness trackers such as the Amazfit Bip 3 Pro, higher-end bands such as the Fitbit Charge 5, and specialist running watches such as the Garmin Forerunner 55 all run cheaper. But these are a little more outdated, and not as feature-packed as the Pace 3.
More expensive running watches such as the Garmin Forerunner 265, Samsung Galaxy Watch 5 Pro, or even higher-end watches such as the Apple Watch Ultra, all feel less cheap, are far more durable, and offer better smart capabilities. However, you might be hard-pressed to get more running metrics from most watches that cost even twice as much as the Pace 3's asking price. 
Coros Pace 3: Design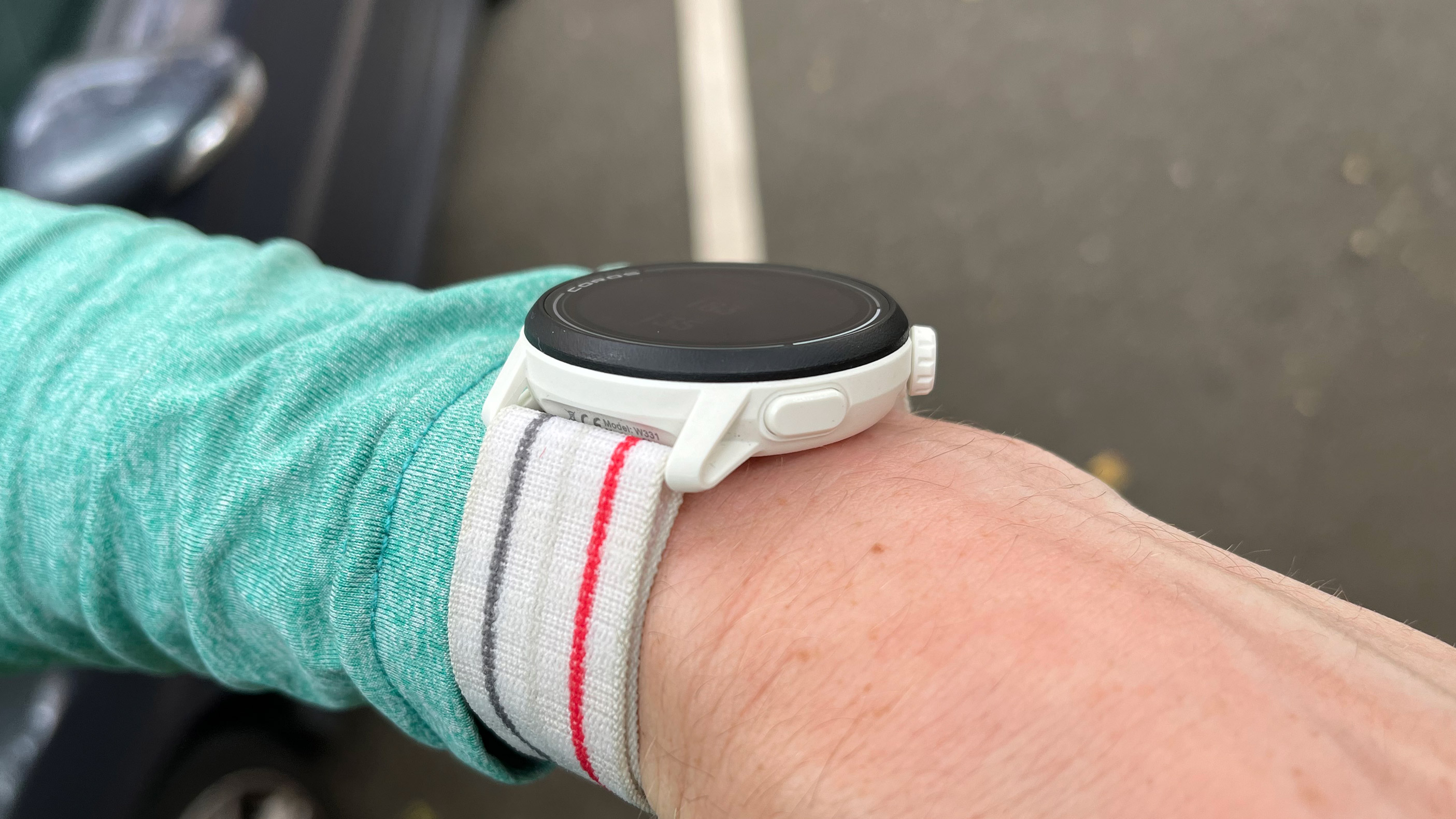 Lightweight plastic chassis
Simple to navigate watch
Intuitive app layout
The design of the Coros Pace 3 is fairly bare-bones, with a white polymer case and bezel that meets a mineral glass LCD screen. The screen is bright enough to see in most settings, although a little faint in bright, direct sunlight. Plus, it doesn't have the charm of Garmin's MIP display, nor the full-bodied brightness of a responsive OLED screen such as the Garmin Venu 2. The screen is touch-sensitive, which can be toggled from navigation-only to always-on, but more on that later. 
Bands are available in both silicon and nylon options – we were given the nylon strap to test. The rip-away nylon and velcro feels comfortable; it isn't irritating and won't budge on runs (at least, it didn't during my tests). However, it isn't the best-looking option for everyday wear. It can feel like a wide festival wristband at times, and really emphasizes its place as a running tool rather than an everyday watch. Which sounds fine in essence; but when it arrives with a long battery life that is in place to ensure the device can be exercised, slept and lived in to monitor recovery, you at least want something that looks nice. 
It's lucky, then, that the design on the software side is nice and economical. Pressing the lower button on the watch's right-hand side takes you out of your watch face and into a menu of workouts and other system settings, such as Music and Navigation. You can then scroll up, down and select these options with the Apple-style digital crown. Pressing the digital crown first, instead of the lower button, takes you to a widget stack. This displays your vital stats such as steps, floors, running fitness and so on.
It's an elegant design and works well, and this ethos is shared in the companion Coros app. The "Progress" tab is your main port of call, showing you your vital stats, training calendar, running fitness and recovery metrics, including your sleep, HRV index and even body mass (if you're diligent enough to continue recording it) at a glance. The "Activities" tab allows you to review your most recent workouts in more detail, while the "Explore" tab takes you to a GPS map feature that allows you to generate routes, which you can import into your watch as courses to be followed via breadcrumbs. 
Coros Pace 3: Features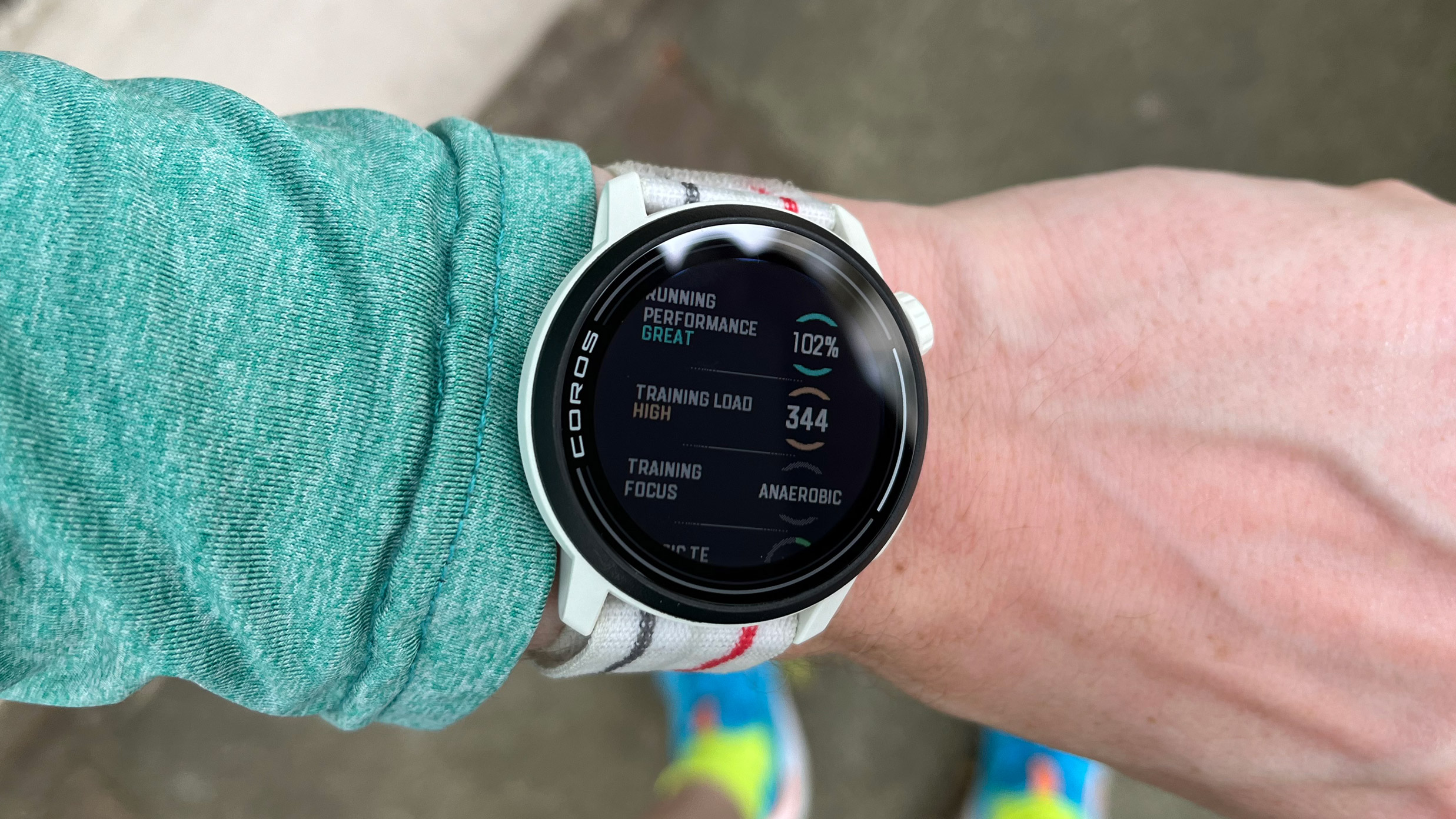 Tons of excellent metrics
Not many smart features
No app-based music control
Features-wise, there's a lot for runners to love here. The newly redesigned rear sensor array offers advanced heart rate metrics, including heart rate variability while you sleep, and BPM measurements taken at 10-minute intervals throughout the day. You can scroll back through the day on-watch using the rotating crown, or even further in the app. During a workout, those new optical heart rate sensors help to calculate aerobic and anaerobic power, your heart rate zones (explained in full, as opposed to simply numbered as they are in most watches), while the gyroscope looks at cadence and stride, and the GPS calculates elevation and distance. 
It's all presented in granular detail, but never feels impenetrable. It isn't quite as clean and slick as Apple or Samsung's presentation, but it's decent. Sleep tracking is present and feeds into recovery metrics, but no advice is given about how you can improve your sleep. As such, those looking for serious guidance or information about their chronotypes might be better off with one of the best Fitbit watches or the Samsung Galaxy Watch 6. 
Fitness tests can be taken and the results logged, and perhaps my favorite feature is "running fitness" – a catch-all widget that offers a granular score based on the performance of your most recent runs. It's a bit like Garmin's Endurance and Readiness scores all rolled into one, and the drive to push it up (it started me at 0! The cheek!) has kept me on the roads this week. 
However, as someone who doesn't own a lot of music and mostly relies on Spotify these days, I was disappointed about the lack of music control features. Music storage is available, but if you want to toggle stuff on your phone from your watch, you're out of luck. No loading your card onto your watch to make payments, either. If you want to do anything other than simply run, you'll need your phone with you. Call and text notifications are available, but no third-party app widgets or interfaces (other than Strava, and so on) also means no Whatsapp. Like the Polar Pacer Pro, it feels very much like a training tool. 
Coros Pace 3: Performance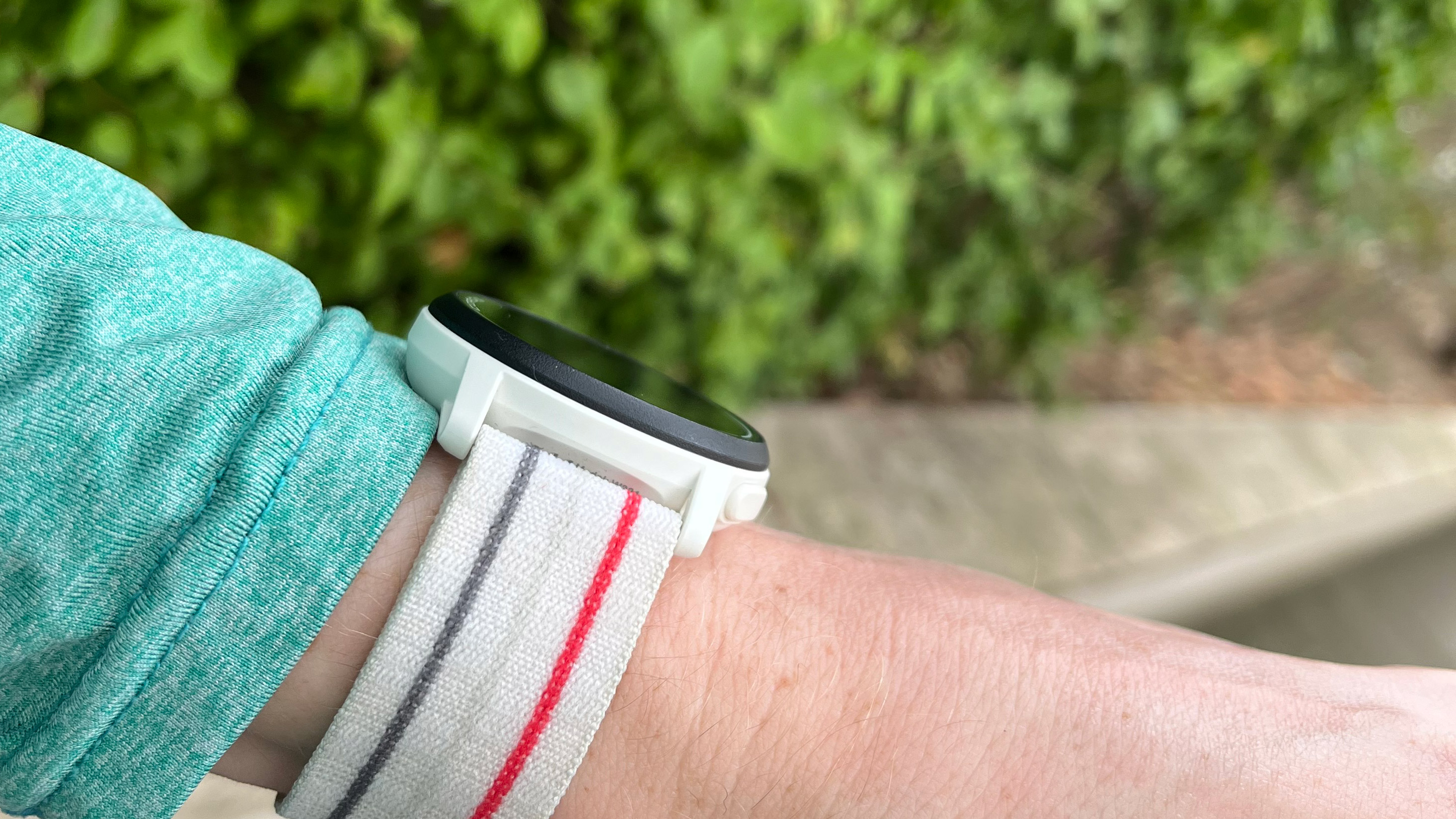 Super impressive battery life
Great performance on the road
Touchscreen a little laggy
I tested the Coros Pace 3 on several runs on holiday and at home, and was impressed with the quality, accuracy and breadth of the metrics collected. I was able to create a course in-app and follow it on the watch with little difficulty, although it's in breadcrumb format rather than full-color maps such as those offered by the top Garmin devices. I was very pleased with the graphs of cadence and stride length, and the Pace 3 even produces on-wrist running power – a feature even the best Garmin watches have struggled with until relatively recently. 
Each metric provides not only a graph, but a breakdown of the reasons it matters to your running performance and how it's measured. This might not sound like a big addition, but it's massively important: it makes the watch and the information it collects so much less impenetrable and far more accessible. GPS maps of your routes are present, although I'd like a Garmin-style heat signature map of your effort at certain points along the way. I also tried some of the other workout profiles, such as pool swims, and was impressed: I attained information about water temperature and stroke counts, which are essential metrics for triathletes. 
I was also blown away by the battery life. After casual use of GPS mode over 10 days or so after its initial full charge, my watch is sitting pretty at 40%. It looks like those claims of a full 24 days in Smartwatch mode, and up to 38 hours in GPS mode, are pretty accurate after all. Expect the watch to last around 18-20 days or so with moderate use, and probably two weeks for power users. This isn't to be sneezed at for any watch, but at this price point it's a revelation. Coros has been hard at work to extend the Pace 3's battery life, and it shows, even with an always-on display. 
However, one thing that did prove a little frustrating is the touchscreen. An LCD touchscreen was never going to match the silky refresh rate of an OLED Apple Watch, but I still ended up turning it off, using the buttons and rotating crown to move through the watch's internal architecture with little difficulty.
I ended my test a little irritated at the lack of the watch's smart features, but pleased overall with its performance on the road. 
Coros Pace 3: Scorecard
Coros Pace 3: Should I buy?
Buy it if...
Don't buy it if...
Also consider