Opera Mini is a mobile browser developed by Opera for Android. Although it previously worked on iOS devices as well, the service has been discontinued as of 2019 so that Opera can focus on the new Opera Touch browser.
As per the latest reports, Opera Mini has over 261 million users worldwide. A browser that's specially designed to help you work online even with a poor connection, Opera Mini has been a game changer for many. 
Is Opera Mini the best web browser for you? Read our review until the end to learn more about its features, perks, interface, and competitors before you try it.
Opera Mini: Features
Opera Mini is the perfect browser to choose if you're trying to work with a slow internet connection. It's lightweight, fast, and always tries to maximize data saving. Hence, it's also a great option for people on limited data plans.
Another way to save data and battery using Opera Mini is to reduce the resolution of your images and videos. Videos with HD resolution naturally take up more data. They're also slow to load. With Opera Mini, you can hop onto your browser settings and reduce the default resolution to save both time and data. For resolution, you have three options to choose from — low, medium, and high. If you want to save more time, you can also choose not to load pictures at all. Consider it a Reader mode where you can access the textual content faster without the distraction of images.
If you're using Opera Mini on Android, you can switch to Turbo mode, which will maximize data saving. While this feature works like magic if you want to access the internet under a poor network, a lot of heavy websites (the ones with a lot of visual elements) do not load smoothly. The Turbo mode also boosts speed and reduces data consumption by automatically blocking ads. The added benefit of this feature is your videos, and online streams are no longer interrupted by pop-ups.
If you're okay with low resolution, you can also use Opera Mini's "Video Boost' feature. This tool will compress your videos so that it runs without buffering, even in poor network conditions. Don't worry: you don't have to compromise on the quality of your internet experience — you can turn off any or all of the options discussed above anytime you want.
Currently, Opera Mini supports over 42 languages, so you can change the language of the browser to Hebrew, Tamil, Afrikaans, or any of the other options you like. 
Opera Mini: Privacy
Opera Mini has almost the same privacy features as Opera. You get built-in ad and tracker blockers. The ad blocker prevents annoying pop-ups from disrupting your browsing experience, whereas the tracker blocker prevents third-party marketing software from collecting your personal information.
Also, Opera Mini comes with a built-in VPN that lets you browse the internet anonymously. You can look up anything you want without leaving a trace. VPNs protect your data from hackers, ISPs, and even the government officials of your own country.
The Opera Mini VPN will also make it impossible for outsiders to get your IP address, location, and other personal details that they can use to impersonate you.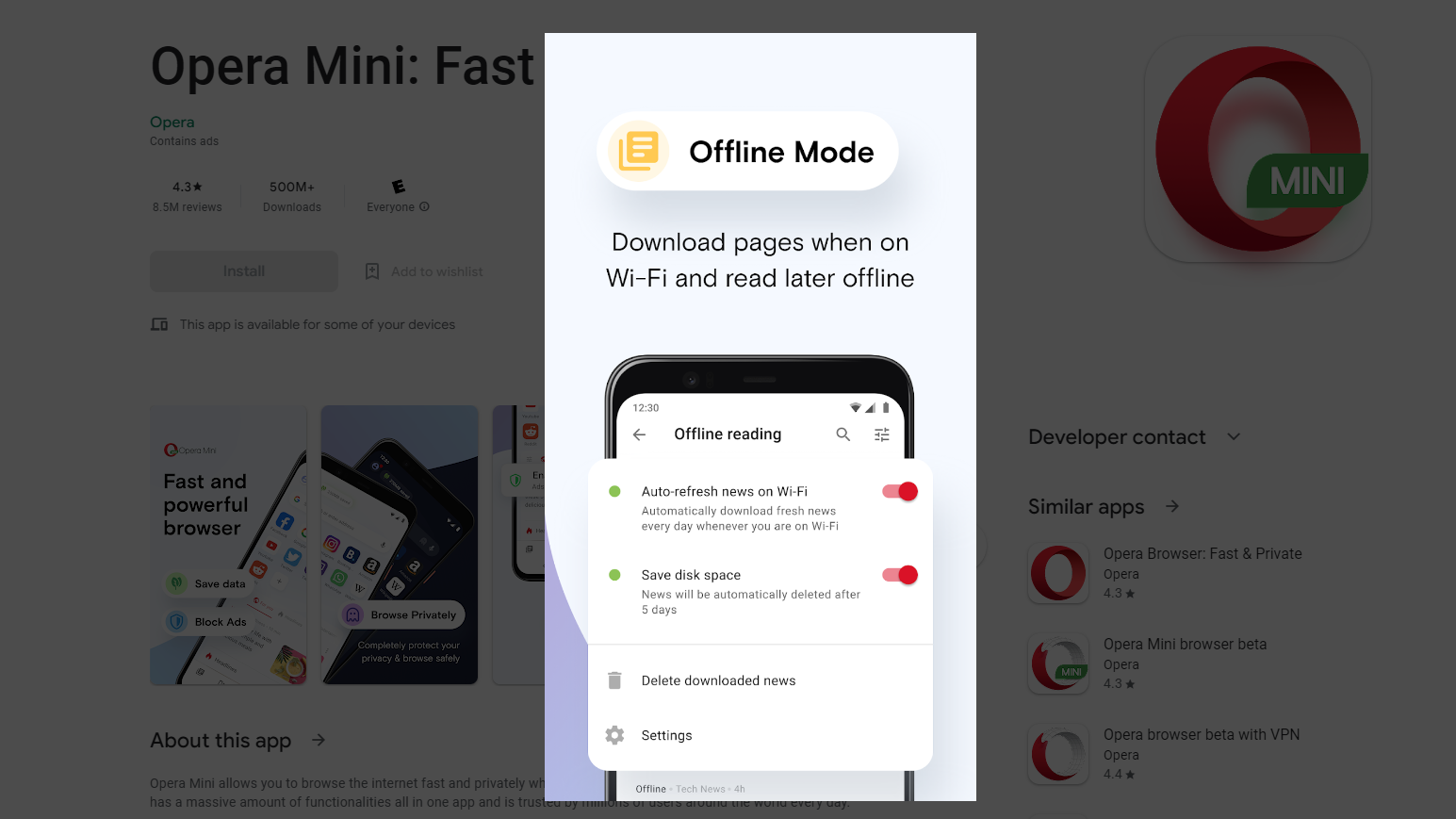 Opera Mini: Ease of use
Opera Mini's interface is clean, smooth, and quite easy to understand. If you compare it to alternatives such as Firefox or UC browser, you'll find that Opera Mini is much less chaotic.
Even when you're multitasking with lots of tabs open at the same time, Opera Mini will stack them up all neatly and keep your workspace coherent.
The structure and position of the elements are a lot like Chrome. So you'll also find a list of shortcuts and quick links right under the search bar.
There's a wide range of theme options you can choose from, including a night mode that protects your eyes from over-straining during long hours of work.
Opera Mini: Competitors
Opera Mini has more than 261 million users worldwide, so it's safe to say that it's doing quite well in an already competitive industry. It might not be one of the top leaders in the search engine market, but that doesn't stop it from giving tough competition to Chrome or Edge.
Unlike Chrome and Edge, Opera Mini provides a free VPN that keeps you and all your online activities anonymous. It also protects your data from the prying eyes of hackers and ensures that your internet activities cannot be traced back to you. 
Also, since Opera Mini doesn't track you and the VPN keeps your credentials secret, every result you get on a search is 100% authentic and free from any biases.
Now, Firefox and Avast are revered for their security systems, but Opera Mini still manages to edge past them on a few grounds. For example, while all three browsers offer free VPNs and ad blockers, Opera Mini is the only one that provides stable service even under a poor network connection.
It's also the only one that gives you the liberty to choose from multiple data-saving options instead of accepting a non-customizable group of features imposed by the browser.
Opera Mini: Final verdict
Opera Mini is clearly the best choice for Android users looking for a minimal, easy-to-use browser with lots of data-saving features. 
It's built to perform well even with a poor network connection. In fact, even your videos and games will run smoothly and without any buffering.
For those who don't like the interruption of images and other visual content during reading, Opera Mini lets you turn off loading images altogether. This way, your content will load faster plus consume less data.