Writing content at a fast pace but keeping the quality high is often a challenge for writers. Enter CopySmith, an AI-powered writing platform designed to assist content writers in crafting compelling copy faster than ever before. 
Want to try CopySmith? Check out the website here
In this CopySmith review, we'll explore the platform's plans and pricing, features, interface, support, security, competition, and provide our final verdict on whether it's worth your investment.
Plans and pricing
CopySmith offers three different paid plans to cater to various user needs:
Features
Copy Smith can generate high-quality content in various formats, including blog articles, product descriptions, and social media posts. Its engine can optimize content for SEO, enhancing its potential to rank higher in search engine results. Copy Smith's AI can also personalize content for different audiences based on age, location, and interests, improving engagement rates. The choice of tone that the platform offers can help you tailor the content closer to your brand's voice, but this feature will require much more input from the user's side.
The platform has numerous other features that are divided through templates, but here is a quick overview of the main ones:
1. GPT-3 Powered AI: The platform utilizes Generative Pre-Trained Transformer 3 (GPT-3) technology, enabling it to generate high-quality copy based on user input.
2. Variety of Templates: CopySmith offers templates for product descriptions, social ads, startup tools, website copy, email/letter, content creation for social media, sales copy, and writing tools such as story plots, hero introductions, and cliffhangers.
3. Blog Post Generator: This feature allows users to create entire blog posts from just a few pieces of inputted information.
4. Content Rewriter: If you need to edit parts of the text, the content rewriter function simplifies the process by automatically rephrasing selected copy.
5. Plagiarism Checker: CopySmith ensures that every piece of copy it generates is original by conducting in-depth plagiarism checks. This feature is limited to your chosen pricing plan, with only 20 in the Starter.
But, no matter what subscription plan you have, your copy is reassuringly safeguarded against plagiarism. Copysmith states that as its AI technology generates copy, word by word, its content passes all of the main plagiarism checkers(opens in new tab) (such as Copyscape).
Copysmith has a Google Chrome extension that's available to download from the Chrome Web Store. It enables users to access Copysmith's copywriting tools in a fast, convenient way from any webpage on any device, which is handy for creating and sharing copy on the spur of the moment. Furthermore, various other integrations are available, again dependent on your pricing plan, from Shopify to Zapier, making the platform quite versatile.
Interface and in use
CopySmith's user interface is clean, intuitive, and easy to navigate. Users can quickly select templates, input keywords and descriptions, and generate copy within seconds. The platform's AI technology is fast and efficient, producing accurate copy most of the time. However, if the results aren't quite right on the first few attempts, users can revise their keywords and descriptions to improve the output.
You can also quickly access tutorials and news updates via the left-hand side column on the home dashboard. Additionally, you can create folders to organize copy for various projects, while in the center of the home screen, you can browse and select templates and access individual files.

All in all, the  layout of the platform is quite intuitive and easy to use. If you're looking for add-ons, you can easily reach them through the menu on the left. Adding them is easy, with a single click you can add everything you need for the platform.
Support
Copy Smith's support team is available via email and chat. Users can access the chat feature directly from the platform's dashboard, which is a convenient way to get quick assistance. Additionally, Copy Smith offers a knowledge base that contains helpful articles and tutorials that users can refer to if they need more information about the platform's features and functionality.
Copysmith provides fast, attentive customer support. You can get in touch with the team via Facebook, LinkedIn, Instagram, and Twitter if you prefer social media. We emailed Copysmith with a few questions and queries, to which they gave us a helpful response within 24 hours. There are also FAQs and blogs on the Copysmith website.
Copysmith's active Features Request page demonstrates that they keenly listen to customer feedback. Here, customers can post requests for new or improved features, which the Copysmith team regularly replies.
Enterprise customers are given an account manager, personal onboarding services, and coaching on how to use new Copysmith features as and when they're introduced.
Test
We've given the platform's writing capabilities a quick test to see how it handles a simple topic. The goal was to cover "Artificial intelligence helps writers be more succinct," we used the platform's "Command Copy" feature to write the article.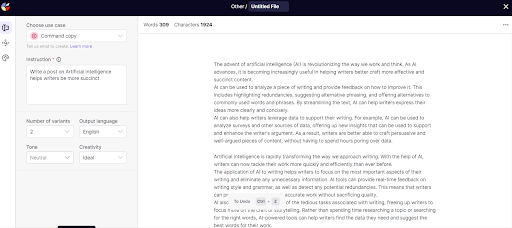 The results that we received from the platform were very good, with sentence structure and phrases that the platform chose corresponding to what a real content writers would do. On closer inspection, it is clear that the copy was written by an AI with some wording giving it away; however, the results can be used with some rewriting. Therefore, if you're looking to expand a topic or create unique angles, you can do that with CopySmith. On the other hand, if you're looking to automate all of your content creation with a single click of a button without actually writing anything yourself, you will have to wait for another platform and AI to advance even more.
Security
Data security is a top priority for CopySmith. The platform employs robust encryption methods to protect user data and ensure privacy. Furthermore, CopySmith is GDPR compliant, adhering to strict data protection regulations.
Moreover, the platform uses Google's Firebase to ensure that all your data is protected with AES 256-bit encryption. You can securely access your Copysmith account by signing in with Google, which bypasses the need to create a separate username and password.
The competition
The competition is quite stiff for these types of tools, with Jasper AI being a strong candidate. Jasper offers numerous template and integration options, providing content of similar quality. Jasper is more expensive, but offers greater versatility when it comes to content creation, overall.
Longshot AI is another platform that rivals both Jasper and CopySmith. It boasts the greatest set of integrations and quite a few templates. Furthermore, it has a custom AI model that is quite powerful and can create unique text that passes plagiarism checkers.
Final verdict
If you're looking for an all-in one content creation tool, then CopySmith can be of immense benefit. It can create an original copy in seconds, though you have to make sure to proofread everything it creates to ensure that it's factually correct.  One of the most significant advantages of using Copysmith is the time-saving aspect. Content writers often find themselves juggling projects and deadlines, which makes high-quality content creation challenging. Copysmith's AI-powered technology allows us to generate well-crafted content in just a matter of seconds, freeing up valuable time to focus on other essential tasks or even explore new creative ideas. This approach perhaps best illustrates the future of AI when it comes to content creation, a supplementary tool, not something that will completely replace humans. 
Its core AI function is combined with a user-friendly interface and an appealing selection of helpful marketing templates, making the whole Copysmith package accessible to a wide range of users with various marketing objectives and experiences.