Amazon Fire TV Omni QLED: Two-minute review
The Amazon Fire TV Omni QLED is the latest entry into the Amazon Fire TV market, and unlike the other 2023 Fire TV Omnis, it uses QLED technology in an effort to add extra brightness and detail to the picture compared with the more basic LED-lit 4-series and 2-series. 
Competitively – aggressively, even – priced, the Amazon Fire TV Omni QLEDs offer a big screen size for a smaller price tag compared to most of the best TVs. Launched in April 2023 (for the 65-inch) and June 2023 for all other sizes, prices for the Omni are low enough by default, but are almost certainly a Black Friday 2023 and Amazon Prime Day 2023 deal waiting to happen. 
In terms of picture quality, the Amazon Omni QLED isn't going to rival the best OLED TVs anytime soon. But, with vivid colors, decent contrast and a surprisingly detailed and natural image with certain movies and TV shows, the Omni QLED's picture excels for its budget price. There are some backlight blooming issues, and black levels aren't the best, but at this price it's hard to argue against. 
Sound quality on the Omni QLED is serviceable as long as you have the sound mode set to Movie. Bass levels are punchy and speech is clear despite its basic 2.0-channel 12w speaker system, but if you're looking for a big sound, you'll be better off looking at pairing the Omni QLED with one of the best soundbars.
The Amazon Omni QLED's design is nice enough, with an attractive silver frame and slim bezel around a slightly chunkier build. Its main downfall is its supplied feet which, whilst feeling solid, are so deep and far apart that people will need to have specific stands or furniture to put the Omni QLED on.
Gaming performance on the Amazon Omni QLED is surprisingly good, as are its features, for a cheaper TV. Whilst not as kitted out as the best gaming TVs, the Omni QLED does offer 4K Dolby Vision gaming, VRR and ALLM on its one HDMI 2.1 port. 120Hz support is all it's missing, but at this price range that's not a common feature anyway. 
Fire TV is a solid smart TV platform, which can offer recommendations based on your viewing across multiple apps. There aren't as many picture settings to adjust as other TVs but there are still plenty to tweak. Ambient Experience offers a nice bonus feature that can turn a drab, black screen during standby into a work of art. There are definitely some stutters and stops when navigating Fire TV, but it still offers a lot of options in terms of features.
Value is one of the Amazon Omni QLED's strongest categories, with the features on offer in terms of picture, gaming and smart TV greatly exceeding its budget price. TVs from rivals like Samsung, LG, Hisense and TCL don't offer the same in terms of overall spec when compared to the Amazon Fire TV Omni QLED. As an almost certain inclusion within Amazon Prime Day and Black Friday, we could even see that excellent value increase very soon. 
We used the 65-inch Amazon Fire TV Omni QLED for this review.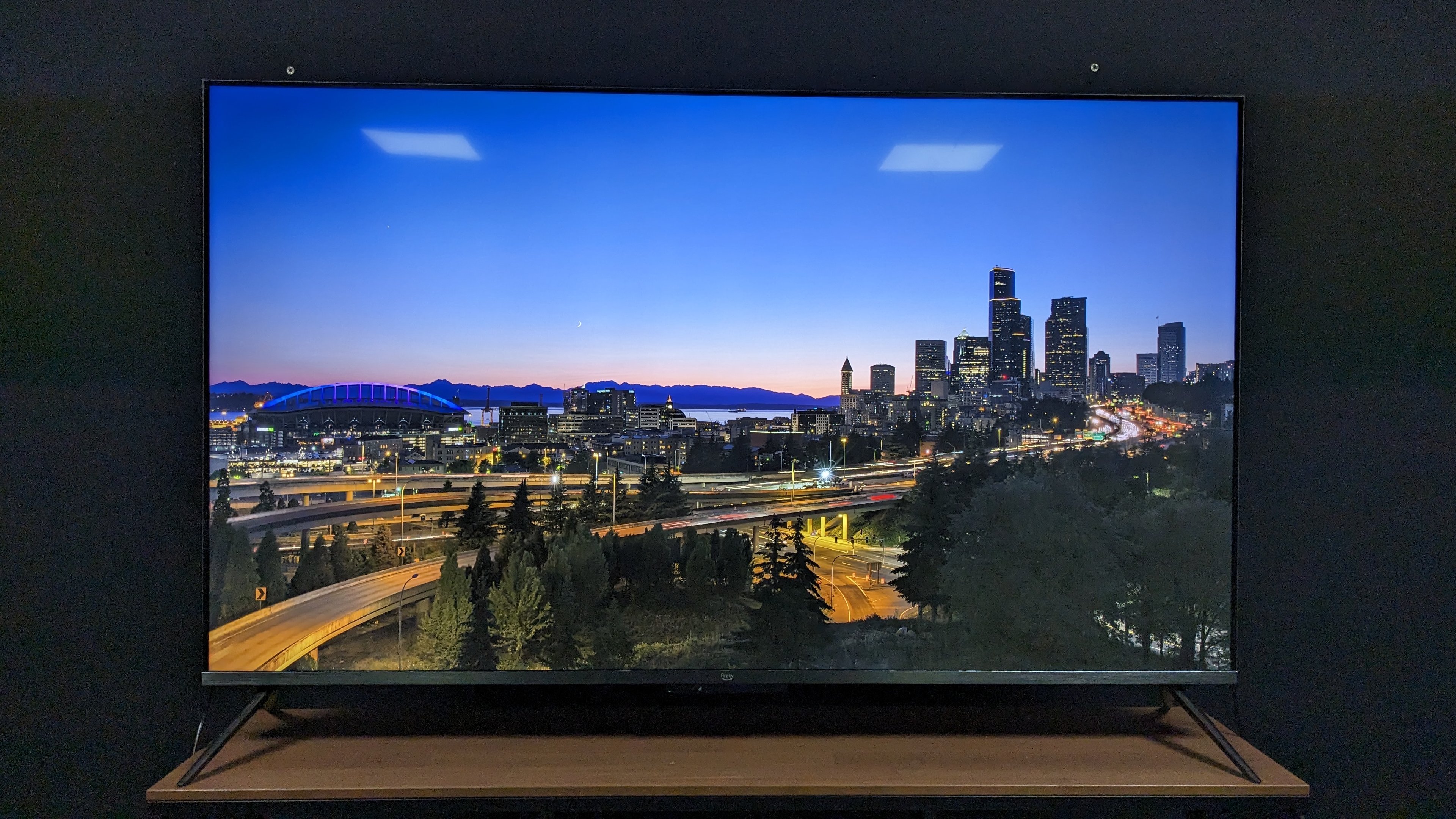 Amazon Fire TV Omni QLED review: Price and release date
Released: April 2023 (65-inch UK/US), June 2023 (43, 50, 55-inch UK/US and 75-inch US only)
Price starts from $379/£549 
Up to $599/£999 (65-inch) and $899 (75-inch US only) 
The Amazon Fire TV Omni QLED is part of Amazon's 2023 Fire TV lineup, also featuring the Fire TV 4-series and Fire TV 2-series. The Amazon Omni QLED range is only available in the US and UK, and there is no official word on an Australian release at the time of writing.
The 65-inch was released first in April 2023 with prices at that time being $799/£999. In June 2023, the rest of the range was released with prices being $449/£549 for the 43-inch, $529/£649 for the 50-inch and $599/£749 for the 55-inch. The 75-inch model, priced at $1,099 at time of release, was only available in the US at the time of writing.
A few months on, and prices have dropped. At the time of writing in the US, the Omni QLED starts from $379 for the 43-inch to a very competitive $899 for the 75-inch. The 65-inch, featured in this review, currently sits at an incredibly affordable $589. The pricing for the Amazon Omni QLED is always changing and we expect this to be the case on Amazon Prime Day 2023 and Black Friday 2023, with some excellent discounts to be had. So if prices go back up again, be sure they will come back down.
Amazon Fire TV Omni QLED review: Specs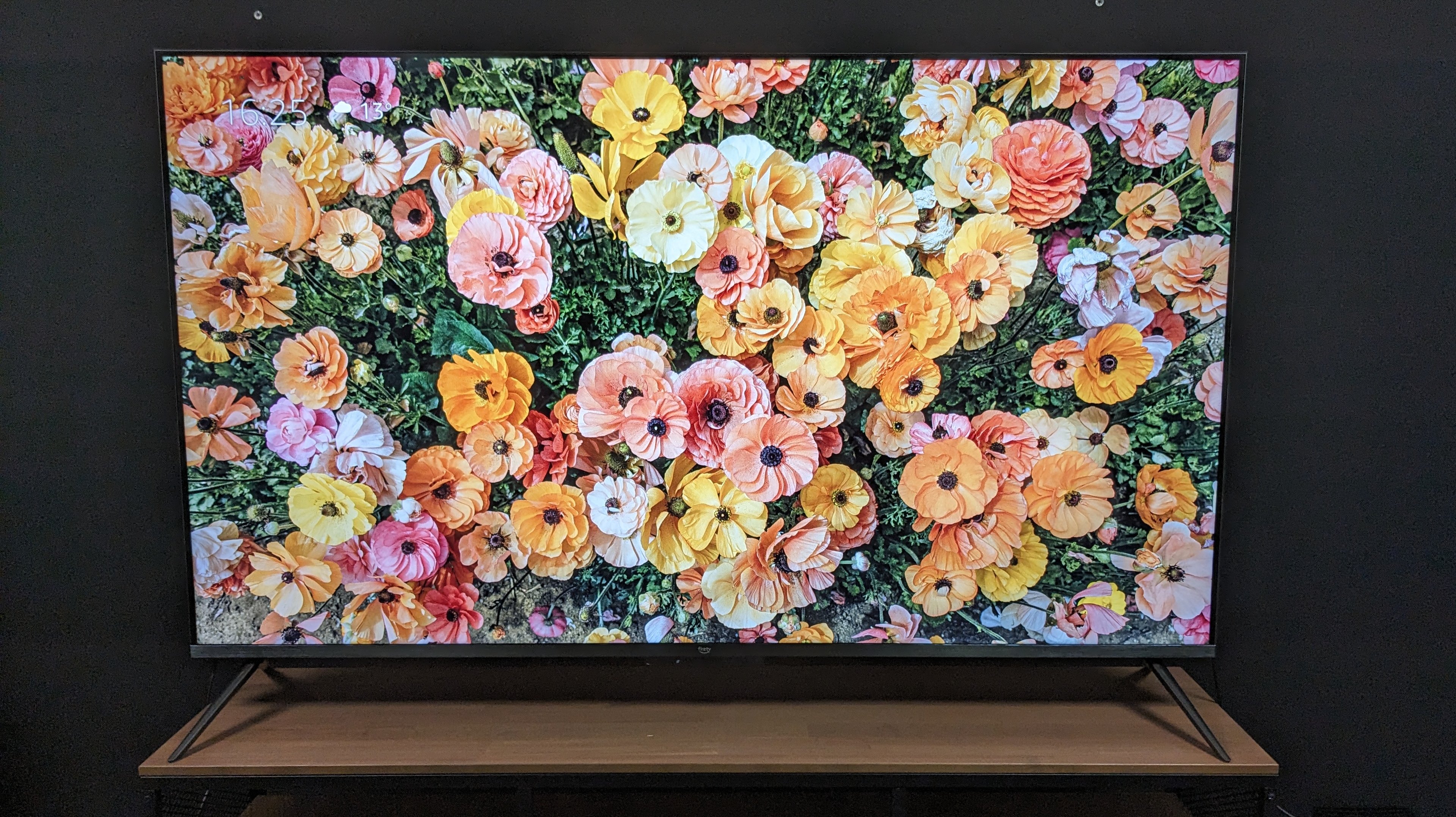 Amazon Fire TV Omni QLED review: Features
4K QLED panel 
Ambient Experience 
Dolby Vision IQ and HDR10+ Adaptive HDR support 
The Amazon Fire TV Omni QLED doesn't have the connections a lot of more premium TVs offer, but for a budget TV it does come with a surprising amount of features packed into it.
The Omni QLED features a QLED display with full array local dimming in sizes 50-inch and up, while the 43-inch has direct LED backlighting (but no local dimming). In terms of HDR support, the Omni QLED features Dolby Vision IQ and HDR10+ Adaptive, both of which analyze the viewing environment to adapt picture quality. 
When it comes to gaming features, the Amazon Omni QLED doesn't support 120Hz gaming, but it does support Dolby Vision gaming, VRR and ALLM, all of which are welcome additions for a TV priced like the Amazon Omni QLED. However, its one HDMI 2.1 port is also its eARC port for connecting to a soundbar.
Fire TV is the Amazon Omni QLED's smart TV platform, and offers plenty of options in terms of recommendations and customization. If you log in with your Amazon account, you can track what you've been watching as well as your most recently used apps, and Amazon will make recommendations based on your viewing and show the top trending videos.
Two other features integrated within Omni QLED are Ambient Experience and hands-free Alexa voice control. The Ambient Experience uses the premise of Samsung's Art Mode from its Frame TVs (where artwork is displayed when the TV is in standby as opposed to a blank screen) but can also show time and date, smart widgets such as weather, and also play music and podcasts in the background. Hands-free Alexa voice control, once enabled, allows navigation of the Fire TV menus without any need for touching the remote.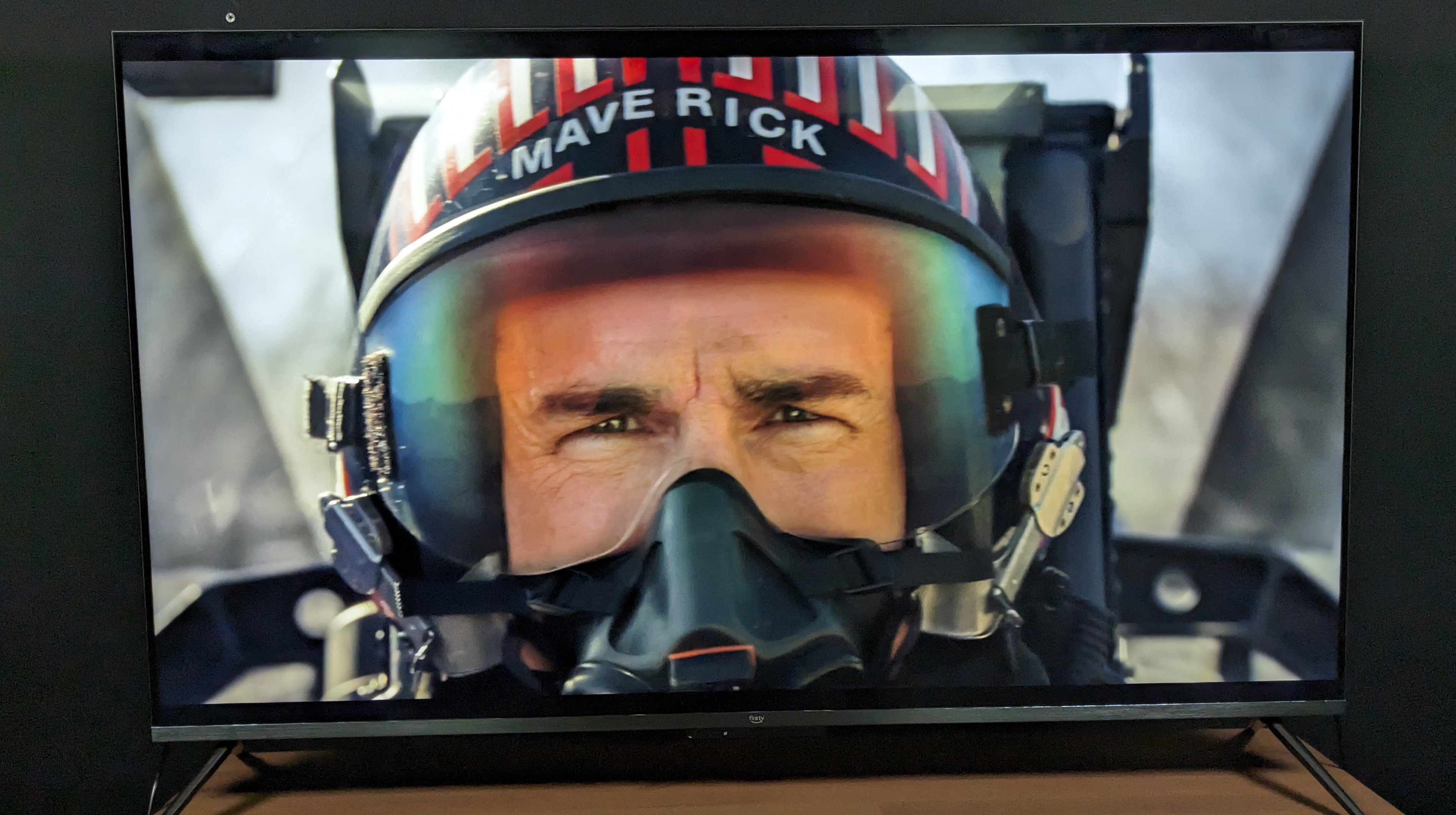 Amazon Fire TV Omni QLED review: Picture quality
Colors are surprisingly good 
Average black levels 
Natural-looking image 
For a budget TV, the Amazon Omni QLED delivers respectable brightness levels that are similar to last year's Samsung Q60B, another entry-level QLED set. I measured the Omni QLED at HDR peak brightness of 531 nits in Standard picture mode, and 402 nits in Movie Dark mode on a 10% window when tested. Although there is a Movie Bright mode that would have no doubt yielded a higher brightness result, the Movie Dark mode was the most accurate picture preset, and displayed the best picture on the Omni QLED. For a QLED screen, these results were a little dimmer than I might like, but as I mentioned, they're comparable to other budget options.
When measuring the Delta-E values (the margin of error between an accurate test pattern source and what's shown on screen), we typically look for the average result to be under 3, since this is considered indistinguishable from perfect to most people. When measuring grayscale results (to test how it handles different levels of darkness) in Movie Dark mode, the result was 4.3, so a little disappointing – but this is somewhat expected with an LED screen. However, in terms of color accuracy, the Omni QLED's Delta-E average was 1.99, which is an excellent result especially for a TV at this level. It's worth noting adjustments in picture can be made to improve those numbers, but these were the out-of-the-box results. 
I measured coverage of the DCI-P3 color range (used for mastering 4K movies and digital cinema releases) at 97.3% and BT.2020 at 74.3%. These are very good results again, and definitely rival some of the other best 4K TVs available. 
Despite these mostly positive results, there's one clear weakness to its pictures: standard definition content. It had a muddy, fuzzy look to it. HD and 4K pictures are strong, as I'll come to in a moment, whether that's in HDR or SDR. But especially on this 65-inch model, low-resolution viewing wasn't a great experience.
When testing 4K content with Dolby Vision next, I used several scenes from various Star Wars movies streamed through Disney Plus. Switching between the TV's Dolby Vision picture modes, Dolby Vision IQ did a good job of adapting the picture to suit the different lighting conditions that could be set in the testing room, but again I found the dark preset (Dolby Vision Dark) to be the best for quality. Despite the lack of any anti-glare screen coating, the Omni QLED also did an adequate job in regards to reflections, reducing the visibility of harsh overhead lighting effectively. 
During the throne room fight in Star Wars: The Last Jedi, the colors were dynamic and punchy, and the Omni QLED displayed the predominantly red color well without making it looking overblown. Whilst contrast levels were decent, any black within the scene did take on a dark-gray tone, showcasing the shortcomings of the QLED screen's full-array local dimming compared to mini-LED or OLED TVs.
HDR demo video on the Spears & Munsil UHD Benchmark disc showed that in brighter nature scenes, color again was accurate. Images had a surprisingly natural quality to them as well, with good texture to animals and landscapes. During some of the night scenes, particularly of a city, contrast levels were good overall but again the black levels weren't that deep, and there was some backlight blooming from light to dark areas, especially in scenes where the night sky took up a lot of the screen. 
When it comes to motion, the Omni QLED did a great job of processing Top Gun: Maverick's jets in full flight, cleanly capturing fast panning shots and extreme changes in motion. There was the odd judder, but after changing motions settings to off or low – some motion processing can still be helpful with the Omni's 60Hz panel – this improved. It was also here that I noted just how detailed people looked on the Omni QLED, with a close up shot of Maverick's face showcasing surprising deep levels of detail.
The Omni QLED may not have the best picture on the market, but considering its price range, I was surprised with just how detailed and vivid its picture was and how well it punches above its weight.
Picture quality score: 4/5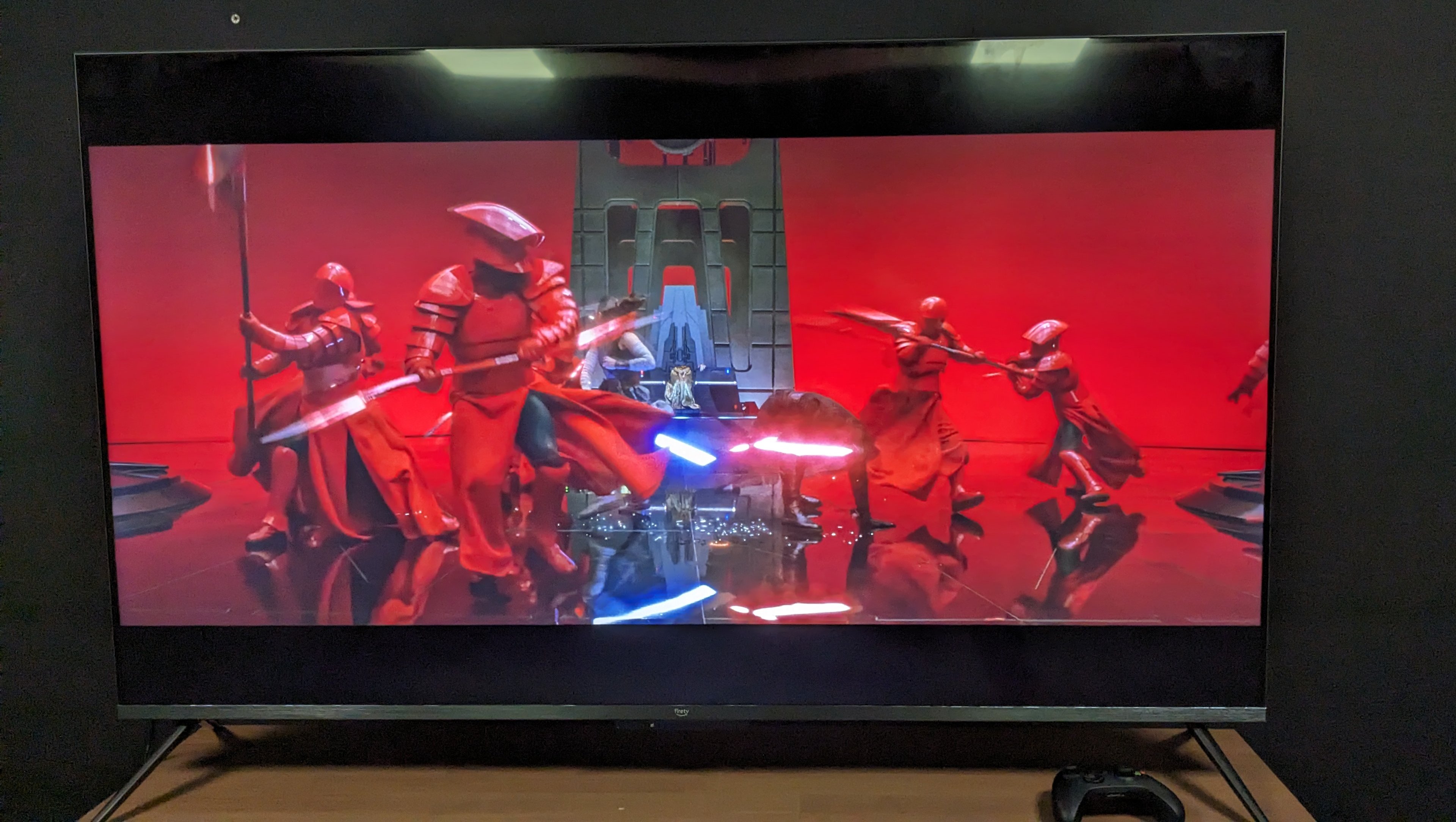 Amazon Fire TV Omni QLED review: Sound quality
Clean, direct sound in Movie mode
Decent speech levels
No Dolby Atmos support
With a 2.0-channel speaker system, the Amazon Omni QLED's sound isn't going to set the world alight. In Standard mode, audio quality is a bit thin with very little bass and treble, as demonstrated in the opening scene of Top Gun: Maverick, where opening track music lacked any sort of drive. 
However, changing the sound mode to Movie completely altered the dynamic of the Omni QLED's sound. Bass levels were elevated and the rumble of the engines from the jets in Top Gun: Maverick was much more powerful and direct. Speech levels were also surprisingly clear, with dialogue being audible even during moments where characters spoke through a crackling radio. 
Yes, there's no Dolby Atmos support but it seems that Amazon's intention was to create a powerful built-in TV sound that was direct and clear, and to an extent they have succeeded. Dolby Atmos would be nice but it's not something you necessarily find in TVs of the Omni QLED's price range.
The built-in TV speakers should suit most people and situations but if you are looking for a bolder sound, it may well be worth considering a soundbar just to add that extra level of depth.
 Sound quality score: 3.5/5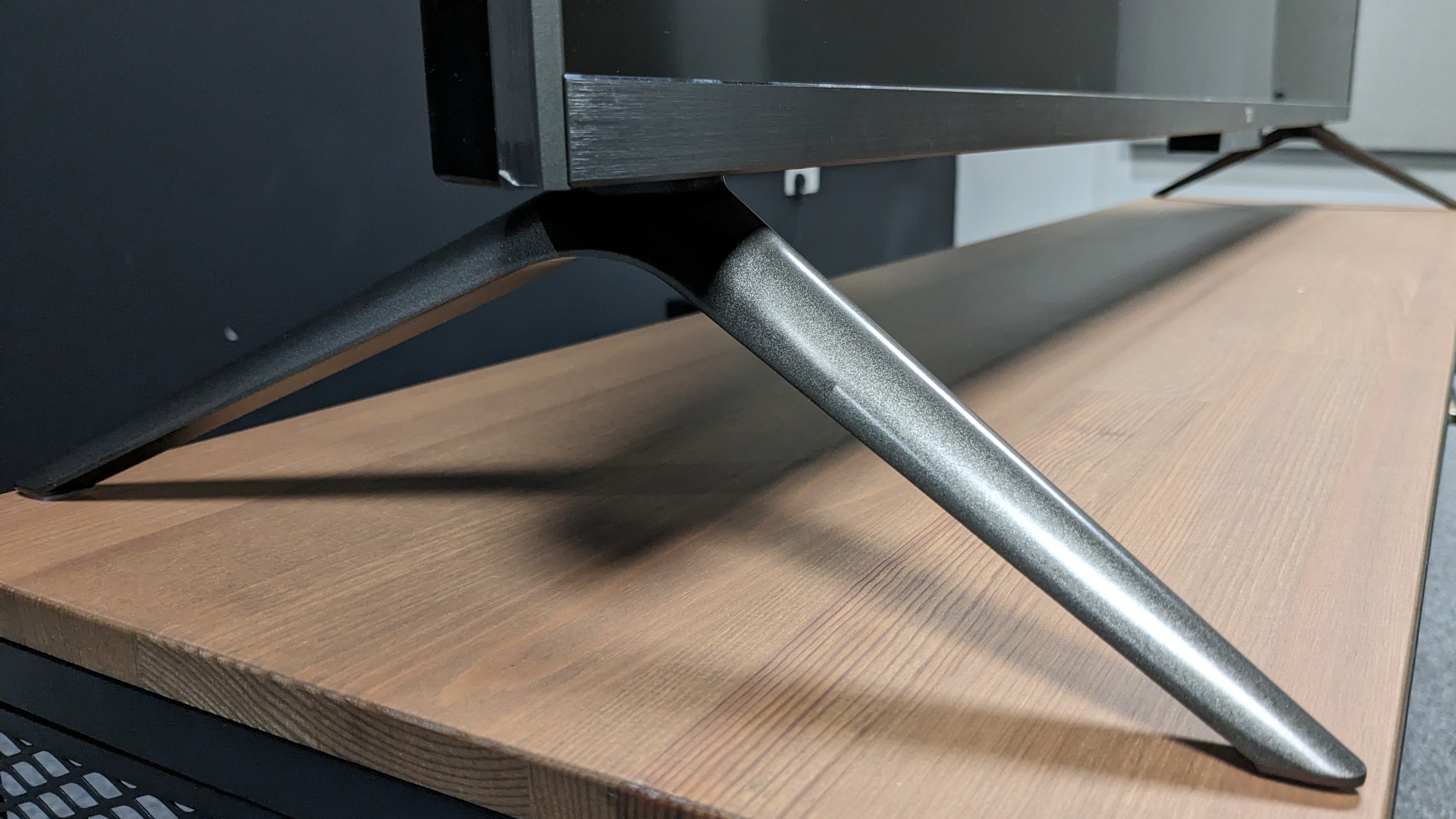 Amazon Fire TV Omni QLED review: Design
 Attractive, gray steel frame 
 Deep feet supplied with TV 
 Fire TV Alexa remote 
The Amazon Omni QLED features an attractive steel-look frame in a silver, metallic finish. At 8.4cm, it isn't the slimmest TV, especially in comparison to Samsung's ultra-slim LCD TVs which sit in a similar price range. However, the trim of the screen itself is minimal, meaning you get a nice screen-filling picture.
One of the most noticeable design features, and one that could be a drawback for some people, are the feet provided with the Amazon Omni QLED. Although they are fairly sturdy, they are a little deeper than your average TV stand/feet. This could be an issue for some TV stands and other furniture. The Ikea TV stand we used for testing just about fit the 65-inch Omni QLED's feet (as shown in above pic) – we've had the 65-inch LG G3 on here with no worries about it fitting. 
The remote supplied with the Omni QLED is the Fire TV Alexa remote. Slim and small in nature, the remote is compact and feels light. Simply by pushing the blue button at the top, you can access Alexa voice control if you don't wish to use the hands-free option.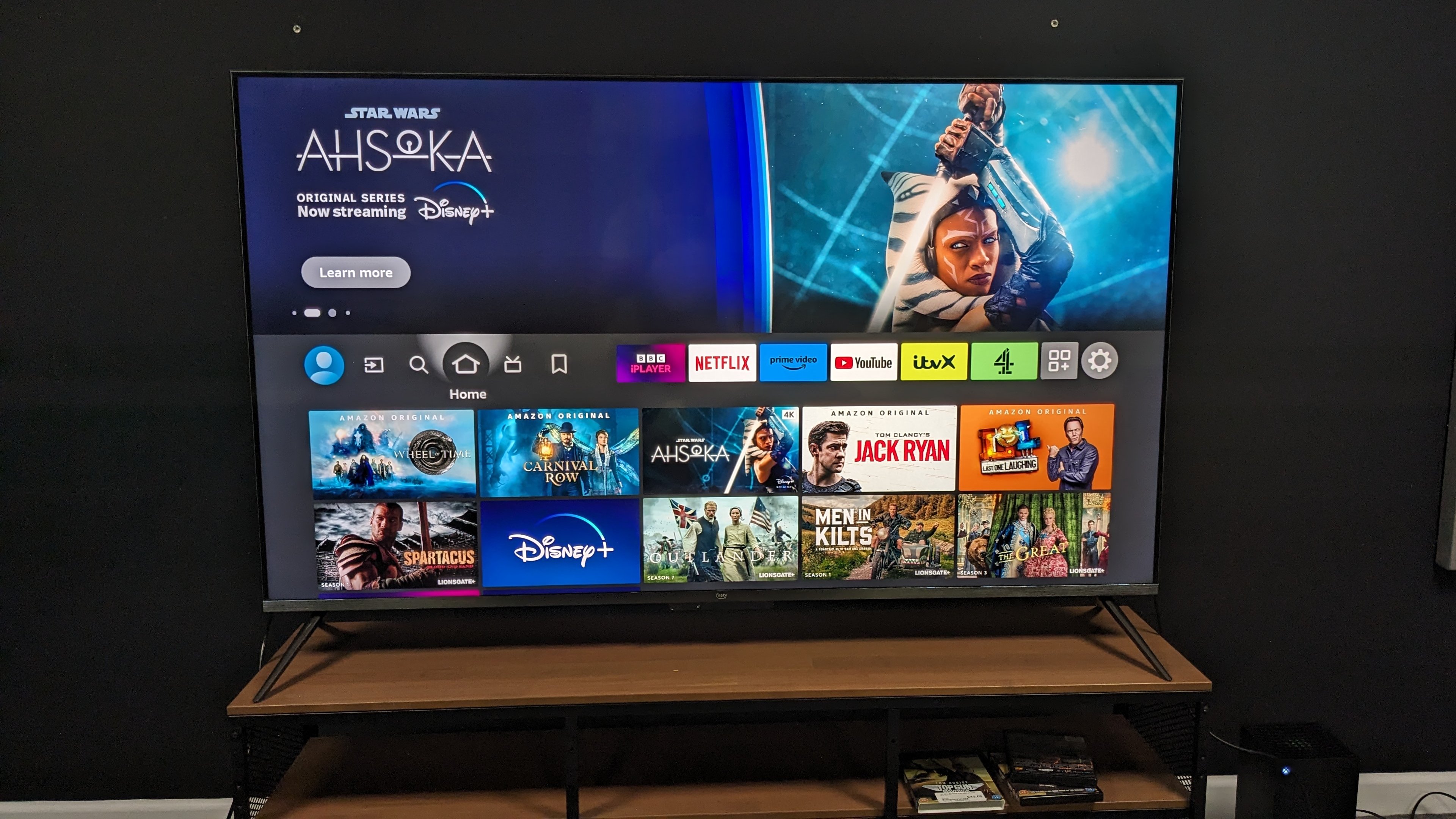 Amazon Fire TV Omni QLED review: Smart TV and menus
 Fire TV smart TV platform 
 Extensive recommendations 
 Slightly clunky navigation 
The Amazon Omni QLED comes with the Fire TV smart TV platform, unsurprisingly. Offering a wealth of recommendations, Fire TV tracks your viewing habits to tailor these based on genre and across multiple streaming sites. Logging in with your Amazon account further adds to what you'll get in terms of suggestions, customization of menus and more.
One of the most recent additions to Fire TV is a feature called Ambient Experience. Reminiscent of the Art Mode feature found on Samsung's Frame TVs, Ambient Experience will display artworks or your own photos on screen when the TV is in standby mode. You can also display other widgets such as weather, smart home features, music and more. Speaking of music, you can even play music in the background whilst Ambient Experience is on.
In terms of menus, the main Fire TV menu is easy enough to navigate through but changing settings such as picture mode, input and so on is not as easy compared to other smart TV platforms. To access these settings, you have to hold down the home button rather than a settings button, which definitely slows down the process. 
One thing I did find during testing was that, although easy to navigate, Fire TV felt clunky at times. There were often frequent pauses and stutters when accessing apps, changing settings and browsing through menus, which hindered the experience a little, although thankfully these stutters weren't common. 
Another feature of the Omni QLED is the Alexa voice control which can be accessed via the remote or, if enabled, via the Omni QLED's built-in mic for hands-free voice control. Alexa functioned well when it came to navigating Fire TV and when issued with the command to find a particular movie, it would find that movie on all possible sites, allowing for user choice.
Smart TV and menus score: 3.5/5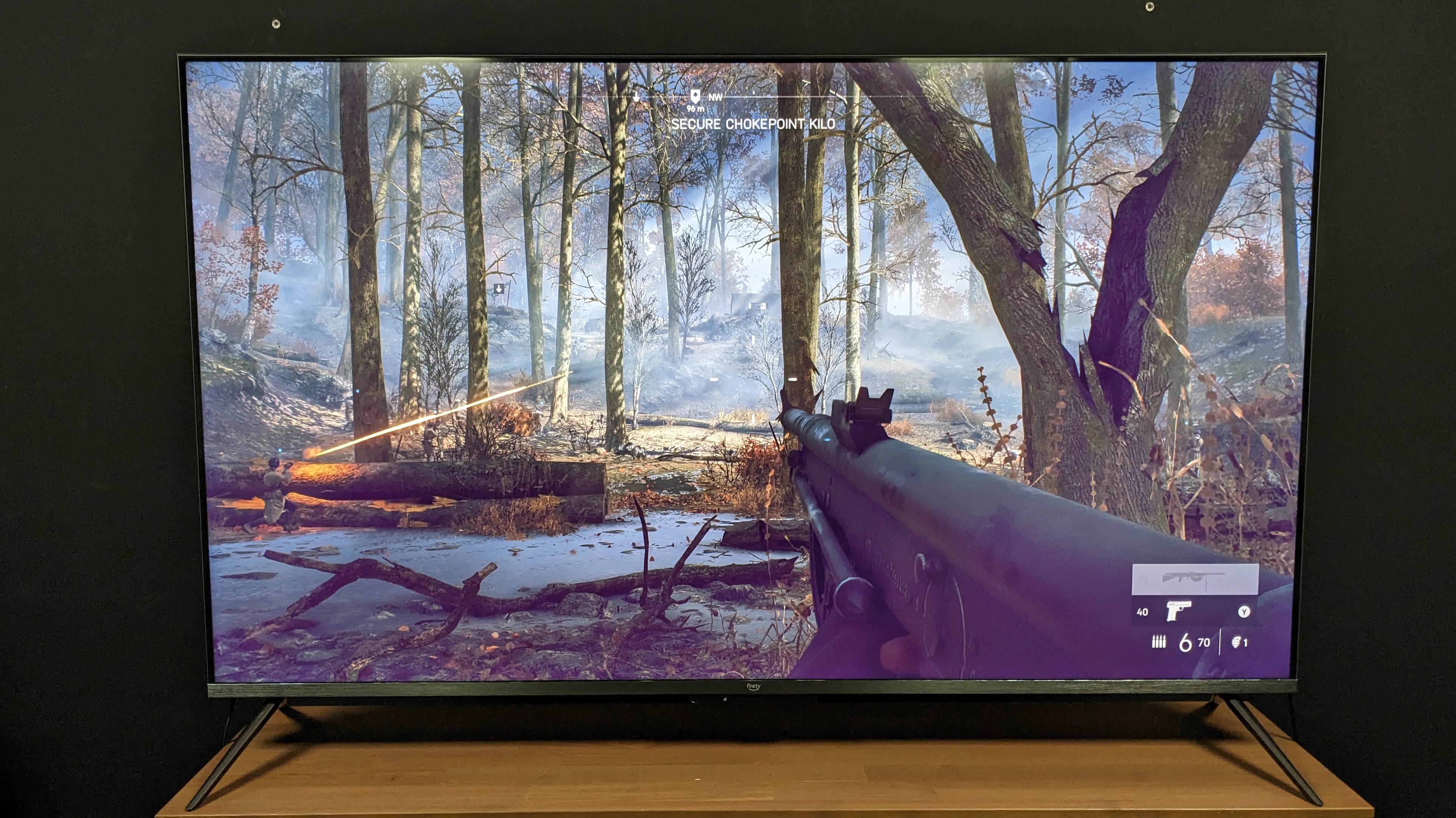 Amazon Fire TV Omni QLED review: Gaming
 Dolby Vision gaming support 
 No 120Hz HDMI 2.1 support 
 Low 10.4ms input lag 
In terms of gaming features and performance, the Amazon Omni QLED delivers surprising results. The Omni QLED offers a decent picture with enough detail to make it a real viable budget gaming TV. During a night mission on Battlefield V, played through an Xbox Series X, landscapes looked natural and the weapon on screen had plenty of detail within it. Sadly, the night mission did showcase more of the slightly lacking black levels within the Omni QLED's picture. 
With Game mode switched on, the Omni QLED processed intense moments well. Switching between targets and motion processing felt smooth, with changes from sections of calm into action feeling seamless. This is in part thanks to the Omni QLED's very low input lag time. Using the Leo Bodnar 4K input lag tester, the Omni QLED yielded a result of 10.4ms, which is an excellent result for a TV at this price and even rivals some of the best 120Hz TVs. 
Another welcome addition is the inclusion of gaming features like 4K Dolby Vision gaming support,and even VRR and ALLM, which are not always included on TVs within this price range. The Omni QLED offers multiple Dolby Vision game picture modes as well to give more choice to players on how they want their HDR to look in compatible games on the Xbox Series X.
The Omni QLED may not be the most comprehensive gaming TV, with no 120Hz support on any of its HDMI ports, but it's hard to argue against what it does offer for gamers at such a budget price.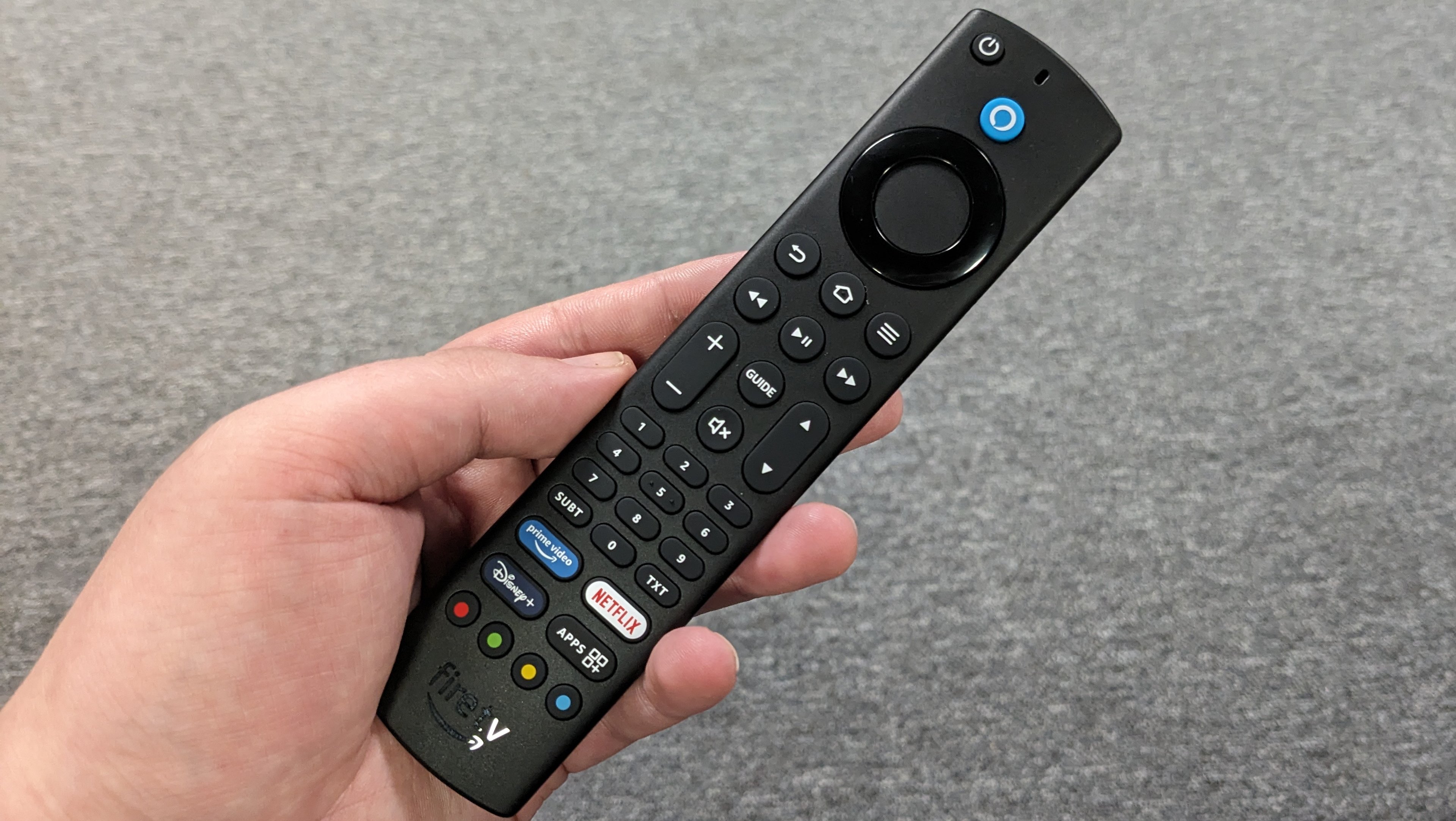 Amazon Fire TV Omni QLED review: Value
 Very competitively priced 
 Well stocked with features compared to similar TVs 
 Frequently on sale
Value is where the Amazon Omni QLED range really shines. Priced at the time of writing at $599/£999 for the 65-inch model, it is an extremely competitive TV. At $599 in the US, you are getting good picture quality, Dolby Vision support, great gaming performance and an intuitive smart TV platform at a large 65-inch size. Although not as budget friendly in the UK as it is in the US, the features you get in the Omni QLED still make it a very competitively priced TV compared to ones from rivals such as Samsung and LG.
Another advantage with the Amazon Omni QLED being an Amazon product means it is a regular feature during seasonal discount events such as Black Friday, or on Amazon Prime Day. This means that the already well-priced Omni QLED will most likely end up being even cheaper during sales season.
It may not have the picture quality and full features of a more premium TV, and sometimes the budget nature of the Omni QLED shows via its sometimes lacking black levels, average sound quality, and slightly clunky software, but what you do get makes this TV a real bargain.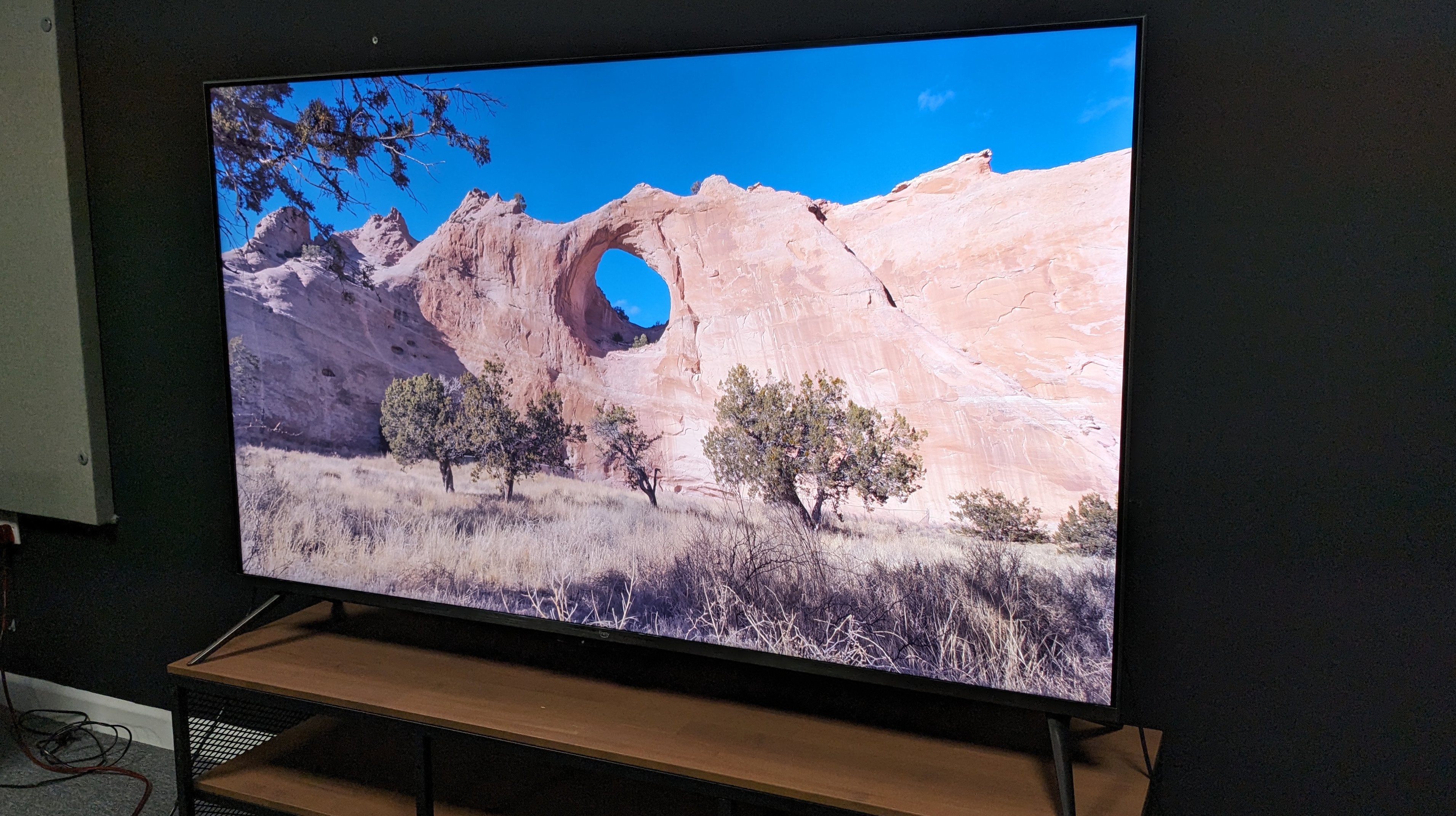 Should I buy the Amazon Fire TV Omni QLED?
Buy it if...
Don't buy it if...
Amazon Fire TV Omni QLED review: Also consider
How I tested the Amazon Fire TV Omni QLED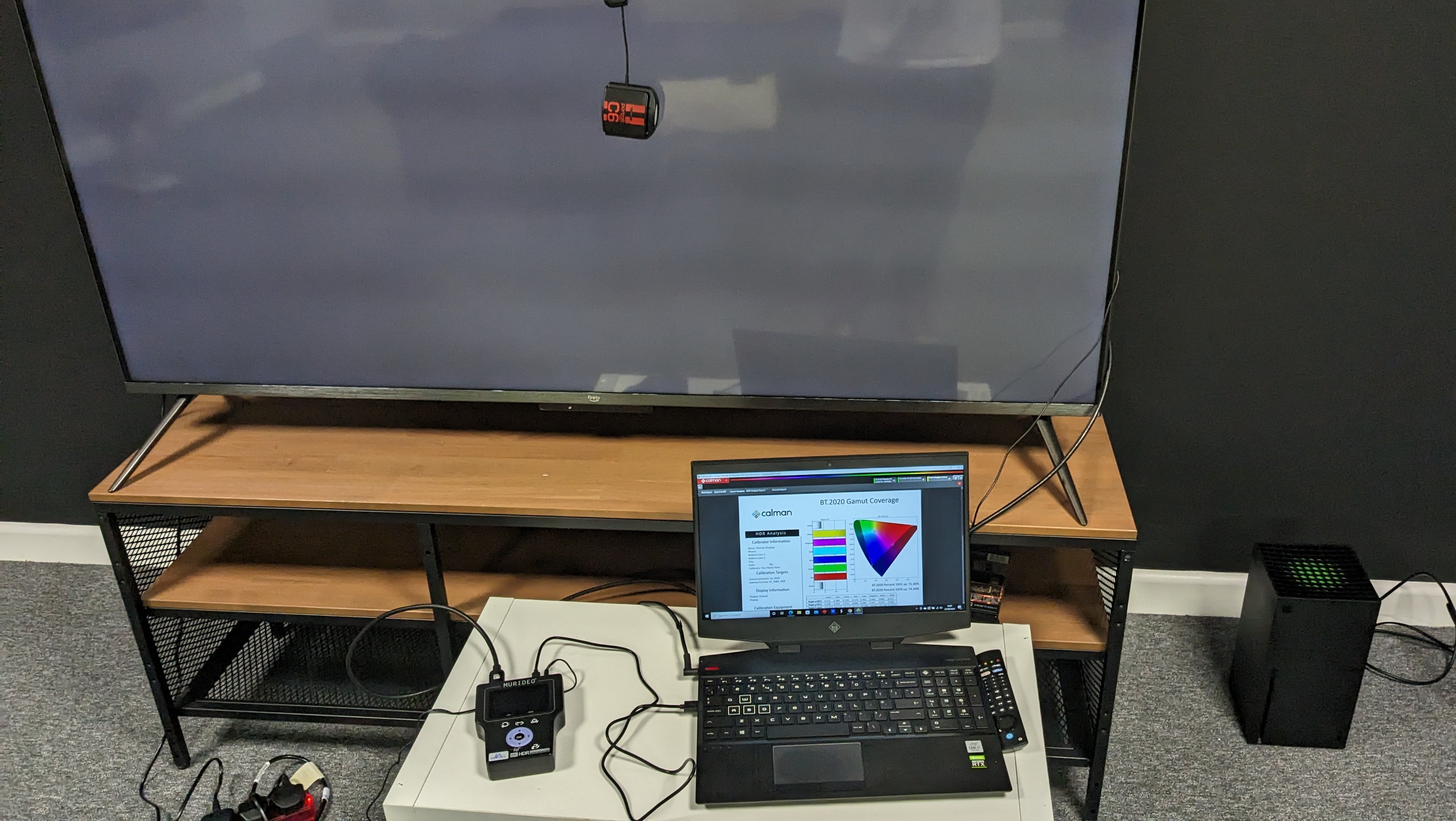 Tested in our lab room with varying lighting conditions
Measurements taken using Portrait Displays' Calman software
Tested through a variety of sources, both SDR and HDR
When testing the Amazon Fire TV Omni QLED, I first viewed several different sources such as SDR and HDR movies and TV shows through 4K Blu-ray, streaming and live TV via antenna. I also tested video game performance using an Xbox Series X. Whilst doing this, I tested the out-of-the-box picture presets to determine which was best.
After some running-in time, I then took measurements of the Amazon Omni QLED using Portrait Displays' Calman calibration software. I used this to measure and record the Omni QLED's SDR and HDR peak brightness levels on a 10% and 100% window. Alongside this, I measured the Delta E averages (the margin of error between a test pattern and what's shown on screen) for grayscale, color accuracy and gamma. Test patterns were made using the Murideo Seven 8K test pattern generator.
As well as these tests, I also measured  DCI-P3 and BT.2020 color space coverage. This demonstrates how faithfully a TV can render extended color space from UHD sources. Finally, I used the Leo Bodnar 4K input lag tester to measure the input lag of the TV while it was in its Game mode. 
First reviewed: October 2023