Dell XPS 13 Plus (2023): Two-minute review
Dell's XPS line has had years to cement itself as perhaps one of the best consumer laptop series out there, delivering seriously high-quality devices that have frequently graced our rankings of the best ultrabooks and even just the best laptops in general.
Last year brought forth a new member of the XPS family: the XPS 13 Plus (2022), which sought to offer something a bit new - a more premium version of the Dell XPS 13, coming with more powerful internal components and more of a focus on design aesthetics.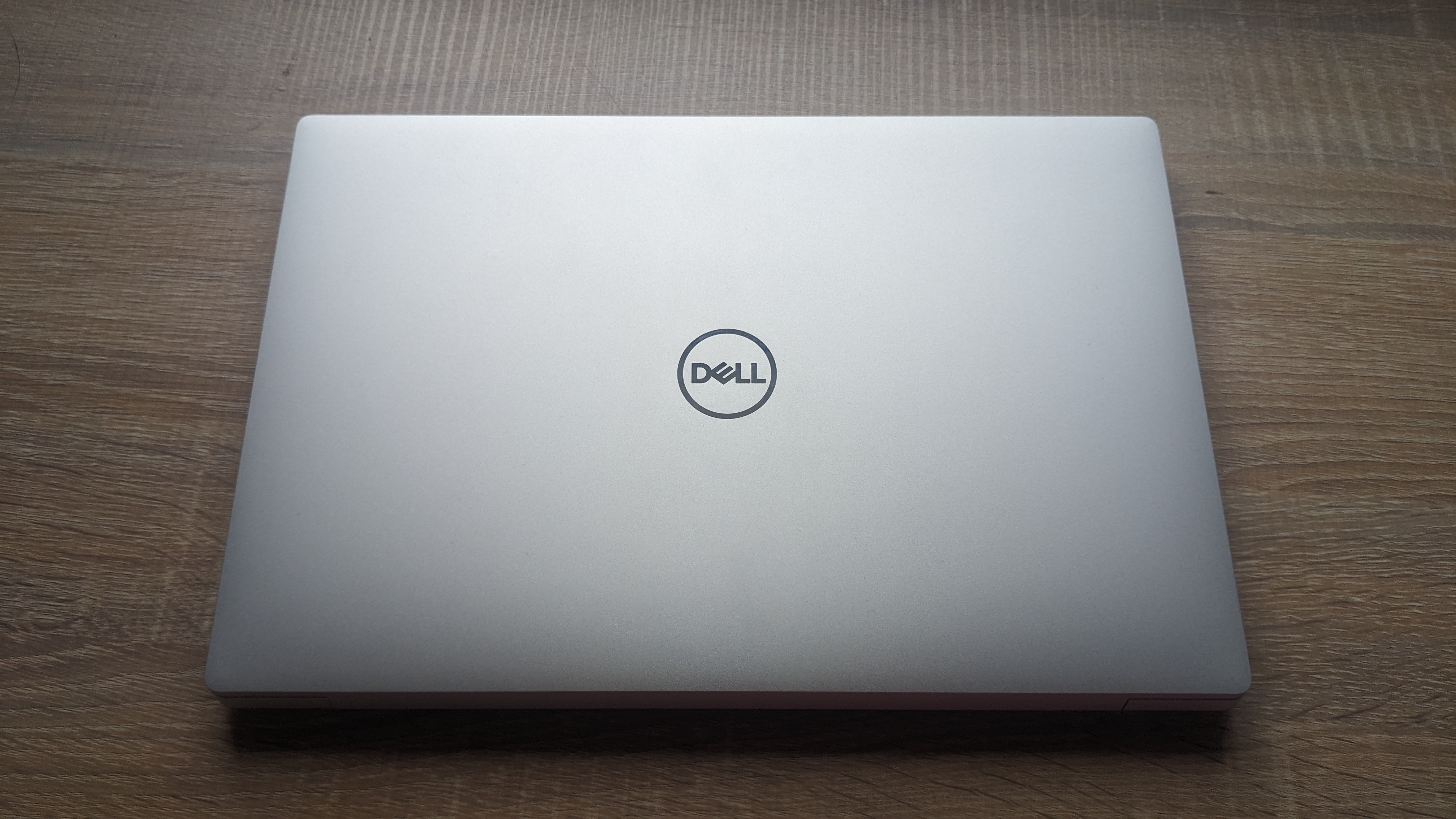 This year's new XPS 13 Plus is Dell's second attempt to nail this more expensive compact laptop, and while it does manage to beat the original model in some areas, it's still hamstrung by some of the same issues that caused us to knock a star and a half off our original review of the 2022 model.
In other words: this is still one of the nicest-looking laptops I've ever seen (and the standard XPS 13 is no slouch when it comes to looks!), but the sacrifices made for style aren't always worth it. For starters, the 'invisible' touchpad is sure to prove annoying for some people and downright ruinous for vision-impaired users, and the lack of physical port variety will no doubt be a sticking point for certain would-be buyers.
Luckily, this new Plus gets a big leg up over its predecessor thanks to improved specs, most prominently the 13th-generation Intel Core processor inside. I'll dig into the nitty-gritty details later in this review, but the short version is that we've got some pretty solid performance here - though don't expect it to go up against the best gaming laptops, since this XPS lacks a dedicated graphics card.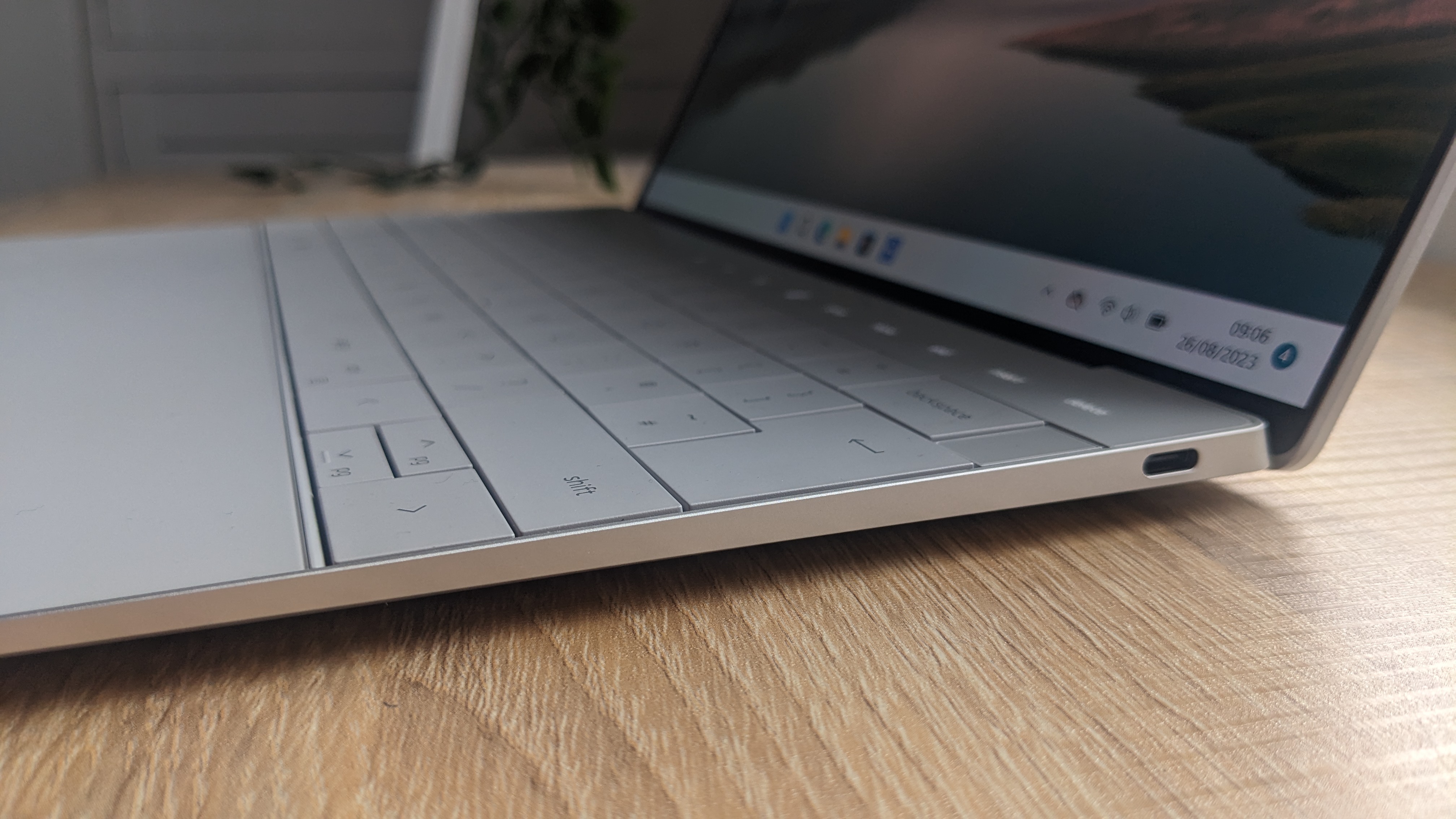 There's plenty else to like here, from the absolutely gorgeous 3.5K OLED touch display to the impressively low overall weight. There's no denying that this is a premium laptop - though starting at $1,249.00 / £1,198.99 / AU$2,398, the base model actually isn't ludicrously expensive, even if it feels like a much pricier laptop.
At worst, this is a slightly more powerful version of the XPS 13 Plus that underwhelmed us last year. At best, it's an aesthetically delightful ultrabook that offers reliable performance in an impressively thin and light chassis - though certain features (or lack thereof) might end up being a turn-off for some potential users.
For what it's worth, I love the XPS 13 Plus - but I've had to be judicious in my scorings, because as much as I personally like it, it feels strangely like an imperfect reflection of the wider XPS range. I'd call it the ugly duckling of the flock, but ironically it's probably the best-looking XPS laptop you can buy right now, with the Platinum colorway really highlighting its good looks. How does it fall short of true greatness? Read on to find out.
Dell XPS 13 Plus (2023): Price & availability
How much does it cost? $1,249.00 / £1,198.99 / AU$2,398
When is it available? Available now
Where can you get it? Available in the US, UK, and Australia
The 2023 Dell XPS 13 Plus costs more than its default-model sibling, though not egregiously so. As I mentioned above, pricing starts at $1,249.00 / £1,198.99 / AU$2,398 - that's quite a bit more than the base model of the standard XPS 13, though that laptop comes with massively less powerful internal specs. The pricing on this model roughly mirrors the 2022 XPS 13 Plus, which is nice to see considering the bump in performance.
At the time of writing, the 2023 model of the Dell XPS 13 Plus is available in the US, UK, Europe, and Australia. It looks like Brits and Aussies have the short end of the stick when it comes to pricing on the higher-end versions, but I won't mark Dell down for that as it's typically the case with laptops right now. Still, the midrange base pricing for such a premium-feeling laptop is definitely to my liking.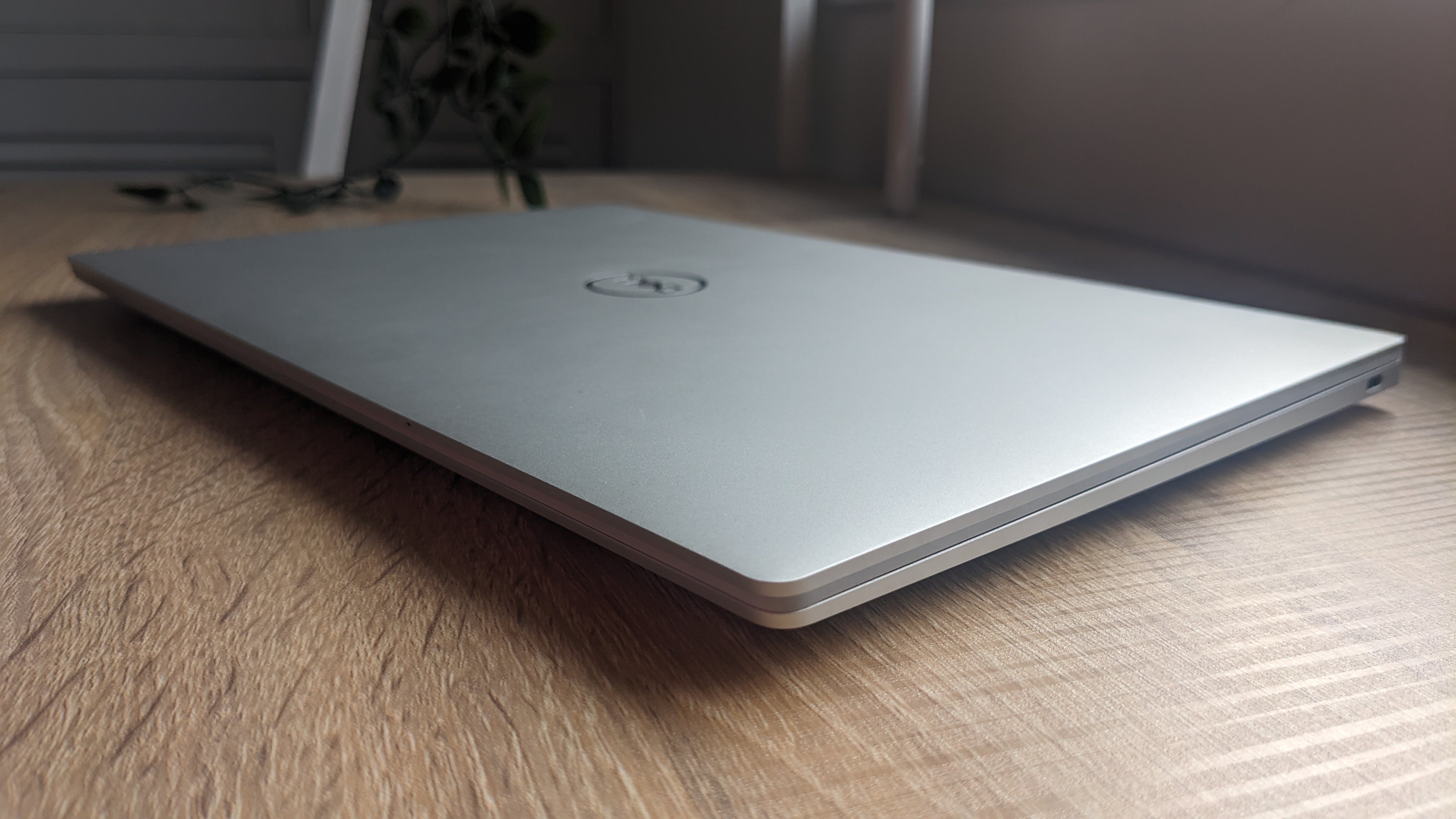 Dell XPS 13 Plus (2023): Specs
Our review model is a relatively high-end configuration costing $1,499.00 / £1,719.38 / AU$3,281.30, with the optional 3.5K OLED screen and an Intel Core i7-1360P processor, which is the only CPU available in most territories. Oddly, I did notice that in the UK the cheapest configuration instead sports an i5-1340P, which isn't available in the US.
The XPS 13 Plus is fully configurable on Dell's website, letting you pick how much RAM and storage you want (up to a hefty 32GB of DDR5 and a 2TB SSD) as well as a choice of three different displays: a standard FHD+ 60Hz touch panel, the 3.5K OLED screen in the model we're reviewing, and finally an even better UHD+ OLED panel with slightly better brightness than the 3.5K version. The most expensive configuration will run you $1,749.00 / £2,119.38 / AU$3,880.80.
Dell XPS 13 Plus (2023): Design
Same incredible aesthetics as the 2023 model…
…and the same dearth of ports
Display is amazing, webcam is lackluster
Seriously, Dell? A 720p webcam on a thousand-dollar-plus ultrabook? Whatever you guys are smoking, I don't want any; any modern laptop that sits within the same price range as the XPS 13 Plus absolutely should have a 1080p webcam.
Maybe I'm in the minority of 'people who care about webcam resolutions', but the difference is noticeable in video calls and frankly a 1080p camera isn't exactly an ultra-premium feature; I've seen them on cheaper laptops than this. It does at least have IR functionality for supporting face logins with Windows Hello, which is a good inclusion.
Setting my webcam beef aside, this truly is one sleek-looking laptop. The keyboard is entirely flush with the internal deck of the chassis, with no rounding at the edges of the keys, which creates a futuristic effect and also makes typing quite comfortable. The keys are backlit by uniform white LEDs, and the function keys are - just as we saw in the 2022 original - replaced by a nifty touch bar with illuminated icons that change when you hold down the function key.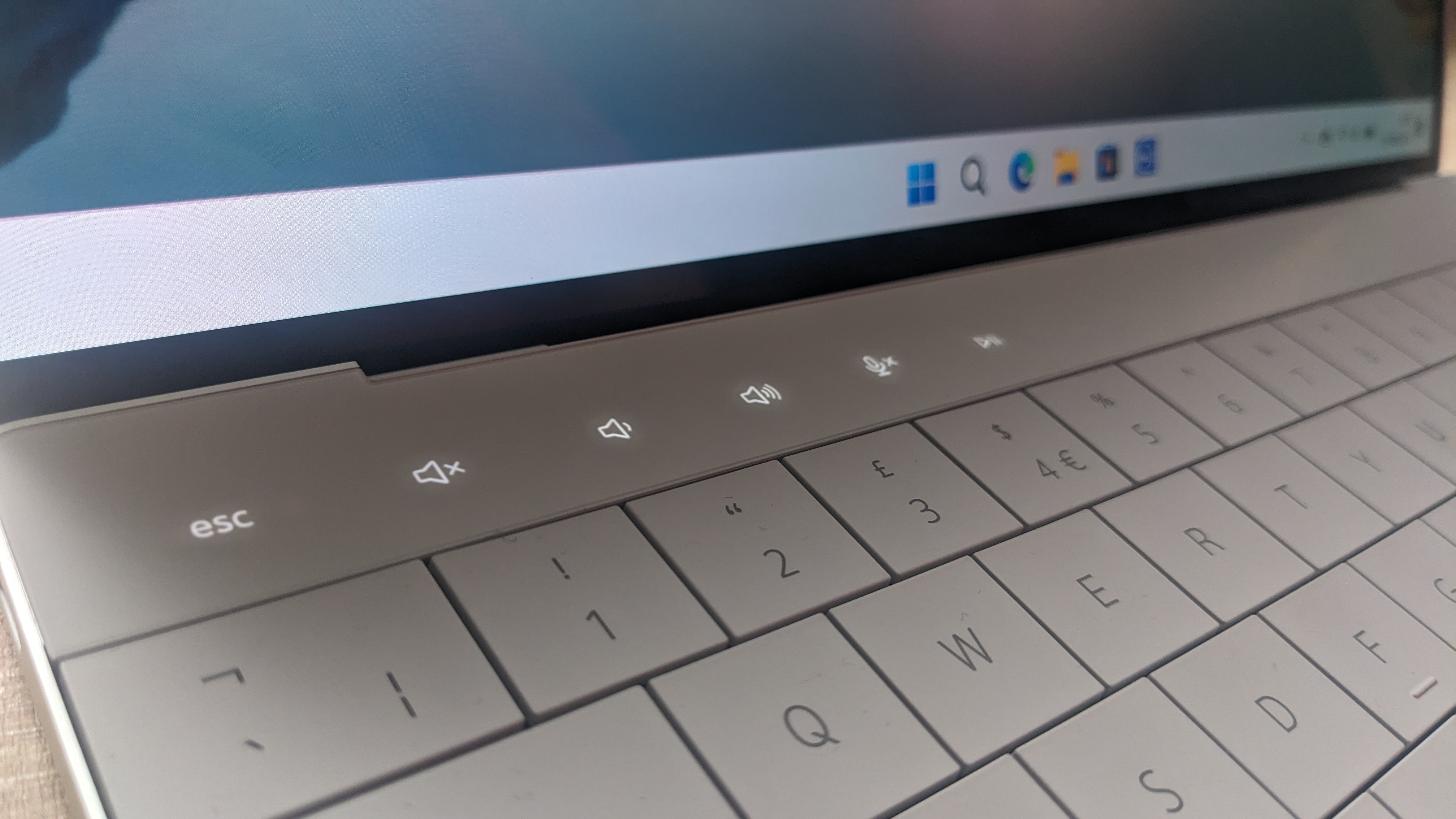 The overall design is near-identical to the 2022 model, in fact - and for the most part, that's not a bad thing. It's minimalist in the best possible way, with tiny bezels around the touchscreen and a clean brushed silver exterior. The power button (which doubles as a fingerprint scanner) nestles in the corner of the keyboard.
The touchpad is effectively invisible, occupying the center of the flat palm rest panel beneath the keyboard but with no indication of where it starts and ends. I understand the look that Dell was going for here, but even the slightest ridge in the plastic would have prevented this from becoming an immediate accessibility issue for certain users, like those with sight-related disabilities (a problem likely shared by the non-tactile function key touch bar). I personally found the touchpad very responsive, however, with a subtle but noticeable click to it.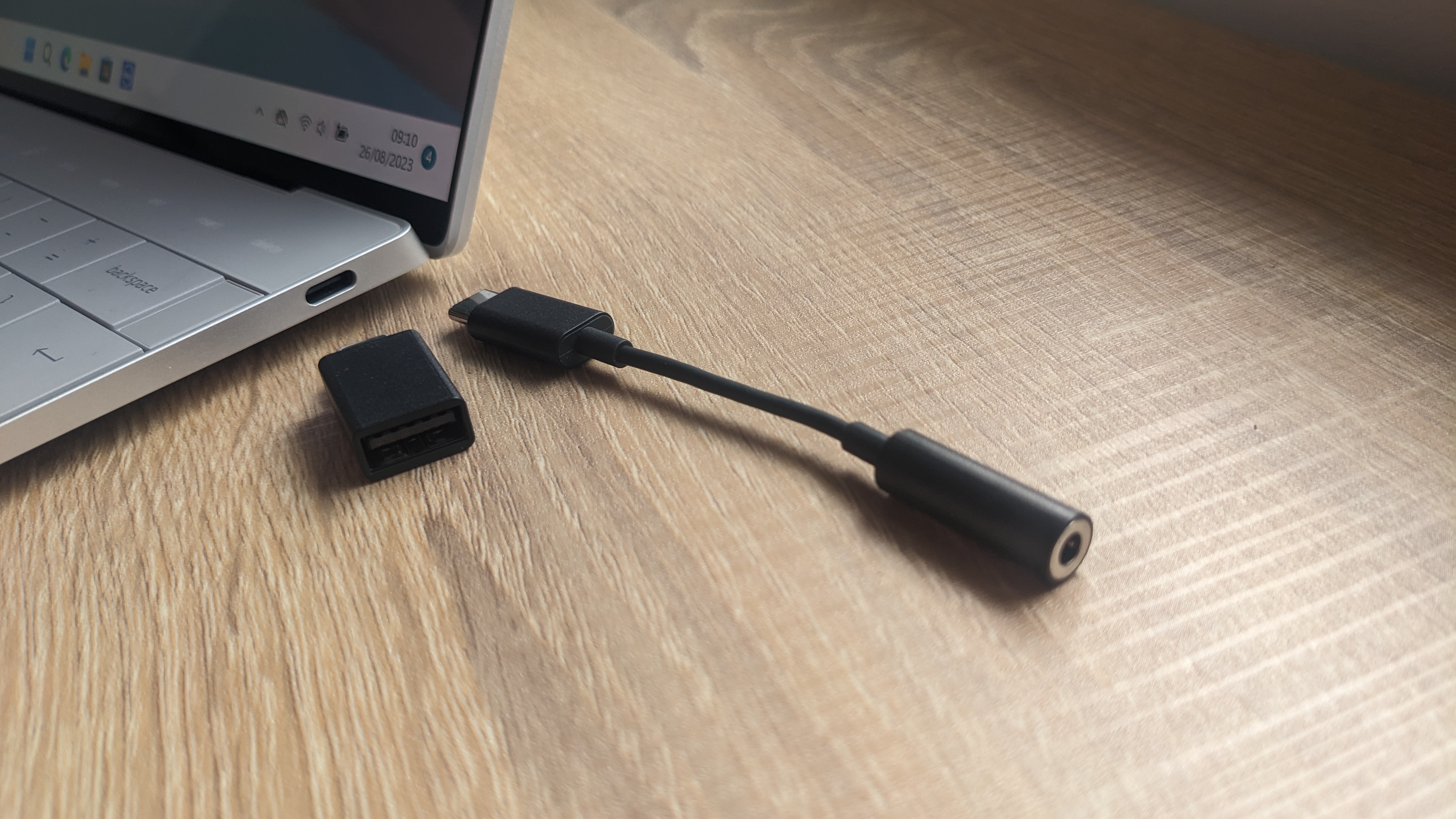 One design decision that should've been left in 2022 is the port selection: literally just two USB-C ports. That's all you get; and the XPS 13 Plus charges via USB-C too, so you're down to just a single port when plugged in. While I primarily blame the MacBook Air for this irritating trend among premium notebooks in recent years, it's depressing to see Dell following in Apple's footsteps.
Mercifully, there is a pair of USB-C adapters (one for USB-A and one for a headphone jack) included in the box, and the two ports do support Thunderbolt 4 so you'll get excellent transfer speeds, but I fail to see how it was impossible to include at least a native 3.5mm jack in the chassis here. Not everyone owns AirPods, Dell.
Lastly, I have to talk about the display. This 3.5K panel (which uses an esoteric resolution of 3456 x 2160) isn't even the highest-spec screen you can get on the XPS 13 Plus, and yet it's still a genuinely beautiful display. Colors pop, blacks are dark and deep, and the maximum brightness is sufficient for it to be used in brightly lit environments without any issues. It's definitely the laptop's standout feature.
Dell XPS 13 Plus (2023): Performance
Core i7-1360P offers a decent boost on the previous model's performance
General speed and responsiveness is good
Capable of some light gaming
Dell XPS 13 Plus (2023): Laptop benchmarks
Here's how the Dell XPS 13 Plus (2023) performed in our suite of benchmark tests:
3DMark Night Raid: 15,085; Fire Strike: 4,891; Time Spy: 1,778
GeekBench 6: 2,238 (single-core); 10,541 (multi-core)
25GB File Copy: 1,659MBps
Handbrake 1.6: 8m 14s
CrossMark: Overall: 1,504; Productivity: 1,393; Creativity: 1,713; Responsiveness: 1,282
Sid Meier's Civilization VI: Gathering Storm (1080p, High): 27.8fps; (1080p, Low): 51.1fps
Web Surfing (Battery Informant): 6 hrs 20 mins
Naturally, my frame of reference for this review's performance testing process was the set of results recorded in our review of last year's XPS 13 Plus - and while we've switched up our selection of benchmarks since then, the points of comparison I could make were… confusing.
In synthetic graphical tests, the integrated inside this review unit performed near-identically to the previous model. Meanwhile, our practical gaming test saw a fairly significant improvement - to the point where I also downloaded Valorant and found that it ran well enough to play, so a spot of casual gaming in less resource-intensive titles is definitely an option here.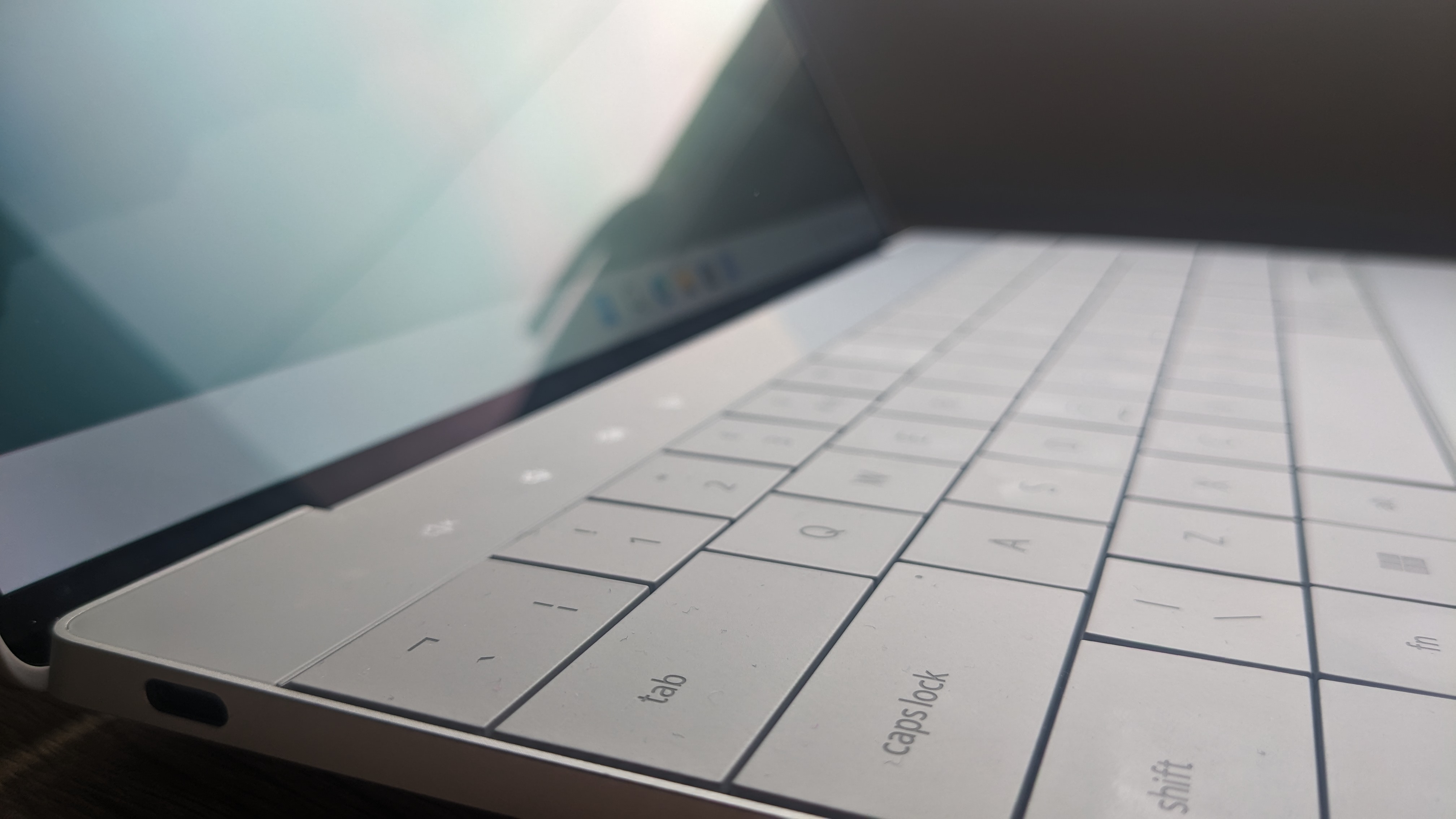 Both synthetic and real-world CPU benchmarks, however, showed a more marked increase in performance of roughly 20-30% across both single-core and multi-core workloads. The i7-1360P is a solid mobile processor which I found delivered very consistent performance even when I put it to the test by opening two dozen Chrome tabs and trying to watch a YouTube video.
As I learned from that process, however, the speakers on this laptop are fairly underwhelming. They're not exactly dreadful, and most compact notebooks like this share a similar weakness, but there's a noticeable lack of bass and high notes sound a little scratchy at maximum volume.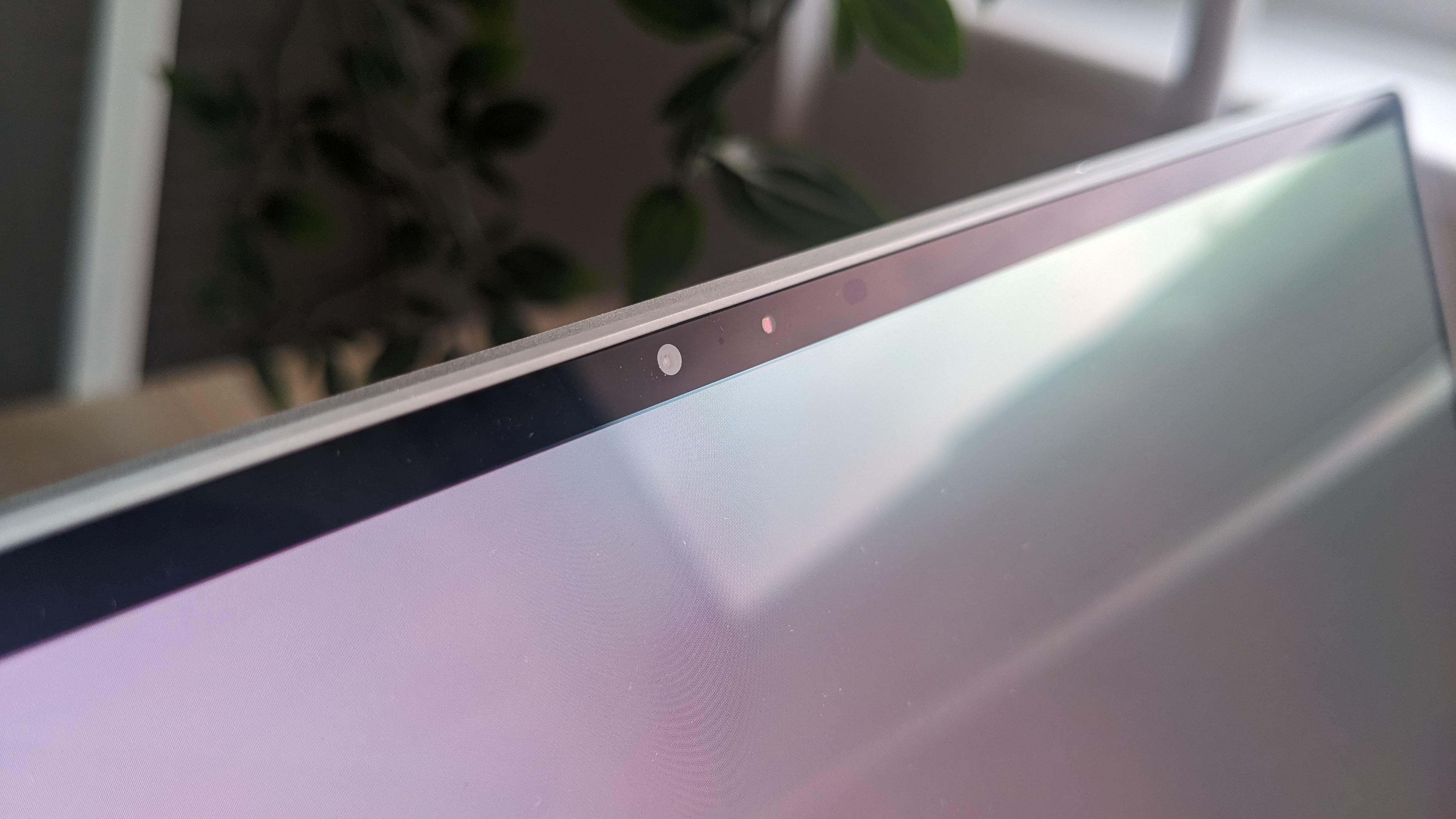 Data transfers are relatively snappy thanks to the NVMe SSD, and overall system responsiveness is good. As per the Intel Evo branding, the boot and wake times are near-instantaneous, which is great. I also found that it didn't get too warm (nor the fans too noisy) even after a good hour of benchmarking - a relief, given that we noted some thermal issues in our review of the 2022 model.
Though it's far from a cheap laptop, I was very satisfied with the price-to-performance ratio of the XPS 13 Plus. The only area it's really likely to struggle in is running 3D rendering or scientific modeling software, due to the lack of GPU. For virtually everything else, though - office work, web browsing, low-intensity gaming, and even a bit of Netflix in bed - this ultrabook performs much better than its originator.
Dell XPS 13 Plus (2023): Battery
Battery life is decidedly underwhelming
Less than seven hours of medium intensity use
Charges fast
This is the one area where the XPS 13 Plus falls short of its predecessor. In our standard internet use battery test with Wi-Fi on, the laptop lasted for 6 hours and 20 minutes on a full charge.
For reference, that's less than virtually every other flagship laptop brand in this weight class right now. It's less than half the latest 13-inch MacBook Air, and even less than the previous  M1 MacBook Air. In an actual day using the XPS 13 to do my everyday work for TechRadar, it did manage to last longer, going comfortably from 9AM to 6PM with a break for lunch - though I did dip below 20% and caused an alarmed Windows 11 to switch on Battery Saver.
It's not quite good enough considering the competition, and I noted that the battery drained faster the more you tried to do. This just isn't a laptop you can leave in your bag overnight without charging it and expect to take to work the next day. At least it charges pretty fast thanks to Thunderbolt 4 power delivery.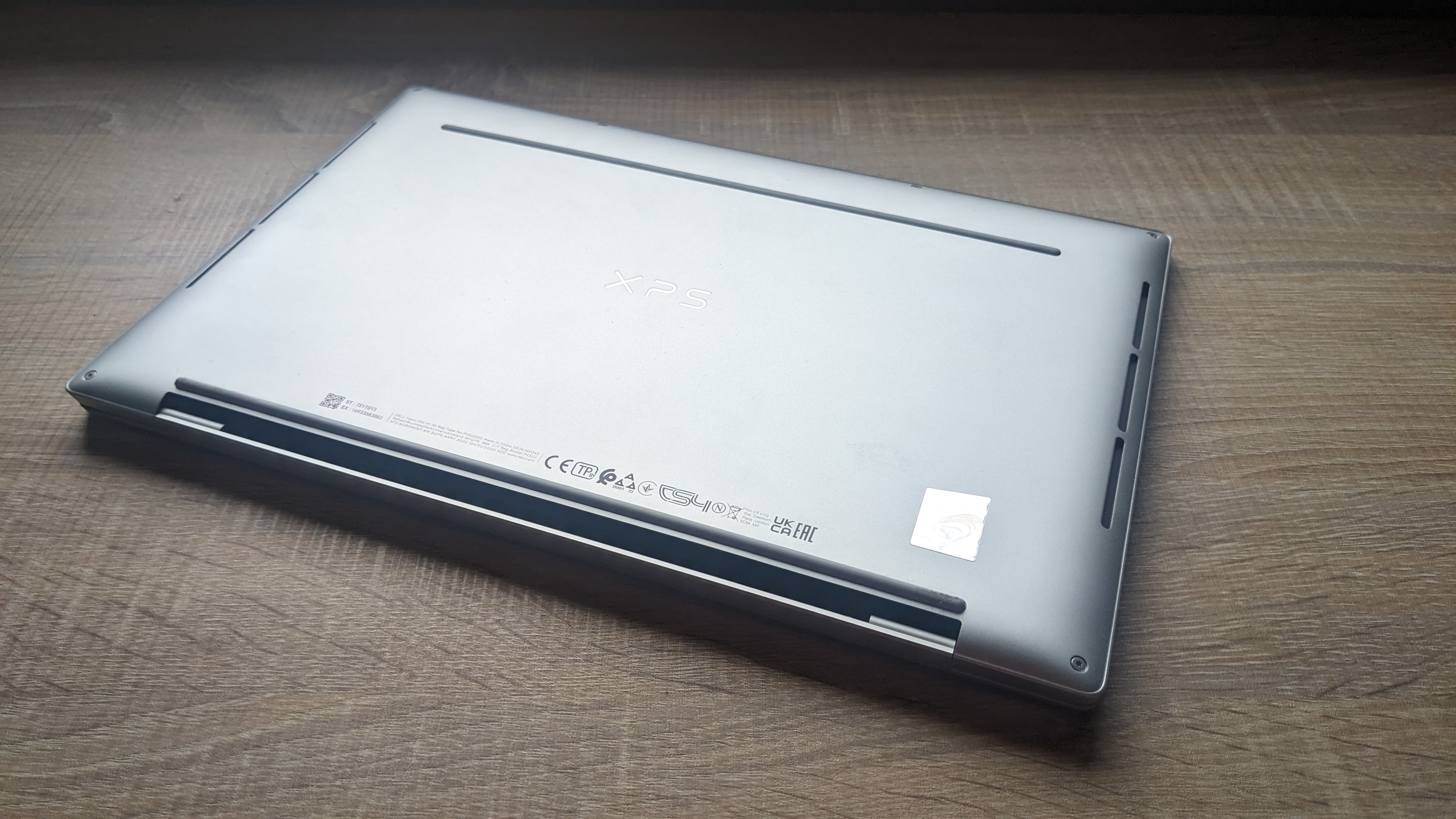 Should you buy the Dell XPS 13 Plus (2023)?
Buy it if...
You value aesthetics
If you're buying a laptop for style points, this is one of the best-looking out there, especially among Windows laptops.
You want a great screen
This OLED display is truly fantastic, making the XPS 13 Plus a great choice among compact laptops for anyone who wants to watch a lot of videos.
Don't buy it if...
You want long battery life
If you're the sort of person who routinely forgets to get their laptop out of their bag and charge it at the end of a long commute, do not buy a Dell XPS 13 Plus. You have been warned.
Dell XPS 13 Plus (2023): Also consider
If the Dell XPS 13 Plus (2023) has you considering other options, here are two more laptops to consider...
How I tested the Dell XPS 13 Plus (2023)
Used at home and at the office
Tested productivity work, web browsing, gaming
Charged overnight before using it all day on battery power
I had less time than I'd typically like to test out the Dell XPS 13 Plus (2023), so I aimed to be as efficient as possible. First, I tested its performance by running general productivity tasks and running our benchmarking software selection in the TechRadar office. Then I took it home, charged it overnight, and used it to replace my desktop PC as I worked from home.
Naturally, my job involves a lot of typing - perfect for getting acquainted with this laptop's lovely keyboard. But my everyday work doesn't involve doing much exciting with my device of choice, so I was sure to dedicate some time in the evening to playing some games on the XPS 13 Plus and finally watching an episode of The Witcher on it before bed.
We pride ourselves on our independence and our rigorous review-testing process, offering long-term attention to the products we review and making sure our reviews are updated and maintained - regardless of when a device was released, if you can still buy it, it's on our radar.
First reviewed August 2023