Honor Magic 5 Pro: Two-minute preview
In an interview with TechRadar at MWC 2023, Honor CEO George Zhao made no bones about the capabilities of his company's latest flagship, the Honor Magic 5 Pro (stylized as the Honor Magic5 Pro). "If you compare [this phone] to other flagship devices, it's better than them. No one can compete with us," he proclaimed.
It remains to be seen whether that statement rings true, but in my short time spent with the Honor Magic 5 Pro – a successor to the excellent Honor Magic 4 Pro – the phone has proven a unique and feature-packed device with few obvious drawbacks.
The Honor Magic 5 Pro's display is big and bright. The cameras are some of the most impressive I've seen. Its large battery looks, on paper, to ensure that you'll get at least 12 hours of heavy use from the phone before needing to charge it. That said, the Magic 5 Pro's unusual (read: impractical) design won't work for everyone.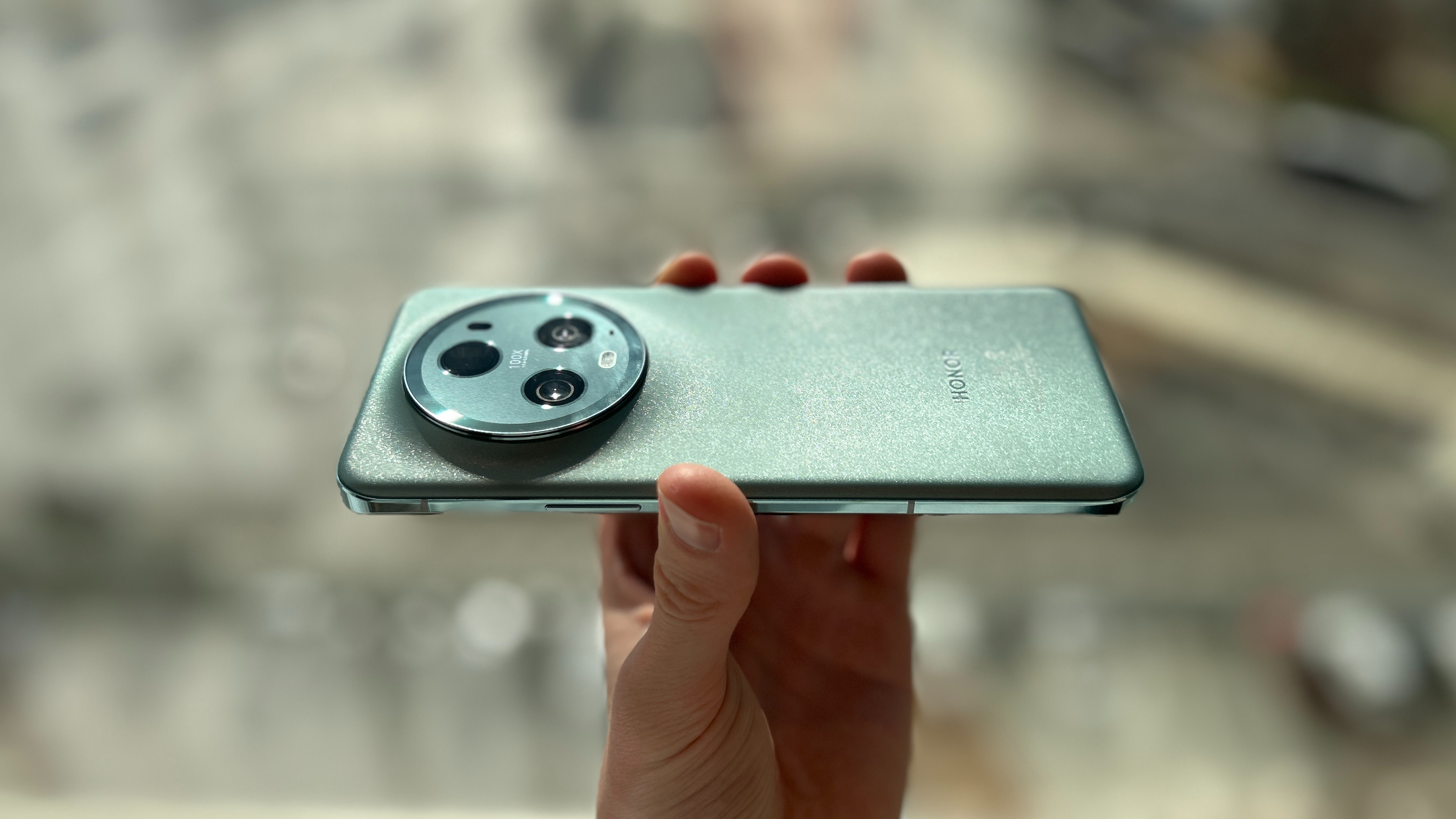 Before you read on, it's worth noting that Honor placed a fair few caveats on my hands-on testing of the Honor Magic 5 Pro – specifically around what was and wasn't ready for review. I haven't been able to sample all of the phone's camera features, or much of its software, but Honor has said these elements will be available for full testing ahead of the phone's release later this year. 
Hands-on Honor Magic 5 Pro review: Price and availability
Available in Europe, Mexico and most of Asia
Costs €1199 (UK pricing unconfirmed)
The Honor Magic 5 Pro was unveiled at MWC 2023 alongside Honor's newest foldable phone, the Honor Magic Vs, which is already available in China (head over to our hands-on Honor Magic Vs review for our first impressions of that device).
Honor hasn't yet shared specific release date details for the Honor Magic 5 Pro, though we do know it'll be available from Q2 2023 – so anytime from April. Its predecessor, the Magic 4 Pro, hit shelves on May 13, so Honor may opt for a similar release date with the Magic 5 Pro.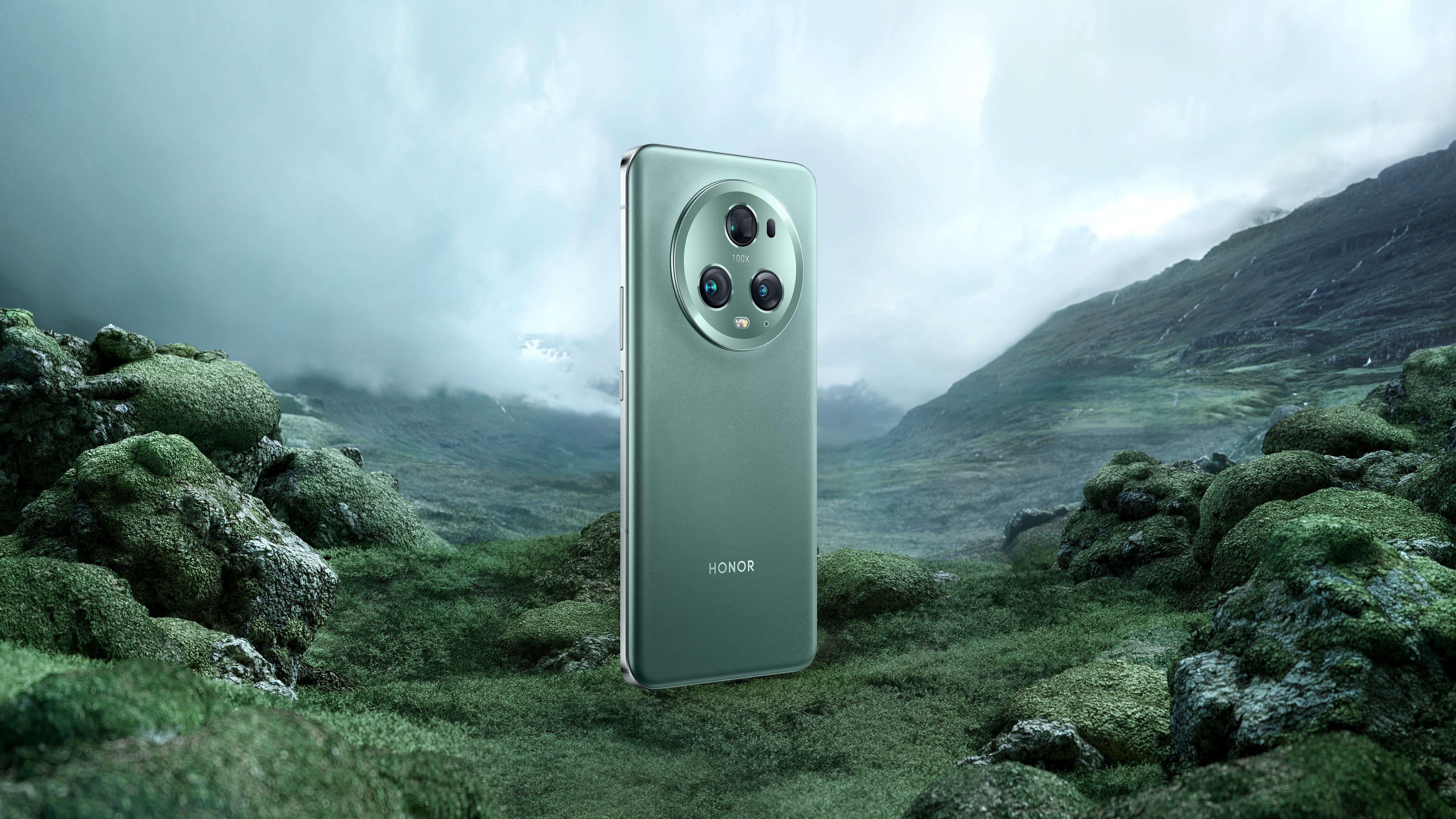 The phone will be available in Europe, Mexico and most of Asia, but Honor has only shared European pricing so far. Its single memory/storage configuration – 512 GB with 12GB RAM – will retail for €1199 (which translates to around $1270 / £1050 / AU$1900). 
As expected, the Magic 5 Pro won't be available to buy in the US – at least to begin with. Huawei sold Honor in 2020 to avoid seeing its then-sub-brand fall victim to US import restrictions, but Honor hasn't yet released a phone to the US market. Magic 5 Pro availability in Australia seems unlikely, too.  
Hands-on Honor Magic 5 Pro review: Specs
Check out the phone's full specs below:
Hands-on Honor Magic 5 Pro review: Design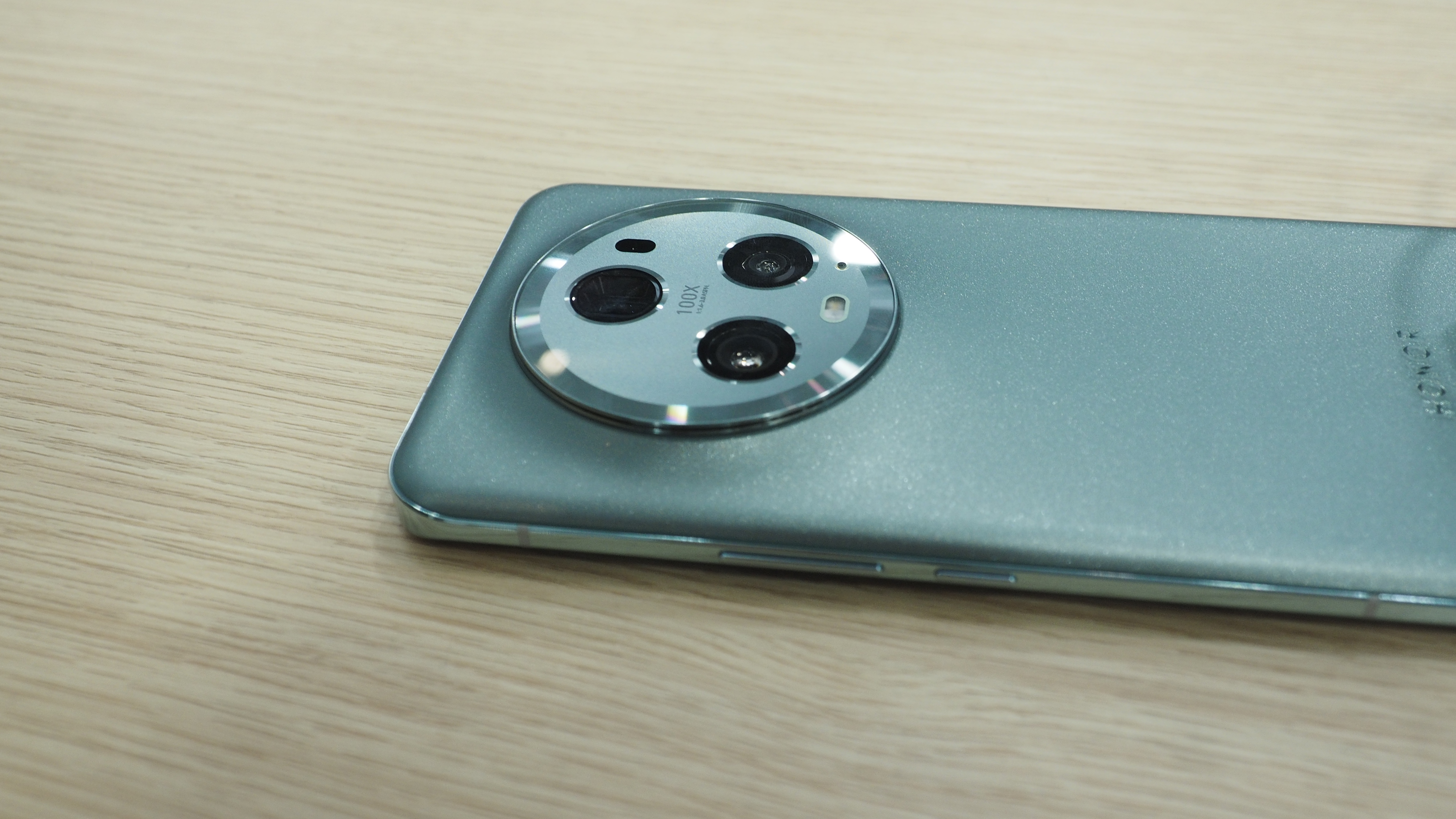 Eye-catching triple-lens design
… but it's not particularly practical
Measuring 76.7 x 162.9 x 8.77 mm and weighing 219g, the Honor Magic 5 Pro sticks with much of what made its predecessor great on the design front, with one big exception: its rear camera array. 
In place of the Magic 4 Pro's quad-lens 'Eye of Muse' setup is a triple-lens 'Star Wheel' that protrudes from the phone's rear, which sits on what Honor is calling the 'Gaudi Curve'.
Personally, I think the design looks cool – it certainly makes the Honor Magic 5 Pro stand out among even the best phones available in 2023 – but from a practical standpoint, it's not the most comfortable innovation. 
Holding the phone in one hand, I've found that my index finger rubs against the edge of this hefty camera bump, and sometimes even the bottom two lenses. This isn't an issue when using the Magic 5 Pro with two hands (because I don't need to move my finger so high up in order to support the phone's weight), but I can imagine that folks with even bigger hands than mine will end up leaving fingerprints all over the rear lenses. 
The Magic 5 Pro comes in two colors – Meadow Green and Black – with a matte back panel option also available for the former, which should help to keep those inevitable fingerprints away from the phone's rear body, at least. The Magic 5 Pro also boasts IP68 water and dust resistance.
Hands-on Honor Magic 5 Pro review: Display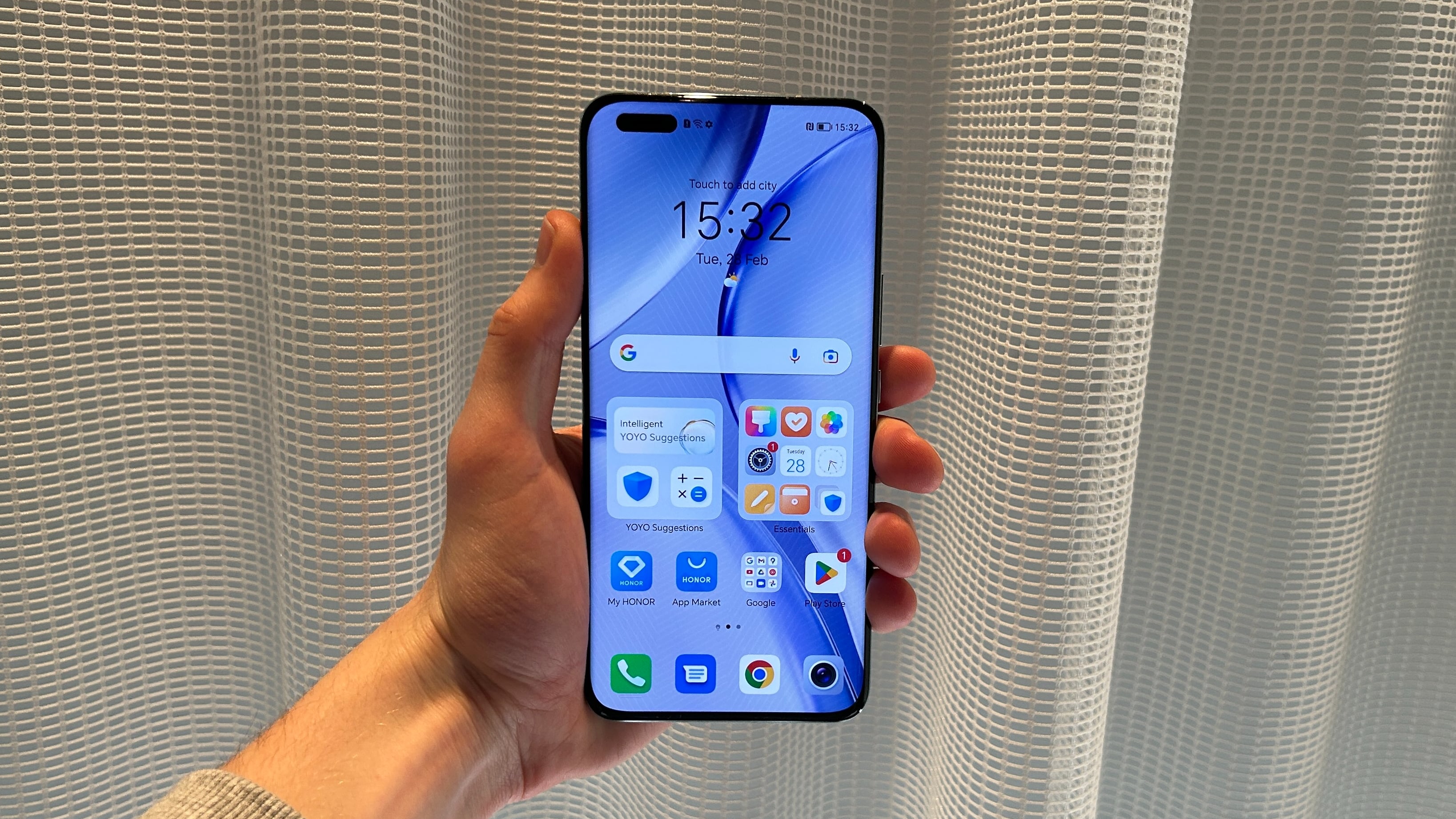 Smooth and colorful 6.81-inch OLED display
Sleep-friendly dimming rate
The Honor Magic 5 Pro uses the same 6.81-inch LTPO OLED display as the Magic 4 Pro, which is by no means a bad thing. You're getting a crisp 1312 x 2848 resolution and a fast refresh rate of up to 120Hz here, which keeps things feeling suitably smooth and looking gorgeous. 
The Honor Magic 5 Pro leapfrogs its predecessor on the brightness front, offering 1800 nits at full HDR whack – that's a touch above the equivalent figure boasted by the Samsung Galaxy S23 Ultra, and just shy of the iPhone 14 Pro Max's peak brightness. At its brightest, the Honor Magic 5 Pro is actually quite blinding, so it's hard to imagine you'll be left wanting for luminance. 
The Honor Magic 5 Pro also has an impressive 2160Hz PWM dimming cycle rate. PWM dimming refers to the technology used for controlling brightness levels and dimming LED lights, with the Magic 5 Pro's superior cycle rate creating a more natural transition between light and dark screens. 
Honor is claiming that this feature will actually help with your sleep, too. The Magic 5 Pro's display is certified circadian-friendly, which essentially means it's not too taxing on the eyes. By mimicking the dynamic dimming of natural light, the phone supposedly reduces eye strain by 18% (compared to other premium smartphones), in turn giving you 30 minutes more shut-eye.
Obviously, I haven't been able to test this claim for myself yet – and it's something that'll need to be backed up by science and sleep experts once the phone is released. Still, if indeed the Honor Magic 5 Pro does end up being beautiful to look at and sleep-friendly, I'm inclined to suggest that it could be one of the most impressive mobile displays I've ever come across. Benchmarking company DXOMARK seems to agree, too, having ranked the Honor Magic 5 Pro's screen as the best display currently available. 
Hands-on Honor Magic 5 Pro review: Cameras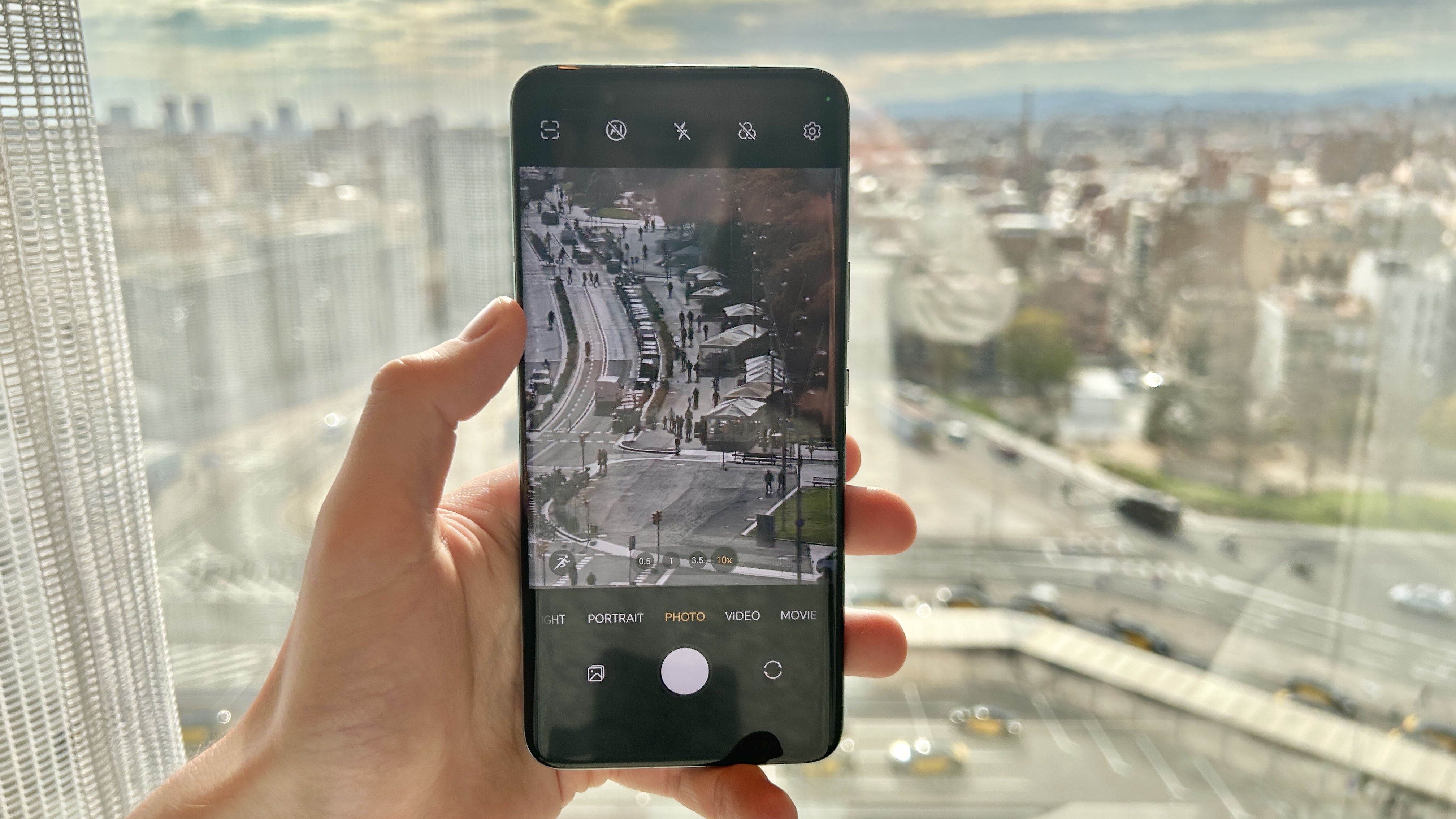 Three 50MP rear lenses
Exceptional zoom capabilities 
An exciting suite of photography features
Honor has made a big song and dance about the Honor Magic 5 Pro's camera setup – and for good reason. Housed in that aforementioned rear bulge is a 50MP f/1.6 wide lens, a 50MP f/2.0 ultra wide lens, and a 50MP f/3.0 periscope telephoto lens with 3.5x optical zoom. 
The Magic 5 Pro's main sensor is 35% larger than that of the iPhone 14 Pro Max and Galaxy S23 Ultra, which means – on paper, at least – it can reckon with the challenges of light more effectively that both devices, and the phone's use of computational photography (i.e. its ability to capture images using different lenses simultaneously) delivers zoom clarity that's comparable to its premium rivals. 
We weren't able to test every camera mode on our Magic 5 Pro sample, as some of the software is still being ironed out ahead of the phone's release, but the AI-assisted Falcon capture feature – which lets you take photos of fast-moving objects without blur, even at night – looks mightily impressive in sample footage we've seen.
The #HONORMagic5 Pro is blowing our minds with its AI feature – look at how it automatically captures a moment of breaking a GUINNESS WORLD RECORDS™! Uncover what else it can do to #UnleashThePowerofMagic at #MWC23! @GWR #GuinnessWorldRecords pic.twitter.com/d0fy7FVZWNFebruary 13, 2023
As mentioned, the Magic 5 Pro's zoom capabilities are nothing short of remarkable. Standing on the top floor of our hotel in Barcelona, I was able to capture images (see above) of pedestrians at street level whom I could barely make out with my own eyes, and it'll be interesting to see how the Magic 5 Pro's zoom credentials hold up at night during my full review. 
In light of all these camera features, it's no surprise to see that DXOMARK has placed the Honor Magic 5 Pro at the top of its camera rankings in 2023, and I'm excited to put the phone through its photography paces later this year when the market-ready model arrives.
The Magic 5 Pro also gets a 12MP front-facing camera, which falls into the 'not bad, not groundbreaking' category.
Hands-on Honor Magic 5 Pro review: Performance and audio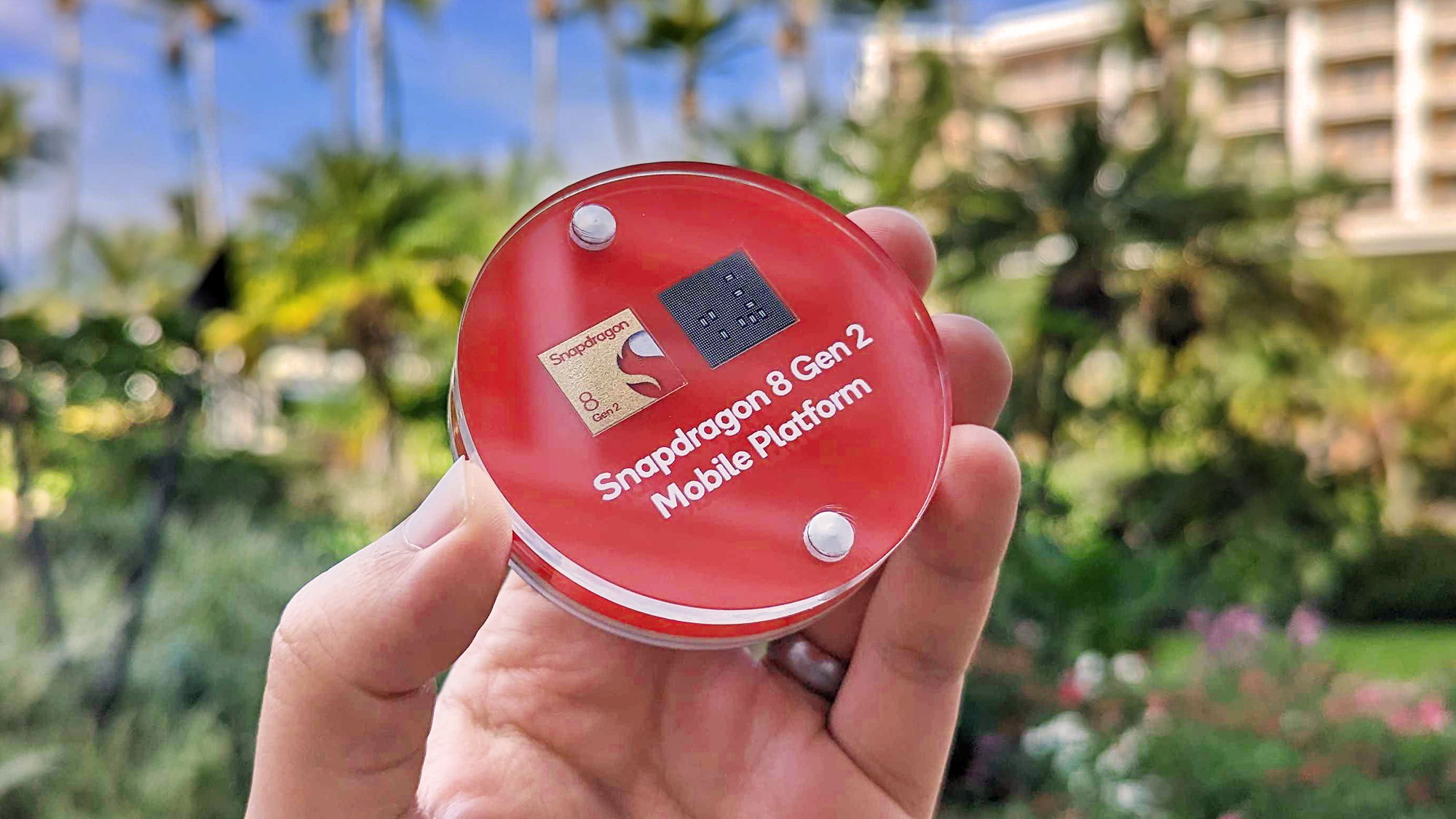 Snapdragon 8 Gen 2 Chipset
512GB storage with 12GB RAM
Under the hood, the Honor Magic 5 Pro is powered by Qualcomm's latest Snapdragon 8 Gen 2 chipset, which is the processor we're seeing inside many of the best Android phones in 2023. 
The phone's 12GB RAM is an improvement over its predecessor's 8GB, and the Magic 5 Pro's 512GB storage capacity is double that of the Magic 4 Pro, ensuring it can tackle whatever power-hungry creative or professional task thrown its way. 
Honor says the Magic 5 Pro's Snapdragon chipset isn't up for review at this stage, and I haven't been permitted to critique the phone's gaming performance, either – so I'll have to wait until I can really push these elements to the limit. So far, though, the Magic 5 Pro has felt as speedy as you'd expect from a four-figure Android flagship. 
The Magic 5 Pro also boasts IMAX-enhanced audio, though again, this isn't something I've been able to test just yet (owing to a restriction on which apps I can download). 
Hands-on Honor Magic 5 Pro review: Software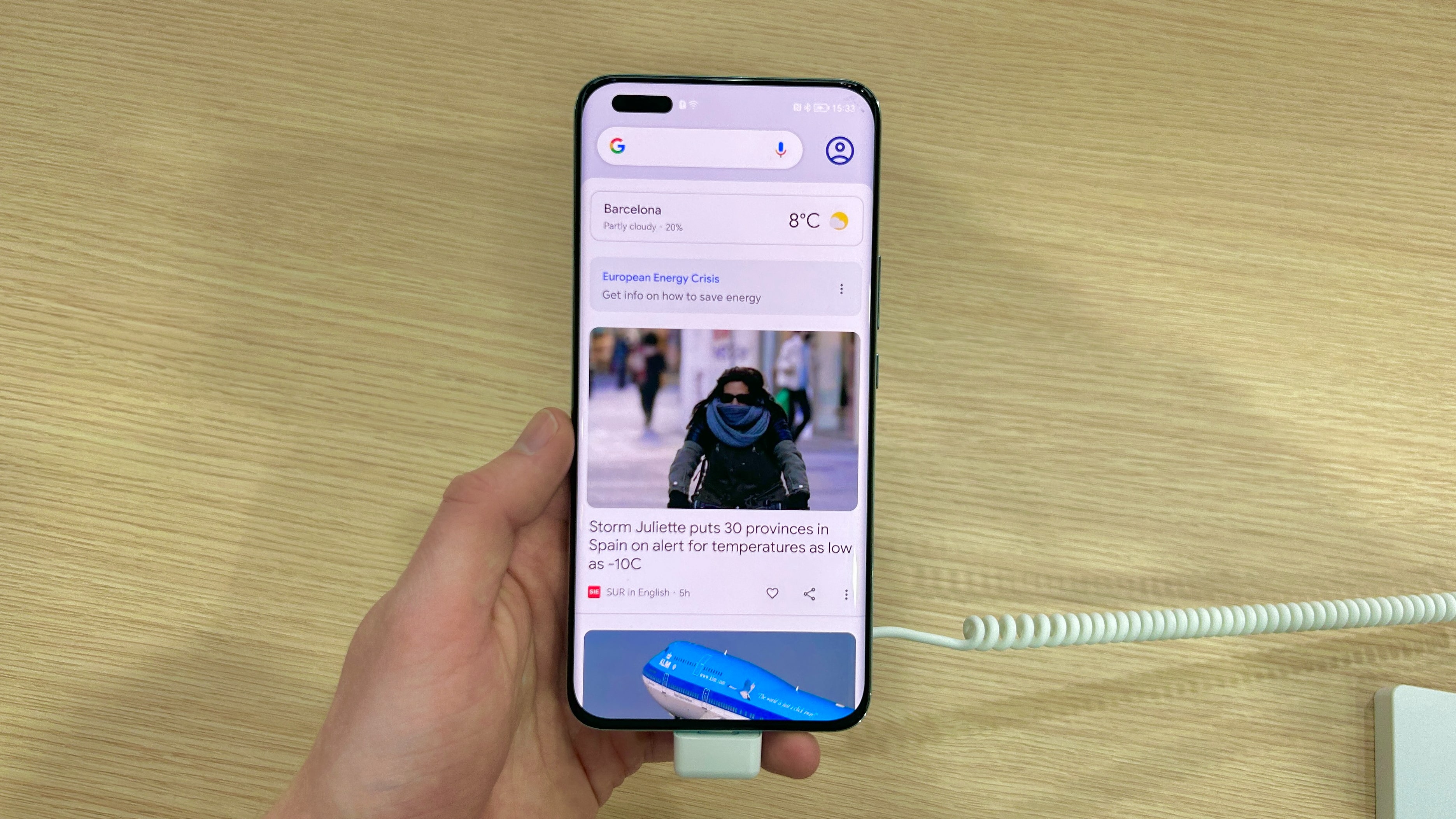 Runs MagicOS 7.1 (based on Android 13)
Unique privacy features
The Honor Magic 5 Pro runs MagicOS 7.1, which is based on Android 13. 
The phone's interface will be familiar to existing Android fans, but Honor also offers a range of smart device-specific features – such as MagicRing for multi-device collaboration and Magic Text for intelligent text recognition – with the Magic 5 Pro. 
You'll get stellar security credentials from the Magic 5 Pro, too, with the phone boasting  industry-first 'Sound Energy Spatial Control Technology', which supposedly generates opposite sound waves to prevent sound leakage for your private phone calls.
The phone's software wasn't available to test in full during my hands-on time with the device, so I'll save further comments for the main review. 
Hands-on Honor Magic 5 Pro review: Battery life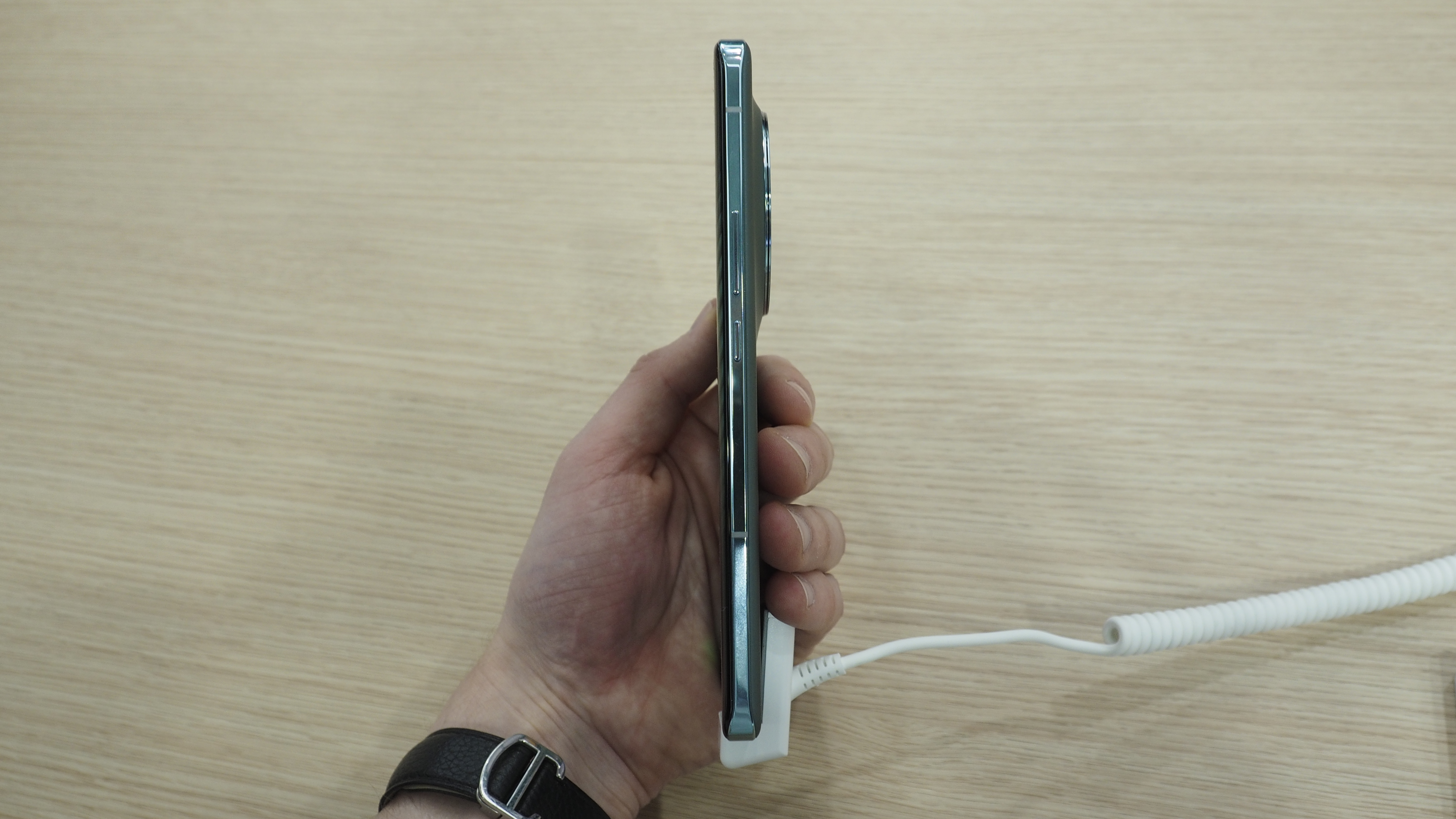 5100mAh battery
66W wired charging, 50W wireless charging
The Honor Magic 5 Pro packs a giant 5100mAh battery that supposedly yields over 12 hours of battery life with heavy usage (for comparison, that's more than the S23 Ultra and iPhone 14 Pro Max can manage). 
You'll get 66W wired and 50W wireless charging with the phone, which is a little less than the 100W wired charging offered by the Magic 4 Pro. 
Naturally, I haven't been able to test the Magic 5 Pro's battery life for this hands-on review, but the specs are promising. 
First tested February 2023