4:30 pm | June 9, 2023
---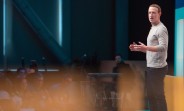 Meta is Apple's chief competitor in the VR market, and it launched its premier offering, the Quest 3 just a few days before Apple dropped the Vision Pro. So it's interesting to hear what Meta founder and CEO Mark Zuckerberg thinks of Apple's inaugural VR headset. During a meeting with Meta employees, Zuckerberg addressed Vision Pro in detail. He said that Apple didn't find "magical solutions" to the constraints of physics that Meta's teams haven't already explored. He notes Apple's use of higher-resolution displays but adds that it requires more energy to power, a battery and a wire...
3:00 am | April 6, 2013
---
Let's be frank: people probably use Facebook more than any other application on their phones.
In fact, Mark Zuckerberg, CEO of the social network, had[……]