Technics EAH-AZ80: Two-minute review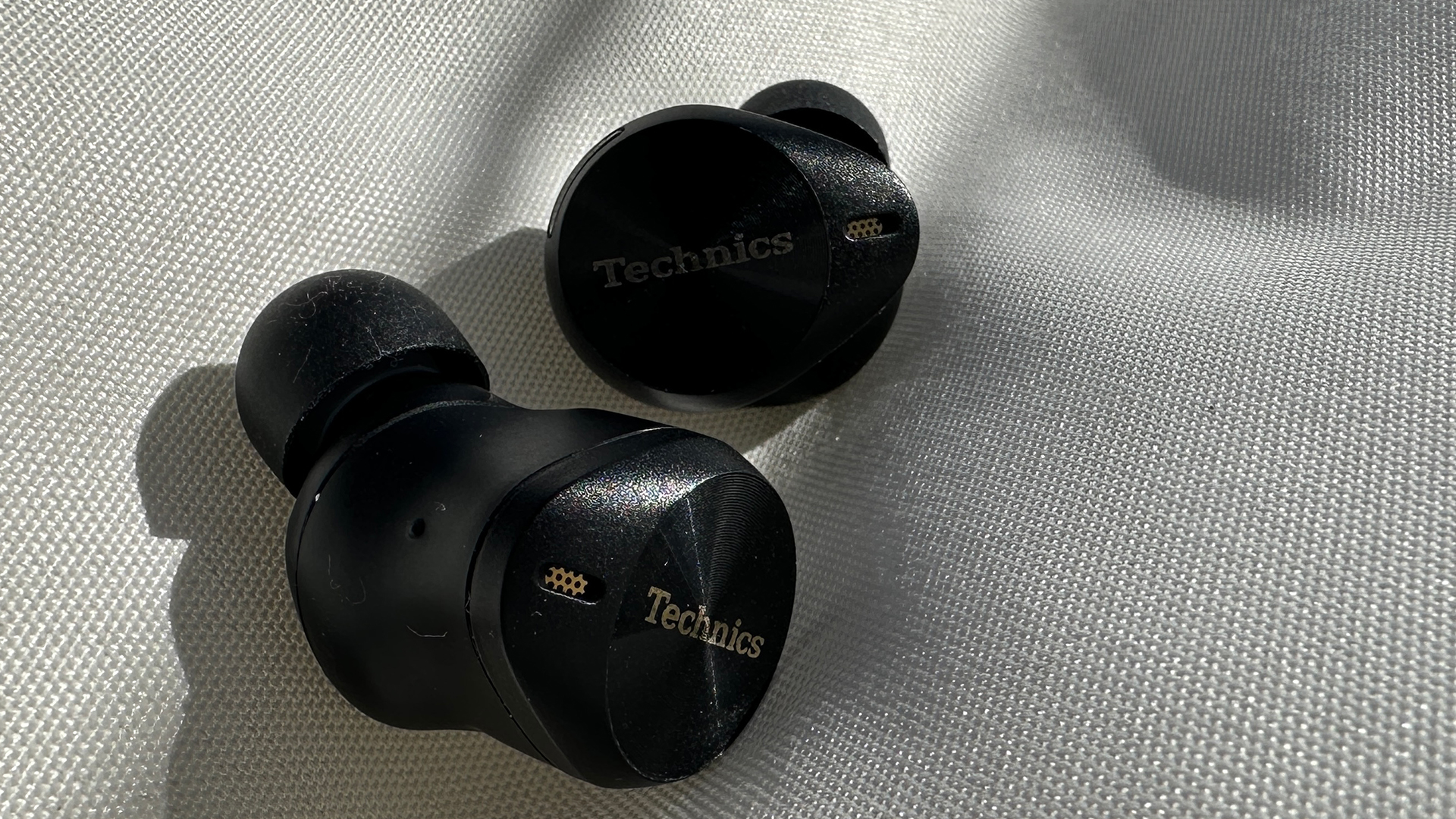 There are a lot choices when it comes to picking the best wireless earbuds. So in a move of either supreme corporate confidence or utter corporate hubris, Technics has decided to join the fray with the EAH-AZ80.
And in virtually every respect, the EAH-AZ80 make a strong case for themselves. The triple-point connectivity (a first in a product of this type) proves stable and useful, and thanks to 'Just My Voice' technology these earbuds are far less prone to wind-noise interference than any number of rivals. The sound they make is also accomplished – it's both swift and accurate, as well as balanced and detailed.
It's not the most energetic sound you've ever heard though. And marginal shortcomings related to battery life and the effectiveness of the active noise-cancellation confirm that Technics has missed the bull's-eye by a tiny margin with the EAH-AZ80. They will be absolutely perfect for some customers looking for the best noise-cancelling earbuds, mind you…  
Technics EAH-AZ80: Price and release date
Release date: on sale now
Price: $299; £259; AU$499
The price of the Technics EAH-AZ80 is that of a premium product, for sure – but happily, so is the specification. They have Bluetooth 5.3 with LDAC compatibility, triple-point connectivity, big and serious drivers doing the audio business, sound telephony functionality and noise-cancellation, a thoughtful and comfortable design. Honestly, it's hard to know what more Technics could have done.
The issue is this: at that price, their closest competition is the Sony WF-1000XM4 (which launched at $279 / £250 / AU$449.95 but are slightly discounted these days owing to a 2021 release date) and the Bose QuietComfort Earbuds 2 ($299 / £279 / AU$429). Anyone familiar with either product will know that to call these earbuds stiff competition is an understatement. 
Technics EAH-AZ80: Specs
Technics EAH-AZ80: Features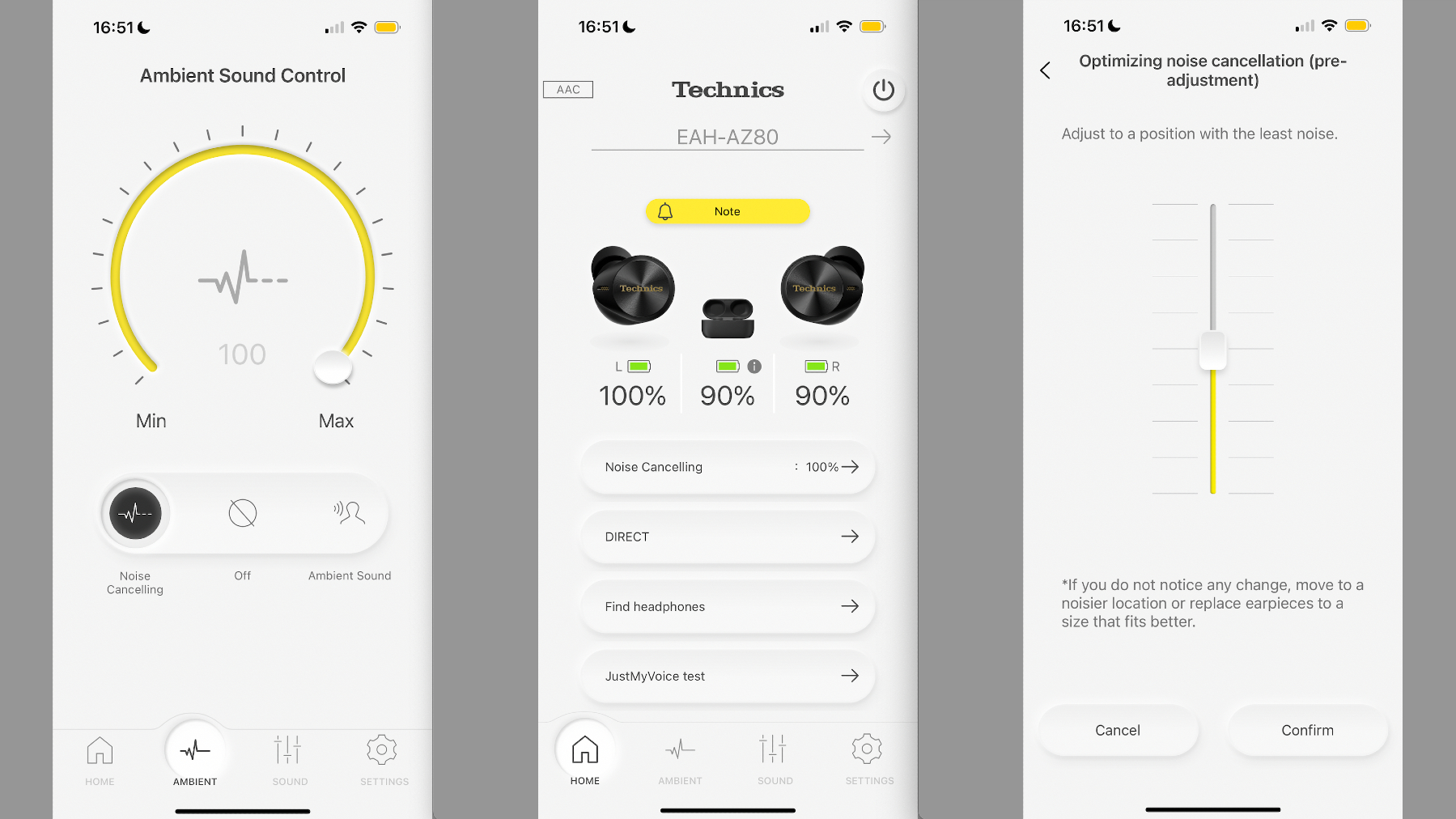 Bluetooth 5.3 with triple-point connectivity
SBC, AAC and LDAC codec compatibility
10mm full-range dynamic drivers
When it comes to the business of a) getting audio information on board and b) making the best of it, Technics has gone to considerable lengths with the EAH-AZ80. Really, it's hard to identify a gap in the specification here.
Wireless connectivity, for example, is handled by Bluetooth 5.3, and there's high-resolution LDAC codec compatibility as well as the more prosaic SBC and AAC alternatives. And in what the company confidently claims is a world's first, the AZ80 have triple-point connectivity, which means that for those of us who can't possibly manage without our earbuds being simultaneously connected to our laptop, smartphone or tablet, can switch seamlessly between them.
No matter the source of your digital audio information though, Technics delivers the sound to your ears via a pair of 10mm full-range, free-edge aluminium dynamic drivers. These work in conjunction with an internal acoustic control chamber and harmoniser to serve up a frequency response of 20Hz to 40kHz. And thanks to an IPX4 rating, you should be able to enjoy these full-range sounds in any realistic environment.
Each earbud is fitted with four mics: 'talk', 'voice detection' 'feed back' and 'feed forward'. Technics wants the EAH-AZ80 to be your go-to earbud when it comes to communication. Its 'Just My Voice' technology is designed to enhance vocal clarity in unhelpful environments and suppress those external sounds that can impact on in-call intelligibility. The mic array also deals with the 'dual hybrid' active noise-cancellation, of course - and in addition to the 'feed forward' and 'feed back' noise-cancellation, the AZ80 have a software filter dealing with digital signal processing and a hardware filter for the analogue equivalent.
The charging case has a USB-C slot for connection to mains power, and the Technics are compatible with any Qi-certified charging pad too. From 'flat' to 'full' takes around two hours, and 15 minutes in the juice should be good for more than an hour's action. Battery life can be anything from a quite acceptable seven hours in the 'buds and 25 in the charging case (if you're listening to AAC files with the ANC switched off) to a rather less impressive four hours (earbuds) and 16 hours (charging case) if you switch the ANC on and stream hefty LDAC files.

Where control is concerned, you've a number of options. The capacitive touch surface on each earbud is large and responsive, and you can reliably control 'play/pause', 'volume up/down', 'skip forwards/backwards', 'answer/end/reject call' and 'cycle through ANC options' this way. The fact that the number of taps or presses each function requires can be user-defined is very welcome, too.

You can define the controls in the 'Audio Connect' app that's free for iOS and Android. It's a clean, stable and logical app, with plenty of functionality and no flashy graphics to distract you – altering the intensity of the active noise-cancellation (or dialling the amount of ambient noise you hear up or down), setting custom EQ levels, and checking for firmware updates are among the highlights.
That quite complex arrangement of mics comes into its own where voice-control is concerned. The EAH-AZ80 are compatible with all native voice-assistants except Bixby, and your interactions with the assistant are reliable and responsive. 
Feature quality score: 5/5
Technics EAH-AZ80: Design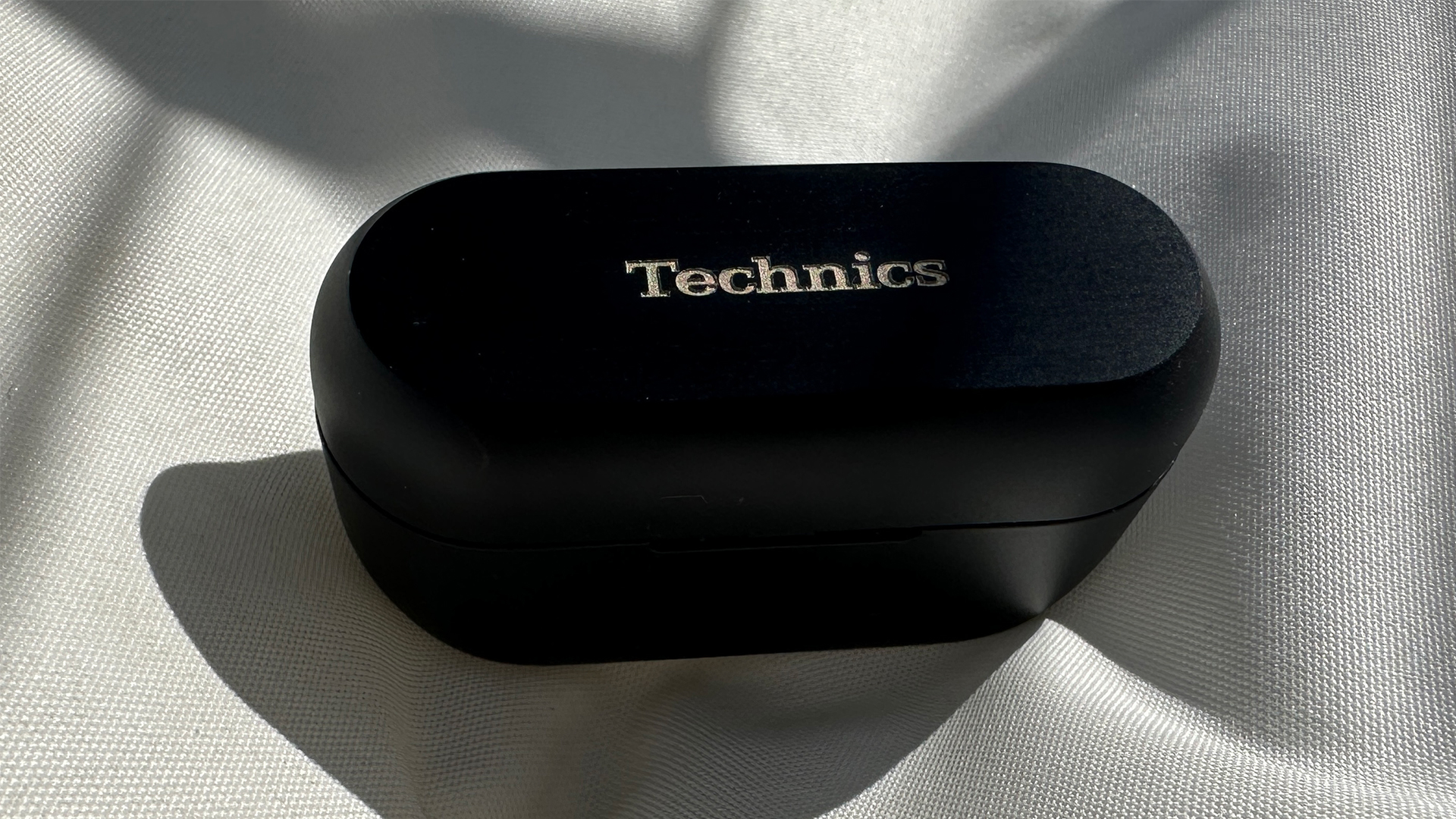 7g per earbud 
Careful ergonomic shape
Milled aluminium touch surface 
Obviously Technics didn't tear up the rulebook where the design of true wireless in-ear headphones is concerned when it finalised the EAH-AZ80. But as well as giving a necessarily small and discreet product a hint of 'premium', it's also created an earbud that manages to be both more comfortable and more stable than the norm.
The basic look is good – the fairly large milled aluminium touch surface on each earbud looks and feels good. The same is true of the charging case in which they travel in. Each part of the product has a confidently understated 'Technics' logo stamped on it, which isn't too obstructive. 
The plastics that constitute the majority of the product are sturdy and feel robust, despite the earbuds weighing a svelte-enough 7g each – the charging case is an equally trim 50g. Build quality hasn't been compromised in order to keep the weight down though – the EAH-AZ80 feels like a product that will last for the long haul.
Technics has included a moulded extrusion into the otherwise-unremarkable drop-shaped body of each earbud. The company calls this shape 'concha-fit', and it's designed to fit as naturally and unobtrusively as possible into the ear. It also distributes the weight of the earbuds as evenly as possible once they're in situ. And to further maximise the comfort of the AZ80, Technics provides seven different sizes of silicone earbud in the packaging – the accuracy of the fit is all-important when wearing in-ear headphones, of course, and Technics isn't shy about pointing out your ears may not be identically sized. That's why it's given you as good a chance as possible to get the ideal fit for both your ears. 
Design quality score: 5/5
Technics EAH-AZ80: Sound quality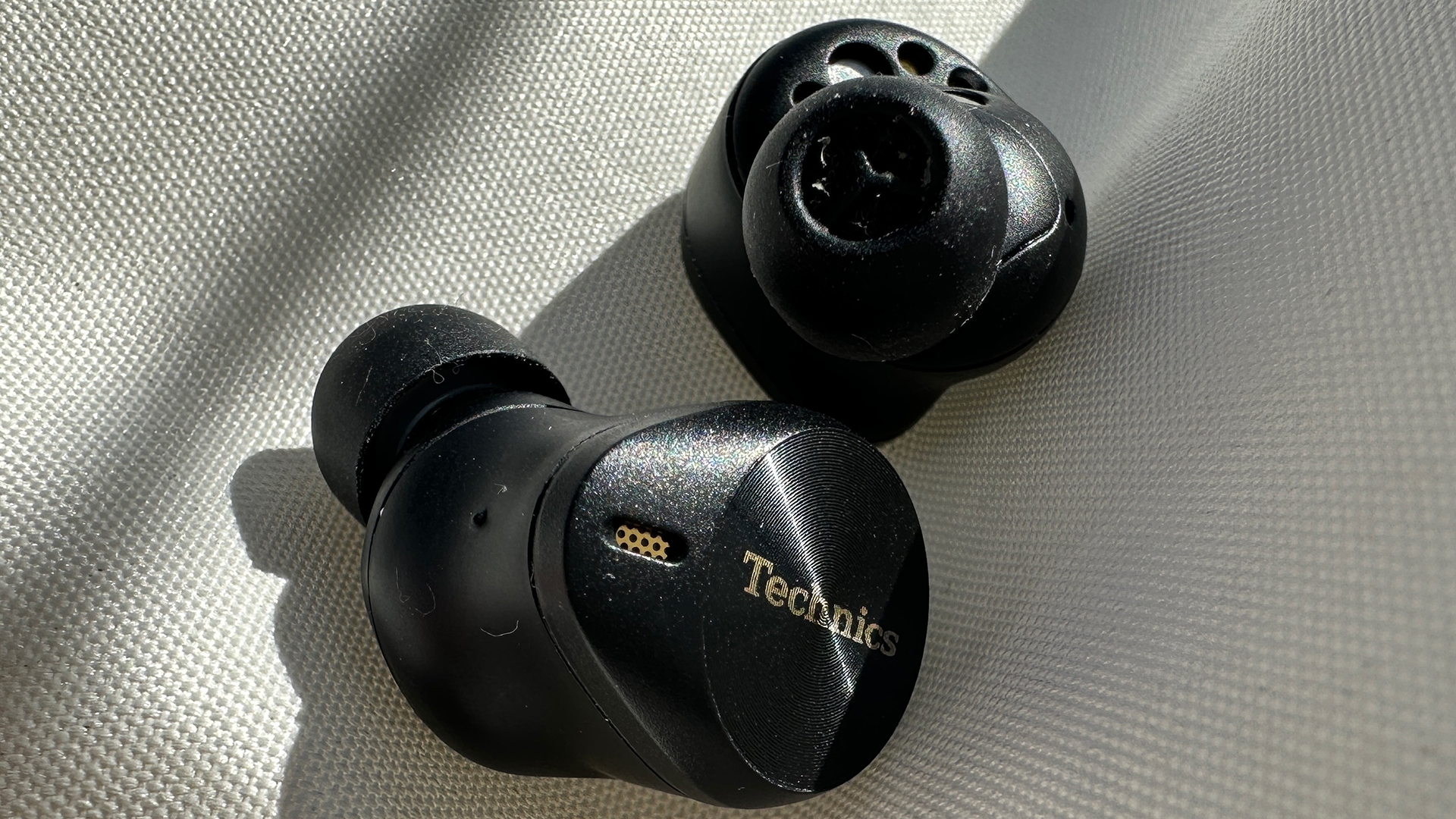 Detailed, natural and neutral (though not the most exciting sound)
Excellent telephony 
Average active noise-cancellation 
Where audio quality is concerned – and let's face it, that's what most of us are here for most of the time – the Technics EAH-AZ80 are a vexatious combination of really impressive and slightly underwhelming.
A track that played to their strengths was a Tidal Masters file, Grapevine by Weyes Blood, which offered lots to admire. The whole frequency range is really nicely balanced and coherent from top to bottom and very even-handed from the (deep, nicely textured) bass to the (clean, politely attacking) treble. The midrange is eloquent and informative, thanks to impressively high detail levels, and the journey from floor to ceiling and back again is smooth and seamless.
Control of the lowest frequencies is good, with nice straight edges to the attack of sounds and no discernible overhang to the decay. This helps the AZ80 remain nice and positive when it comes to rhythmic expression, and it means that the midrange is never in any danger of being swamped or dragged at by overconfident bass. The opposite end of the frequency range is equally well controlled, though in ultimate terms the Technics could do with a little more substance and shine to those treble sounds.
The sky-high detail levels means no harmonic variation or minor dynamic discrepancy goes astray, and the AZ80 are just as capable when it comes to barrelling through the big dynamic shifts in a recording too. Their soundstage is spacious and well organised, so even complicated or instrument-heavy recordings are solidly laid out and easy to follow. And even though every element of a recording gets sufficient space in which to express itself, the Technics properly unify recordings into a convincing whole, into an actual performance.
They're not the most exciting sounding earbuds you ever heard though, it has to be said. For all of their precision and insight, the AZ80 are just a little short of the sort of drive and animation that can turn listening into an invigorating, exciting experience. There's no denying the admirable nature of their even handedness and realism, of course – but some music demands the sort of bite and attack that the Technics don't seem especially comfortable with delivering.
And there's a similar diffidence to the way their active noise-cancellation is implemented. The problem for the EAH-AZ80, of course, is the problem that all true wireless in-ear headphones have when it comes to ANC: the Bose QuietComfort Earbuds II. Compared to the best in class, the AZ80 can rescue overall noise, do an especially worthwhile job on high-frequency stuff – but they're unable to do a complete job on all the external distractions you might encounter. In the opposite direction, though, their amplification of external sounds when using 'ambient sound' is impressive.
The way they handle connectivity and communication needs no caveats, though. The triple-point system provides seemingly unbreakable connections to your three nominated devices, and multitasking is a breeze as a result. And the 'Just My Voice' technology works well too - wind-noise is dramatically reduced, and voices are far more prominent as a result. They sound slightly less than 'natural', it's true - but that's infinitely preferable to wind interference when you're trying to hold a conversation. 
Technics EAH-AZ80: Value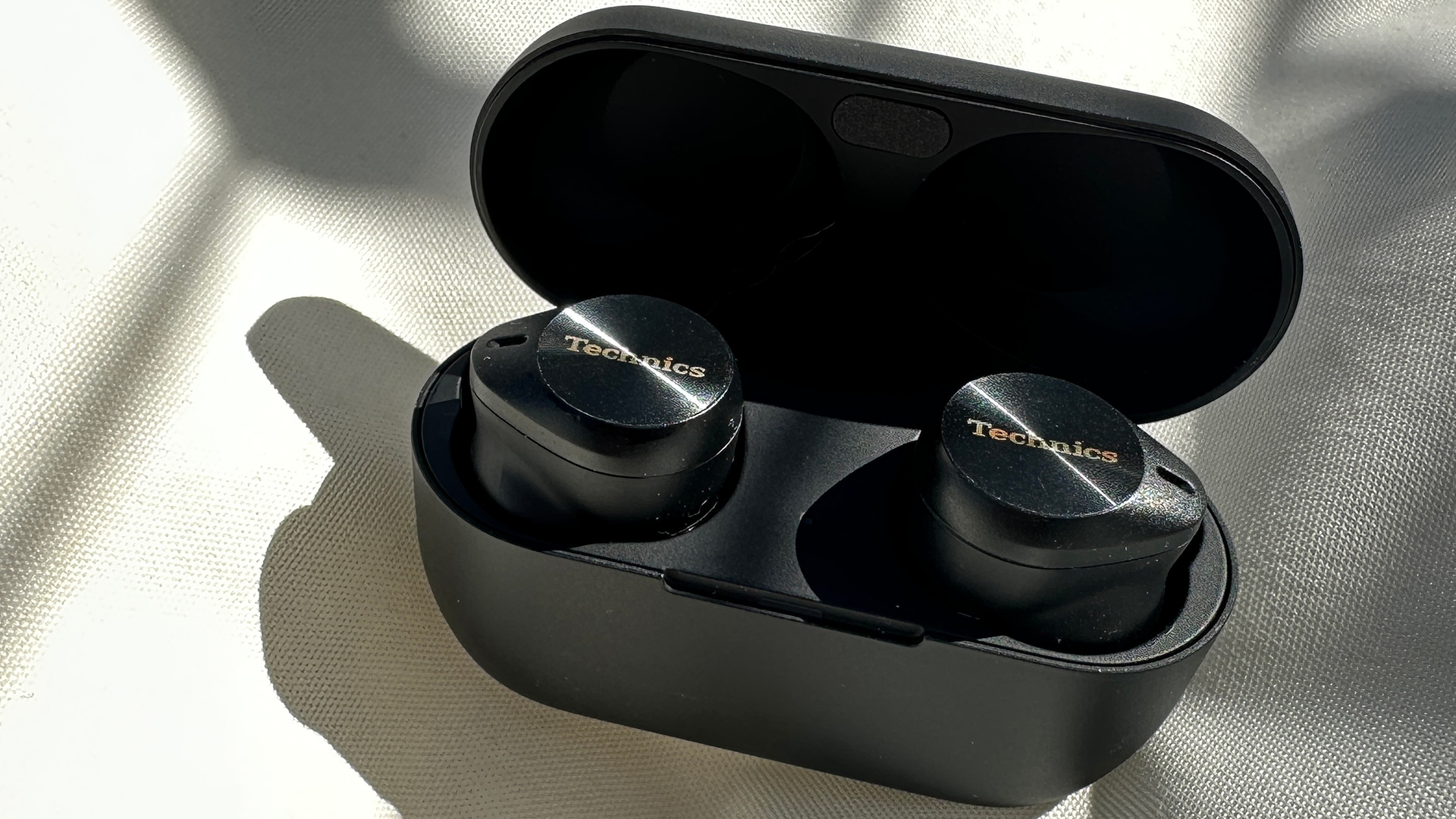 Properly built with premium materials
Many performance positives
But not an across-the-board success
Around the edges, the Technics EAH-AZ80 represent great value. They look and feel every bit of the asking price, all their clever functions are implemented flawlessly, and they give that ineffable pride of ownership that so many alternative designs strive in vain for. And in many ways, they sound great too, especially if you value accuracy and neutrality of sound above all else. But their slight lack of animation is compounded by second-tier ANC and battery life, which means they can't quite score full marks. 
Should you buy the Technics EAH-AZ80?
Buy them if...
You intend to wear your earbuds all day
Some carefully considered design, along with a lavish selection of silicone ear tips, means the EAH-AZ80 should stay comfortable no matter the size or shape of your ears.
You want to switch between devices
Triple-point connectivity is a world-first in a product like this, and it's brilliantly convenient for those of us who surround themselves with sources of audio.
You prefer a neutral, lifelike sound
There's nothing artificial about the way the Technics EAH-AZ80 sound, they offer convincingly realistic and coherent listening in all circumstances.
Don't buy them if...
You intend to wear your earbuds all day
Even at its best, the battery life available here is nothing special – long-haul flights are a non-starter, unless you want to recharge halfway through.
You have a lot of external noise to block out
While it's true to say there are less capable noise-cancelling true wireless earbuds around, it's equally true to point out that there are more capable alternatives too. 
You prefer an animated, exciting sound
For all of their poise, balance and accuracy, the Technics EAH-AZ80 don't produce the most out-and-out animated sound you ever heard.
Technics EAH-AZ80: Also consider
How I tested the Technics EAH-AZ80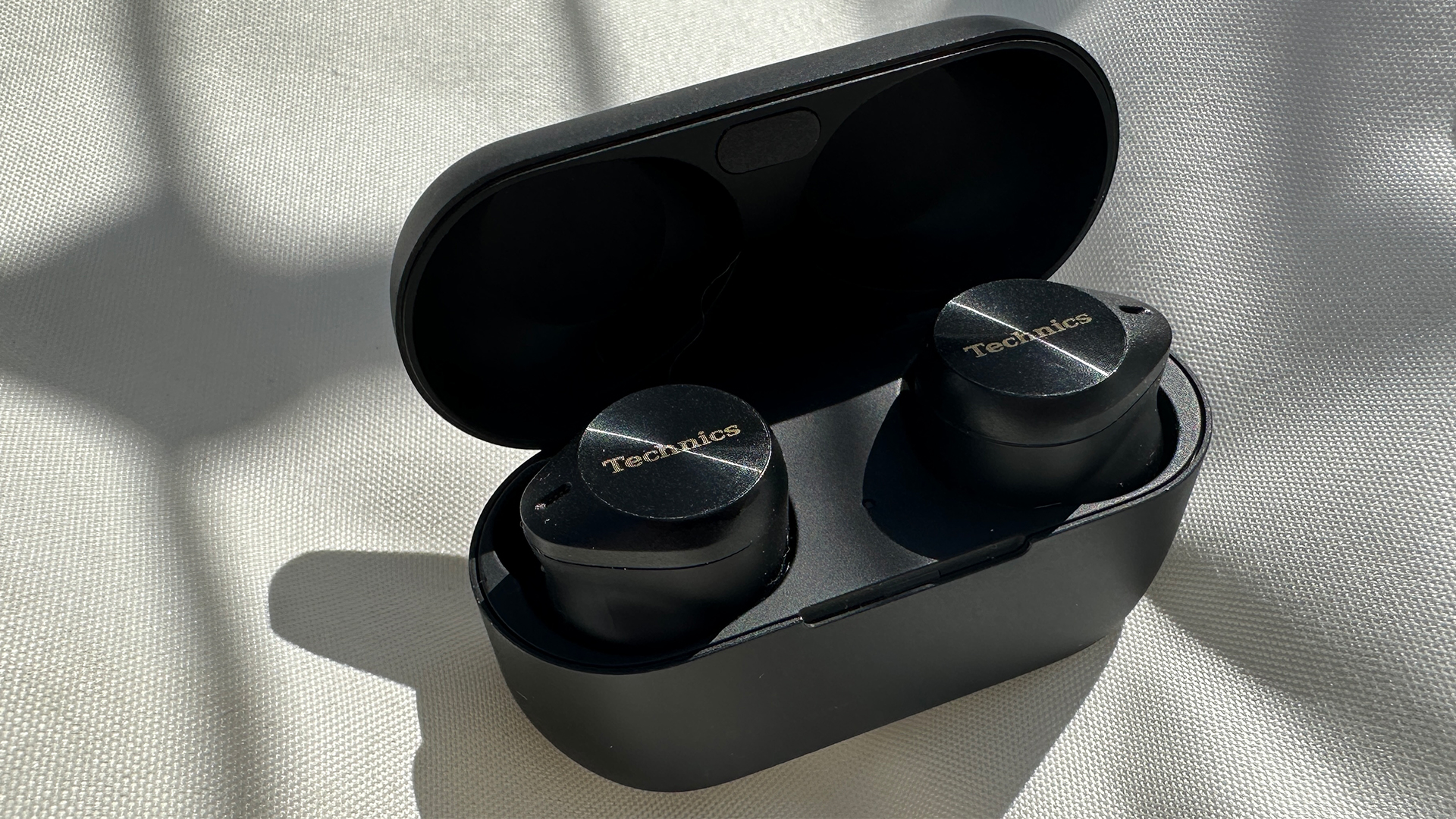 Tested for a week or more
Used in a home office, on the street and on public transport 
Apple iPhone 14 Pro and Nothing Phone (1) as source players
The benefits of the Technics EAH-AZ80 are obvious. They stay comfortable for easily as long as their battery lasts, they connected to all the sources of music I could stash on me at once and they're simple to use for phone calls even in a wind-tunnel. 
If it wasn't for the fact that I could hear some of the sounds around me, especially on the train, and the fact that I know some of the music I listened to should sound fiercer, I'd give them a wholehearted five star recommendation.   
First reviewed June 2023