Timbuk2 Division Laptop Backpack Deluxe: two-minute review
In a way, the Timbuk2 Division Laptop Backpack Deluxe kind of reminds me of Hermione's beaded handbag in Harry Potter and the Deathly Hallows. You know, the one that's small on the outside but is so big on the inside, she was able to fit a bunch of clothes, potions, books, and even a tent.
That isn't to say that the Division Laptop Backpack Deluxe is magical in any way, but the fact that it's so deceptively small and compact is impressive – and something that someone like me (a tiny person who once drew the concern of an old woman on a train to Budapest because of how massive my pack looked on me) – can very much appreciate.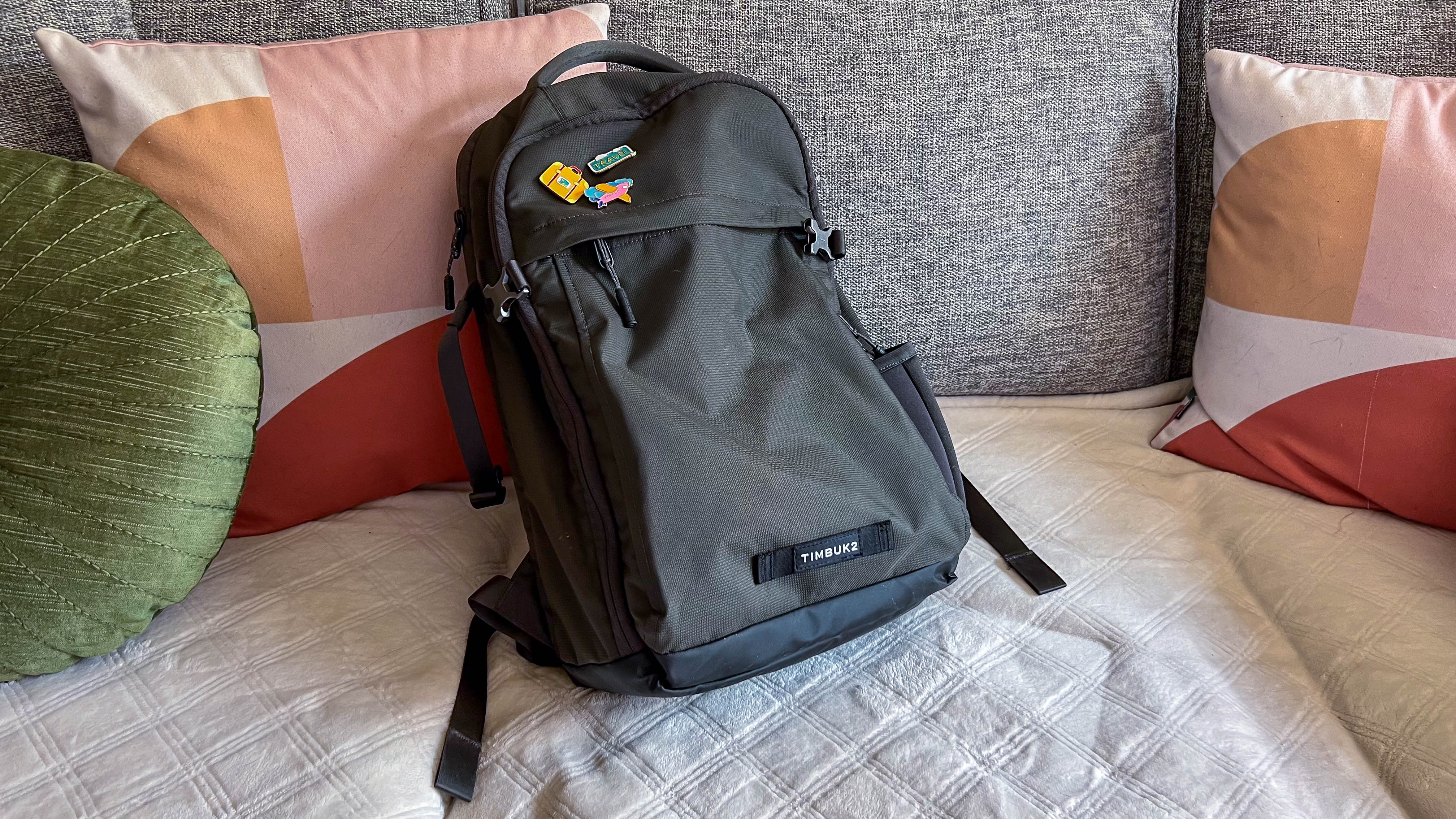 The first time I took this backpack out of its packaging, I was in all honesty skeptical. I was about to embark on a month-long trip around Spain and Morocco, and I was planning on using it as my carry-on so I'd have something to put some of my essentials in. However, at mere 10.6 x 5.12 x 17.3 in (27 x 13 x 44 cm), it didn't look like it could fit my work devices, my toiletries, and enough clothes to last me a few days just in case my checked bag got lost in transit.
So imagine my surprise when I realized it could fit all that and then some – by some, I mean my full-frame mirrorless camera, a portable fan, a rain jacket, and a throw blanket too. And that's just one of its many, many merits.
Image 1 of 4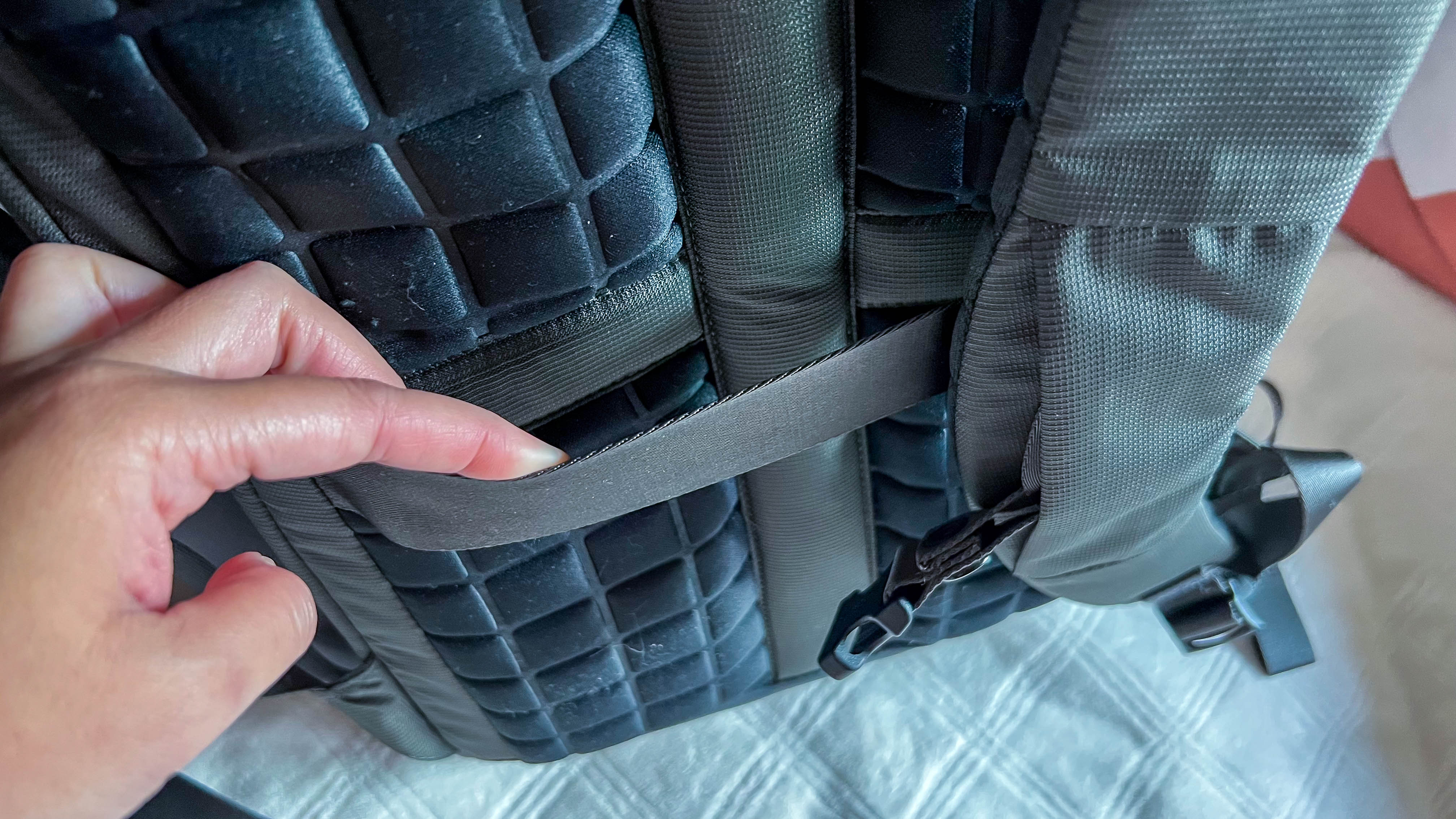 Image 2 of 4
Image 3 of 4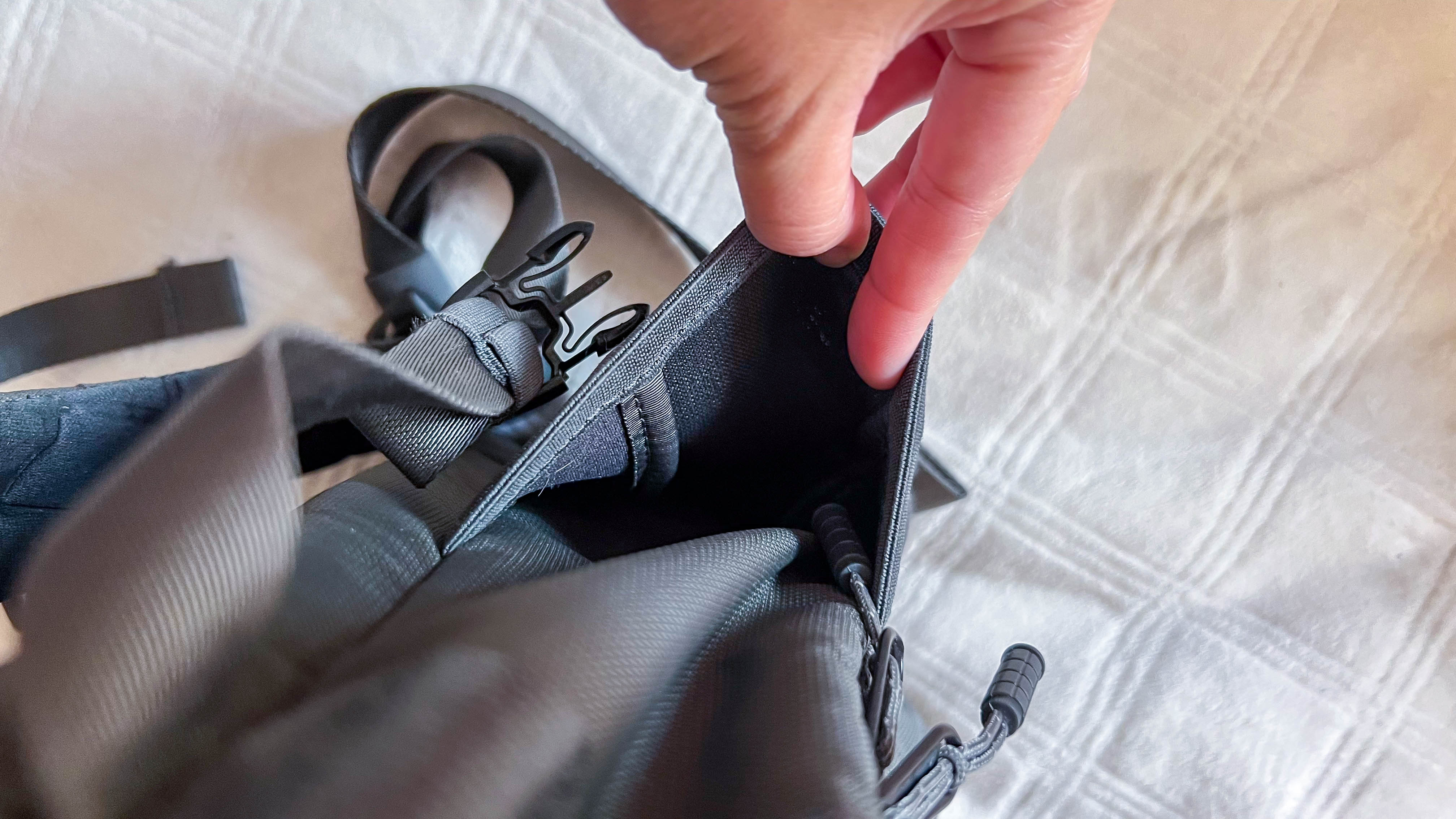 Image 4 of 4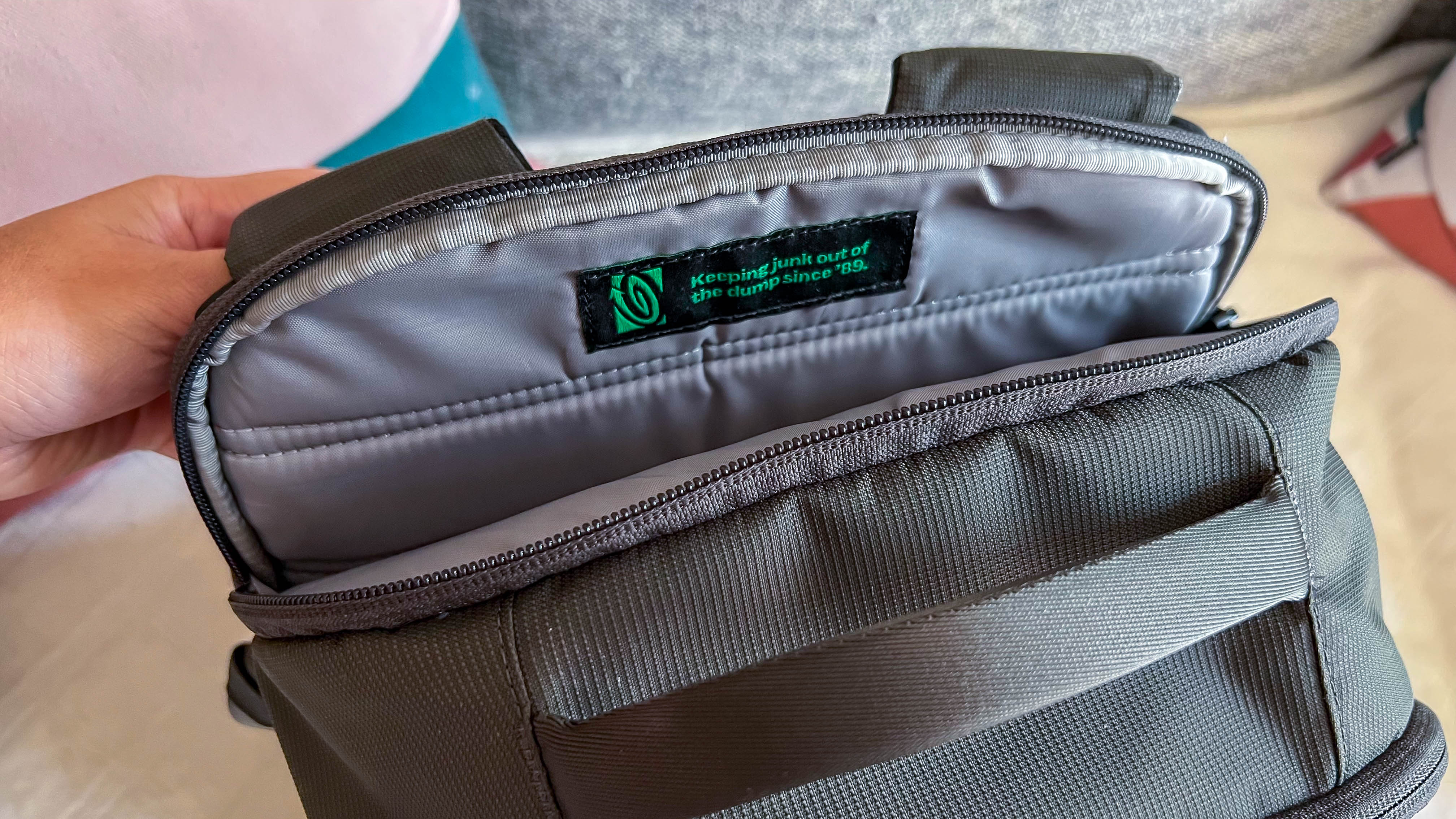 Now, I just don't hand out five out of five ratings casually, and I'm not saying that the Timbuk2 Division Laptop Backpack Deluxe is THE backpack to rule them all (though it has proven itself among the best laptop bags and best backpacks we've tested to date). I think that the luggage pass-through in the back could have been slightly bigger – the way it is now, you have to put in a little bit of effort to slot it through a luggage handle. 
It also could use more pockets for better organization. It only has five, if you don't count the rear laptop compartment – a front pocket, a smaller mesh pocket in the main compartment, a padded laptop sleeve also in the main compartment, a stretch water bottle pocket on the side, and a tiny slot for a charging cable. Finally, and this might just be me being a little nitpicky, rear loading straps or a bottom compartment for shoes would have been nice.
Still, it's hard to complain when you've already got a near-perfect laptop backpack in your hands. And it's more than just because it's capable of fitting all your devices and everything you need for a long weekend away while staying beautifully compact.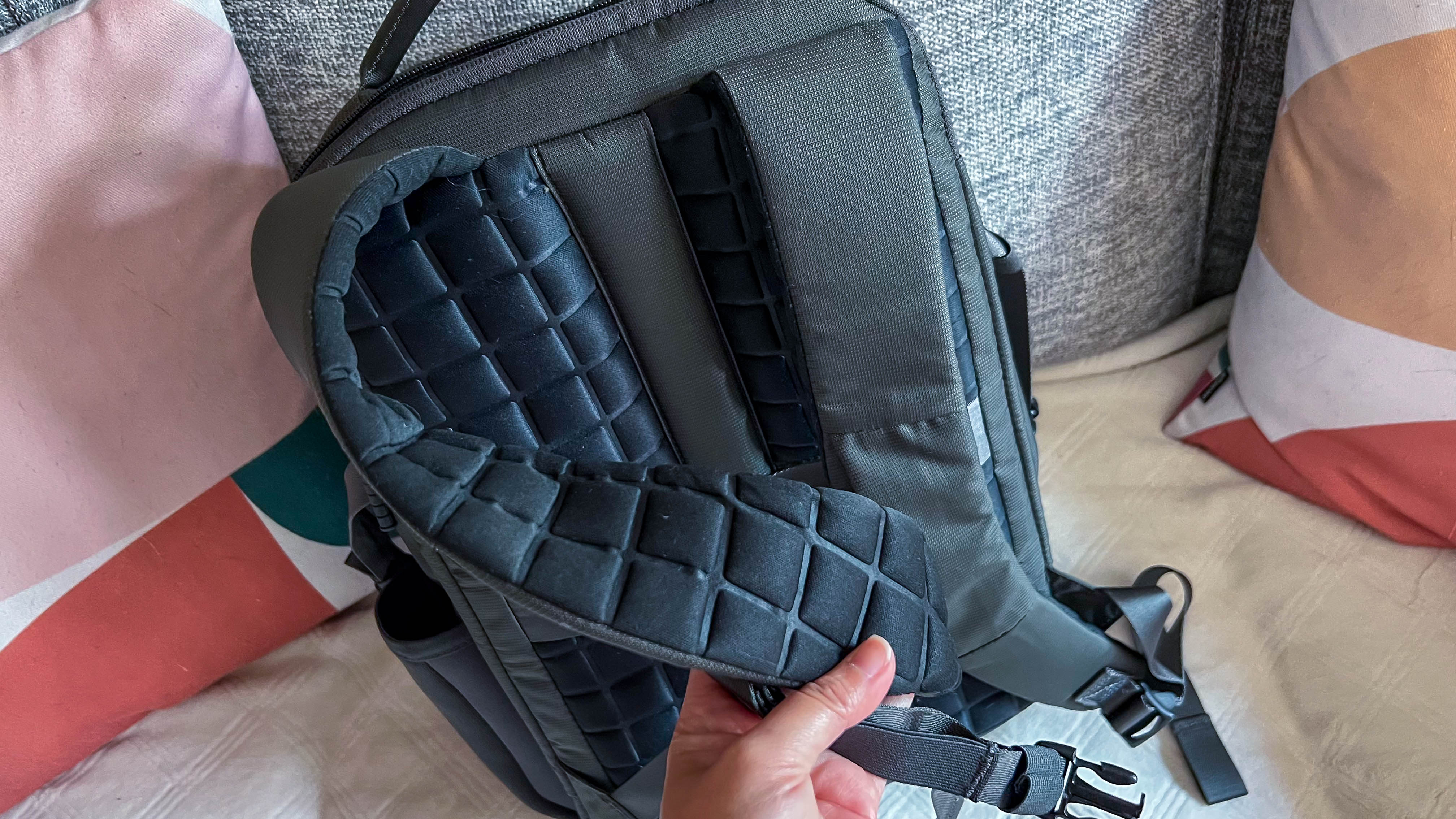 At only 2.2 pounds (under 1kg), it's one of the most lightweight premium backpacks we've tested here – something you'll appreciate when you're already lugging several pounds of weight while trying to catch a train during your daily commute or trudging on hilly streets while dragging your suitcase behind you. Adding to your comfort are those thick, padded straps that help spread the weight around your shoulders and do not dig into your skin, as well as its nicely padded back that is kind to your back – not to mention, your laptop.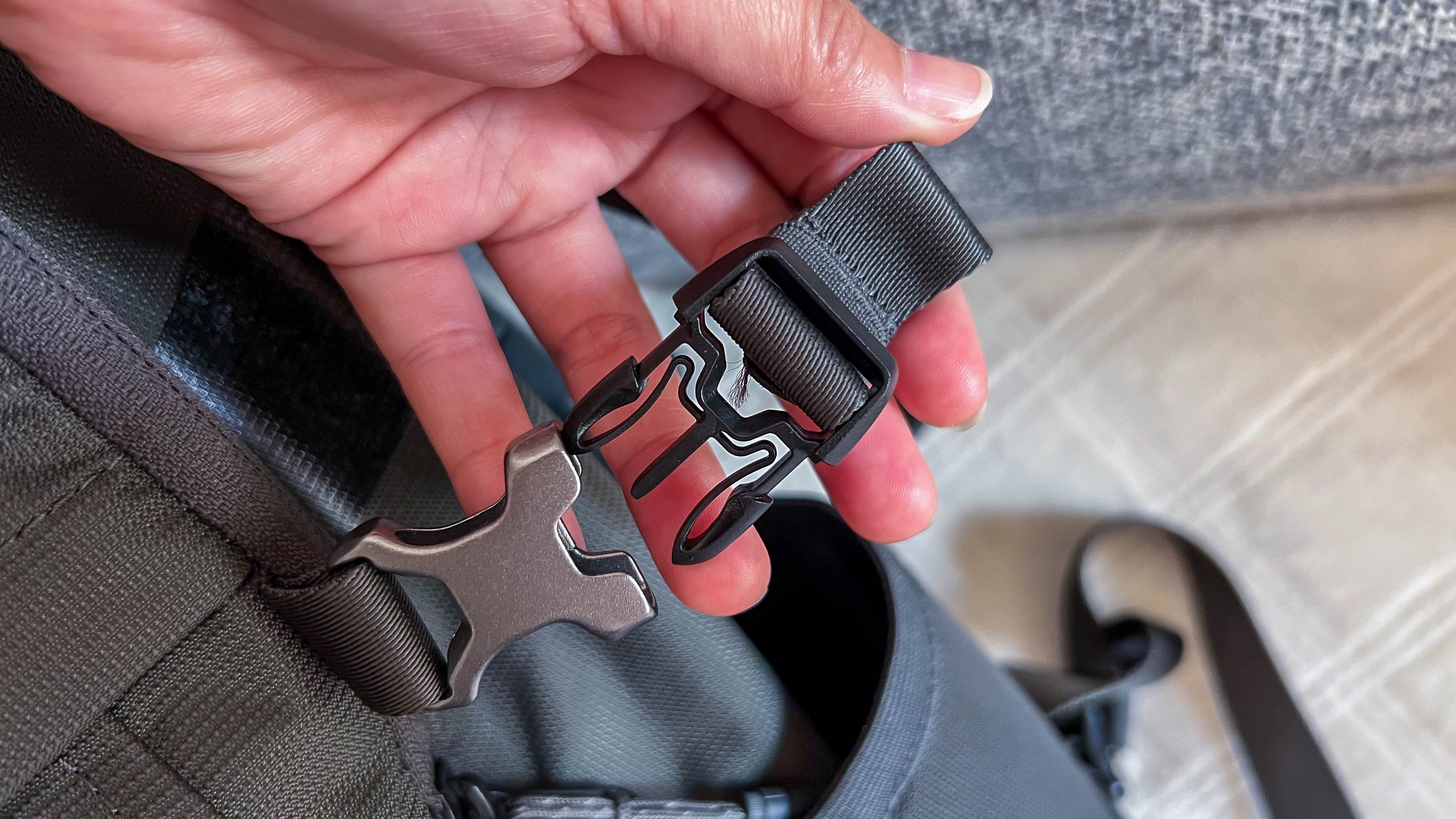 The 18L Timbuk2 Division Laptop Backpack Deluxe's main compartment is expandable, which explains how I was able to fit several days' worth of clothes in there on top of my toiletries, make-up and devices, while the external compression straps allowed me to scrunch the backpack even when it's at its capacity, keeping it compact-looking. And while I still think it could use more pockets, the ones it does have still allowed me to keep things organized, with my chargers, cables and small devices in the front, the personal items I needed easy access to in the top mesh pocket inside the main compartment, and the things I needed super quick access to (like my portable fan – a lifesaver when you're traveling in humid Andalucia in the summer) in the water bottle compartment.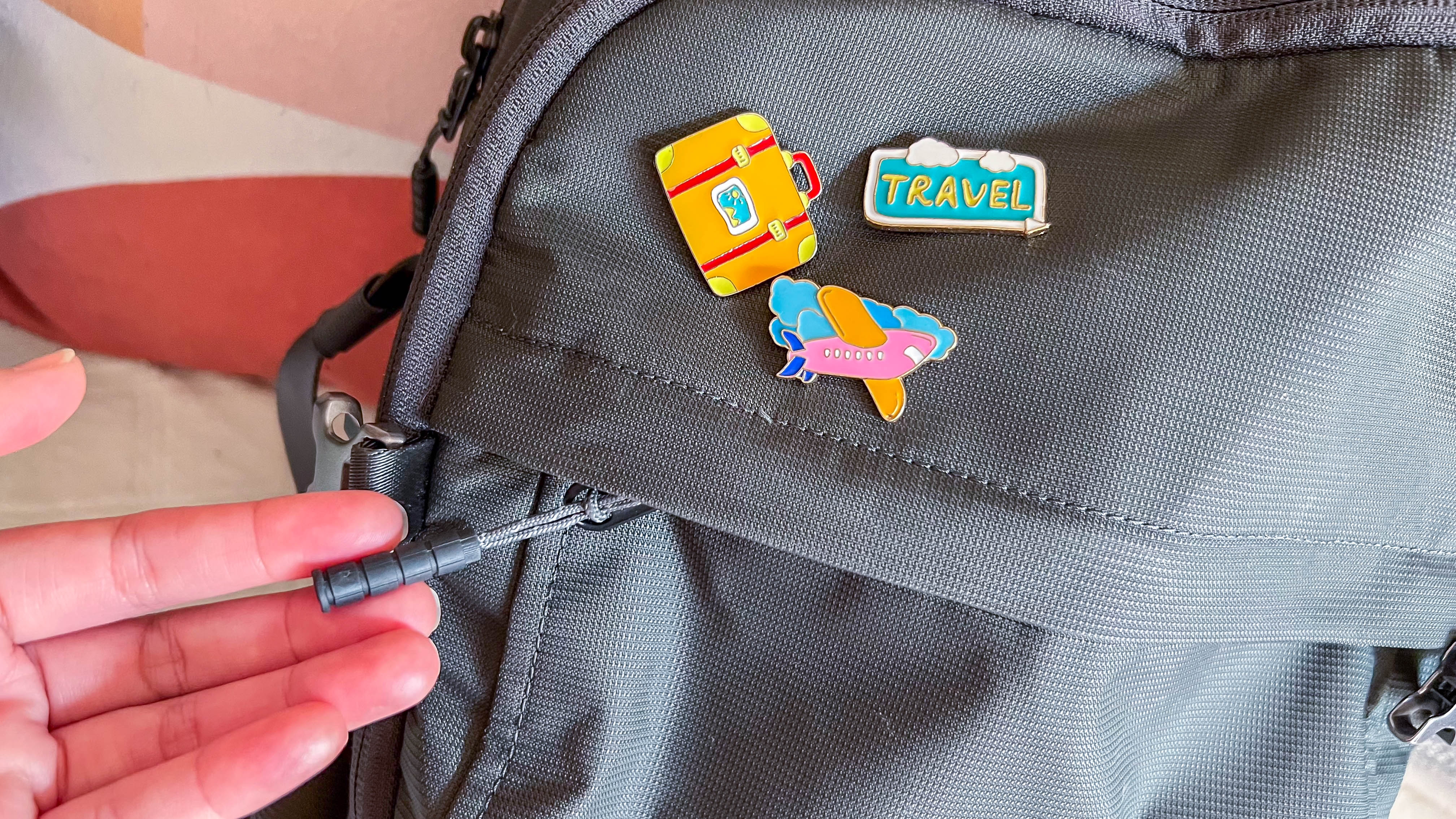 My constant concern about backpacks are pickpockets, but I quickly found out that you need not worry about your things in this one. Made of premium and hearty materials that are, by the way, so very easy to clean, this pack is so robust, pickpockets will have a hard time slashing its front or side open. Plus, its front pocket zipper has been thoughtfully installed in a way that makes it tricky for just anyone to slide it open. That can be a double-edged sword, as you may have a hard time opening and closing it when the pack is at full capacity, but I'd rather be inconvenienced a little than have my things stolen.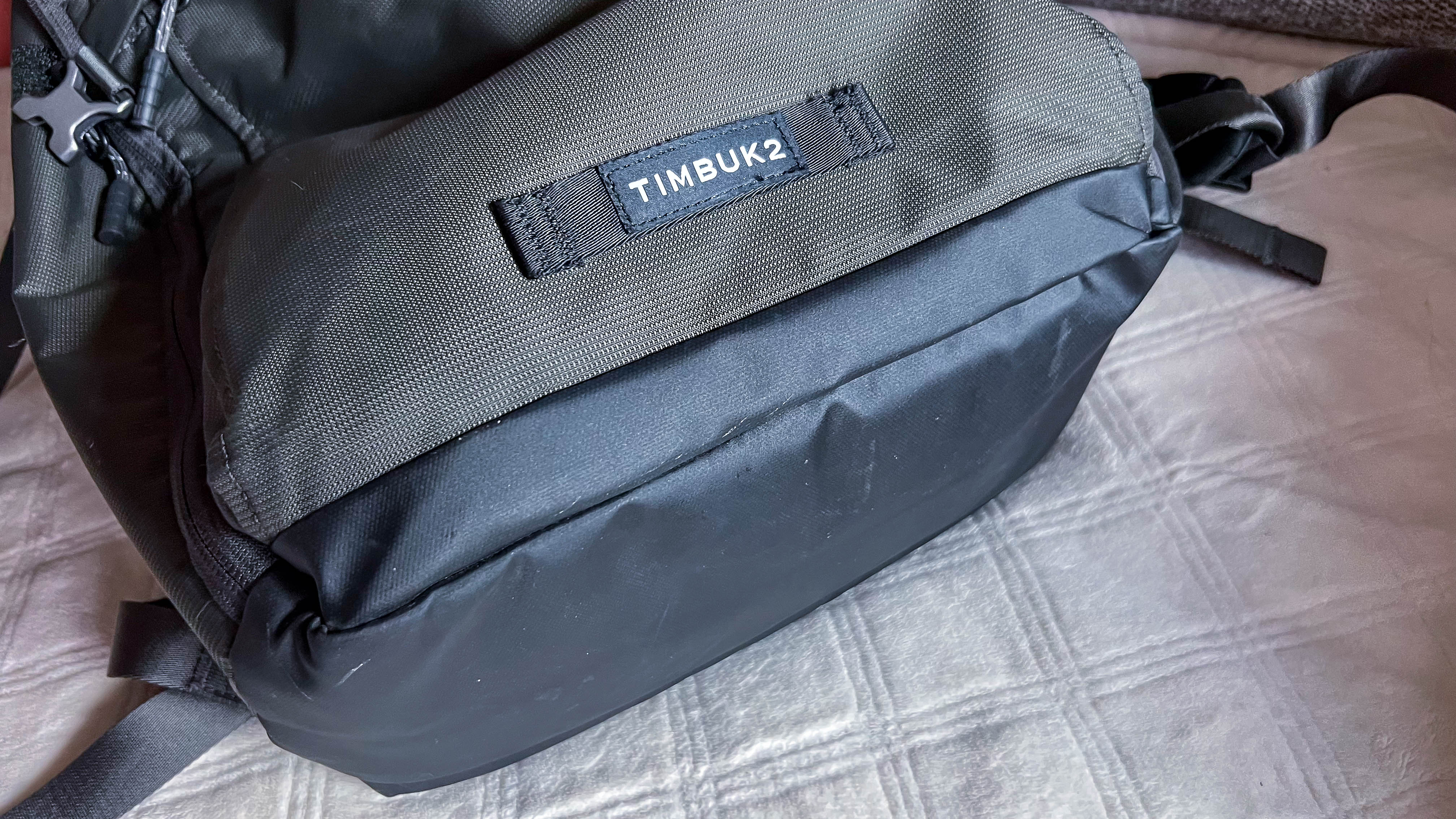 A surprise feature (to me) was its waterproofing. I didn't know it was waterproofed until I found myself caught in a heavy downpour for a few hours in Cordoba, Spain. I was forced to walk twenty minutes from the train station to the Airbnb my friend and I had rented, then wait a couple more hours in the rain with nothing but a tree to shelter me, the whole time dreading the fate of my laptop. Luckily, this pack held up its end of the bargain, keeping all my belongings safe and dry. Nary a drop leaked, even through its zippers!
Without a doubt, the Timbuk2 Division Laptop Backpack Deluxe not only delivers as promised but also goes above and beyond its call of duty. I'm supposed to test a few more laptop bags, but if I'm being honest, I'm not sure if I want to swap this one out for others.
Timbuk2 Division Laptop Backpack Deluxe: Price
How much does it cost?  $139 / £149 (about AU$220) 
When is it available? Available now
Where can you get it? Available in the US, UK, and Australia
Available in Eco Black Deluxe, Eco Nightfall, Eco Static, and Eco Titanium colorways, the Timbuk2 Division Laptop Backpack Deluxe will set you back $139 / £149 (about AU$220). And it's worth every penny! Budget-minded consumers might feel that paying more than $100 / £100 is too much, but trust me, this backpack is going to last you a while and can be used for most of your carrying needs (outside of a cocktail party, a formal event, or a small bags only concert).
Plus, in comparison to other premium packs, it's actually decently-priced. The Mous 25L pack, for example, will cost you $279.99 / £219.99 / AU$430 while the The 20L Peak Design Everyday Backpack V2 will set you back $260 / £192 / AU$355. Granted, these have a slightly higher capacity, but that's still a massive jump in price.
Timbuk2 Division Laptop Backpack Deluxe: Specs
Should you buy the Timbuk2 Division Laptop Backpack Deluxe?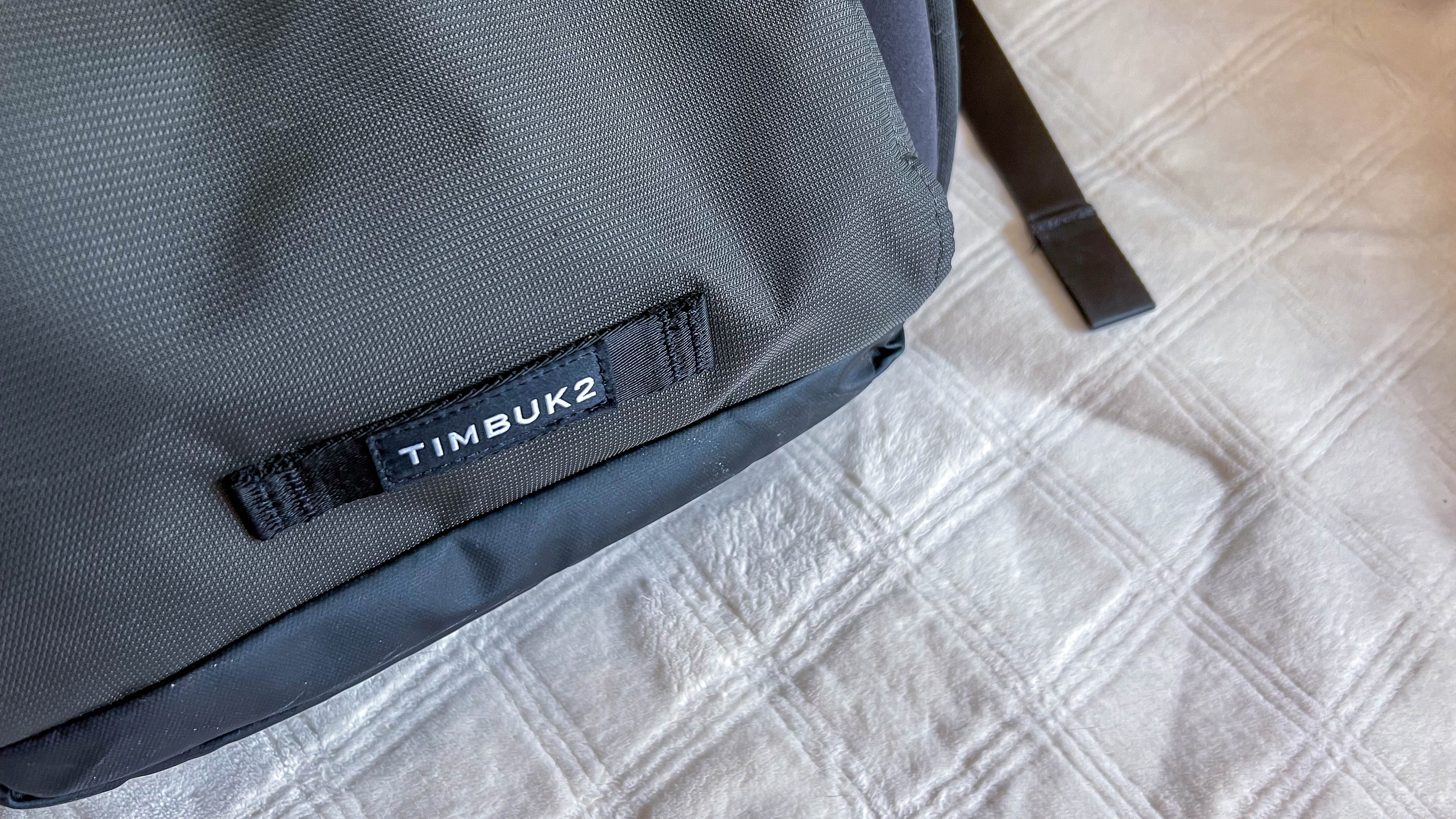 Buy it if...
You want a spacious backpack that doesn't look massive
While small and compact, the Timbuk2 Division Laptop Backpack Deluxe can fit a lot – enough for a long weekend trip with devices included and definitely more than enough for your daily work commute.
You're looking for a robust, waterproof backpack
This has kept my belongings dry after a few hours of heavy downpour in Spain, and it will certainly do so during your few minutes' walk from the station or home to your office.
You need one pack for most needs
It's a city commuter backpack, but it's great as a travel carry-on, as well as for school, events, and even an outdoor movie picnic.
Don't buy it if...
You need more pockets
This takes on a more minimalist approach in terms of organization. If you need something with more pockets, look elsewhere.
You want a bigger backpack
With an 18L capacity, this is more than enough for most people's needs. But if you need a bigger capacity pack, explore other options.
Timbuk2 Division Laptop Backpack Deluxe: Also consider
How I tested the Timbuk2 Division Laptop Backpack Deluxe
Tested it for a month
Used it as my work pack and my carry-on during a month-long trip
Put its features through their paces, including its waterproofing capability
Taking the Timbuk2 Division Laptop Backpack Deluxe with me on my month-long trip around Europe, I used it as my carry-on while traveling around Spain and Morocco, and as my work backpack when I would come into the office while in London. 
During this time, I was able to really put it to the test, gauging its comfort especially when I'm lugging it during transfers or when I'm moving from one destination to another, its capacity as I stuff it to its full capacity, and its durability. I was able to also test its waterproofing after being caught in a downpour for a few hours.
I've been testing and reviewing devices and accessories for about 10 years now. Not only do I have plenty of experience with them, but I know what makes the best ones tick and can intuitively tell you which ones are not worth your time and money.
We pride ourselves on our independence and our rigorous review-testing process, offering up long-term attention to the products we review and making sure our reviews are updated and maintained - regardless of when a device was released, if you can still buy it, it's on our radar.
First reviewed October 2023
First reviewed July 2023