Monday.com is a project management system designed to give you a flexible and transparent way to organize your work. With a highly visual scheduling interface and customizable workflows, Monday.com adapts to the unique way members of your team approach their projects.
But just how well does this software work? As you'll discover over the course of this Monday.com review, the platform is leading the industry when it comes to ease of use and security but may be lacking when it comes to advanced functionality.
Plans and pricing
There are four different levels of Monday.com membership: Basic, Standard, Pro, and Enterprise. Prices vary depending on the number of user accounts you require, with the cheapest memberships only allowing you to add two users and top-end options supporting more than 200 accounts.

Whichever membership tier and user capacity you pick, you'll pay for Monday.com through monthly or annual payments. Opting for yearly billing will save you 18% in membership fees.
Overall, the pricing for Monday.com is competitive but some subscriptions don't represent the best value for money. The Basic plan, for example, doesn't offer many features and would work out pretty expensive for larger teams.
Basic Membership
The Basic subscription is Monday.com's cheapest plan, costing $49 per month for 10 users. With a Basic membership, you'll be able to organize your team using Kanban boards which are simple ways to visualize workflows. Each Basic Monday.com system includes with 5GB of cloud storage space, so you'll probably want to upgrade if you have a large team.
Another major limitation is the fact that Basic Monday.com systems only store user activity logs for one week. If you intend to keep business-critical files on your Monday.com system, this could be a serious problem as you won't be able to see who modified them.
Standard Membership
A step up from the Basic membership is the Monday.com Standard plan which costs $79 per month for a 10-person team. For most Monday.com customers, the extra investment will be worth it as the Standard package comes with a far more comprehensive feature set.
Take visual workflow management, for example. With a Standard account, you gain the ability to display project tasks on a highly-visual timeline, a bit like a Gantt chart. You also get 50GB of file storage space and unlimited user activity tracking.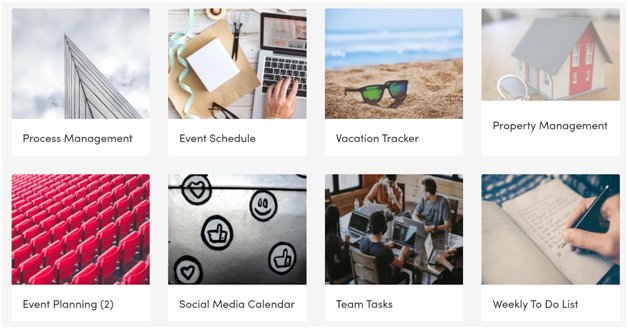 Pro Membership
Next is the Pro membership tier, priced at $119 per month for 10 user accounts. If you want to connect your Monday.com dashboard with other platforms, this is likely to be the right option for you as it supports up to 25,000 integration actions per month.
At this membership level, storage space is unlimited which is great news if you need to work with a lot of large multimedia files. Pro subscriptions unlock lots of useful project tools too, such as chart views, time tracking, and private task boards.
Enterprise Membership
Enterprise is Monday.com's flagship package. Unfortunately, no public pricing information is available for this type of membership as Enterprise installations are customized to the unique needs of each customer.
Enterprise accounts come with a 99.9% SLA uptime guarantee, which means you can rely on them for mission-critical tasks and storing important files. They can also be used to create audit logs and set individual account permissions.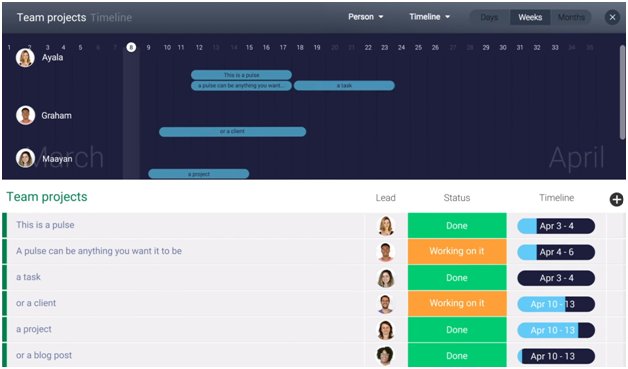 Features
You can think of Monday.com as a comprehensive productivity suite that includes all the features needed to divide up the work of your team, monitor project progress, and ensure individual tasks are completed to schedule.
To help you do that, Monday.com comes with project templates that you build your system on top of when you first set up a Monday.com account. These include options for daily task management, departmental planning, and video production.
Once you've picked a workflow design to use, you'll have plenty of freedom to tailor it to the particular needs of your organization. For example, you can add a star system to show the priority of different tasks. Also, there are numerous display options available, such as maps and calendar views.
One way that Monday.com simplifies project management is by making it easy to assign individual tasks to different members of your team. After you've done so, you'll be able to access a comprehensive "Timeline" view of your various projects. At a glance, this feature will show you who is responsible for each part of a project, and when different tasks will be completed.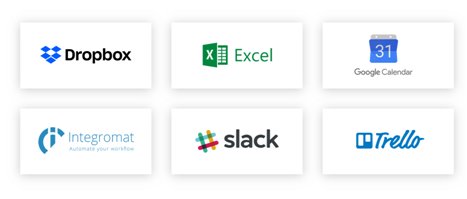 But Monday.com doesn't just make it easier to organize your work, it actually makes it easier for you to do it too. That's because this platform features advanced collaboration tools that let your team message each other, share key files, and comment on work progress.
As if that wasn't enough, Monday.com can integrate with dozens of third-party productivity platforms such as Mailchimp and Shopify. If you're already invested in other tools, that's great news as Monday.com will work with your current tech stack.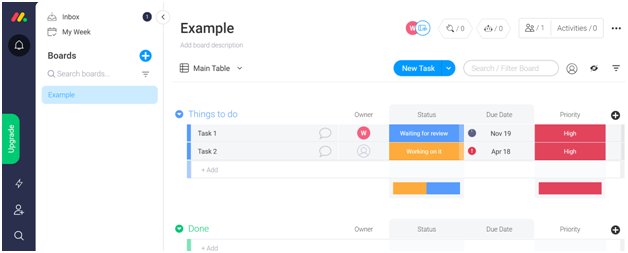 Interface and In Use
The Monday.com system looks awesome with colorful designs and big buttons that make it easy to navigate between different screens. Core features such as your message inbox, weekly tasks, and shared project boards can all be quickly accessed via a panel on the left-hand side of the interface.
Things are just as straightforward on the mobile version of the platform, which can be accessed through Android and iOS applications. These days it's super common to work on the move, so it's great that Monday.com makes adding new tasks and keeping track of your teammates' progress easy on your mobile.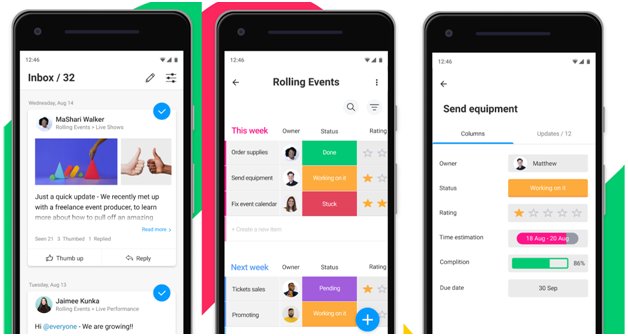 Support
Wherever you are in the Monday.com system, you'll be able to access support through a little "help" icon at the bottom right of the screen. Support is available via live messenger, tickets, and pre-arranged webinars. 
There's also a community forum and academy to offer additional support, regardless of the plan you opt for. If you do subscribe to the Enterprise plan, however, you also have direct access to the Monday.com support team. They can offer help with onboarding, detailed training and more bespoke support.
The Competition
There's no question that Monday.com lacks some of the advanced features available with alternative project management platforms like Microsoft Project. However, the design of the Monday.com system is more user-friendly, making it a better choice if you don't want to spend hours training your team to use it.
Be sure to check out our buying guide looking into the best project management software for a full rundown of how Monday.com compares to some of its rivals. It's also worth having a look at our list of the best CRM software, with many of those platforms also containing project management functionality.
Final Verdict
Monday.com is the ideal project management tool for anyone looking for an accessible system that their team will actually use. Unfortunately, some important features, like calendar views, are only available with its more expensive subscriptions. All the same, Monday.com stands out for its slick design and adaptable third-party integrations.