One-minute review
The WiZ Mobile Portable Light is from a global brand that's perhaps less well known than the likes of Philips Hue. Founded in 2017, WiZ joined Signify – one of the world's leaders in lighting – in 2019. The brand is an IoT platform for smart lighting and solutions, offering customers the option to connect their lighting for greater comfort and ease.
WiZ's product lineup includes some of the best smart lighting and best smart plugs and switches that can all be controlled through the WiZ v2 app, via Alexa, Siri and Google Assistant, too.
I've been using the WiZ Mobile Portable Light in my first and second reception room for a few weeks now. The fact that it's portable has meant I've enjoyed moving it around to other areas of my home, although it's mainly been sat on a book shelf or a table to serve a more functional purpose when I'm at my computer or watching the television.
I used the touch panel, app and Alexa to control it, with the most useful function in my experience being the Automations functionality in the app. I set schedules to suit my routine, and also to have some fun. That said, I welcomed being able to control the light via the touch panel, because the majority of smart lights only offer control through an app.
Measuring 10.6 x 6.4 x 6.4in / 27 x 16.5 x 16.5cm (h x l x w) and with the design i incorporating a handle, the light was easy enough to carry around. However, its white coloring did see it stand out somewhat among the other items on my book shelf or table; availability in a softer color to better suit my decor would have been welcome. 
Currently priced at $89.99/£79.99/$AU109.95, it's widely available in the US, UK and Australia through popular resellers such as Amazon and Best Buy.
With so many light color options at your disposal, offering multiple ways to connect, plus a handle to easily move it, the WiZ Mobile Portable Light appears to be a very smart light indeed. Read on to find out how we got on with it during testing.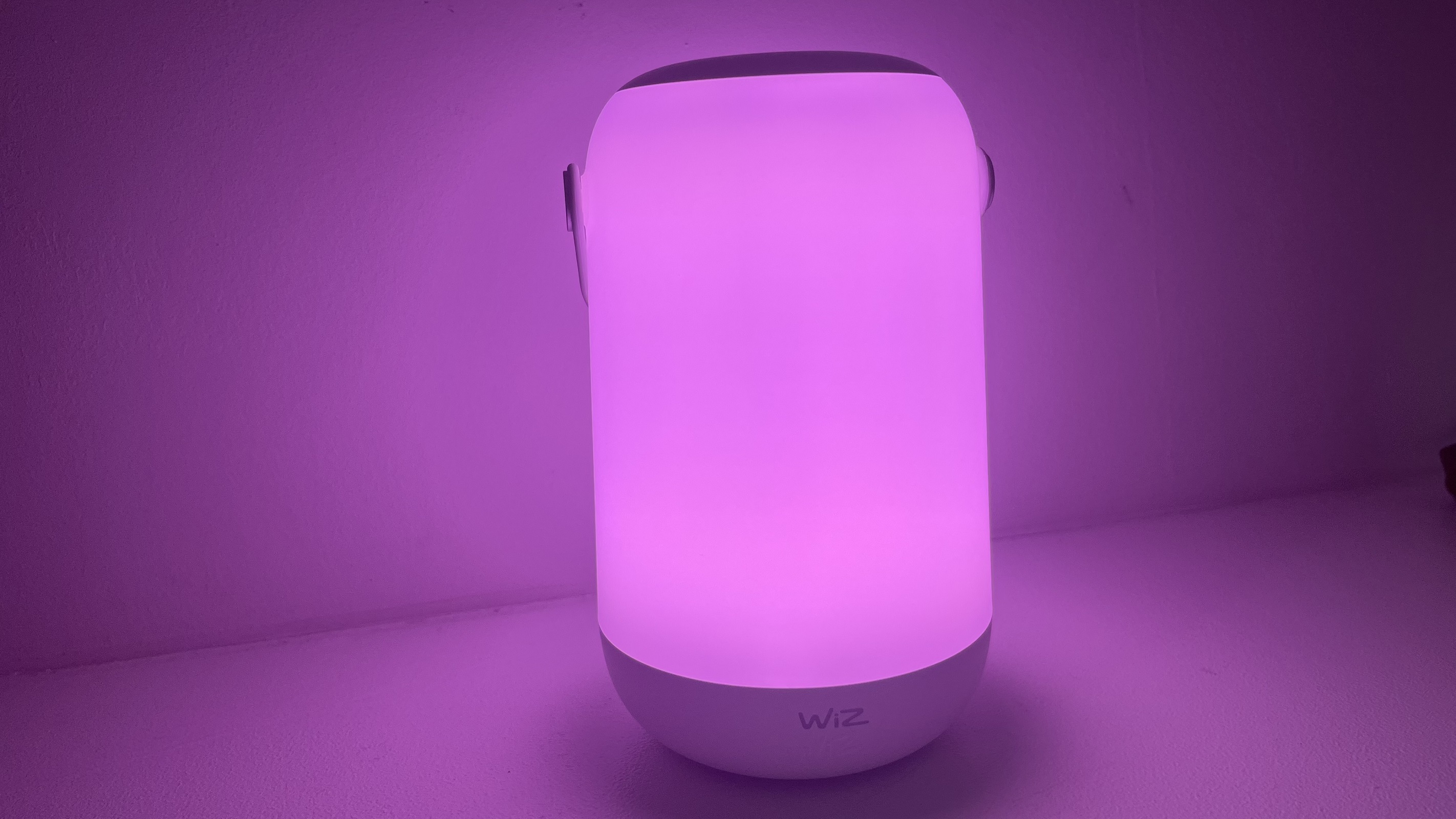 Wiz Mobile Portable Light review: price & availability
List price: $89.99/£79.99/$AU109.95
Available to buy in US/UK & AUS
Can be bought direct from resellers
The WiZ Mobile Portable Light is available to buy in the US, UK and Australia for a list price of $89.99/£79.99/$AU109.95, through resellers such as Best Buy and Lowe's in the US,  Amazon, B&Q, John Lewis & Partners and Very in the UK, and Amazon AU in Australia.
Note that the product name varies slightly from one reseller site to another. On the WiZ website, and through Best Buy, it's the Mobile Portable Light. On Amazon it's listed as the WiZ Mobile Colour Portable Smart LED Table Lamp, while at John Lewis & Partners it's the WiZ True Portable Type G Table Lamp.
One of the more affordable smart lights on the market compared to brands such as Philips Hue, it's the only portable light in the WiZ product range.
Value: 5/5
WiZ Mobile Portable Light review: specifications
WiZ Mobile Portable Light review: Design
Portable
Multiple ways to control it
In its off state, the WiZ Mobile Portable Light looks like a chunk of white plastic. Measuring in at 10.6 x 6.4 x 6.4 inches / 27 x 16.5 x 16.5cm (h x l x w), it isn't huge, but it won't go unnoticed on a shelf. As such, it would have been nice to have a way to color coordinate it with the surrounding decor, since it isn't the most discrete.
The handle positioned on the top the light makes it easy to move around the home, inside or out, and there's a removable power cable that can be used to power or recharge the batteries after use.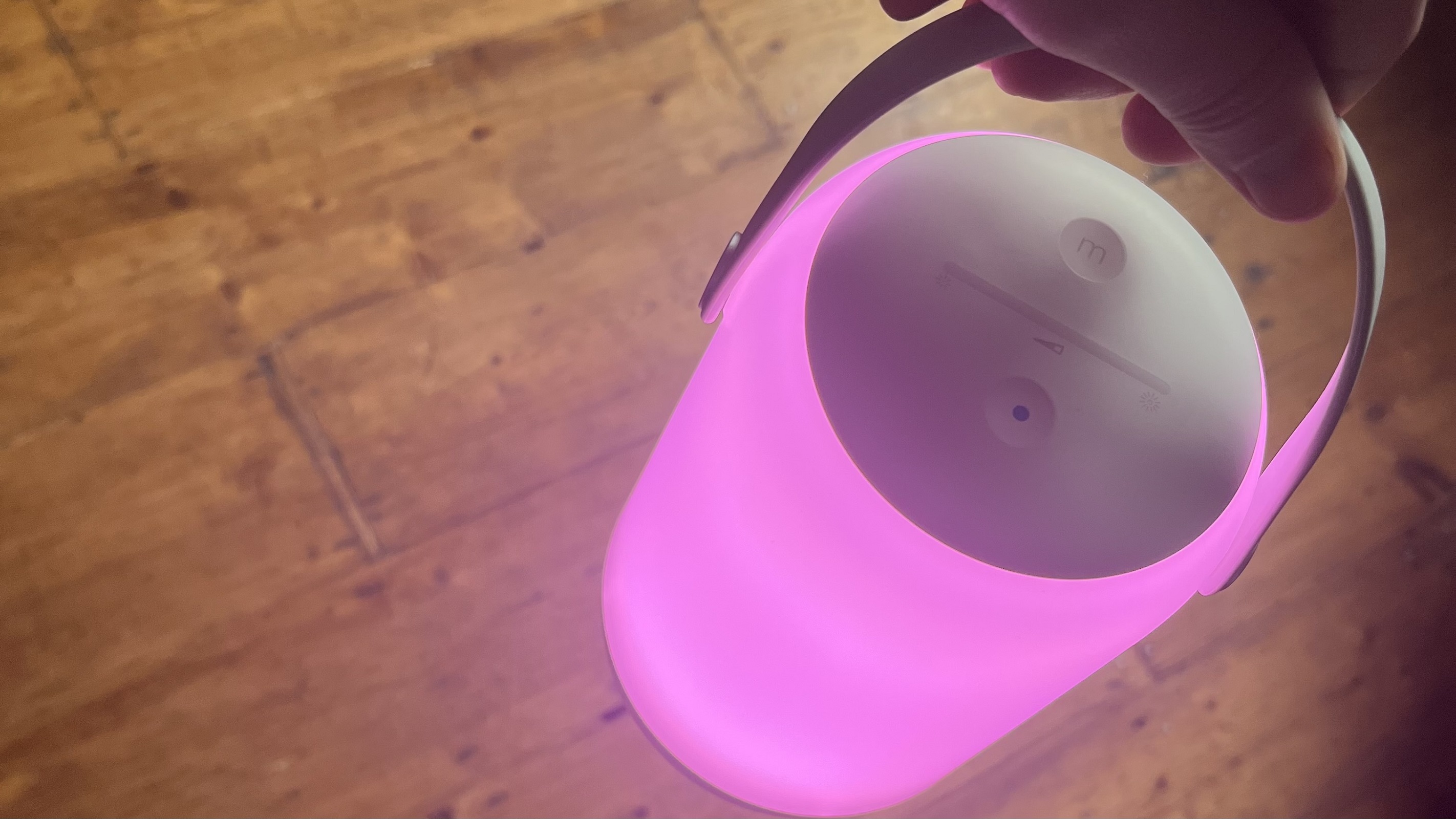 The fact that it can be untethered from the cable, and its 0.65kg weight, means the WiZ smart light is super portable. Note that it isn't weatherproof, but there's nothing to stop you from taking it into the garden on a dry, pleasant evening to light up an outdoor living space. The rechargeable batteries will last for a good few hours – and it will take a similar amount of time to replenish them.
Turn it on, and the WiZ smart light is transformed from a hunk of white plastic to a beautiful glowing luminaire that will happily fill a space.
The touch panel offers a degree of control, with more through the WiZ app or via Alexa, Siri and / or Google Assistant (more on this later). Located at the top of the light, you can use the panel to turn the light on and off, to switch between the different light modes on offer, and to swipe for dimming frequencies. My favorite light mode was the one that changed color, and I preferred to have it pretty dim for a more calming effect.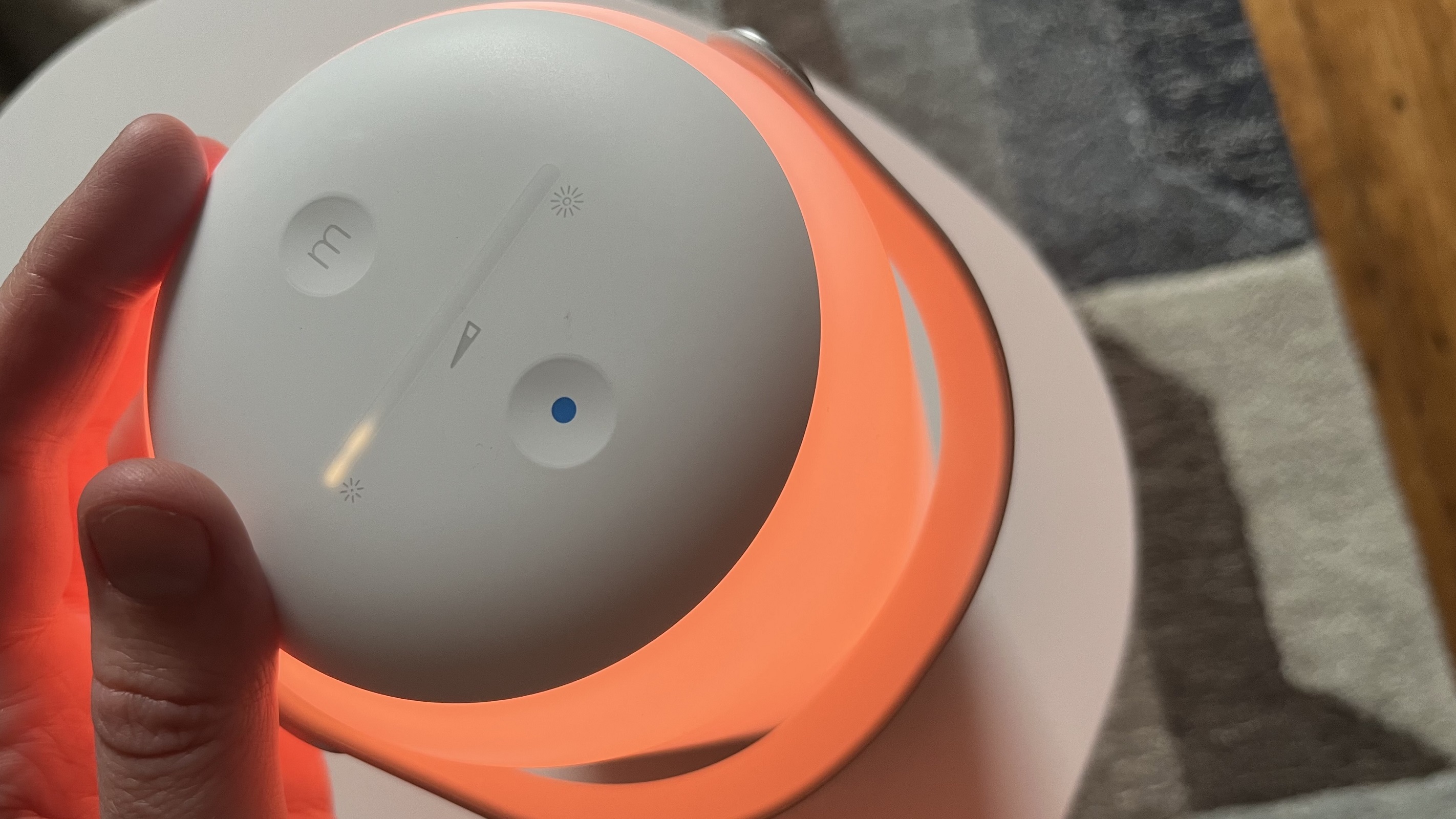 Underneath the light is an on / off switch that can be used during set up, and for those who aren't so confident using the control panel.
Design score: 4.5/5
WiZ Mobile Portable Light review: Performance
Creates a lovely light show
Easy to use
No maintenance
I've been using the WiZ Mobile Portable Light in my living room and dining room, either as a portable smart light or plugged into the mains. Both these rooms are approximately 12m2, and the WiZ light was capable of pretty much filling the spaces with a spectrum of color. The light's brightness, color mode and switching it on / off could all be done via the touch panel, whereas the app offers more functionality (more on this shortly).
On the unit itself, there are three preset light modes you can choose from: Warm Light, Cool White and Multi. My favorite is Multi, dimmed down using the slider. 
I found it handy that the WiZ light includes an on / off button on the unit itself, providing a quick way to turn off the lights. The majority of smart lights, including the Philips Hue Gradient Signe, rely on the app for complete control, which means that if you're not someone who's glued to your phone, you'll have to locate it just to turn off a light.
Connect the WiZ Mobile Portable Light to Bluetooth and Wi-Fi, and you can use the rather intuitive app for control. WiZ's version doesn't feel as refined as the Philips Hue app, which also offers a greater number of color options, but you can do most of the things including setting up Automations, adding other compatible devices and more. You'll also get access to an abundance of static, dynamic and custom colors. The found Automations the most useful feature, since I could schedule the light to turn on without lifting a finger.
I also set up the light to work with Alexa to benefit from voice control. It overrode any automations I had set in the WiZ app during testing, but the reality is that you'll see for yourself when the light is on and / or know when you have an Automation set, so you wouldn't be using voice commands. Regardless, the WiZ smart light was responsive to my voice commands, with which I could turn the light on / off, change its color and adjust the brightness.
In terms of general maintenance, there's very little required. The WiZ light might need a dust with a microfiber cloth, and the batteries will require a recharge when using the unit as a portable light. The battery will last up to 10 hours in bedtime mode, and you can charge it using the supplied adapter that also powers the light. The WiZ Mobile Portable Light comes with a 2-year warranty.
Performance score: 4.5/5
WiZ Mobile Portable Light review: App
Turns light on / off
Switch between light categories
Set Automations
It's through the app that you'll get the most from the WiZ Mobile Portable Light. In fact, you can build on your existing smart light collection through the app, integrating it into your daily routine.
On-screen instructions offer guidance on how to connect to the app, plus an online agent will help you through any issues. I tried and failed multiple times to connect the light to the app; the first because I downloaded an older version of the app. You Note that you need to download WiZ v2, not WiZ Connected.
You'll need to have the light switched on, Bluetooth enabled and be within Wi-Fi 2.4GHz range. Bluetooth will detect the light in the first instance then it will connect to your Wi-Fi. 
If / when you see the instruction to turn off the light during manual pairing, do so once with the switch on the base and give it a few seconds before bailing. It was only after a phone call with a support agent that I finally managed to get the light to work – although, as it happens, it's nothing that a bit of patience, and the obligatory turning the device off and on again, won't sort.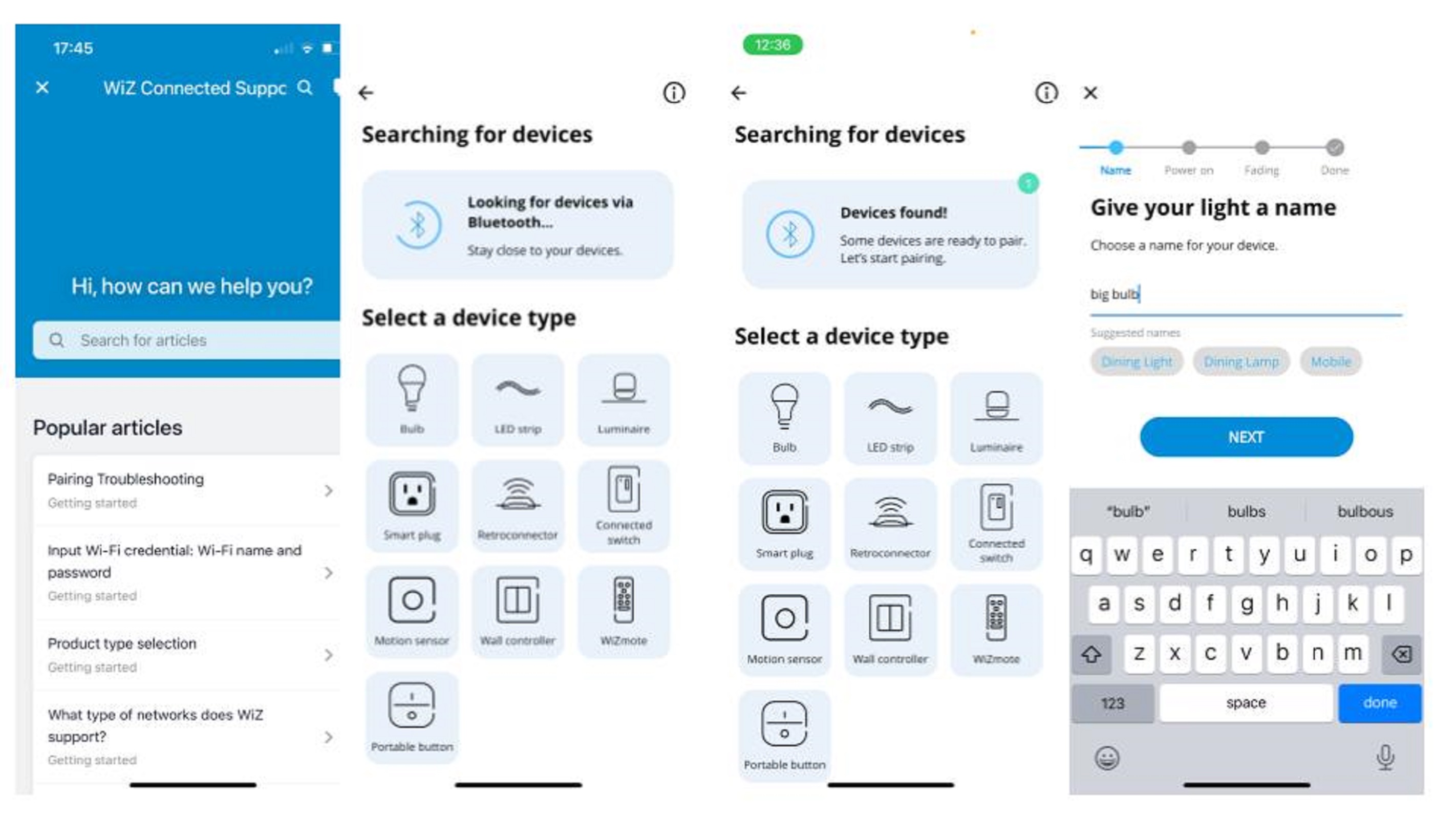 When your device is found, you know you're "in". At this point you'll still be Bluetooth pairing, but follow the on-screen instructions and you'll soon be asked to enter your Wi-Fi details. Make sure you're on 2.4GHz and close to the light so the Wi-Fi, WiZ Mobile Portable Light and your smartphone can all talk to each other.
From here, you can continue setup via the app. I first changed the name to "big bulb"(it is essentially a big bulb), after which I set up a room, assigned the light to said room, and had a play with the colors on offer.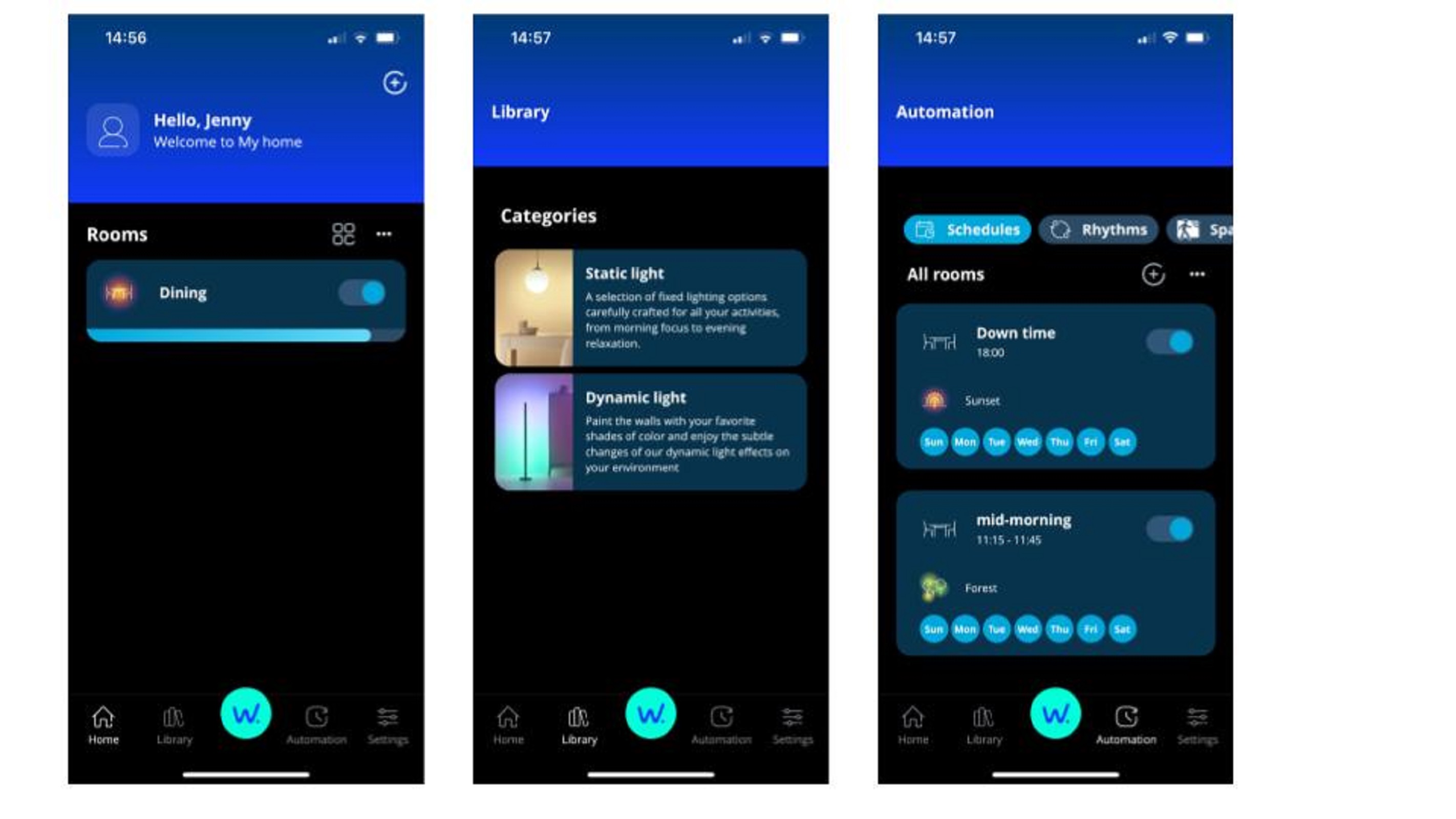 Select "Library", and you can browse through Static light, Dynamic light and Scenes. Scenes is more of a bank of your favorite Static and Dynamic lights, which will be particularly useful if you have a lot of lights in the app and / or a lot of automations that you want to access quickly. I counted 10 Static light options and 23 Dynamic light options, which isn't as many as those on offer through the Philips Hue app, but still a generous number. You can also opt for Custom colors if you're feeling arty – I was content with the mix of colors already available.
As I've already mentioned, one of the most useful functions available through the app is Automations. I set two schedules during testing: mid-morning (11:15) and down time (18:00). I selected my preferred start and end times, and the days that I wanted to repeat the automation. I selected the light that I wanted to use in the automation – "big bulb" – and I could also choose the desired light mode. For mid-morning I opted for Forest, and for down time I went for Sunset. Both of these colour modes were from the Dynamic light category and were a blend of hues; Forest, a mix of yellows and greens, while Sunset is a mix of orange, yellow and pink/purple tones.
In the Automation section of the app you can also activate Circadian rhythm, which delivers the most suitable lighting throughout the day based on wake and sleep times. You can also create your own rhythm, which is tailored to you. Of course, the WiZ light will need to be on all day for you to benefit from this functionality. 
Something new coming to WiZ Mobile Portable Light and other compatible smart lights for April 2023 is SpaceSense. This innovative technology uses the Wi-Fi connection of the light to determine movement. It can be used to automate the smart lights based on motion without the need for motion sensors. For this feature to work you will need 2 or more WiZ products which is something to bare in mind before trying it out.
App score: 4.5
WiZ Mobile Portable Light review: Connecting to Alexa
Relatively easy to connect
Can be used to control the light by voice command
Dynamic light not available
If you want hands-free control of the WiZ Mobile Portable Light then it can be connected to Alexa, and Siri and Google Assistant. Since I had recently figured out how to set up your Amazon Echo Dot (5th Gen), it would have been rude not to give it a go.
You'll see that there's a list of available integrations in the WiZ app, but this is more for reference. You'll need to actually use the dedicated app of each integration, so I headed to the Alexa app to "Add Device". 
WiZ is a brand of light recognized. A slight twist in the Alexa integration is that you'll need to enable the WiZ Smart Home Skill. I'd say this is similar to a plug-in adaptation that will make it possible to control the light by voice.
You'll also need to grab a code from the WiZ app to drop into a box for activation. This is a 6-digital PIN.
By following the on-screen instructions, and assuming that setup goes smoothly, it will take just a few minutes to connect the WiZ Mobile Portable Light to Alexa. With commands such as "Alexa, turn on big bulb" or "Alexa, dim big bulb", I didn't need to have my phone on me at all times, or be close to the light, in order to control it, although I did of course need to be within raised-voice distance of an Alexa-equipped device.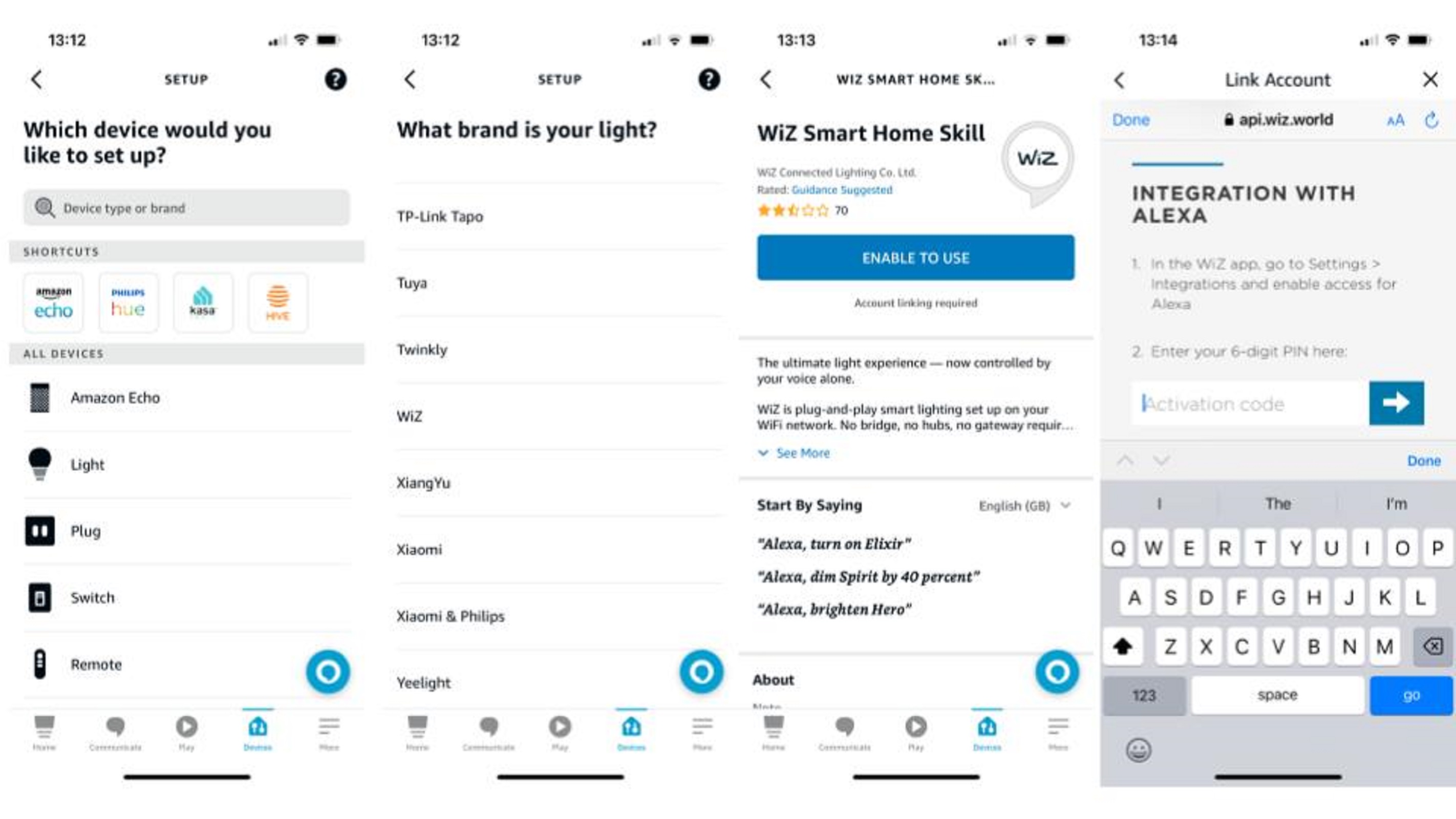 Using Alexa to change the WiZ smart light's color was great fun. Using the command "Alexa, turn big bulb blue" – and ta-dah, it turned blue. Turning the light pink wasn't so easy, though, ending up with a wishy-washy, non-descript neutral tone. Alexa also can not replicate the Dynamic light category in the WiZ app, overriding any automations that I had set.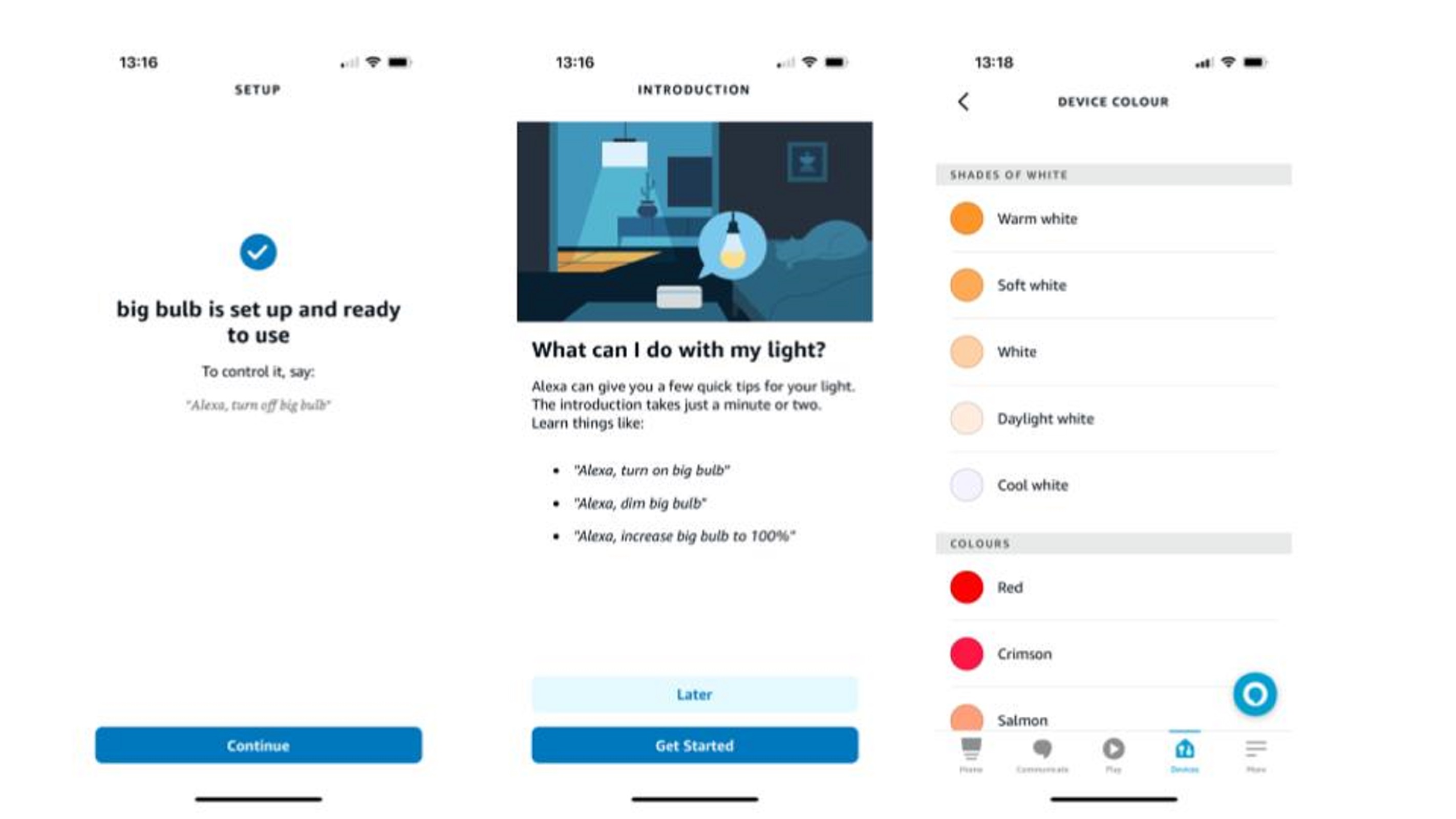 Wiz Mobile Portable Light review: should I buy it?
Buy it if...
Don't buy it if...
WiZ Mobile Portable Light review: Also consider
If you'd like to further connect your home, here are a couple more products that you may find helpful...
How I tested the WiZ Mobile Portable Light
I used the WiZ Mobile Portable Light for a few weeks
I connected it to the app and Alexa
I set Automations to suit my daily routine
I enjoyed using the WiZ Mobile Portable Light for a few weeks while I had it in for review, and since it followed my review of the Philips Hue Gradient Signe, I was able to closely compare the two.
Since the WiZ is smart light, it offered the ability to connect to an app and use voice commands including Amazon Alexa for control. It took several attempts to successful connect to the app, but this was mainly down to user error – although I do feel that the on-screen instructions could have been clearer about the number of times I needed to switch the light on and off to trigger a reaction. Once I'd finally connected the light to the app, I set Automations (the main perk of the app control) that would fit my daily routine.
Whilst I've only been reviewing smart lights since joining TechRadar in June 2022, I've been reviewing appliances for about three years, so am well versed in the features to put through their paces. With more than 10 years as a product writer across appliances and smart homes, I hope that my experience can help you make an informed decision about your next (possible) purchase.