GMKtec NucBox M4: 30-second review
Specs
CPU: Intel Core i9-11900H, 8C/16T, up to 4.9 GHz
Graphics: Intel UHD Graphics for 11th Gen Intel Processors
RAM: 16GB DDR4 3200 MT/s (expandable to 128GB)
Storage: 1TB M.2 PCIe 4.0 NVMe SSD (expandable to 2TB)
Rear Ports: 4/ x USB3.2 Gen 1, 1 x HDMI, 1 x DP 1.4, 2 x RJ45 (2.5G), 1 x Kensington Lock Slot
Front Ports: 2 x 6 x USB3.2 Gen 1, 1 x USB-C (DP/Data), 1 x 3.5mm CTIA
Connectivity: Wi-Fi 6, Bluetooth 5.2
Audio Output: 3.5mm jack
Camera: Not included
Size: 180mm x 175mm x 36mm
OS Installed: Windows 11 Pro
Accessories: Power Adapter, HDMI Cable, User Manual
The Intel NucBox M4 mini PC features an Intel 11th Gen Core i9-11900H processor, which instantly outlines the potential of this small machine. Aimed at professionals who require a machine that can handle multiple apps and screens, the M4 balances power and portability. With 8 cores and 16 threads, this mini PC boasts a top clock speed of 4.9 GHz, enough to ensure that most applications will run fast and smoothly.
When it comes to graphics, the power of the CPU isn't quite matched by the GPU, although this is a perfectly respectable Intel UHD Graphics chipset. While the GPU might not be suitable for high-end gaming, it can comfortably handle light gaming and graphic-intensive professional tasks, as well as the use of up to three monitors. The NucBox M4 excels in multitasking, thanks to its 16GB DDR4 RAM and 1TB M.2 PCIe 4.0 NVMe SSD, ensuring ample space and speed for storing and quickly accessing large files.
Connectivity is a strong suit of the GMKtec M4, featuring six USB 3.2 Gen 1 ports, dual RJ45 ports for stable high-speed internet connections, and support for triple display setups – an advantage for professionals who multitask Office and web browsing across multiple screens. Additionally, its compact form factor, measuring only 180mm x 175mm x 36mm, makes it a space-saving solution for any desk.
Having tested plenty of the best mini PCs, we can say the GMKtec M4 puts in a steady performance in various benchmark tests. With Crystal Disk Read speeds of 3438MB/s and Write speeds of 2723MB/s, it highlights its capability in fast data processing, essential for tasks like video editing or handling large databases. GeekBench scores of 2227 (single-core) and 6175 (multi-core) further demonstrate its competence in handling both everyday tasks and more demanding applications.
CineBench scores, especially the multi-core score of 9923, indicate its strength in CPU-intensive tasks, making it suitable for 3D rendering and video editing. In gaming performance, the Fire Strike and Time Spy scores suggest that while they can manage light gaming, the machine might struggle with the latest, most demanding games.
The GMKtec M4 is not just a work-oriented machine; its ability to support up to three screens at high resolution adds a layer of utility for multimedia as well as that all-important office work. However, those looking for a mini PC primarily for high-end gaming will find its graphics capabilities limiting.
GMKtec NucBox M4: Price & availability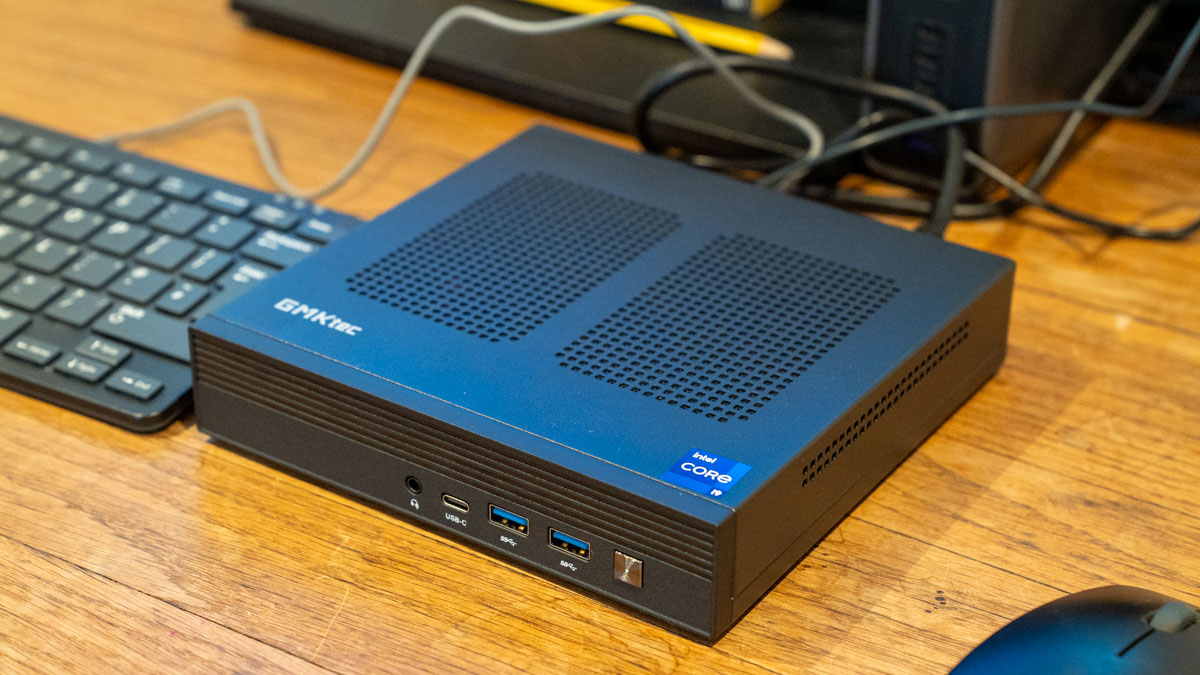 The GMKtec M4 is accessible for purchase through GMKtec's official website, Amazon, and various other online retailers, making it widely available. 
GMKtec NucBox M4: Design & build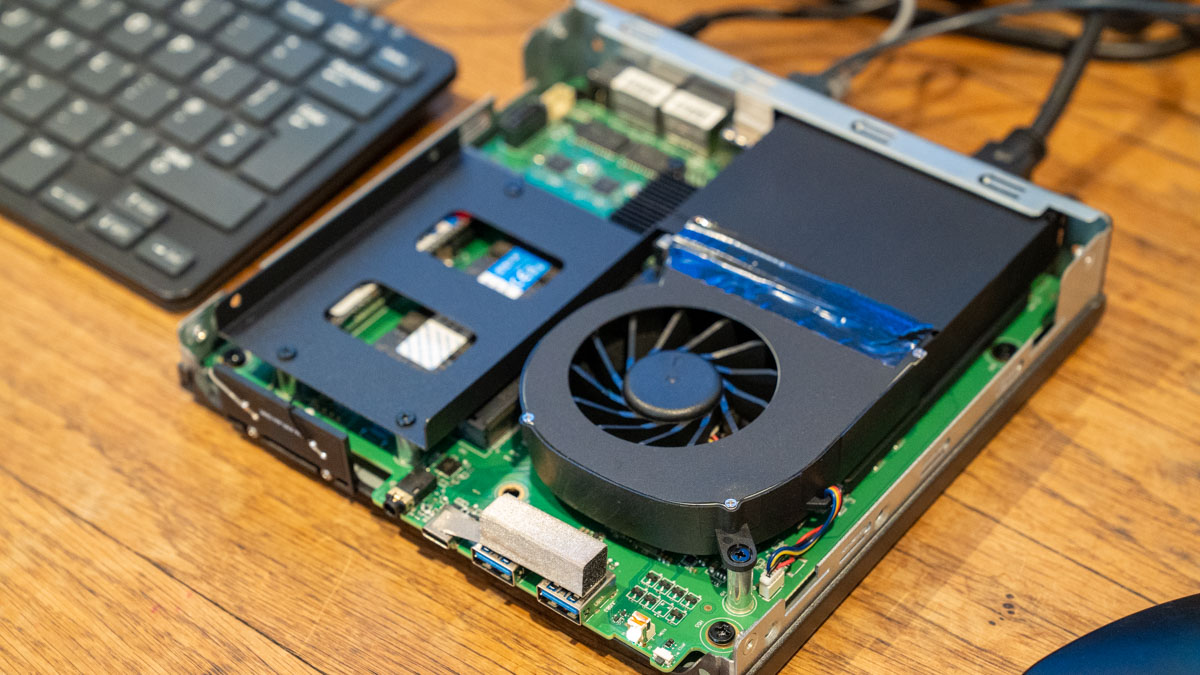 The GMKtec M4 takes quite a different approach to the compact mini PC format compared with other mini machines on the market, including the GMKtec M3 and GMKtec NucBox G3. The M4 offers a unique blend of traditional desktop styling and compact mini PC convenience. Its slightly larger footprint offers a slimline design that feels more like a miniature version of a standard desktop PC, providing a high-quality feel and robust Build. This design choice not only enhances its aesthetic appeal but also contributes to improved heat dissipation, which is crucial for maintaining performance stability in a professional environment.
Aesthetically, the GMKtec M4 takes a minimalist style, offering a sleek design that fits seamlessly into any workspace without the flashy design details that can often be featured on Mini PCs. The design is also versatile when it comes to how it can be placed on your desk, with the option to either place it flat or vertically on a desk. However, its size might make it less suitable for tucking away under a monitor. 
The front panel of the GMKtec M4 is well-designed for accessibility and ease of use, featuring two USB Type-A ports, a USB Type-C port, an audio output, and a power button; all other ports are round the back. This layout ensures that essential peripherals can be connected easily.
Internal access for upgrades is straightforward, thanks to a user-friendly design that requires removing just two screws to slide off the top section. This feature allows for easy upgrades and maintenance of the main SSD and RAM, adding to the overall practicality of the device.
The cooling system of the GMKtec M4 deserves mention. It is well-equipped to handle the heat generated by the powerful Intel Core i9 processor, and when the machine is put under load, you can hear the fan start-up, but the size means that it is quieter than other powerful Mini PCs. 
GMKtec NucBox M4: Features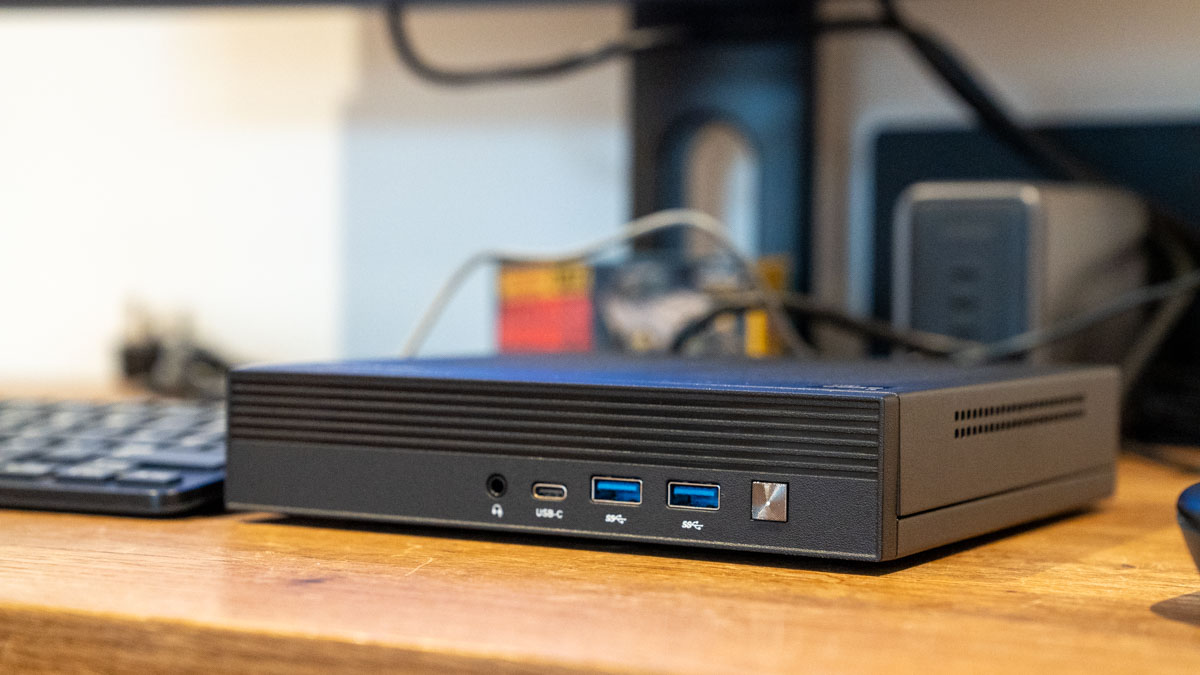 The GMKtec NucBox M4 Mini PC manages to distinguish itself from other Mini PCs in several ways; first and foremost, the larger design but also uses a power CPU for swift office work and a less powerful GPU, making it less suitable for gaming. The powerful Intel Core i9-11900H processor, characterized by 8 cores and 16 threads, which delivers exceptional performance for various computing tasks, especially when handling large databases and files. This processor, coupled with Intel UHD Graphics, offers a balance of power for multitasking, content creation, and some moderate gaming.
A feature that will appeal to those wanting a machine for day-to-day office work is the ability to hook up to three screens, with the machine offering HDMI, DP, and Type-C outputs. 
In terms of connectivity, the GMKtec M4 isn't short of options with six USB 3.2 ports, facilitating high-speed data transfer and seamless connection of multiple peripherals. The inclusion of dual RJ45 ports with 2.5G Ethernet ensures high-speed, stable internet connectivity, which is essential for online gaming streaming and has been especially useful during the review for network-connected 3D printers and laser engravers.
The M4 includes an i9 processor, which can pack a lot of power but also generate a considerable amount of heat when under load. The M4 has been design with a super cooling fan system, ensuring efficient heat dissipation. This feature is crucial, given the power of that i9 processor, as it maintains optimal operating temperatures and helps to maintain the processor speed when being worked hard. 
Memory and storage options are pretty decent, with support for up to 128GB of DDR4 RAM and 2TB of M.2 PCIe 4.0 NVMe SSD storage. This expandability is worth taking into consideration if your computing needs expand or the applications you use become more processor-intensive. 
GMKtec NucBox M4: Performance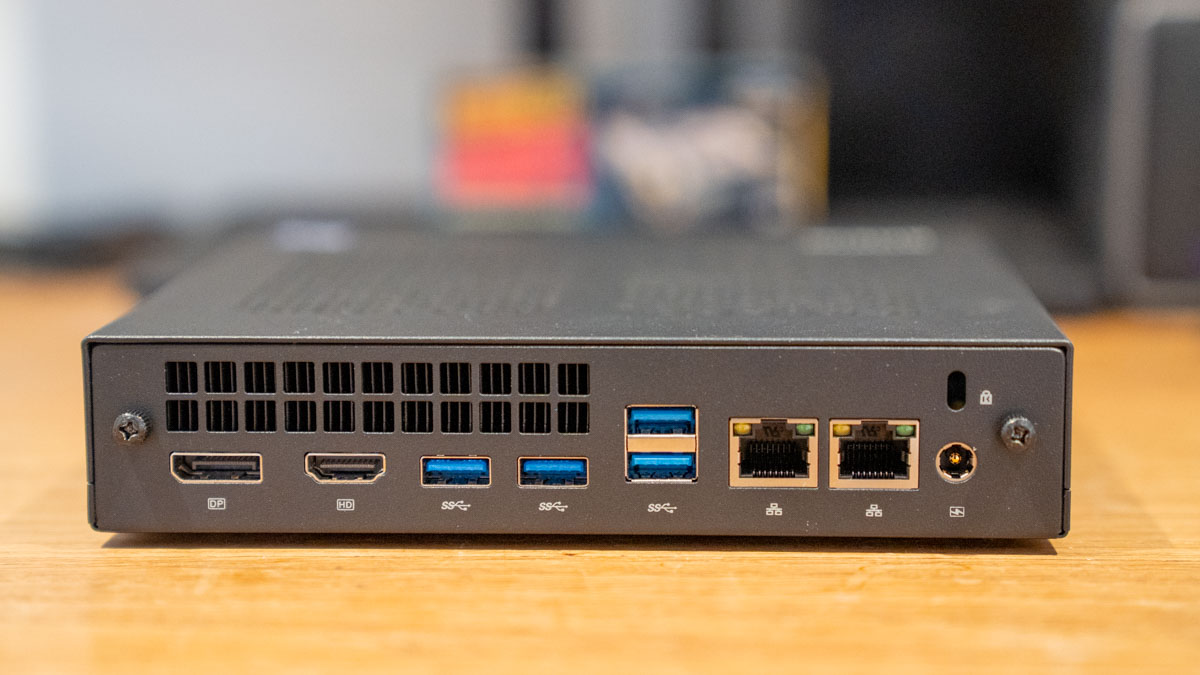 Benchmarks
Crystal Disk Read: 3438MB/s
Crystal Disk Write: 2723MB/s
GeekBench CPU Single: 2227
GeekBench CPU Multi: 6175
GeekBench Compute: 6687
PC Mark: 4673
CineBench CPU Multi: 9923
CineBench CPU Single: 1571
Fire Strike Overall: 1911
Fire Strike Graphics: 2121
Fire Strike Physics: 19757
Fire Strike Combined: 617
Time Spy Overall: 659
Time Spy Graphics: 573
Time Spy CPU: 4521
Wild Life: 4556
Windows Experience: 7.7 
The GMKtec M4 is powered by an 11th Gen Core i9-11900H, which, through the tests, showed impressive performance across various benchmarks, highlighting its capability as a high-performance mini PC. The Crystal Disk Read and Write speeds of 3438MB/s and 2723MB/s, respectively, highlighted its ability to handle data-intensive tasks efficiently, making it ideal for applications requiring fast data access and transfer, such as video editing or large file management.
GeekBench scores, with 2227 in single-core and 6175 in multi-core tests, confirm the M4's ability to handle a range of tasks from everyday computing to more demanding applications. This aligns with its potential for creative tasks, multitasking, and even light gaming. 
CineBench scores, particularly the multi-core score of 9923, indicate the M4's strength in rendering and other CPU-intensive tasks, making it suitable for creative professionals working with the best 3D modeling software or best video editing software. Through the test, I utilised Blender and Fusion 360 to design a couple of tripod leg holders, with the modeling handled well by the power of this processor.
In gaming performance, the M4 showed capability for light to moderate gaming, and the Fire Strike and Time Spy scores evidenced this. While it may not cater to the most demanding modern games at high settings, it's certainly capable of handling less graphics-intensive titles smoothly. Through the test, I tested Cyberpunk 2077 and Red Dead Redemption II, and whilst both ran, the graphics meant that the gameplay was sluggish. However, less graphically intensive games were handled well. 
The Windows Experience Index score of 7.7 further validates the overall solid performance of the M4, indicating it is a reliable and robust machine for a variety of uses.
The benchmark results, alongside the real-world tests using Microsoft Office, Photoshop, DaVinci Resolve, and loading a few games, showed the M4 is well-suited for professional and creative work and other processor-intensive applications like the best graphic design software. 
A solid, space-saving, if unspectacular, alternative to the best video editing laptops or the best laptops for graphic design. Its ability to support triple displays is a bonus, although, in this test, I only expanded that to two. Overall, this is a great machine for processing and work. 
Should you buy the GMKtec NucBox M4?
the GMKtec M4 stands as an impressive mini PC that bridges the gap between compact design and high-performance computing. Its main selling points are its powerful Intel Core i9-11900H processor and the capability to support up to three displays, making it one of the best business PCs in a small-form factor (or an alternative to the best business laptops if space is at a premium). An ideal choice for professionals engaged in multitasking and content creation. Additionally, its ample connectivity options, generous storage and RAM expandability, and effective cooling system make it a versatile choice for a wide range of users. 
While it may not be the go-to choice for ultra-high-end gaming or those seeking the smallest possible footprint, the NucBox M4 excels in providing robust performance in a relatively compact form. Its blend of power, functionality, and design makes it a standout option for anyone looking for a mini PC that can handle demanding tasks with ease.
Value: Exceptional performance at a competitive price. (4/5)
Design: Slimline, traditional design; versatile, accessible ports. (4/5)
Features: Ample connectivity, easy internal access, effective cooling. (4/5)
Performance: Strong CPU, decent GPU; suits moderate gaming. (4/5)
Total: A powerful, well-designed mini PC with great value. (4/5)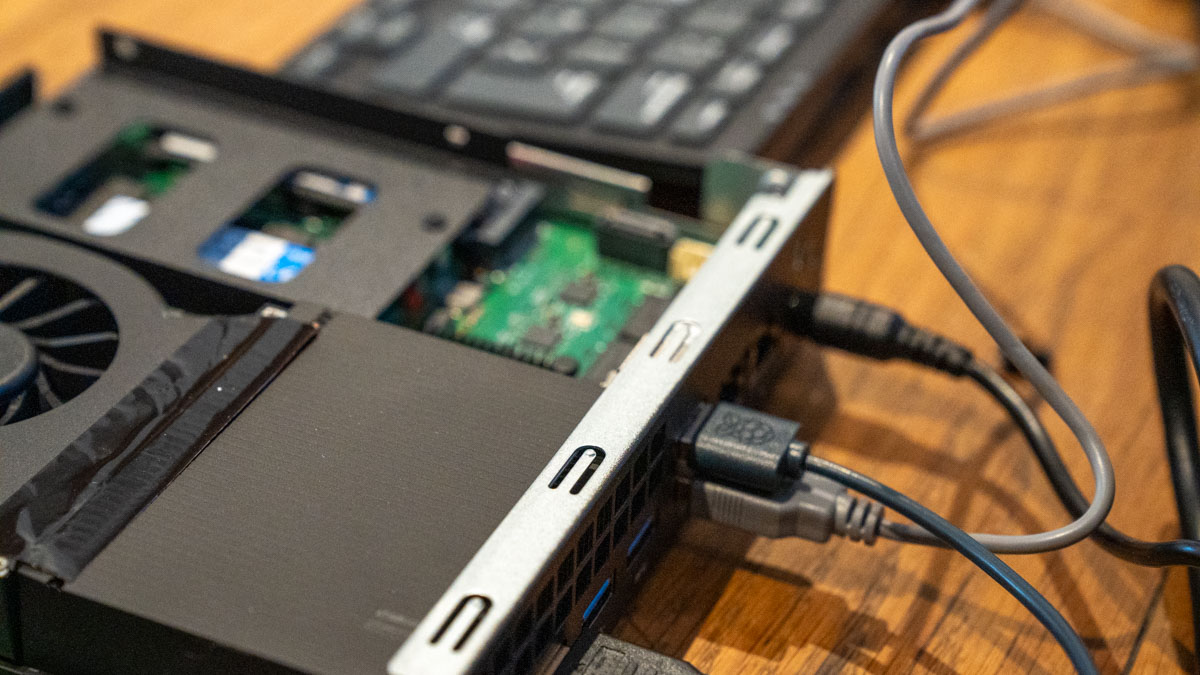 Buy it if...
Don't buy it if...