Wise Data Recovery is one of the best options you'll find anywhere if you want to recover data, photos, and files without paying for any extra software, and its abilities are turbo-charged when you upgrade to the pro version.
That sounds great on paper, especially for people who don't want to spend any cash, but the free photo and data recovery software market are busy and packed with top contenders – so any successful app needs to have an intuitive design alongside a broad range of features.
This software enables you to restore deleted files for free, and can also help recover your files after hard drive damage or reformatting. While this review focuses on the  Windows version, there's also Wise Data Recovery for Mac. It's compatible with M1, M2 & T2 chip-enabled Macs but the free version only allows you to recover up to 1GB of data rather than the more generous quota for Windows versions (see below)
So, is this the right data recovery tool for you? Our Wise Data Recovery review will help you decide.
Wise Data Recovery: Plans & pricing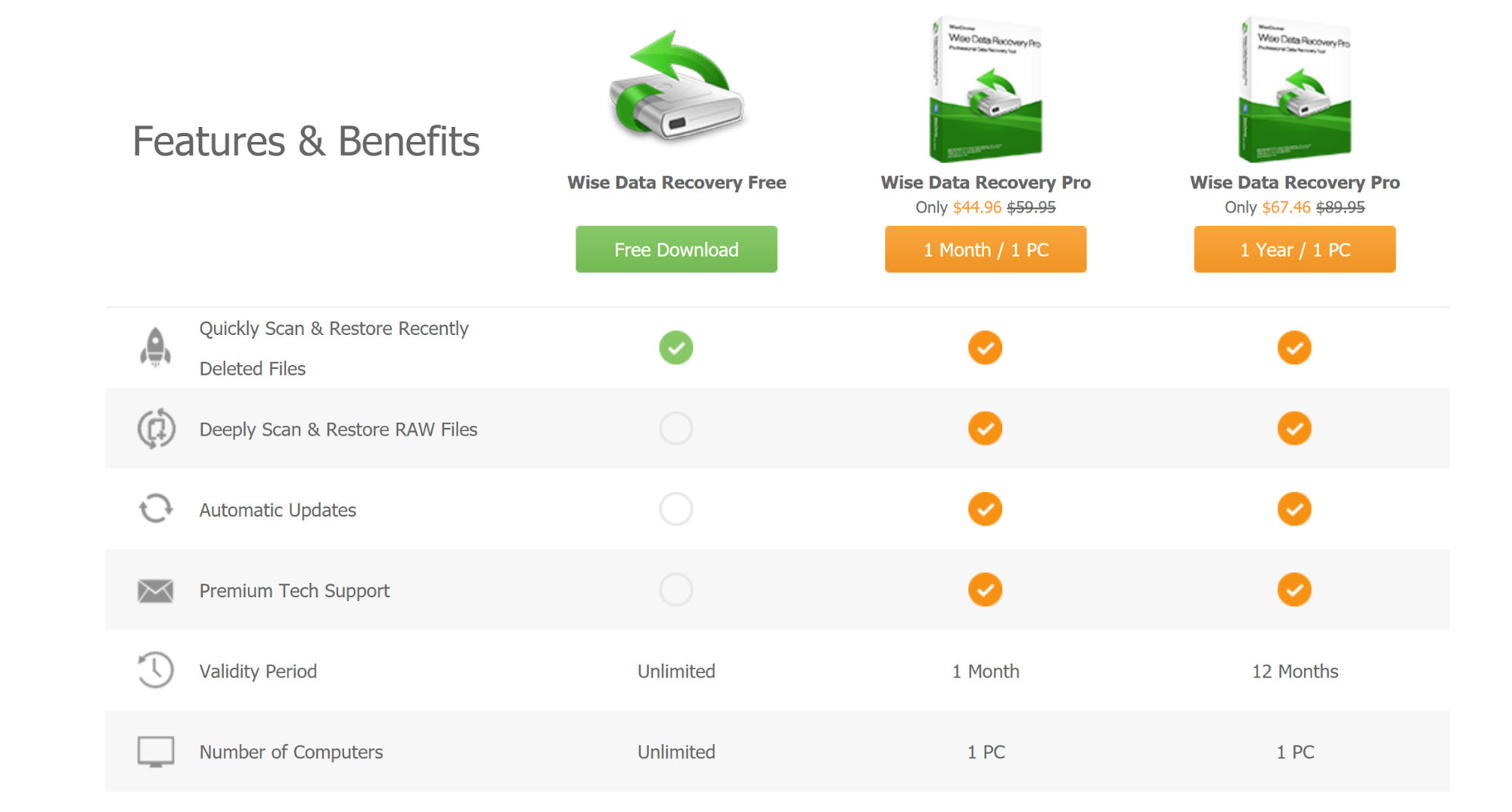 The free version of Wise Data Recovery is one of the most generous free photo recovery options you'll find anywhere. Its 2GB recovery limit is better than most no-cost rivals, and you can use the free download on an infinite number of systems and with no time restrictions.
During our tests we noticed that the utility played extremely fair with us, measuring this 2GB limit only on files we actually chose to recover. 
Impressively, Wise Data Recovery keeps its feature set virtually identical across all product tiers, so if you decide to pay for the product you'll get benefits in other areas.
The more affordable of the two paid options costs $40 (approx. £32 / $60 AUD), and it includes a one-year license for one system.
If you want to spend an extra $10 (approx. £8 / $15 AUD), you'll be able to register the software across three different PCs. Those are good prices – lower than many of Wise Data Recovery's contemporaries.
If you buy either of those paid options you can access premium, faster technical support services and automatic updates for the length of your license alongside unlimited file recovery capacity. 
Sadly, no enterprise options are easily visible on the site, so you'll have to talk to Wise directly if you want to deploy this software across your organization.
Wise Data Recovery: Features
The number one reason to choose Wise Data Recovery for file recovery is its adaptability. The software is able to recover thousands of file types, including almost every common type of document, image, and video file. It can also save email files, zip folder archives, and executables from permanent deletion. 

Windows users also won't have to worry about compatibility with multiple file systems on partitioned hard drives. Wise Data Recovery for Windows works with FAT, NTFS, HFS, HFS+, HFSX, Ext2, and Ext3 file systems. Mac users may run into more trouble, though, since the software doesn't support exFAT file systems.
When we previously reviewed Wise Data Recovery in October 2022, it offered two scanning options: Quick Scan and Deep Scan. Quick Scan Was extremely fast and was generally used to recover recently deleted files. Deep Scan, on the other hand, took significantly longer and is more suited to recovering files from formatted or damaged drives.
From checking the online documentation, deep scan is still advertised as a feature for Wise Data Recovery - both the free and Pro versions. However during our tests we didn't see any "deep scan" option and the instructions to activate it didn't match the version of the software we seemed to be using. 
Naturally whether a scan is "quick" or "deep", what really matters is whether your lost data's recovered but if the scan features have changed, we felt there should be more information on the "Wise Cleaner" website.
Wise Data Recovery: Client & client setup
Setting up Wise Data Recovery for hard drive data recovery is fast and simple. Just download and install the software on a clean hard drive, and it's ready to run. 
If your computer's boot drive is damaged, you can install the software to a USB flash drive on a working computer and move it to the damaged computer. The "Portable Apps" website even has a handy USB-installable version of the utility.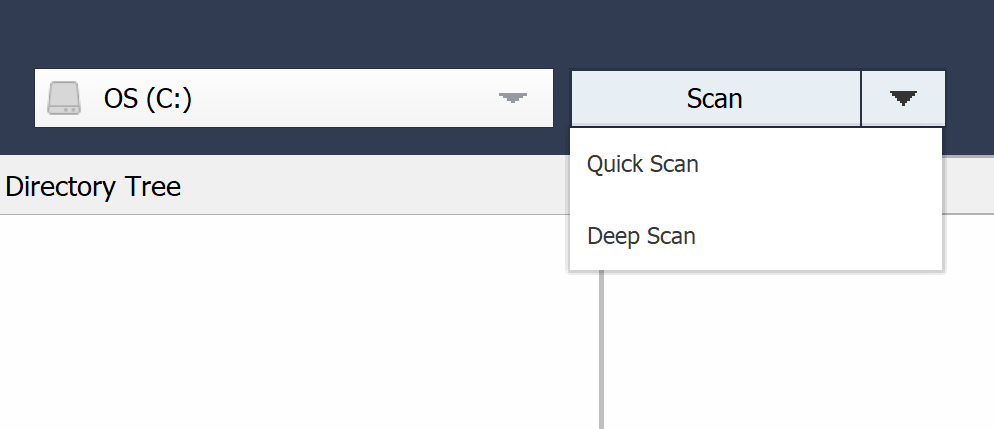 The software's user interface is modern and easy to navigate. It will automatically recognize all connected hard drives. Once you select a drive, the scan begins automatically. Discovered files are displayed in a familiar table format. You can sort results by size or file format, or use the keyword search tool to find specific files.
Wise Data Recovery does have a "preview" feature for files like images but during our tests, we found that it was only able to display a part of the file. We were told to click "Recover" to copy the files to another location to see them in full.
Wise Data Recovery: How we tested
For our data recovery tests we used a virtual machine with a clean install of Windows 11. The only third-party tools installed besides Wise Data Recovery were VLC Media Player and GIMP. 
Data files
The files we chose for recovery are an album of Mozart's Music available from the Internet Archive. 
We did this as we wanted to see how the utility performed with a wide variety of files.The album included 4 music files (2 in Mp3 and 2 in FLAC) format, 6 JPG image files of album covers (with thumbnails) and 4 PNG image files. The files also included 2 XML files, a torrent file and an 'SQLite' file containing details of the album. There were 25 files in total. 
We copied the files in the music album to a 512MB virtual NTFS-formatted hard drive, which was then attached to the Windows 11 virtual machine.
Data tests
The tests were performed one after the other on three separate virtual drives:
File deletion: the album files were simply deleted from the drive and the Recycle Bin emptied. No other data was copied to the drive. We then tried to recover the files. 
Delete & format: The files were deleted as outlined above and we also performed a 'Quick Format' using the 'Disk Management' utility built into Windows 11. We then tried to recover the files from the formatted partition. 
Recover corrupted files: We used the freeware program 'Victoria' to overwrite the volume header of the drive containing the files with zeroes. The drive didn't mount automatically in File Explorer and showed as being unpartitioned in Windows "Disk Management" utility. We then checked if the utility could see it and if so, recover the files. 
We do not believe that running data recovery tools in a virtual environment has a significant effect on how they function. Still, if you're considering buying software we encourage you to read all reviews thoroughly and make sure that the developer offers a refund policy.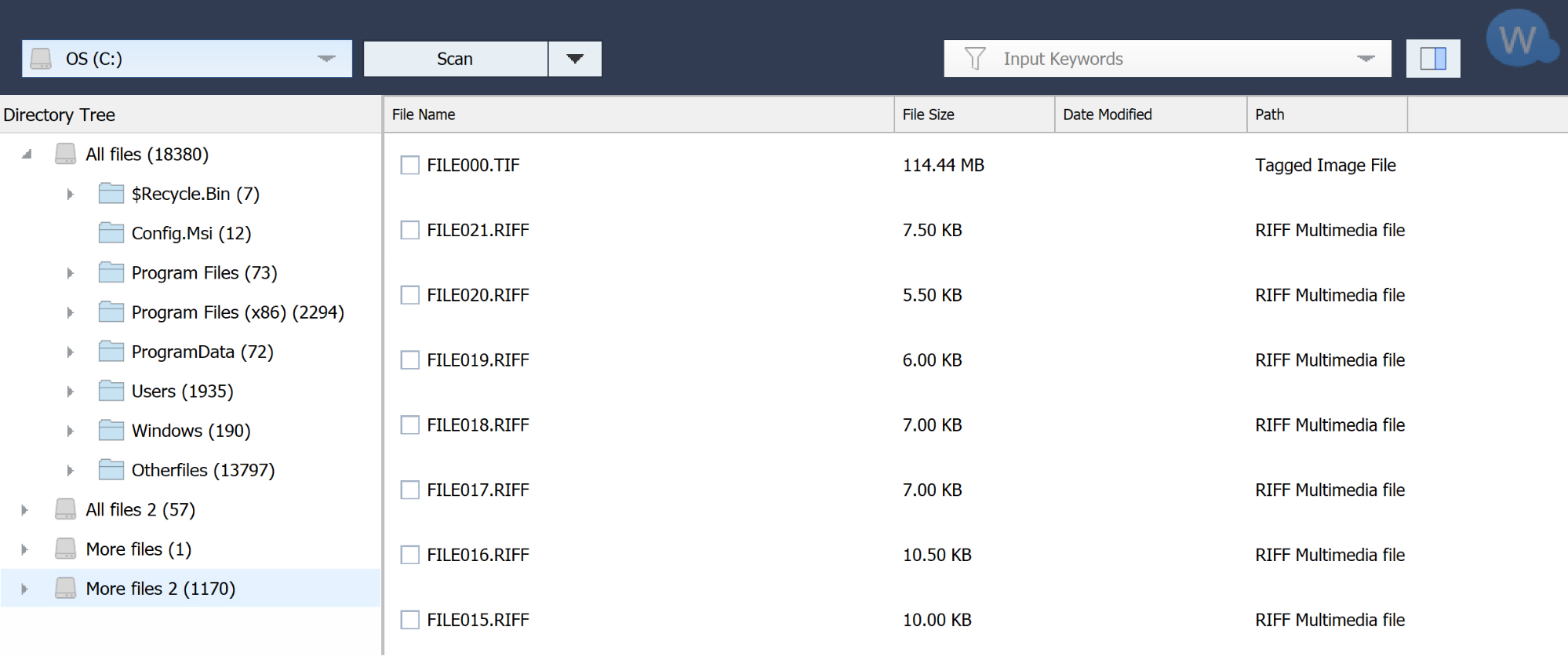 Wise Data Recovery: Performance
Wise Data Recovery is relatively fast and does an impressive job at recovering files. 
In our original test we used an undamaged 107 GB SSD. The Quick Scan finished in about 18 seconds, while a Deep Scan took about 7.5 minutes. The utility's "Deep Scan" feature did turn up a folder of multimedia files and TIF images that had previously been deleted from the recycling bin, but were not wiped from the drive.
We did something similar for the first of our most recent tests with a 512MB virtual external drive where the files had simply been deleted from the Recycle Bin. 
The drive appeared immediately inside the utility and the scan lasted less than 3 seconds. A total of 38 files were found. When we recovered these to another drive we found all 25 files intact with their filenames. The remaining files were duplicates of these or system files. 
Wise Data Recovery didn't do quite so well on the drive that had been formatted after the files were deleted. In that case only 13 of the 25 files were recovered. These included all 4 of the audio files, all 4 of the PNG image files and a JPG thumbnail. The remaining 4 were system files. With the exception of the thumbnail, the utility was also able to recover the filenames.
The corrupted drive wasn't visible in file explorer but Wise Data Recovery showed it as a "Lost Drive" almost immediately upon launch. When we selected it, it took less than 10 seconds to find 49 files. The 'Preview' function told us that we could only see them partially, so we copied the files to another disk. 
All 25 of the original files were present and correct, with their filenames. We opened each individually and found non were corrupted. The remaining files were duplicates of the originals or system files. 
Wise Data Recovery: Efficiency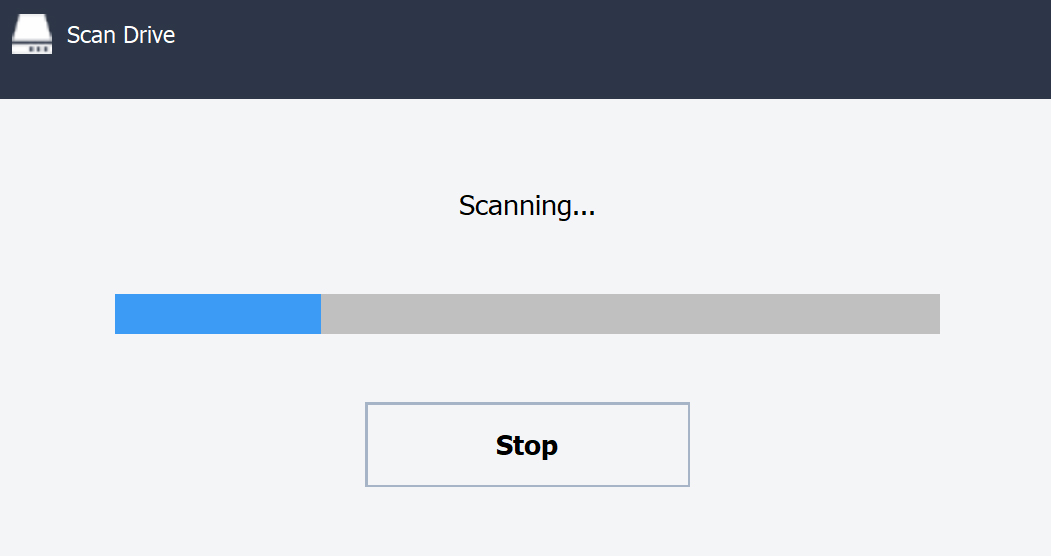 What we found most impressive about Wise Data Recovery was the fact that the software kept a minimal footprint even when performing a Deep Scan. 
During our original tests, the software never used more than 20% of our computer's processing power, and memory usage peaked at around 450 MB. Our most recent tests were on a much smaller drive but even when we tried scanning a 185GB drive we had similar results, with an active scan taking up just 253 MB of RAM.
That's a big plus, since it ensures you can run this software even on computers that are having widespread memory and drive damage issues.
In previous reviews, we lamented the fact that scans only showed a blue bar. There was no "estimated time remaining". Fortunately the most recent version of Wise Data Recovery clearly shows the percentage of a scan progress along with the ETA to completion.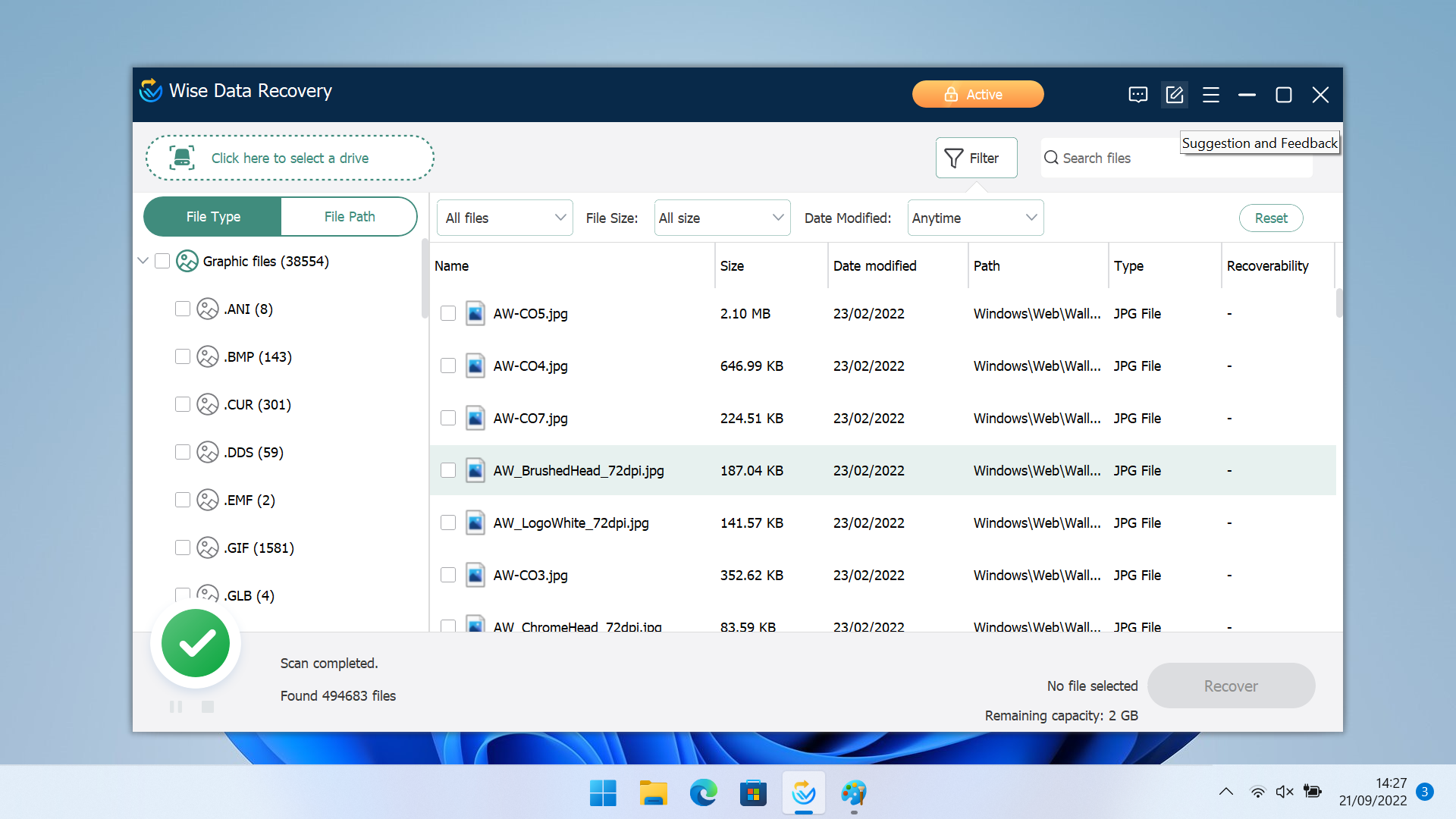 Wise Data Recovery: Photo recovery
Wise Data Recovery has an impressive core of photo restoration features. As one of the best photo recovery apps, it can restore more than 1,000 types of files, which instantly lifts this app above many of its rivals – and when it comes to photography, that means you can hunt down common formats like JPG and PNG alongside pro-level files like RAW, CR2 and SWF. That means this app is a worthwhile option for hobbyists, home users, and professionals who need more power and versatility.
Beyond photography, this app can recover every common video format, documents, audio files, email archives and compressed folders, so it'll find photos even if they're not stored using conventional formats.
The versatility doesn't stop there. Wise's software can recover data and photos from conventional devices like hard disks, SSDs, USB drives and external storage, but it also works with memory cards and digital cameras – another area that will handle professional needs.
It has a portable version too, so it's ideal for file recovery on different PCs or crashed systems. Bear in mind, though, that the portable version can't boot directly into a recovery environment, so any stricken system must be mounted from another device in order for this to work.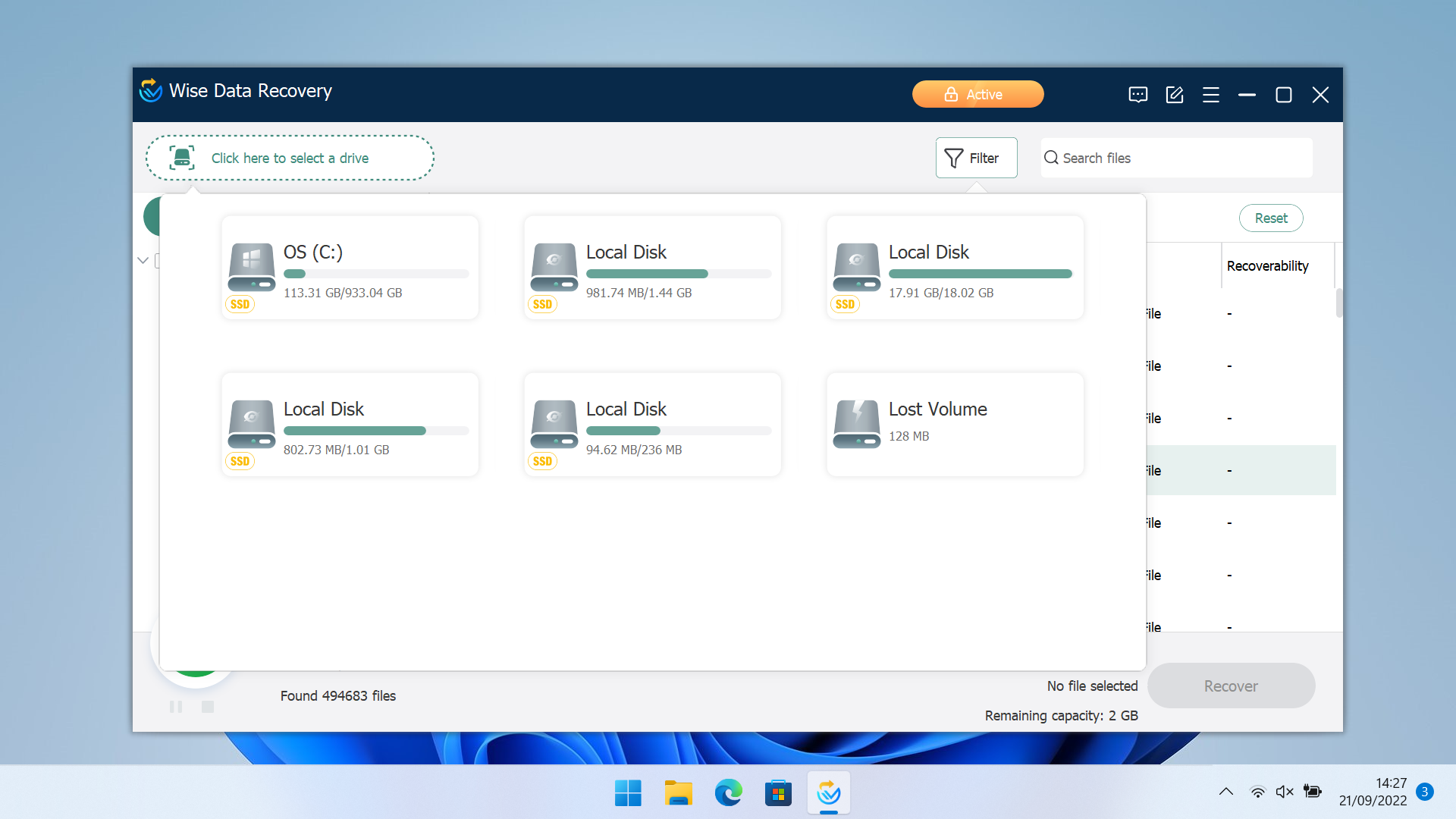 Wise Data Recovery is easy to use. Load the app, select a drive or device to scan, and the software will get to work. It's one of the quickest photo recovery apps you can use today, and it does a good job with results – it displays files in clear categories so you can easily see the types of files you've found.
Users can restore photos while the scan is ongoing, and batch recovery is also possible. The app supports file previews, although as we said you can often only see a partial preview until the full system or device scan is completed. The search function is fast, and filtering by file type, size or modification date is similarly rapid.
Beyond this impressive speed you'll find a clean interface and support for Windows and MacOS file systems, albeit with less generous free data recovery allowances if you want to use the version designed for macOS.
The app also has some notable omissions: you can't scan specific folders – only entire drives or devices. 
Other admittedly pricier tools include photo and video repair, more support options and compatibility with a broader range of devices, so it's worth considering those apps if you need mission-critical software for professional photo recovery situations.
Wise Data Recovery: Support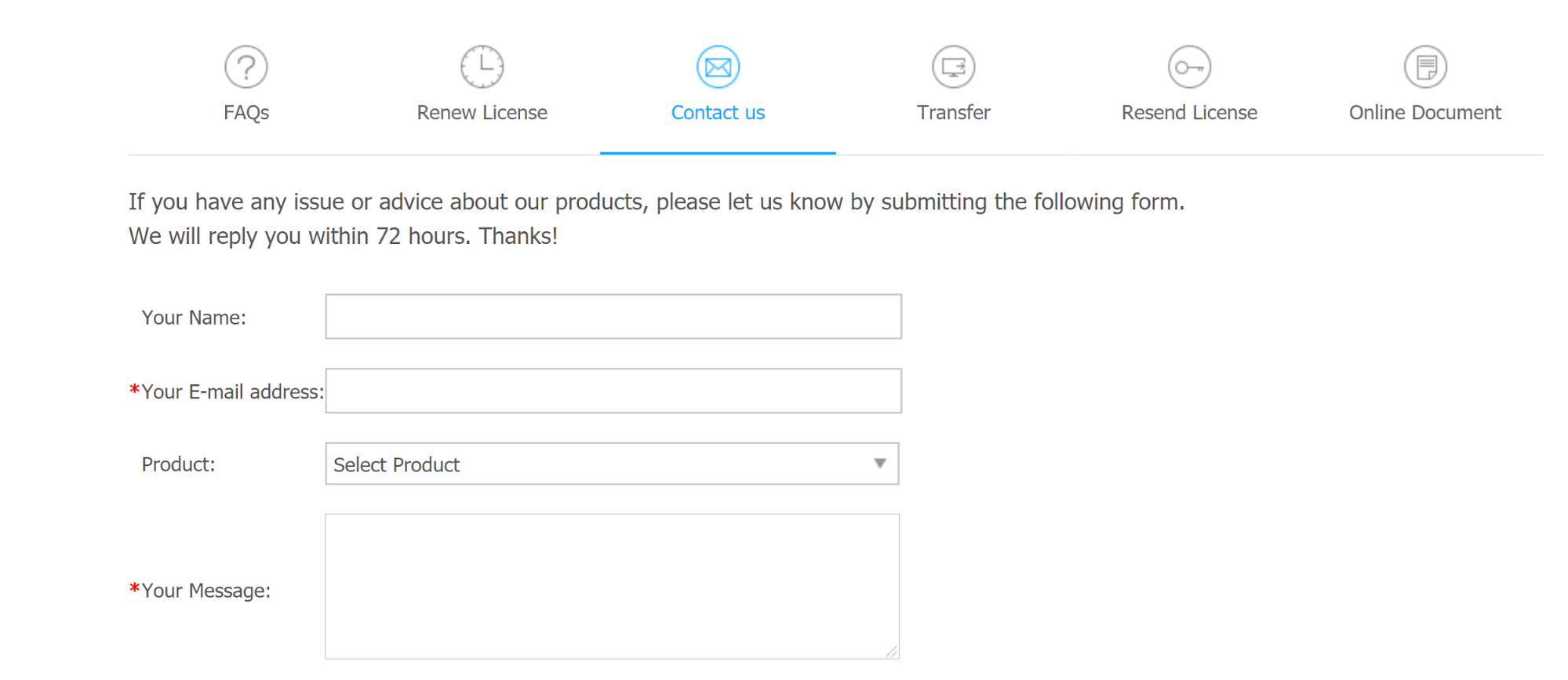 Support for Wise Data Recovery is available by email. This is why we were pleased to see that there are now some extra support features.
The basic user manual is available online or via a PDF. You can access this from within the utility. There's also a link to the support forum.
You can now also click on "Feedback & Suggestions" to open the support center. Although this doesn't connect you to a live chat. It does allow you to select "function abnormal" or "other issues" to flag any problems. Clear instructions are given on what information to provide, such as screenshots.
The support team is available 24/7, but how long it takes to get a response depends on whether you use the free software or pay for a Pro subscription. Free users may wait up to three days, while Pro users can expect a response within 24 hours.
Unfortunately, there's not much documentation for Wise Data Recovery online. The website includes a brief FAQs section, but it doesn't go into any detail about troubleshooting the software.
Wise Data Recovery: The competition
Wise Data Recovery can recover files from damaged or formatted hard drives, but there's no Deep Scan available and not much additional information if you run into difficulties. 
If you feel comfortable without having your hand held, you could consider using the free and open source TestDisk and PhotoRec file recovery utilities. These were able to recover all files during our tests, though the interface is quite basic. You can use the graphical QPhotoRec tool if you don't feel comfortable with the command line. 
EaseUS Data Recovery Wizard Pro offers alternative data recovery software that includes more options for trying to recover deeply buried data from a formatted hard drive. While it's more expensive than Wise Data Recovery Pro for a one-month or one-year subscription, EaseUS offers a lifetime subscription for $149.95.
Wise Data Recovery: Final verdict
Wise Data Recovery is a good choice for file recovery if your main goal is to save recently deleted files. It works with almost every common file type and Windows file system, although Mac users may have issues since exFAT file systems aren't supported. Wise Data Recovery is simple to use, although that simplicity may be frustrating if you're not able to find the files you want to recover.
We're used to testing data and photo recovery tools that offer free versions without the power or versatility of their paid upgrades, but that's not the case with Wise Data Recovery. Download the free app and you'll get access to all of the features that are offered with the paid upgrades – you're limited elsewhere, like in file restoration capacity and access to upgrades.
Wise Data Recovery is impressive in use, too. This app is fast and intuitive, does a good job of recovering lost files, and displays its findings in a straightforward manner. It's got a portable version and it works with every kind of file format and device you'll likely encounter when you're restoring photos in mainstream situations.
During our tests we saw that it was able to recover all the files, with filenames intact from a drive where they'd been deleted and even from a drive with a corrupted volume header. It only fell down on a drive that had been formatted, where only a small number of files had been recovered but of those that were, they opened without issue and almost all had their original filenames.
We feel this is more than balanced out though by the very generous 2GB free data recovery allowance for Windows users. This means you can try the software without obligation to see if it can recover files, even from a formatted drive. 
Indeed, there aren't many big issues here – some apps have better previews, others support an even broader array of devices, and some companies offer more support and extra granularity.
None of those issues are dealbreakers, though, and Wise Data Recovery remains a great option if you want a free or affordable app for photo restoration. You'll only want to hunt out alternative software if you need specialist settings and abilities.
Wise Data Recovery can recover files from damaged or formatted hard drives, but there's only one level of Deep Scan available and not much additional information. EaseUS Data Recovery Wizard Pro offers alternative data recovery software that includes more options for trying to recover deeply buried data from a formatted hard drive. While it's more expensive than Wise Data Recovery Pro for a one-month or one-year subscription, EaseUS offers a lifetime subscription for $149.95.