MSI Stealth 16 Mercedes-AMG Motorsport A13V: One-Minute Review
MSI has partnered with car company Mercedes AMG on a customized Stealth 16 Studio A13V laptop dubbed the Stealth 16 Mercedes-AMG Motorsport A13V. This sleek 16-inch ultra-portable is technically pitched at creative professionals, with studio drivers and Windows 11 Pro, but it's a blurry line at best since MSI is also happy to boast about it's gaming prowess. 
There's a 16-inch OLED screen with 4K resolution up front that will work equally well for professional video and color work, as it will for immersive single-player gaming. It is only 60Hz capable however, so it won't suit every play style, but full DCI-P3 color and a bright display is perfectly suited to creative visual work. 
The device uses conservative thermal design power maximums to keep weight down to a total of 1.88kg. This also means you'll get reasonable battery life lasting up to 7 hours and 8 minutes, but it also means that performance doesn't match the workstations that aren't trying to maintain a slim and light form factor. 
You'll get 100 frames-per-second averages running games at FullHD Ultra settings, but you'd definitely want to run titles in QHD or 4K in order to utilise the power on offer from the Intel Core i9-13900H CPU and a 105W Nvidia GeForce RTX 4070 GPU. 
You can get slightly thicker gaming Ultrabooks with better performance for notably less, but you'll generally take a solid hit in battery life. This is a premium device for those that want great performance and the best possible battery life in an extremely portable and professional-looking package. 
Image 1 of 6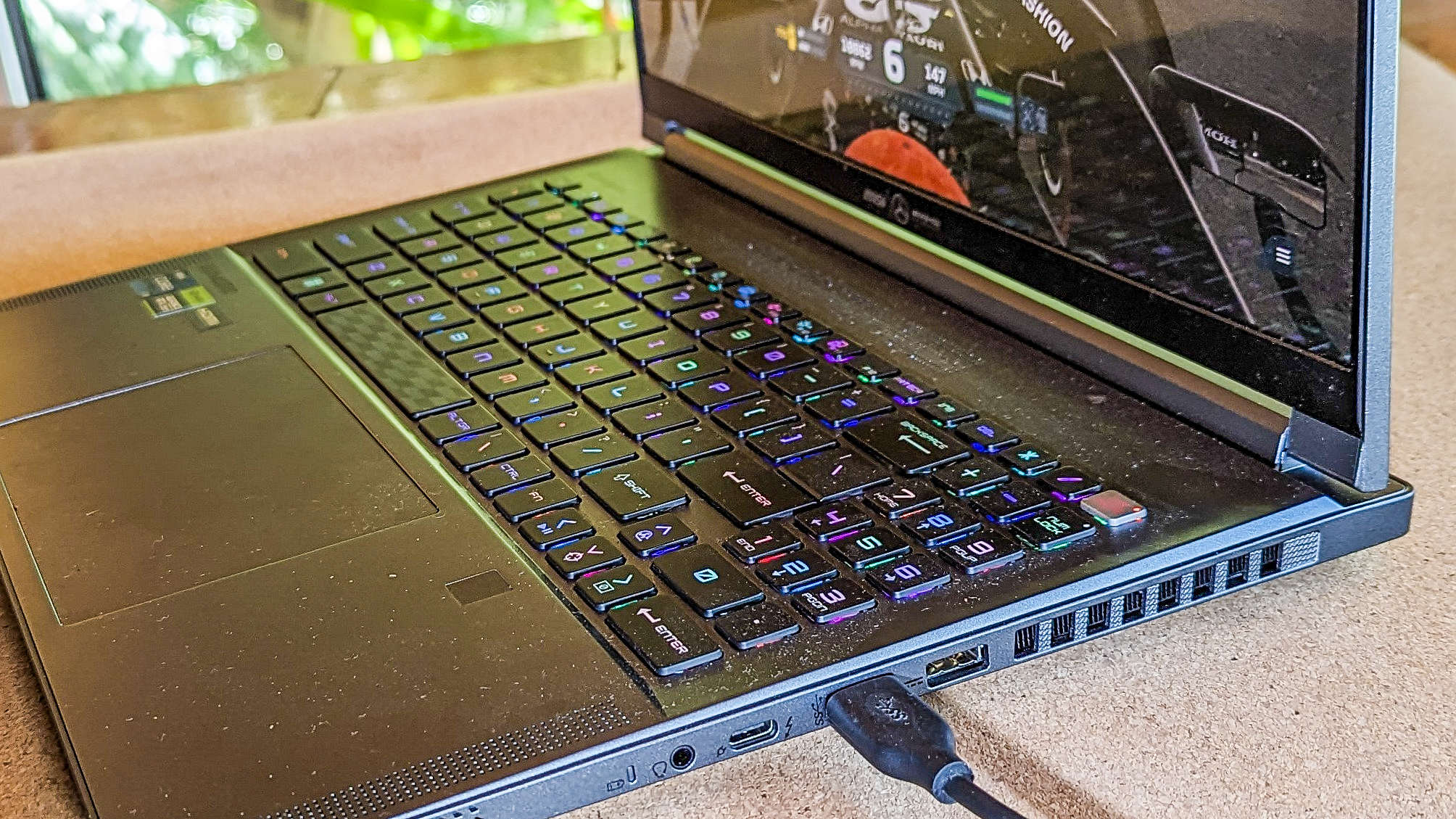 Image 2 of 6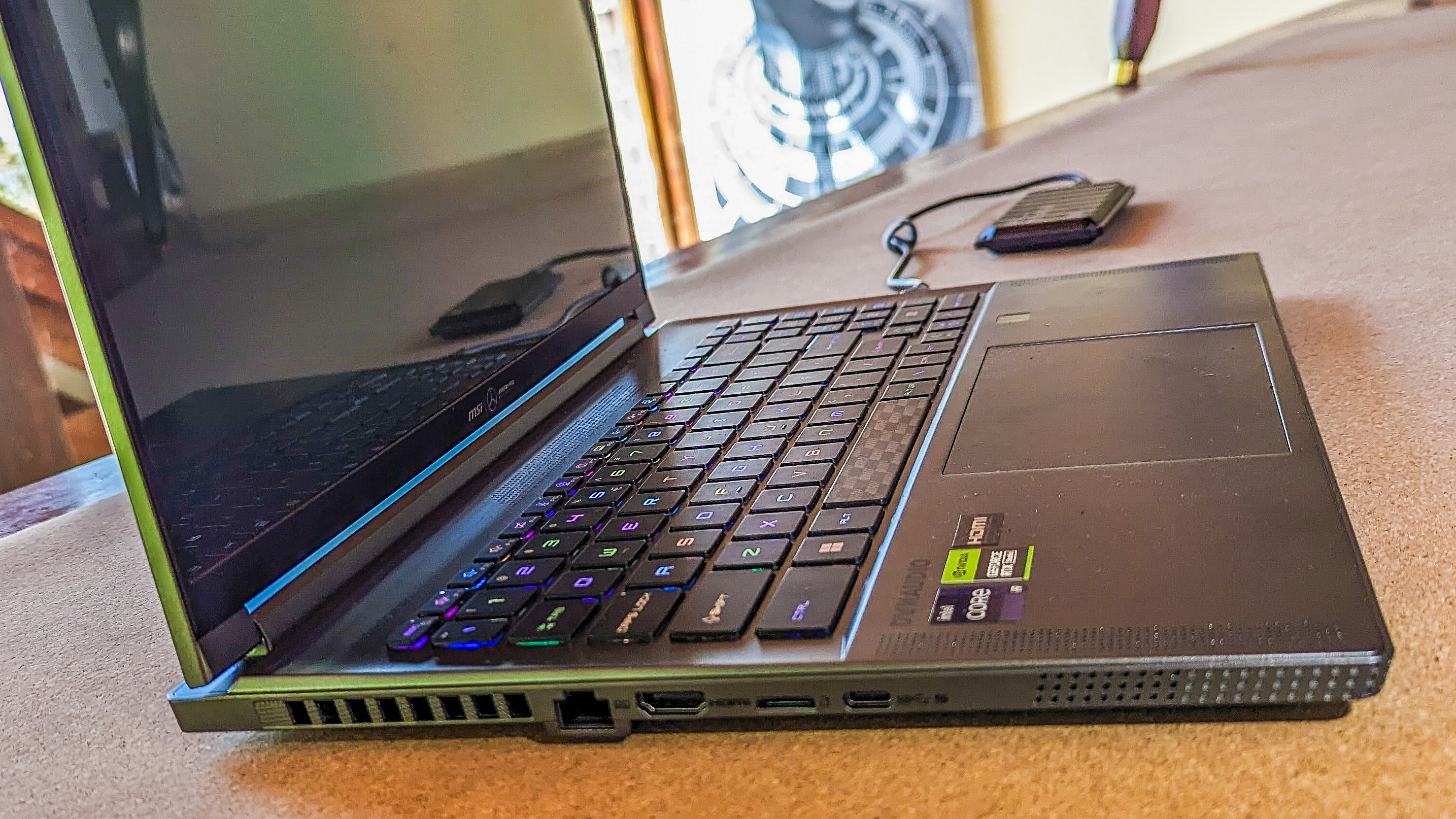 Image 3 of 6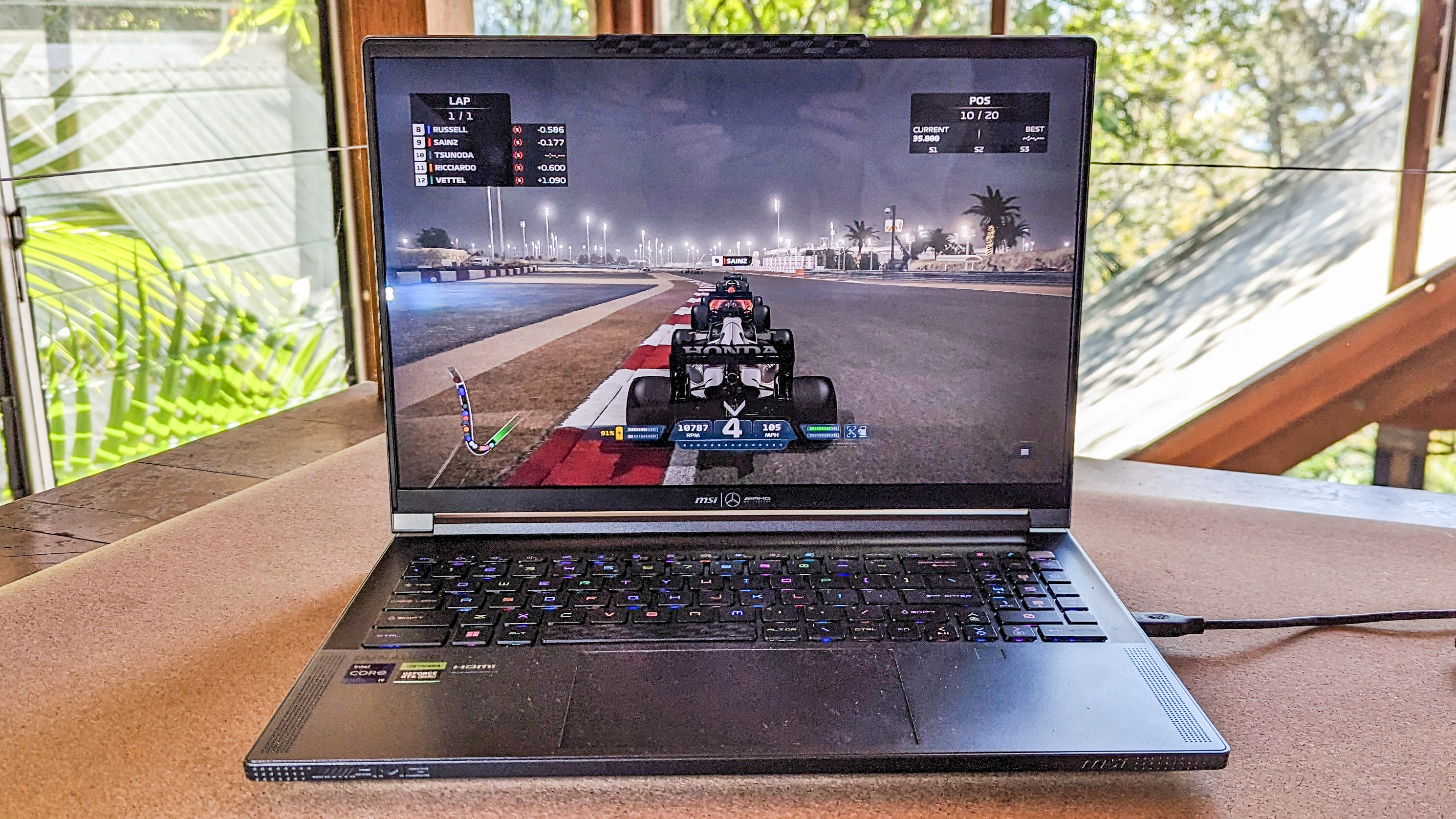 Image 4 of 6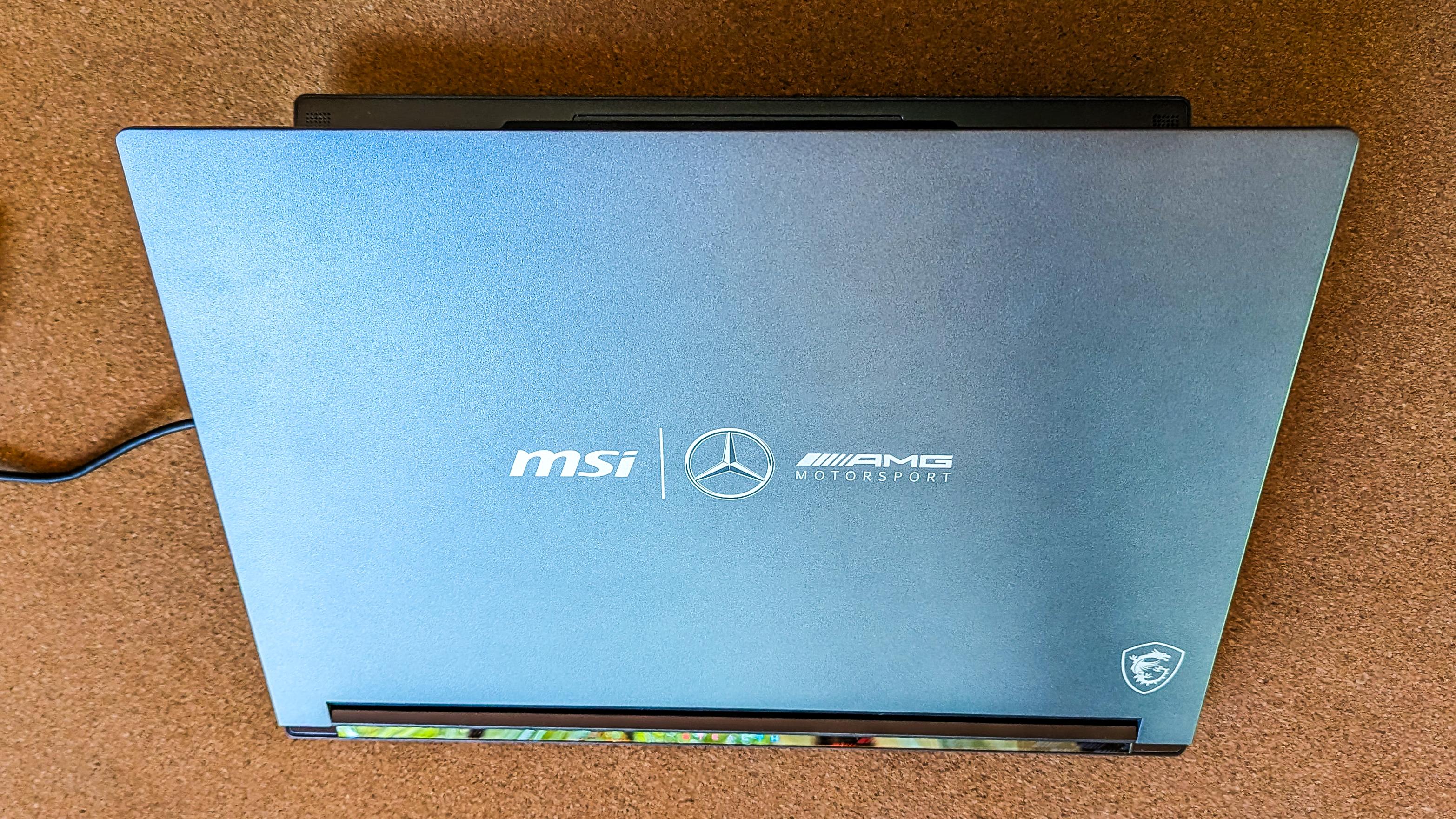 Image 5 of 6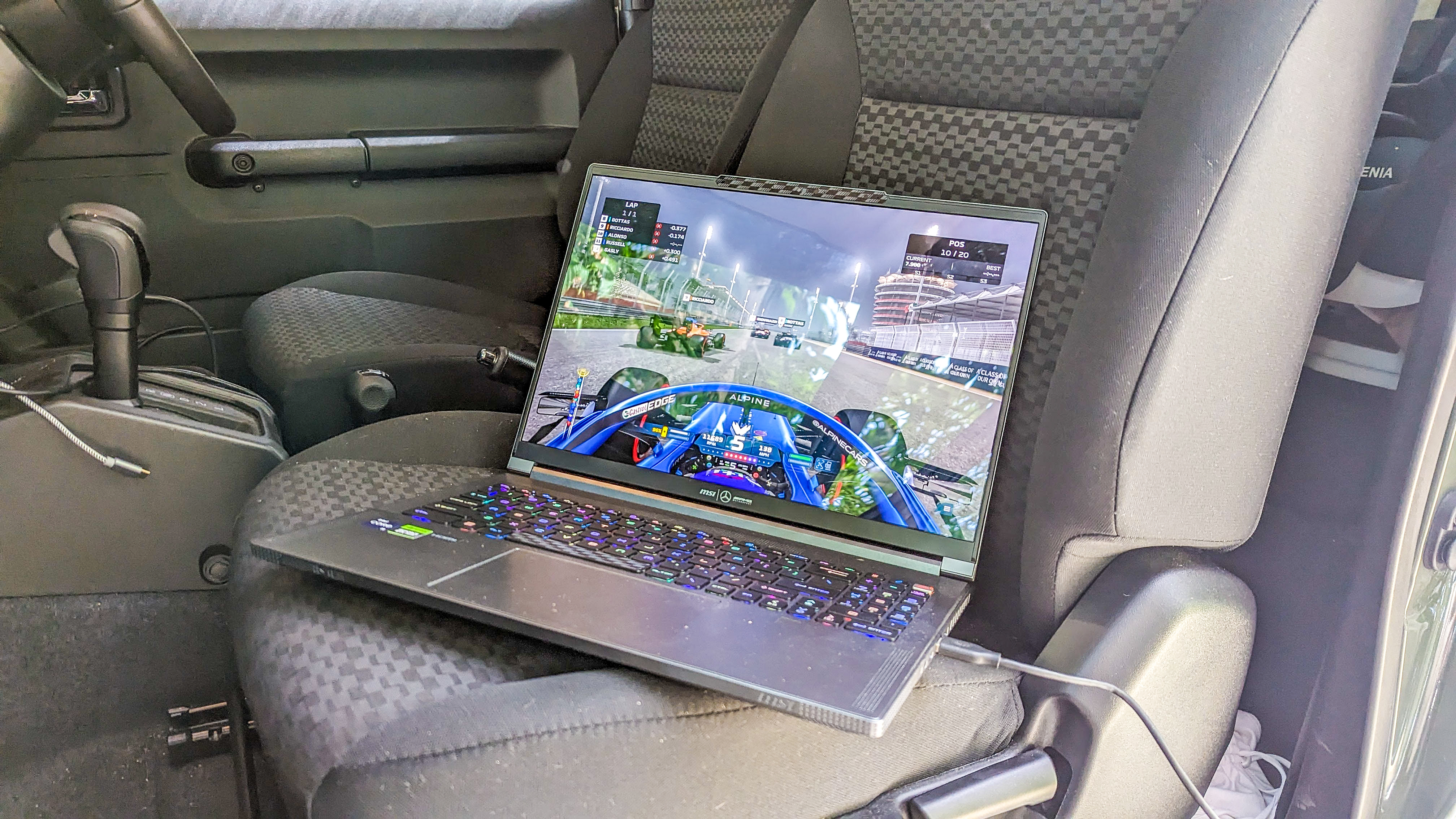 Image 6 of 6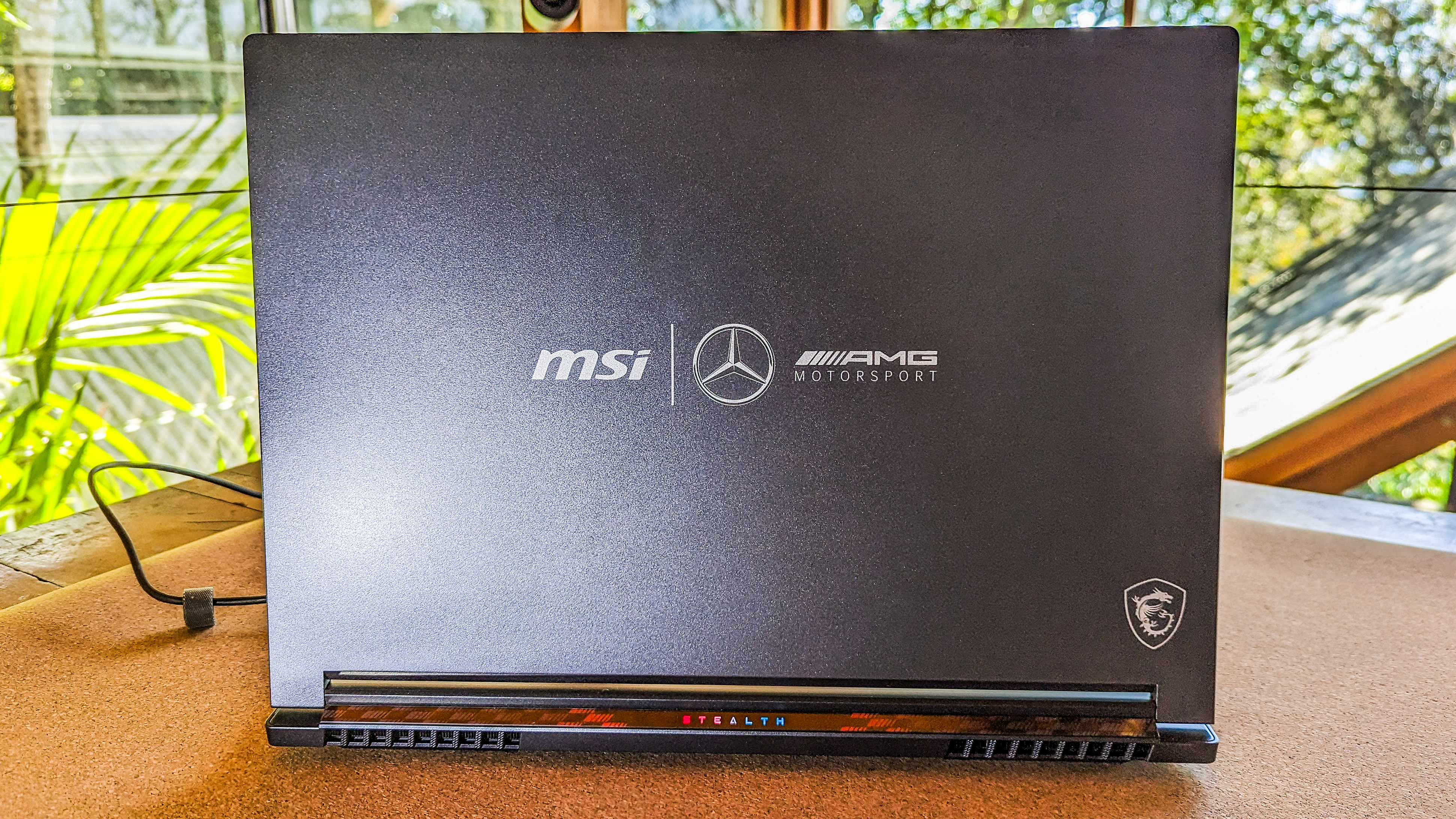 MSI Stealth 16 Mercedes-AMG Motorsport A13V review: Price and availability
Retails for $2,899 / £2,399 / AU $5,499
Available now in the US, UK and AU
The Stealth 16 Mercedes AMG Motorsport A13V is available now in one main configuration for the US, UK and Australian regions. The recommended retail price lands at $2,899 / £2,399 / AU $5,499 and comes with a bundle of exclusive merch' including a gaming mouse, mousepad, a dual USB, a pouch (for some important things), and a cable tie for either the power brick or your Lewis Hamilton-styled man bun. 
The price is more expensive than many competitor's, with Razer and Asus both offering similar configurations for less. The MSI  Stealth 16 Mercedes-AMG Motorsport A13V does offer additional battery life over the competition, but you do have to pay extra for it. 
MSI Stealth 16 Mercedes-AMG Motorsport A13V: Specs
On the whole this is a well balanced spec sheet. The 4K display may have been an issue if this was a dedicated gaming laptop (since it's only got a 60Hz refresh rate), but it's perfectly suited to someone wanting to use it for creative work. 
The CPU is powerful, but only draws 45W (unlike some of the top higher core 13th gen i9 chips) and it pairs nicely with the 105W Nvidia RTX 4070 GPU to offer power without totally disregarding battery life. 
The 32GB RAM allocation will be adequate for many professional workflows and the 2TB SSD is fast and expansive enough for a modern creative pro.  
A more detailed specs list like this:
MSI Stealth 16 Mercedes-AMG Motorsport A13V review: Design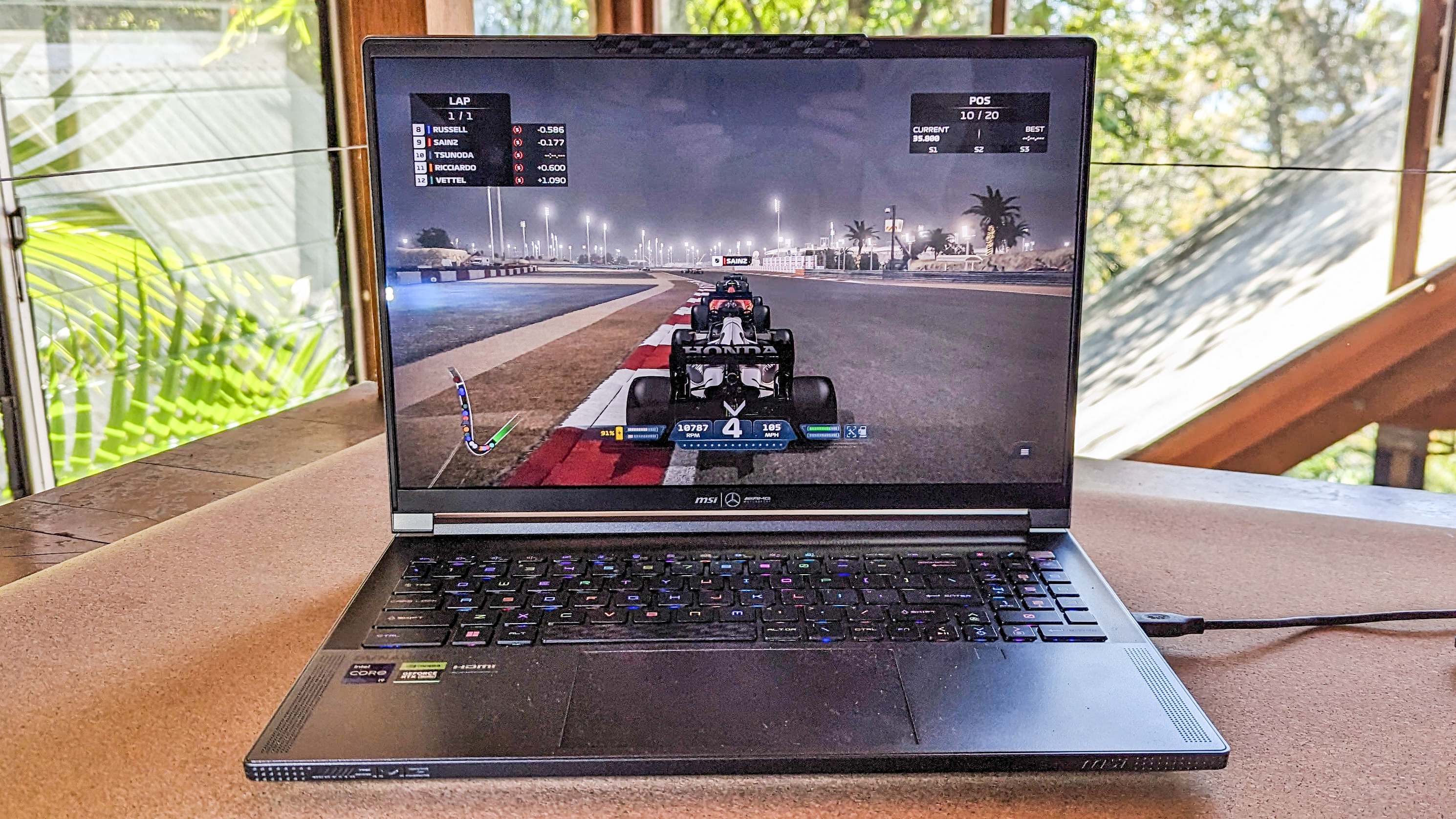 4K OLED screen
Powerful components
Good battery
The Stealth 16 Mercedes-AMG Motorsport A13V is an ultra-portable 16-inch professional laptop with a discrete Nvidia GeForce RTX 4070 graphics card and a 13th generation Intel i9 processor. Usually having this much power leads to laptops that are bulkier and have limited battery life, but the A13V has a generous 99.9Wh battery and a 4.2lbs (1.88kg) total weight, so it's designed to be easy to work with on the go. 
This portability focus extends through the exterior design, offering a premium feeling magnesium-aluminum chassis that keeps the device rigid at just 0.85 inches (2.2cm) and a power brick that isn't as large as you might expect from a laptop this powerful. 
The Mercedes branding is muted enough to be palatable for those that are indifferent to the partnership, and there aren't any outlandish design tweaks since the most notable changes are cosmetic golf-ball-dimples added to the edges and rear vents, and a chequered flag effect on the space bar. 
The keyboard is a reasonable membrane-based setup with enough travel to be comfortable to type on and quiet enough to work in communal spaces. It does still include MSI's coveted RGB per-key backlighting array so you can customize how you want your keyboard to look. 
MSI used Mercedes' audio component manufacturer Burmester to produce the speaker array for the laptop and the 6 speaker array sounds great for media playback. This is, of course, complimented by the 4K OLED display with Vesa DisplayHDR 600 color and brightness certification to make it an exceptionally appealing device to watch (and create) audio-visual content on. 
The device comes with a 1080p webcam that can manually be shuttered and an infra-red camera for quick Windows Hello sign-in. It's also got the other standard business feature of a fingerprint reader and offers a wide range of ports and interface options for a modern laptop.   
MSI Stealth 16 Mercedes-AMG Motorsport A13V review: Performance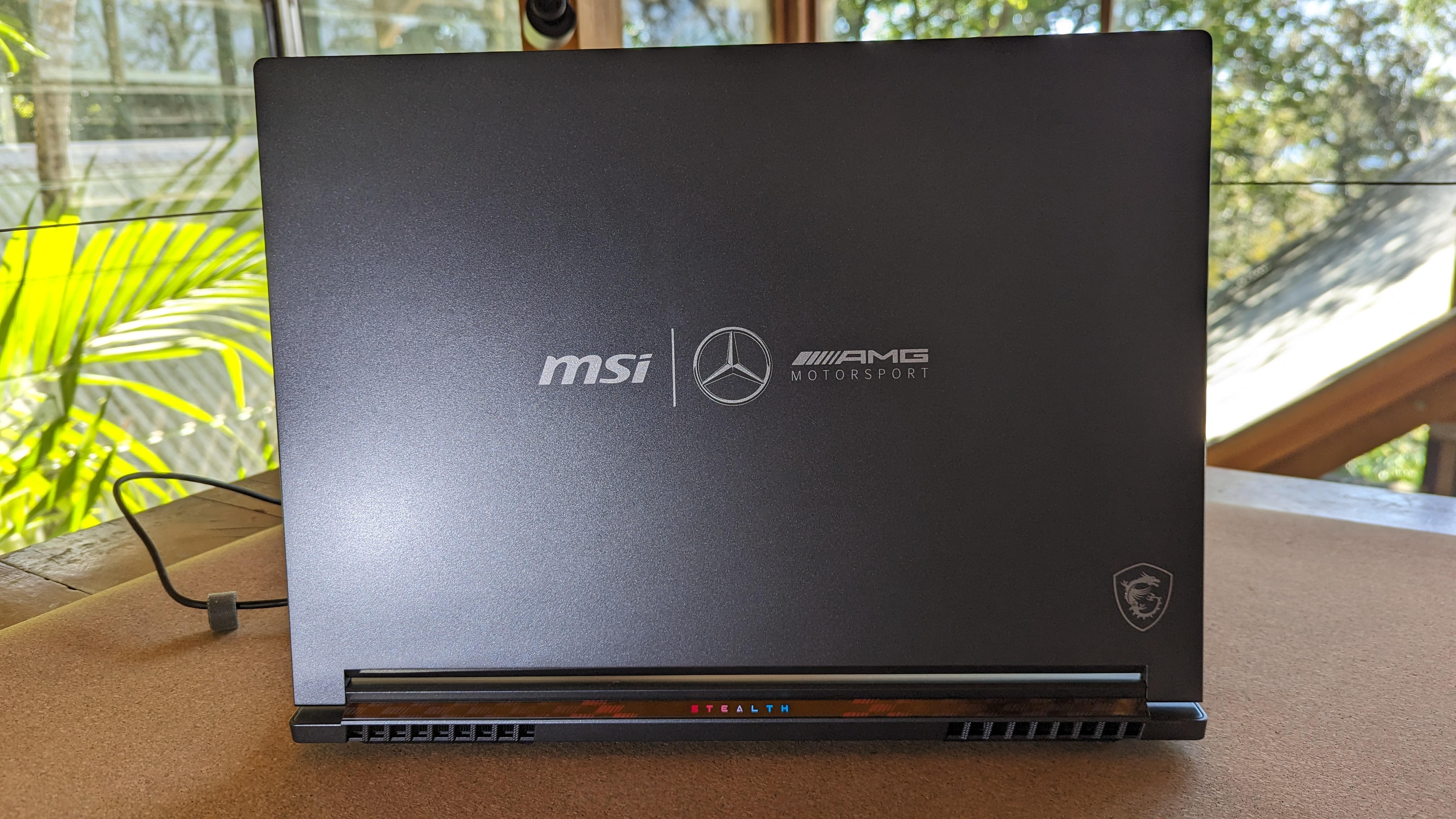 Balanced workstation performance
Fast interface options
MSI Stealth 16 Mercedes-AMG Motorsport A13V: Benchmarks
Here's how the MSI Stealth 16 Mercedes-AMG Motorsport A13V performed in our suite of benchmark tests:
3DMark: Port Royal: 7,171; Time Spy Extreme: 5,599; Time Spy: 11,709;
GeekBench 5: 1,996 (single-core); 18,934 (multi-core)
Cinebench R23 Multi-core: 19,278 points
Cyberpunk 2077 (1080p, Ultra): 92 fps;
RDR2 (1080p, Ultra): 95fps;
Crystal DiskMark 8 (Read/ Write): 6473/4707 MB/s
PCMark 10 (Home Test): 7,083 points
Battery Life (TechRadar movie test): 7 hours, 8 minutes
An Intel Core i9-13900H CPU and a 105W Nvidia GeForce RTX 4070 GPU is a pretty powerful system configuration that's capable of impressive creative performance. The CPU isn't the most powerful available on a laptop today, outpaced by Intel's unlocked 13th gen i9 and i7 processors (which have more performance cores) and AMD's Ryzen 9 7940HS, but it is still very competent and will be capable of handling demanding workloads. 
The same could be said about the 105W RTX 4070, which is outperformed by systems willing to divert additional power to the graphical capabilities, but which still offers respectable frame rates of around 100 fps on modern titles using 1080p settings. This level of GPU output offers close to 60% better performance than an Apple MacBook Pro 16 and the Stealth 16's lower wattage GPU is able to keep up with a 140W RTX 4070 on a Razer Blade 14 for most synthetic benchmarks.
This performance will drop back with more consistent loads since higher powered 4070 GPUs offered 5% to 8% higher framerates across gaming benchmarks, but it's not as big a difference as you might expect. 
The SSD manages read speeds of 6473MB/s and write speeds of 4707MB/s which isn't exactly breaking records, but it is the latest spec of PCIe internal drive, meaning transferring large files can happen surprisingly quickly. Combine that with Wi-Fi 6E or the direct Gigabit ethernet connection and you've got a setup that can move content as quick as anything. 
MSI Stealth 16 Mercedes-AMG Motorsport A13V review: Battery life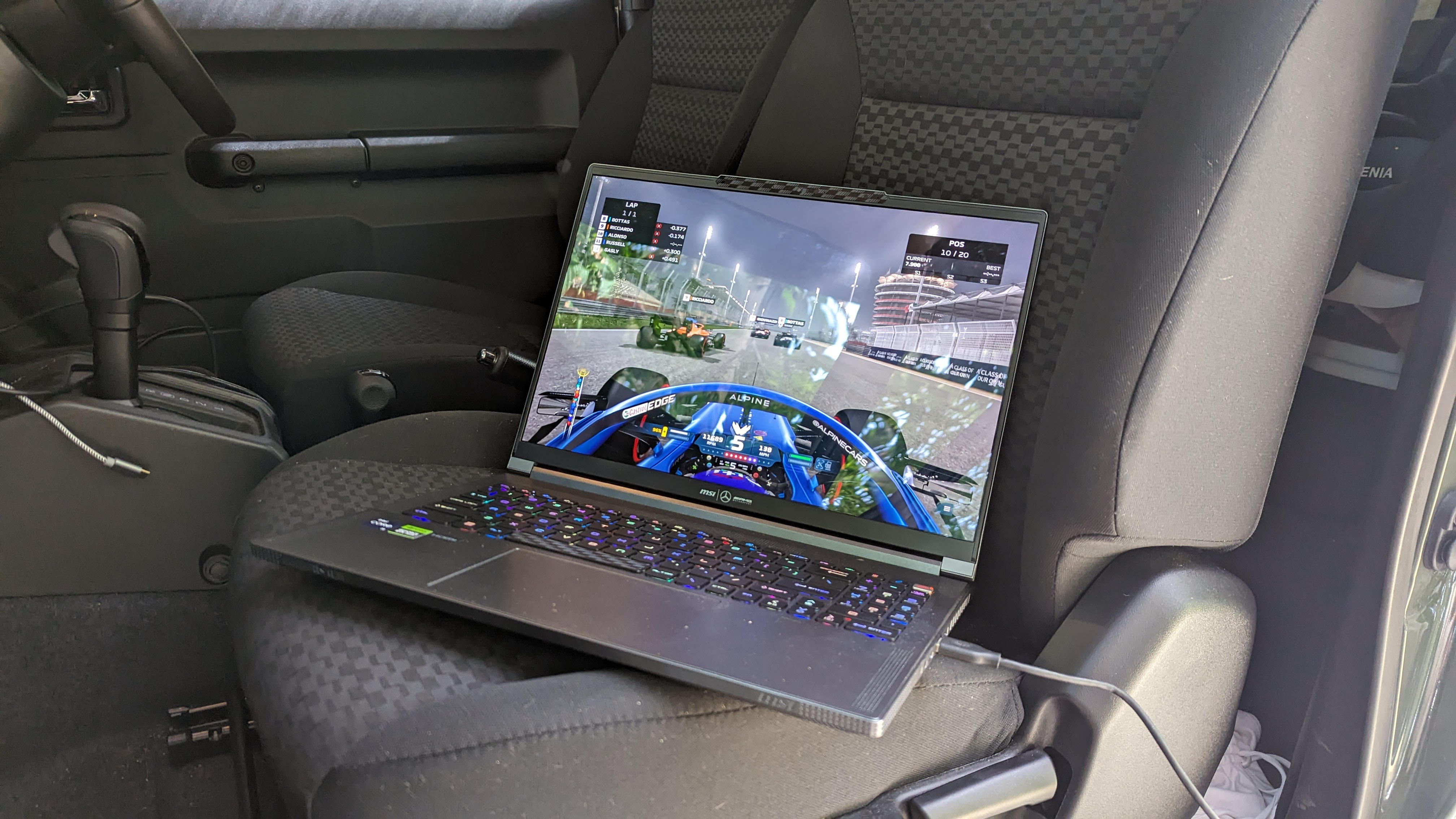 7 hour 8 minute work lifespan 
6 hour 36 minute movie playback
Sub 2 hour gaming lifespan
Battery life is one of the main drawcards of the Stealth 16 Mercedes-AMG Motorsport A13V. Sure it's not the almost 20 hours you'll get on a MacBook Pro 16, but it's a heap more than the 4-ish hours you'll get from a standard gaming laptop.
We got a very reasonable score of 7 hours and 8 minutes of light work using PCMark 8 Home battery benchmark, which translates into 6 hours and 36 minutes for 1080p movie playback.
You should expect these lifespans to drop to under 2 hours when engaging the GPU, so if you need to do intense work we wouldn't recommend leaving the charger behind. 
Battery life score: 3.5 / 5
Should you buy the MSI Stealth 16 Mercedes-AMG Motorsport A13V?
Buy it if...
Battery life is important
You need something powerful that can last close to a full day for light work tasks if needed.  
Don't buy it if...
You need uncompromising performance
You want the absolute pinnacle of laptop power. You can get more powerful devices if you're happy to trade out some battery life.  
Also consider
How I tested the MSI Stealth 16 Mercedes-AMG Motorsport A13V
I tested it using both benchmark tests and video game benchmarks
I stress-tested the battery using the TechRadar movie test
I ran the MSI Stealth 16 Mercedes-AMG Motorsport A13V through our standard suite of benchmarks to get a feel for the laptop's peak performance and to see how it compares with the best on the market.
In addition to our standard suite of testing, I also tested the device using it for a day of work to see how it fares when typing, web browsing, working and for light photo and video editing tasks. 
The screen was analysed using TechRadar's standard movie test and was compared against other screens running standard web browsing and movie editing software. 
The battery life was benchmarked with two tests to simulate different battery life scenarios.
Read more about how we test laptops and desktops.
First reviewed September 2023