Bose QuietComfort Earbuds 2: one-minute review
The Bose QuietComfort Earbuds II come from the brand that practically invented noise cancellation. However, Bose's initial venture into the true wireless earbuds space didn't quite hit the same mark as its over-ear cans did, quickly losing out to the likes of Sony and Apple. 
However, the master is back in form, with Bose's second-gen QuietComfort Earbuds II (let's call them QCE II for simplicity's sake) getting a lot of what is important just right.
And it starts with a completely overhauled design that makes the new model so much more comfortable to wear as compared to the predecessor. The gen 2 is smaller, lighter and finally seems to be competing with Sony… although there are smaller buds out there.
Size definitely matters when it comes to true wireless earbuds, but so does the performance and Bose has actually improved on what it had with the older QC Buds. In fact, we thought the first-generation Bose QuietComfort Earbuds had pretty good active noise cancellation (ANC), and we weren't entirely sure how the adaptive nature would perform in the new buds, but it's remarkably effective... provided you get the fit right. High frequency sounds like sirens still get through, but not as much as they did with the older model.
And the improvements to ANC haven't come at the expense of overall sound quality. In fact, we'd go so far as to say it's even better this time round. Each bud adapts the sound to the contours of your ear canal to make what you hear beautifully balanced with very clear details and textures. Like the ANC performance, this is, again, dependent on how well the buds fit your ear.
While there's a lot to commend Bose on, there's not been a huge improvement on battery life – with the case only getting a bit more juice than before – and call quality is also nothing to phone home about.
The big improvements, however, come with a higher price tag than the first-gen's launch price. And although it matches the launch price of the Sony WF-1000XM4, the rivals can now be had for a lot less in several markets.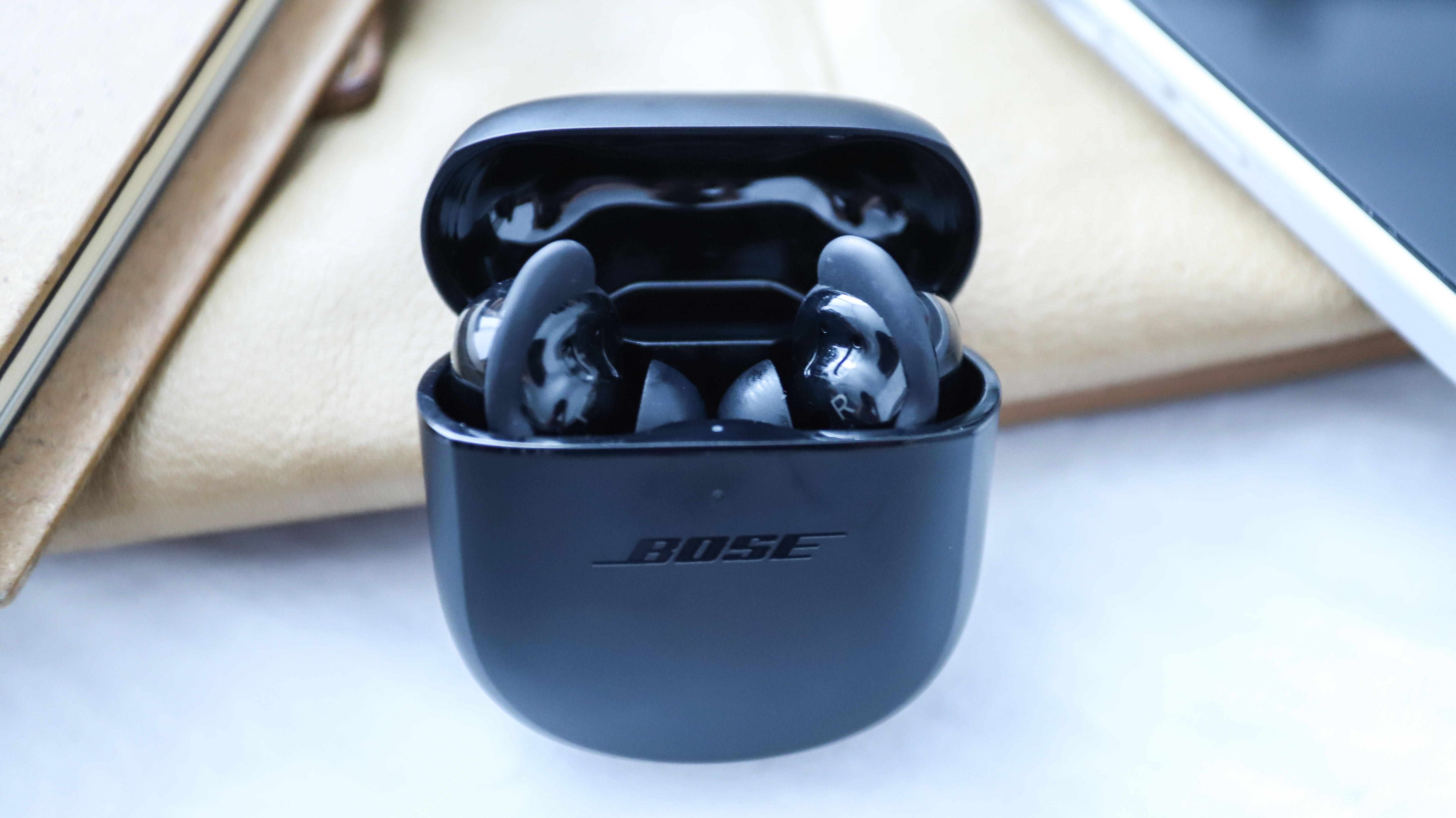 Update (February 2023): On February 17, 2023, Bose began rolling out a new firmware update that adds a feature the company is calling Independent Single-Bud Use. This allows you to use the buds independently of each other, meaning you'll be able to continue listening to your tunes when you take one of them off (which would initially pause the playback) or switch them if one runs out of juice.
We've tested this update and added it to the Features section below. 
Bose QuietComfort Earbuds 2 review: price
Announced September 2022
Launch price: $299 / £279 / AU$429
Costs more than Apple and Sony rivals
It might have gone unnoticed, but the Bose QuietComfort Earbuds II were announced on the same day as Apple debuted the iPhone 14 range and the AirPods Pro 2 – September 8, 2022 to be precise. Still, it got some fanfare at the New York Fashion Week where the launch event was held.
At the time of writing, only a single color option is available – Triple Black – with the Soapstone edition to arrive at a later undisclosed date. 
At launch, the QCE II will set you back $299 / £279 / AU$429, which is a lot more than the current, now-reduced price of the Sony WF-1000XM4 and the launch price of the AirPods Pro 2, both of which can compete with the Bose. 
While it's easy to justify the premium price tag in relation to the QCE II's upgrades over its predecessor, we could also take into account inflation rates around the world. That said, it's still pretty steeply priced but, that said, it didn't take long for the Bose QC Buds to get discounted during big sale events, and we're expecting the same to happen with the second-gen model as well. So if you're not in a rush, you could wait for sales like Amazon Prime Day or Black Friday to pick up for less.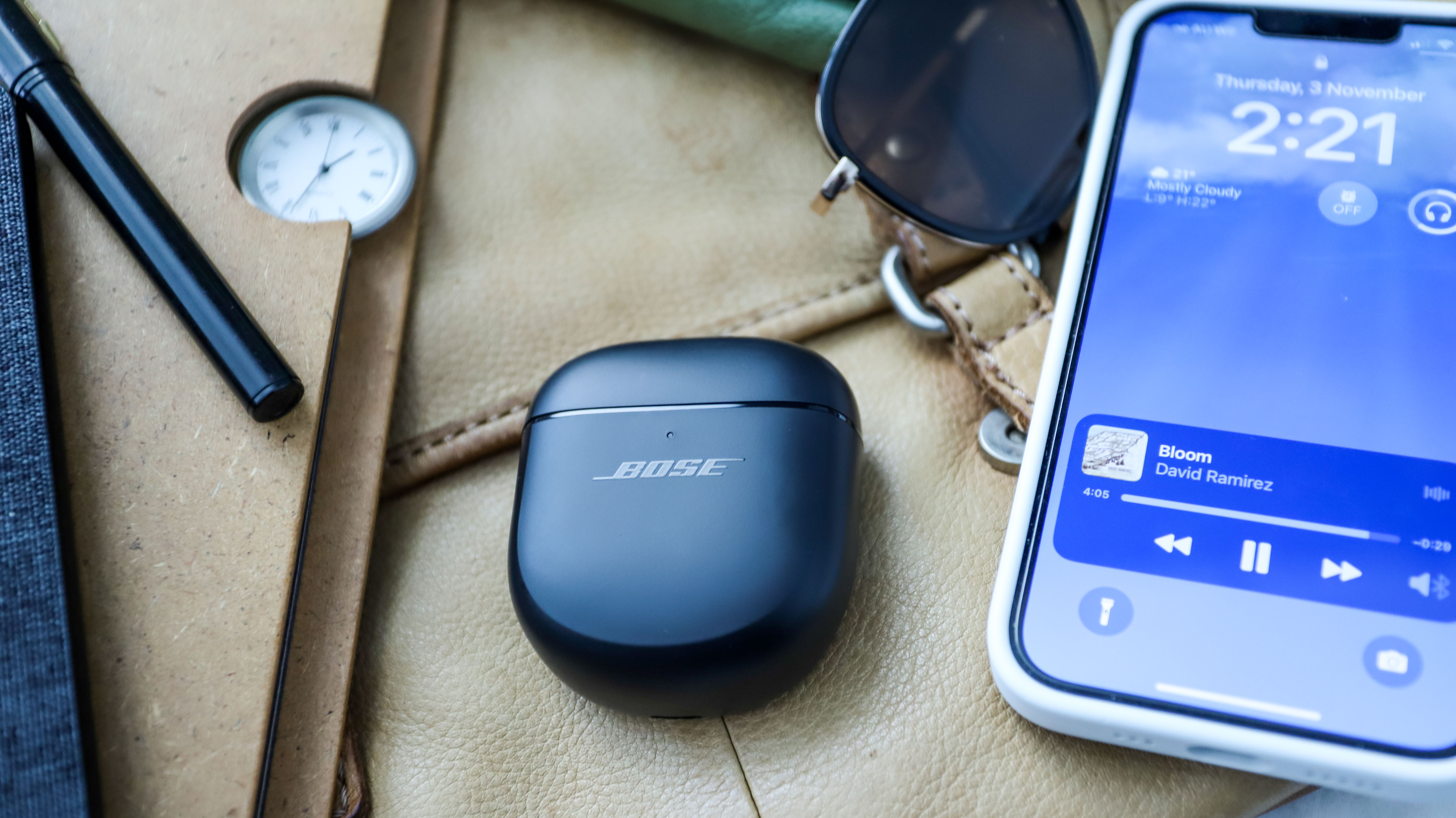 Bose QuietComfort Earbuds 2 review: Features
CustomTune audio
Excellent ANC prowess
Bluetooth 5.3
Bose has figured out a way to customize both the audio response and noise cancellation of the QCE II to the individual user's ear canal. The company calls this proprietary tech CustomTune and it uses an audio signal – which is picked up by a mic inside each bud – to automatically calibrate ANC and sound frequency that best suits your ear. Bose doesn't specify the details of the frequency response, but after having used the QCE II for a while now, we're estimating they go from 'extremely deep' to 'very high indeed'.
The sound itself is delivered via a couple of 9.3mm full-range dynamic drivers – one per bud, obviously – and the buds use Bluetooth 5.3 for wireless connectivity. The only codecs supported are SBC and AAC, which is a little surprising as we were expecting Snapdragon Sound compatibility because of Bose's involvement with Qualcomm (the QCE II use the Qualcomm S5 Audio chipset). Perhaps that might change in the future via over-air firmware updates.
Key Specs
Colors: Triple Black; Soapstone yet to arrive
Connectivity: Bluetooth 5.3; 9.1m range
Codec support: SBC, AAC
ANC: Yes; adaptive
Water resistance: IPX4
Battery life: 6 hours (buds); 3 extra (charging case)
Weight: 6.2g (per bud); 59.8g (charging case)
The first major firmware update we did get was the rollout of a feature called Independent Single-Bud Use. This allows you to use a single bud to listen to music or take calls instead of pausing playback as it did before. This also allows for playback to continue if the Bluetooth connection between each bud drops. And, finally, if you find one bud has run out of juice before the other, you can swap to carry on listening. 
You can even change ANC modes when using a single bud, although since you can hear your surrounds anyway, the ability to do so is moot.
Another missing feature we were hoping would have made its way to the QCE II is multipoint connectivity which allows you to pair with two Bluetooth devices at the same time. To be fair, though, this is more common in wireless over-ear headphones and hasn't quite made its way to the true wireless models, but it would be nice to have.
As would wireless charging. This also is a bit of a surprise considering rivals have cases that now support wireless charging and the Bose is a pretty premium set of buds to forgo this feature.
According to Bose, the QCE II offers up to six hours per charge on the buds alone, with an additional three top-ups in the case. That's not really a huge improvement over the previous generation, which also gave you up to six hours on the buds, but just two additional top-ups in the case. 
We didn't quite get to wear the Buds for a full six hours, but we had ANC at full bore every time we used it and, after two hours of use, we lost just 20% of battery on the buds (down to 80% from a full charge) – meaning you could get more than the listed six hours.
Bose promises that the charging case will juice up the buds in an hour if they've been fully drained, while a quick 20-minute top-up will get you about two hours of playback if you're impatient.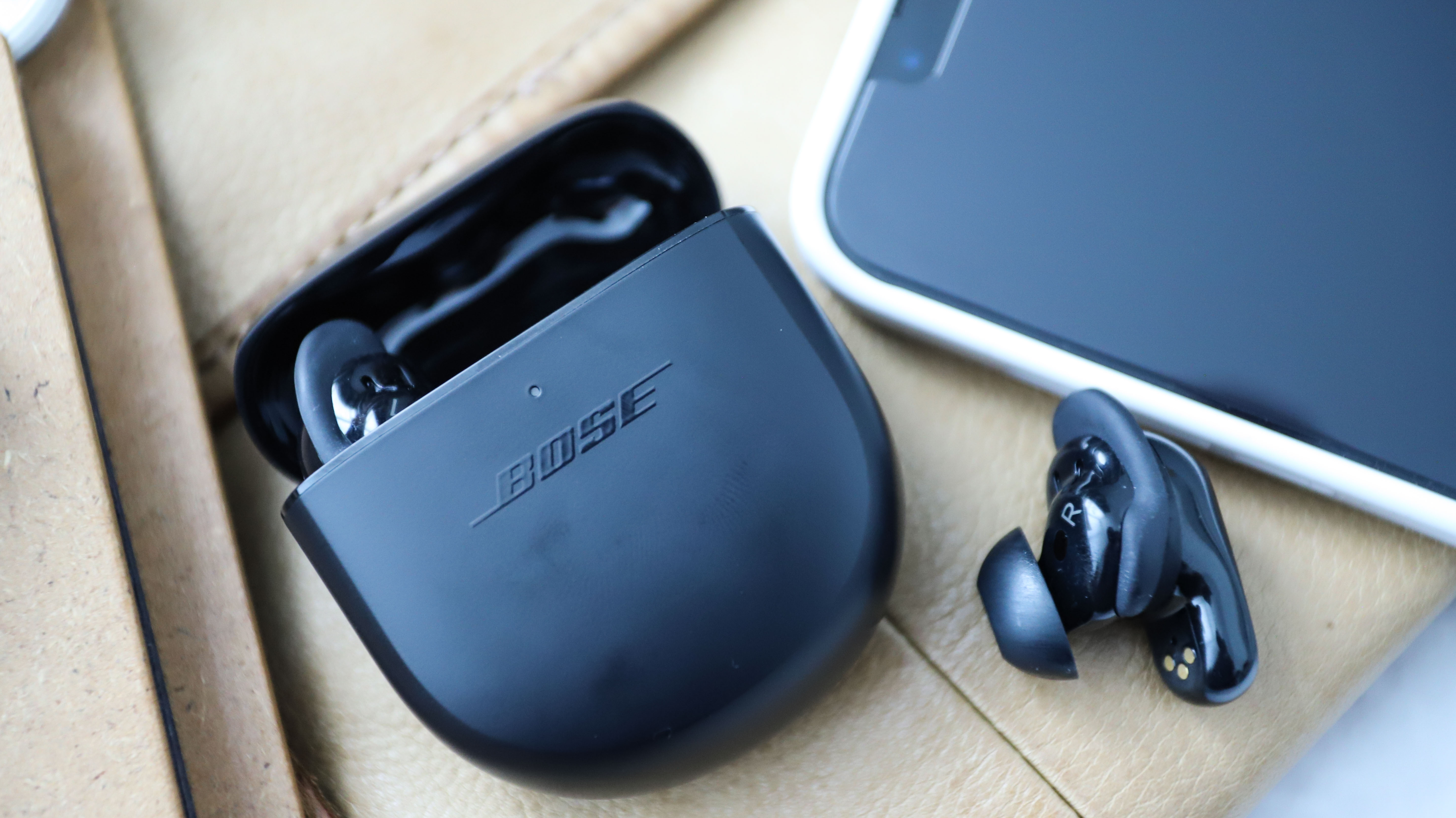 Where the QCE II really shines, however, is noise cancellation. Bose boldly claimed that the QC Buds II have "the world's best noise cancellation from any headphone", and we will have to agree wholeheartedly. So, how has Bose managed to achieve this? With some fancy mic work – four in each bud (one inside) that sense unwanted noises – and an "exclusive" algorithm in a "proprietary" chip that's able to cancel out the sounds in "a fraction of a millisecond". While we can't measure this claim, we can vouch that it works remarkably well. The QCE II will score top marks from us just on its ANC performance.
Another feature we really like is the ActiveSense technology that comes into play when the QCE II is in 'Aware' mode. This automatically adjusts the noise cancellation so your music isn't entirely drowned out by loud environmental noises, while also letting you hear what's going on around you. Auto Transparency is also pretty neat to have when you need to talk to someone. This comes automatically into play when you remove any one bud and the ANC level on the other is adjusted to its lowest level. Put the bud back on and you go back to how your ANC was set without you needing to do anything else.
The Bose Music app hasn't changed at all but, not that long ago, received an equalizer to help you adjust the music to your liking, something that was missing when the older QC Buds first launched. Pairing the QCE II is super easy, and the app lets you save ANC modes (up to four) and reconfigure some touch controls – it's full of instructions and very simple to use.
Features score: 4.5/5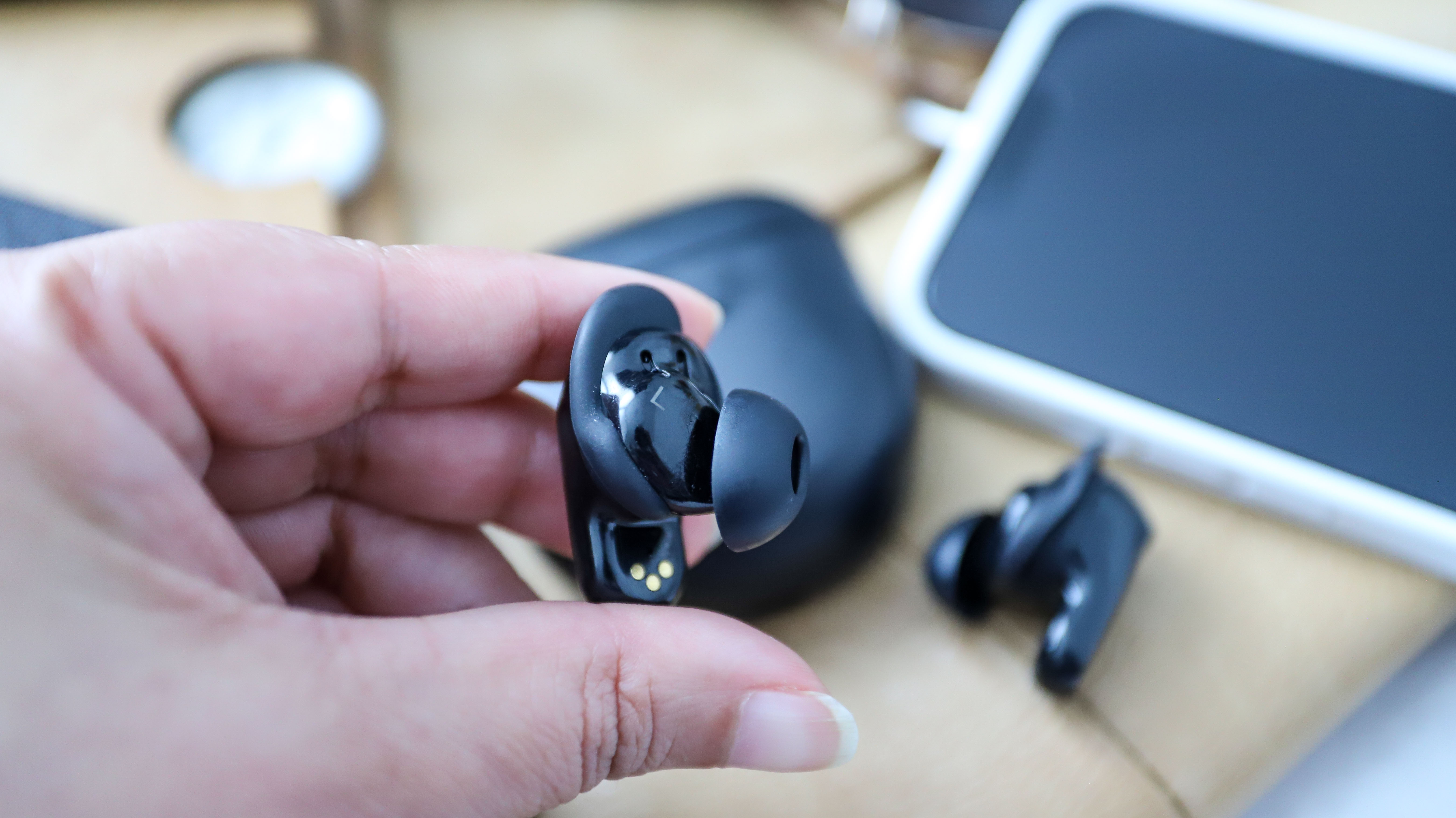 Bose QuietComfort Earbuds 2 review: Design
30% smaller than previous generation
More compact and lighter charging case
May not fit everyone too well
Unlike the original QuietComfort Earbuds, which were – let's not be coy – absolute units, the new QC Earbuds II are altogether more realistically sized. This reviewer has been using the older model since they launched as her everyday earphones and the new ones are an absolute revelation to her ears in comparison!
Bose claims that the second-gen buds are 30% smaller than the previous model, which in itself indicates that there's been a complete design overhaul. The QCE II are from the 'dangly stem' school of design, but the stem is brief and, thanks to three different ear tip and 'stability band' options, they're comfortable and secure. That said, they didn't feel very secure when we first started using them and it took some physical shakes and jumps to convince us that the buds weren't going to fall out.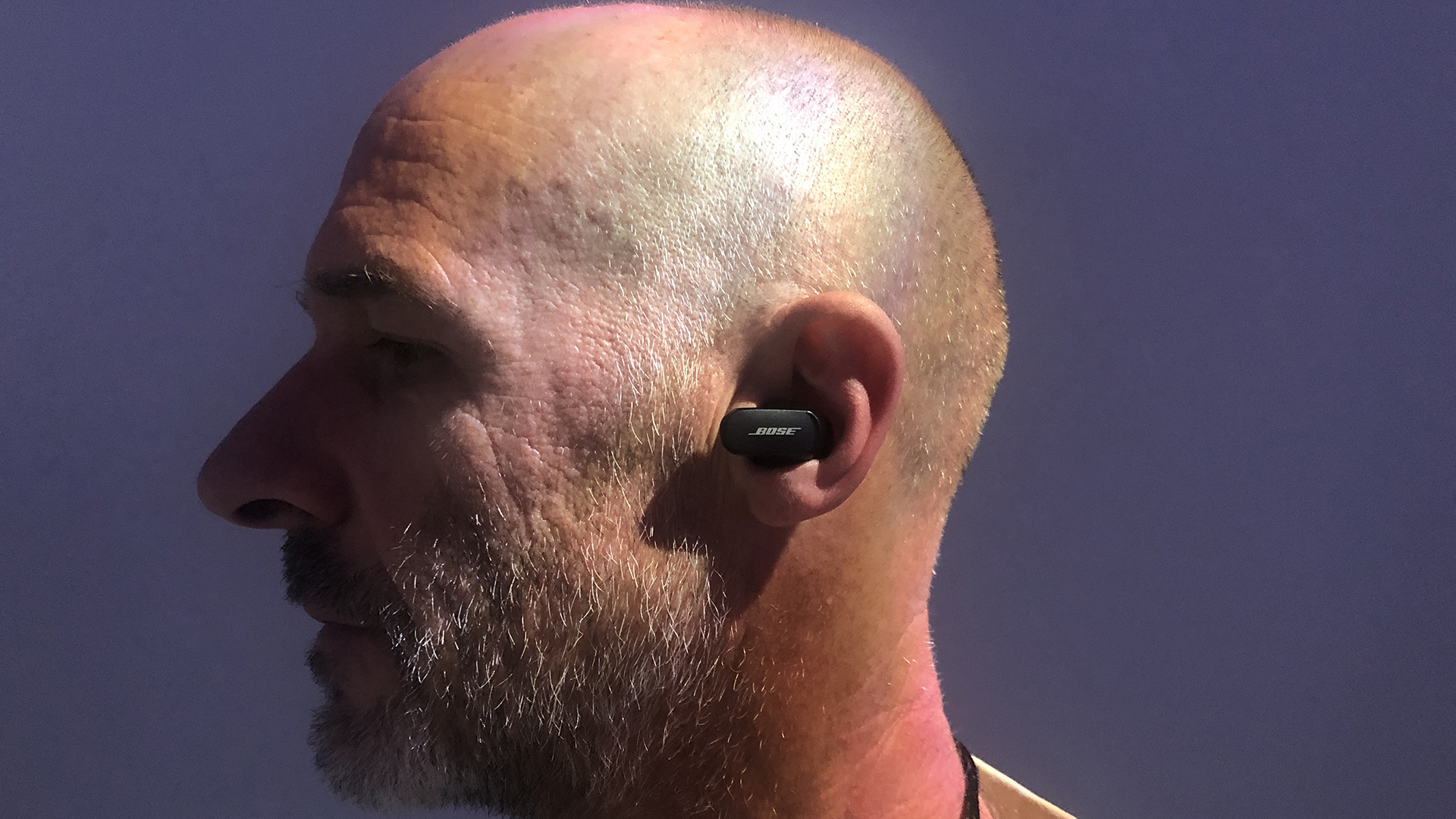 Of course, there's a fit test on the Bose Music app to help you, but it takes a little while to build up that sense of security. While you might know what ear tip size works for you from previous buds you've used, it's not easy to figure out which stability band is right for you. We found we had to try them all with our choice of ear tip, while also repositioning each bud in the ear with each band to come to a decision. This might sound tedious, but it doesn't take long to find the right fit.
Perhaps it's the all-in weight of 6g per earbud (as compared to 8.9g previously) that gives the false sense of insecurity, but it doesn't do any harm either – that's fairly light for this kind of bud. Even the ear tips and stability bands are super soft, so the QCE II are really quite comfortable to wear for long periods of time.
And the build quality is everything you'd expect from a product costing a premium and, well, from Bose, including the IPX4 water resistance rating we saw previously.
Even the charging case has been given a revamp – it's now taller, thinner and lighter compared to the one holding the older QC Buds, despite having a slightly bigger battery inside. Even with the size change, it's still a sturdy case and much easier to open than its predecessor.
Design score: 5/5
Bose QuietComfort Earbuds 2 review: Audio performance
Beautifully balanced sound
Very clear details
Not the best call quality
Excellent ANC aside, Bose has also improved on the sound quality with the QCE II. When we tested the older model, we thought it lacked bass, which Sony handled really well. Now, however, that's been rectified and whatever CustomTune is doing behind the scenes makes the serenading of the new buds very enjoyable indeed.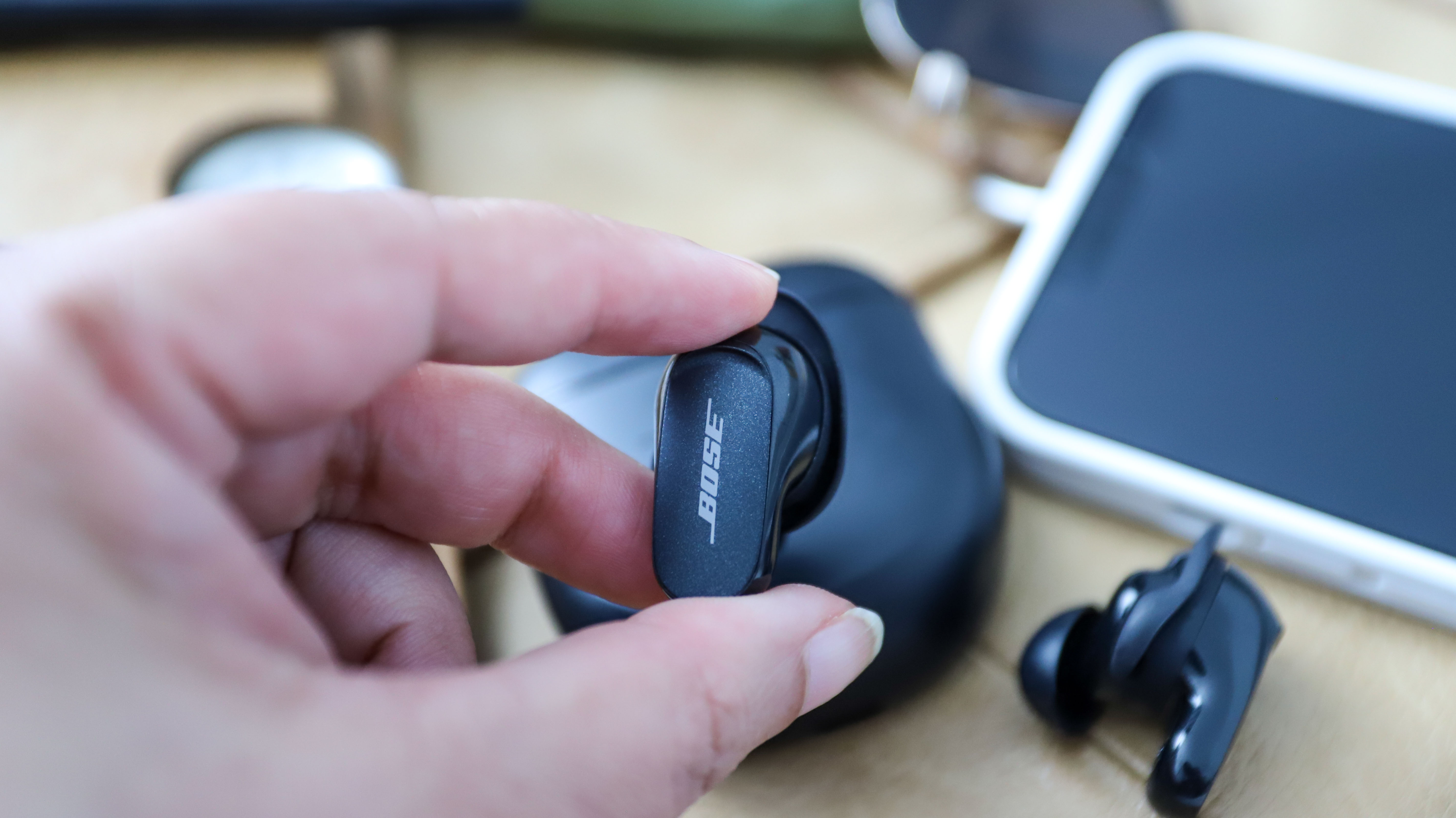 The soundstage is beautifully balanced and you can pick up an exceedingly high amount of detail that wasn't possible in the older buds. This is particularly evident when it comes to the low end, where bassy elements like kick drums and double bass get a pretty good amount of attention. For example, when listening to Miles Davis or John Coltrane you can pick out the double bass among the piano (mids) and the saxophone or cymbals. Bass drums when listening to the blues, pop or rock don't get drowned out, with pretty much every instrument holding its own against the vocals. And at no point did the vocals get drowned out by the instruments. 
We even upped the bass on the EQ to see how it would handle the change and listening to Klergy's Caught In The Fire was glorious. From JJ Cale to Royal Deluxe, Sarah McLachlan to Beth Hart, even Beethoven and Mozart… there was nothing we could fault. Strings don't drown out the lows, winds hold their own and the piano sounds wonderful – there were times when it felt like we were in a concert hall with great acoustics sitting right in front of the orchestra.
How exactly CustomTune is working or what it's doing is unclear as there's no way to switch it off for a point of reference, but that's fine by us. Honestly, we didn't need to adjust the EQ at all, we did it out of curiosity – in short, you put on the QCE II and let them just do their thing.   
Call quality, however, is a little lackluster. In fact, we found the older Bose QC Buds does a slightly better job in comparison. Even though Bose claims external sounds are filtered, this doesn't happen in real-world use, particularly when it's a little windy. The Sony WH-1000XM4 handle wind a little better, and other external sounds like traffic and loud chatter does seem to filter through when using the QCE II.
The SelfVoice feature, which you can adjust on the app, lets you hear yourself quite well, but most people we spoke to while using the QCE II said that we sound like we're on a speakerphone.
Sound quality score: 5/5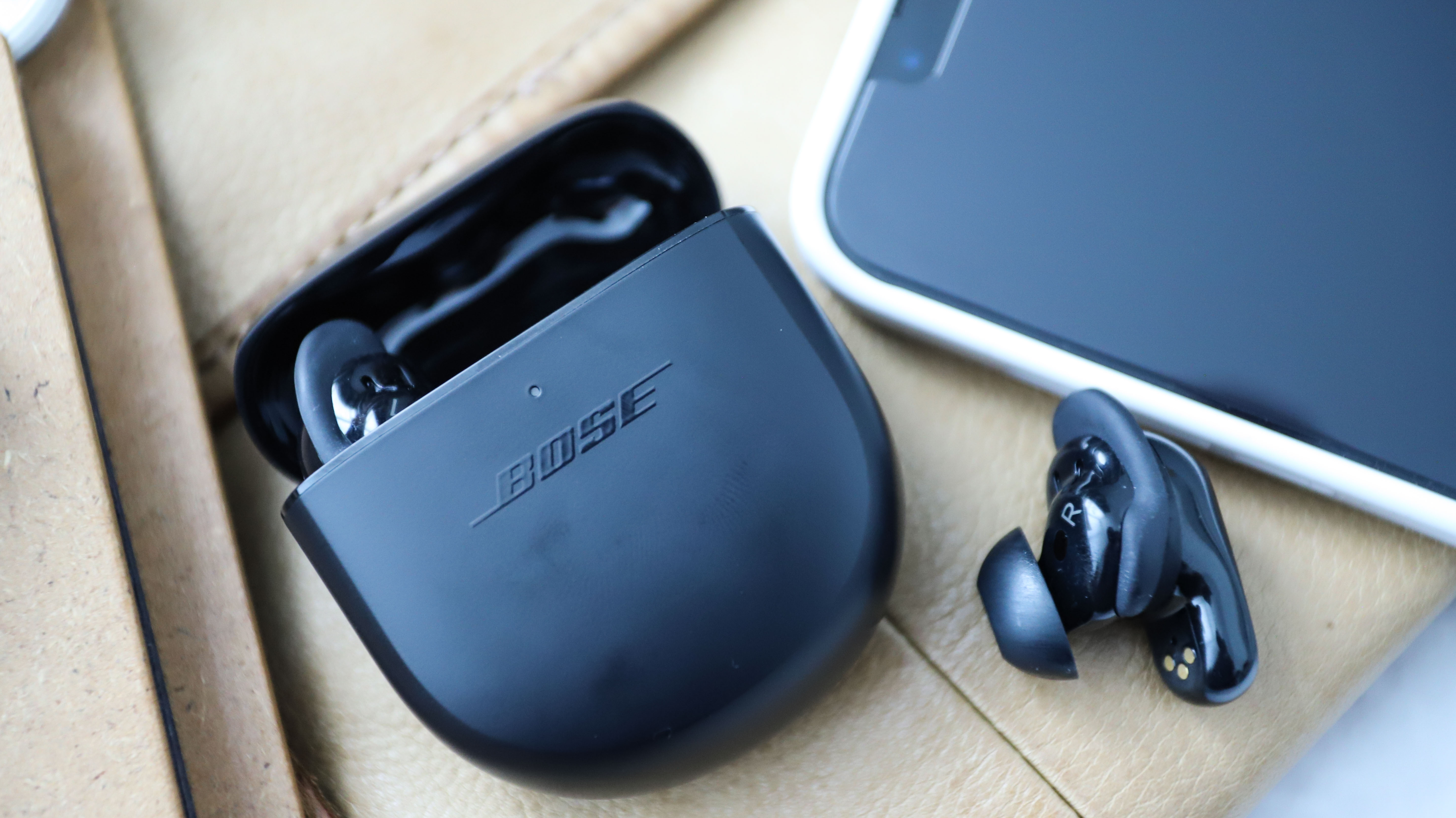 Bose QuietComfort Earbuds 2 review: Value
ANC performance is worth it
Balanced sound is bang on
High price for a set missing wireless charging
As we've mentioned earlier, the Bose QCE II aren't cheap. While the best-in-class ANC performance and the excellent sound justify a small markup over the older model, the lack of wireless charging and no support for high-definition wireless audio makes the $299 / £279 / AU$429 price tag a little hard to swallow.
Then again, inflation has also come into play and, honestly, if you truly value noise cancellation and great audio, you might find the Bose is right on the money. Our advice, however, would be to wait till these get discounted at a major sale and then the QCE II will definitely be worth it.
Value score: 4/5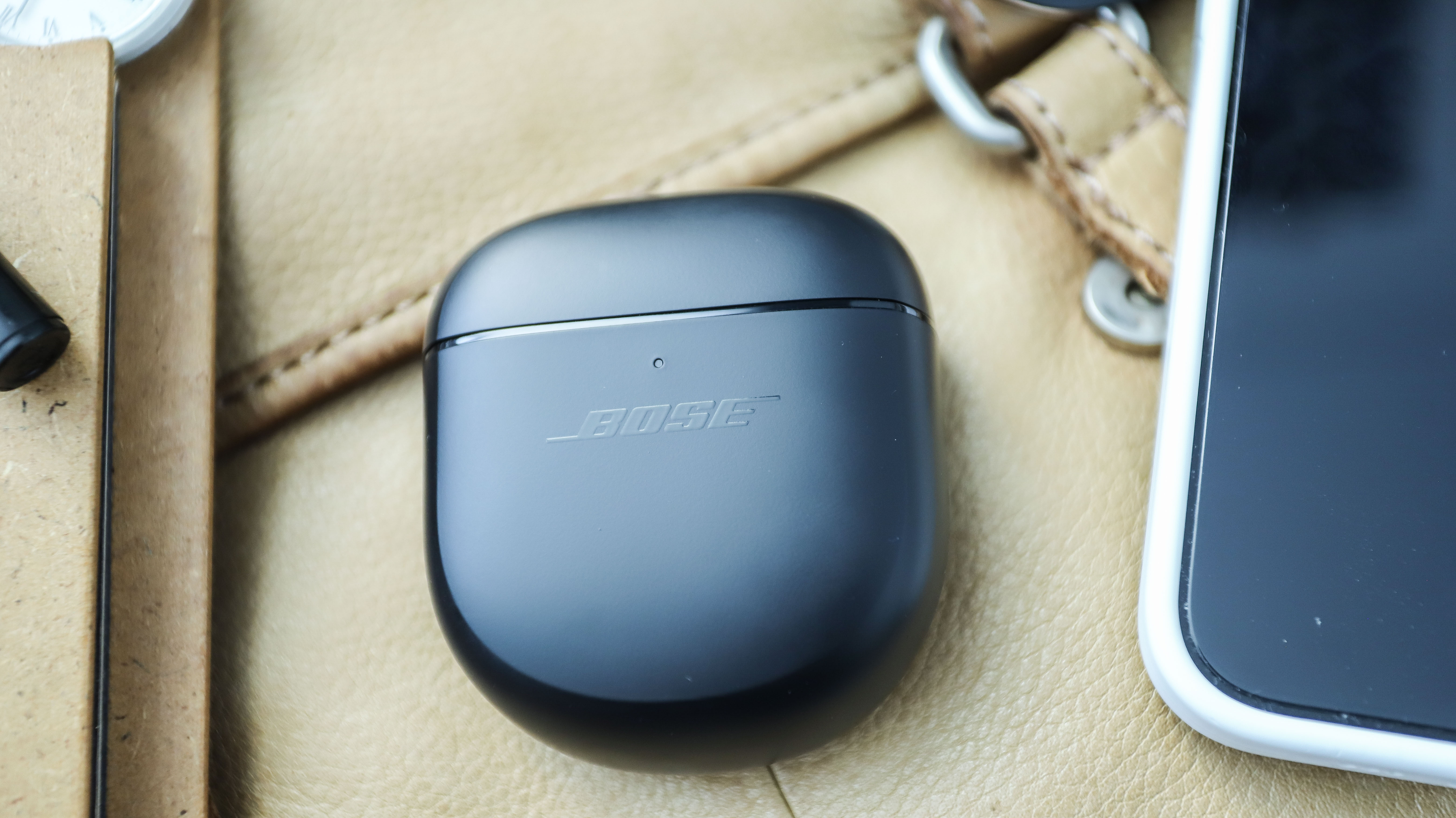 Should I buy the Bose QuietComfort Earbuds 2?
Buy them if...
Don't buy them if...
Also consider...
[First reviewed November 2022]
Here at TechRadar, we hold ourselves to a high standard when it comes to reviewing and testing products. Not only do they undergo an initial thorough review, but if it's still on the market, we'll update and maintain our reviews to ensure they still maintain correct information.