iFi Uno: Two-minute review
The iFi Uno DAC/headphone amplifier may have a small price tag but the improvements to your sound experience are massive. After all, at some point we've all been tempted to plug a pair of headphones into that headphone socket on our laptop, haven't we? But, as we all know, no good can come of it. Oh, sound comes out – of course it does. But it's far from satisfactory.
A quite modest sum put iFi's way for its Uno DAC/headphone amplifier changes all that. As long as you don't intend to listen at either miniscule or massive volume levels, the sound of your laptop once the Uno is involved is improved dramatically – you don't need to be any kind of golden-eared audio savant to recognise that it's up there with the best portable DACs. 
Where detail retrieval, low-frequency extension, sound staging, transient response, stereo focus and all the minutiae that go towards delivering enjoyable and convincing sound reproduction is concerned, the iFi Uno is a battleship and your laptop is a pedalo. 
iFi Uno review: Price and release date
Released in December 2022
Price: $79 / £79 / AU$119
The iFi Uno has been on sale for around a year. While it sells for £79 in the UK, it's even more of a bargain at $79 in the US. In Australia, you're looking at AU$119 or something quite like it.
The world's not short of USB DACs ready to put a rocket up the sound of your laptop – brands as credible as Astell & Kern, Audiolab and Audioquest are all in the market, and that's just the 'A' section. So while iFi has a reputation as solid as any of those rivals, the Uno is hardly operating in isolation…
iFi Uno review: Features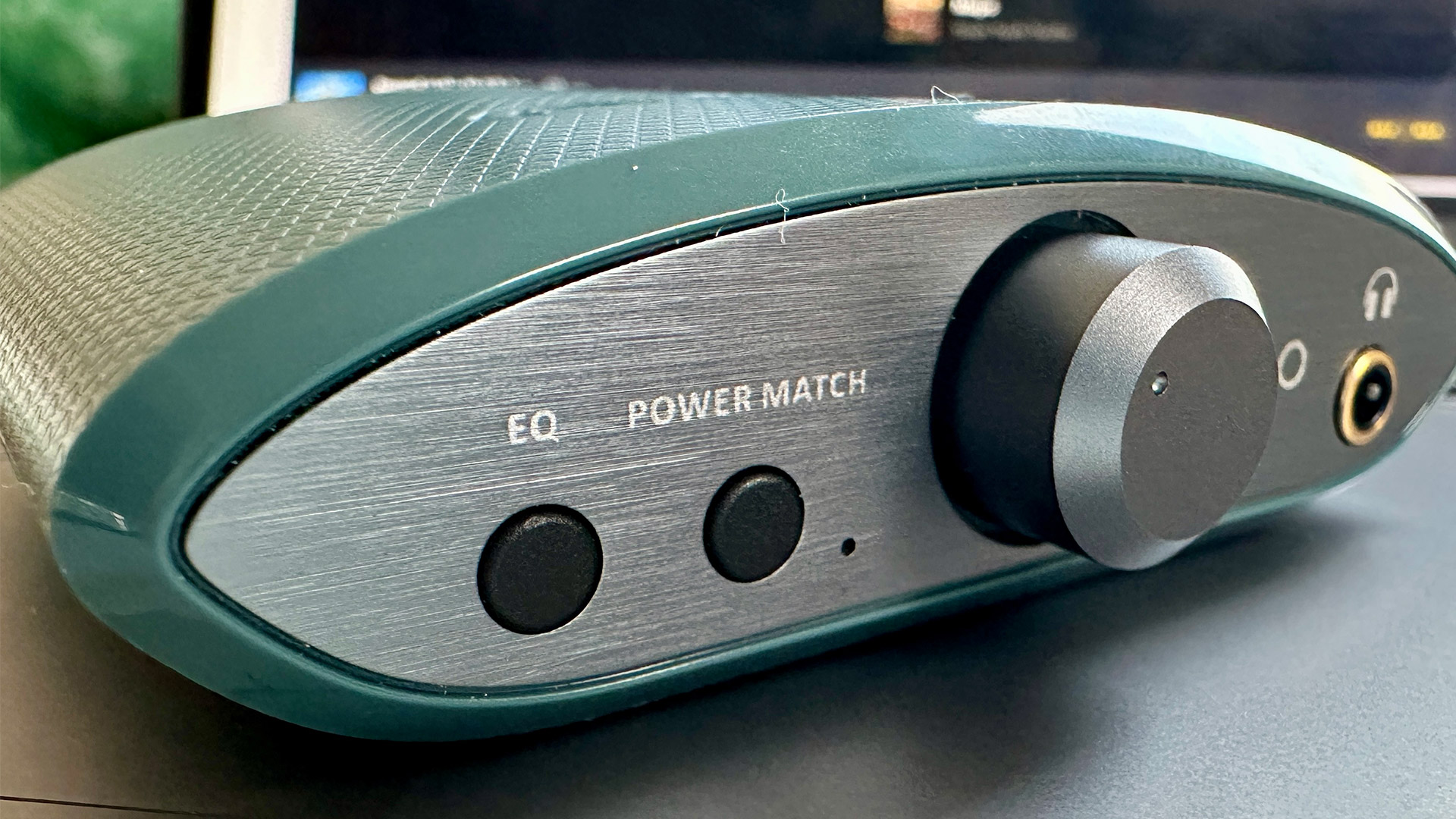 ESS Sabre Hyperstream DAC
Three EQ presets
3.5mm and stereo RCA outputs
The Uno may be tiny, but that hasn't prevented iFi from squeezing in an impressively thorough specification. For desktop use in particular, the little Uno has everything you might realistically require.
On the front panel, there's an 'EQ' button that scrolls through the digital filters iFi considers most appropriate for 'game', 'movie' and 'music' – a corresponding light on the top of the device indicates which one you've selected. Or, at least, it does if you squint – the icons are pretty indistinct.
Next to this is a 'power match' button - there are two positions, designed to align with the broad power requirements of various headphones and features what iFi describes as 'dynamic range enhancement'. Let's call them 'high' and 'low'. In the centre there's a (relatively) large dial that functions both as a 'power on/off' switch and volume control. A little light above the dial glows in one of five different colours to indicate the file type and size that's being processed. iFi being iFi, of course, at least two of these colours are really quite similar.
On the right-hand side there's a 3.5mm analogue headphone socket. It incorporates iFi's 'S-balanced' circuitry to keep crosstalk and noise to a minimum, and is gold-plated for superior conductivity.
On the rear there's a USB-C socket that's used for both power and data transfer. A pair of gold-plated stereo RCA outputs complete the Uno's external features.
On the inside, iFi has deployed hugely (and possibly disproportionately) capable ESS Sabre Hyperstream digital-to-analogue conversion circuitry. It's able to deal with PCM files of up to 32bit/384kHz resolution and DSD256 – and it's able to function as an MQA renderer too. Given the use the Uno is likely to be put to, this would seem to be ample. It's similarly over specified where the less glamorous bits and pieces are concerned, too – muRata and TDK capacitors, for instance, tend to show up in rather less affordable devices than this. 
Features score: 5 / 5
iFi Uno review: Sound quality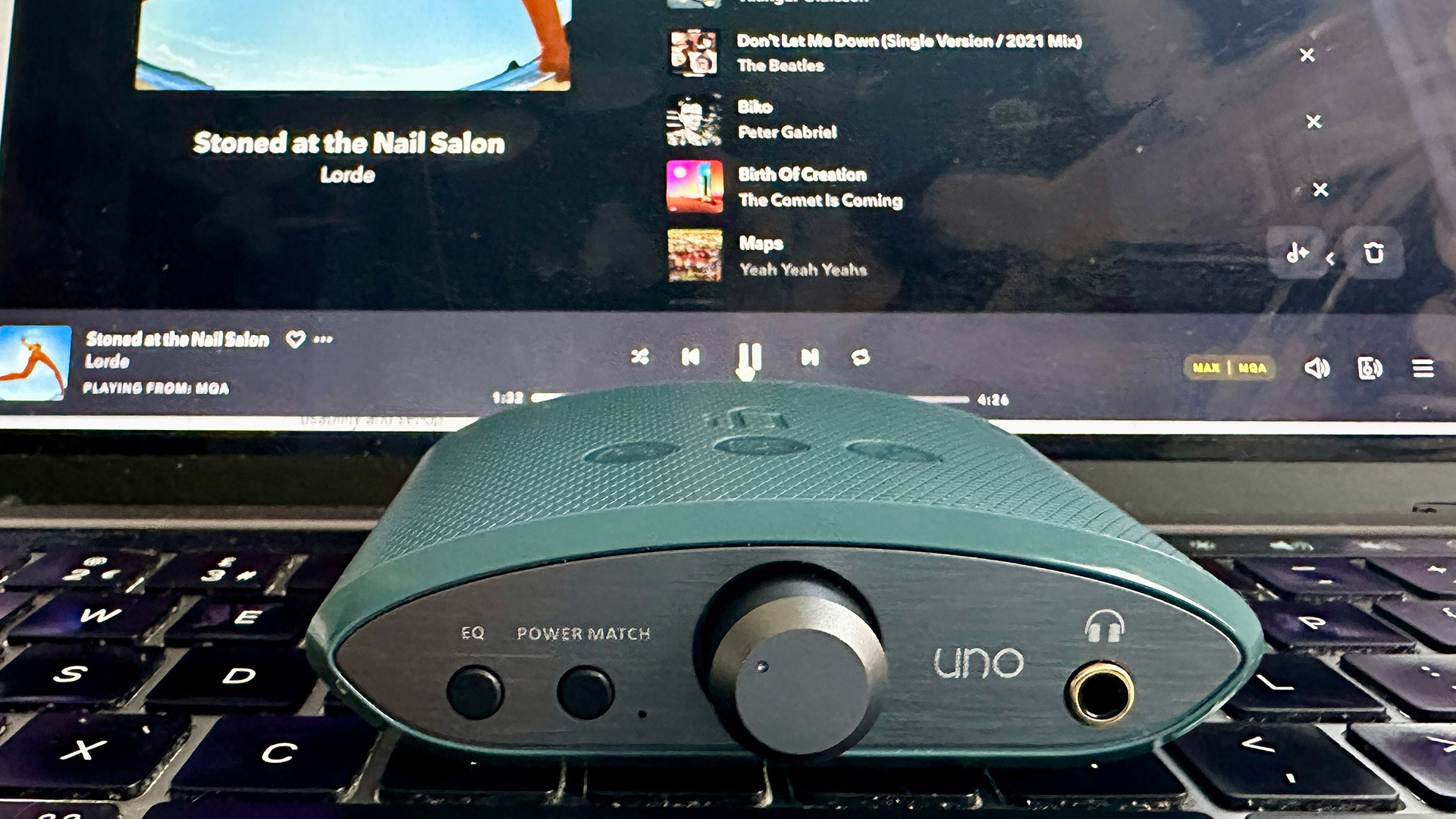 Detailed and eloquent
Good organisation and focus 
Slight treble overemphasis at bigger volumes
First things first: if you've been plugging headphones directly into the headphone socket of your laptop, introducing the iFi Uno into the chain will be little short of a revelation. Laptops, almost by default, don't sound any good – but with the crucial digital-to-analogue conversion processing being dealt with by the Uno, suddenly your computer can become a valid source of music.
Mind you, the Uno is far from the only little DAC-cum-headphone amp that can put a rocket up the performance of your laptop. What makes it so compelling is just how accomplished a listen it is when you keep its asking price uppermost in your mind.
During the course of this test it's almost exclusively fed via its USB-C socket by an Apple MacBook Pro loaded with both the Tidal app and some Colibri software that allows the machine to play properly high-resolution content from its internal memory. Headphones including (but not restricted to) Sennheiser IE900 in-ear monitors and FiiO FT3 over-ears are plugged into the 3.5mm socket on the fascia. Music includes MQA files of Maps by Yeah Yeah Yeahs and Stoned at the Nail Salon by Lorde, a 24bit/96kHz FLAC file of While My Guitar Gently Weeps by The Beatles, and a DSD64 file of Stevie Wonder's He's Misstra Know-It-All. 
And as long as you're judicious with your volume levels, the effect the Uno has is nothing but positive. In every meaningful respect, it – how best to put this? – wipes the floor with the unassisted sound of the MacBook. Detail levels are far higher. The iFi is able to identify even the most fleeting, most minor occurrences in a recording and integrate them into the overall presentation with real confidence. The frequency range, from bottom to top, is smoothly integrated and evenly realised – no area is underplayed or given undue prominence. And the soundstage the Uno creates is far more focused, better separated and more coherent than the laptop is anywhere near capable of mustering.
Low frequency sounds are deep and solid, but properly controlled to the point that the Uno can express rhythms with real positivity. At the opposite end of the frequency range there's a similar level of detail revealed, plenty of the attack necessary to give treble sounds some bite but sufficient substance to keep everything composed and coherent. In between, the iFi communicates through the midrange with absolute conviction – it gives a vocalist every opportunity to express their character, their technique and their commitment.
Really, it's only possible to put the iFi Uno off its stride by setting volume levels to 'very quiet' or 'very loud'. When listened to quietly, the 'left/right' presentation goes awry somewhat, there's more activity apparent through the right channel than the left. Nudge the volume up just a touch, though, and things even themselves out. At big volumes, meanwhile, the sound gets just a little toothy – treble sounds, previously so well judged, get just fractionally edgy and hard, and the overall presentation hardens up somewhat as a result. 
These are extremes I'm talking about, you understand. 'Extremely quiet' or 'very loud indeed' are states that don't especially suit the iFi Uno, everything in between is as good as gold.    
Sound quality score: 5 / 5 
iFi Uno review: Design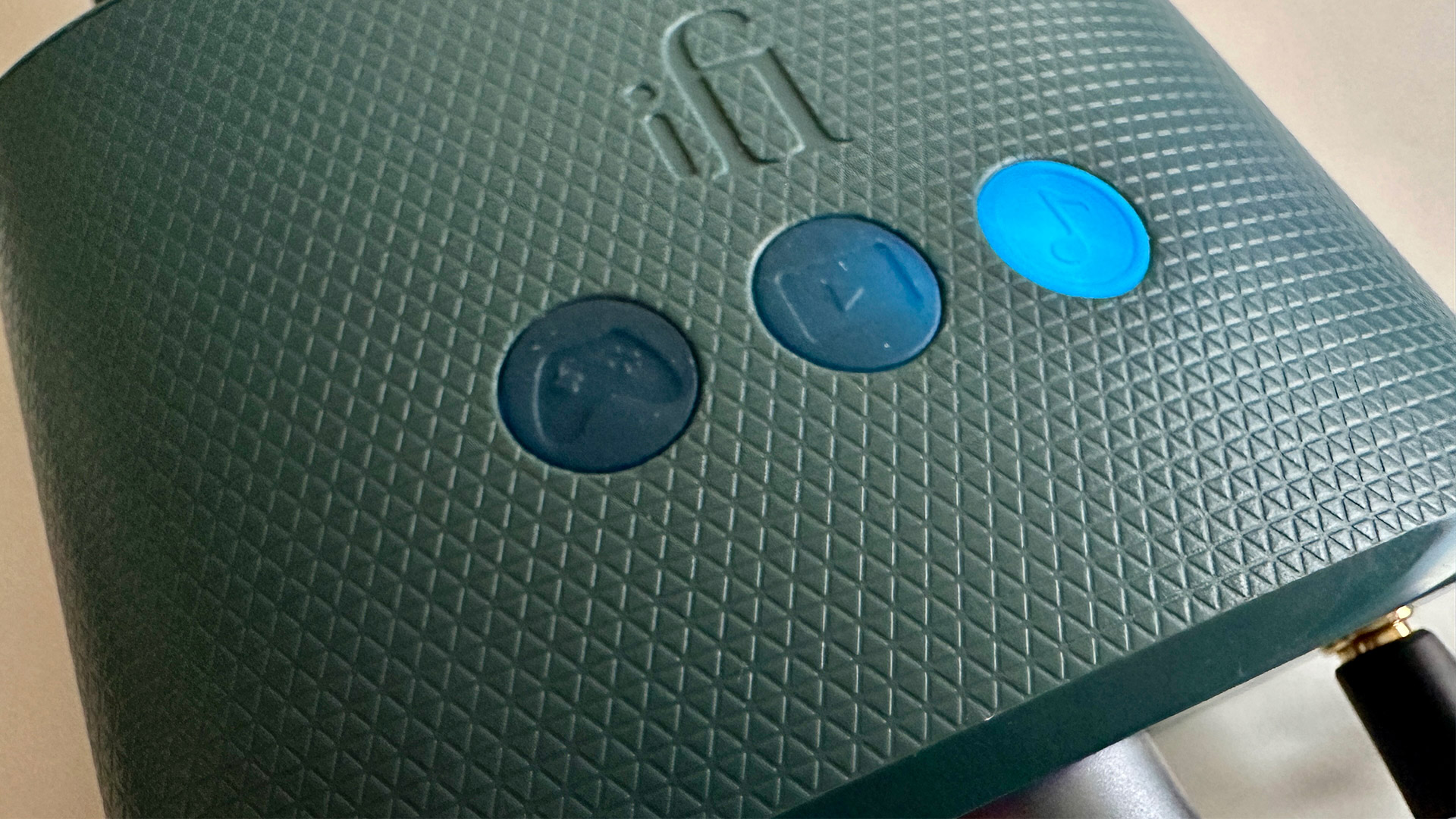 Small (26 x 88 x 81mm : HxWxD)
Light (92g)
Vaguely ovoid
There's not an awful lot of it, but what there is of the Uno is a) perfectly well constructed, and b) recognisably an iFi product. This isn't the first time iFi has deployed the mildly ovoid, slightly ruby ball-shaped chassis for one of its products, and I very much doubt it will be the last. 
There's absolutely nothing special about the quality of the plastics iFi has deployed here. But then again, the Uno is one of the more affordable examples of its type around.
The dimensions are usefully small, ideal for a desktop device, but not so small that all the controls and outputs are crammed too close together. And iFi has done very good work with the Uno's feet – they keep the unit secure on the surface it's standing on, and prevent it being towed around by the headphone cable you're using.
Design score: 4.5 / 5
iFi Uno review: Usability and setup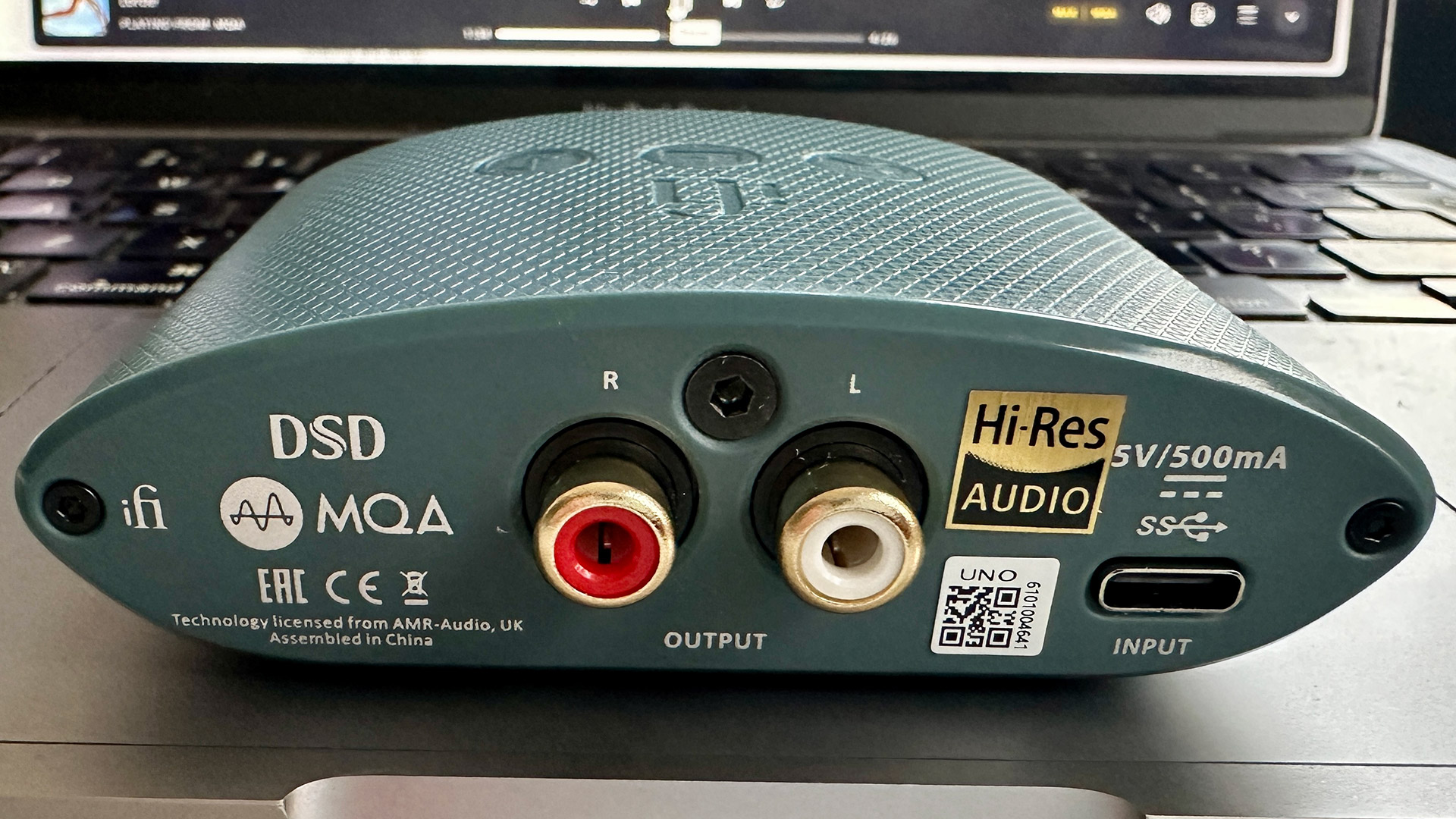 Connects via USB-C
Outputs from either front or rear
…and that's about it
This really won't take long. As far as setup and usability are concerned, it's a question of making three connections, maximum: the USB-C input is where the Uno gets its power and from where it receives the digital audio information you want it to deal with. 
Then you either plug in headphones at the front or stereo RCA connections at the rear - or both, if that suits your purposes. Then turn the dial to power the unit up, set your volume level and decide on your preferred digital filter – and that's everything. You're up and running.
Usability and setup score: 5 / 5
iFi Uno review: Value
One of the most affordable around
Priced competitively
As an affordable way of making a big improvement to your desktop audio system, it's hard to lay a glove on the iFi Uno. If you judge a product on the amount of stuff your money buys you, then I'll concede that this looks like $79 / £79 / AU$119 spent on next-to-nothing. But the difference it can make to your workstation audio enjoyment is, frankly, out of all proportion to both the outlay involved and the product's, um, proportions.  
Value score: 5 / 5
Should you buy the iFi Uno?
Buy it if... 
Don't buy it if... 
iFi Uno review: Also consider
How I tested the iFi Uno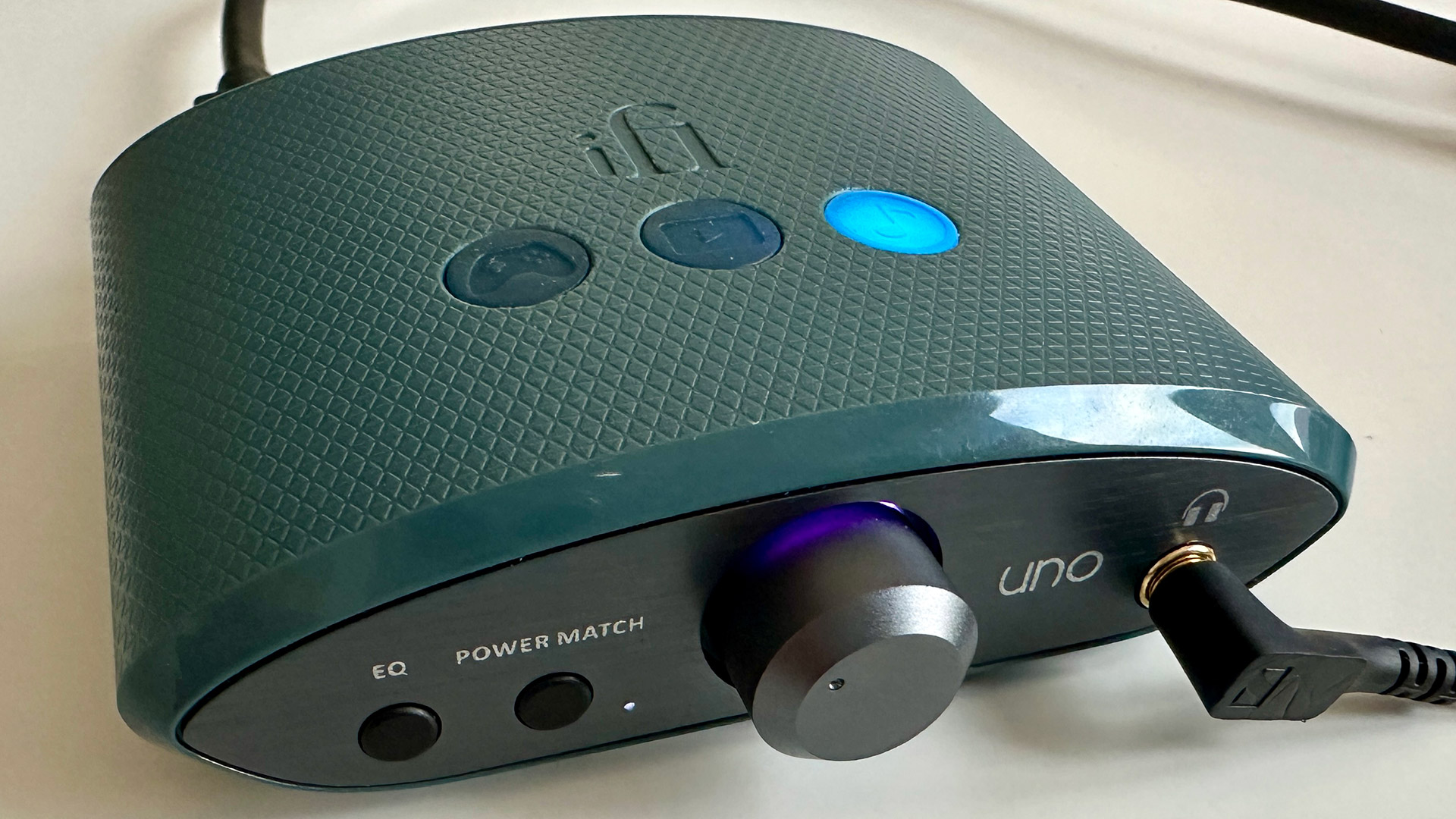 Used for over a week
Connected to an Apple MacBook Pro and Samsung S21 Ultra
Wired to Sennheiser IE900 and FiiO FT3 headphones
The real beauty of the iFi Uno, of course, is how much better sounding it can make those devices you'd use anyway for audio playback. The Samsung has no headphone socket, of course, and listening to it using decent hard-wired headphones rather than the wireless equivalent is approaching revelatory. Much more so than listening to the MacBook Pro, anyway – because I've known for as long as I've owned it that the Apple is a truly rotten-sounding music player.
First reviewed in December 2023