JBL Bar 1300X soundbar: Two-minute review
The JBL Bar 1300X is the company's flagship Dolby Atmos soundbar system in 2023, and it's one that delivers a serious wow factor. A big part of this is JBL's innovative design, which uses truly wireless rechargeable surround speakers that dock into the sides of the main soundbar where they can enhance its sound output while recharging, before you put them back behind you. Beyond that, it's a 16-channel system powered by 1,170 total watts, and it comes with a 12-inch wireless subwoofer that's unusually beefy for one packaged with a soundbar.
At $1,699 / £1,299 / around AU$2,570, the JBL 1300X is one of the pricier soundbar systems on the market, though its cost is comparable to other offerings that deliver an equally rich sense of immersion, such as the Samsung HW-Q990B. It's also feature-packed, offering both Dolby Atmos and DTS:X processing along with Atmos upmixing of stereo sources. Up-firing Atmos speakers on both the soundbar and surround speakers ensure full distribution of height effects in soundtracks throughout the room, and there's also Wi-Fi, AirPlay 2, Chromecast built-in, and Bluetooth wireless streaming support.
Build quality of the system, which is best suited for 65-inch or larger TVs, is excellent. There are four HDMI ports (one with eARC), which is enough to handle disc player, streaming box, and game console sources, though 4K 120Hz passthrough isn't supported.
System setup is exceedingly simple and uses JBL's control app for sound calibration. The app lets you sign-in to the best music streaming apps including Amazon Music Unlimited, Tidal, Qobuz, and Spotify, and it provides a convenient place to stream from multiple services. A remote control is also included.
The sound quality of JBL's flagship system is very impressive – right up there with the best soundbars. Dolby Atmos soundtracks have a substantial immersive effect and bass is both deep-reaching and powerful. Having up-firing Atmos speakers in both the front and rear of the room makes a notable difference, and is one of the ways this system distinguishes itself from the soundbar pack. Both music and dialogue come across as clear and natural-sounding, and with Dolby upmixing for stereo sources onboard, all manner of content becomes sonically room-filling.
While $1,699 is a lot to pay for a soundbar, the JBL 1300X is nonetheless very good value considering its innovative design and solid performance. You'd really need to step up to a separate AV receiver and speakers-based rig to best it, but then you'd be making your system – and life – more complicated. The JBL's price is also comparable to flagship systems from other makers, including the Samsung mentioned above, or the LG S95QR – something that should put its cost into perspective when doing comparative shopping.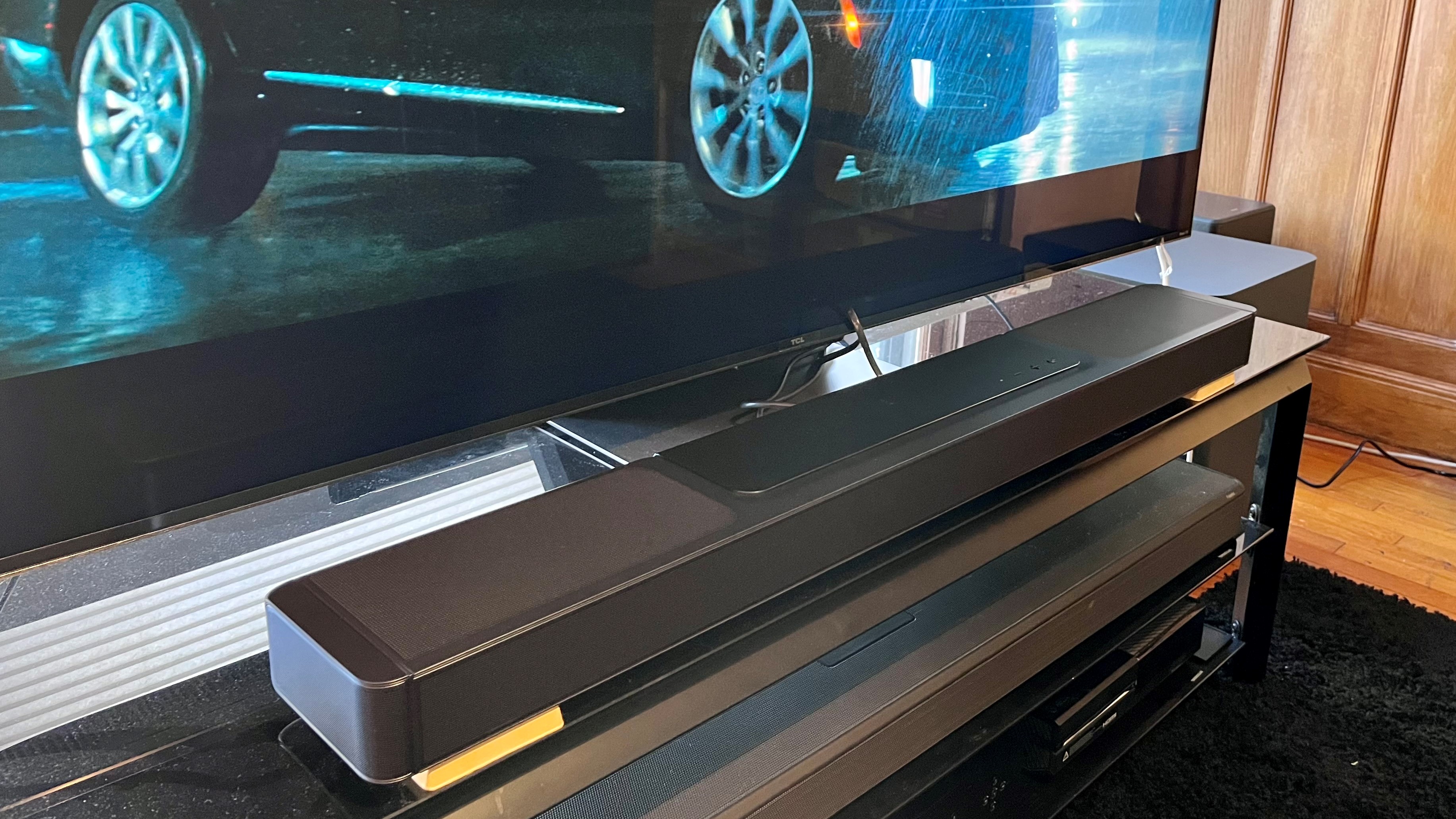 JBL Bar 1300X soundbar review: Price & release date
Released in February 2023
$1,699 / £1,299 / around AU$2,570
The JBL Bar 1300X was released in February 2023 and sells for $1,699 / £1,299 / around AU$2,570. That's a hefty price for a soundbar, though it's in the same ballpark as other systems from Samsung and LG that offer high channel counts for maximum sound immersion.
For the cost, you're getting a system loaded with appealing and useful features, and the design and build quality are excellent. JBL offers similar 7.1.4 and 5.1.2 soundbar systems, also with detachable and rechargeable surround speakers, at lower cost, though the immersive effect may not be as complete as with the Bar 1300X.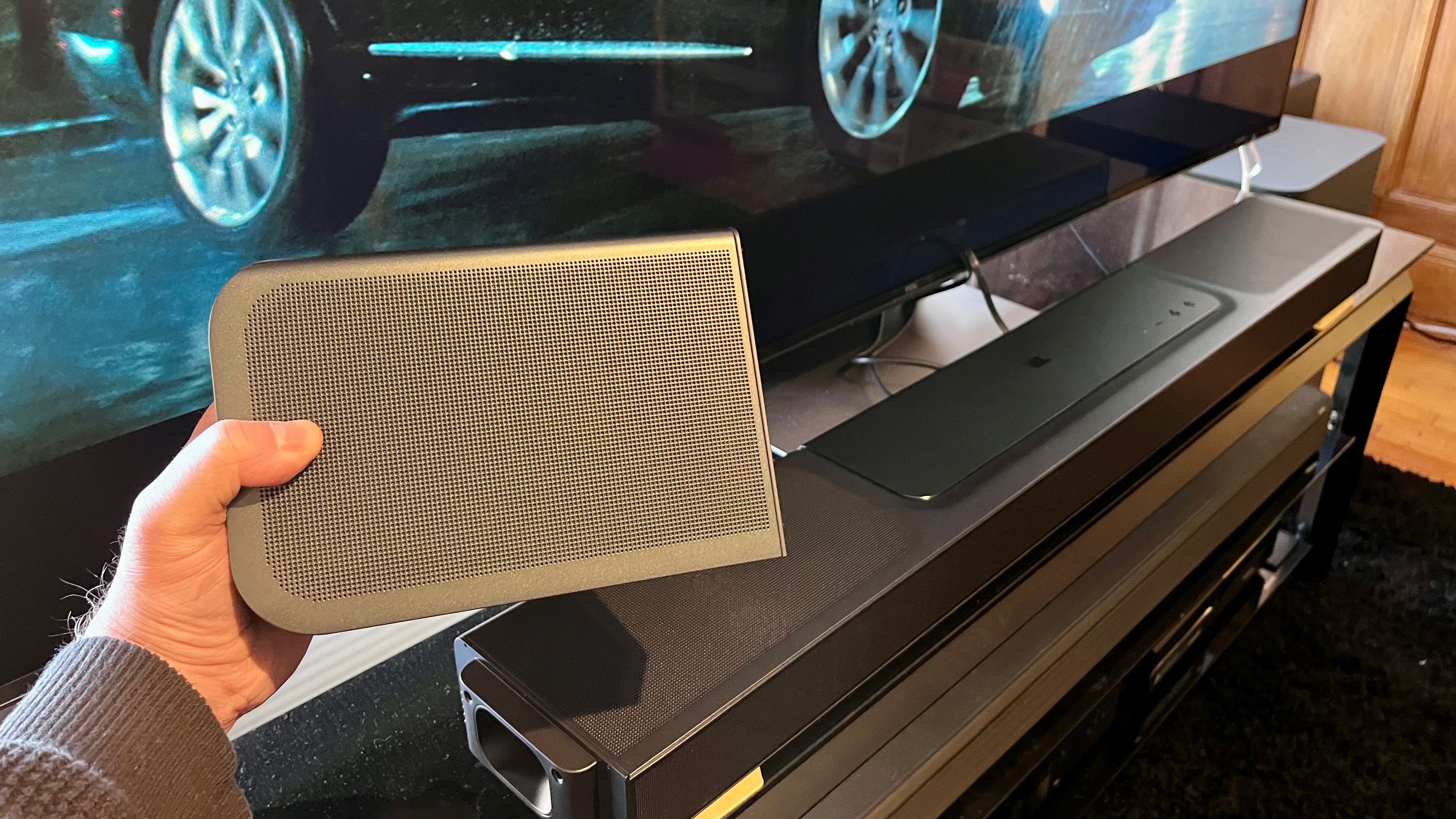 JBL Bar 1300X soundbar review: Specs
JBL Bar 1300X soundbar review: Features
Dolby Atmos and DTS:X processing 
16 sound channels 
Wi-Fi, AirPlay 2, Chromecast built-in, and Bluetooth wireless streaming 
JBL's top soundbar system is feature-packed. You get both Dolby Atmos and DTS:X support along with the company's MultiBeam processing, which uses digital processing and beamforming to widen the soundfield and create a more immersive surround effect. This is a 16-channel system powered by 1,170 total watts, with 650 of those dedicated to the 12-inch wireless subwoofer. Four up-firing speakers are located on the soundbar, while the surround speakers each also provide one up-firing speaker. Six upfiring drivers is the most I've seen in a soundbar so far.
The most unusual feature of the Bar 1300X is its rechargeable surround speakers, which are a truly wireless solution since they don't need to be plugged in and will run for up to 10 hours. (JBL does provide the option to power the surround speakers via USB-C connection if you prefer not to have to recharge them on a regular basis.) These can also be used as wireless Bluetooth speakers when not in active duty in the home theater, and you can even pair them wirelessly for stereo playback.
Both AirPlay 2 and Chromecast built-in can be used for wireless streaming to the Bar 1300X, which also supports Bluetooth. Subscriber information for services including Amazon Music Unlimited, Tidal, Qobuz, and Spotify can also be entered in the JBL One app, providing a central location to access music and other streaming audio. The Bar 1300X also works with Alexa, Google Assistant, and Siri for voice control.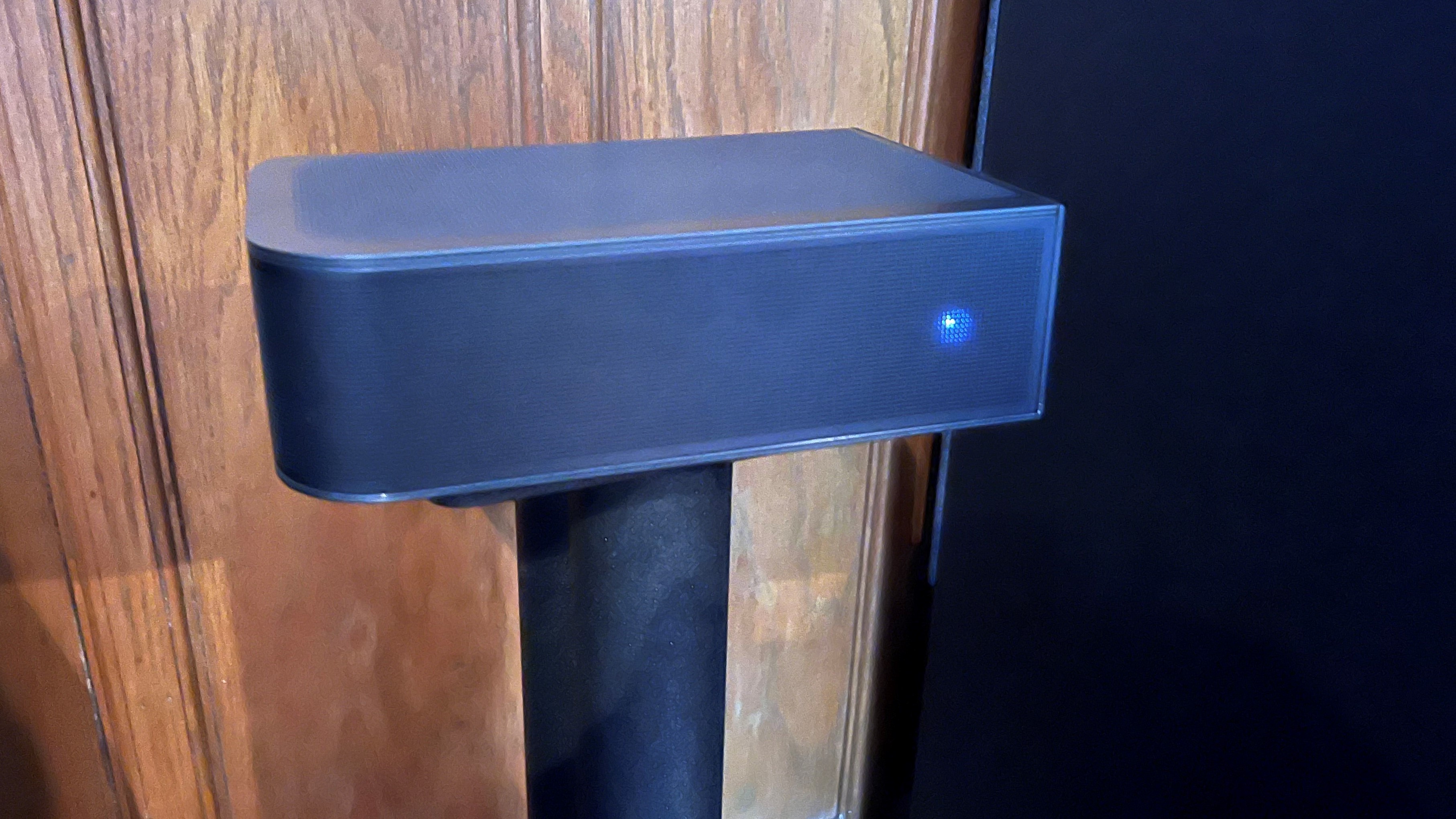 JBL Bar 1300X soundbar review: Sound quality
Powerful immersion with Dolby Atmos soundtracks 
Full, yet clean bass 
Clear, natural presentation of dialogue and music 
The JBL Bar 1300X did not disappoint in the slightest when it came to performance. With 16 channels at the ready, Dolby Atmos soundtracks on TV shows and movies showcased its spatial audio abilities most dramatically, but basically everything I watched and listened to sounded great on the system, which uses Dolby's upmixer to render stereo and regular surround soundtracks in Atmos.
One good Dolby Atmos example is a scene from 1917 where the two British soldiers are exploring an underground German bunker and a trip-wire triggers an explosion that causes the structure to come tumbling down. The explosion in this scene sounded incredibly vivid on the Bar 1300X system, its potent subwoofer creating a low, thunderous rumble. As debris falls down on the soldiers in the aftermath, the system's up-firing drivers created a strong sense of being within the space, while the main soundbar's clear delivery of dialogue let me easily hear their shouts amidst the chaos.
Turning next to Top Gun: Maverick, the Bar 1300X system was well up to the task of rendering the motions of the Tomahawk cruise missiles and Super Hornet fighter jets during the climactic mission. The sound of the jets travelled from the front of my room to the back with pinpoint precision, and there was also a good sense of height when the jets swooped upward from the canyon into the sky.
I was eager to listen to some Spatial Audio tracks from Apple Music on the JBL system, and here again I was impressed. Streaming Beck's Thinking About You via an Apple TV 4K (2022), the vocals came across as if they were floating in 3D space and there was no sibilance or edginess to the sound – something I've encountered on many other soundbars when listening to music. The bass guitar sounded very full, yet clean and well-defined, while the acoustic guitar and mandolin had a finely layered presence. A harmonica solo that closes out the track floated in space in a similar manner to the vocals, yet the mix positioned it equally in the rear channels, creating a strong sense of envelopment.
Streaming Max Richter's Tranquility II and III from SLEEP: Tranquility Base, the pipe organ and keyboards had a smooth and natural presentation that was easy on the ears, and the system's subwoofer did an excellent job of reproducing the lowest organ notes. The vocals soared above all of this in an impressive way, with the JBL soundbar creating an almost cathedral-like sense of space.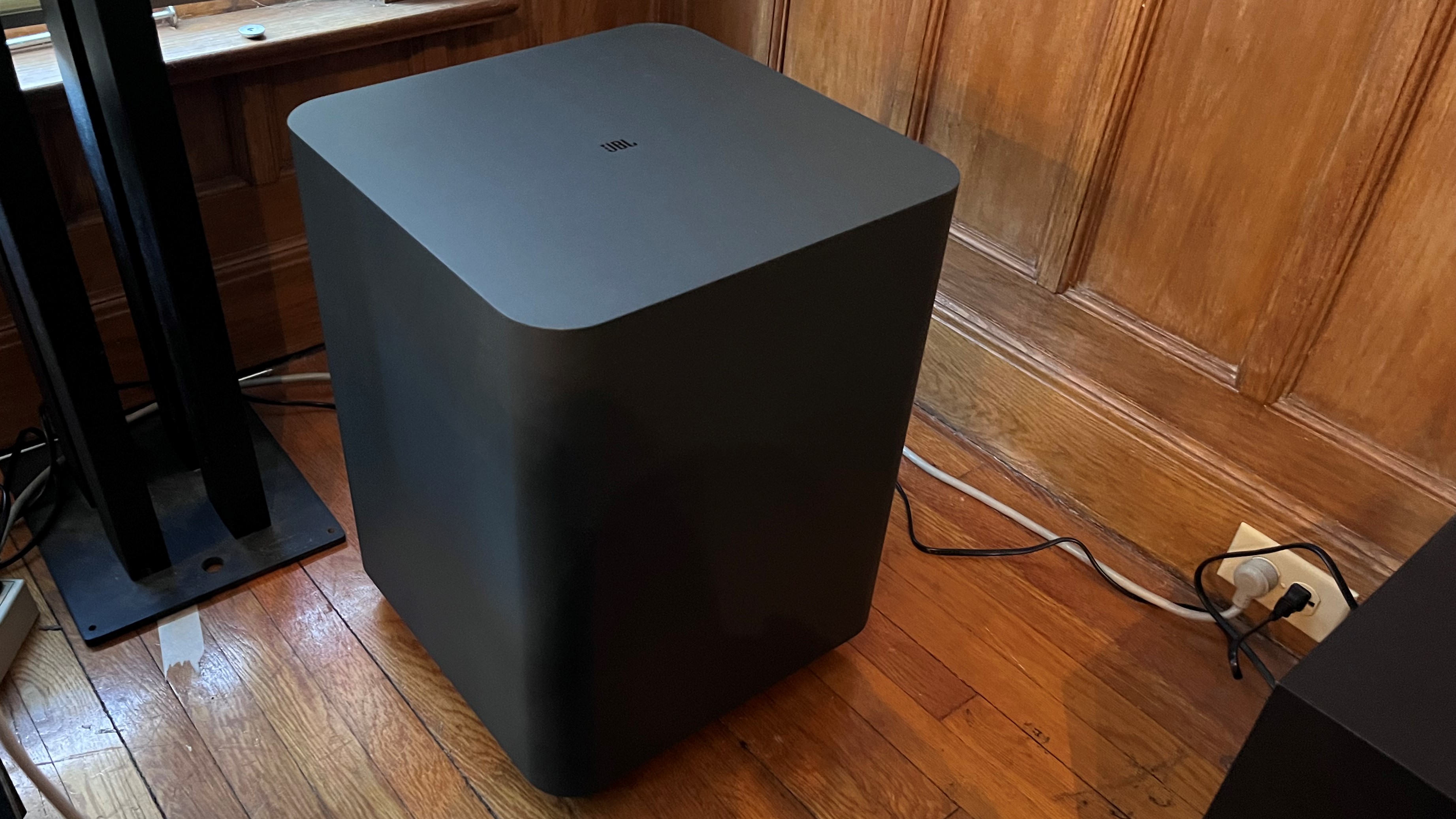 JBL Bar 1300X soundbar review: Design
Rechargeable, truly wireless surround speakers 
Excellent build quality 
Comes with brackets for surround speakers 
Given the Bar 1300X's elevated price tag, you're paying not just for sound quality but also design, and here JBL does not disappoint. The rear speakers can be "docked" at either side of the main soundbar for recharging, and when in that position they contribute to the bar's output by widening the soundstage and supporting height effects. Once charged up, you simply remove them and replace the included end caps on the soundbar.
The main soundbar is 39.4 x 2.4 x 5.5 inches (W x H x D), making it a good match for 65-inch and larger TVs. It uses six 1.8 x 3.5-inch racetrack drivers and five 0.75-inch tweeters for the left, center, and right-channel output, and has four 2.75-inch full-range up-firing drivers. With a 12-inch driver, the system's wireless subwoofer is fairly large and features a rear port to enhance output.
At 8 x 2.4 x 5.5 inches (W x H x D), JBL's surround speakers are compact and can easily be placed on speaker stands. Another option is to wall-mount them using the included brackets for a more permanent installation, in which case you would use the speaker's USB-C port for a power connection. Each surround speaker uses a 1.8 x 3.5-inch racetrack driver and 0.75-inch tweeter, along with a 2.75-inch full-range up-firing driver and two passive radiators.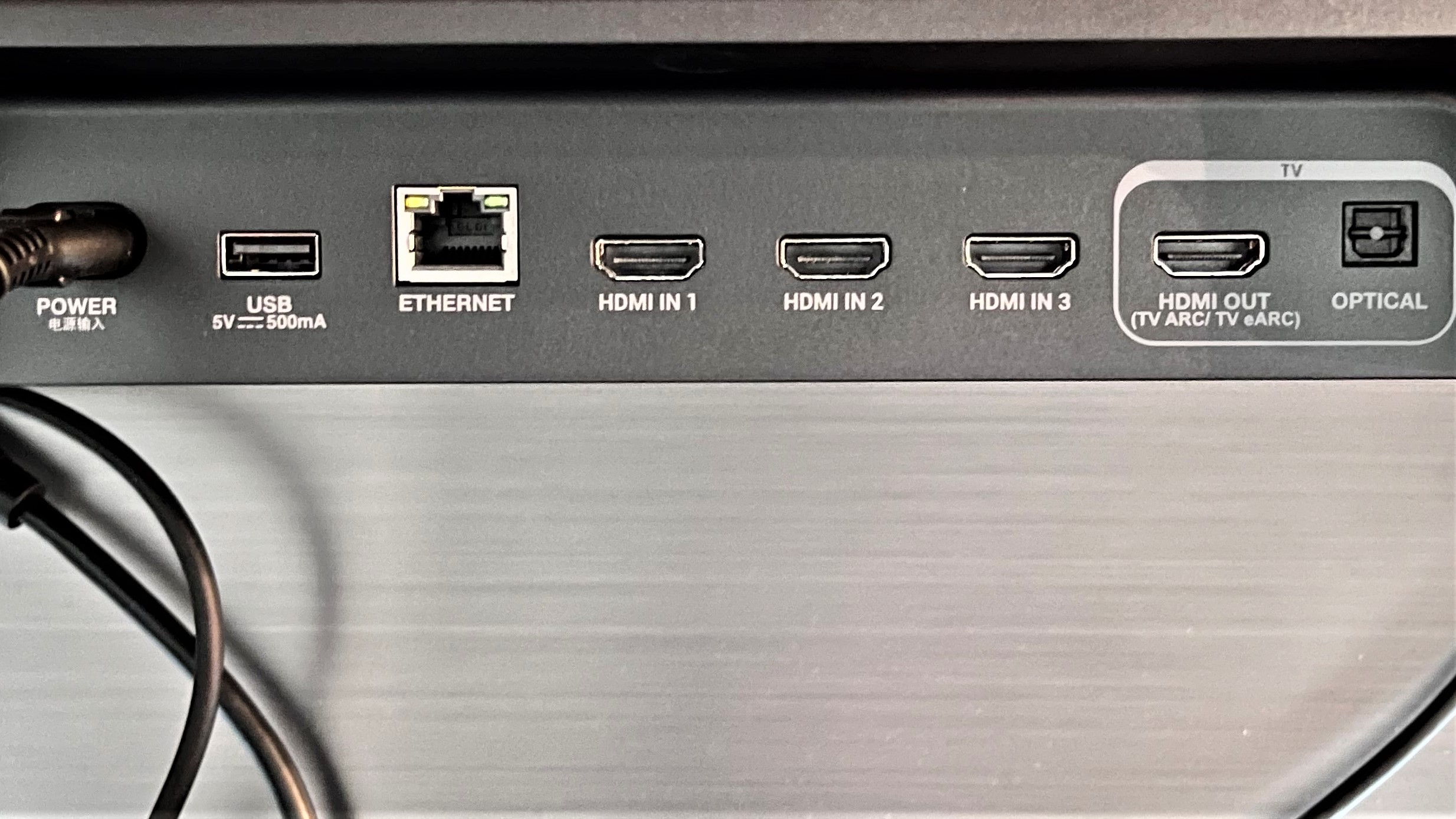 JBL Bar 1300X soundbar review: Usability and setup
Four HDMI ports 
App-based setup and sound calibration 
No 4K 120Hz passthrough 
With four HDMI inputs, including one with eARC for connecting to a TV, the Bar 1300X is well-suited to take on complicated setups. For my purposes, I connected a 4K Blu-ray player and an Apple TV 4K box, and there was still a port left over for a game console, though the Bar 1300X's HDMI 2.0b connections don't support 4K 120Hz passthrough. Beyond HDMI, there's also an optical digital audio input, a USB type-A port that can be used to play music files (US version-only), and an Ethernet jack for a hardwired network connection.
Setting up the system was almost disarmingly simple. The soundbar automatically made a wireless connection with the subwoofer and surround speakers, and the only other thing left to do was hit the calibration button in the JBL app. This triggered a series of noise bursts from each speaker that the system measured and used to automatically adjust for levels and timing delays on the surround and subwoofer channels.
JBL's long, slim remote control has large and well-labeled buttons that are easy to see in dim lighting. You can use it to switch inputs on the soundbar and adjust volume, bass level, surround level, and the output of the system's up-firing drivers. When switching inputs or making adjustments, an alphanumeric LED display provides feedback on the soundbar's front, which is a feature I'd expect to see in a soundbar at this price. The display also alerts you when the battery power in the surround speakers is running down – a very useful thing.
The JBL One app that's used for setup and initial calibration has controls for adjusting EQ and lip-sync, and it offers Moment presets that can store custom settings. It's also used for signing in to streaming services you subscribe to, with the app offering a central place to access music.
Usability and setup score: 4.5/5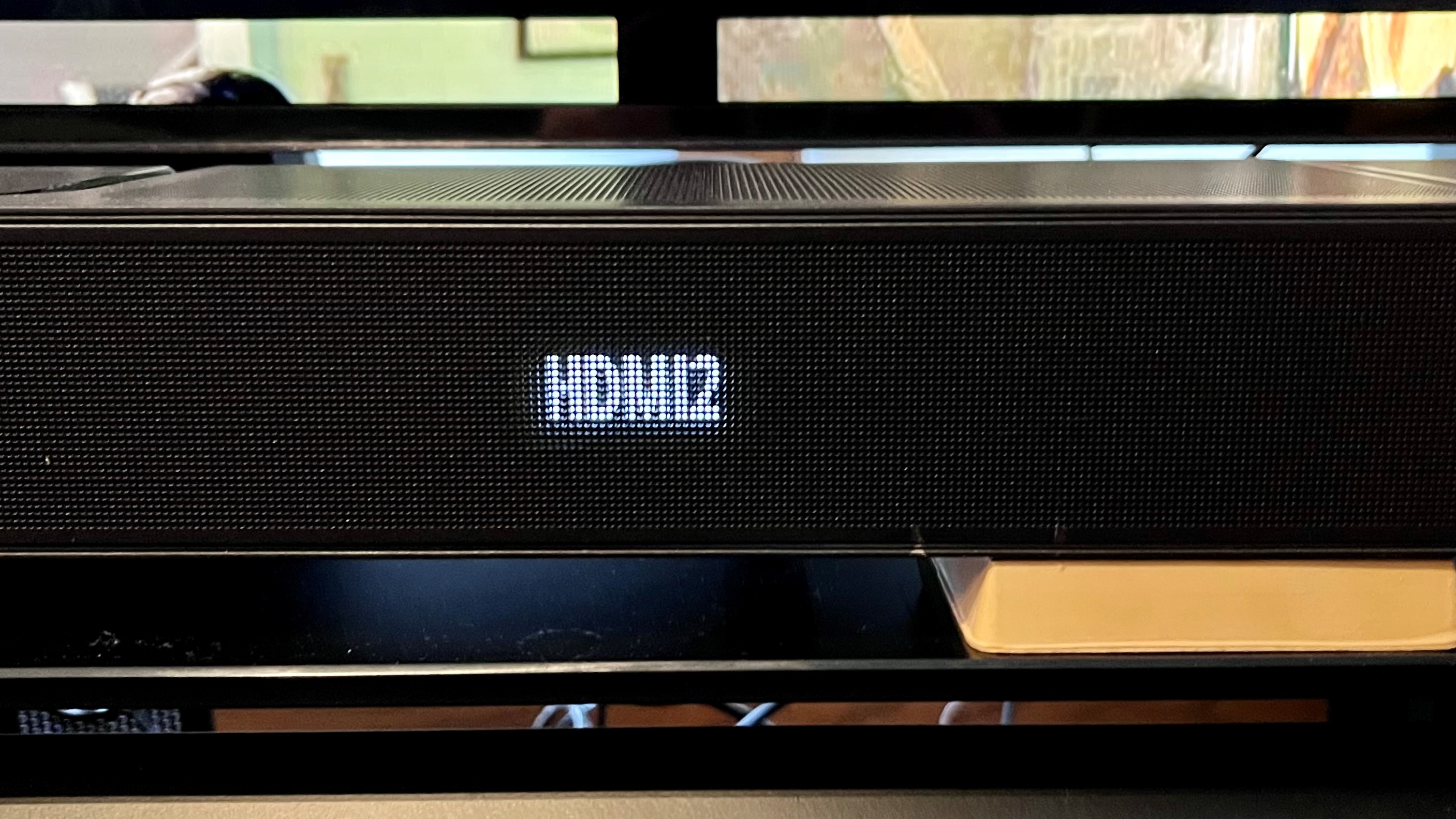 JBL Bar 1300X soundbar review: Value
Pricey, but very good overall value 
Wireless rear speakers can be used as portable Bluetooth speakers 
Compares well to other high-end soundbar systems 
At $1,699 / £1,299 / around AU$2,570, the JBL Bar 1300X is one of the more expensive soundbar systems you can buy. But it's also one of the most capable and full-featured, which is something that needs to be taken into consideration when assessing its overall value. Competitors in its price range include flagship soundbar systems from Samsung and LG, both of which match, or nearly match, the JBL's 11.1.4 speaker configuration.
Adding to the Bar 1300X's value is the ability to use its wireless rear speakers as portable Bluetooth speakers, and high-quality ones at that. This lets you get good sound wherever you're at, whether that's watching Netflix shows on an iPad in your bedroom, or playing music while cooking in the kitchen.
The one thing that would detract from the Bar 1300X's value is the fact that, at this price level, buying one of the best AV receivers and pairing it with an Atmos-ready speaker system becomes another option to consider, and one that could result in even better and more dynamic sound. But then again, the JBL Bar 1300X's wireless subwoofer and surround speakers provide a more elegant and easy to set up option than a receiver and speakers, and for many users its sound quality will be more than good enough.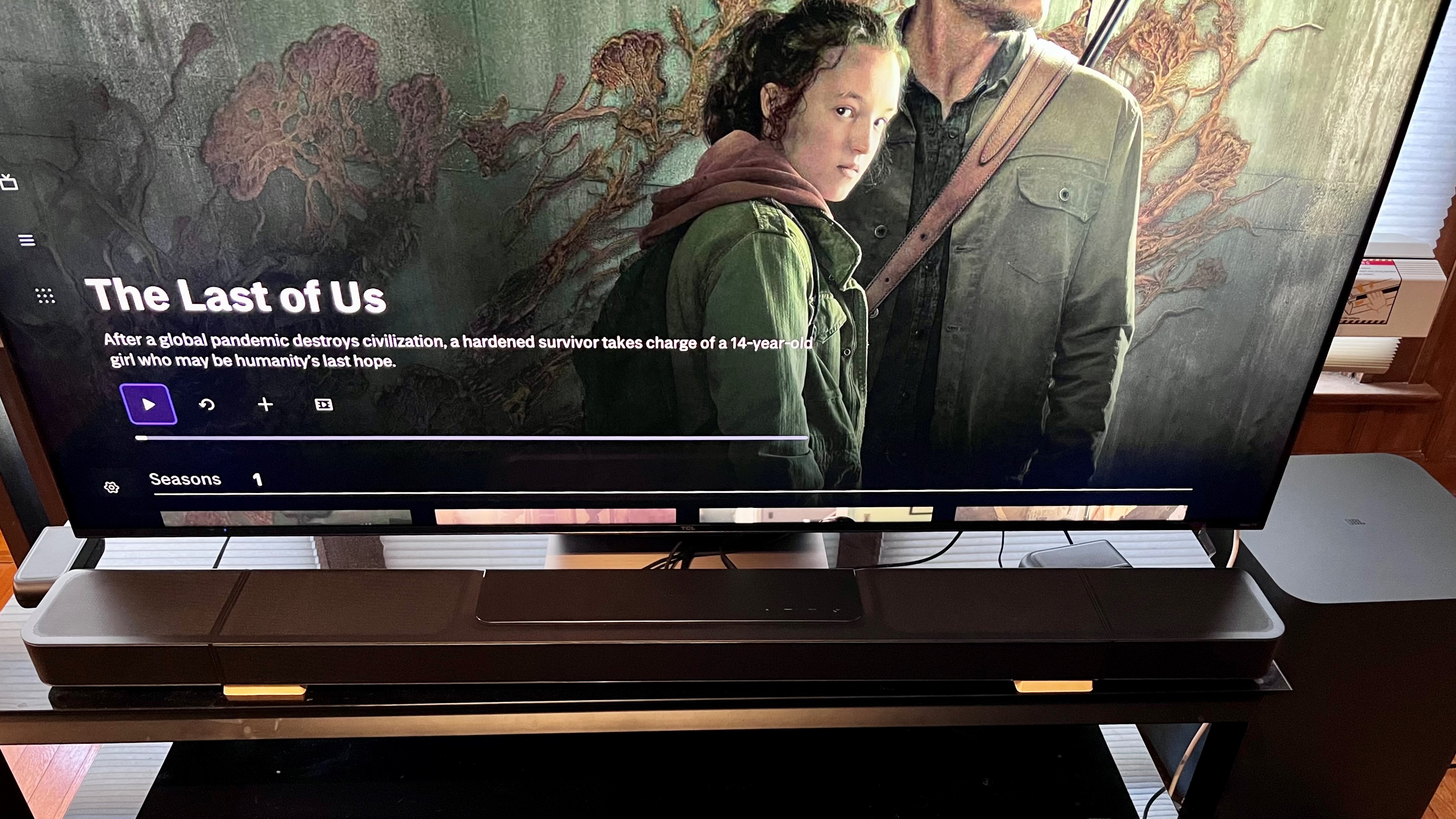 Should I buy the JBL Bar 1300X soundbar?
Buy it if...
Don't buy it if...
JBL Bar 1300X soundbar review: Also consider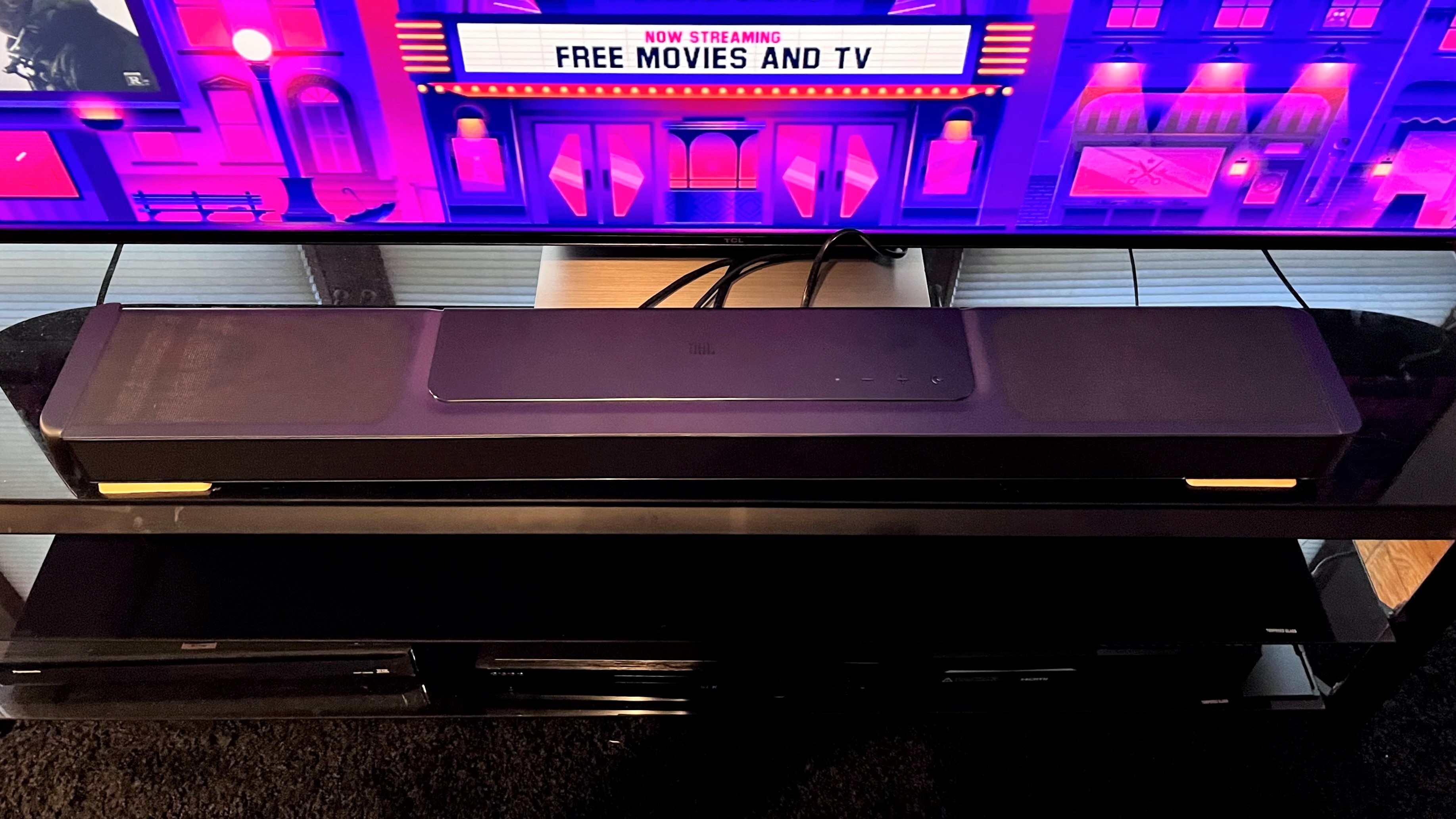 How I tested the JBL Bar 1300X soundbar
Evaluated using both 4K Blu-ray discs and streamed sources
Extensive break-in time allowed before critical listening
Tested using reference movie scenes and music tracks
I tested the JBL Bar 1300X soundbar in a 12 x 16 x 9-foot room using a 4K Blu-ray player, Apple TV 4K, and music streamed from Apple Music and Tidal as sources.
After positioning the speakers and running the system through its auto-calibration process, I allowed it to break in by watching movies and TV shows for a number of weeks before settling in for more critical listening using reference movie clips and music tracks. 
The key things I listened for with movies were dialogue clarity, bass definition, continuity between the front and surround speakers, and the viscerality of overhead effects in Atmos soundtracks. For music, I paid attention to the naturalness of the sound with acoustic instruments and voices, as well as the dynamics in louder tracks.
Having reviewed many speaker systems in the same room over the years, I have a reference standard that the JBL Bar 1300X was compared to.
First reviewed: March 2023