KeepSolid Passwarden is one of the best password managers – its broad range of features makes it one of the most capable options for individuals, families, and businesses.
Beyond its broad set of features, though, there's no doubt that Passwarden is one of the more expensive options for password management. That's why we've gone hands-on with this tool to find out if it's worth the cash – or if you should opt for a more affordable alternative instead.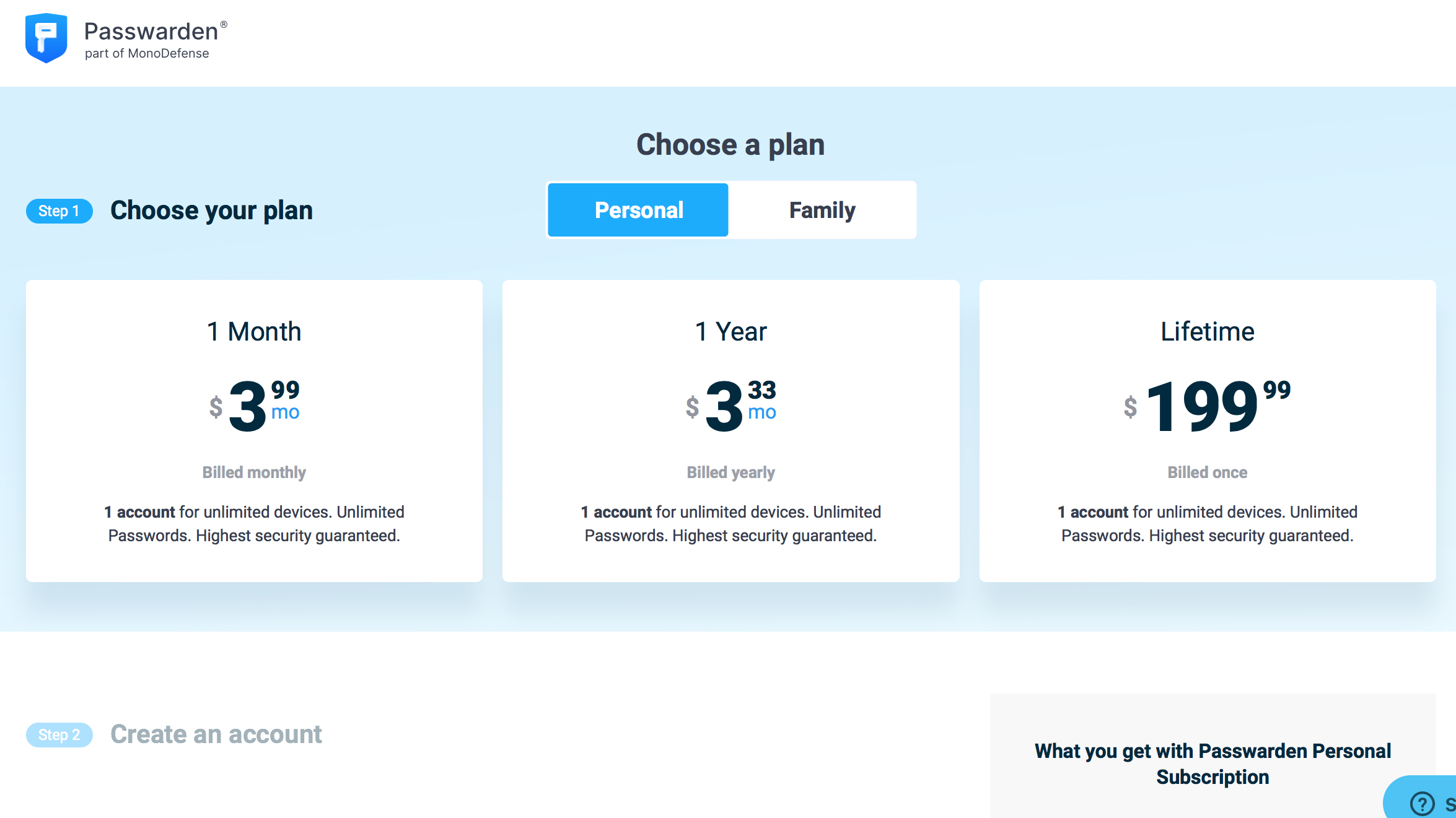 KeepSolid Passwarden: Plans and pricing
Unlike some other companies, there doesn't seem to be a free version of Passwarden anymore, but that just means you can skip the typically limited tier and jump straight into an affordable plan with all the bells and whistles. There are no tiers as such - you either pay for an account, or you don't have any account.
The Personal plan costs $1.99 / £1.99 / AUD$2.99 per month, but you can also pay annually and save some cash, for $19.99 / £19.99 / AUD$29.99. Interestingly, Passwarden is one of the only password managers that offers a lifetime subscription option, which costs $199.99 / £199.99 / AUD$299.99.
A variety of payment methods are supported, but KeepSolid clearly encourages PayPal because it offers a 10% discount. 
During signup, you'll be greeted with popups to pay more for MonoDefense, which incorporates all of the sibling products. Most notable is the inclusion of an unlimited VPN connection, alongside data and traffic encryption, dark web monitoring, and malware protection. Compare the criteria KeepSolid wants you to compare, and it comes out on top of Norton 360 Deluxe, Bitdefender Total Security, McAfee Total Protection, and Avast One, though the latter three don't include a password manager so are not relevant to this buying guide.
Expect to pay $11.99 per month for MonoDefense including Passwarden, $79.99 per year, or $399.99 for lifetime access, though you'll often find deals on like one that was running for July 4 which offered lifetime access for just $199.99.
For up to seven accounts, you will need to consider the Family plan, which costs $3.99 / £3.99 / AUD$5.99 per month in total. As above, there are annual subscription and lifetime access options.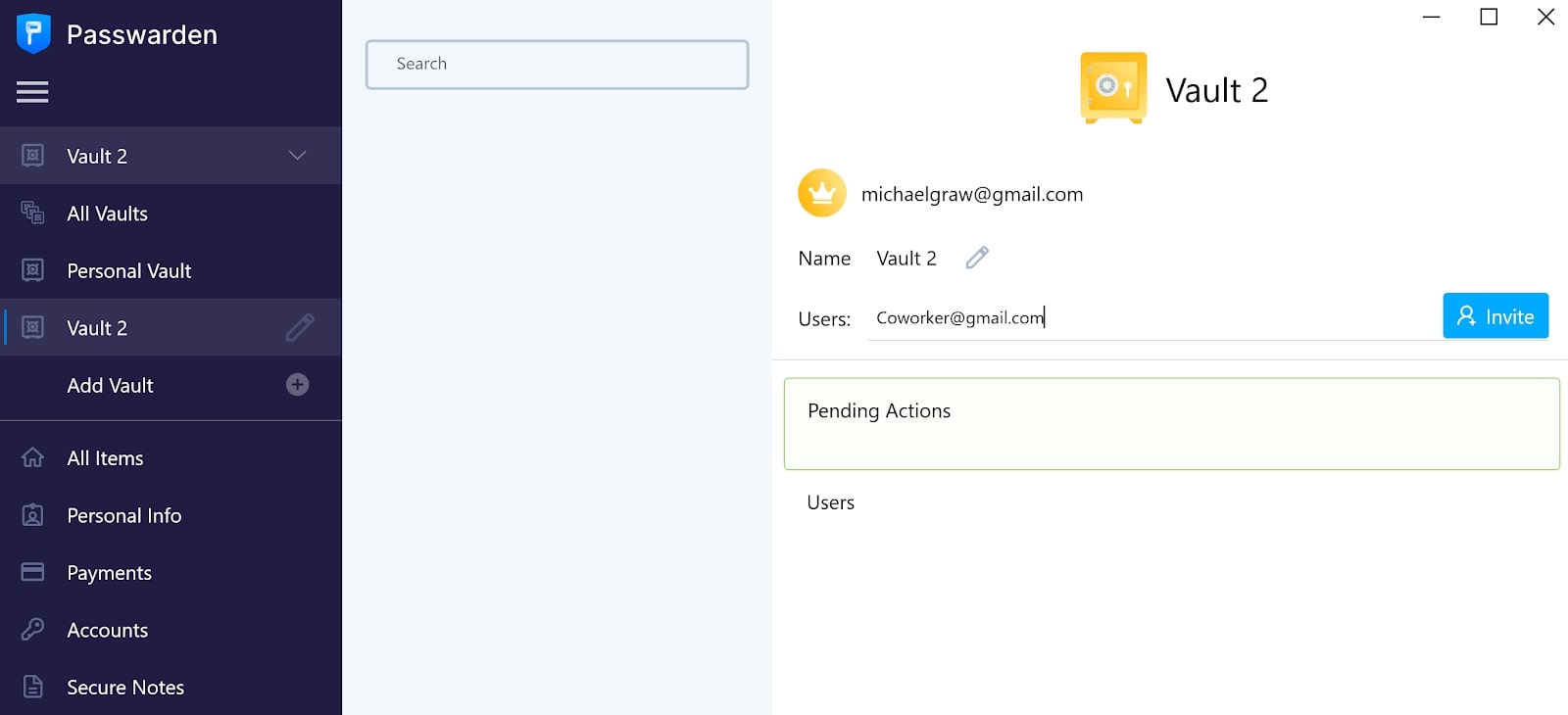 KeepSolid Passwarden: Setup
It's easy to start using Passwarden. Head to your app store of choice – this software is available on Windows, macOS, iOS, and Android – and get downloading. If you'd prefer another platform, Passwarden also comes as a browser extension for Chrome, Firefox, Safari, and Edge, and it's available as a web app too.
Once you've picked your platform and completed its download, you'll have to create an account and a master password – it's the same process that you'll find on most other password manager tools.
You'll be given a recovery key, which is an important item that can recover your account if you lose your master password. A slick import wizard will easily retrieve existing password details from other sources – Passwarden can import from every major browser, from tools like LastPass, Dashlane, and 1Password, and directly from CSV files. Once all that's done, you're ready to go.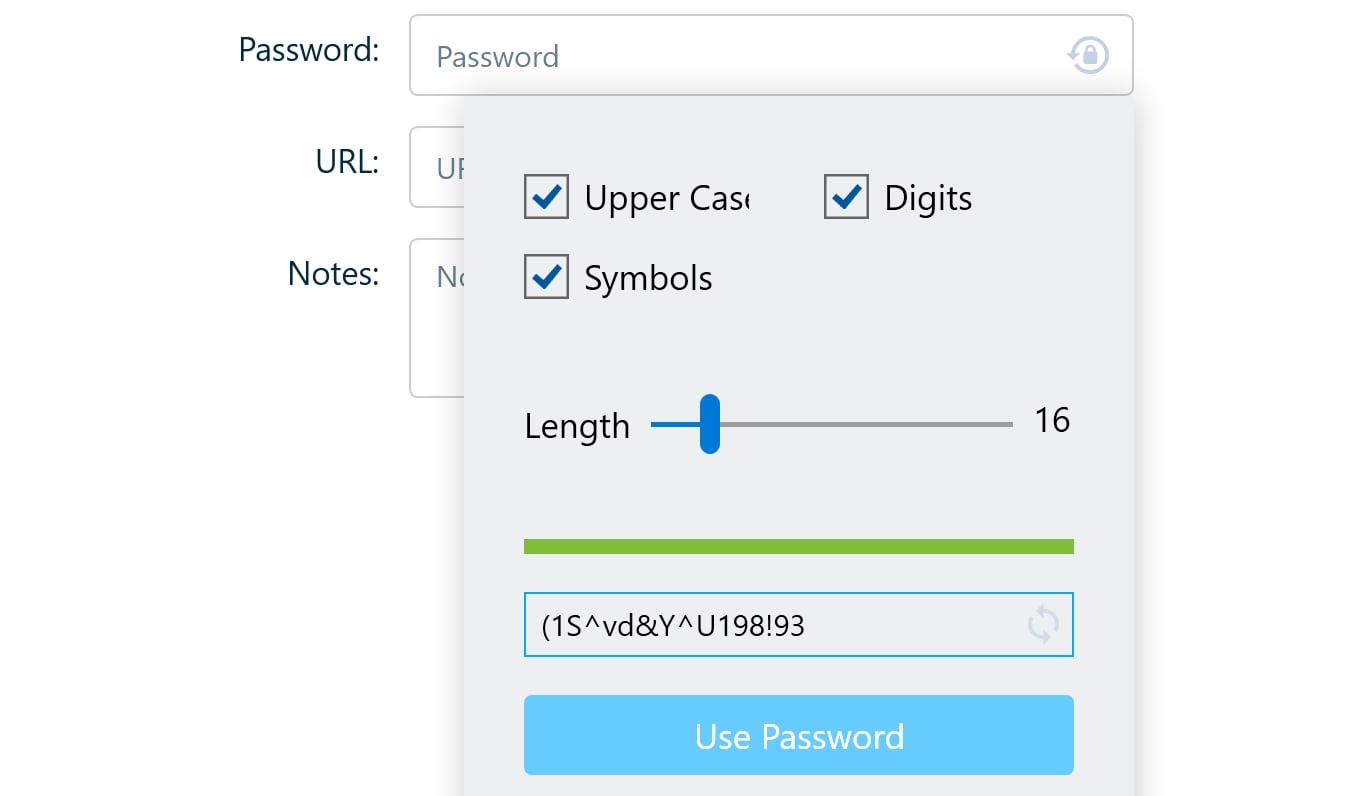 KeepSolid Passwarden: Interface and performance
There is no limit to how many devices you can use with Passwarden, and your passwords are automatically synced across all your devices.
Vaults are at the heart of how Passwarden stores and organizes your secure data. Think of them as similar to folders in a computer's filing system. All of your vaults are accessible when you log into Passwarden using your master password.
Inside a vault, you can save account login credentials, personal information, payment data, or even encrypted notes. You can create as many vaults as you want inside your Passwarden account, giving you the flexibility to organize your passwords however you like.
Another nice thing about the vault structure is that individual vaults can be securely shared. This enables you to share account information with family members or coworkers, for example, while limiting their access to only data inside the shared vault.
Passwarden also has one of the best password generators we've seen. When you go to create a new account entry inside your vault, simply click a password generation button and the software will create a secure password for you. You can choose what kinds of characters to include - such as uppercase letters, digits, and symbols - and select the password length.
The software is simple to navigate thanks to a really user-friendly interface, with your vaults displayed along one edge of the screen and your data entries in the center. To create a new password or record, just click Add New Item and select what type of entry you want to create.
While Passwarden might not be the obvious choice, living in the shadows of some of the industry's giants, it's clear that time and thought has gone into the designs, which provide a slick and consistent experience regardless of your chosen device. Even the browser extensions look great.
We were disappointed to see that you cannot create your own data types or customize the input fields for existing categories. While this isn't a huge problem and it shouldn't stop you using Passwarden if you like the sound of this tool, that's a feature that is pretty common in rival apps.
With a distinct lack of business plans, this is evidently a consumer-focused app. It's surprising that KeepSolid has not yet disclosed any plans to bring passkey integration into the ecosystem, given that many rivals have and that third-party access to passkeys is really beginning to shape up in 2023.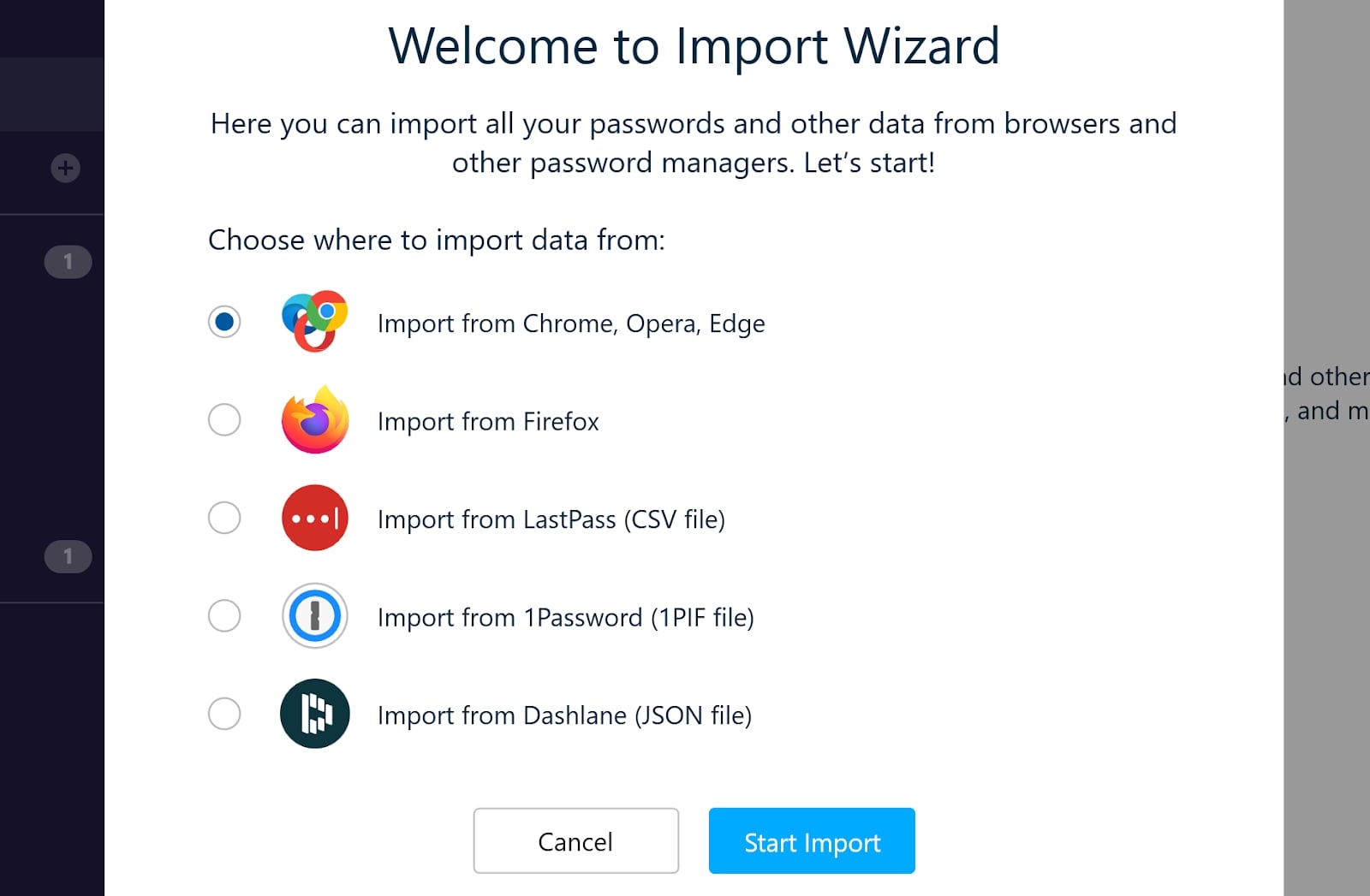 KeepSolid Passwarden: Security
KeepSolid takes the security of your passwords extremely seriously. Passwarden uses 256-bit AES encryption to keep your data safe. Your master password is known only to you, and you have the option to enable two-factor authentication to make logging into your account even more secure.
One additional unique security feature of Passwarden is duress mode. You can create a separate master password that you can use if you are forced to log into your account under duress. When you use this password to log in, your Passwarden account will only display a limited set of vaults that you have marked as non-essential. Most users will probably never need this feature, but it's nice to know it's there.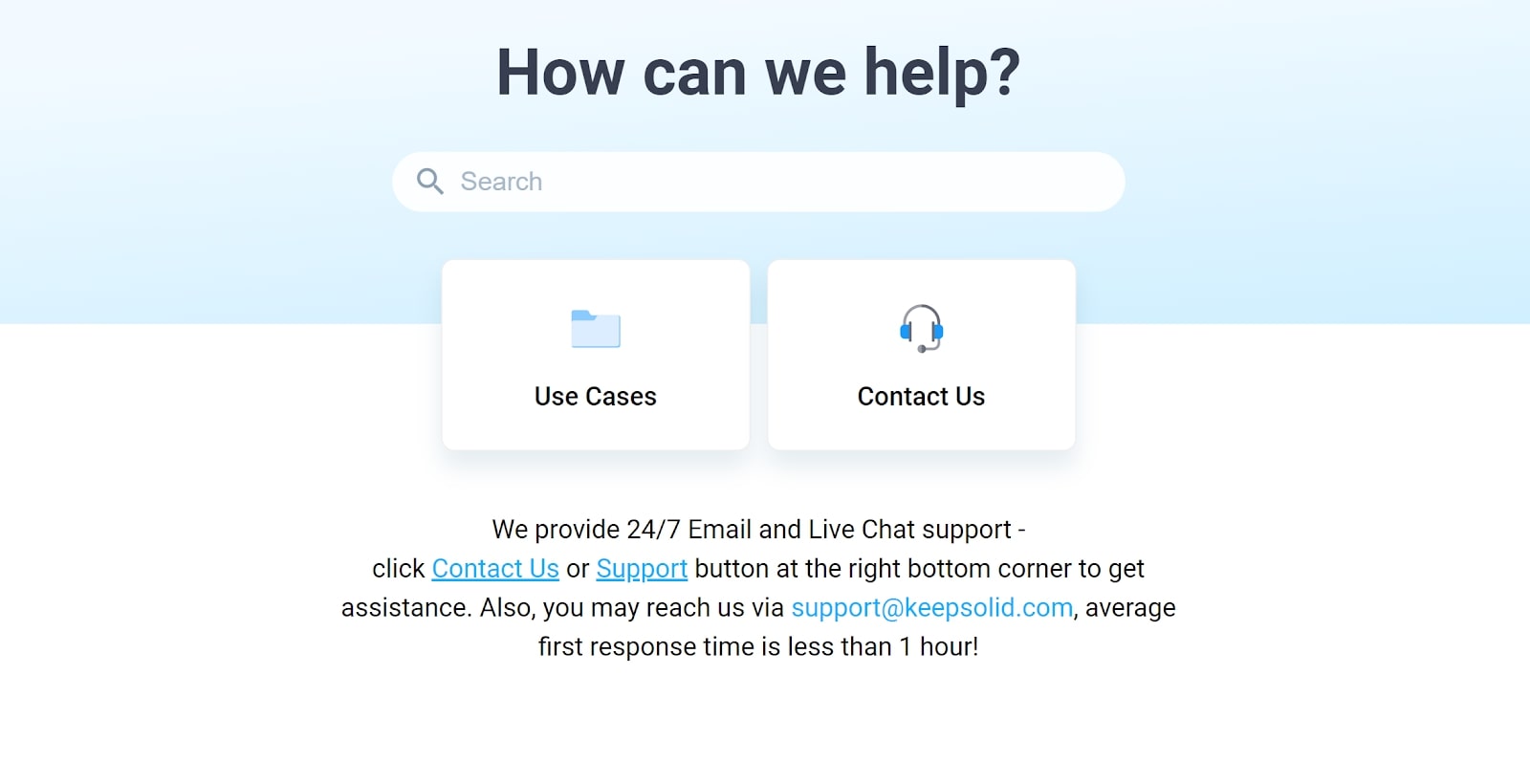 KeepSolid Passwarden: Support
Passwarden comes with 24/7 email and live chat support. The company's website has a small FAQ section and a comprehensive selection of manuals for its apps, but there's no phone support. 
Given that KeepSolid claims that it has 35 million customers worldwide, we would like to see real-time support become more readily available. It would also be nice to have localized versions of the site, rather than a seemingly US-only site with prices only advertised in dollars.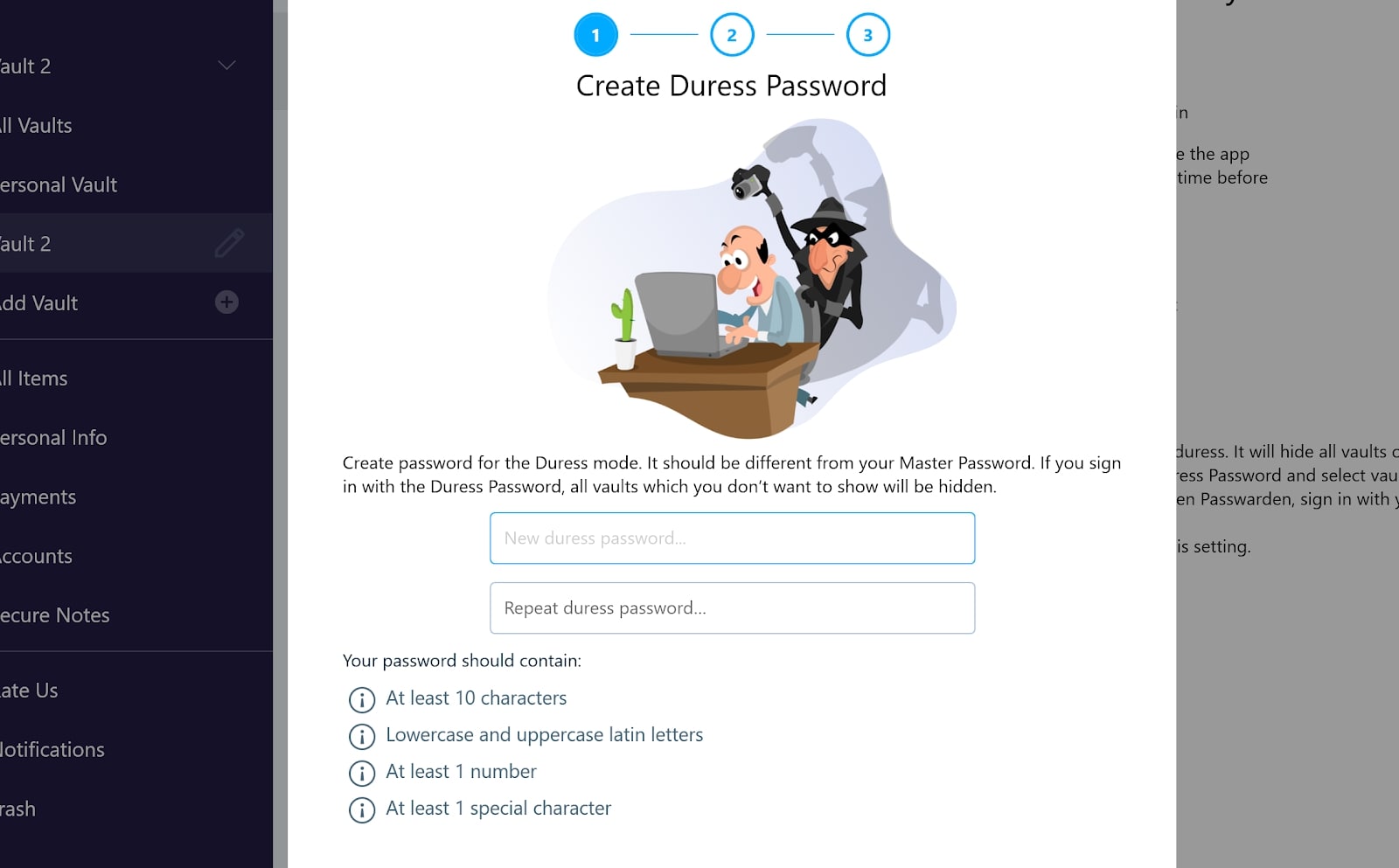 KeepSolid Passwarden: The competition
Passwarden's sharing features make it a good solution for small teams, but it lacks the administrative features that larger organizations require. If you need tools like centralized password management and single sign-on, for example, consider LastPass for business. Plans start at $4 per user per month.
We're also a big fan of Bitwarden which allows businesses to host their own passwords in a location they know and trust, even behind a firewall or proxy.
Passwarden also isn't the cheapest option for purely personal use. If you're looking for a budget-friendly password manager, mSecure offers unlimited lifetime access for just $19.99. However, it's worth noting that mSecure and similar budget password managers don't offer secure password sharing.
KeepSolid Passwarden: Final verdict
The platform works across all your devices and makes it easy to autofill passwords as you navigate the web. It works well for small teams, enabling users to securely share a single password vault with other team members.
The biggest downside to Passwarden is the price. Many individual users don't necessarily need Passwarden's top-of-the-line features. If you don't need password sharing, you may be able to opt for a much cheaper (or even free) competitor.