Our series on identity theft protection apps will evaluate the features, pricing options, competition, and also the overall value of using each app. However, these are not full hands-on reviews since evaluating identity theft protection apps is almost impossible. It would require several months of testing, purposefully hacking accounts to see if the protection app works, handing over personally identifiable information, performing multiple credit checks, and risking exposure of the reviewer's personally identifiable information.
From a firm you presumably already know, ADT Identity Protection is an intriguing service. ADT as a company already defends consumers from genuine thieves attempting to break into your home and steal your possessions as a reputable name in home security, with their alarm systems, video cameras, and motion detectors. You might just be more inclined to trust ADT to protect your personal information because of its well-established reputation and credibility.
In order to safeguard your credit card information, banking information, credit history, and other sensitive information, ADT Identity Protection offers a very well-established feature set. The monitoring and theft detection are well worth the fair price, despite some minor niggles along the way, for example, the fact that you can only access your credit score only once a year.
ADT Identity Protection: Plans and pricing
When you subscribe, the price is a fair $9.99 per month, and you might be wondering if there is a catch. That is $20 less than the premium plans, such as Norton LifeLock, and around half the price of some other comparable programs. It's also important to note that ADT only provides the single tier of plan, and neither a free tier nor a free trial are offered. This simplified pricing structure is easier to deal with, but consumers looking for more plan options should look elsewhere.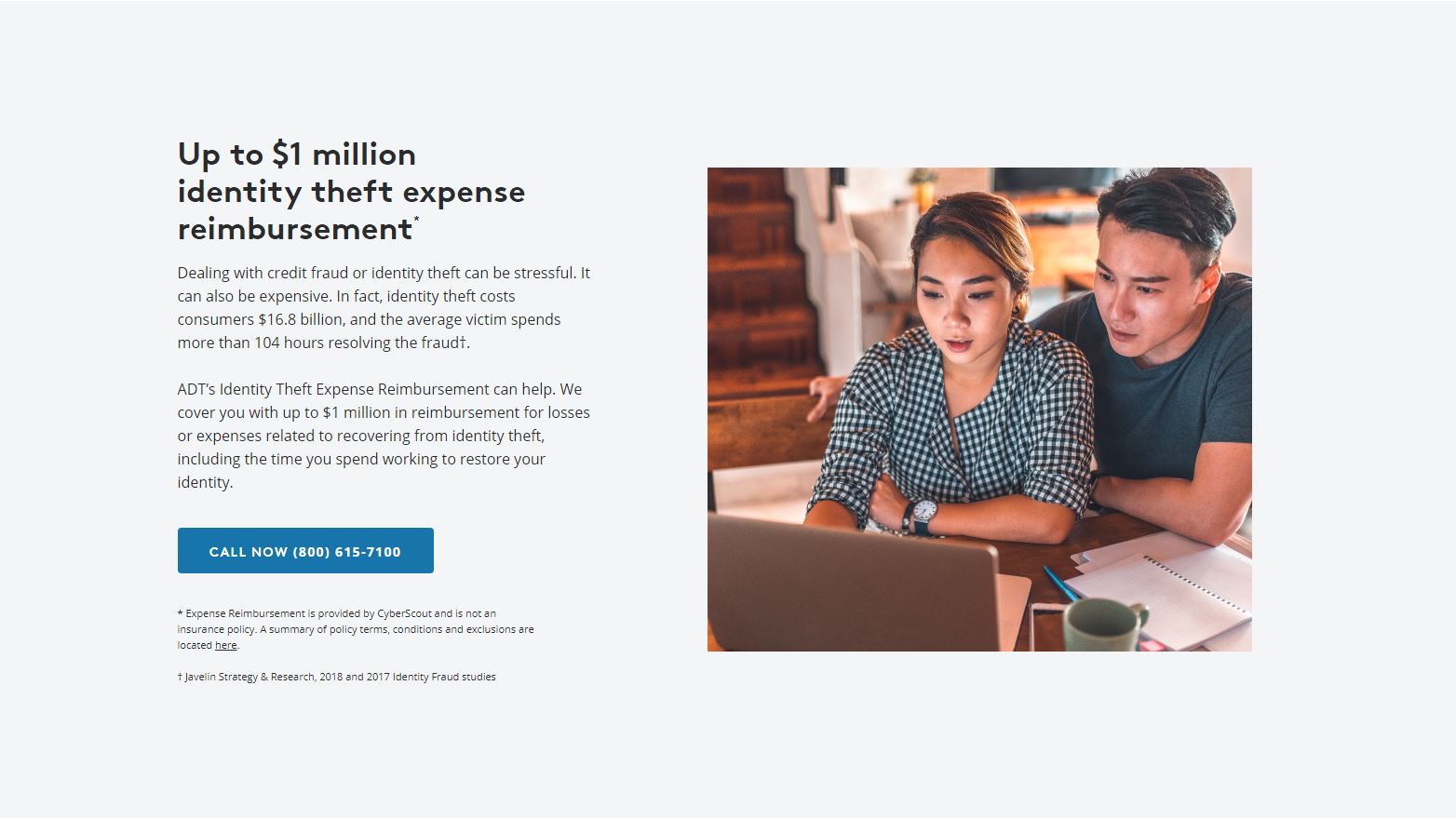 ADT Identity Protection: Reimbursement
Identity theft protection insurance with ADT Identity Protection is included for up to $1 million. This can cover the cost of recovering your identity as well as any direct losses due to theft. According to ADT, recovering from identity theft takes an average of 104 hours per victim.
Additional services include Dark Web to identify your personal information for sale or use in fraud, monitoring for a change of address, and public record monitoring to see if your identity is used for criminal activity. These services are in addition to monthly credit score assessments and daily credit monitoring for changes to credit information and any new account openings.
You don't need to sign any long-term contracts or become an ADT home security subscriber in order to use ADT Identity Protection. This contrasts with Complete ID, one of our other top selections for inexpensive IT theft protection, which costs $8.99/month, but requires a Costco membership. It may take weeks or even months for ADT's subscription to become fully active, which is a warning that likely applies to every other identity theft protection program. This could imply that you are paying your membership dues while you are waiting patiently to become fully enrolled.
It reads this way: "Credit score tracking and non-credit monitoring require an additional enrollment and services aren't available until you are fully enrolled." While no one wants to pay for a service they are not receiving, ADT at least makes this clear before signing up for the service. This could be an indicator of their truthfulness in their other disclosures.
ADT Identity Protection: Interface
ADT Identity Protection's user interface is rather standard, with a predominantly white background and tabs along the left to access the key features. It won't win any awards for being particularly creative. Despite this, it doesn't appear overly antiquated or like a tax program. It's interesting that the app doesn't quite resemble the home security interface you may be accustomed to. The ADT emblem is a well-known blue color that you may have noticed in the yards of people who utilize the home security system. The interface's primary goal is to make it simple for you to locate functions. However, without the status updates and wizards that make Norton LifeLock a little bit more user-friendly ADT appears a little too simple for our taste.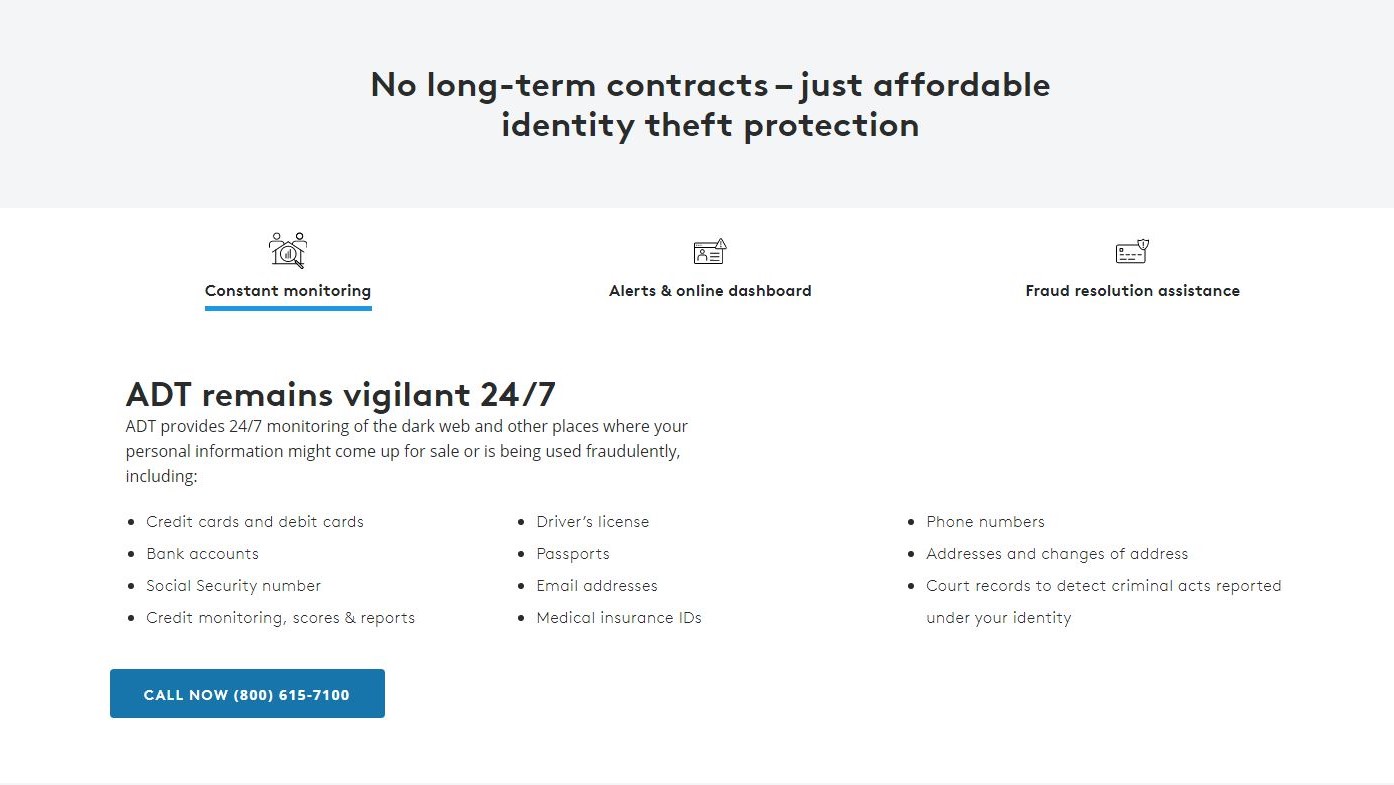 ADT Identity Protection: Features
ADT Identity Protection has you covered for the essential security measures for preventing identity theft. There are all the standard solutions for fraud detection and  credit monitoring. Along with some of the most popular "extras" for examining and keeping track of your passport and other forms of identification, you'll find all the entry-level features for spotting activity on a bank account or credit card. Nothing groundbreaking here, but for $9.99 a month, it's unquestionably a solid starting point.
Only one annual report is available, although many of the best identity theft prevention programs, like Equifax Complete, offer a monthly credit score update. At this pricing point, ADT Identity Protection does offer $1 million in theft protection insurance, which is unique. Other applications frequently have lower prices but only provide $100,000 to $500,000 in identity theft insurance.
ADT Identity Protection: The competition
Although it isn't the most complete tool in this category, ADT Identity Protection isn't at the bottom of the list of identity protection apps either. 
IdentityForce and Norton LifeLock provide more functionality and a better user experience in our opinion. But there is much to be said for picking a value play offering that focuses on the essentials. If you are experiencing identity theft issues and are unsure of who to contact, ADT is a reputable security provider with the staff and financial capacity to assist you. In fact, according to ADT, you can reach a fraud resolution specialist with just one call. While it's debatable that Experian and Equifax have better apps with more features, both have had well-publicized data breaches, and their premium plans—which include credit scores and insurance—are significantly more expensive.
ADT Identity Protection: Final verdict
This means that signing up for ADT Identity Protection and getting the best identity theft protection available is not a foregone conclusion. It may meet your needs if it provides the essentials from a reliable source at a reasonable price.
It's crucial to note that signing up for ADT Identity Protection has no obligations that we are aware of, and you can cancel at any moment without having to pay for the home security services. Personal identity protection may serve as a lead generator for home security goods, but since these services are all stand-alone, you don't have to fall for the trap or feel compelled to utilize ADT.