We've tested some of the best cloud storage services out there, and no list would be complete without pCloud. The Swiss-based service has an impressive list of features at a price point that make it a very appealing choice for sharing large files with friends and family or to sync them across all your devices.
But how does a product released in 2013 fare in a market dominated by mature platforms like Dropbox, Google Drive, OneDrive, Box and the rest of the field? 
pCloud: Pricing & plans 
One of the big draws for pCloud is the competitively priced plans. You can register for one of the best free cloud storage accounts, nabbing up to 10GB in the process. However, like Internxt, there are hoops you'll need to jump through to maximize the free storage capacity.
When we activated a free account, we found 5GB waiting for us. If you choose "unlock more space", you're asked to invite more friends to sign up to pCloud. If they do so, you'll receive 1GB of extra free storage per friend. Sign ups from the same IP address are limited to 10 to prevent abuse. Signing up friends also enters you into a free competition where you can win 500GB free storage. On the free tier, you can also use the service to send files up to 5GB in size that can optionally be encrypted as well.
Broadly speaking there are two paid plans depending on the amount of data you need to share - the company also frequently runs deals and discounts, too. 
The Premium plan offers 500GB and costs $50 a year. The 2TB Premium Plus is priced at $100 a year.
Unlike most of its peers, pCloud offers a one-time payment plan that's valid for 99 years. Premium and Premium Plus cost $200 and $400 respectively if you opt for the one-off cost over an on-going subscription. 
A Family plan, offering 2TB of shared storage space among up to five pCloud users, is available with a lifetime purchase only for $595.
Business users are limited to a subscription-based membership. This costs $10 a month or $96 per year, per user. A minimum of three users is required. Each user gets access to 1TB of storage and 180 days' of file versioning, compared with the standard 30 days for personal plans.
All pCloud accounts, whether free or paid, offer the same set of features. However there are a couple of add-on services that you can subscribe to for added benefits. 
One is called Extended History. By default pCloud retains files you've deleted for 15 days in the Free plan and 30 days with the Premium plans. However you can extend this period to 360 days for $80 a year. pCloud Crypto, which adds client-side encryption to your account for $50. With this add-on you have the ability to encrypt your data in a dedicated 'crypto drive' folder using a multi-layered algorithm. 
pCloud: Interface & experience 
If you've ever ambled down a typical street in Geneva or Zurich, you'll immediately recognize the same regimented and refined air carried across the cloud storage app. Visiting the country, we were struck by how clean and tidy the whole place was, as it's immaculate for the most part. The same can be said for pCloud.  
That's not to say that this is the best designed cloud storage solution on the market. Frankly, the interface can sometimes feel a little aged. But we found the parallels irresistibly hard to ignore. 
To get started you can register with the service manually or use the single sign-on to log in with your Apple ID, Google or Facebook accounts. Out of the box, the service has a handful of folders with sample data to help you get started by exploring its sharing features.  These include some colorful pictures, music, a video and a PDF on getting started with pCloud. 
The service has impressive file manager features, letting you sort and search through shared files with relative ease. You can also search for files, then filter the results based on file types. It's all pretty much the same as using the same options as you get with the file manager in your operating system. 
For uploading, it's just as simple. You'll be dragging and dropping files from your desktop into the pCloud web app or using the upload manager. This option helps you keep an eye on the files as they are being uploaded into your pCloud account. 
To ensure you are using the service to the fullest, pDrive's web interface has a six-step wizard at the top of the interface. For example, it'll guide you to install the desktop and mobile apps. As an incentive, completing each step will unlock more storage space. 
The multi-platform desktop client is fairly intuitive, installing as a desktop applet in the status bar. It adds a virtual drive in your file manager, which is a mirror copy of your pCloud account, similar to how Dropbox operates. If you're using an M1 Mac, you'll likely need to reboot the device in a reduced security mode to allow the deeper integrations required by pCloud's file syncing drive.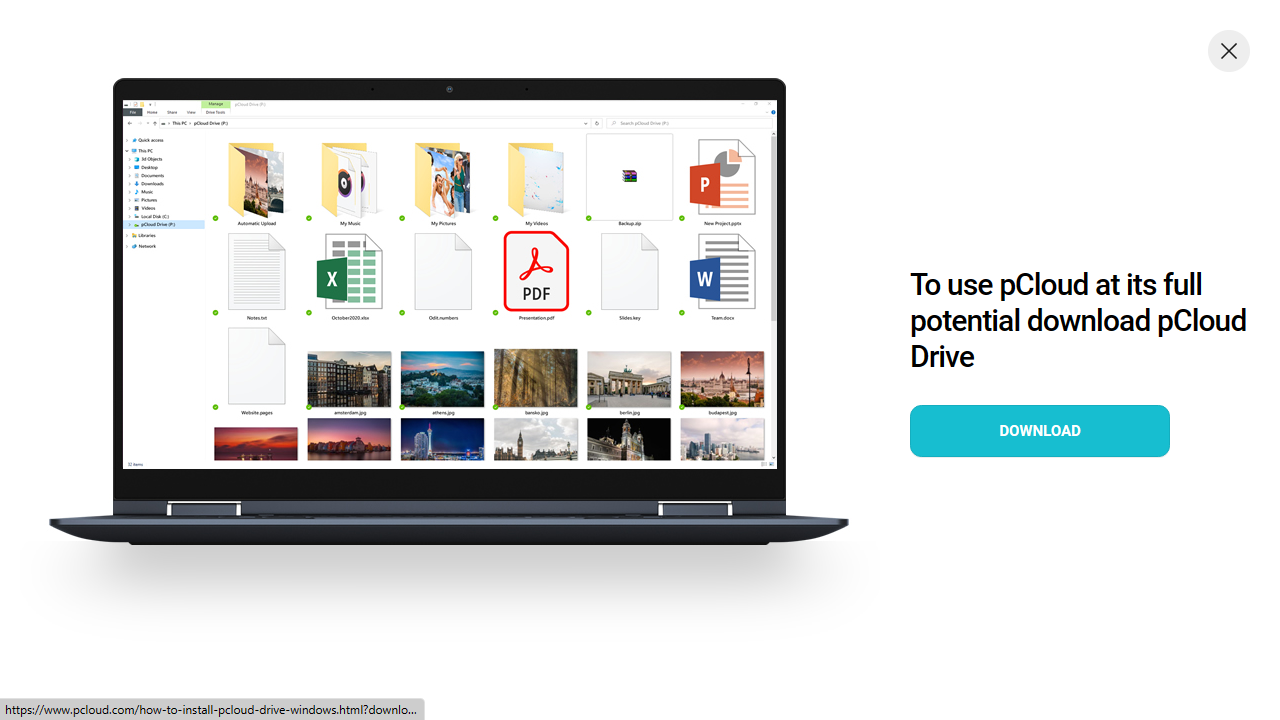 Upon first install, we noticed that pCloud automatically created a network drive to install files. On our Windows 11 machine, appropriately enough it also assigned itself the drive letter 'P'.
Any files placed in this drive will automatically be synchronized with your pCloud account and can be accessed from anywhere using the web interface. They do not take up any space on your hard drive itself. 
There's also an offline mode that makes the shared files available to you on your computer even when you aren't connected to the internet. This allows you to work on the files while you are offline and then automatically sync the changes as soon as you're connected to the Internet. 
You have the option of directly sharing files with your friends and family from the pCloud virtual drive. To share a folder you can send email invitations using pCloud and select whether you want to allow them to edit the contents of the shared folder or just view its contents. pCloud lists two separate URLs if you want to share using links. There's one that'll allow the recipients to download the contents of the folder and another if you want them to be able to upload content into the folder as well.
The mobile app offers one additional option - a setting to upload videos and photos to pCloud directly from your phone. By default it'll upload all photos and videos but you can tweak its settings to restrict uploads. 
Besides their desktop client, pCloud also offers browser extensions for Firefox, Chrome, and Opera. Once installed, you can use the extension to save audio, video and pictures straight from a web page to your pCloud account. You can also save a selection of text that's automatically saved as a text file. 
When it comes to using the browser for accessing your files, the process should be easy for most with things laid out as you would expect. The desktop client is full of features. We value the bandwidth throttling control, which by default is set to unlimited. However, we were disappointed to see that it's not possible to maximize the window in order to lay out all the options as clearly as possible. 
If you choose to try out the client-side encrypted drive pCloud Crypto, this should mean everything remains protected even from pCloud workers thanks to zero-knowledge security. Consequently, you need to make a note of your secure key because not even pCloud can help you gain access to lost files.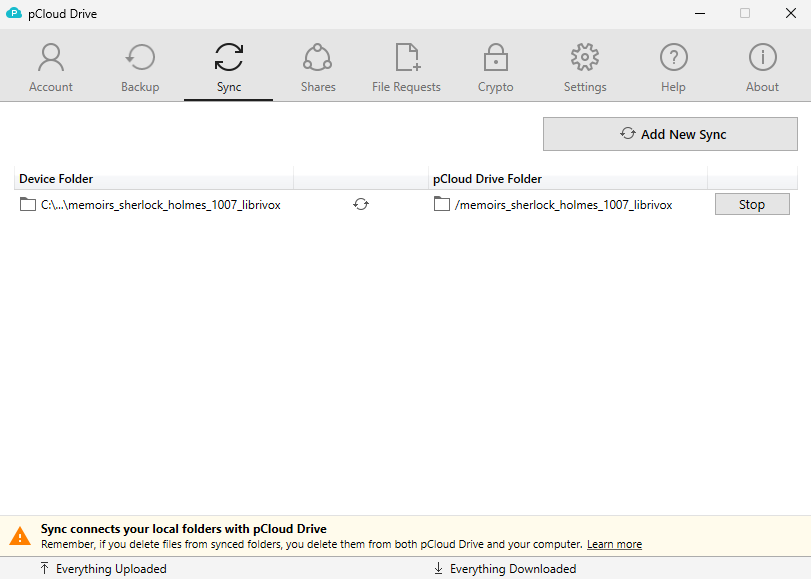 pCloud: Features 
pCloud offers all the essential features you'd expect from a sharing and syncing service. In addition to an intuitive web interface, pCloud also has clients for all the major desktop operating systems including Windows, macOS, and Linux as well as apps for Android and iOS. 
The service makes it easy to share individual or groups of files and folders without much effort. There is also no restriction on the size of the files you share as long as they are within the storage limits of your subscription plan, and upload and download speeds are also free of any restrictions.
Beyond sharing, you can use the desktop app to sync any local folder from your desktop to your pCloud account. Be aware that any files deleted in pCloud will also get deleted from their primary location on your computer, and vice versa.
On top of it, the service does block level syncing. This means the transfers will be a lot faster as only parts of the files that have changed need to be synced.
pCloud: Media support 
You can share all kinds of files on pCloud - but its handling of media files deserves special mention. The web interface of the service includes audio and video players that enable you to play the shared media files straight from pCloud itself. While a web browser that can play media is hardly sensational, we noticed that during our tests that when we opened a file from an audiobook, the interface automatically created a playlist. There's also a dedicated audio section in the pCloud web interface where you can manage your albums and playlists. 
Then there's the video player that lets you watch the videos in picture-in-picture mode to help you continue using your browser while watching the video. You can even create slideshows for any shared images. 
Social media backups are also one of pCloud's specialties. We found that without much effort, you can connect the service to popular social media sites like Facebook and Instagram, then backup images and videos on your accounts directly into pCloud. There is added support for OneDrive, Dropbox and Google Drive backups, too.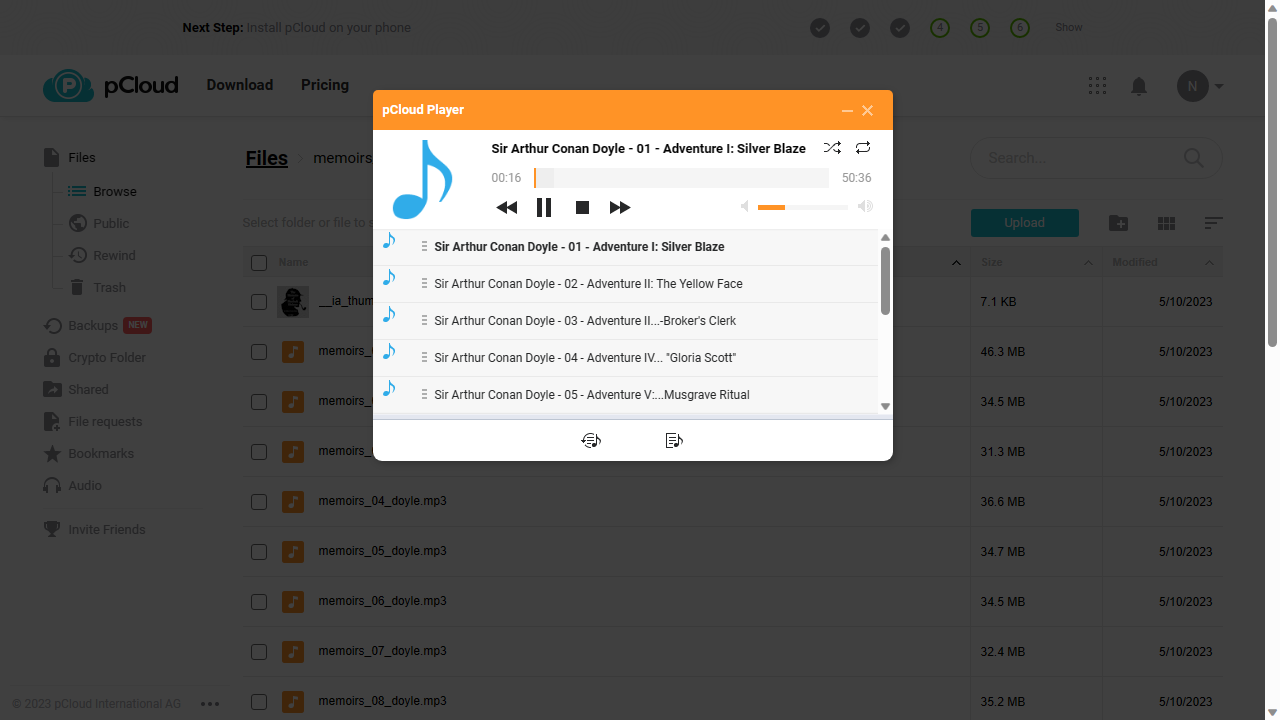 pCloud: Apps
We found a good range of flexibility when it came to platform availability. On desktop, you can use Windows and macOS, with a Linux version available in AppImage format. There are cloud storage apps for Android and iOS. And web access is great, with extra functionality with the browser add-ons. Overall, a good package. 
pCloud: Security 
In terms of security, all the file transfers are conducted over a TLS/SSL encrypted channel to ensure that your data remains secure. pCloud also claims to replicate your files in five different server locations to safeguard against data loss and ensure availability. The service also offers two-factor authentication (2FA) for added security. 
Encryption is secured during file transfer and storage, however for a more complete guarantee non-business users will want to pay extra for client-side encryption which means that content is fully encrypted end-to-end. 
In fact, pCloud is so confident of their security, they offered $100,000 as part of the 'pCloud Encryption Challenge' to anyone who could break their system. None of the 2,860 participants could do it, even after six months of trying.
As reassuring as this is, we do wonder if pCloud would be better off publicly releasing the source code for their client-side encryption feature so it can be constantly reviewed and updated by the community. 
The service is also good at data control, letting you choose where you store your data - either in Luxembourg, which is part of the European Union, or its data center in Texas, USA. Swiss privacy laws are extremely strict and the company claims to be fully GDPR-compliant.  
pCloud: Our tests 
We ran three core tests on pCloud, measuring sync speed, file recovery and versioning. Our tests were done on a Windows 11 virtual machine running the pClouddesktop client.  The VM was connected to the internet via fiber broadband via VPN server, which in our speed tests consistently showed an average upload speed of 70 Mbps  
Our very first test involved syncing a folder containing 22 files of assorted MP3s, images, metadata files, and a PDF. When we opened the desktop client we set it up as a 'sync' folder. The status bar in the client gave us a helpful readout of the remaining files and amount of data left to upload as well as an ETA. It took a little over 96 seconds to sync the 625MB contained in the 22 test files. This means pCloud measures very well against the likes of iDrive, Internxt, and  Apple iCloud.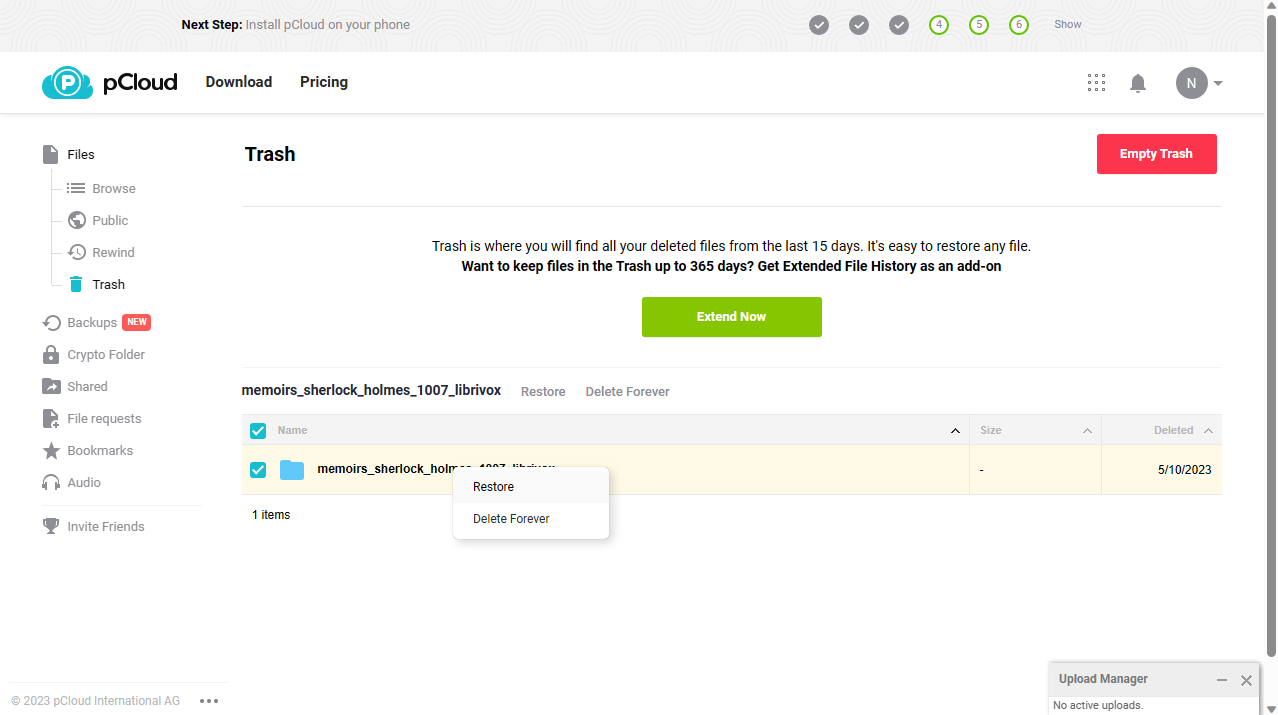 In this test we simply deleted the now uploaded folder from the application directory, removing it from the device. After confirming deletion, we checked if it was possible to recover them. 
With a local folder and pCloud synced, we deleted the folder from My Documents, mindful of the warning of the desktop client that files removed from our device would also be removed from the cloud. However, when we looked, the folder was still in the pCloud network drive. We went into the client and removed the sync for the folder in question. The client didn't alert us that it was unable to sync the folder. 
We finally deleted the test folder from the pCloud network drive. When we logged into the web interface we saw the Trash option, then opened it to view and restore our deleted files without issue.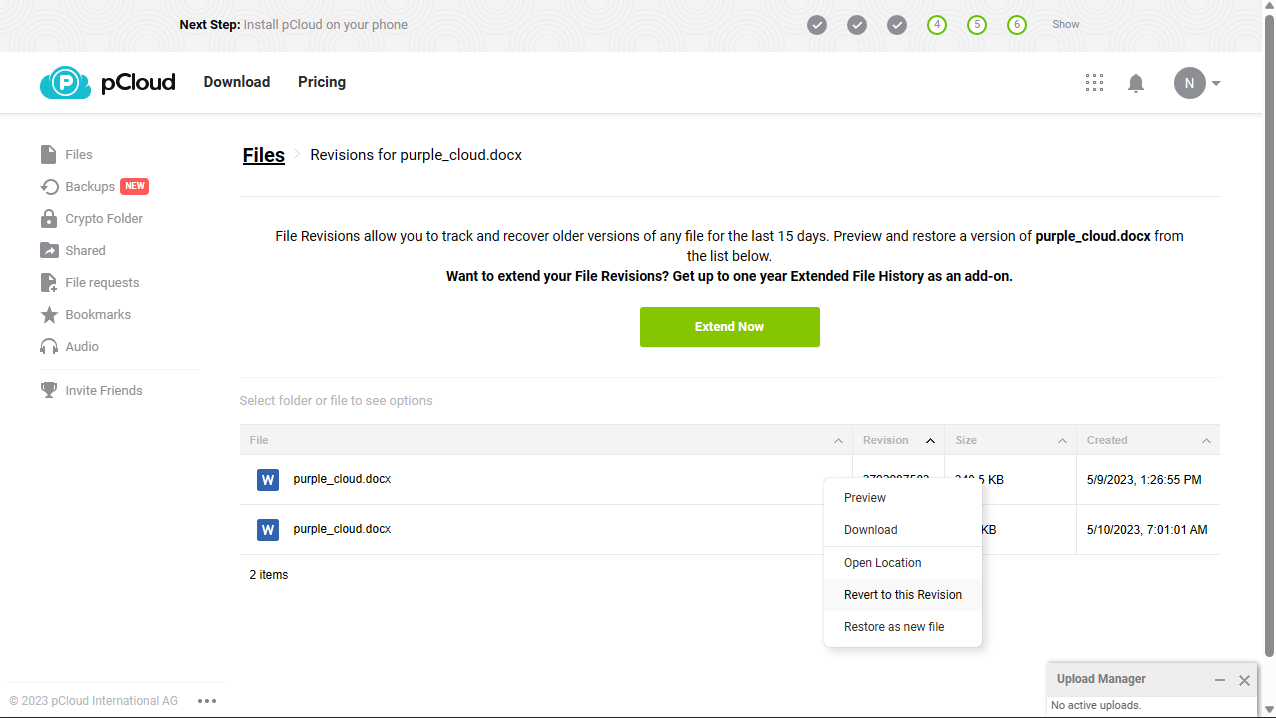 File versioning is especially important if you're working on a larger project and don't want to lose all the changes you make. This means if you change something you shouldn't have, you can just roll the file back to before this happened.
On testing pCloud, we placed a copy of the test Microsoft Word document in the pCloud network drive and allowed it to sync. We then opened it and removed all text except the introduction, then allowed the updated file to sync with pCloud again.
When we logged into the web interface, the Word document immediately appeared under 'Files'. We right clicked and under "Revisions" found both the current version of the document and the original. In just two clicks we restored the original undamaged document to the network drive.
This is also where we learned that the free version of pCloud only stores file revisions for up to 15 days. If you want to extend this, you'll need a paid plan. 
pCloud: Verdict
pCloud is a clinically clean application that does what most people want from a cloud storage service, and the current pricing plan structure is a bargain across the board but particularly when it comes to lifetime plans.
Our only reservation is that it isn't as slick a product as some other alternatives. Nor is 2TB considered a lot of storage by today's standards. Taken as a monthly cost, $4.99 isn't much to add client-side encryption, though we were surprised that it and the 'Extended File History' feature aren't bundled in the cost of all lifetime plans as a 'free' extra. 
Overall, thanks to its incredible value for money and extensive list of features available to all users, it's easy for us to recommend pCloud as a secure cloud storage platform to both individuals and families, however business may want more flexibility.