GMKtec M3: 30-second review
Specs
CPU: Intel 12th Core i5 12450H, 8C/12T, up to 4.4 GHz
Graphics: Intel UHD Graphics (48 execution units, up to 1.20 GHz)
RAM: DDR4 3200MHz, SO-DIMMxxx2, max 64GB
Storage: M.2 2280 PCIe 3.0, Up to 2TB, supports PCIe 4.0
Rear Ports: USB3.2 (Gen1x1 5Gbps)*3, USB2.0x1, HDMIx2, 2.5G Giga LAN (RJ45)xx1
Front Ports: Type-C (DP/DATA)x1, 3.5mm headphone jackx1
Connectivity: Wi-Fi 6, Bluetooth 5.2
Audio Output: Via HDMI, 3.5mm headphone jack
Camera: Not specified
Size: 106mmx115mmx44mm
OS installed: Windows 11 Pro, supports Linux
The GMKtec M3 mini PC, featuring an Intel 12th Core i5 12450H processor, presents itself as a powerful yet budget-friendly mini PC. Priced at $479 for the 1TB HDD and 32GB RAM configuration, it's one of the best mini PCs we've tested if you're after great value for both professional and home users. With an 8-core, 12-thread setup and a max turbo frequency of 4.4 GHz, the M3 is well-equipped to handle a range of tasks from Microsoft Office to moderate gaming.
Performance-wise, the GMKtec unit shows solid results. In the Crystal Disk benchmark, it achieves read and write speeds of 3501 MB/s and 3195 MB/s, respectively; this is impressively quick data transfer, and 1TB is decent enough capacity for everyday use. Its GeekBench scores, with 2108 in single-core and 7684 in multi-core tests, demonstrate its capability to handle everyday and multitasking demands with ease. The Compute score of 8805, though not top-of-the-line, is respectable for a mini PC in this price range and will enable video editing and some light gaming.
In gaming benchmarks, the GMKtec M3 delivers moderate performance. The Fire Strike scores, including an overall score of 2902 and a graphics score of 3085, suggest that while it can handle less demanding games, it may struggle with high-end gaming. This is further evidenced by the Time Spy scores, where it achieved an overall score of 986 and a graphics score of 859. The Wild Life score of 7172 and a Windows Experience Index of 8.1 corroborate its suitability for casual gaming and multimedia tasks.
One of the standout features of the M3 is its support for triple screen display, offering versatility for workspace setups. Additionally, its array of ports, including USB 3.2 and 2.5G Ethernet, enhances its connectivity options, making it a suitable choice for both office and home use. Its design allows for DIY upgrades, adding to its appeal for users who may want to expand its capabilities in the future or buy the barebones version.
The GMKtec M3 is a great option for anyone seeking a mini PC that balances performance, upgradeability, and affordability. Its solid performance in standard benchmarks, combined with its triple display support and ample connectivity options, make it a practical choice for a variety of computing needs. While it may not cater to high-end gaming demands, its overall package offers great value, especially for users looking for a compact solution for everyday computing tasks.
GMKtec M3: Price & availability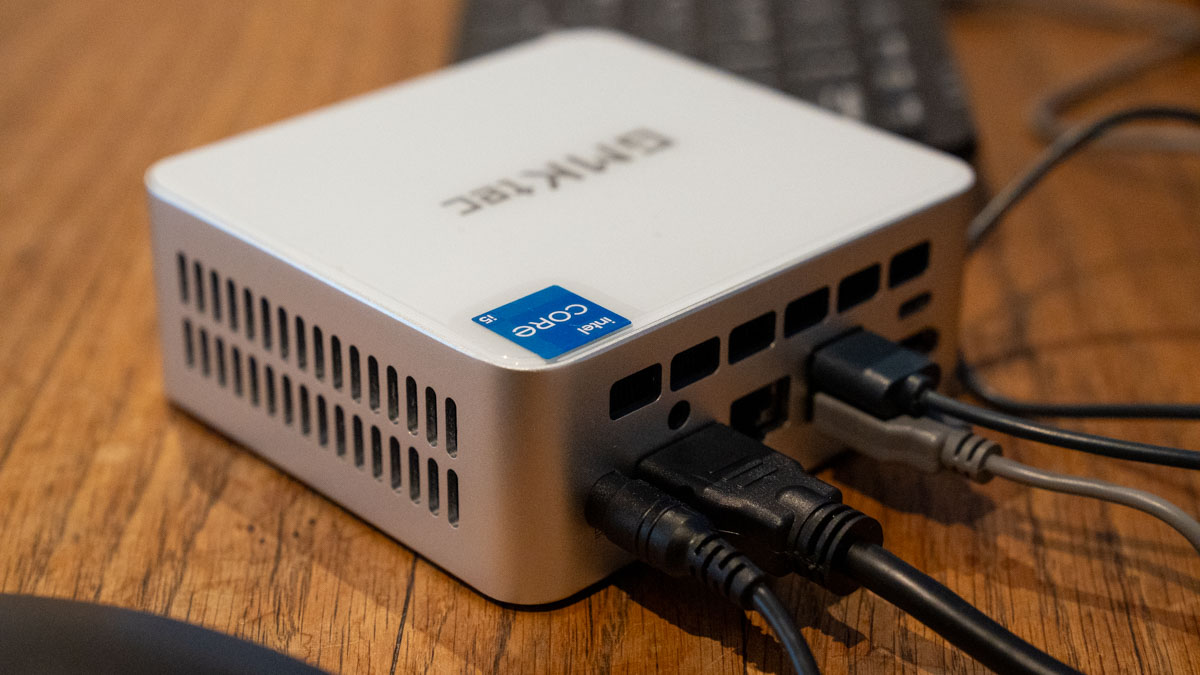 The GMKtec M3 Mini PC, with a 1TB HDD and 32GB RAM, is competitively priced at $479, offering a cost-effective solution for those in need of a reliable, high-performing mini PC. Available directly from GMKtec, this model is also accessible through various other retailers, providing buyers with multiple purchasing options. 
Its affordability, paired with the powerful Intel 12th Core i5 and ample storage options, make the M3 an attractive proposition for both professional and personal use, and other configurations can be spec'd to your requirements. 
GMKtec M3: Design & build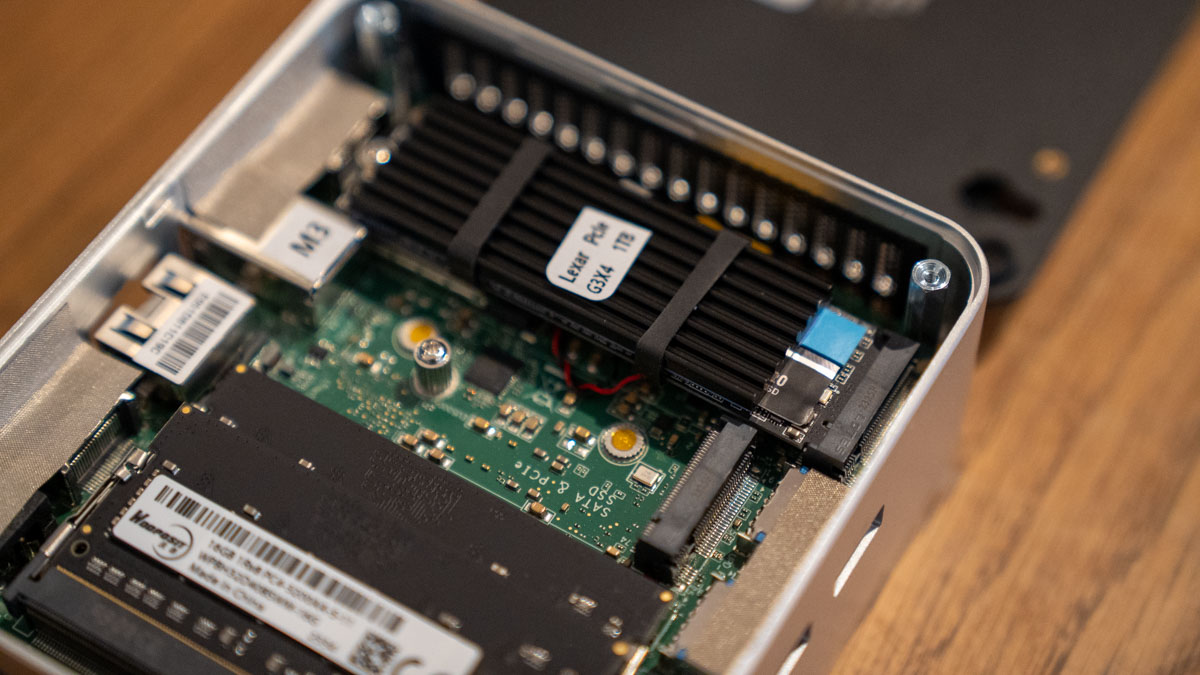 The GMKtec M3 Mini PC boasts an elegant and compact design with dimensions of 105mm x 115mm x 44mm. The silver metal body feels and looks premium with the white top, making it look a little like a compact first-generation Mac Mini. 
The mounting options for this Mini PC are versatile and space-efficient. Its compact size allows it to comfortably sit on a desk without occupying much space. Additionally, the integrated mounting provisions on the back facilitate easy attachment to a wall or various types of brackets and mounts, offering flexibility in positioning and saving valuable desk space.
The front of the M3 maintains a clean, minimalistic look, with only the power button and two USB Type-A ports. The sides of the unit feature ventilation slits that contribute to its cooling system, an essential aspect given the machine's size and power. The rear is arranged with additional ventilation, two HDMI ports, one Type-C USB, two more Type-A USB ports, audio out, and a network port. 
Upgradability is a key strength of the M3. By simply removing four screws from the base, you can gain access to the internals, where RAM and SSD slots are readily available for upgrades. This ease of access will be of particular interest if you opt for the barebones version or plan future enhancements. 
GMKtec M3: Features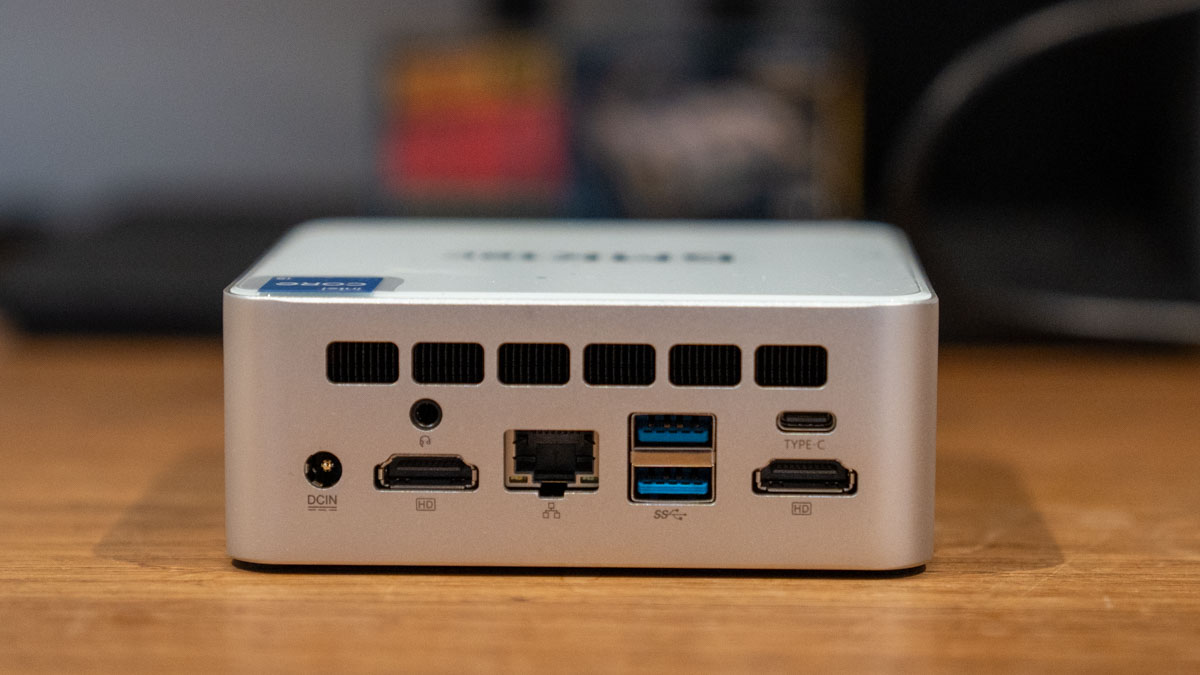 At the heart of the GMKtech M3's performance is the Intel 12th Generation Core i5-12450H processor, an 8-core, 12-thread that achieves a max turbo frequency of 4.4 GHz, backed by a substantial 12 MB of Intel Smart Cache. This processor is tuned for efficiency, with a TDP of 45W, ensuring a blend of power draw and processing power.
Graphically, the M3 is equipped with Intel UHD Graphics featuring 48 execution units that can reach dynamic frequencies up to 1.20 GHz, providing enough to handle most graphic tasks and support triple-screen displays, which is handy for creatives as well as anyone working on office-based tasks. The machine's graphic outputs are capable of 4K resolution at 60Hz across dual HDMI ports and a DisplayPort 1.4.
The system's memory and storage configurations feature dual SO-DIMM slots supporting up to 64GB of DDR4 memory at 3200 MHz; in our review sample, the machine has come equipped with 32GB, which is more than enough for most tasks. Storage comes in the form of the ultra-fast M.2 2280 slot with PCIe 3.0 interface, compatible with up to 2TB of NVMe SSD storage.
The GMKtec M3 comes equipped with the latest Wi-Fi 6 and Bluetooth 5.2 for a wide range of connections. Wired connectivity is also possible through the 2.5G Ethernet port.
When it comes to upgradeability, the bottom cover is easily removable, secured by four screws, providing access to the RAM and SSD slots. 
The cooling system is also impressive, with the large venting along the sides of the case and internally dual copper heat pipes. This cooling mechanism is designed to sustain performance while keeping operational noise to a minimum.
GMKtec M3: Performance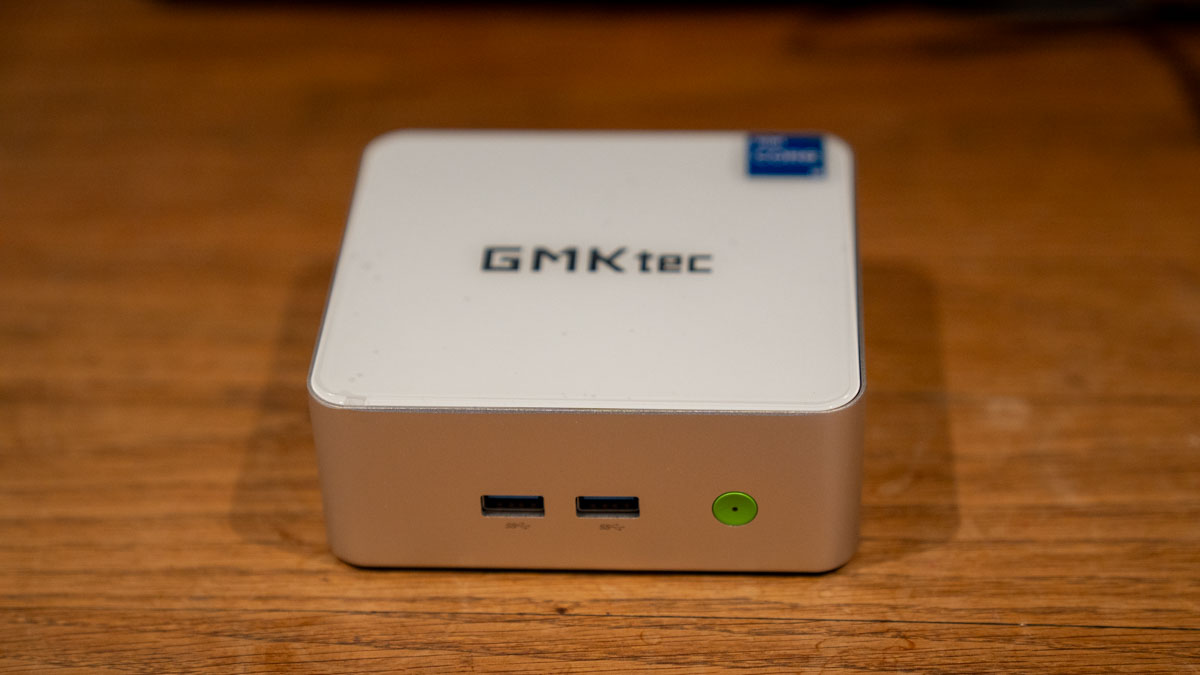 Benchmarks
Crystal Disk Read: 3501
Crystal Disk Write: 3195
GeekBench CPU Single: 2108
GeekBench CPU Multi: 7684
GeekBench Compute: 8805
PC Mark: 4945
CineBench CPU Multi: 1505
CineBench CPU Single: 1528
Fire Strike Overall: 2902
Fire Strike Graphics: 3085
Fire Strike Physics: 18520
Fire Strike Combined: 1071
Time Spy Overall: 986
Time Spy Graphics: 859
Time Spy CPU: 6148
Wild Life: 7172
Windows Experience: 8.1
The GMKtec M3 Mini PC powers through everyday computing tasks such as office applications, web browsing, and 4K video playback. But if you were looking for the best photo editing PC or the best video editing PC - and one that really saves on space - the M3 proved itself as an excellent performer here.
Its capability extends impressively to more demanding software like Photoshop and DaVinci Resolve, where the Intel i5-12450H's multi-threading capability comes to the fore, managing complex image processing and video editing tasks. 
The test results echo this operational competence. With a PC Mark score of 4945, it demonstrates a strong capacity for general productivity tasks. The GeekBench scores — 2108 for single-core and 7684 for multi-core — further confirm its ability to handle a variety of workloads smoothly. For creative professionals, this translates to reliable performance in applications such as Adobe Premiere Pro, where processing speed is essential for rendering and exporting video content. An attached storage drive is available for larger files and projects. 
However, the GMKtec M3's limitations become apparent with graphically intensive gaming. While the Intel UHD Graphics (48EU) can support light gaming, its performance isn't quite up to par for the latest AAA titles. Games like Red Dead Redemption II and Cyberpunk 2097 require more graphical horsepower than the M3 can muster, as indicated by the Fire Strike and Time Spy scores. The graphics scores of 3085 in Fire Strike and 859 in Time Spy highlight the GPU's limitations in rendering complex gaming graphics at high resolutions. 
Nevertheless, by adjusting the game settings — lowering the resolution and effects — the M3 makes mid-weight gaming possible, as reflected by the Wild Life score of 7172. This suggests the mini PC can provide an enjoyable gaming experience with older or less demanding titles. 
The M3 is an impressive performer for productivity and creative software, making it an excellent day-to-day work machine. Its performance in Microsoft Office is excellent, and its handling of creative applications like Photoshop and Premiere Pro is also good. However, you do have to wait when rendering in the latter. The limitations in gaming can be mitigated with settings adjustments, making it suitable for casual gaming rather than a dedicated gaming setup. 
Should you buy the GMKtec M3?
The GMKtec M3 Mini PC is an impressive Mini PC, capable of handling day-to-day tasks and proving its power with processor-intensive applications like Photoshop and Adobe Premiere Pro. As an ultra-compact alternative to some of the best laptops for photo editing or the best video editing laptops, it's a capable if slow performer. The mini PC's Intel i5-12450H processor delivers reliable performance for productivity and creative tasks, although it stumbles with high-end gaming. Lighter games run smoothly, but titles like Red Dead Redemption II demand compromises in settings. 
Overall, the M3 is a solid performer for professional and general use, with limitations for advanced gaming. It's an ideal workhorse for those who need a potent, all-around PC in a small footprint.
Value: Exceptional value for performance and features offered. (4/5)
Design: Sleek, compact, and minimalistic with efficient cooling. (4/5)
Features: Well-equipped for multitasking and casual gaming. (4.5/5)
Performance: Strong in productivity tasks, moderate in gaming. (4/5)
Total: A solid, all-around mini PC at a great price. (4/5)
Buy it if...
Don't buy it if...