EarFun Air Pro 3: Two-minute review
The EarFun Air Pro 3 are the latest affordable noise-cancelling buds from a company that makes some of the best budget wireless earbuds around. EarFun has released several pairs of earbuds that we rated highly, including the original EarFun Air Pro and EarFun Air S, all delivering decent sound and fantastic value.
The EarFun Air Pro 3 build on this further, all for under $100 / £100. In terms of design, they're more elegant-looking than their predecessors, and although they feel a little cheap, that means a light and comfortable fit that stayed put throughout the day when I tested them… with one notable exception that I'll come to. 
The EarFun Air Pro 3's ANC (active noise cancellation) isn't on par with the best noise-cancelling earbuds available today, but they cost less than half as much as most, and the decent level of quiet offered here should be good enough to focus at work or keep most sounds dampened down when you're travelling. It's impressive for the price. 
The same goes for audio. If you're after detailed and audiophile-grade sound, look to rivals instead. The EarFun Air Pro 3 won't beat the top-performing buds in our best wireless earbuds guide, but I liked their punchy sound and found them fun to listen to. 
There's a great battery life on offer here – nine hours from the buds and an additional 36 from the case – as well as multipoint pairing. There are also some next-gen features available that we couldn't test yet, but may soon make these buds even more special, including support for the highly-anticipated Bluetooth LE Audio tech. 
No one feature stood out when I was testing the EarFun Air Pro 3. Instead, these buds are brilliant all-rounders, delivering everything most people would need from a pair of true wireless earbuds today all for well under $100/£100. But there are other options that may tempt you: the Cambridge Audio Melomania 1 Plus are better sounding, but with no ANC; the JBL Live Pro 2 feature better noise cancellation, but cost a little more.
EarFun Air Pro 3 review: Price & release date
Released in January 2023
Costs $99 / £99 at launch but discounted already
No Australian availability at time of writing
The EarFun Air Pro 3 true wireless earbuds were launched in January 2023. They originally cost $99 / £99, but they've been reduced to $79 /£79 on the Earfun website and other third party retailers at the time of writing, so that's clearly a price to expect them to hit regularly. As we publish, there's no news on Australian availability.
Their sub-$100/£100 price tag puts the EarFun Air Pro 3 at a similar price as some of our favorite budget earbuds, like the ​​Audio-Technica ATH-SQ1TW. But although we rated the sound of the Audio-Technica buds, there are more features on offer from the EarFun Air Pro 3, most notably ANC. 
Having spent a few weeks testing them, I'd say that the EarFun Air Pro 3 are similar in terms of sound, ANC, specs and even design as the JBL Live Pro 2, but at $149 / £129 / AU$199, the JBL are significantly more expensive.
EarFun Air Pro 3 review: Specs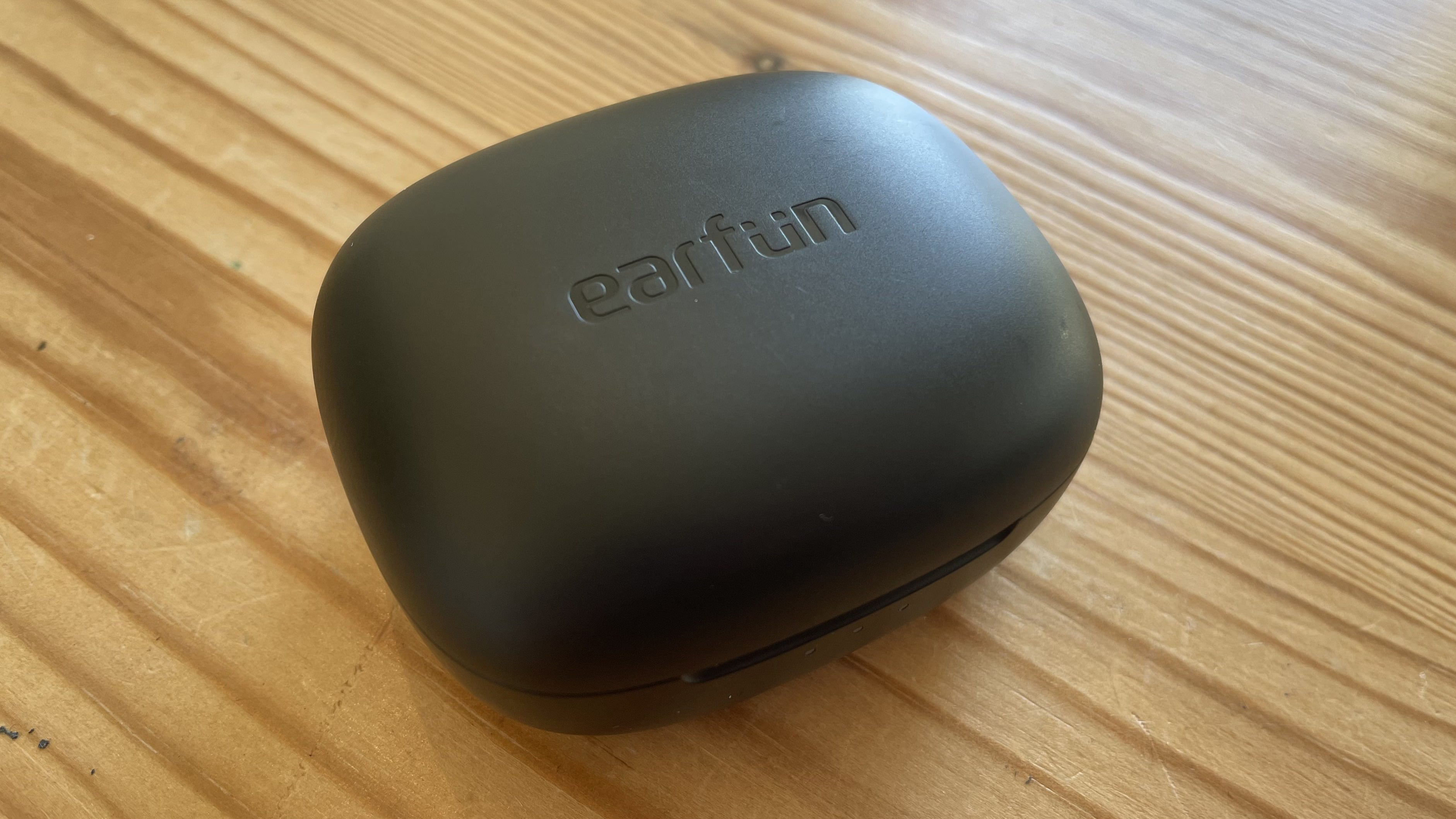 EarFun Air Pro 3 review: Features
Great battery life 
Multipoint pairing and active noise cancellation
Bluetooth LE Audio support could be a game-changer
For the price, there are a lot of features on offer here. I like that the EarFun Air Pro 3 have multipoint pairing, allowing you to listen to music on your laptop and then easily switch to say taking a call on your phone. During testing, this worked well and was seamless most of the time. 
In terms of controls and customization, the EarFun Air Pro 3 buds come with an app that's minimal but has everything you need. There are also controls at the top of the stems. At times, these touch controls required a slower, more deliberate press to work. That's fine, but not ideal given they're there to be used intuitively. I did like that you can customize their actions from within the app. 
It's a shame there are no sensors that know when you take out the buds and pause the audio. That feature isn't a dealbreaker, but it is one you don't realize is incredibly handy until it's not there.
The battery life of the EarFun Air Pro 3 is among the best you'll find from a pair of true wireless buds. EarFun promises nine hours from the buds and a further 36 from the charging case. That's a mega-impressive 45 hours in total. Of course, that's with ANC off. With it on, we're talking seven hours in the buds and 37 hours in total. I got 6.5 hours with ANC on at a high volume, which I still found impressive.
This is a similar battery life to some of our favorite buds, like the Cambridge Audio Melomania 1 Plus, although they don't have ANC. It's also just a little less than our current mid-range favorites, the JBL Live Pro 2, which offer up 40 hours of battery life in total. So considering the EarFun Air Pro 3 are budget buds with ANC, they outperform much of the competition. 
The EarFun Air Pro 3 feel like a truly modern pair of buds in terms of specs, and one feature is so cutting edge I couldn't even test it: next-gen Bluetooth LE Audio technology. This is a new Bluetooth standard that promises to upgrade the way we listen to music, including improved sound quality and battery life. The problem? No smartphones are compatible yet. 
There's also support for a feature called Auracast. This allows you to jump between audio playing from different devices, so you can seamlessly listen to what your friends are listening to or what's playing in a public space – again, though, there's no support in the wild yet.
That's not all. The buds also support Qualcomm's apt-X Adaptive audio codec, which is capable of delivering CD-quality 16-bit.44.1kHz audio over Bluetooth. This also provides low-latency performance when streaming from devices that support the Qualcomm standard.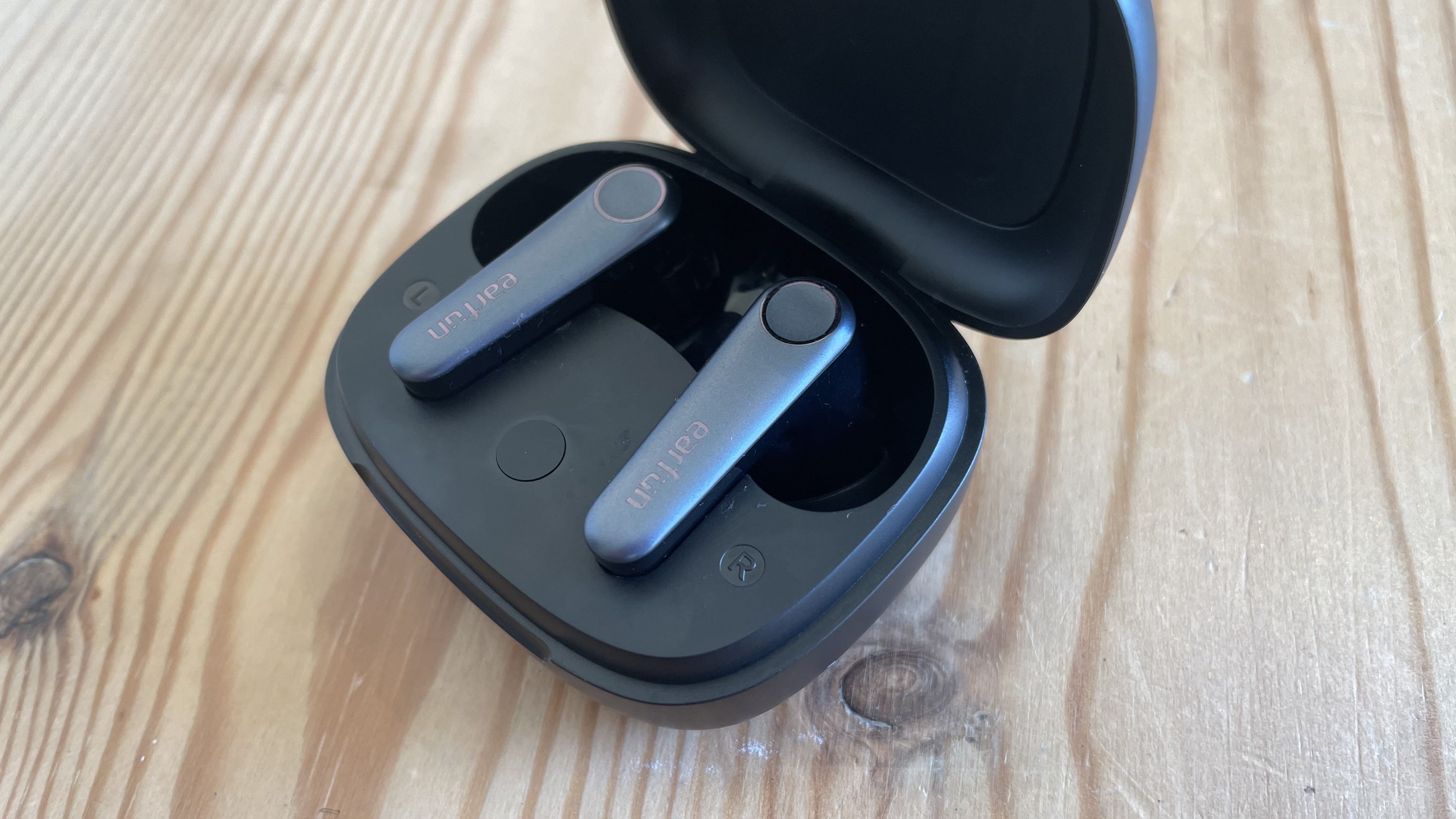 EarFun Air Pro 3 review: Sound quality
Fun but not fantastic sound
Adjustable EQ
ANC is good
The EarFun Air Pro 3 buds were powerful and punchy right out of the gate. I listened to Stevie Nicks' Edge of Seventeen and For What It's Worth, and the signature sound was spot on, perfectly suited to these iconic tracks with big, booming vocals. 
I found this to be the case across any genre that was all about the power and the bass, these buds handle the lower end well most of the time. Other tracks felt a little muddied or just didn't suit the boom and the energy these buds excel in. Don't get me wrong, they were still an enjoyable listen, but I couldn't pick out the details or hear the precision of certain vocals or instruments as much as I can with higher-performing rivals. 
I felt this acutely with Hildur Guðnadóttir and Jóhann Jóhannsson's Good Night, Day. This beautiful strings piece builds power and energy throughout, but I didn't hear that instrumental distinction with the Air Pro 3 quite as much as I'd really like. 
At times there's also a noticeable boom and even a rattle on the bass when you push to high volumes which, after listening for more than an hour straight, can be a bit too much. I found this to be particularly the case with ANC on.
If you want powerful sound, you'll love them. If you like to appreciate the details of a mix, you might find them lacking. There is an equalizer on offer here that you can customize to a degree. There are also some presets, like bass boost. But I didn't notice much of a difference when I tried them and preferred the signature profile for the most part. 
You won't get that silent cocoon of sound type of ANC that's typical of more expensive earbuds from these EarFun buds. But you get a sufficient level of ANC. The buds block a decent amount of bass range sounds, like the rumble of traffic. I tested them in a busy coffee shop and although all chatter wasn't silenced, a noisy conversation next to me was significantly dampened down so as not to be annoying. You'd need to bump up in price to get noticeably better ANC.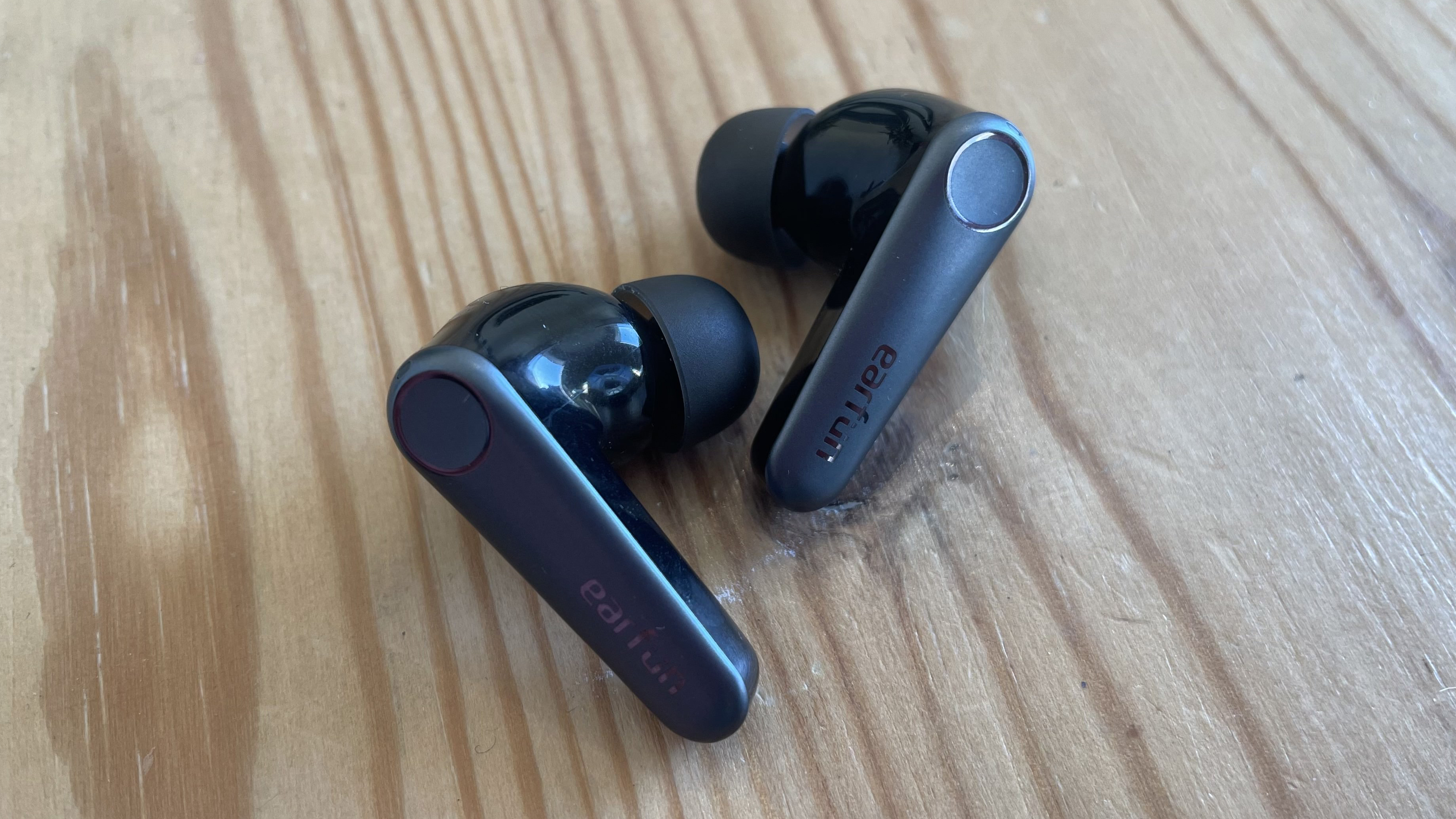 EarFun Air Pro 3 review: Design
Long stem design
Look fancier than they are
Very light
When you first pick up these buds you'll notice they feel plasticky – by which I mean: cheap – but that's kind of good news as they're also incredibly light at 52g for both buds and case. This is subjective, but I find the lighter the bud, the more comfy the fit. 
I achieved a good seal from the tips that came with the buds and chose the smallest size. They stayed secure and in place most of the time, but I did experience a bit of slipping when I wore them for a long time and when I took them on a run. To be fair, that's pretty decent considering these aren't workout buds. I only had to adjust them a few times and they do have an IPX5 rating, which makes them sweatproof and worth considering if you're looking for a spare pair of buds for the gym.   
They have a shiny black plastic design on the back, which I didn't like, but that's the bit that sits against your ear. What sticks out is a long, mirrored stem with gesture controls at the top end and the EarFun logo at the button. This shiny finish is subtle and makes the buds look much more premium than their price tag suggests. 
However, the stem is long, and although the seal of the tips was great ,the stems affected it several times. This was particularly the case with long hair. When I wore my hair down around the buds, then pushed my hair out of the way, it got caught on the stems and the buds came loose. Not everyone will have this problem and I learned to be careful, especially outside. But I've tested a lot of true wireless earbuds at this point and never had this problem in the past.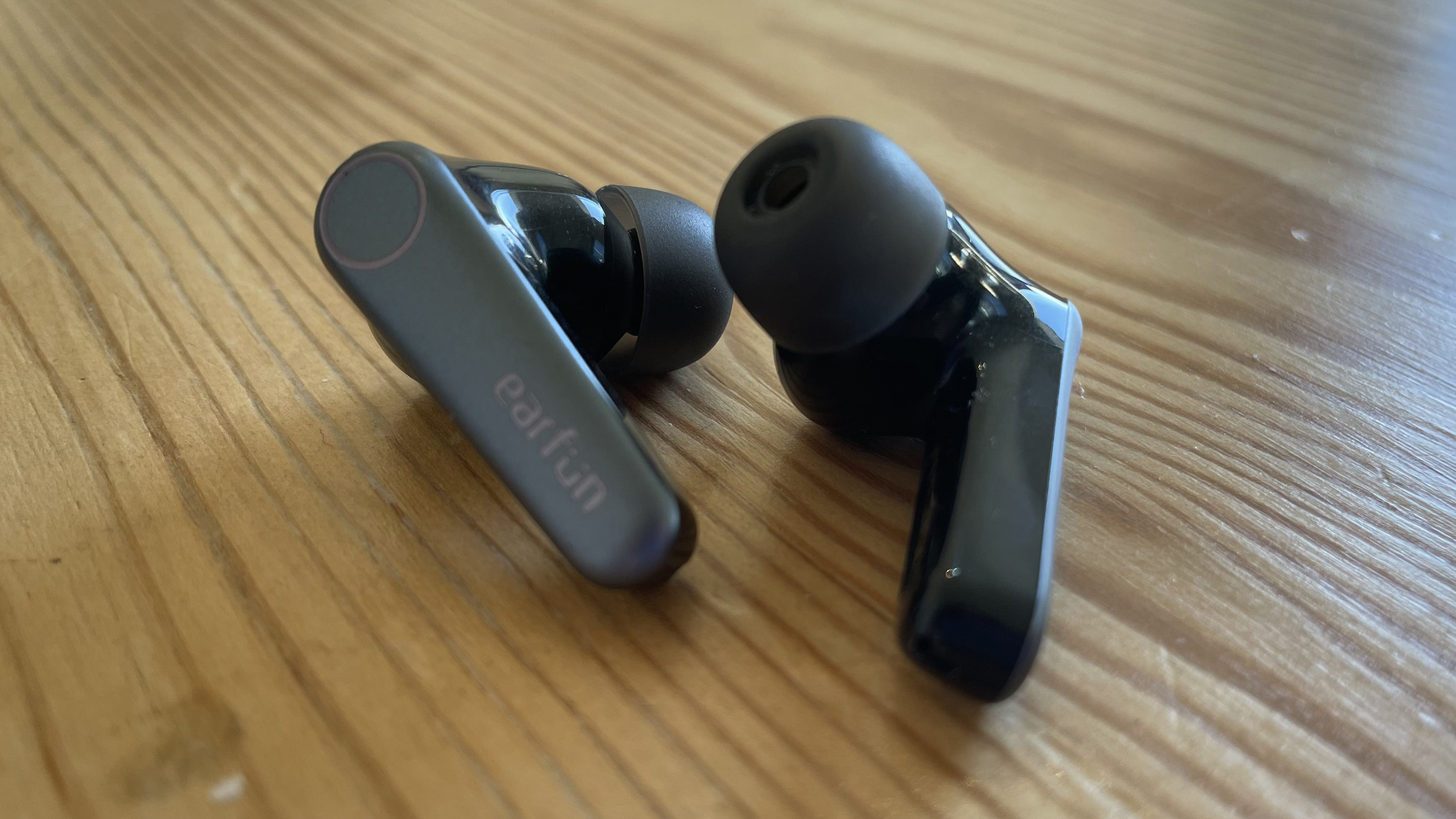 EarFun Air Pro 3 review: Value
Possibly the best sub-$100/£100 buds I've tried
You have to pay at least $50/£50 more for comparable features
You'd need to be sure about the design
The EarFun Air Pro 3 buds perform well in every respect, but in terms of value they're fantastic. Although their inner shiny plastic finish may give away that they're cheap, as does their weight, the simple mirror design of the stems makes them look much more premium than they should when you wear them. 
The ANC might not be the best, but I think it'll suit most everyday scenarios and it's often rare to get solid ANC with a sub-$100/£100 price tag. Just look at two of our current budget favorites, the ​​Audio-Technica ATH-SQ1TW and Cambridge Audio Melomania 1 Plus, which excel in some areas more than the Air Pro 3, but don't have ANC. 
Battery life is fantastic, multipoint pairing is handy and the Bluetooth LE Audio support will hopefully make these buds even more of a no-brainer proposition as the tech rolls out more widely. 
All in all, these buds won't beat higher-end buds and sound is only fine, but in terms of what you get for what you pay in total, they're pretty much unmatched.
Should I buy the EarFun Air Pro 3?
Buy them if...
Don't buy it if...
EarFun Air Pro 3 review: Also consider
How I tested the EarFun Air Pro 3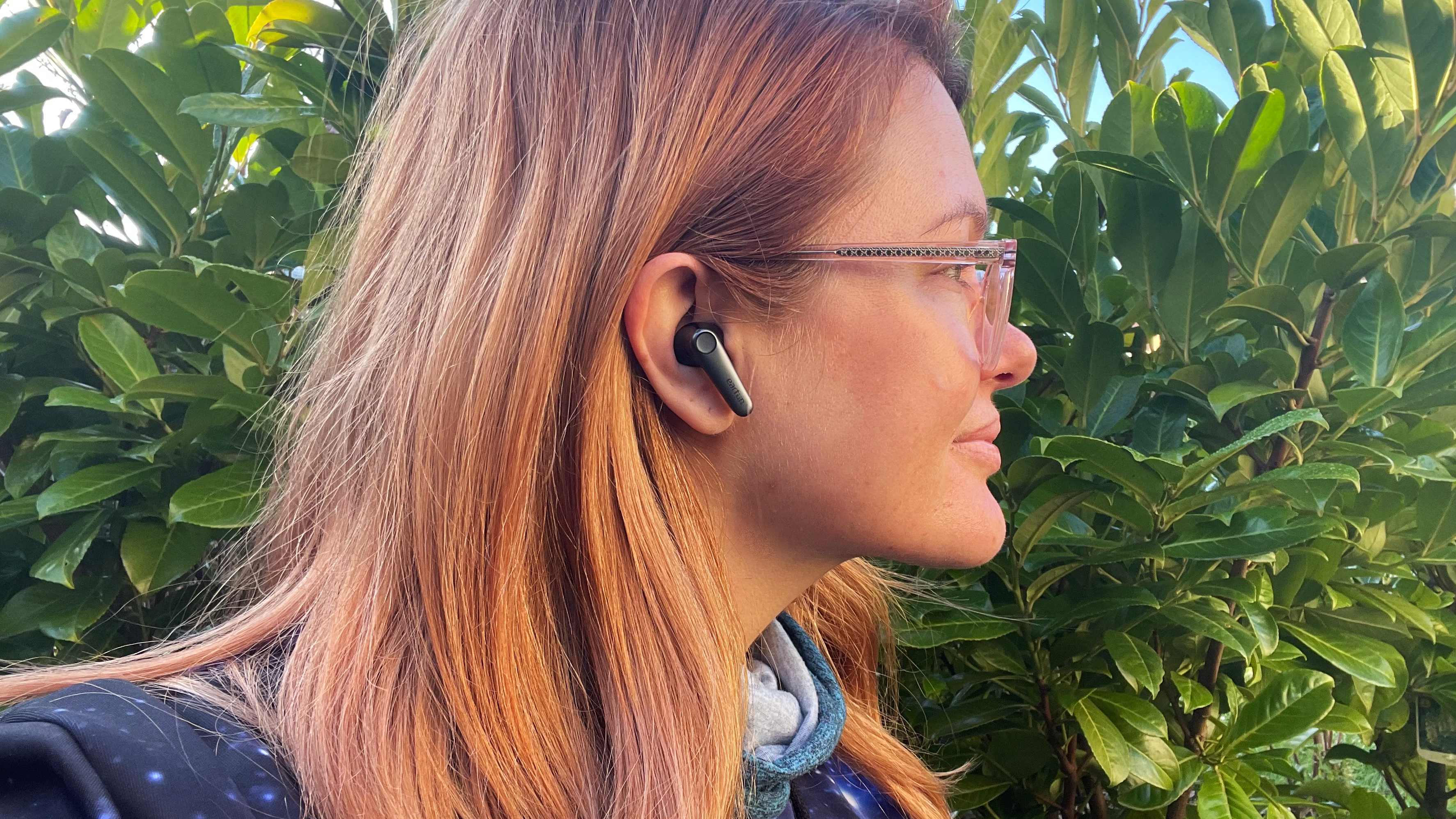 Tested for 10 days
Used in home office, working at a coffee shop, the gym, countryside walk, public transport in a busy town
Mostly tested with Apple Music and iPhone 13 Pro
In order to put the EarFun Air Pro 3 buds through their paces, I used them in a range of different environments as I went about my daily routine over the course of 10 days. I took them to the gym when I worked out, on a walk through the countryside, while travelling by both train and bus, and out on lots of walks around suburban areas at all times of day.
These are true wireless earbuds designed to be worn for long periods, so I kept them on when transitioning from a walk outside to working back at my desk again. This was a good opportunity to try out multipoint pairing, moving from listening to a podcast and taking calls on my phone to watching videos on my laptop. 
I mostly listened to Apple Music, but also streamed podcasts, audiobooks and watched videos too – I also used them as I caught up on the latest episode of The Last of Us.
I've been testing audio products and wearable tech for around a decade, particularly focusing on the devices that can accompany you on walks and workouts, as well as general ease of use and comfort.
First reviewed: February 2023