Founded in Germany in 1988, IONOS (formerly known as 1&1 Internet) is a web hosting giant with 2,000 employees, 10 data centers, more than 90,000 servers and 8 million customer contracts worldwide.
Putting that into perspective, Datanyze says IONOS has 6.86% share of the web hosting market: that's ahead of everyone but Google Cloud (7.82%), Amazon AWS (10.96%) and GoDaddy (14.99%).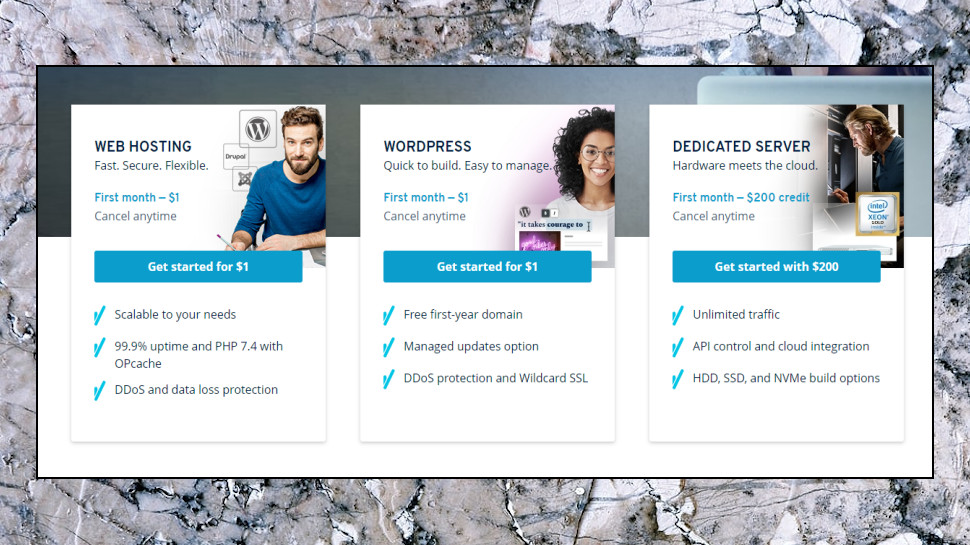 What types of hosting does IONOS offer? 
IONOS has plans covering a very wide range of hosting types and needs. Low cost shared hosting, a website builder and managed WordPress plans are ideal for personal and small business sites.
More powerful VPS and dedicated hosting have the resources to handle more demanding business and ecommerce sites (and if it's web stores you're after, there's managed WooCommerce hosting, too).
Windows ASP.NET hosting and the Github-friendly Deploy Now are value plans for developers and expert users.
Need even more power? IONOS' high-powered and ultra-reliable cloud servers have the resources to cope with even the most heavyweight, feature-packed and business-critical sites.
There isn't the space to cover every detail of what IONOS has to offer, but scroll down and we'll break down the company's key ranges, explore their pros and cons, and find out which products could work for you.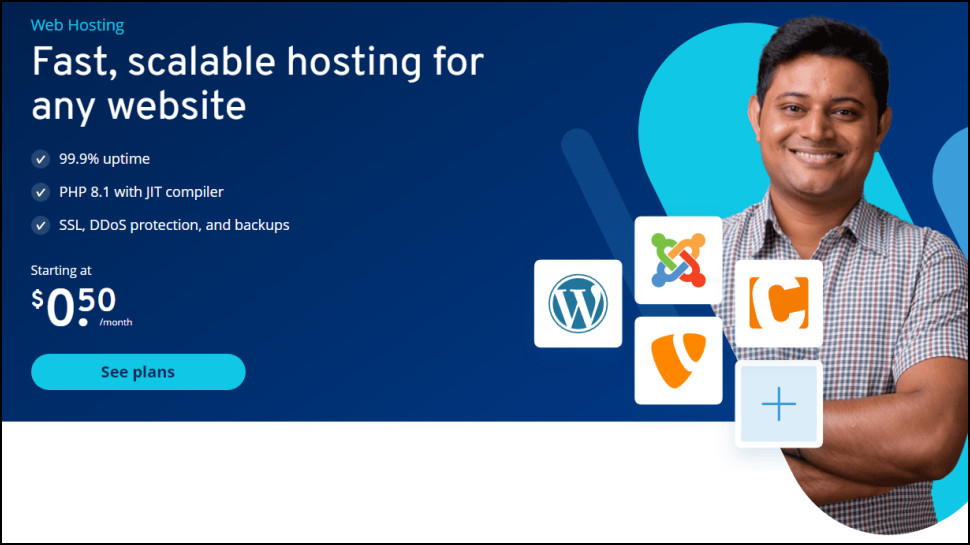 IONOS shared hosting
Shared hosting is a scheme where several websites are hosted on the same server. It's cheap, because server costs are shared between all the accounts. With many sites sharing the same CPU, RAM and network connection, performance may be poor. But a good shared hosting package has more than enough power for most low-traffic blogs, personal and small business sites.
IONOS has three shared hosting plans.
The highlights: every plan has free SSL, a free domain, free daily backups and easy WordPress installation. 
The single site starter plan is reasonably priced at $4 a month in year one, $6 on renewal.
The mid-range Business plan ramps up speeds by adding more resources, supports unlimited websites, and - thanks to a spectacular introductory offer - is only $0.50 a month for year one, $10 a month after that.
The highest Expert plan adds even more resources, throws in SiteScan malware protection, a Content Delivery Network (CDN) and analytics to monitor your website traffic, yet it's still only $8 a month in year one, $16 on renewal.
On the down side, IONOS doesn't offer free migration to help import your site from a previous host, and all the plans give you just one email account. It's a good one (2GB inbox, spam filtering), but that's no help if you need more. 
Our tests found IONOS Business plan has below average performance, too (more on that, later). IONOS shared hosting could still be a decent choice if you can live with just one email account. 
If the email is an issue but value is important, also consider Hostinger and HostGator for their low starter prices, extended email abilities and lengthy feature lists. Or if it's speed you're after, A2 Hosting and InMotion Hosting go beyond the basics with plenty of advanced performance-boosting tech.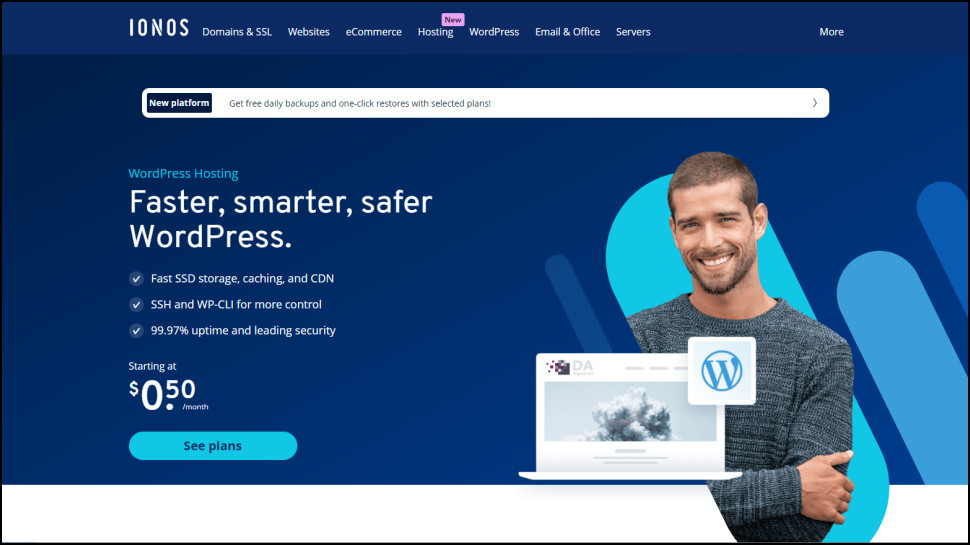 IONOS WordPress hosting
WordPress is a hugely popular website creation tool which can be used to create anything from a simple personal site, to a huge and feature-packed international web store.
IONOS Managed WordPress hosting plans are priced almost identically to the shared range (special offer of $0.50 a month for the mid-range plan, $3 to $8 a month for the other plans, $6 to $8 on renewal), and the main features are similar: free domain, free SSL, still no free migration, but you do get daily backups.
There are important differences, too. Improved email support means the mid-range plan supports five email addresses, the top plan has ten. All plans include scanning for malware, and the top plan can remove any threats it finds. There's also one significant downgrade: the shared hosting plans support unlimited websites, but you can only have one managed WordPress project.
WordPress-specific additions include the WP Assistant to build a simple initial site for you, automated WordPress updates, and free themes (pre-built website designs), perhaps handy if you'd like to give your site a new look and feel.
There's nothing outstanding here, but these plans do give you fractionally more WordPress functionality for the same price, and that works for us. If you're looking to master WordPress, you're only building small or simple sites, and speeds really don't matter, getting a year of the Business plan for $6 is an amazing deal.
The IONOS WP Pro range is aimed at business users or anyone who needs more features and speed. IONOS says extra server resources deliver a 300% speed increase overall. There are automatic and manual backups, smarter automatic updates to reduce the chance of a buggy security patch breaking your site, and the ability to website changes before you put them live.
All this power comes at a cost. To begin to get the full speed benefits you'll need the Advanced WP Pro plan, priced from $40 a month on the annual plan ($48 billed monthly.) But this is fair value for what you're getting, and overall IONOS WP Pro is worth a look for business users or anyone with large or high-traffic sites.
If you're more interested in features than price, check out Bluehost's WP Pro plans (yes, they do have the same name). Speeds are good and they include more business-related tools, including SEO tools, and analytics to monitor website traffic.
But if cost is absolutely key, A2 Hosting's managed WordPress range offers top performance and lots of features from $23.99 billed monthly.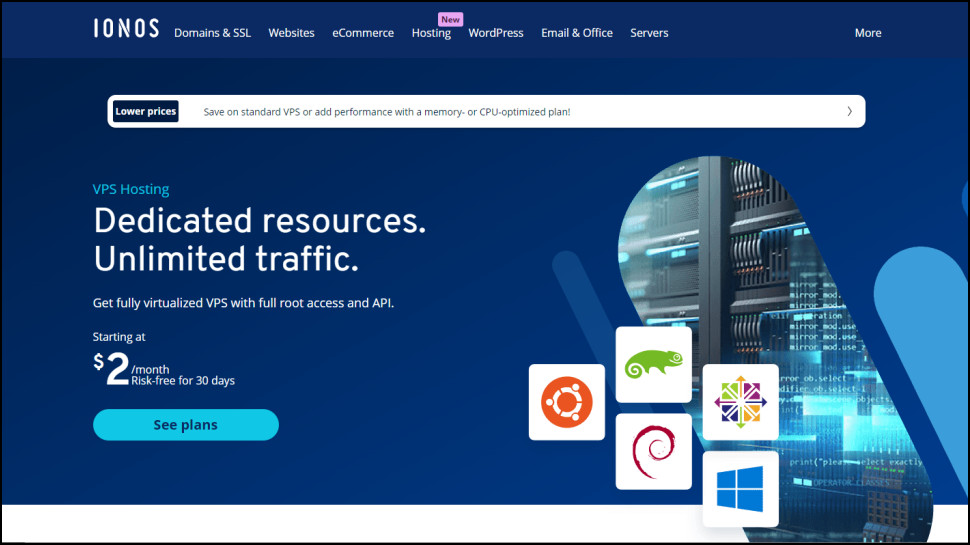 IONOS VPS hosting
VPS (Virtual Private Server) hosting improves on shared hosting by giving you more resources and ensuring only you get to use them, hugely improving performance. While shared hosting accounts can sometimes handle only ten to twenty thousand visits a month, a good VPS can cope with hundreds of thousands, maybe more.
IONOS has an impressive 13 VPS hosting plans, giving your far more choice than most. All plans include unlimited traffic, unlimited email accounts (up to your plan storage limit), free SSL, 24/7 support, the ability to host your VPS in the USA, UK, Germany or Spain, and a 99.99% uptime guarantee.
The plans start with a 1 CPU core, 512MB RAM and 10GB storage system for a tiny $2 a month. That's cheap, but so underpowered you can do barely anything with it. The most powerful plan has 8 cores, 24GB RAM and 240GB RAM, and it's good value at $24 a month for the first six months, $45 afterwards.
Unusually, most VPS plans can come with Windows, though get ready for a big leap in price: it'll cost an extra $10 per core. (That's due to Microsoft's licensing rules, though, so don't blame IONOS). These are quality products, and could work for anyone with a demanding, high-traffic or business-critical site. 
Consider Hostwinds, too. It has more powerful high-end plans for heavyweight projects (up to 16 cores); uptime is better at 99.9999%; there's a 1Gbps connection to the outside world, and it's cheaper in many configurations. Worth a look, especially for experienced users looking for more control.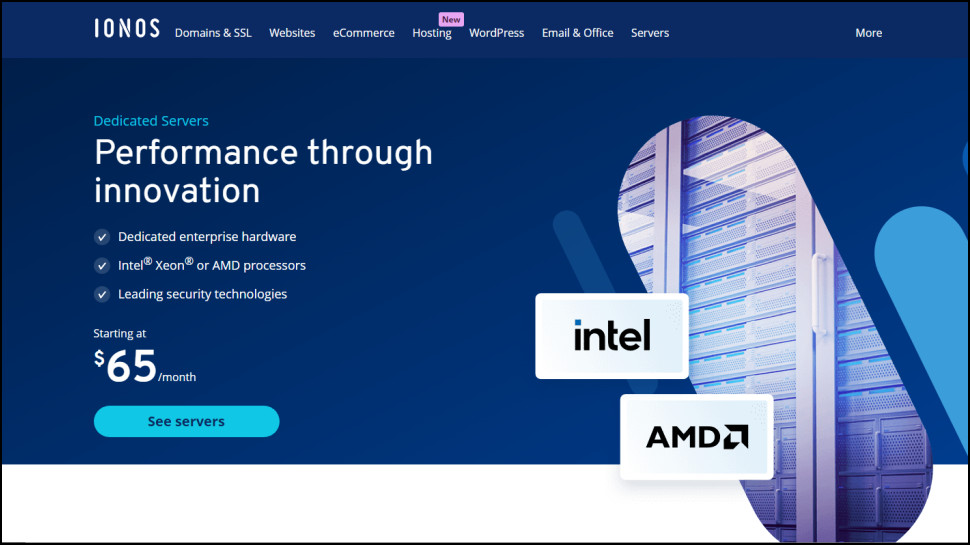 IONOS dedicated hosting
Dedicated hosting sits right at the top of the hosting tree. There's no sharing of RAM, network connection or anything else, because the entire server is yours. It's the perfect choice for serious high-traffic sites which not only need the best possible speeds, but they have to deliver all of the time (news sites, busy web stores, anywhere poor performance might hit your bottom line).
IONOS has only four dedicated server plans, far fewer than the specialist competition. All plans include a free domain, free SSL, malware scanning, Railgun CDN to accelerate speeds, and unlimited traffic. 
Prices start cheap at $65 billed monthly for an Intel Atom C2750, 8GB RAM, 240GB SSD plan. At the top of the range, an Intel Xeon E3-1270 V6 CPU, 64GB RAM, 800GB SSD server is $160 billed monthly. You can equip each server with regular hard drives (HDD) rather than solid-state drives (SSD), reducing speed a little, but raising capacity to a maximum of 2TB.
These plans are good value, and a decent choice for experienced business users who need speedy and reliable hosting, but are also on a tight budget.
If you're looking for more choice or power at the top end of the range, though, check out Hostwinds. As with VPS, it also starts cheap, but has many more plans, and has more configuration options, including support for Windows hosting.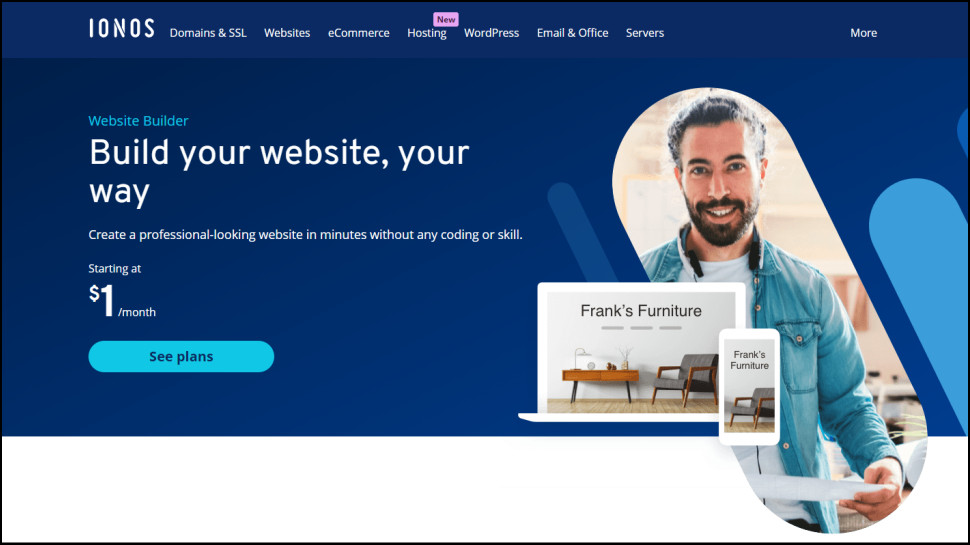 Does IONOS have a website builder? 
If you don't have a website, or much idea of how to get one, then a website builder is the simplest solution. Most come with a range of pre-built site designs called templates, and all you have to do is choose one you like, drag and drop elements you need on a page (text, images, maps, videos, contact forms), then customize the site with your own content.
IONOS has a simple website builder with free templates, a 17,000+ royalty-free image library, a free domain, a single email account (yes, just one) and free SSL.
The Starter plan is cheap at just $1 a month for year one, $5 on renewal. The Plus plan adds blog support and many more design and page options (photo galleries, social media support, integrating business apps such as bookings and reviews.) It's $5 a month for 12 months, $10 on renewal.
You can add a web store to all plans from no initial cost at all on the Starter plan (it's still $1 a month for the first year, $12 on renewal), to an extra $15 on the highest plan ($25 a month for six months, then $35). All plans give you payment and shipping support, and allow selling via Facebook and Instagram.
This is a useful product, but not outstanding. There aren't many templates, they're not great quality, the editor is basic, the starter plan is missing some basic abilities (no image slider, can't integrate social media Like/Follow buttons), and these days we expect more than just one email address per plan. But you can't beat the price, and if you'd like to build a small site or web store, just learn the basics, and you can live with its limitations, $1 a month for the Starter account is an exceptional deal.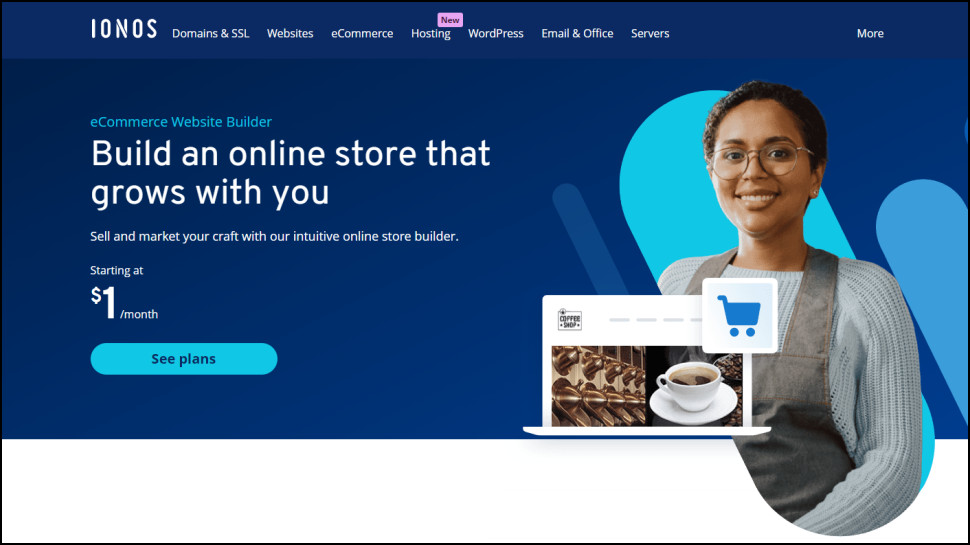 Can you build a web store with IONOS? 
As we're discussed above, IONOS' website builder supports building a web store with up to 10,000 products. But it's short on features and based on IONOS' slower-than-average shared hosting, making it best suited to small or low-traffic sites.
A separate eCommerce Builder adds more professional features. It allows you to sell digital products, supports favorites and wish lists, adds volume discounts, enables selling on Amazon and eBay, and more. The top plan is priced at $35 a month for the first six months of the annual plan, $50 afterwards. That's a better choice for larger stores, or if you've real ecommerce ambitions.
Other options include using popular platforms such as WooCommerce, PrestaShop or OpenCart to build your store. IONOS has simple shared hosting plans for each, priced from $0.50 a month in year one, $8 a month afterwards, or you can buy a VPS or dedicated hosting plan to get faster and more reliable performance. This might take more work, as you'll have to master something like WooCommerce largely on your own. These platforms are hugely capable, though, and have the power to build and manage the largest ecommerce projects.
This is a decent set of plans covering just every type of user, but there are still other options worth considering. HostGator's Gator and Hostinger's website builder support building basic web stores at minimal cost; Wix has better store templates and many more features, and Bluehost's WooCommerce plans include an array of business-friendly marketing and SEO extras.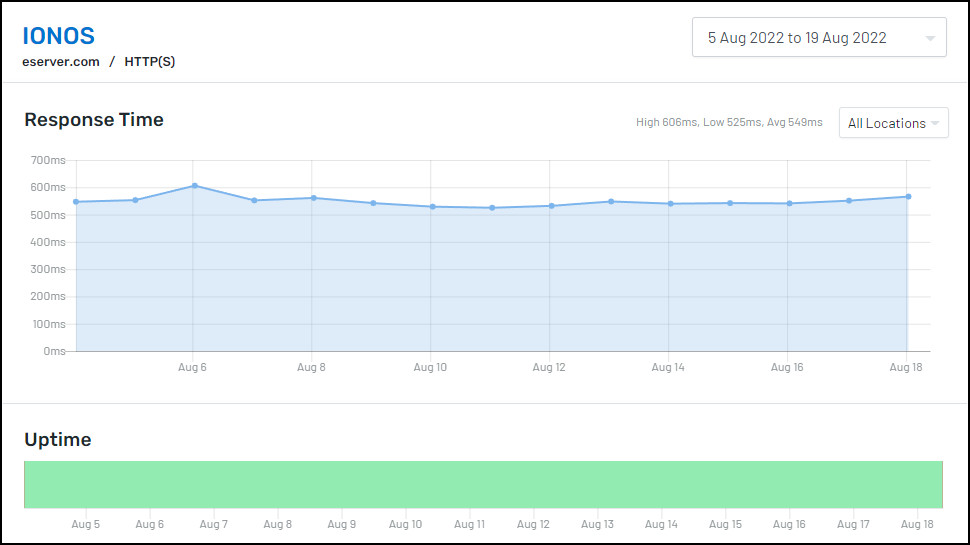 How fast is IONOS? 
Every web host promises lightning speeds, but do they really deliver? To find out, we sign up for a shared hosting plan, set up a simple website using a standard WordPress template, then use some of the best testing and monitoring services around to see exactly how it performs.
Uptime.com checks our site's availability by accessing a test page every five minutes for fourteen days. IONOS scored a perfect 100% uptime, meaning our site was available for every visit.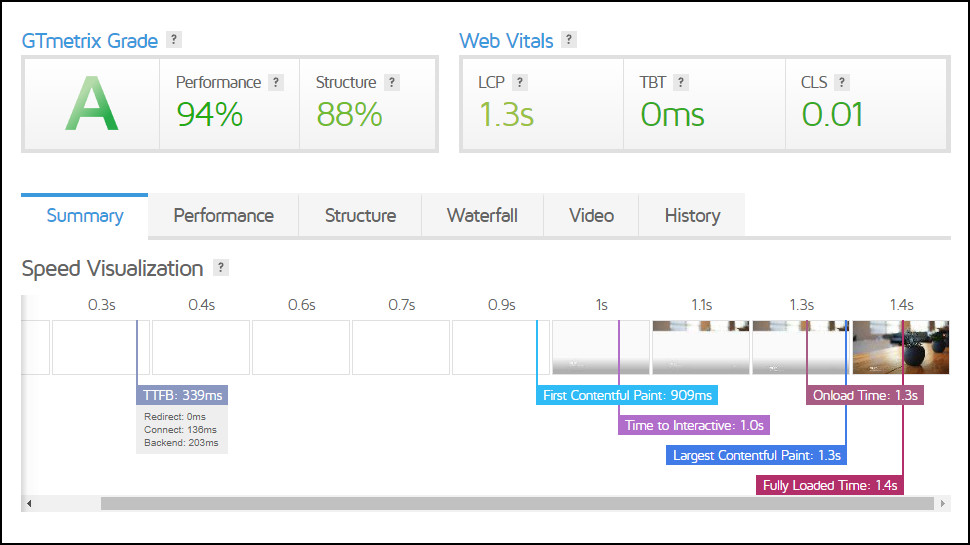 Next, GTmetrix accessed a test page and calculated how long it took to display the main content, a value technically known as Largest Contentful Paint, or LCP. The lower the LCP, the quicker your pages are likely to appear in the browser, and the happier your visitors are likely to be.
IONOS' LCP was a disappointing 1.3 seconds, placing it 13th out of our last 15 tests (most providers scored between 0.6 to 0.8 seconds). That's not a disaster - 1.3 seconds is still an acceptable time - but it's noticeably slower than many competitors.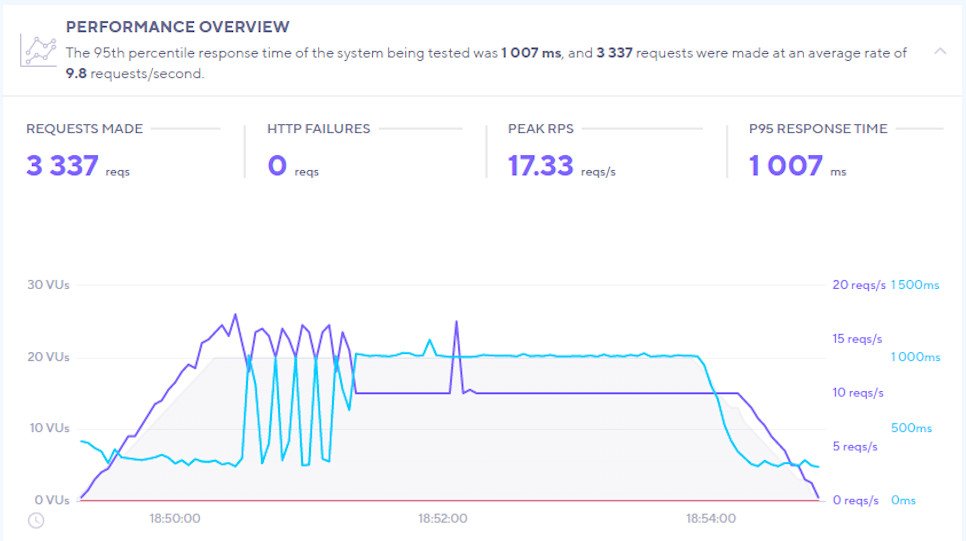 Measuring the best possible load times for a single user is important, but it's also useful to know how a site performs when it's really busy. We check for this by using the stress-testing service k6 to unleash 20 visitors simultaneously and monitor what happens.
IONOS scored poorly here, too, with our site averaging only 9.8 requests per second (most providers manage 14 to 16). If you've a low-traffic site and are unlikely to have 5 simultaneous users, let alone ten, that also might not matter very much. But again, it's a noticeably worse performance than many competitors.
(Please note, our results are based on the performance of the IONOS Business shared hosting plan. If you're opting for the Expert plan, VPS or dedicated hosting, you'll get far more system resources and may see very different speeds.)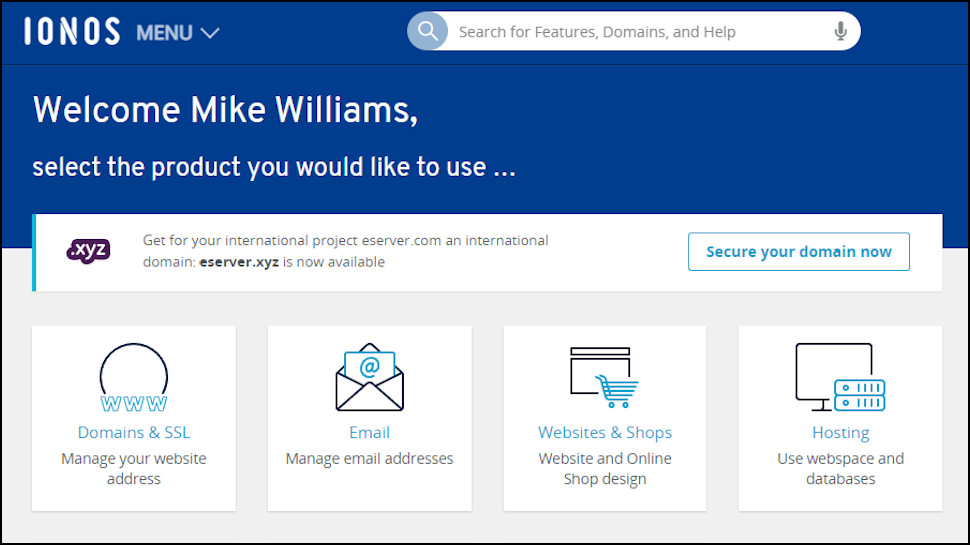 How easy is IONOS to use? 
Log into many web hosts and you'll find familiar industry-standard platforms: WHM to manage your accounts, cPanel for all your key website management tasks, Softaculous to reliably install and then manage WordPress. That's generally good news, partly because they're top quality tools (which is why they became industry standards), but also because if you've any experience of web hosting, you're likely to know how to use these already.
IONOS ditches all these in favor of its own custom control panels. That has some advantages (it probably saves a pile of cash in license fees, helping IONOS keep its prices low), but it also means even expert users will have to spend some time exploring the system to find the functions they need.
This isn't as easy as we'd like. Functions aren't always organized intuitively, and common tasks, such as logging into a WordPress site, took more time to locate than we expected.
IONOS' website search engine helps a little. Enter 'WordPress', say, and it doesn't just list top WordPress support articles. A 'Product and Actions' includes control panel tasks such as 'Install WordPress', and clicking these links takes you directly to that page. It's a good idea but doesn't quite work everywhere. We tried to find the right keywords to show a WordPress newbie how they could log into the dashboard, for instance, but never quite managed it.
If you're an experienced user who makes in-depth use of all kinds of low-level cPanel and other features, this could easily be an issue. Even once you've found the functions you need, there's no guarantee they'll deliver precisely the same results.
But if you're only after the hosting management basics - configure your domain, set up some email addresses, install WordPress - then this may not matter very much. Sure, it might take you a few extra minutes to master the control panel basics, but after that you'll use IONOS much like any other host.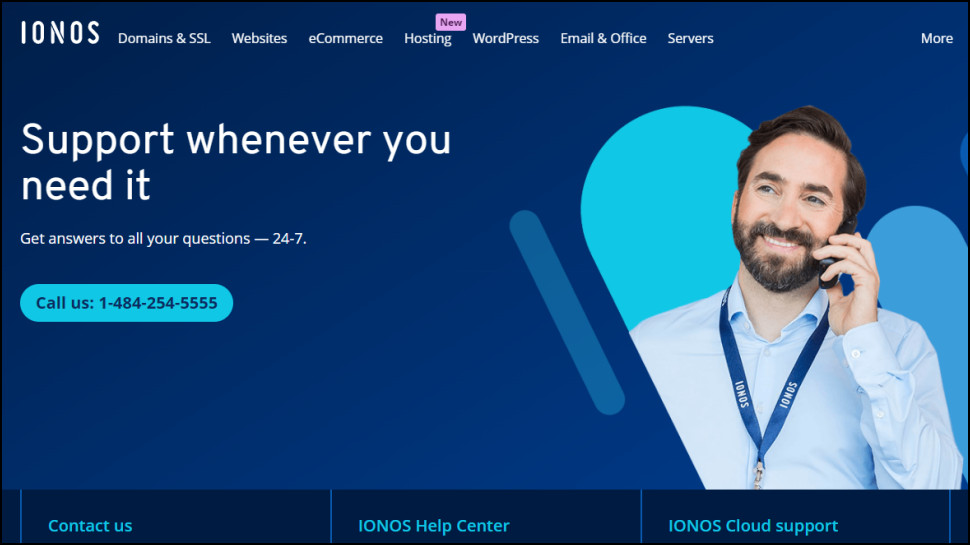 What is IONOS support like? 
IONOS offers support via its website knowledgebase, phone, live chat and email.
The support site has a huge number of articles, sensibly organized into categories such as WordPress, Email, Domains and SSL Certificates. Some of these articles are a little short, but there's a lot of valuable information here. 
Unusually, telephone support doesn't simply mean 'dial this international number and be left on hold wondering what this is going to cost.' You can book an appointment and have the company call you. 
When we tried this at 12:10pm, the site offered us 15 minutes slots from only 1pm, so you probably won't have long to wait. But if that's not convenient, you can book up to four days ahead from 8am to 8pm.
We set up an appointment, and sure enough, a call arrived within 30 seconds of our starting slot time. The agent listened carefully to our query about installing WordPress on subdomains, clearly explained what we needed to do, and sent us links with more advice via email. Impressive.
If you prefer live chat or email, they also work well, with speedy and accurate replies quickly pointing us in the right direction.
Final verdict
IONOS cuts a few corners with its shared hosting (no free migration, only one email account, below-par performance), but they're still great value. And if you need more, there's a wide range of WordPress plans, and the company has the VPS, dedicated and cloud hosting products to cater for everyone from enthusiastic amateurs to SMB and enterprise users. 
Sign up for 1&1 Ionos US deals here.
Sign up for 1&1 Ionos UK deals here.
---
IONOS FAQs
What payment types does IONOS support?
IONOS accepts payment by card and PayPal. 
Does IONOS offer refunds?
IONOS has a general 30-day money-back period covering most hosting products and a handful of other services (check the small print for the precise details).
Domains, SSL certificates, cloud and bare metal servers are not included.
Does IONOS have an uptime guarantee?
IONOS has a 99.99% uptime guarantee for its hosted web pages. If the company doesn't hit the target, you can claim an account credit to match the real downtime (90 minutes downtime, your account is credited with the cost of 90 minutes hosting).
At first glance, that looks better than most providers, who only offer a 99.9% uptime guarantee. But limiting compensation to the actual downtime isn't as generous. The top-of-the-range shared hosting plan is $8 a month in the first year, for instance, or $0.263 a day. If your site is down for eight hours, that could be a disaster for you, but even IONOS admits responsibility, you'll get just $0.09. It's not even worth your time asking.
ScalaHosting 'only' offers a 99.9% guarantee, but if its uptime is less than 99% (that's only seven hours, 18 minutes and 17 seconds in a month) you'll qualify for a whole month. That's still not a huge amount, and it's best to have no downtime at all, but we like the principle: if the service doesn't hit a certain standard, you effectively get it for free.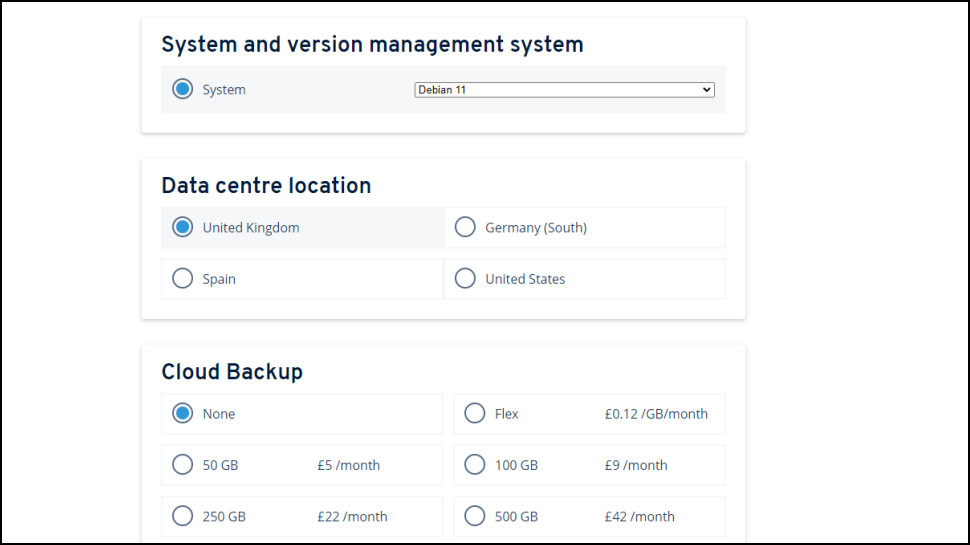 Where are IONOS's data centers?
IONOS has ten data centers located in the USA, Germany, UK and Spain.
The company allows you to choose your preferred data center for some of its more high-end products. You can't pick a data center if you're buying regular shared hosting, for instance, but you do get the option with VPS plans.
What is my IONOS IP address?
Log into your IONOS control panel.
Click Domains and SSL, then find and click your domain in the list.
Click the DNS tab.
Scroll down and look for a record with the type A, the host name @ (or www) and the service 'Webhosting.'
Your website server's IP address is displayed in the Value column for that A record.
What are IONOS's nameservers?
If you sign up for IONOS hosting but are using a domain managed elsewhere, you may need to find IONOS' nameservers to connect the domain to your hosting plan. Sounds complicated, but fortunately it only takes a few clicks.
Log into your IONOS control panel.
Click Domains and SSL, then find and click your domain in the list.
Click the Nameserver tab and the control panel displays the IONOS nameservers for your account.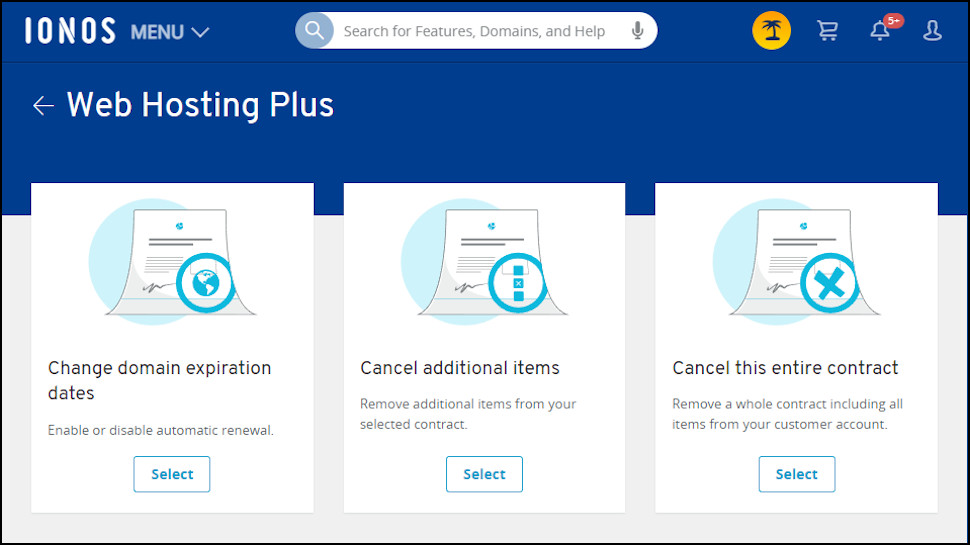 How do I cancel an IONOS product?
Log into the IONOS control panel.
Click the Account icon top-right, and select Contracts & Subscriptions.
Find the plan you'd like to cancel, click the gear icon to its right and choose Manage Contract.
Click 'Show Cancellation Options' and decide what you'd like to cancel: an entire contract, or specific add-ons only.
If you got a free domain with your plan and don't need it, select the 'Change domain expiration dates' option to disable automatic renewal.