Two-minute review
When DJI released the Mini 3 Pro in 2022, it felt like the company was turning its back on true beginner-friendly drone models. Sure, the Mini 3 Pro is small, highly portable, and sits within the regulator-friendly sub 250g category, but some of the features on offer—and indeed the price—are geared more for advanced users and professionals.
It made sense commercially that the Mini 3 Pro was launched first, but with the release of the Mini 3, beginner drone enthusiasts now have a more affordable option to consider. 
From the outside, DJI's two Mini 3 models look almost identical – the main difference is the absence of obstacle avoidance sensors on the Mini 3, which is one of the main limitations of this less expensive model.
DJI Mini 3 specs
Sensor: 12MP 1/1.3-inch CMOS sensor
Equivalent focal length: 24mm
Video: 4K up to 30fps, 2.7K at up to 60fps, FHD at up to 60fps
Stabilization: 3-axis mechanical gimbal
Collision avoidance: No
GPS: GPS, Glonass and Galileo
Flight Times: Up to 38 minutes
Maximum flight speed: 35.8mph
Size: 148×90×62 mm folded / 251×362×72 mm unfolded
Weight: 248g (with battery & microSD card)
Collision avoidance is incredibly useful whether you're an absolute beginner or an experienced pilot, but it is something you can live without. Neither the Mini 2 nor the original Mavic Mini had obstacle avoidance and both dominated the entry-level drone market. Other key downgrades include lower video specs, no 48MP photos and no subject tracking (Follow Me).
It's not surprising that the Mini 3's features have been pared back, but on the whole, it's still a high-quality portable drone capable of capturing photos and videos in both landscape and portrait format. 12MP photos can be captured in both raw and JPEG, while video can be captured at up to 4K and 30fps. And despite not having collision avoidance, you can still enjoy Quickshots automated flight patterns.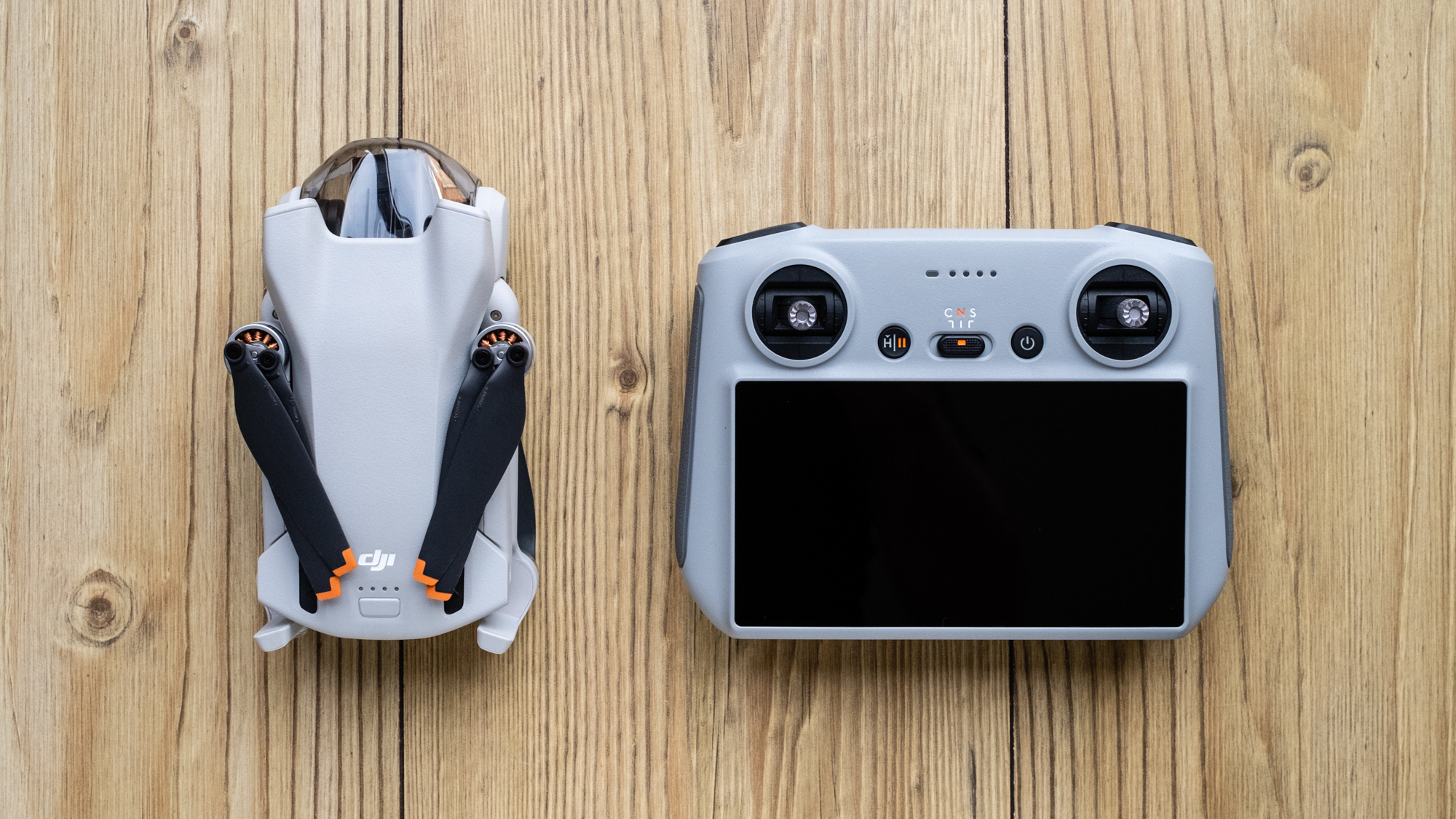 DJI Mini 3: release date and price
Released December 2022 
Available in five main kit options 
Basic RC-N1 kit costs just $559 | £519 | AU$829 
Touted as a less expensive and more basic version of the Mini 3 Pro, the DJI Mini 3 was both announced and released in December 2022. Since many of the main features are conserved between the two models, users can select the option that best suits their individual needs and, of course, their budget. 
The Mini 3 is available in five main kit options: drone only, for those who already own a compatible controller, which costs $469 | £439 | AU$699 ; the RC-N1 controller kit for $559 | £519 | AU$829; the DJI RC (smart controller) kit for $699 | £669 | AU$1019; the RC-N1 Fly More Combo at $718 | £678; and the DJI RC Fly More Combo for $858 | £828. In Australia, the Fly More Combo Plus bundle costs AU$1188 and add the remote controller to that bundle the costs is AU$1378. The bundles include two Intelligent Flight Batteries Plus (47 min max flight time), but these take the weight of the drone above 249g.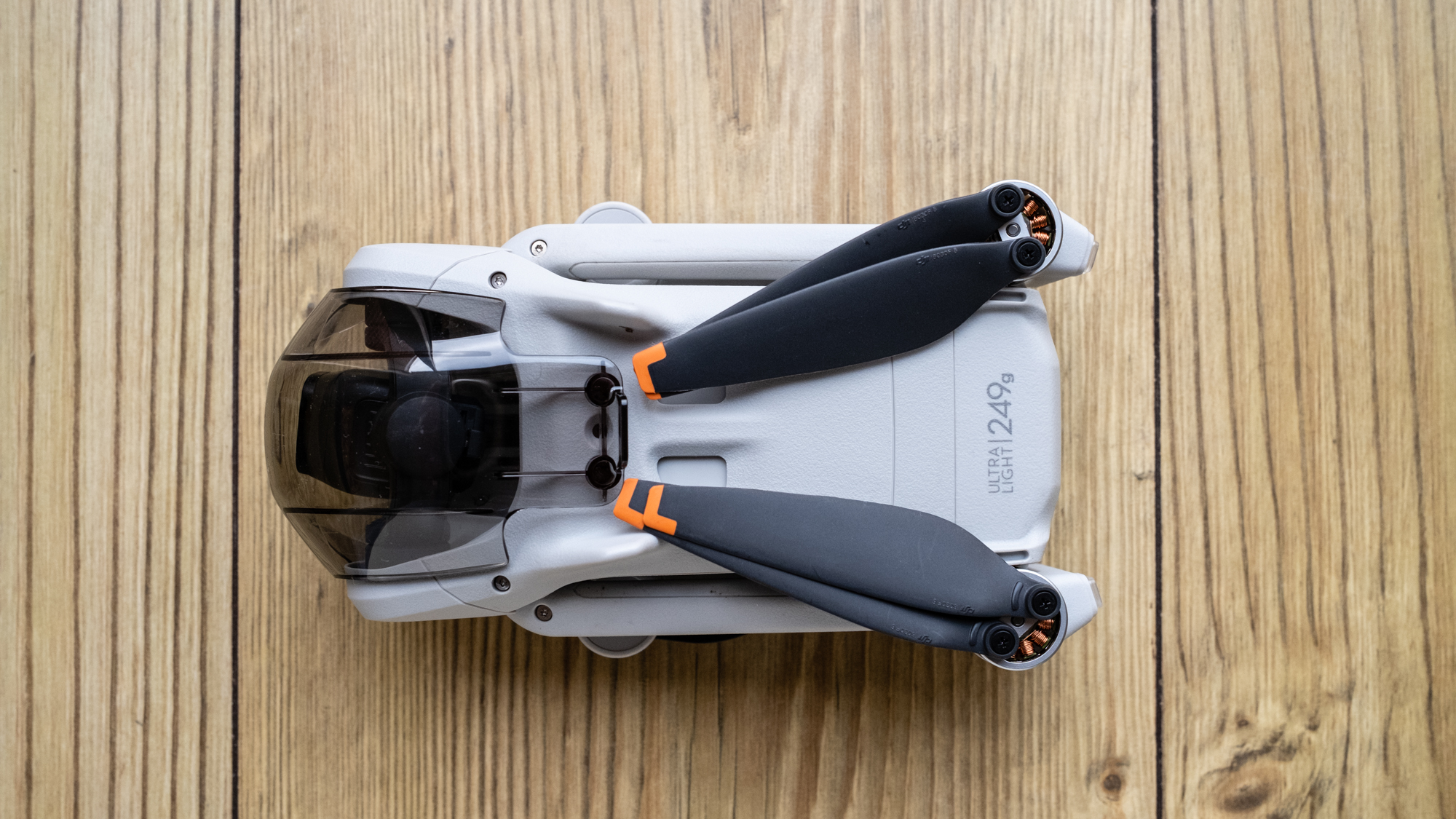 DJI Mini 3: Design and controller
Lightweight 249g folding design 
Two controller options 
Increased flight time over Mini 3 Pro
If you've seen the Mini 3 Pro, you already have a good idea of what the Mini 3 looks like since the two are nearly identical. The main visual difference is that the Mini 3 doesn't have collision avoidance sensors. But like all Mini models, the Mini 3 sports a folding design where the propeller arms fold in for convenient storage and transportation. Folded dimensions are 148×90×62 mm and unfolded are 251×362×72 mm, and the drone including battery and microSD card weighs just 248g. 
The Mini 3 offers a slightly longer flight time than the Mini 3 Pro using the same 2453mAh Intelligent Flight Battery. The maximum advertised flight time is 38 minutes compared to the Pro's 34 minutes, but taking into consideration environmental factors as well as the default charge level of 25% when Return to Home is initiated, flight time in reality is around 25 minutes. These numbers come from winter testing and we think flight times will improve during the warmer summer months.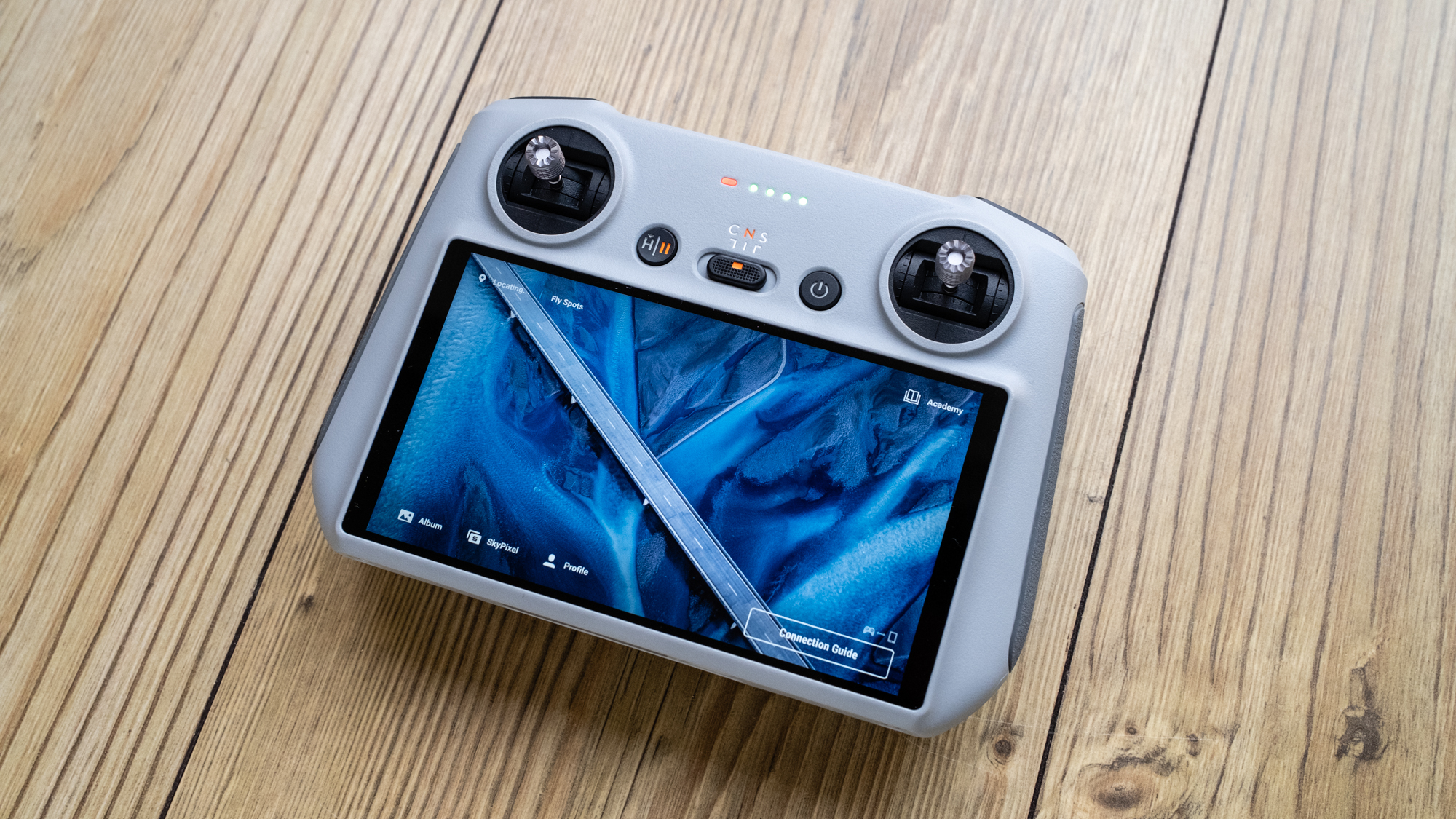 There are two controllers available and the less expensive option is the standard kit that comes with the DJI RC-N1. This is the same controller that you get with Mavic 3 models, Mavic Air 2S, Mavic Air 2, and the Mini 2. At the top, this controller has a phone holder where you can store the phone connector cable when not in use. 
The other controller option is the DJI RC Smart Controller, which features a 5.5-inch touchscreen with 700-NIT brightness. The DJI RC is faster to set up and much more convenient – plus the screen is clearer in sunlight than some mobile phone screens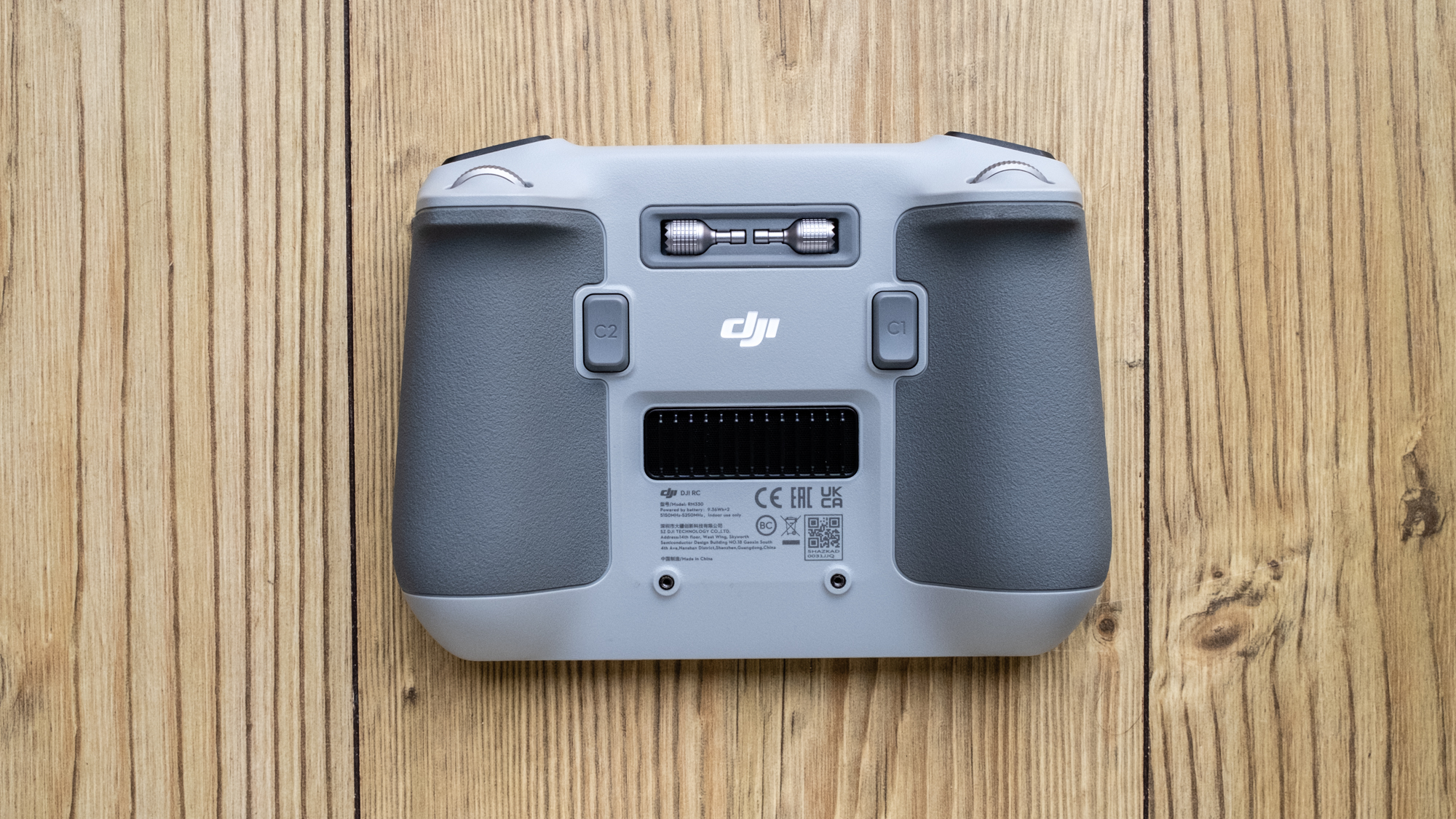 DJI Mini 3: Features and flight
12MP 1/1.3-inch sensor 
Level 5 wind resistance 
 Quickshots flight patterns 
DJI drones are well-known for their ease of use, and the Mini 3 is no exception. Set up is incredibly easy with controls providing a generally positive flight experience with no perceptible lag between input and execution. There are three main flight modes available: Cine, Normal and Sport. Cine is the slowest with reduced control sensitivity for capturing smoother video footage; Normal is the most commonly used mode; and Sport is the fastest of the three with a top speed of 35.8mph.
Wind resistance up to Level 5 (up to 24 mph) is as advertised, and the Mini 3 can fly in these conditions with the flight mode set to Sport. It's a small and lightweight drone, but nowhere near as powerful as a Mavic 3. Against 24 mph winds, it can drift, and controls become less responsive as the drone fights against wind gusts.
In terms of features, the main point of interest for most people will be the camera, which can be rotated 90° between landscape and portrait format. All photo and video functionality is available in both orientations. The camera houses a 12MP 1/1.3-inch sensor and provides a 24mm equivalent focal length alongside a fixed f/1.7 aperture with a focus range between 1m and infinity. Shooting modes include Single Shot, Timed, Auto Exposure Bracketing, Panorama Sphere, 180°, Wide Angle and HDR.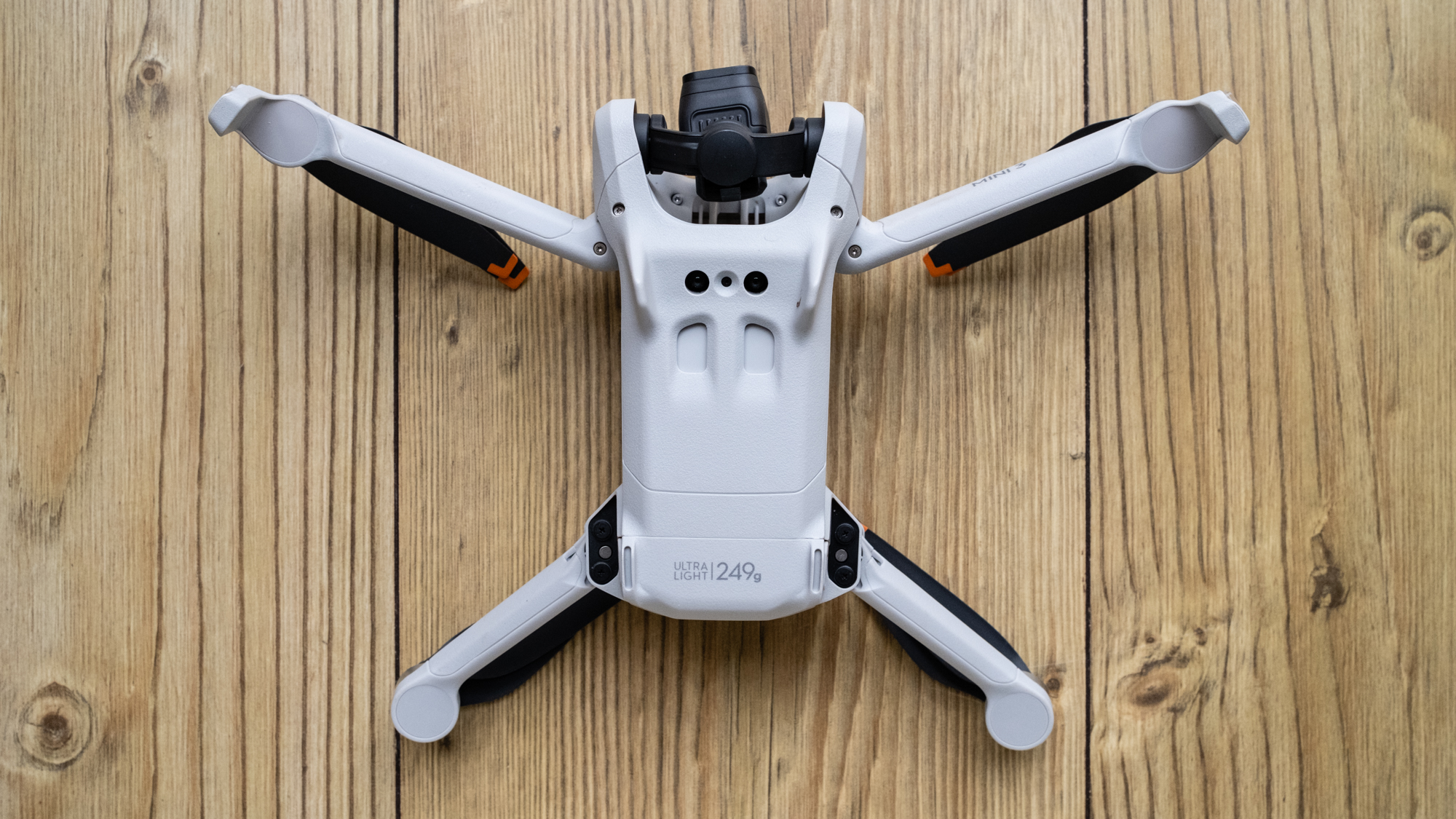 The camera is the same as the one on the Mini 3 Pro, but 48MP shooting in Raw and JPEG is not available on the Mini 3. However, you can easily increase the size of the 12MP Raw files using Adobe's Super Resolution in Lightroom and Adobe Camera Raw. When we tested the Mini 3 Pro, the in-camera interpolation of Raw files was pretty much identical to Adobe's Super Resolution, so despite the absence of the feature in the drone, you can still achieve similar results in post-production and essentially, the only cost is time.
A time-saving feature that beginners will welcome is the inclusion of Quickshots. These are automated flight patterns that allow you to capture interesting video footage with ease. There are five options available and all can be shot with the camera set horizontally or vertically. One thing to bear in mind here is that the Mini 3 doesn't have obstacle avoidance sensors, so you have to be sure that there are no obstacles nearby that the drone could potentially crash into while performing Quickshots.
Collision avoidance is a useful feature, but one that has been omitted, presumably to help reduce cost and differentiate the two Mini 3 models. There are downward vision sensors that help with hovering accuracy and work in tandem with GPS, Glonass and Galileo global satellite positioning. This keeps the drone in position as it is hovering when the controls are released. Then there are several Return to Home functions that automatically fly the drone back to the take-off point in various scenarios including when the battery is low and when the connection between the controller and drone is weak or dropped. Some RTH functions need to be initiated by the pilot, while others, like low battery RTH, are initiated by the drone.
Features and performance 4/5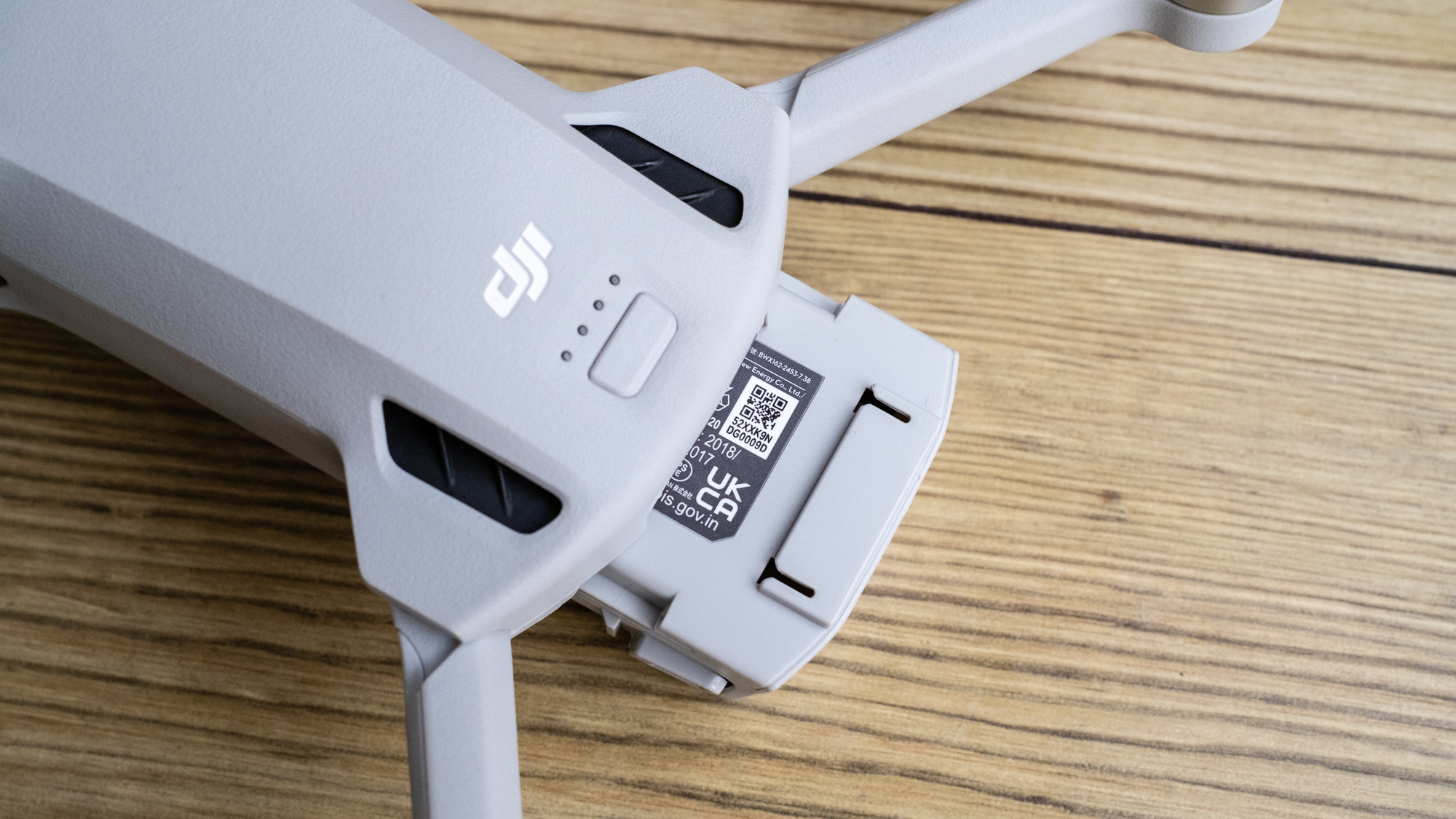 DJI Min 3: Image quality
Raw and JPEG photo capture 
Video up to 4K at 30fps 
Excellent image quality overall 
Overall image quality is excellent considering the small size of the camera and sensor, which is incidentally larger than the sensor used in the Mini 2. Images are sharpest in the center, with a drop-off in sharpness as you move towards the edges of the photo frame, but this isn't the same case for video footage. 
ISO handling is also excellent across the ISO 100-3200 range, with natural color present and little to no color or luminance noise visible. This is thanks to DJI's dual native ISO technology, first seen in the Mini 3 Pro, which helps these tiny drones to produce better image quality at higher ISO settings than some more expensive drones with larger sensors. So, combined with the fast f/1.7 aperture, 2.4 μm size pixels and DJI's chip-level HDR technology, photos and videos can be captured in low light conditions with fantastic results.
Image 1 of 4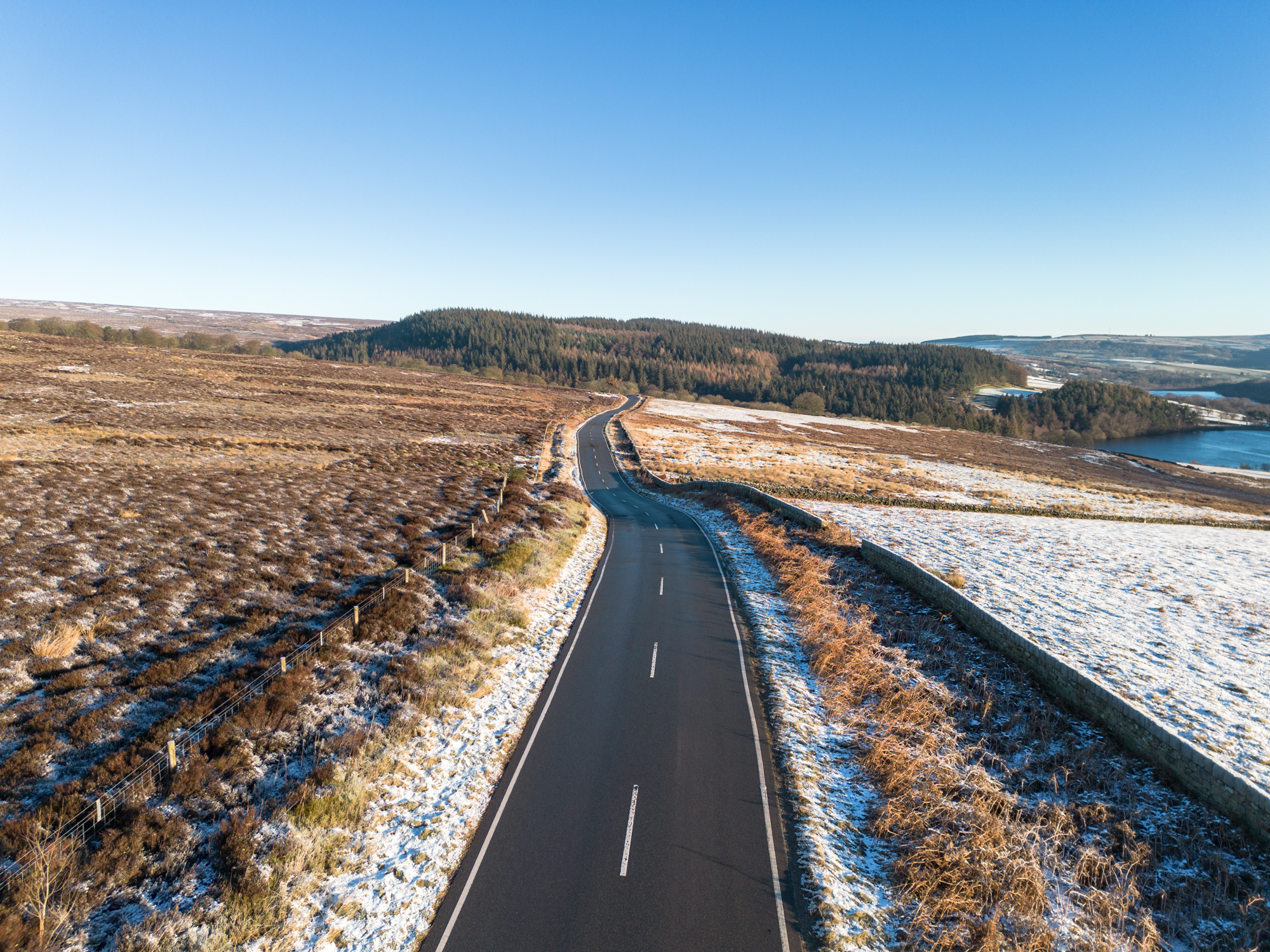 Image 2 of 4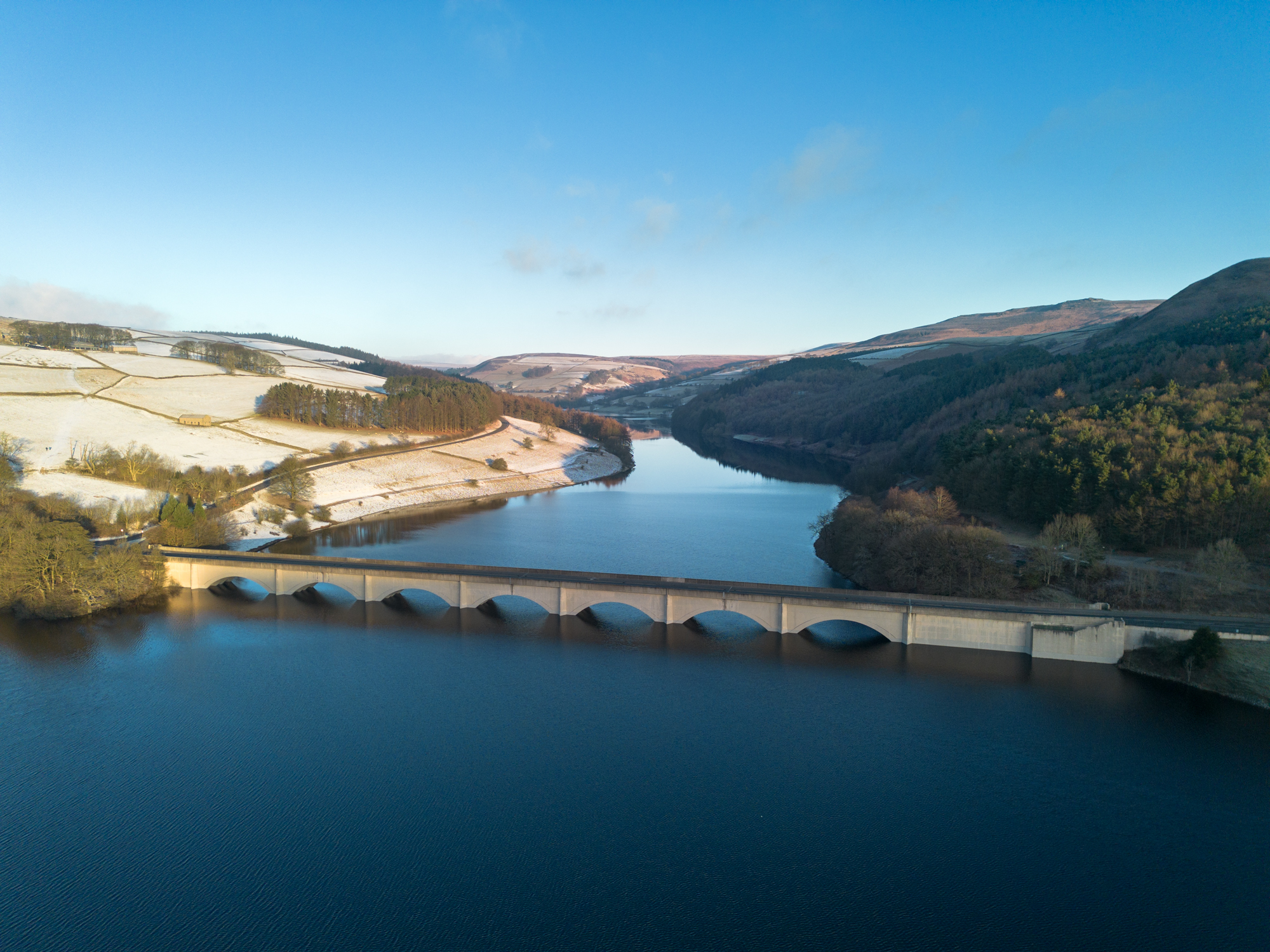 Image 3 of 4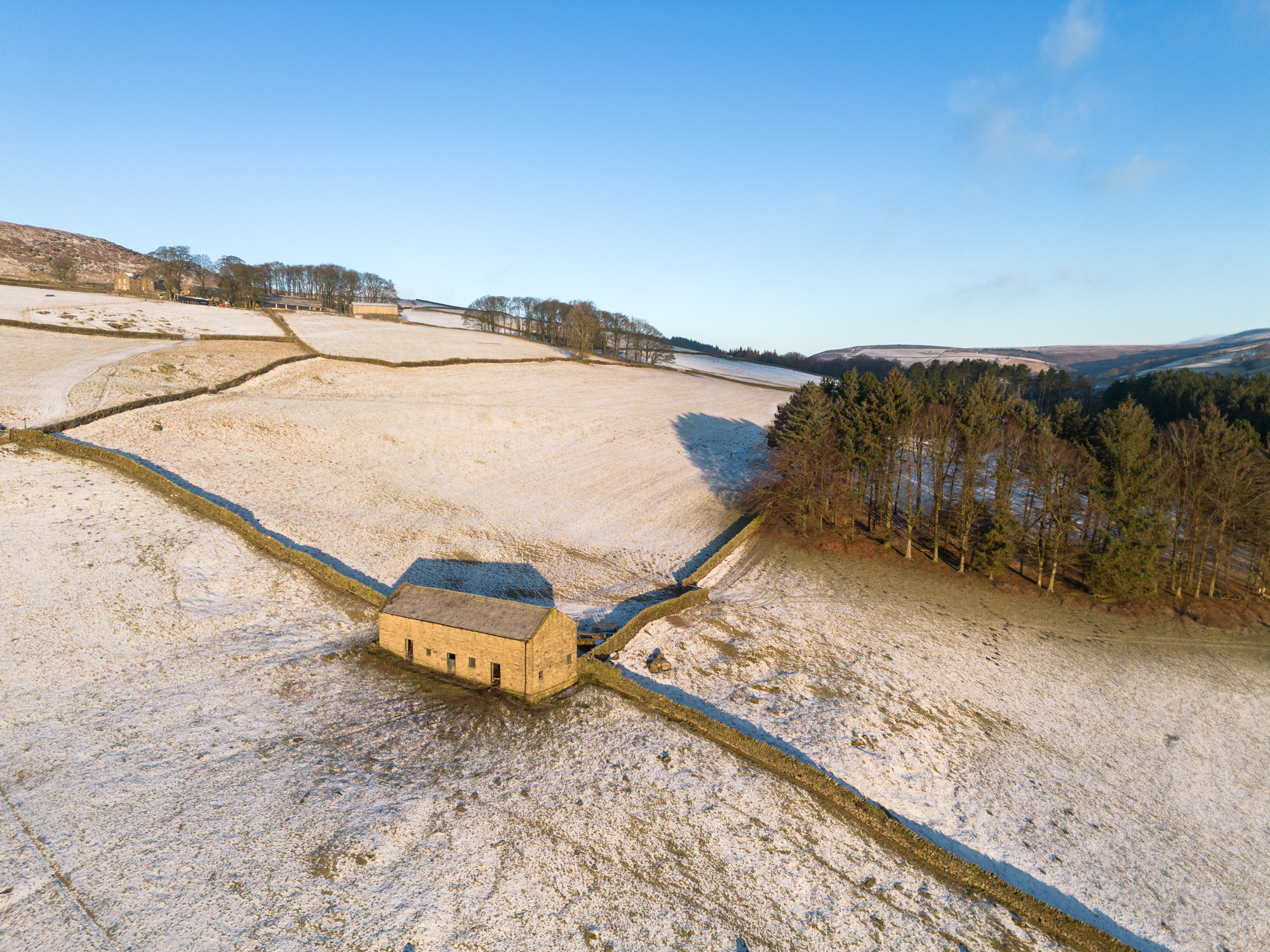 Image 4 of 4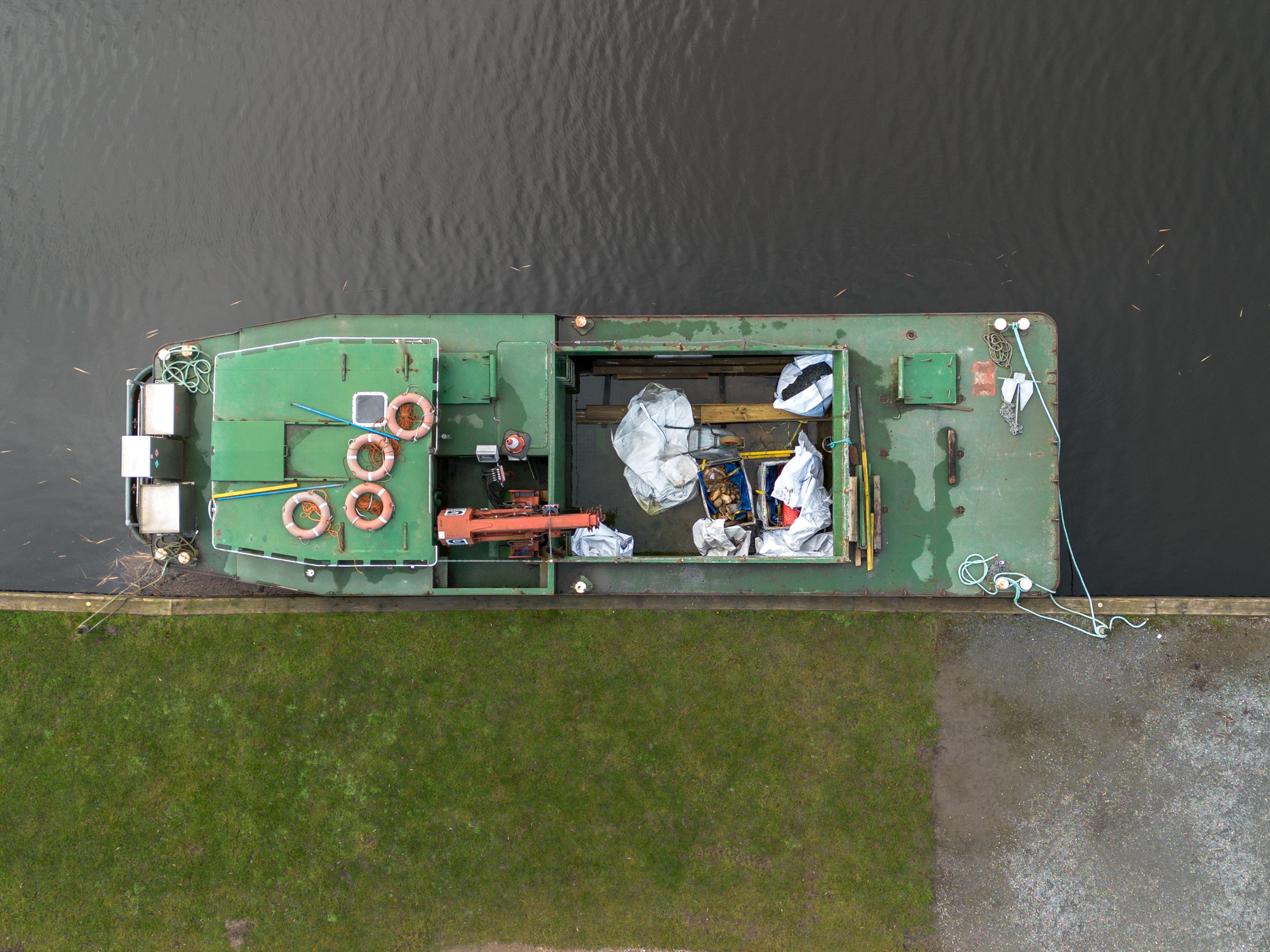 Photos can be captured in JPEG and raw, with the former providing decent results straight out of the camera, and the latter providing more advanced users increased editing control. Video is slightly more limited than with the Mini 3 Pro, but you can shoot in 4K at up to 30fps, 2.7K at up to 60fps, and FHD at up to 60fps. And when shooting at 24/25/30fps, HDR video is captured.
There's only one video profile option of Normal, with no Log profiles available, and the maximum video bitrate is 100Mbps – so not ideal for a professional workflow. Enthusiasts, however, may prefer the Normal profile anyway since this kind of footage is easier to handle than Log footage and doesn't require color grading.
If you intend to shoot video, even at a basic level, it's recommended that you use ND filters to achieve the correct shutter speed for natural-looking movement. An ND filter set is available separately from DJI and in a nutshell, the 180-degree rule for video suggests that the shutter speed used should be roughly double the frame rate of the video being captured. So, if you shoot at 30fps, the ideal shutter speed is 1/60 sec – easy. 
Image and video quality 4/5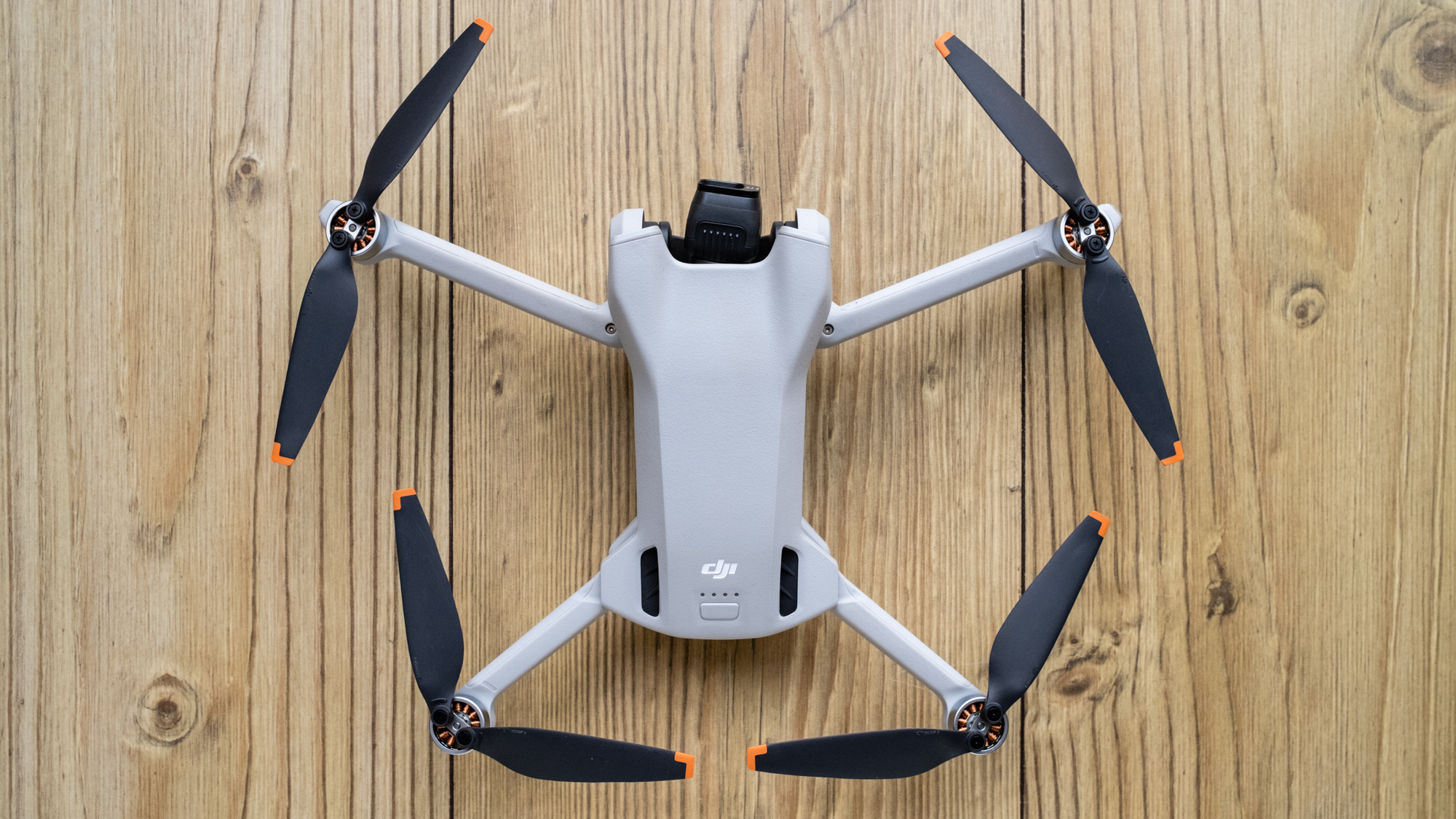 Should I buy the DJI Mini 3?
Buy it if...
Don't buy it if...
Also consider
If our DJI Mini 3 review has you wondering about alternatives, here are two rivals to consider:
DJI Mini 3: testing scorecard
First reviewed: January 2023