Alienware m17 R5: Two-minute review
Is AMD Advantage - the red team's moniker for machines using its Ryzen/Radeon combo rather than mixing and matching with Intel and Nvidia - truly the advantage its name suggests? That's the unavoidable premise of this Alienware M17 review, but we won't drag out the answer: it's yes.  
The fact is that, AMD focus or not, this is one heck of a gaming laptop. It is as smooth as butter covered in grease on a plate made of Teflon. That feeling could easily be attributed to its ludicrous 120Hz 4K screen, were its numbers are not so strong. As it stands, the all-AMD m17 can muscle through your games as well as any. 
As well it should, given the investment you'll need to make to get it going. At $2,350 (around £1,950 / AU$3,410), you're talking the same spend as a fully-kitted-out gaming desktop PC, one which comes with a clearer upgrade path. You can switch out the RAM and SSDs here - an extra chunk of storage would not be a bad idea - and we doubt the processing package is going to feel dated any time soon, but that restriction is always a consideration when shelling out on a premium laptop.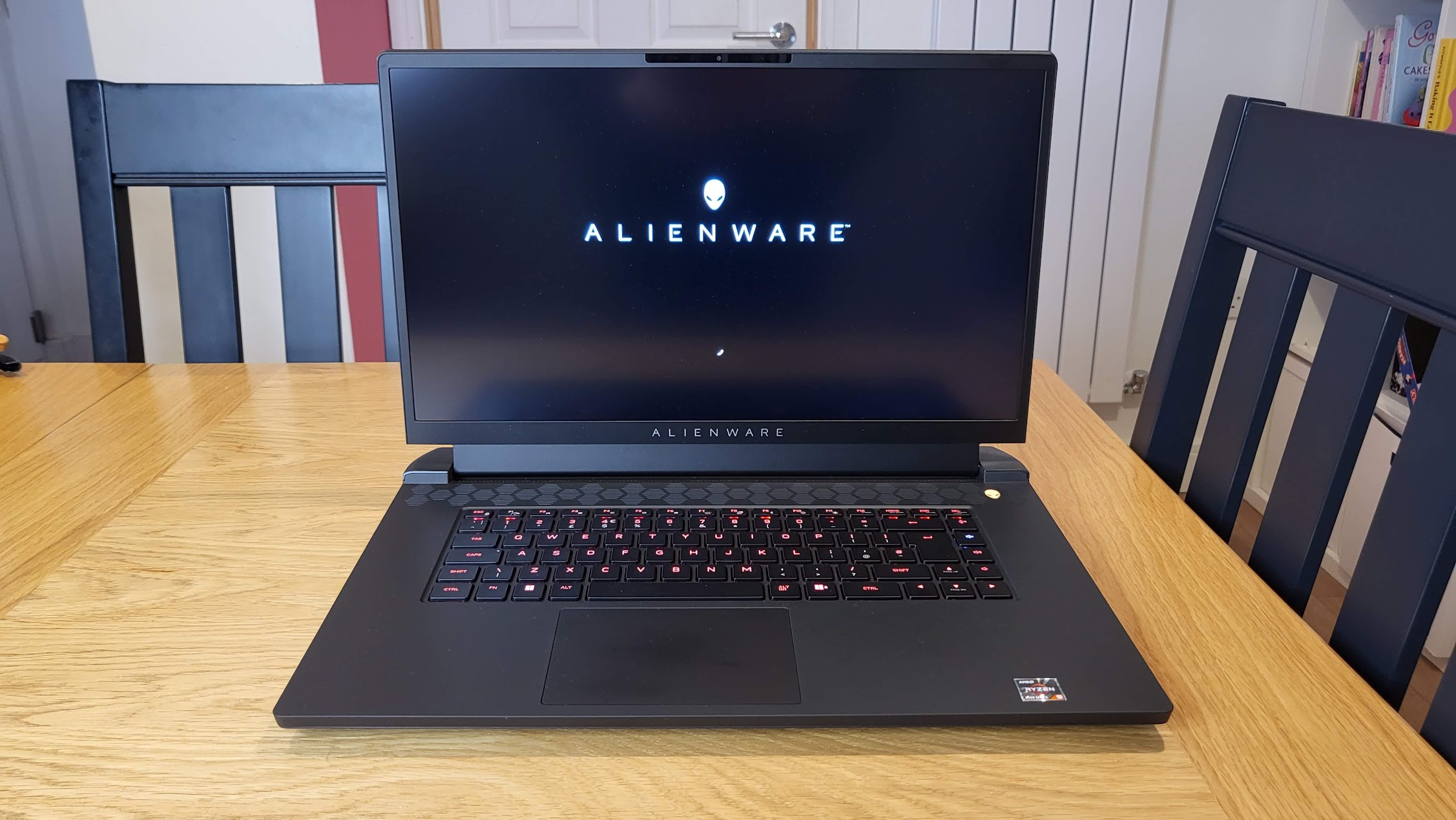 And this laptop really is premium. The chassis is an utter beauty, constructed not only with tough-enough materials and just the right amount of RGB lighting but with some very clever design touches. The sticky-out rear end gets rid of exhaust gasses, makes room for ports, and shoves the screen forward into your face; those ports which do make it onto the m17's flanks are the ones you need for peripherals, placed exactly where you'll want those peripherals attached.
The keyboard - not, on our review machine, the upgraded mechanical version but Dell's membrane board - is decent, holding its own in gaming and eschewing a not-really-needed number pad in favour of giving itself room to breathe and your fingers room to move. The trackpad, slightly off-centre, works just fine. Even the battery lasts longer than you'd expect.
And none of that matters, because this is a big expensive gaming machine, and this Alienware m17 AMD Advantage review is proof that AMD has gained back any ground it might have once lost against Nvidia in the graphics department. It does get noisy when you're pushing it, but the results speak for themselves.
Alienware m17 R5: Price and availability
AMD Advantage is a USA-only spin for now
Drop the specs if you're looking for savings
Alienware m17 R5 AMD Advantage: Spec Sheet
Here is the Alienware m17 R5 AMD Advantage configuration sent to TechRadar for review:
CPU: Octa-core AMD Ryzen 9 6900HX 3.3GHz (4.9GHz boost), 16 threads
Graphics: 12GB AMD Radeon RX 6850M XT (discrete), AMD Radeon 680M (integrated)
RAM: 32GB DDR5 @ 4800MHz
Screen: 17.3" 3840 x 2160, 120Hz, 3ms refresh
Storage: 1TB M.2 PCIe NVMe SSD
Optical drive: None
Ports: 3x Type-A USB 3.2 Gen 1 (one with PowerShare), 1x USB4 Type-C Port, audio combo jack, HDMI 2.1, RJ45 ethernet
Connectivity: MediaTek Wi-Fi 6 MT7921 2x2 and Bluetooth 5.2
Camera: 720p, 30fps RGB-IR webcam
Weight: 7.3 pounds (3.3 kg)
Size: 15.6 x 11.8 x 1.06 inches (39.7 x 29.9 x 2.7cm; W x D x H)
If you're not in the US, you're out of luck at the time of writing: Dell isn't offering the Alienware m17 R5 AMD Advantage spin in any other region. Specced as our review model is, it'll cost you a not insignificant $2,350 (around £1,950/AU$3,410) - though if you'd prefer to step down from a Ryzen 9 to a Ryzen 7 6800H (and take the forced downgrade to an RX6700M GPU) you can cut $300 from that amount. 
Further switching out for a 1080p screen (in delightful 360Hz form) and putting up with an entirely reasonable 16GB RAM and 512GB storage can bring the price down to an achievable $1,700. Ditching the AMD Advantage gimmick altogether and speccing down further to an RTX 3050 Ti and 165Hz FHD screen brings us to $1,250 - close to half of the price of our full-throttle example.
If you're in other regions, you can still get the Alienware m17 R5 in a whole host of specs. Dell's website is the place to go to find out exactly what each will cost - but AMD graphics aren't yet available.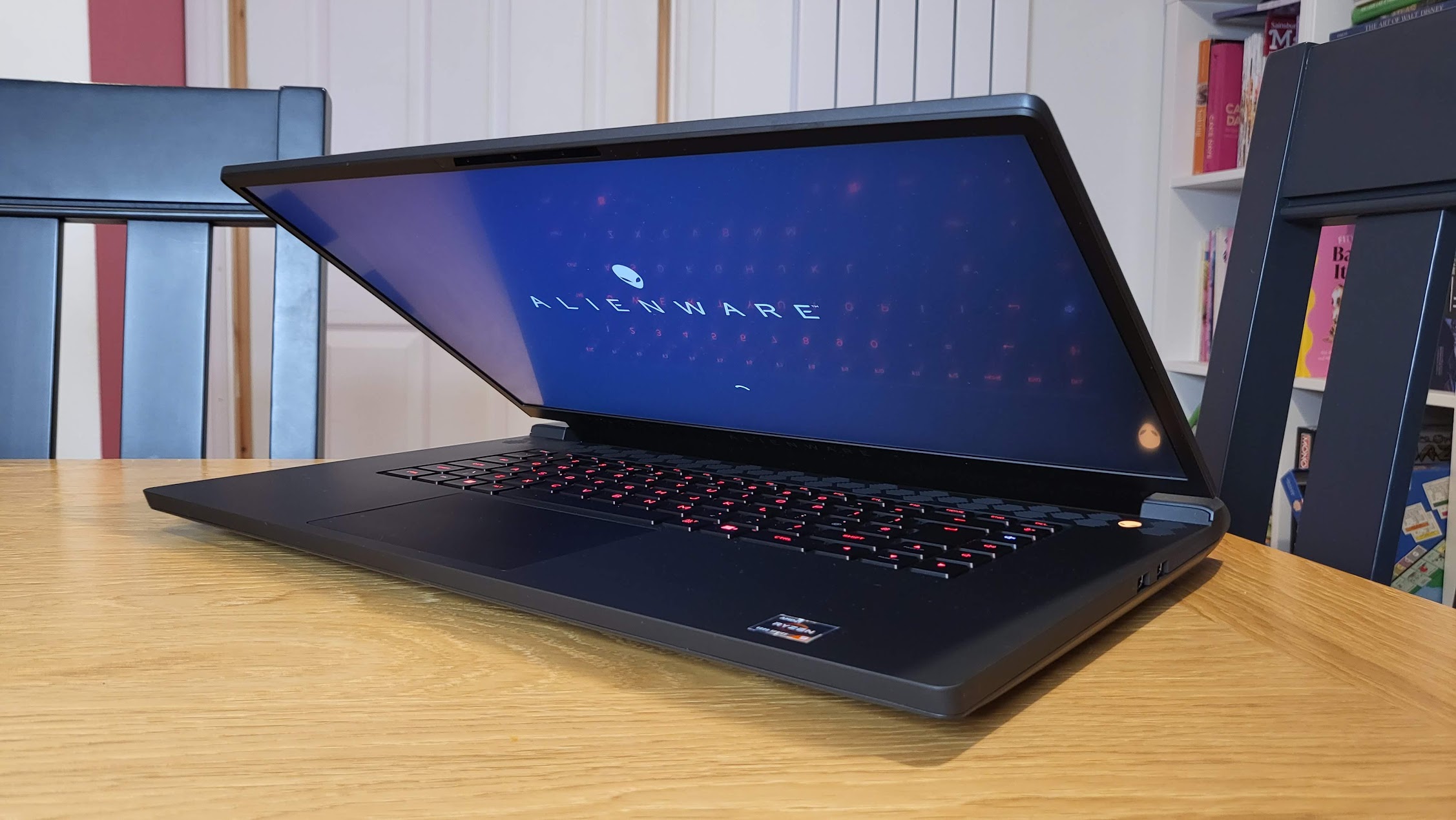 Alienware m17 R5: Design
Gorgeous, well-laid-out chassis
Clever cooling paths and port placement
Heavy - but worth it
Alienware's big-boy laptop shell - also seen, in slightly slimmer form, on the x17 line - remains possibly the sexiest laptop design on the market. That's a subjective assessment, one which assumes that you prefer curves, subtle hexagons and a noticeably rotund rear end over the harsh gamer angles of certain competitors. But we're sticking by our assessment: it's lovely.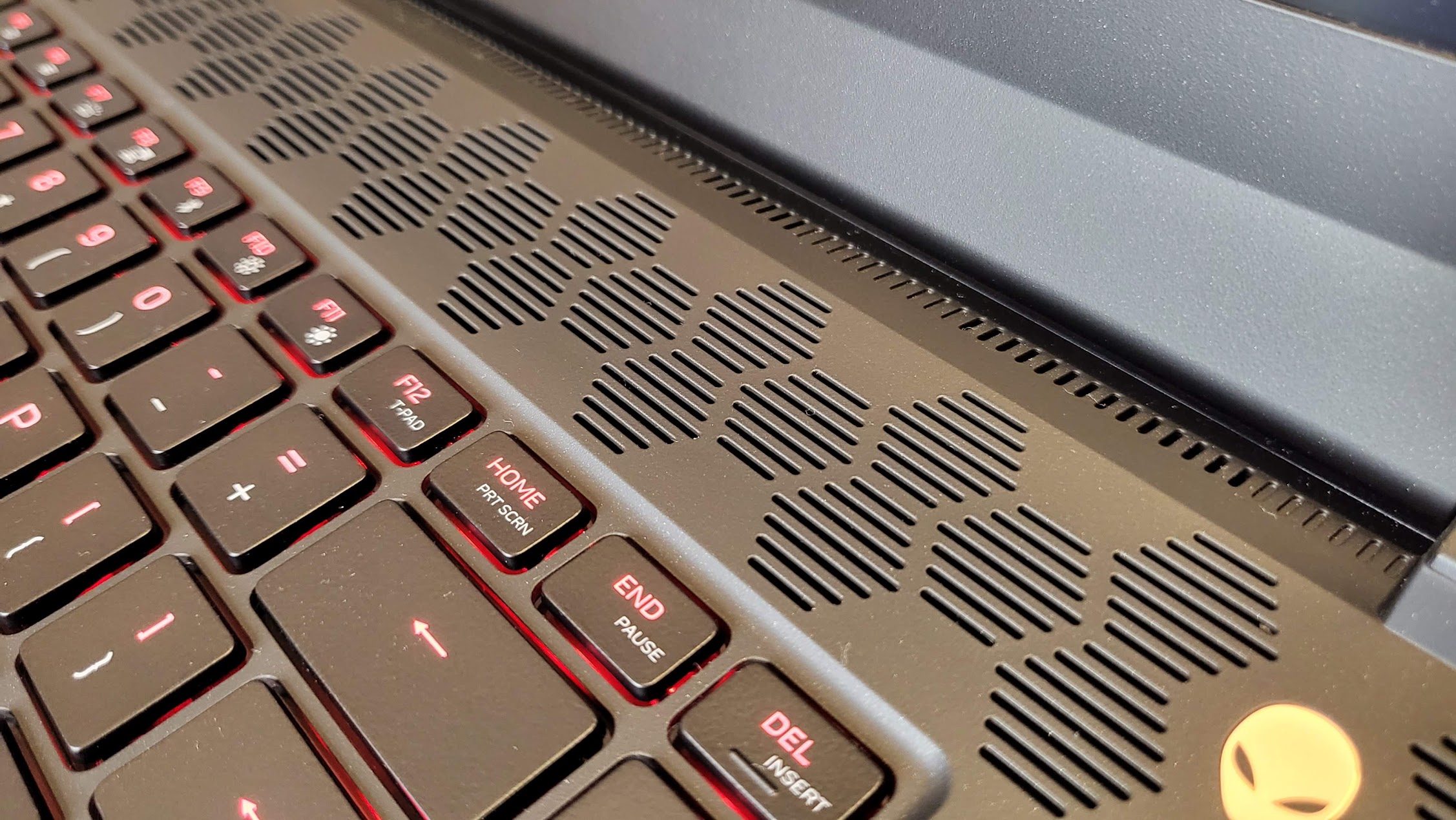 Practical, too. The junk in the m17's trunk is far from just an aesthetic touch. It pulls the screen forward around 3cm (1 3/16"), putting the action closer to your face, allowing the exhaust to leave peacefully, and leaving room for power, HDMI 2.1, and one each of Type-A and DisplayPort-compatible 10GBit/sec Type-C out of the way on the rear. The hexagonal intake grille offers the internals a huge amount of air without compromising the looks or rigidity of the base and gives the onboard Atmos audio every opportunity to shine. 
Image 1 of 3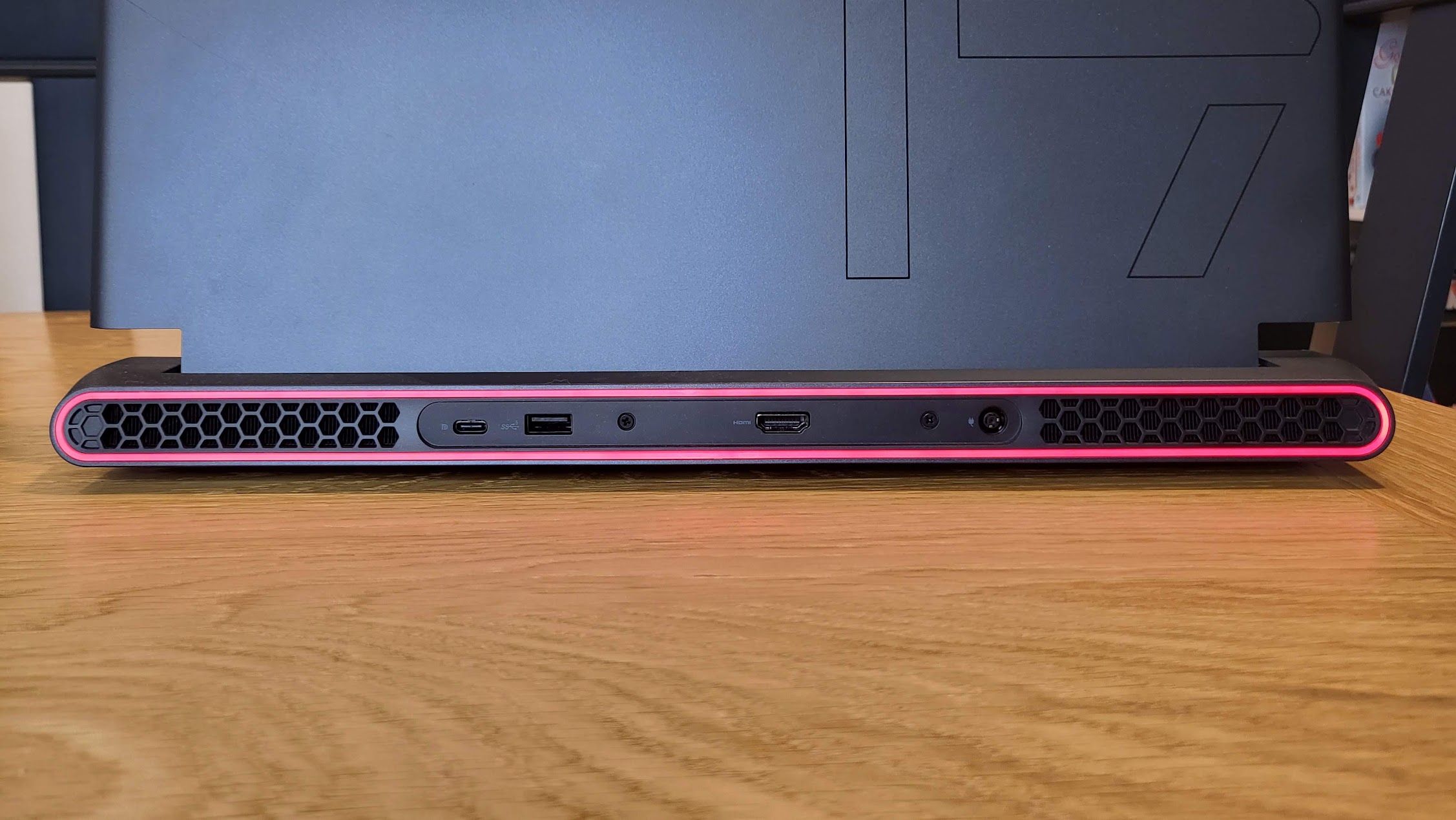 Image 2 of 3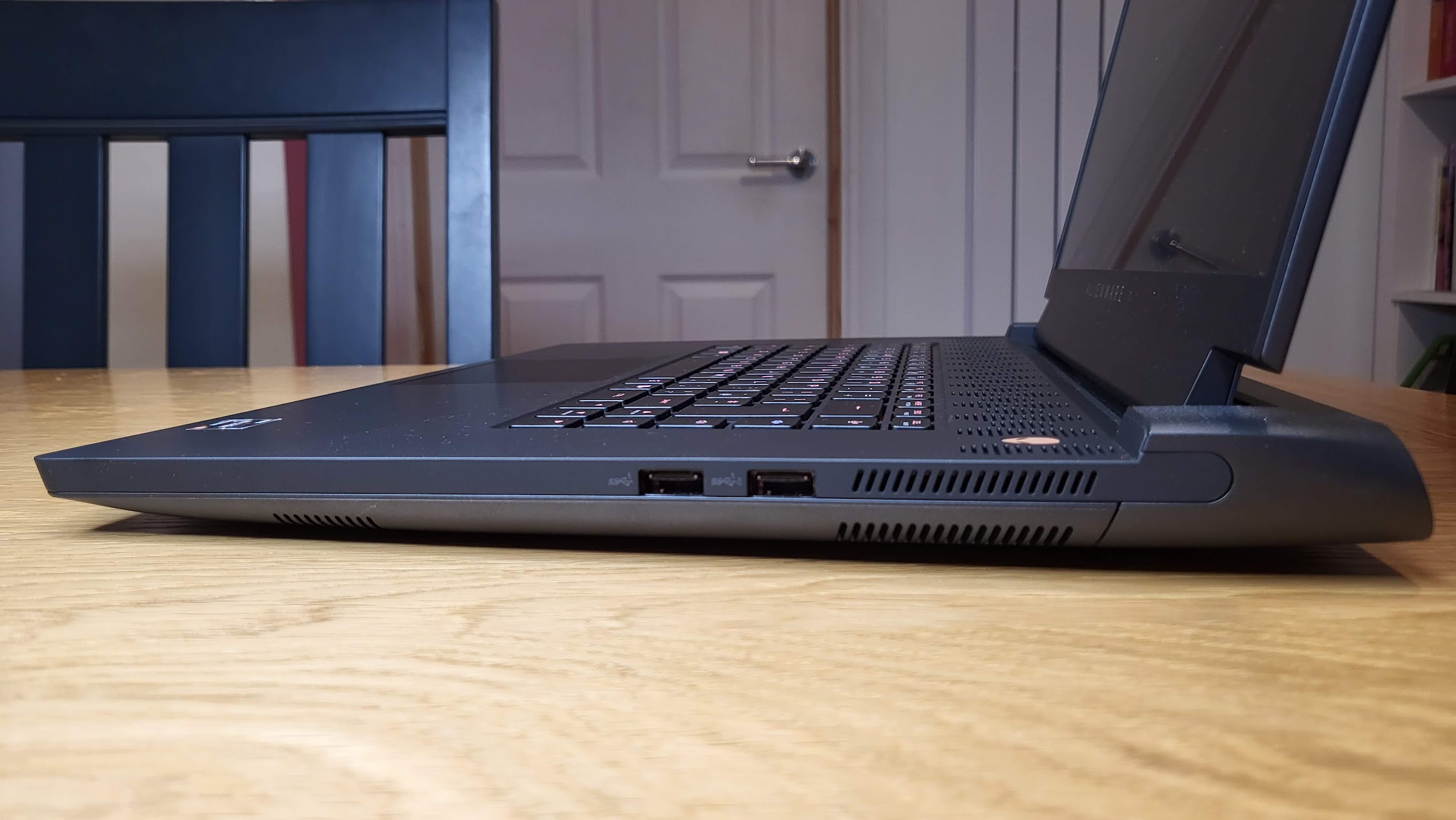 Image 3 of 3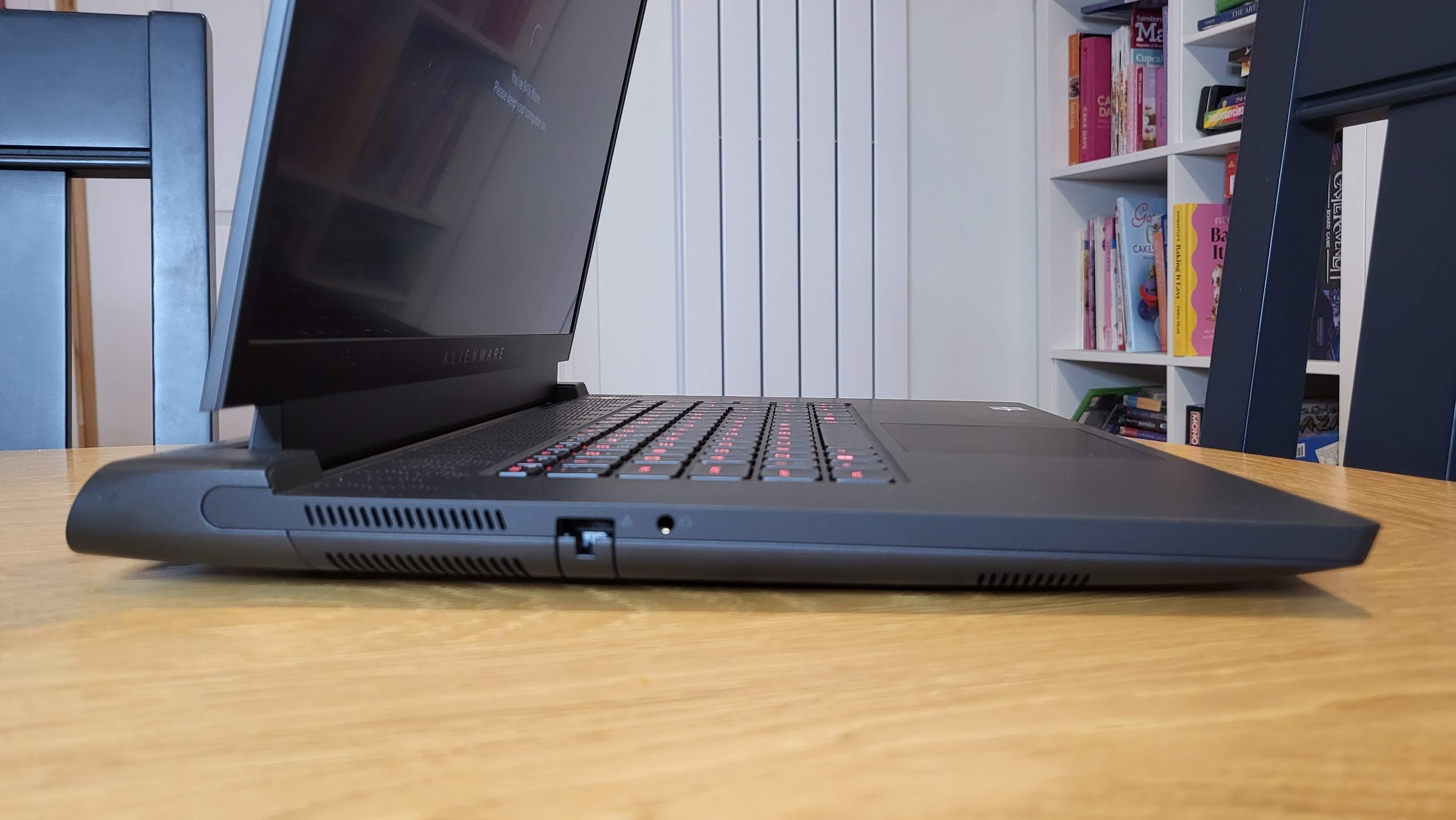 The Dell design genius doesn't stop there. The company's beloved central screen hinge is here and it's both plenty rigid and the perfect way to disguise what might otherwise be a fairly chunky chin. A scalloped-in base works to trick the eye into ignoring the understandably fat internal dimensions. Side ports are limited to a pair of Type-A sockets on the right - leaving lefties to trail a mouse cable around the back - and 2.5G Ethernet and audio on the left. It's not a setup that feels cumbersome or cluttered if you're gaming on a desk.
You may indeed be tempted to leave this firmly on a flat surface, given that it's on the weightier end of the laptop spectrum at 7.3lbs/3.3kg, though it's not necessarily as heavy as its bulk might suggest - nor as bulky as its hardcore internals could have led Alienware to make it. 
It's upgradeable, to an extent. Beneath the bottom panel are a pair of PCI-E SSD slots, and the DDR5 is supplied by a pair of SODIMMs rather than some soldered-on package. You could also switch out the wireless card if you want the extra bandwidth of Wi-fi 6E since this features the 2x2 MediaTek MT7921, which tops out at Wi-fi 6.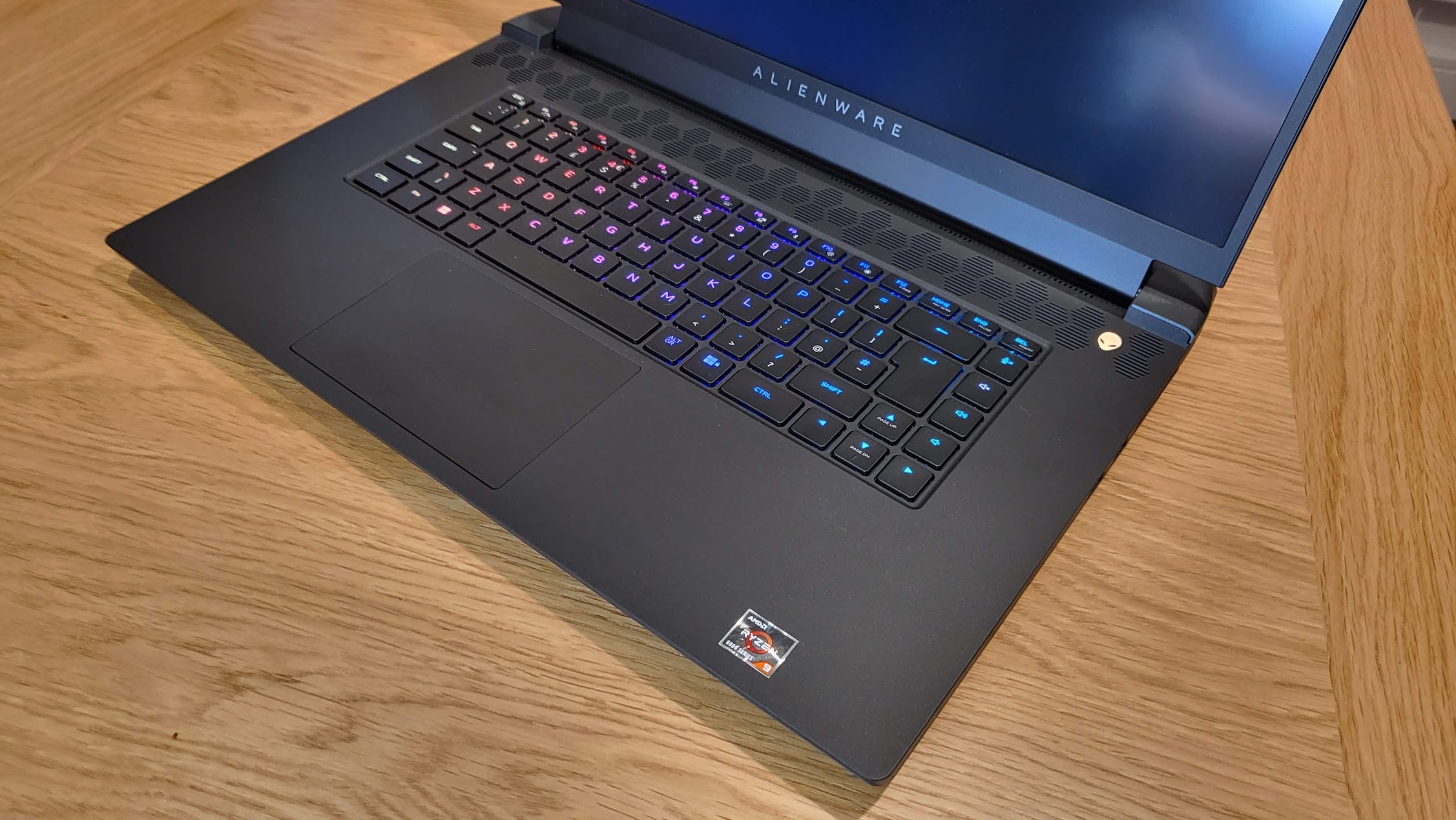 A note here on the lighting. Our review model of the Alienware m17 came with the middle-spec keyboard fitted, which offers per-key RGB - the lower spec offers a single zone, while the highest sports per-key lighting beneath Cherry MX switches for an extra fee. Aside from that - and the cute little Alienware logo - you're not bombarded with a focus-breaking light show at the front; the rear does illuminate, and we think that's enough.
Besides, the screen itself is plenty bold enough to scorch your retinas by itself. Dolby Vision support and a very generous 120Hz speed ensure that this 17.3" panel is as impressive as it is large.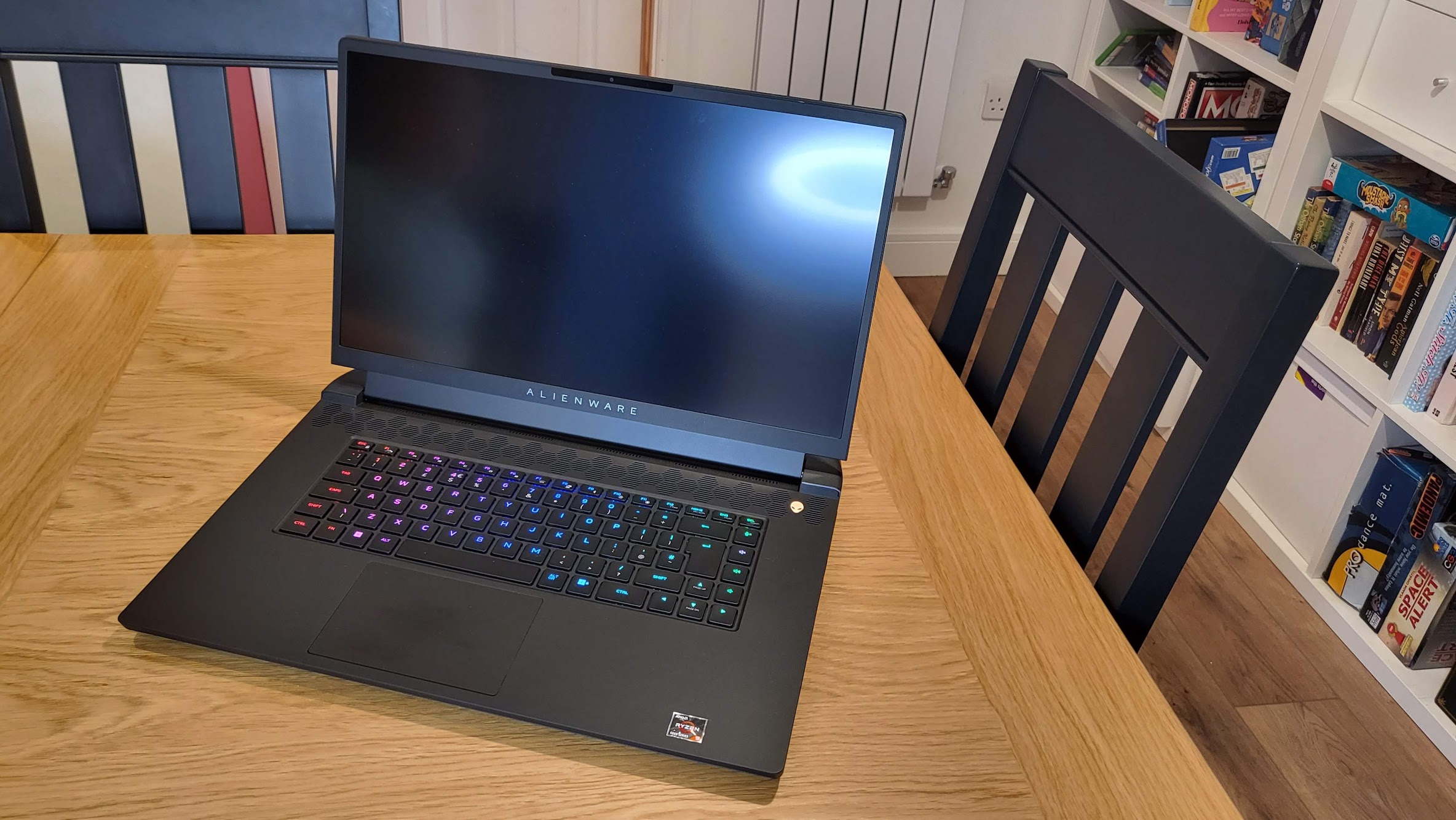 Alienware m17 R5: Performance
Slick gaming performance
Great feeling keyboard
Automatic APU/GPU switching is cool
Alienware m17 R5: Benchmarks
Here's how the Alienware m17 R5 AMD Advantage performed in our suite of benchmark tests:
3DMark: Night Raid: 57530; Fire Strike: 28132; Time Spy: 11788
Cinebench R20 Multi-core: 5056 points
GeekBench 5: 935 (single-core); 5811 (multi-core)
PCMark 10: 7013 points
Battery Life (TechRadar movie test): 6 hours and 27 minutes
Total War: Warhammer III (1080p, Ultra): 86.5 fps; (1080p, Low): 202.7 fps
Cyberpunk 2077 (1080p, Ultra): 42.4 fps; (1080p, Low): 43.1 fps
Dirt 5 (1080p, Ultra): 109.7 fps; (1080p, Low): 185.2 fps
For the money, you'd expect the Alienware m17 to offer barn-burning performance, and it doesn't disappoint. Our review model - mashing together AMD's outrageous octa-core Ryzen 9 6900HX and the company's up-and-coming 12GB Radeon RX 6850M XT GPU - slices merrily through almost everything, and its screen looks magnificent while doing it.
There's an 'almost' there, but we're not sure it's something we should critique this m17 for. Playing Cyberpunk 2077 felt smooth enough - its recent addition of FSR 2.1 support probably doesn't hurt - but its benchmark numbers didn't reach the kind of lofty heights we'd expect, hovering around 40-ish FPS no matter what settings we applied. We're going to paint that as an anomaly; Dirt 5 felt like it had unlimited frame overhead, and was smooth even when pushed to the extremes of the m7's resolution; Total War: Warhammer III proved a doddle.
Even without the luxury of the mechanical switch upgrade, the m17's keyboard is tight and deep enough to provide the kind of positive feedback that makes gaming good; the layout is entirely satisfactory and comfortable, to the point where we never even thought of reaching for an external keyboard. This fulfils the brief, and it's hard to pick any holes in it; if we must be critical, extreme situations can lead to an understandable and perhaps slightly excessive amount of fan noise, but the m17 is happy to calm itself down when doing desktop duties. 
Admittedly shuffling windows around seems like too trivial a task for a machine of this price and game-friendly specification, but you're going to be doing it so it's not entirely irrelevant. The trackpad is large and responsive with a good click, the screen, running at full 4K res, is a delight, and smart no-reset switching between APU and GPU is a neat touch which goes some way to saving battery, too. Sure, you can work on the Alienware m17, if you can bring yourself to.
Let's at least try to offer up the tiniest of nitpicks. Could the otherwise wasted space at the edges of the keyboard have accommodated a numerical pad? Yes, almost certainly - but given the m17's primary purpose we're glad the main keyboard layout wasn't compressed. Could the trackpad have been central? We're sure there's some reason that it's shifted slightly to the side, but it's close enough to the middle that it didn't bother us. Could the m17 have incorporated a better webcam? Again, yes: grainy 720p just doesn't cut it, although our review machine also incorporated an IR sensor for Windows Hello support.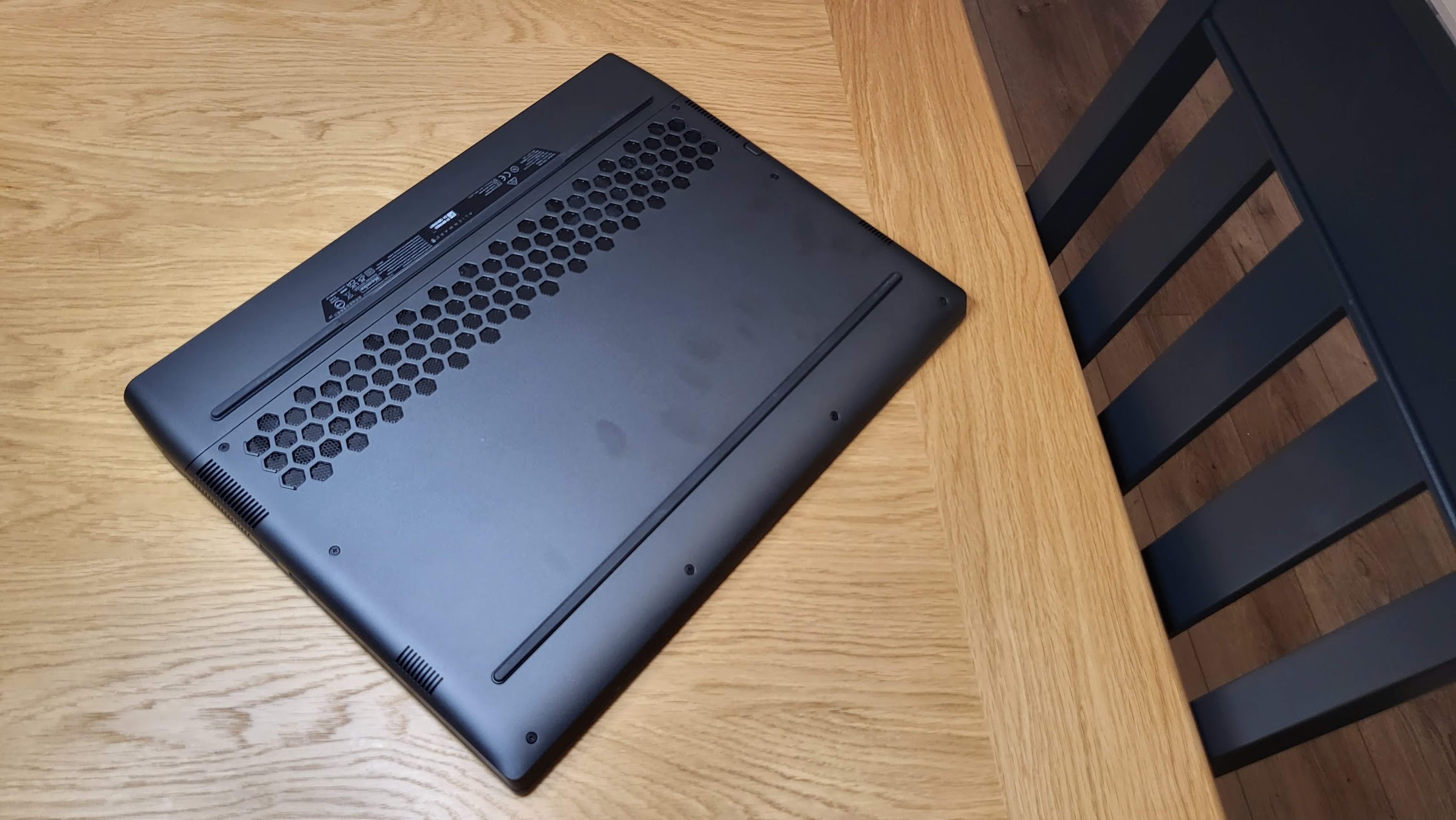 Alienware m17 R5: Battery life
Unspectacular longevity…
…but probably slightly better than you'd expect
Battery life assessment feels relatively irrelevant for a big hefty desktop replacement. We'd often come to this point in the review and make some kind of half-hearted apology for the machine in question, accepting that you're going to get three hours and like it.
This bucks the trend: six and a half hours in our movie-looping test was a big surprise, and while (clearly) you'll not get anywhere near that when stressing the GPU, this lasts long enough that it's not disappointing. Three hours of gaming isn't out of the question.
Battery life score: 3 / 5
Should you buy the Alienware m17 R5?
Buy it if...
You're a hardcore gamer
You'll have to be hardcore to reach as deep into your pocket as you'll need to, but this has both the looks and the performance to suit those who need the full experience on the move.
You'll appreciate a big, high-res screen
The higher-spec tiers of the Alienware m17 probably offer more pixels than your games truly need - but whatever the resolution, this is a bold, beautiful panel that refreshes fast.
You have a small desk
The ports of the Alienware m17 are brilliantly laid out - compact gaming is far easier without cables getting in the way. And who needs a bulky desktop and monitor combo when you have this?
Don't buy it if...
You value portability
You could sling this in a bag. You could. But we'd paint that as an occasional indulgence at best because although the m17 isn't over-heavy it's most at home in the home.
You're wary of AMD
To be clear, you shouldn't be. This package shows just what the red team can do. If you're dead set on an Nvidia card, though, a different spec of the m17 would suit you better.
You're concerned about your budget
This is no-compromises gaming, with a price tag to match. If you're willing to sacrifice just a little, you can spec this lower - or buy a completely different gaming-friendly laptop.
Alienware m17 R5: Also consider
If our Alienware m17 R5 AMD Advantage review has you considering other options, here are two laptops to consider...  
How we tested
We pride ourselves on our independence and our rigorous review-testing process, offering up long-term attention to the products we review and making sure our reviews are updated and maintained - regardless of when a device was released, if you can still buy it, it's on our radar.
First reviewed March 2023