Samsung S90C: Two-minute review
Despite some pre-launch mystery about how the Samsung S90C QD-OLED model would differentiate itself from the more expensive Samsung S95C QD-OLED model, it turns out the cheaper option has absolutely nothing to be shy about.
The Samsung S90C sets your pulse racing right away by boasting an insanely thin panel design, at least at its edges. It gets chunkier in its mid section, due to it not shipping with the external connections box the S95C gets, but I still think some people will actually prefer the cheaper model's design overall.
Its connectivity impressively supports full 4K 120Hz and variable refresh rate gaming graphics across all four of its HDMIs, while its smart TV system carries all the streaming services anyone could want. The smart interface still feels convoluted to use, though, despite some refinements from its 2022 appearance.
It's clear as soon as you start watching it that the S90C is not as bright as the S95C models at the same size. In fact, it's around 20% less bright, comparing our measurements here to what we saw in our Samsung S95C review. Once you've got to grips with that, though, you start to realise that this is pretty much the only way its pictures fall short of those of its more expensive sibling. In fact, I can imagine some home theater fans perhaps preferring the S90Cs slightly gentler but arguably more consistent-feeling images, assuming you have control of the ambient light. And it's still brighter than almost all the other best OLED TVs, including big hitters such as the LG C3.
We tested the 55-inch version of the S95C, and note that while it comes in 65-inch and 77-inch versions that are also QD-OLED, it actually uses WOLED technology (aka, 'regular' OLED, of the kind of you find in the LG C3 or Sony A80L) rather than QD-OLED for the 83-inch version – so you shouldn't take this review as representative of the 83-inch version's performance. That model will almost certainly be much less bright.
While the S90C's sound is more unequivocally a step down from that of the S95C models, finally, it's still a healthy improvement on the sound quality of its 2022 QD-OLED predecessor, the Samsung S95B. And better, again, than most mid-range TVs – though the Sony A80L is a strong competitor there.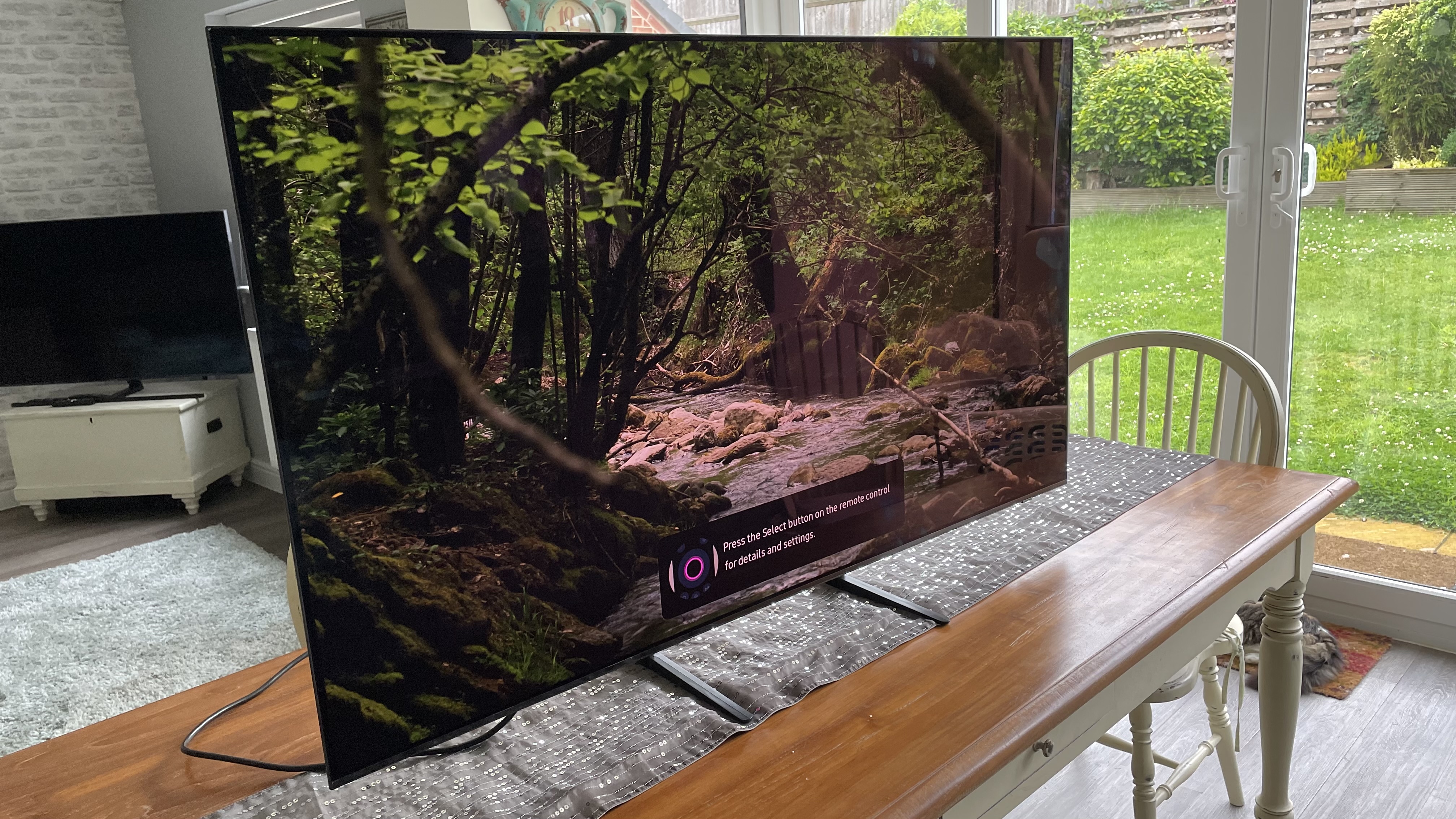 Samsung S90C review: Price & release date
Release date: May 2023
Officially priced from: $1,899 / £1,999 / AU$3,299
The Samsung S90C is specifically designed to offer a more affordable route into Samsung's exciting new QD-OLED TV technology – so its price really matters. At the time of writing, the 55-inch version we tested is available for £1,799 in the UK, $1,599 in the US and $3,299 in Australia – prices that make it majorly cheaper than the S95C, with enough left over for a very nice soundbar. I'll talk more about its value later, but on principle those savings look substantial enough to, as billed, make the S90C a potential option for a whole different market to the S95C – especially because, as you can see, it's available for even cheaper than its official price.
There are 65 and 77-inch QD-OLED versions of the S90C available too, which at the time of writing cost $2,099 / £2,499 / AU$4,299 and $3,199 / £3,599 / AU$6,799 respectively. The new 83-inch addition to the S90C range with a regular OLED panel  rather than QD-OLED has been announced for the US priced at $4,999.
The 55, 65 and 77-inch S90Cs have been available pretty much everywhere in the world since May 2023, with the new 83-inch launching in July 2023 in the US, but no word on a launch elsewhere just yet.
Samsung S90C review: Specs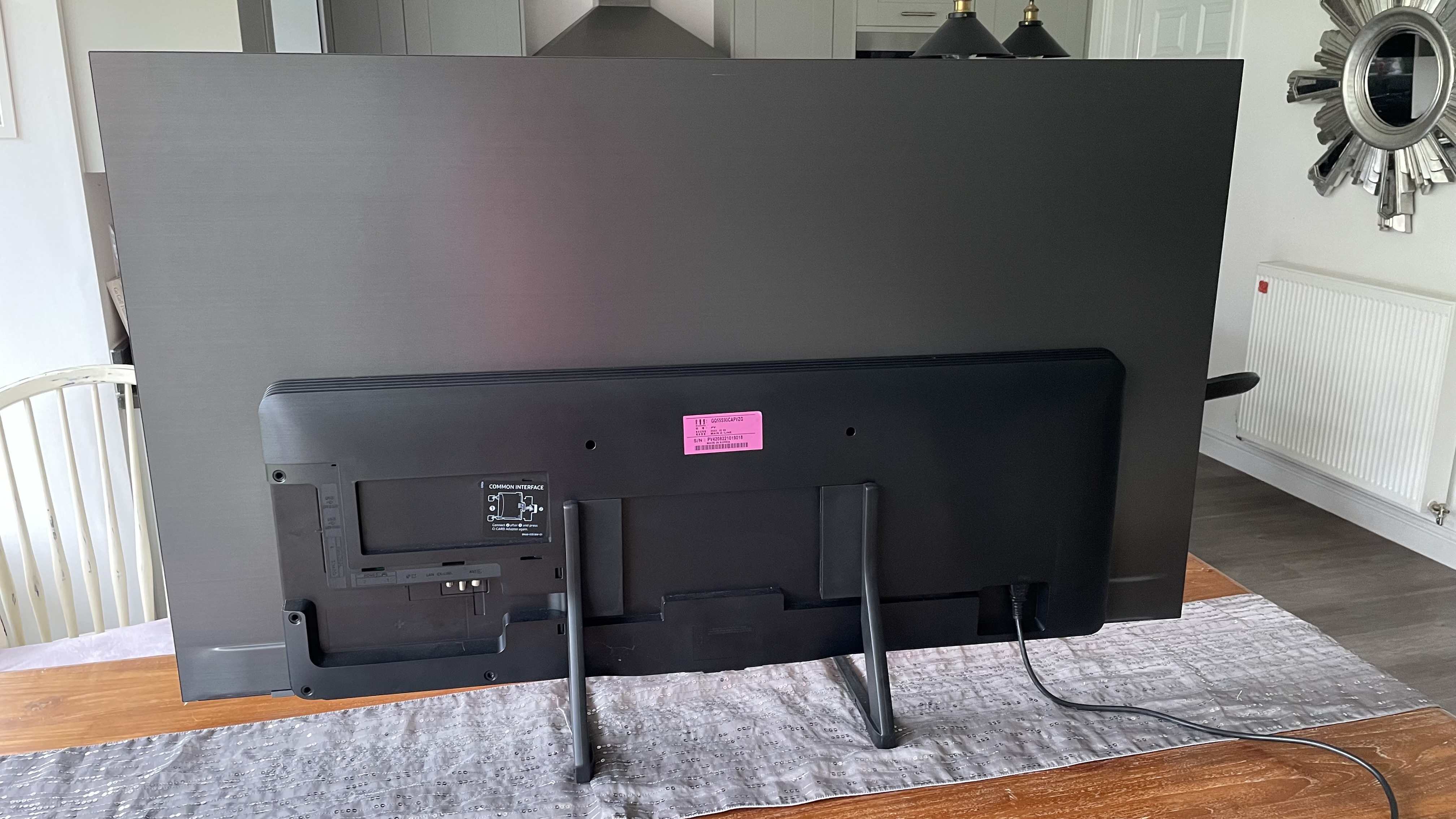 Samsung S90C review: Features
4K quantum dot OLED panel
Object Tracking Sound audio system
HDMI 2.1 with 4K 120Hz and VRR on all HDMI ports
The crucial thing about the Samsung S90C is that it is a quantum dot OLED TV. This new take on OLED technology, designed by Samsung, sees blue light pushed through layers of quantum dots to create other colors. This approach removes the pure white component that appears in traditional OLED construction, potentially resulting in richer, more accurate colors, especially in the brightest parts of the picture – and potentially brighter images.
For this second generation of QD-OLED, Samsung has improved the filtering in the screen to reduce the potential for ambient light to affect black levels; tweaked the organic materials it uses and improved the panel's efficiency to boost brightness without increasing energy use; and improved the way the software monitors the activity of all the screen's pixels to further boost contrast and extend the panel's effective life span.
The S90C gets the same, upgraded version of Samsung's Neural Quantum 4K processor that the flagship S95C QD-OLED TVs get in 2023, which uses the combined learning of 20 neural networks to introduce multiple 'AI'-based refinements to the way the TV treats incoming sources – including, in particular, supposedly better upscaling of HD and SD content to the screen's native 4K resolution.
There is one significant way in which the S90C differs from the S95C, though: brightness. We've long known that this would be the case without it being clear just how substantial the difference would be, but now that we can measure it, it's significant – but the S90C is still brighter than most of the competition, as we'll explain in the next section.
This is probably a good point to say once more that while the 55, 65 and 77-inch S90C TVs are QD-OLED models, the 83-inch model uses more 'traditional' WOLED technology. Based on our previous experience with the panel Samsung must be using for the 83-inch version, you should expect that model to be significantly less bright.
The S90C's connectivity is excellent, with all four of its HDMIs proving capable of handling almost everything today's cutting-edge gamers could want, including 4K 120Hz or 144Hz, and VRR. We'll come back to this in more detail in the dedicated Gaming section later.
The HDMIs also support the HDR10, HLG and HDR10+ high dynamic range formats - but not the popular Dolby Vision system. Dolby Vision content will therefore play as HDR10, without the extra scene by scene picture information that's the format's big selling point. HDR10+ also provides extra scene by scene picture data, but sources that support this format are less numerous than Dolby Vision ones, so it's a real shame that Samsung doesn't include it.
The S90C's audio system isn't as cutting edge as its pictures, but its 40W, 2.1-channel configuration is supported by Samsung's innovative object tracking sound (OTS) system, which uses clever processing and speaker placement to help sound effects and dialogue appear to be coming from the correct onscreen area.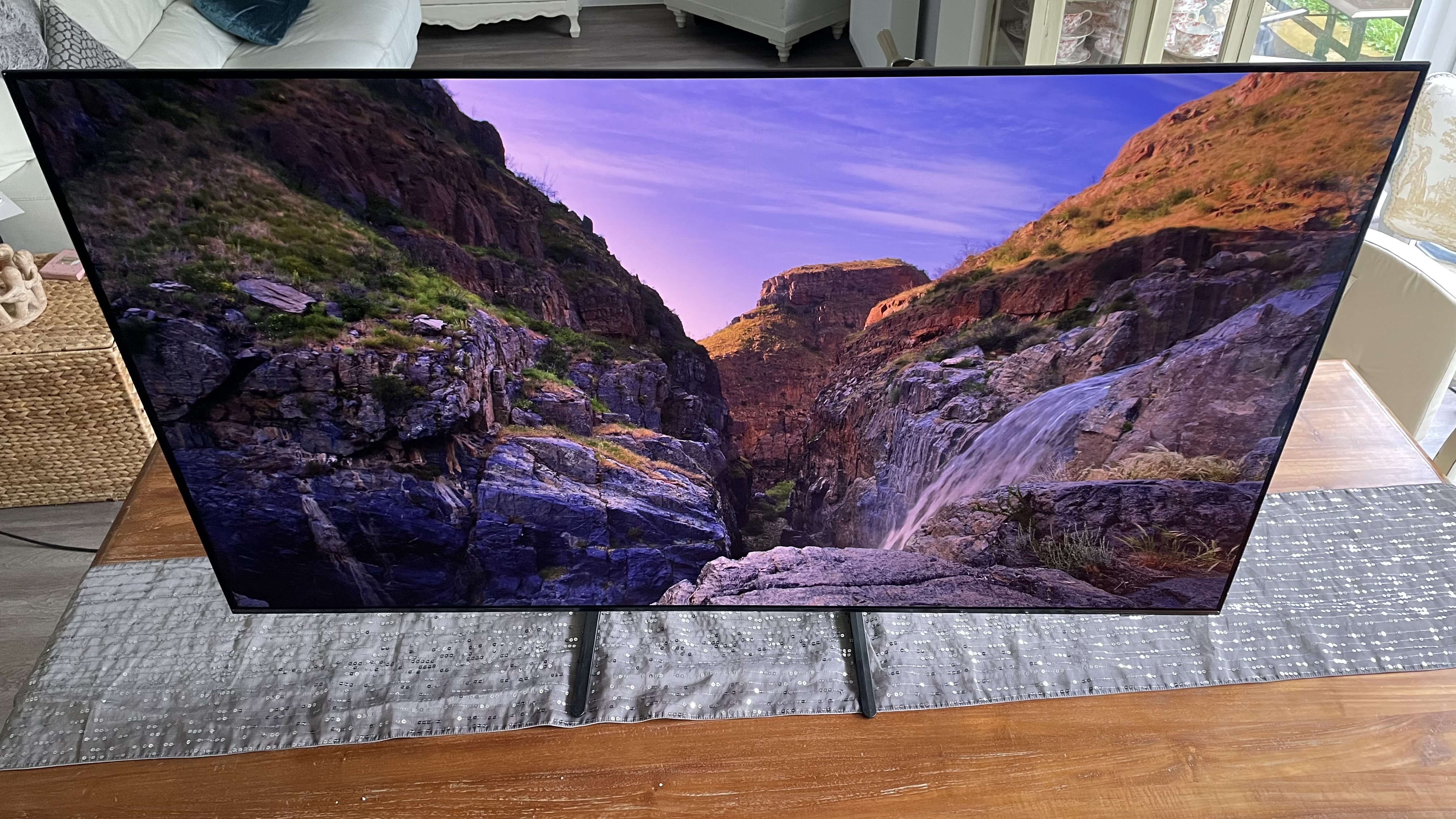 Samsung S90C review: Picture quality
Stunning brightness and contrast
Gorgeously rich, pure colors
Impressive sharpness and detailing
Now that we've been able to actually measure the brightness of both the S90C, it turns out to hit just under 1,100 nits of light on a white HDR window filling 10% of an otherwise black screen. In comparison, the S95C get up to around 1,400 nits. 
That means the S90C is around 20% less bright – a significant difference for sure, though given the price difference it's worth saying that the S90C is also around 20% brighter on the 10% HDR window than the best 'regular' OLED TVs such as the LG C3, which it's very close to in price.
Dedicated followers of TV fashion will likely know that LG has introduced another new type of OLED technology in its latest LG G3 series that uses a Micro Lens Array to achieve a brightness level up there with the S95C. So the S90C is around 20% less bright than the LG G3, too. But again, it's also significantly cheaper.
So yes, the bad news is that the 300 nits or so of brightness the S90C misses out on versus the S95C is definitely noticeable. Especially when viewing bright images that fill pretty much the entire screen rather than images that contain a mixture of light and dark. This is no more than we'd expect given that we've seen much smaller differences than 300 nits deliver visually obvious disparities in brightness you can clearly see with the naked eye.
However, I can actually see some home theater fans, especially those fond of watching films in darkened room settings, potentially preferring the slightly gentler, less explosively dynamic look of the S90C's pictures to those of the blazingly intense S95C.
And as I said, it's noticeably brighter than the 'regular' OLED TVs that its price puts it in more direct competition with. It's up to 300 nits brighter on the 10% white HDR window test (depending on which regular OLED rival you're talking about). And as I've already said, that's more than enough of a difference to deliver a benefit that's clear to the naked eye. The S90C's brightness advantage with an HDR window covering the entire screen, meanwhile, versus a model such as LG's C3, is also not far off 30%.
All of which means that whatever you're watching, be it a dark scene with bright highlights or something that's consistently bright right across the screen, the S90C looks brighter than any of its closest (by price) OLED rivals… and, frustratingly, than the 83-inch model of the S90C too, most likely.
Along with giving its pictures a more HDR 'feel', this brightness advantage feeds into the S90C's colors, giving them a purity in the lightest parts of the picture that's a joy to behold. Especially as the brightness of their tones doesn't come at the expense of subtle tonal blends and shifts, helping images generally, as well as specific objects within the image, enjoy a sense of depth, three-dimensionality and density that goes beyond mere sharpness. 
That's not to say core sharpness isn't still impressive in its own right, though. This has long been a strength of Samsung TVs, and if anything it's actually improved over previous generations by the latest Neural Quantum 4K processor – especially as this processor seems to have become much smarter about discerning between 'real' picture information and noise when dealing with incoming sources. That's true particularly for sub-4K sources that have to be run through the S90C's excellent upscaling engine. 
In fact, the longer I watched the S90C, the more I became aware of just how much cleaner, more natural and generally more refined its pictures were compared with last year's S95B QD-OLED debutante. 
The only exception to this is motion. As we've seen for a few years now, the S90C's default motion options (adjusted in its 'picture clarity' menus) are really quite a mess, smoothing 24p movie images too much, and throwing up distracting amounts of flickering and haloing noise around moving objects.
Fortunately, you can fix this up pretty tidily by simply turning motion processing off or, if that results in 24p pictures that look a little too juddery for your tastes, choosing a Custom setting for the Picture Clarity feature and adjusting the de-judder and de-blur elements to level three or four.
With so much great 'new stuff' to talk about, I haven't yet mentioned that the S90C also delivers the traditional OLED goods where black levels are concerned. Dark scenes benefit from black tones that look rich, consistent and pretty much completely free of any low-contrast grayness. This outstanding black level performance is far, far less likely to be impacted by high levels of ambient light than it would have been on last year's S95B, too.
The S90C's improved general level of control and refinement compared with its QD-OLED predecessor can be seen, too, in its excellent handling of shadow detail during dark scenes. There's precious little sign of the black crush that could occasionally impact the S95B in some of its presets.
One last strength of the S90C is that it joins other OLED technologies in being watchable from almost any viewing position – handy if some members of your household routinely have to watch TV from a steep angle. 
My only real complaint about the S90C aside from the (fixable) motion issues I mentioned earlier is that while its Dynamic picture preset is too full-on out of the box, looking a little gaudy and over-sharpened, the other presets, even Samsung's usually reliable Standard one, can leave colors looking a little faded – exactly the opposite of what we might expect from a QD-OLED screen. 
You can up the color intensity using the provided color adjustments, but it seems odd that you should have to on a TV that's so clever and refined without assistance in so many other ways.
Picture quality score: 5/5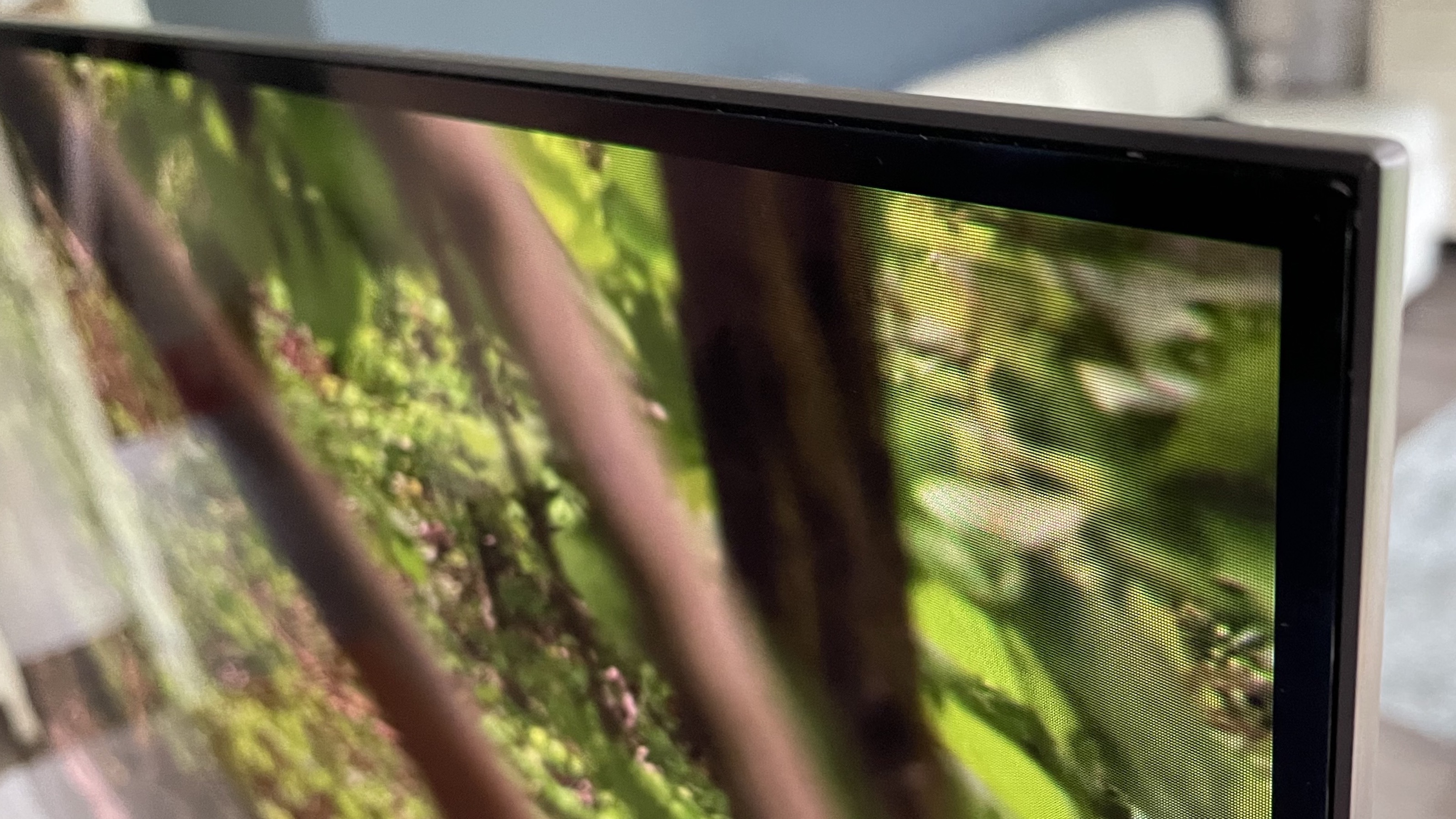 Samsung S90C review: Sound quality
2.1-channel OTS system
40W of total power
Sounds better than the S95B, worse than the S95C
While last year's S95B debut for QD-OLED made a strong picture case, its flimsy audio felt like an afterthought. Happily, despite sharing a nearly identical design, the S90C sounds much better. 
Samsung's Object Tracking System plays a definite part in this, despite it not having as much hardware support (in terms of power and speaker numbers) as the OTS systems on more high-end Samsung TVs. While dialogue and object placement isn't quite as crisp and precise as it is with the S95C, it's still good enough to create a busy and involving soundstage that's capable of getting decent value out of Dolby Atmos soundtracks.
The S90C handles trebles well too, enjoying a nicely rounded tone that doesn't become harsh or dominant even with the most shrill effects. Best of all, the S90C handles power and dynamic range much better than the S95B, enabling it to shift up far more gears with big, escalating action and horror movie moments than its predecessor, which tended to collapse in on itself under duress. 
The S90C's bass depths are limited and low frequency sounds don't seem to project as well from the TV's bodywork as its mid-range and treble sounds, leaving them occasionally sounding a bit 'chuffy' under sustained pressure. That said, bass is actually handled much more effectively than it was on the S95B, with both more clarity and much less propensity for the bass driver to descend into distracting buzzing and crackling distortions.
It's worth adding, too, that the S90C sounds better than LG's C3 and G3 OLED TVs.
Sound quality score: 4.5/5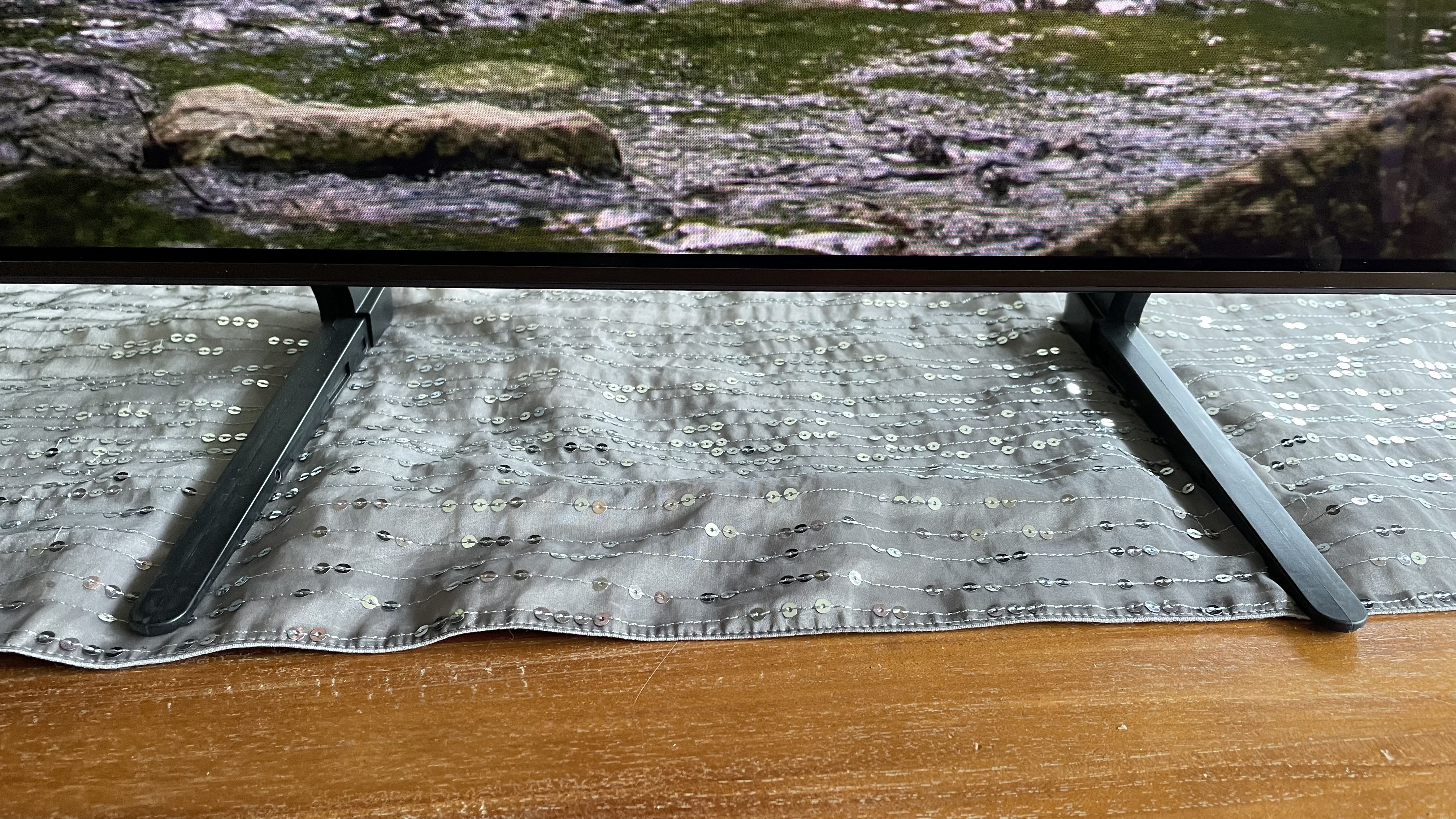 Samsung S90C review: Design
Ultra-thin profile at the edges
Built-in connections and processing
No visible speakers
The S90C looks very different to its step-up S95C sibling, but extremely similar to last year's S95B – and personally I actually think some might prefer the S90C's design, thanks to the incredible slimness of the screen at its outer edges. This is so thin, in fact, that it feels like it's escaped from an episode of The Jetsons.
The S90C's build quality isn't as substantial as that of the S95C, though, and while the S95C models are quite a bit deeper at their edges than the S90C, they're actually thinner overall once you've taken into account that a central section of the S90C's rear is substantially deeper than its edges.
The reason for the S90C's chunky bit is that the cheaper model doesn't carry an external connections/processing box. Its four HDMIs, two USBs, Ethernet port, RF input and optical digital audio output are all located on the back of the TV. While cable haters might see this as another reason to step up to the S95C range, experience shows that dropping the external connections box is likely responsible for a decent chunk of the price gap between Samsung's two 2023 QD-OLED series.
The only bum note in the S90C's design is its feet. These look and feel cheap and plasticky for a TV that is still, after all, quite a premium product. They do at least attach fairly close together rather than under the TV's corners, though, meaning the TV can sit comfortably on a piece of furniture that narrower than its frame.
Note that the 83-inch S90C features a completely different design to the other sizes of S90C, thanks to both the demands of its large screen and its use of WOLED rather than QD-OLED technology.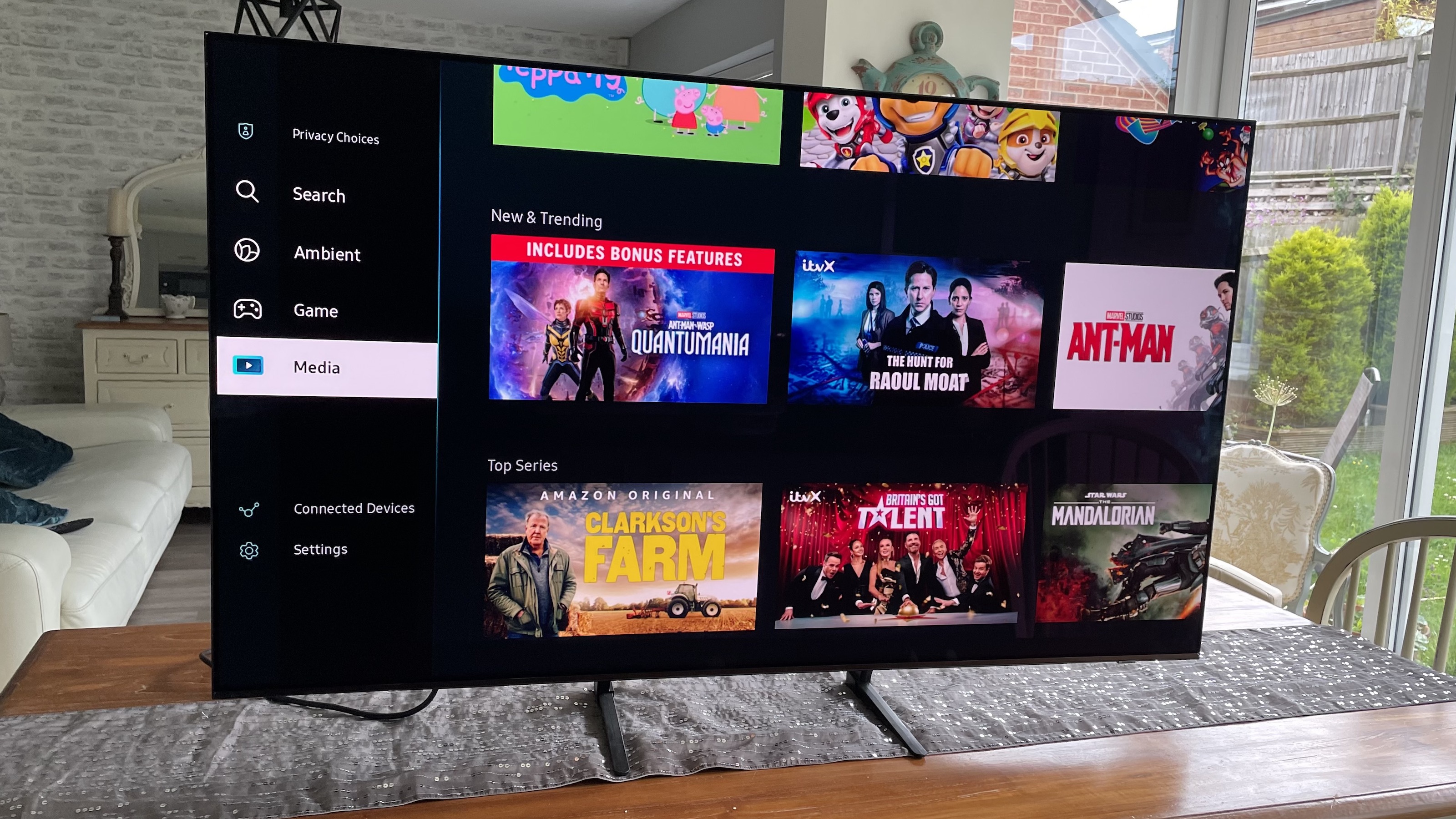 Samsung S90C review: Smart TV & menus
Samsung's own Tizen-based Eden smart interface
All the main streaming services are covered
Extensive voice control support
Samsung introduced a major revamp to its Tizen-based 'Eden' smart TV interface last year, in particular switching from a compact home menu overlaid over just a small section of the screen to a fullscreen home page. 
Issues with unhelpful choices of what content was presented on this new home page and some unintuitive menu navigation choices made this new system feel like a step back from its more streamlined predecessor, alas – and some of those unhelpful changes continue through to the S90C's smart interface too. 
Samsung has, though, made better choices over what appears where on the home screen, and there are one or two helpful navigation refinements. Plus the S90C's built-in voice recognition and control options are so comprehensive that with a bit of practice you can actually use voice commands to sidestep the menus for much of what you need.
Smart TV & menus score 3.5/5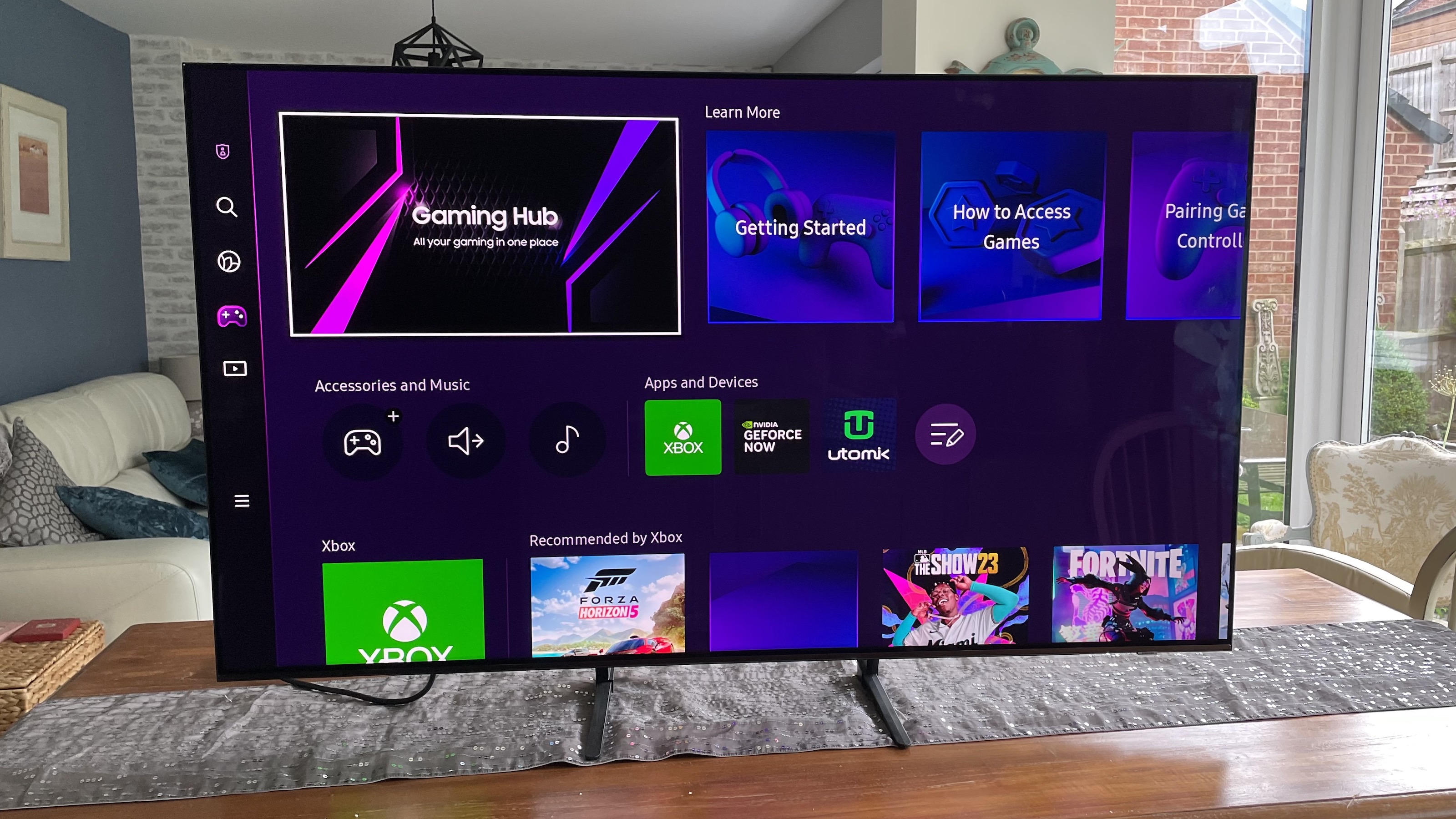 Samsung S90C review: Gaming
4K 120Hz support on all HDMIs
Variable refresh rate support
Dedicated Gaming Bar and Hub interfaces
The S90C is a fantastic gaming TV. For starters, it carries (almost) all the features most gamers with the latest consoles or premium gaming PCs could want. Namely support for 4K 120Hz or 144Hz pictures, variable refresh rates, and automatic low latency mode switching whenever a game source is detected. The VRR support includes AMD FreeSync, too, and you can monitor and adjust your gaming signals via a dedicated Game Bar onscreen menu system.  
The options here include adjustments for raising the brightness of just the dark areas of the picture to make it easier to see lurking enemies; a superimposed target reticle in the middle of the screen; multiple options for trading input lag (the time the screen takes to render image data) against motion smoothness; the ability to magnify games' mini-maps, regardless of where they appear on the screen; and even support for the ultra-wide 21:9 and 32:9 aspect ratios now available as options with some PC titles. 
Input lag is outstanding too, measuring just 9.2ms with a 1080p 60Hz feed in its fastest input lag setting, in our testing.
The one thing missing from the S90C's gaming features is Dolby Vision support. So if you own an Xbox Series X, you'll have to accept that games will only appear in standard HDR10. The screen is, though, compatible with the HGiG system, where your console can be set to 'match' the abilities of your TV, delivering the optimal HDR output accordingly without the TV's own dynamic tone mapping features having to get involved.
The S90C's wide-ranging gaming features are backed up by a truly spectacular graphics performance. The screen's extra brightness over similarly priced rivals really counts with gaming graphics, while motion is fantastically handled with both 60Hz, 120Hz and variable refresh rate titles. Sharpness and detailing does consistently superb justice to today's ultra high resolution graphics too, and the TV feels fantastically responsive for a screen that's giving you such a big and beautiful gaming experience.
While the S90C's gaming images aren't as outright spectacular as those of Samsung's much brighter S95C, I would argue that they're actually more consistent and therefore immersive than those of its flagship siblings – though if you're gaming during the day, much like with sports viewing, absolutely brightness is an advantage for beating reflections.
One last useful gaming feature of the S90C is its Gaming Hub, a dedicated menu in its smart interface that pulls together all the available gaming inputs and online gaming services.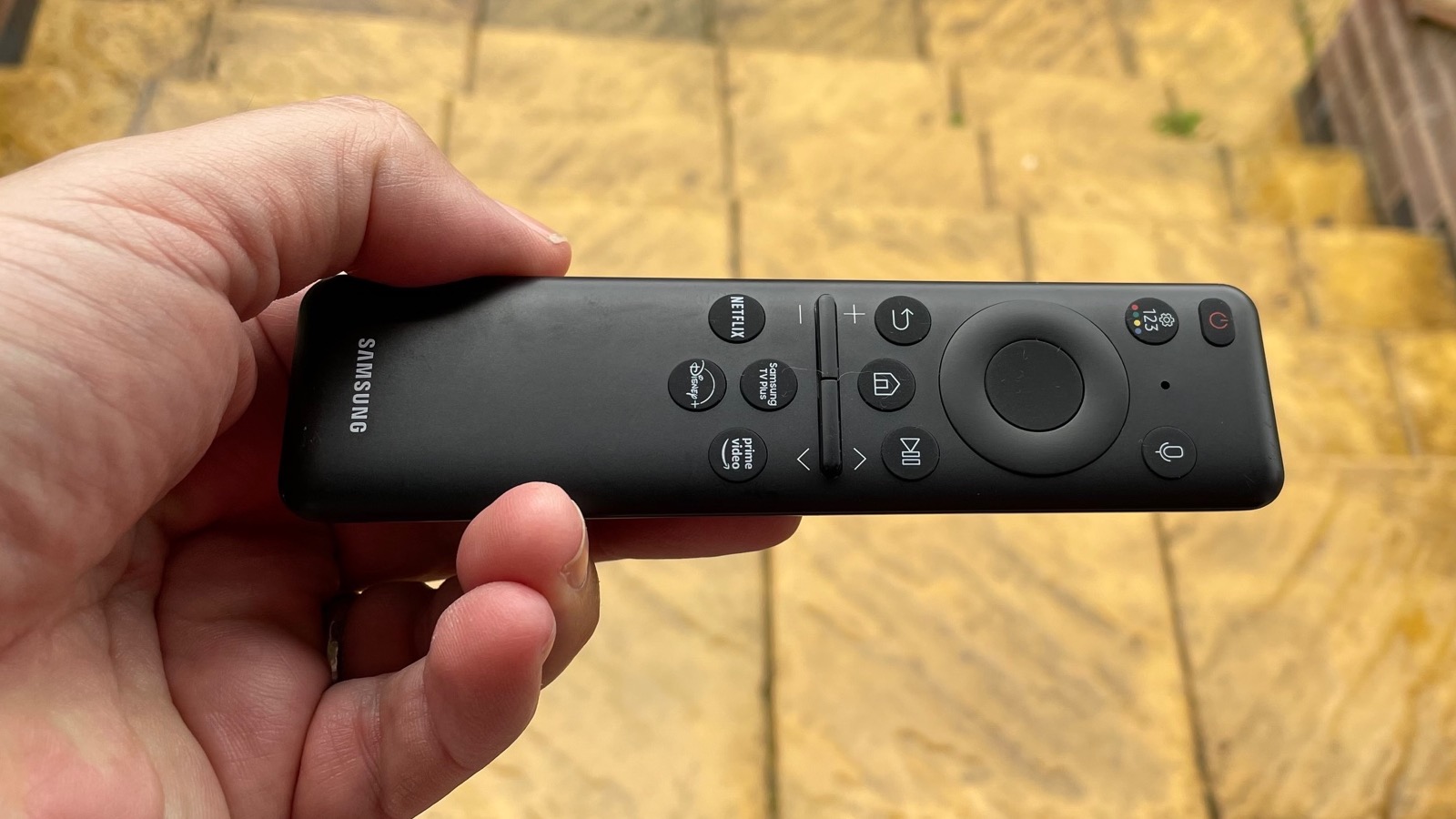 Samsung S90C review: Value
Excellent value for what's on offer
Makes QD-OLED a true mid-range OLED option
Much cheaper than S95C and LG G3
At the time of writing, the 55-inch Samsung S90C costs only $100 more than LG's equivalent 55-inch C3 model, and the boost you get in both brightness and sound quality compared to that TV feel more than worth the extra outlay.
Looking upwards to Samsung's S95C and LG's MLA-sporting G3, and you can save enough by buying this TV instead of those to add one of the best soundbars or best 4K Blu-ray players to your setup.
The 83-inch S90C costs more or less the same as the 83-inch LG C3 series, which seems appropriate given that this particular screen size uses WOLED technology like the C3, rather than QD-OLED technology.
The second-generation of QD-OLED TVs has proved emphatically that the technology is here to stay, with even this year's cheapest S90C QD-OLED models managing to deliver substantial improvements over the technology's already impressive 2022 debut.
The S90C is around a fifth less bright than its dazzling S95C flagship QD-OLED siblings, but it retains a distinct brightness advantage against 'regular' mid-range OLED rivals that feeds into ultra-vibrant colors, especially in very bright areas. 
There are times, in fact, where the S90C arguably retains a touch more consistency and balance than its more expensive, much more explosively punchy S95C siblings.
The S90C's sound is better than that of its LG OLED rivals too, if that matters to you - though it falls some way short sonically of the S95C in this department.
Put simply, it probably offers the most complete overall image of anything in the same bracket as it.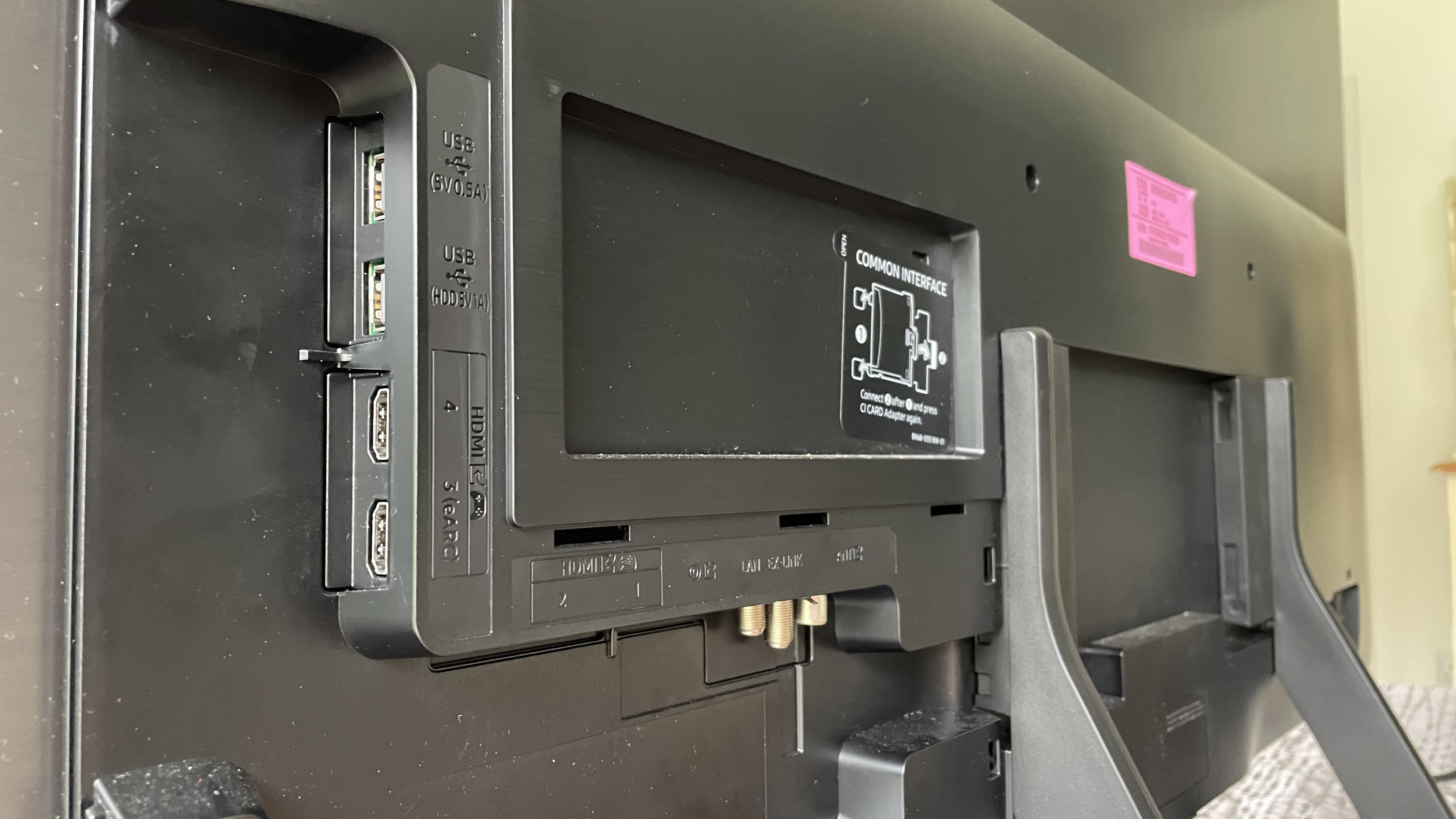 Should I buy the Samsung S90C?
Buy it if…
Don't buy it if…
Samsung S90C review: Also consider
How I tested the Samsung S90C