LG Cinebeam HU915QE: one-minute review
A great many of the best projectors are turning up ultra short-throw (UST) models. These can combine powerful light engines with handy smart TV functions and potent speakers all in a system that sits conveniently at the front of the living room. The LG Cinebeam HU915QE is a new addition to the world of UST projectors, and it's a fabulous one. But at $5,999 / AU$9,999 (about £5,600), this is not the most casual home theater purchase.
The LG Cinebeam HU915QE costs more than almost every other projector we recommend, save for the hugely expensive JVC DLA-NZ8 and Samsung The Premiere. 
You get plenty for the money though. The LG Cinebeam HU915QE is exceedingly bright and richly colorful, which all gets put on display with a massive 90-120 inch picture. Even with ambient light or daytime viewing, the projector is more than bright enough to create a pleasant picture in a well-lit environment, and just a little bit of ambient light control goes a long way in allowing it to display exceptional cinematic visuals.
With potent speakers, a handy smart TV system, the convenience of a manual focus wheel, and an image that's hard to find many faults with, you'd be getting quite a lot for your money with the LG Cinebeam HU915QE. The Hisense L9G is great and cheaper, but less flexible, meanwhile the Epson LS12000 is more impressive but far less convenient to setup and use day-to-day. Ultimately, LG is adding a new option to the high-end of the market, though we see diminishing returns at this point. 
LG Cinebeam HU915QE review: price and release date
Release date:  June, 2022
Price: $5,999 / AU$9,999 (about £5,600)
The LG Cinebeam HU915QE lists for $5,999 / AU$9,999 (about £5,600), but typically sells for less than that amount. The slightly dimmer but higher contrast LG Cinebeam HU915QB lists for $6,499 (about £6,070, AU$10,060).
LG Cinebeam HU915QE review: Specs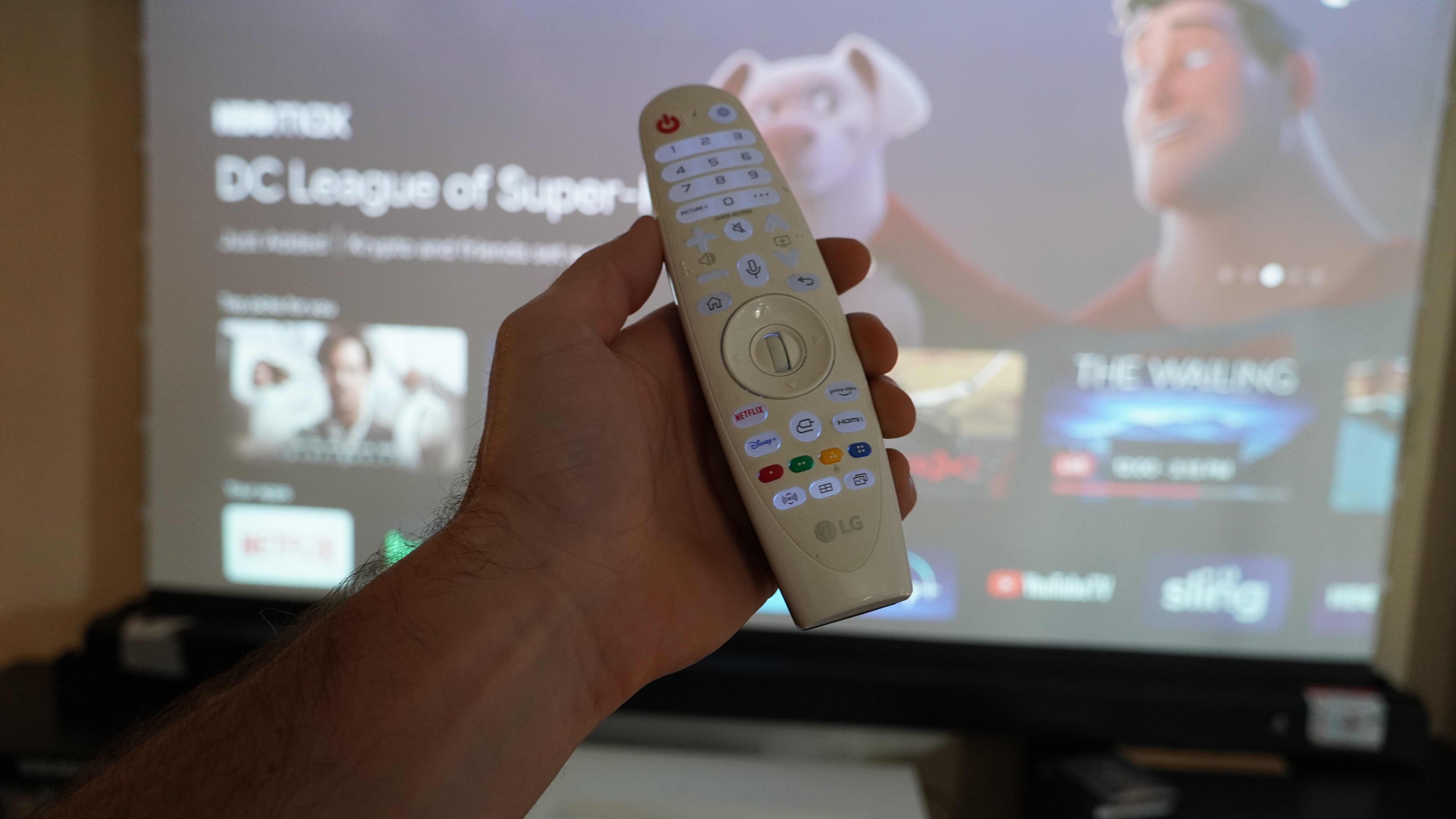 LG Cinebeam HU915QE review: design and features
Built-in speakers and LG webOS
Ultra-short throw makes 100-inch image at 3.9 inches
Hidden manual focus wheel
The LG Cinebeam HU915QE joins the fleet of high-quality UST (ultra short throw) projectors hitting the market lately with a wonderful marriage of built-in speakers, a smart operating system, and a big image all coming from a small box that can live at the front of the living room instead of at the back. 
Sitting at the front of the room, it has to put a little extra effort into style, and it has a retro sort of chic to it with a tweed-like front cover over the speakers, and a nearly perfectly rectangular design. However, the white top is a magnet for smudges, smears, and anything that can make it look discolored. 
The LG HU915QE is on the larger side of the USTs we've tested, measuring 26.8 inches wide and 13.7 inches deep (a touch larger than the Hisense L9G) but is just 5 inches tall. Despite being a bigger UST projector, the LG HU915QE is diminutive next to the 100-inch TVs it's competing with, and at just 26.9 pounds, it's infinitely easier to move around.
While some UST projectors have a fixed focus, such as the Hisense L9G, the LG HU915QE supports projecting an image from 90 to 120 inches in size. A rather large, manual focus wheel hides under a panel on the top of the projector. It provides focus adjustment that's much quicker and easier than Hisense PX1 Pro, another UST with adjustable focus, which handles it electronically. 
One thing we still regret not seeing on this (and many other UST projectors) is any sort of lens cover. It's almost baffling how many standard projectors have covers for their lenses, meanwhile UST projectors, with their lens glass just asking to gather dust, lack covers.
The projector's built-in speaker system delivers 2.2 channels at 40W, pumping out enough sound to readily overwhelm a 200 sq.ft. room. The projector also offers Bluetooth, optical digital audio, and HDMI eARC for connecting to external audio sources. LG advertises pairing the projector with a duo of LG Bluetooth speakers to create a surround setup, but we were unable to test this. 
Controlling the TV is easy with the same webOS as found on LG's TVs and the same Magic Remote. The motion controls of the remote can be a bit obnoxious — it's not super accurate — but the remote lighting up its buttons whenever it moves is handy in a home theater that's liable to have the lights dimmed.
Design and features score: 4.5/5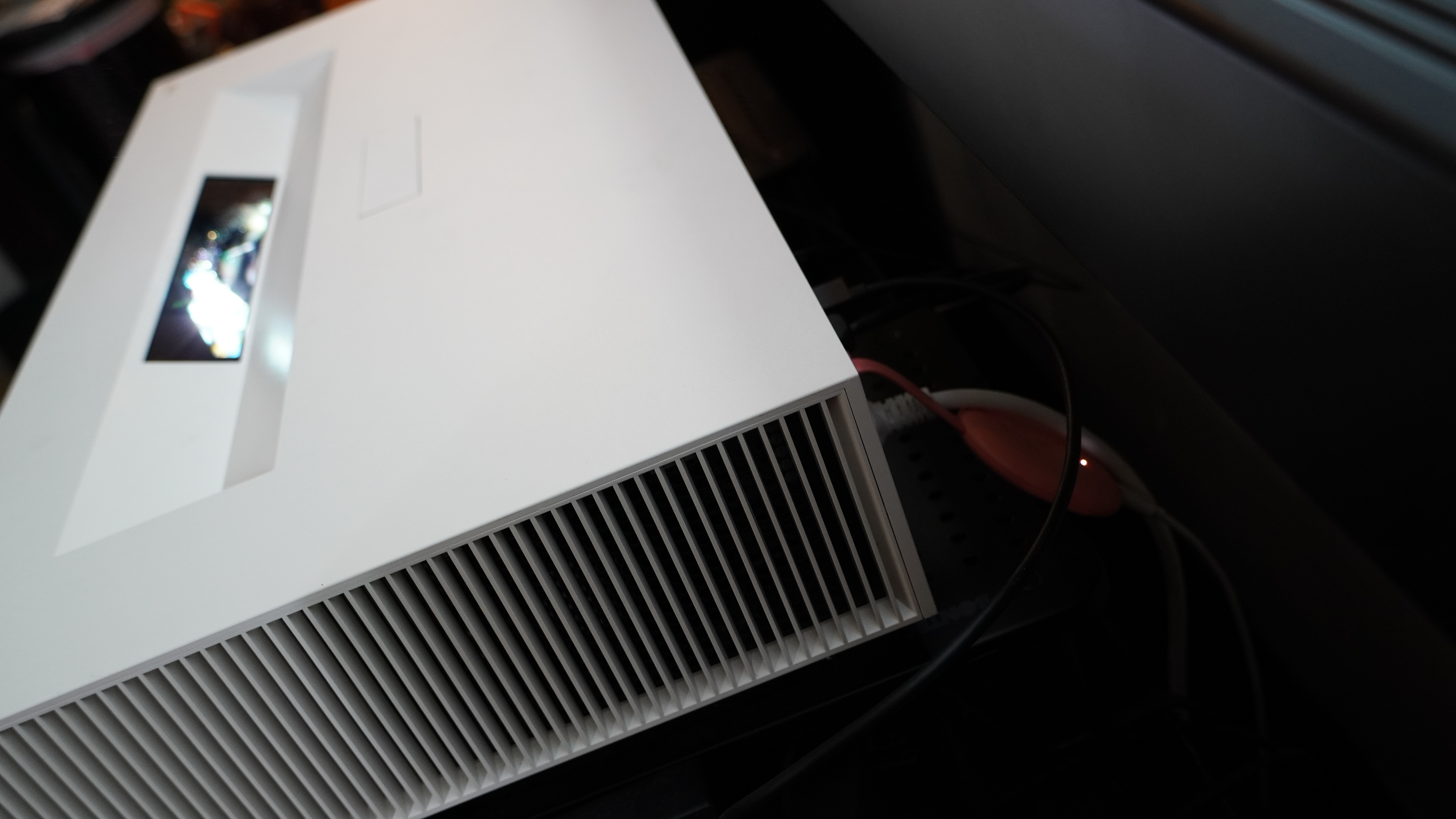 LG Cinebeam HU915QE review: picture quality
Wonderfully bright and colorful
Crisp and sharply focused 4K images
Select Filmmaker mode for best pictures
At $6,000, the LG HU915QE can't afford to be a slouch when it comes to image quality, and it isn't. With a 3,700 ANSI Lumen brightness coming from a three-laser light engine, this projector absolutely crushes it with bright, colorful pictures. While the nature of a projector rules out wanting to use it in a bright room for some media, this projector doesn't struggle in the slightest with presenting a bright picture for content like cartoons or sitcoms even when we haven't done anything to cut down on ambient light.
Viewing cinematic content calls for some ambient light mitigation, but even just dimming the lights at night is enough to make for a downright luscious, colorful image. The bright spots in the visuals are matched with a strong enough contrast ratio to create the perception of darkness even if the projection surface isn't actually that dark. Shutting out all ambient light just drives the experience home even further. 
All that light and color is matched with exceptional visual clarity, and the benefits of a 4K picture make all the more sense when it's stretched out to 100-plus inches. I felt like I could reach out and snatch one of the chin hairs right off Duke Leto Atreides in Dune. Making that image look great is easy with the focus wheel and 4-, 9-, or 15-point keystone adjustment.
However, LG has some ideas about how a picture should look that often get incredibly distracting. Its automatic brightness and contrast settings caused some dramatic shifts right before my eyes, creating chaotic jumps in brightness and seeing colors jump around in unintended ways. The motion smoothing is also persistent, making film visuals video-like while creating all sorts of artifacts in cartoons. Filmmaker Mode is salve for these things but can also strip some of the extra vividness offered by the projector away.
One handy feature, ALLM (Auto Low Latency Mode) helps ensure all the extra processing steps out of the way while gaming, and I was able to carve through enemies in Ghost of Tsushima without noticeable input lag – a crucial thing during all those samurai standoffs.
For now, at least, the LG Cinebeam HU915QE only supports HDR10 and HLG. Its representation of HDR content is stunning, to be sure, with the explosions raging through brightly amidst the nighttime scenery during the Harkonnen raid in Dune, but Dolby Vision is absent. We've seen Dolby Vision in action on the Formovie Theater 4K, and it continues to show its worth in the cinema.
Picture quality score: 4.5/5
LG Cinebeam HU915QE review: value
Pricey compared to competition
High light output enhances value
Can use a less expensive model for dim room viewing
With many other good ultra short throw projector options to choose from, the LG HU915QE's value rating takes a hit given its comparatively high price. Having said that, with its high light output, LG's UST should be at the top of your list if you're seeking a projector that can be used for viewing sports in a bright room during daylight hours.
The HU915QE's ability to deliver high contrast images in dim room environments for movie viewing balances its value, making it a good all-around projector choice. But if you're mainly interested in movie viewing, you could easily spend less and get a less bright model that will perform comparatively well in a dim or darkened room.
Should I buy the LG Cinebeam HU915QE?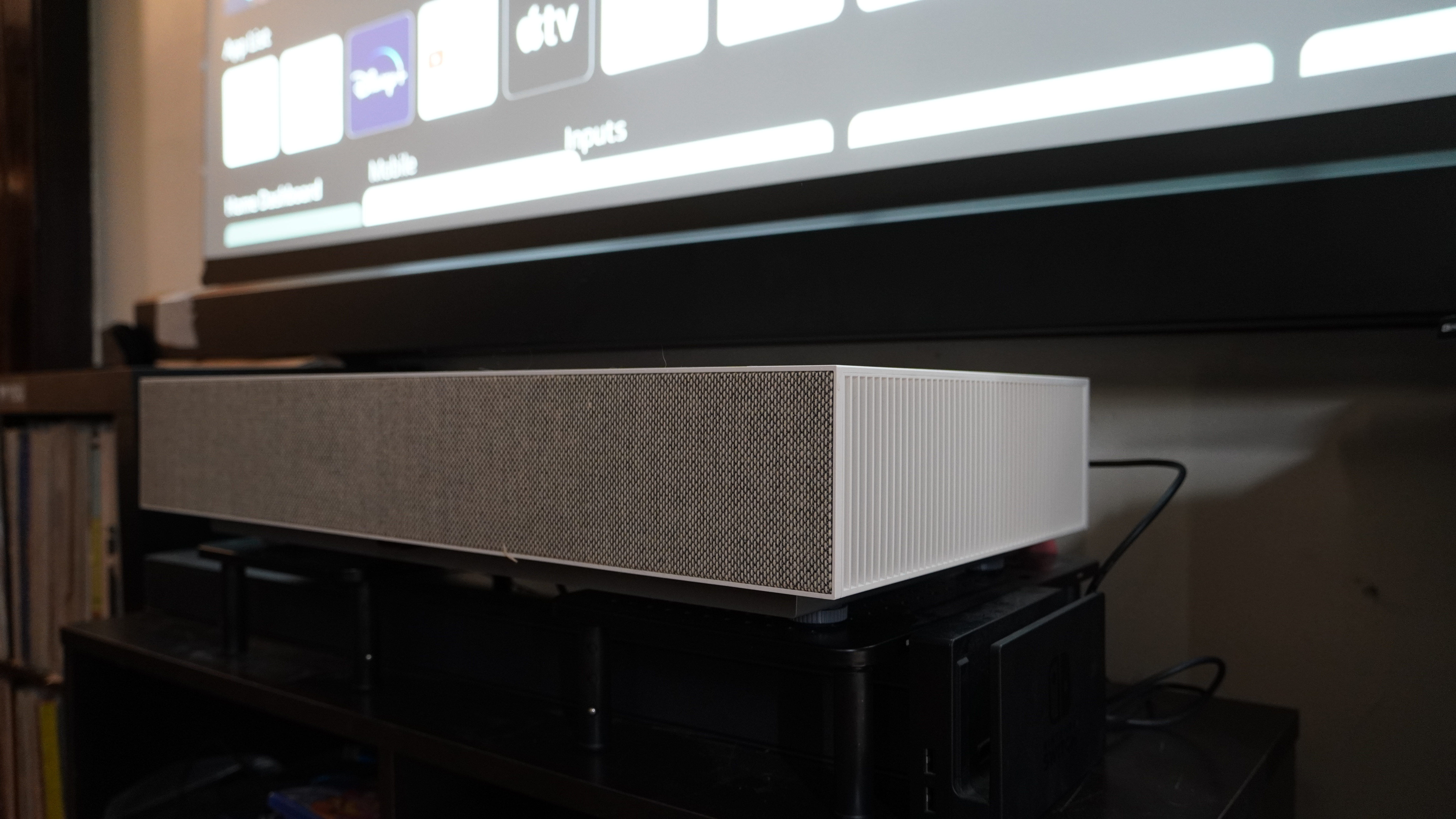 Buy it if...
Don'y buy it if… 
Also consider...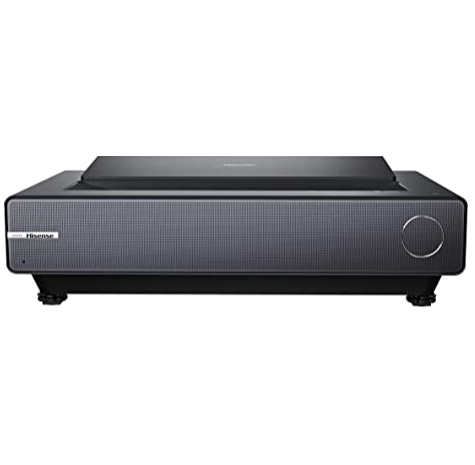 Hisense PX1 Pro
The Hisense PX1 Pro is a less pricey UST projector option than the LG Cinebeam HU915QE, but also has much lower peak brightness, which makes it a less flexible option for bright room viewing. The PX1 Pro uses the Android TV system for streaming, which is notably clunkier and not as useful as LG's webOS smart interface.