Need a browser to handle sensitive information? A secure and encrypted browser like Vivaldi might just be what you're looking for.
Vivaldi might not be one of the most popular browsers, but if you're after a feature-loaded option, it's a must-try. It's a leading Chromium-based browser, meaning privacy and user security are its top priorities. 
It's also fast, responsive, and incredibly light on your system. Read till the end to find out more about Vivaldi and see if it's the best browser for you.
Vivaldi browser: Features
The best thing about Vivaldi is its tag management features. For starters, you can put inactive tabs on hibernation mode to save battery and free up more space. For managing multiple tabs, Vivaldi offers a separate set of features. You can open them in a split-screen view to see multiple pages at once. Or, you can also group similar tabs together in a two-way stack, keeping your workspace clean and clutter-free.
Say you want to access all the tabs you opened in one particular session — Vivaldi allows that by giving you the option to name each session. Once done, all you have to do later is type in a particular session's name, and the tabs will be in front of you. It's the perfect feature for both students and working professionals who work on the same topic on a long-term basis.
Vivaldi comes with a built-in ad blocker, so it offers a calm and peaceful "Reader View." This basically means that you can cut through all the unnecessary notifications, ads, and floating windows to concentrate on your work and enjoy nothing but the content you're looking for online.
If you want to watch a video as you work or browse the internet, Vivaldi will put that on a floating window. Of course, you'll be able to adjust the position of this small window so that you can look at it and still see what's playing on the screen behind it. This facilitates multi-tasking too.
Vivaldi's installation sharing is another benefit of using this browser. No need for multiple installations for different users — after you create a user profile, you can share the installation with other users simply by sharing your profile.
If you want to check social media feeds or chat with someone as you work, you can add additional panels on the side of the screen. If not, this space will be occupied by the default menu that lets you manage your browser theme, keyboard shortcuts, mouse settings, bookmarks, downloads, and more.
Vivaldi browser: Privacy
Vivaldi does pretty well in terms of privacy and security. Unlike Chrome, it doesn't track your browsing history, and according to its privacy policy, it doesn't collect user data in any form either. 
Instead of keeping your web history on the cloud, Vivaldi stores that plus your downloads locally on your device in an encrypted folder such that even its own team can't access it. 
As already mentioned, there's also a built-in tracker and ad blocker, plus the ability to disable all cookies from third-party sites. 
Together, these features protect you from trackers and potential hackers who might want to break into your system.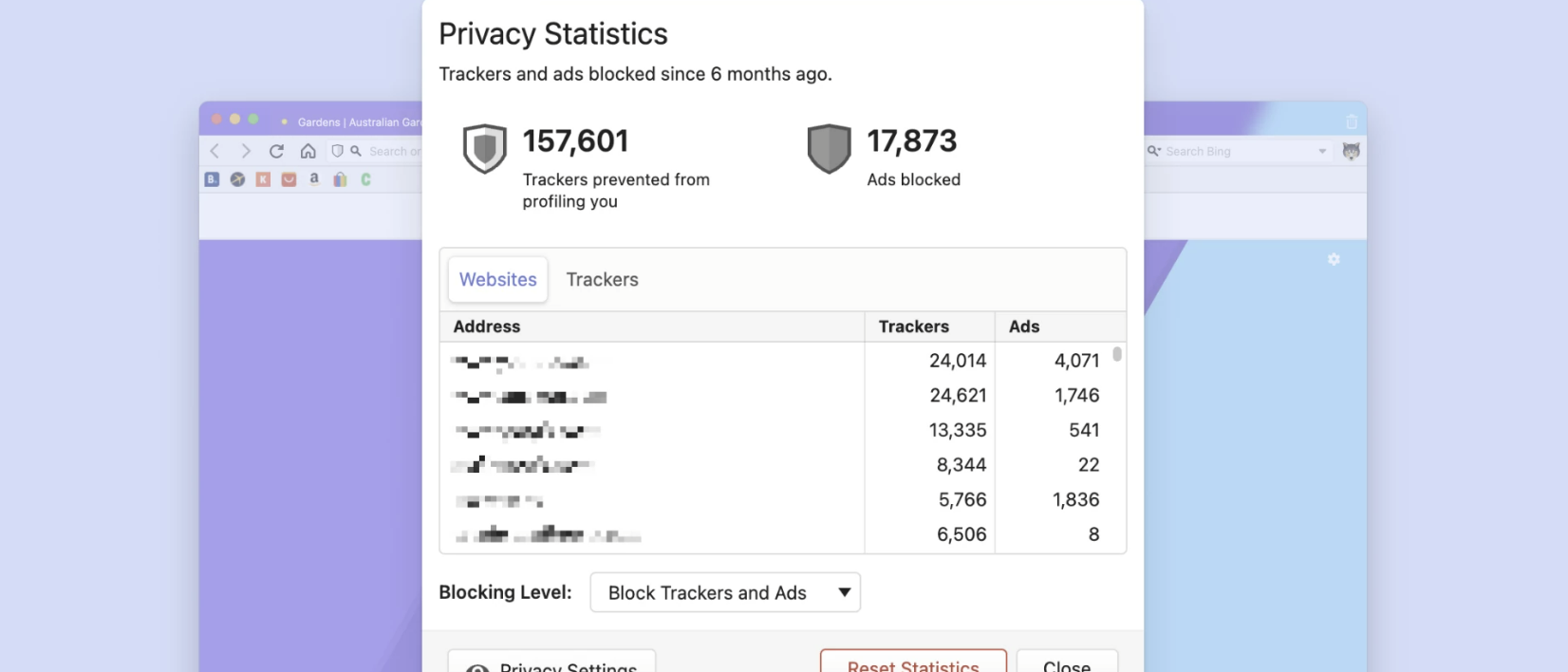 Vivaldi browser: Ease of use
Vivaldi is quite easy to use. It's Chromium-based and made using the latest algorithms, so the user interface won't take too long for you to master. The same goes for the Vivaldi mobile app, which is quite similar to the web version in terms of aesthetics and appeal and is just as easy to use.
The best thing about the browser is its fully functional sidebar. The menu on it covers tab management, panels, quick commands, downloads, updates, etc. You can also manage your keyboard and mouse settings from here.
We particularly like how the browser's design is customizable, and you can experiment with multiple themes of your choice.
Vivaldi browser: Competitors
Vivaldi faces tough competition from Google Chrome, Microsoft Edge, Safari, and Opera, to name a few. 
The biggest drawback of Vivaldi is that it's relatively new to the market. The browser was founded in 2016 — it hasn't even been a decade yet. On the other hand, browsers like Opera and Chrome have been around for a long, long time. They have a strong hold over the market, making it difficult for new browsers like Vivaldi to break in. 
Another disadvantage of Vivaldi is its design and approach are not for everyone. Its main search page has way too many options. A huge menu runs on the left sidebar, and the tabs run horizontally on the top. 
If you compare it with Chrome's interface, you'll notice that the latter is more simple and minimal — only featuring the most important options in the front. It can be a turn-off for users who aren't geeky about features and are just looking for a simple and easy-to-use browser.
However, on the flip side, Vivaldi is one of the few browsers that provides a commendable environment to foster work and efficiency — it offers a separate set of task management tools that helps you manage your tabs and keep your workspace clutter-free.
Also, Opera provides a free VPN, whereas Vivaldi and most other browsers do not.
Vivaldi browser: Final verdict
People who enjoy feature-rich browsers will certainly enjoy Vivalidi. After all, there's just so much to do. 
For example, it makes browsing multiple tabs more efficient through the Tab Stacking feature — group two or more tabs of the same subject together. You can also send the inactive ones into hibernation mode to save battery and CPU power.
On top of all this, Vivaldi also comes with a built-in tracker and ad blocker, which, to be fair, are available on most browsers. That said, their presence is certainly appreciated. One protects you from malicious websites that collect user data, while the latter blocks annoying pop-ups and ads that might otherwise disrupt your experience.
Also check out our roundup of the best anonymous browsers.