AMD Radeon RX 7600: Two minute review
The AMD Radeon RX 7600 is probably the best 1080p graphics card you can buy right now, and in all honesty, it should be the last of its kind.
Team Red has been a bit gun-shy of late with its graphics card offerings, with the last graphics card we saw being the AMD Radeon RX 7900 XT. While that was a great card, it launched almost half a year ago, and we haven't heard much from AMD since. 
Meanwhile, its rival has released a steady stream of cards, and at this rate, it's almost through its main GPU stack at this point, so it's interesting that AMD chose to release a very budget-friendly midrange card rather than go down the list of higher-end offerings the way Nvidia has.
In a way, it's a very smart strategy (and one I actually recommended back in February), and with the Radeon RX 7600 going on sale on May 25, 2023, for just $269 (about £215/AU$405), AMD manages to make it to market with its all-important midrange offering at least a full month ahead of Nvidia's competing RTX 4060 while also managing to undercut its rival on price.
In terms of performance, the RX 7600 is a major improvement over the AMD Radeon RX 6600 it replaces, while also generally outperforming the competing Intel Arc A750. It does fall short of the RTX 3060 overall, but not by much, and a lot of that is relative to ray tracing performance, which isn't great on either card to begin with, so this advantage looks bigger than it really is in practice.
If there is one knock against the RX 7600, it's its power draw, which is pulling down 165W TGP, which is more than the 8GB Nvidia GeForce RTX 4060 Ti and about 33W more than the RX 6600, so this is definitely the wrong direction for AMD to be going in, power wise.
AMD also has to step up its game when it comes to FSR. Nvidia's most recent launch, the RTX 4060 Ti, was a fairly disappointing card when it came to its baseline performance, but there was no denying that DLSS 3, especially with Frame Generation, is a huge value-add for Team Green. And while DLSS 3 is only available on about 50-ish games, FSR 2 is generally more available with about 120 games featuring FSR 2, but DLSS 2.0 is available in more than 200 games, so AMD has some catching up to do.
When it finally does, the RX 7600 will be an even better buy for midrange gamers, and while it's a sad state of affairs that $269 is about as "budget" as we can hope to see for a while, it's a substantially better value than just about any card on the market right now.
That might change when the RTX 4060 lands, but given that the performance of the baseline performance of the RTX 4060 is expected to be about 20% better than that of the RTX 3060, I expect that it will fall in pretty close to where the RX 7600 currently is, only with a more expensive MSRP and no Founders Edition to keep third-party partners honest in terms of price. 
So unless the RTX 4060 pulls a rabbit out of a hat, I still expect the AMD Radeon RX 7600 to hold the edge over its rival on value, which at this price point is really the only thing that really matters. As it stands, it is the best cheap graphics card you can buy right now, and I expect that will remain the case for the rest of this generation.
AMD Radeon RX 7600: Price & availability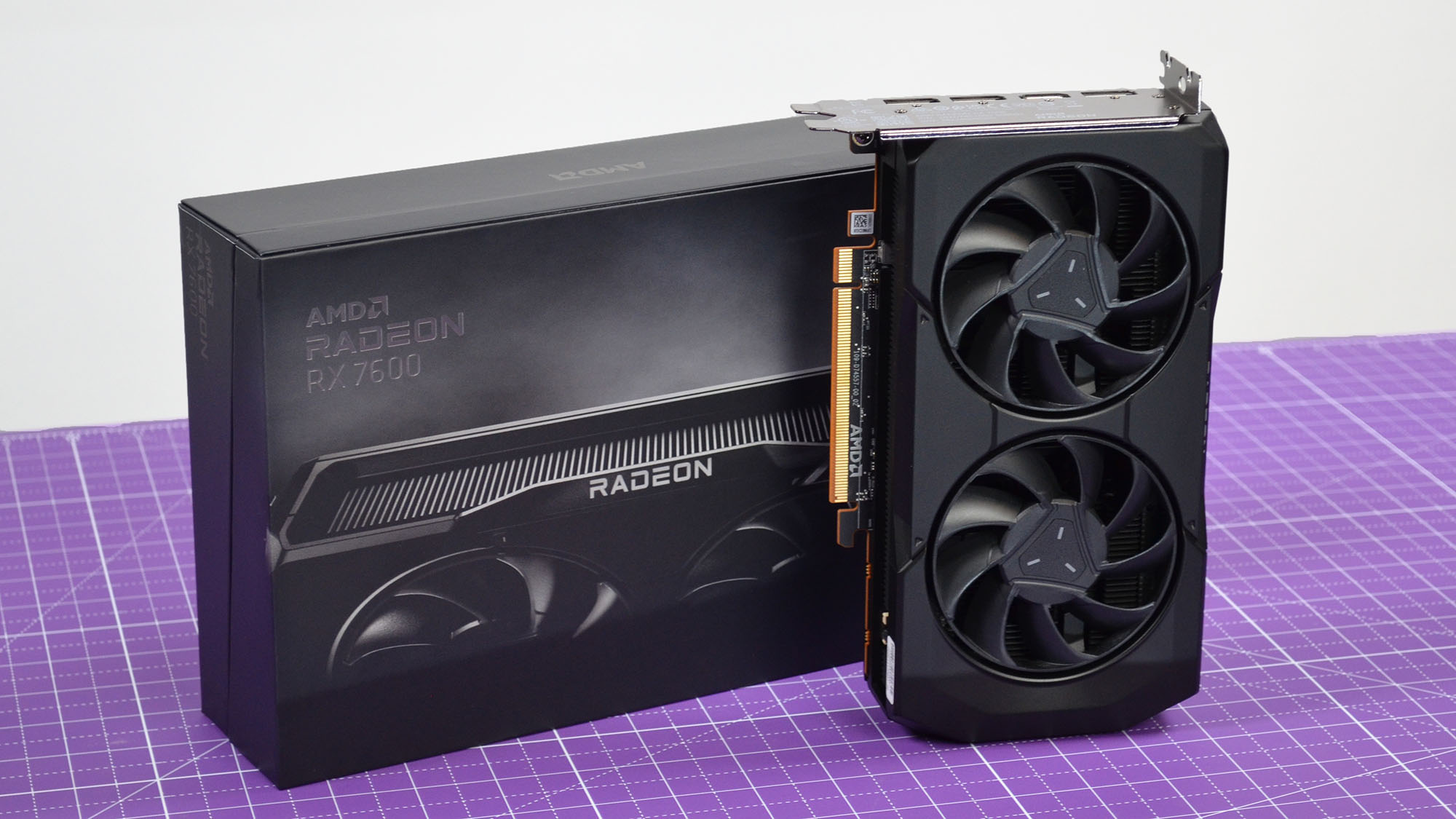 How much is it? MSRP listed at $269 (about £215/AU$405)
When is it out? It goes on sale May 25, 2023
Where can you get it? You can buy it in the US, UK, and Australia
The AMD Radeon RX 7600 goes on sale on May 25, 2023, with an MSRP of $269, (about £215/AU$405), making it the cheapest card of this generation to launch. Not only that, it's a substantial price drop from the Radeon RX 6600, which launched at $329 (about £265/AU$495), so you're getting a much better graphics card for almost 20% less. This is more like it! 
Ostensibly, the rival to the RX 7600 is the RTX 4060, but since that card has yet to launch, we can only really compare it to the last-gen midrange offerings from Nvidia and Intel.
The Nvidia RTX 4060 when it launches will sell for $299 (about £240/AU$450), which is 9% cheaper than the RTX 3060's official MSRP of $329. The RX 7600 has a cheaper MSRP than either of those, but I expect that the RTX 3060 especially will see some heavy discounting as a result of both the RTX 4060 and the RX 7600, so the value proposition of the RX 7600 might shift depending on what SKU you're looking at.
The RX 7600 does come in slightly more expensive than the Intel Arc A750, and while you might do a double-take at the mention of Intel, the Arc A750 can give the RX 7600 a run for its money at times, so you definitely can't write it off completely.
AMD Radeon RX 7600: Features and chipset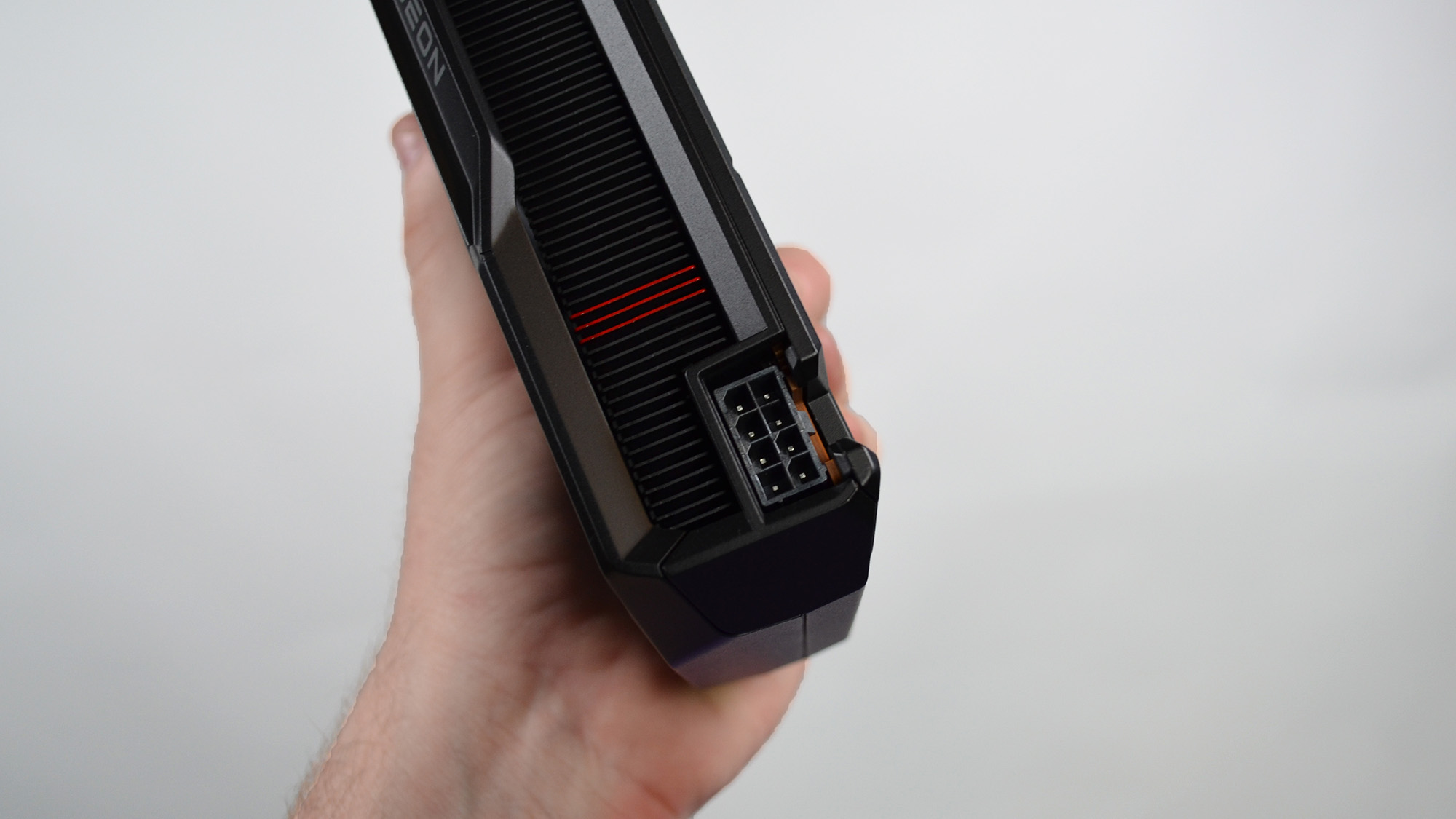 More ray tracing cores and new AI cores
Higher TGP
With the move to RDNA 3, the AMD Radeon RX 7600 starts off on a 6nm TSMC process over the RX 6600's 7nm, which gives the RX 7600 a roughly 20% jump in the number of transistors it has to work with (13.3 billion to 11.1 billion). And even though the actual GPU die on the RX 7600 is about 14% smaller than that of the RX 6600, it manages to pack in four additional compute units for a total of 32 compared to the RX 6600's 28.
This is also a more mature architecture, so the 2,048 stream processors (a roughly 14% increase over the RX 6600), are more performant, and the second-generation ray accelerators are a huge improvement over the first-gen RAs in the RX 6600.
The RX 7600 also has faster clocks than the RX 6600, with a boost clock improvement of about 6%, but the big improvement comes with the memory clock speed, which is 2,250MHz for the RX 7600 and 1,750MHz for the RX 6600. This means a nearly 30% boost to memory speed, so even though the RX 7600 is still rocking the same 8GB GDDR6 VRAM on a 128-bit bus as the RX 6600, it has an 18 Gbps effective memory speed compared to 14 Gbps for the RX 6600.
There is also the addition of 64 AI accelerators for the RX 7600, which the RX 6600 simply didn't have. This means that things like Radeon Super Resolution (RSR) will run better than it did on the RX 6600, and it will enable advanced AI workloads like generative AI content creation.
All this does come at the cost of power though, as the RX 7600 has a 25% higher TGP than the RX 6600. This isn't good, and given how Nvidia's cards are typically getting better performance with less power gen-on-gen, this is definitely the wrong direction for AMD to be going in. It still keeps the card "reasonable" when it comes to your PSU, and AMD recommends a 550W PSU for the RX 7600 at a minimum, but this still manages to keep things under 600W overall.
AMD Radeon RX 7600: design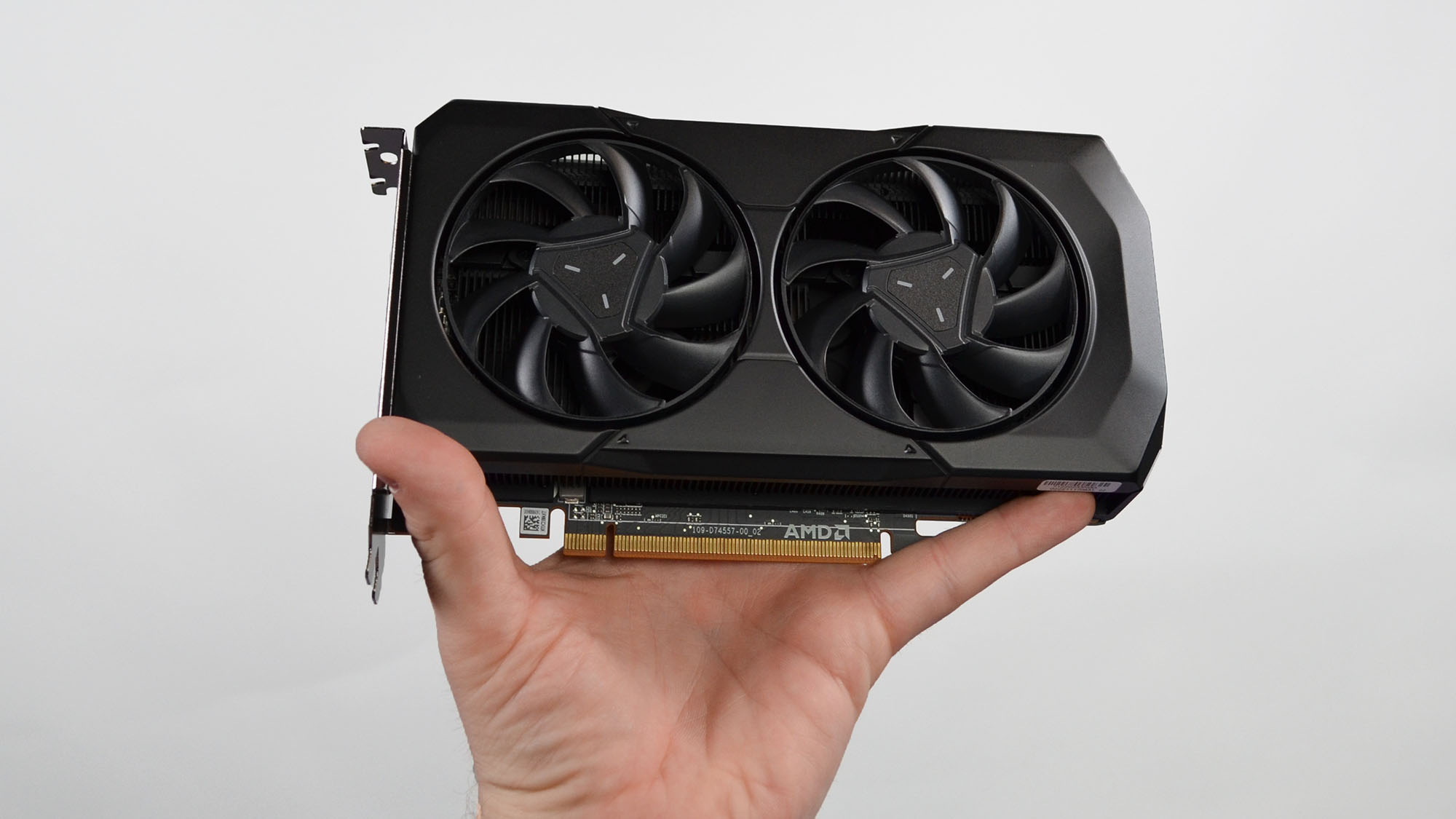 The AMD reference card for the Radeon RX 7600 is a compact dual-fan number that will fit in just about any case. This is a dual-slot card, but it's just over eight inches long and a little over four inches tall, so it's great for mini-tower builds, and with just a single 8-pin power connector, you won't have any issues with cable management here.
In terms of outputs, we get three DisplayPort 2.1 ports, with a single HDMI 2.1a port, though no USB-C output. Honestly, having the DisplayPort 2.1 output is nice, but really unnecessary. With just 8GB VRAM, there is no universe where this card can output 8K video that doesn't default to a slow sequence of still images, so it's a nice-to-have that you are almost guaranteed to never use. Far be it for me to be a buzzkill, though, so if you want to push this card at 8K, do let me know how that turns out.
As for the lack of USB-C, this really isn't a creative card, so this isn't something that you should worry about unless you have one of the best USB-C monitors and nothing else. Even then, I recommend looking further up the stack (like the AMD Radeon RX 7900 XT), since USB-C monitors are almost universally for creative pros and this card isn't going to cut it for the kind of work you'll need to do with it.
In terms of its actual aesthetics, like the two RDNA 3 cards before it, the RX 7600 eschews any RGB and features a matte black design with some subtle accent touches like the red stripes on the fins of the heat sink which would be visible in a case. Overall, it's a cool-looking card, especially for those not looking to have excessive RGB lighting up everything in their case.
AMD Radeon RX 7600: Performance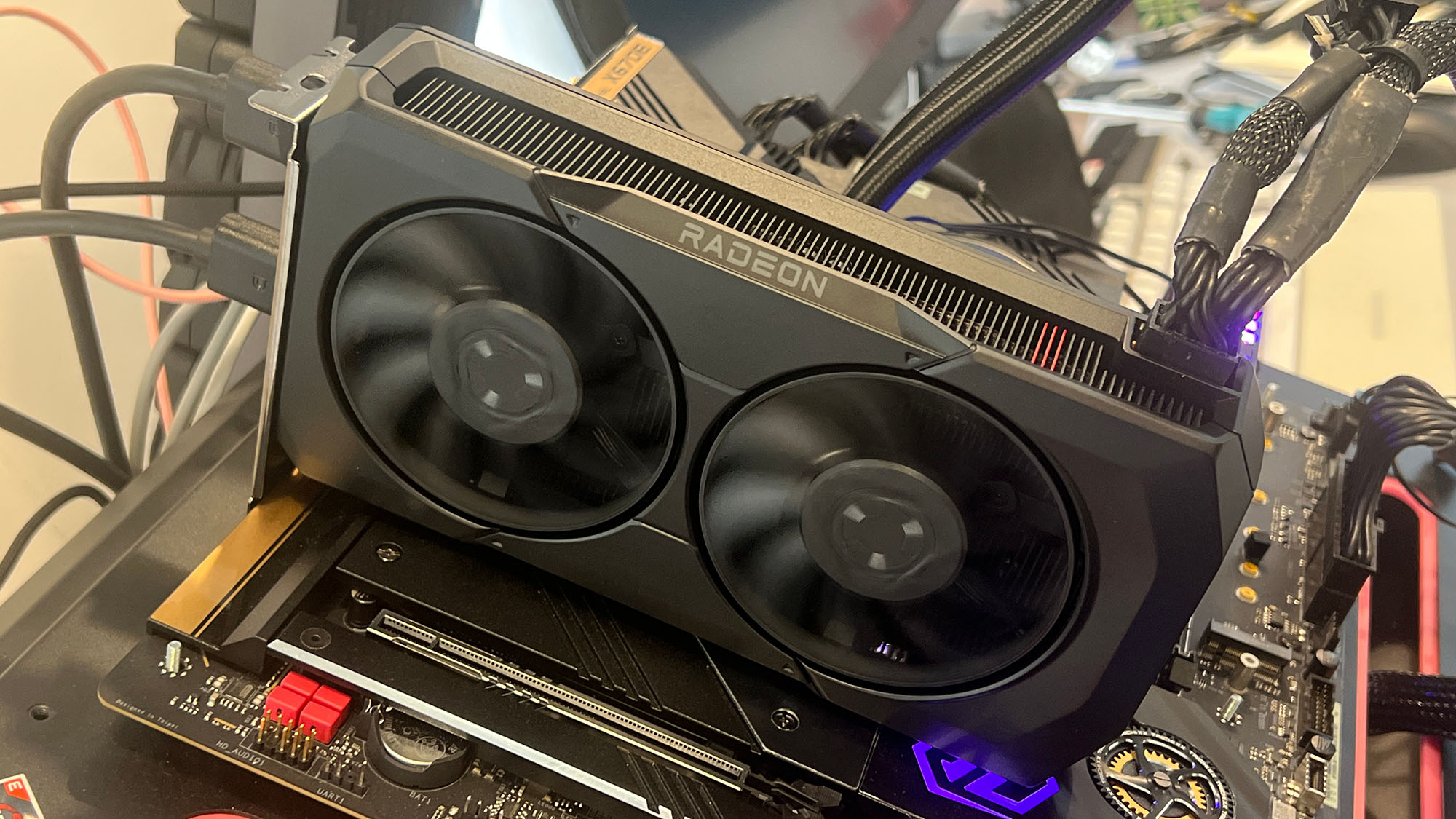 Best-in-class 1080p rasterization performance
Much improved ray tracing performance
Can manage some decent 1440p performance, especially without ray tracing
Given the missteps Nvidia has been making lately, AMD has a real shot of taking some market share if it can offer compelling performance for gamers. Fortunately for Team Red, the AMD Radeon RX 7600 manages to pull off quite a coup when it comes to gaming performance.
Test system specs
This is the system we used to test the AMD Radeon RX 7600:
CPU: Intel Core i9-13900K
CPU Cooler: Cougar Poseidon GT 360 AIO
RAM: 64GB Corsair Dominator Platinum RGB DDR5-6600MHz
Motherboard: MSI MAG Z790 Tomahawk Wifi
SSD: Samsung 990 Pro 2TB NVMe M.2 SSD
Power Supply: Corsair AX1000
Case: Praxis Wetbench
For the most part, the RTX 4060 is the RX 7600's main competition, but with the Nvidia RTX 4060 Ti just being released, it's the natural comparison at the moment. Is this necessarily fair? No, it's not, and the RX 7600 does lose out to the RTX 4060 Ti on just about every measure, but it really doesn't lose that badly.
In rasterized workloads at 1080p, the RX 7600 is only about 12% slower than the RTX 4060 Ti, and only about 13% slower at 1440p. This changes drastically as soon as you start factoring in ray tracing and upscaling, but it's something I definitely wasn't expecting. Against the RTX 3060 Ti, the RX 7600 fares better, obviously, and generally it outperforms the RTX 3060 in rasterization workloads.
In terms of its predecessor, the RX 7600 is the kind of gen-on-gen improvement I was really expecting to see from the RTX 4060 Ti and didn't get. The RX 7600's rasterization performance is great, but its improved ray accelerators really outshine what the RX 6600 is capable of, and really makes ray tracing at this price point accessible to the midrange.
Synthetic Benchmarks
In synthetic benchmarks, the RX 7600 roundly beats its predecessor, as well as the RTX 3060. Against the card it's replacing, the RX 7600 outperforms the RX 6600 by about 19%, while the RX 7600 beats the RTX 3060 by about 18% overall.
Digging into the results a bit further though, we can see some of the biggest gains come in ray-traced workloads like Port Royal, where the RX 7600 saw a 33% improvement over the previous gen.
The only benchmark where the RX 7600 comes up a bit short is in the Speedway benchmark, which is a 1440p, ray tracing benchmark. Here, the RTX 3060 just barely edges out the RX 7600 by just 219 points, which is close enough to be a bit of a wash.
Gaming Benchmarks
As you can see, when it comes to general rasterization performance at 1080p, the RX 7600 is the hands-down winner, only falling to the RTX 3060 in Counterstrike: Global Offensive, and only then by the barest of margins. Everywhere else, you can expect roughly 15-20% better performance out of the RX 7600 overall.
Things take a bit of a turn when it comes to ray tracing performance, but the results here are a bit deceptive for a couple of reasons. First, Cyberpunk 2077 is Nvidia's major showcase game, and that game is very well optimized for Nvidia cards, so the ray tracing performance for the RTX 3060 is substantially better than for either AMD card. However, take Cyberpunk 2077 out of the mix, and the RX 7600 actually outperforms the RTX 3060 in ray tracing performance. 
It's not all good for AMD though, since the minimum fps for the RX 7600 in both Returnal and Cyberpunk 2077 is in the single digits, and it's not just for a brief moment, but fairly regular dips into slideshow territory, especially around volumetric fog with applied lighting effects.
It's a similar story when you apply upscaling to either Cyberpunk 2077 or Returnal, where the RTX 3060's DLSS 2.0 is simply better optimized for the former, and the AMD RX 7600 struggles on the minimum fps on the latter, so even though the average fps on Returnal looks like it's north of 60 fps, you'll dip as low as 6 fps on the Quality FSR preset or 15 fps on the Ultra Performance preset, and trust me, it's noticeable. 
Of course, turn ray tracing off and you probably won't have this issue, but that will be a series of settings compromises you will have to decide for yourself. Overall though, the AMD Radeon RX 7600 manages to perform well above where you would expect from this generation at this price point. If you're looking for an outstanding and reasonably cheap 1080p graphics card, you can't go wrong with this one.
Should you buy the AMD Radeon RX 7600?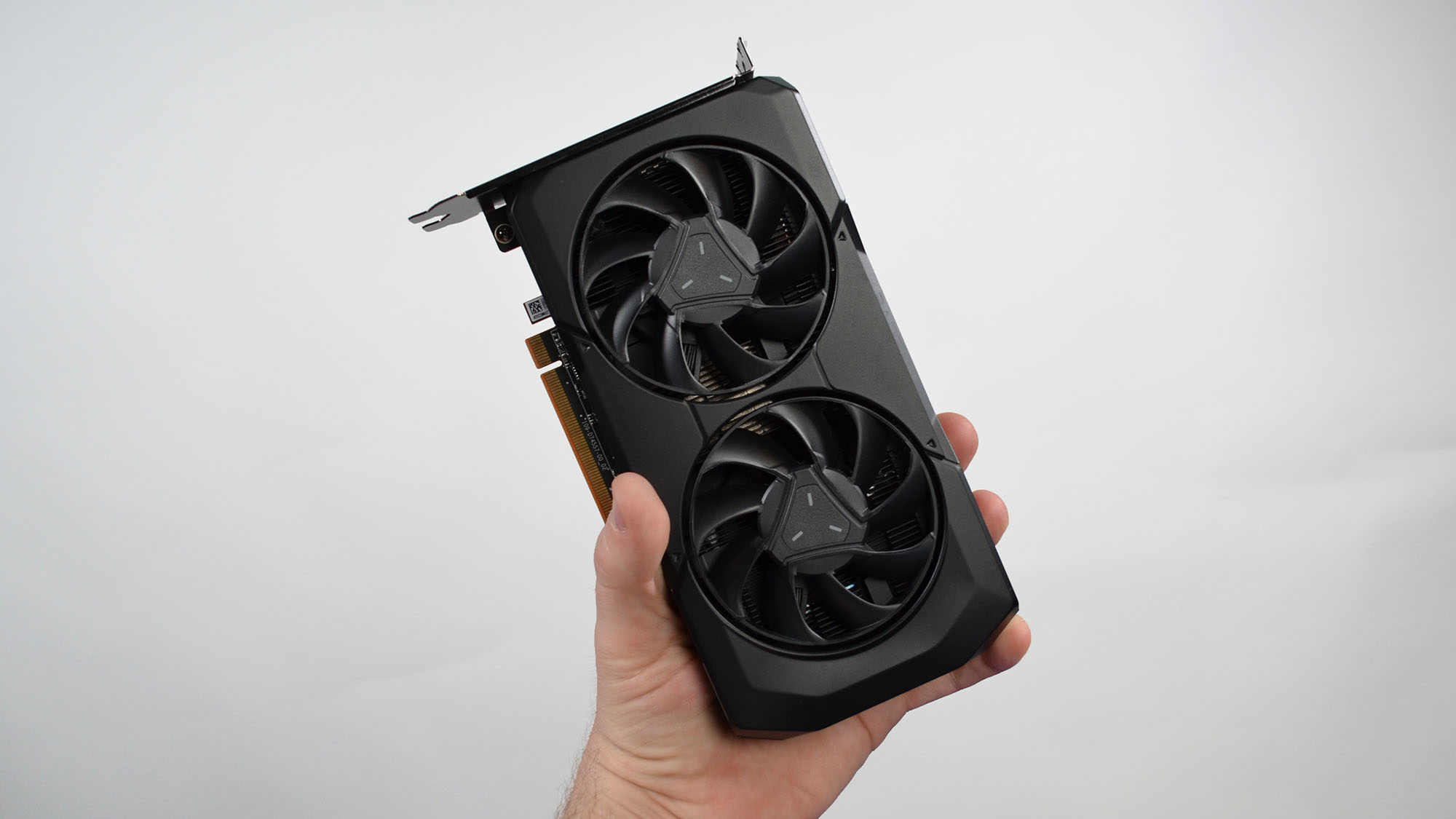 Buy it if…
Don't buy it if…
Also consider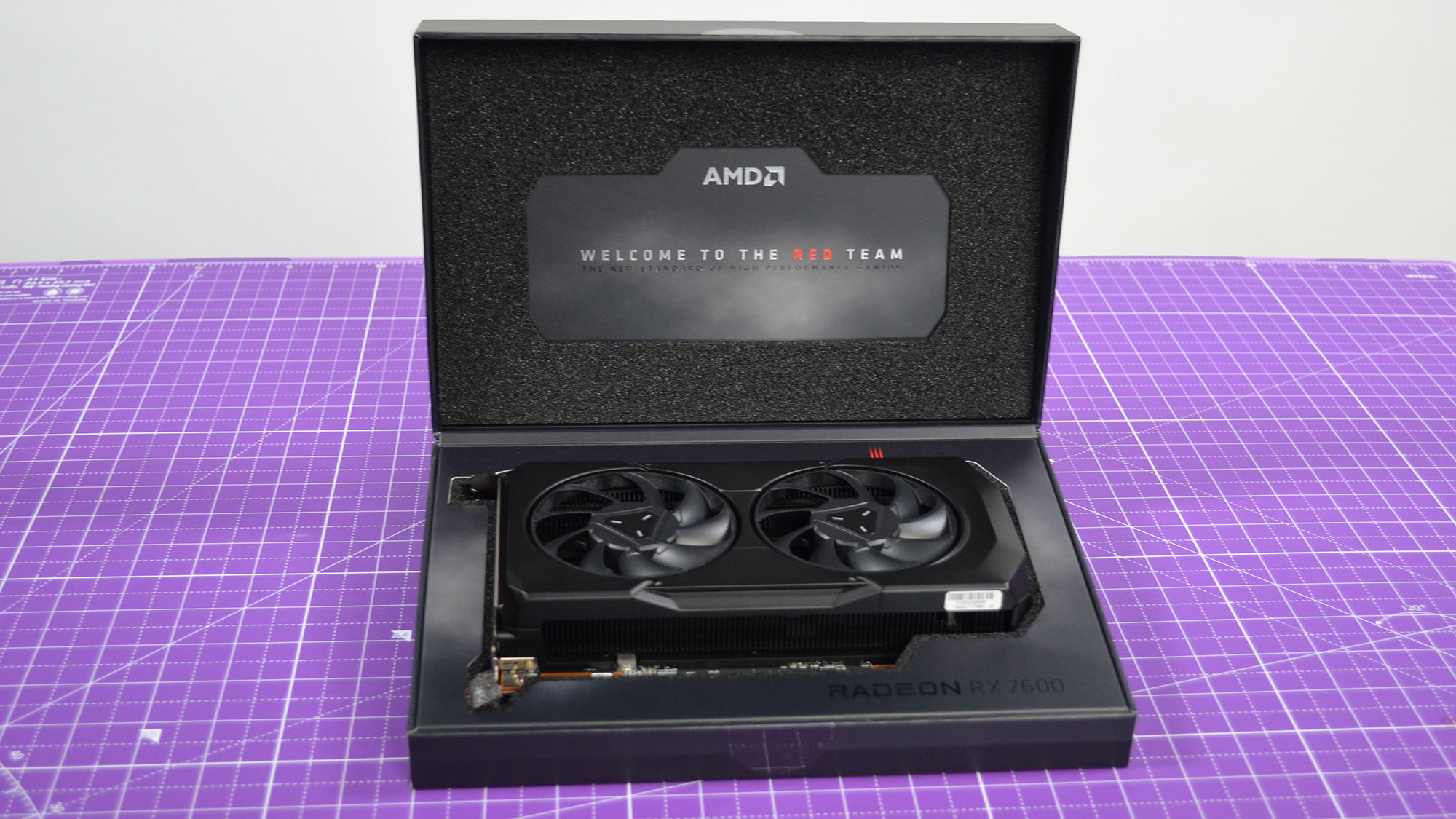 If my AMD Radeon RX 7600 review has you considering other options, here's two other graphics cards to consider.
How we test graphics cards
I spend several days with the RX 7600 running benchmarks, playing games, and generally measuring its performance against competing cards.
I paid special attention to its 1080p performance, since this is the main target audience for this card, while also stretching into 1440p gaming as well.
Having covered and tested many graphics cards in my career, I know how a graphics card should perform at this level and what you should be spending for this level of performance.