The best wireless speakers offer incredible levels of versatility, letting you stream music to either one or multiple speakers around the home using sophisticated control apps. Models like the Sonos One, or the forthcoming Spatial Audio-enabled Sonos Era 300, come to mind, but there are many others offering similar functionality from brands like Apple, Naim Audio, and KEF.
But what if you have a more traditional hi-fi setup consisting of an integrated amplifier or receiver and passive speakers that isn't equipped for streaming? There are plenty of streamer components (usually called network music players) from hi-fi brands that you can add to your system, but many of those are pricey, with the $449 Sonos Port and $599 Bluesound Node representing two of the cheaper options.
At $149 / £149 / around AU$225 the new WiiM Pro Music Streamer is a considerably more affordable choice, and it's also one that doesn't skimp on the high-level features you'll find on much more expensive network music players.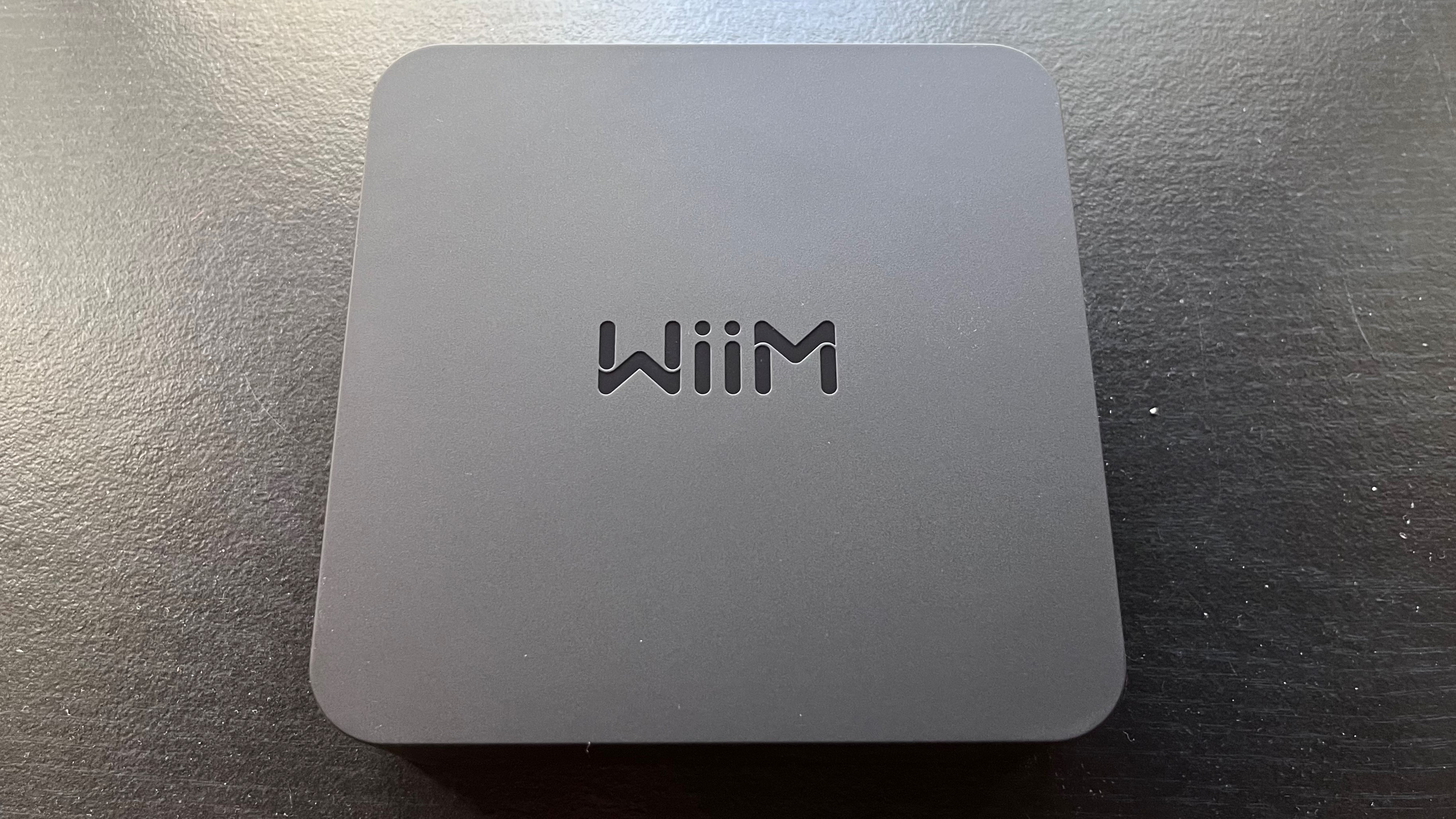 With support for up to 24-bit/192kHz streaming, the WiiM Pro is primed to deliver high-res audio from the best music streaming apps such as Tidal, Amazon Music Unlimited, and Qobuz. You can also configure its control app to stream from Spotify, Deezer, and Pandora, along with internet radio apps like TuneIn. 
The WiiM Pro's app lets you stream music either simultaneously or individually to multiple WiiM Pros, providing an inexpensive Sonos alternative for those who have existing audio systems set up in various rooms throughout their home. It can also be used to group Nest, Echo, and Apple HomePod speakers for streaming. Voice control options include Alexa and Hey Google, both of which can be enabled in the app.
AirPlay 2, Chromecast built-in, Alexa Casting, Spotify Connect, and Tidal Connect are all also supported by the WiiM Pro, giving you plenty of additional streaming options. Apple Music subscribers, however, should take note that Apple Music isn't supported from within the WiiM Pro's control app. To listen with that service, you'll need to use AirPlay 2 to stream tracks from your iPhone or iPad, and that means no high-res audio since music streamed via AirPlay 2 from an iOS device to the WiiM Pro maxes out at lossless 16-bit/44.1kHz quality.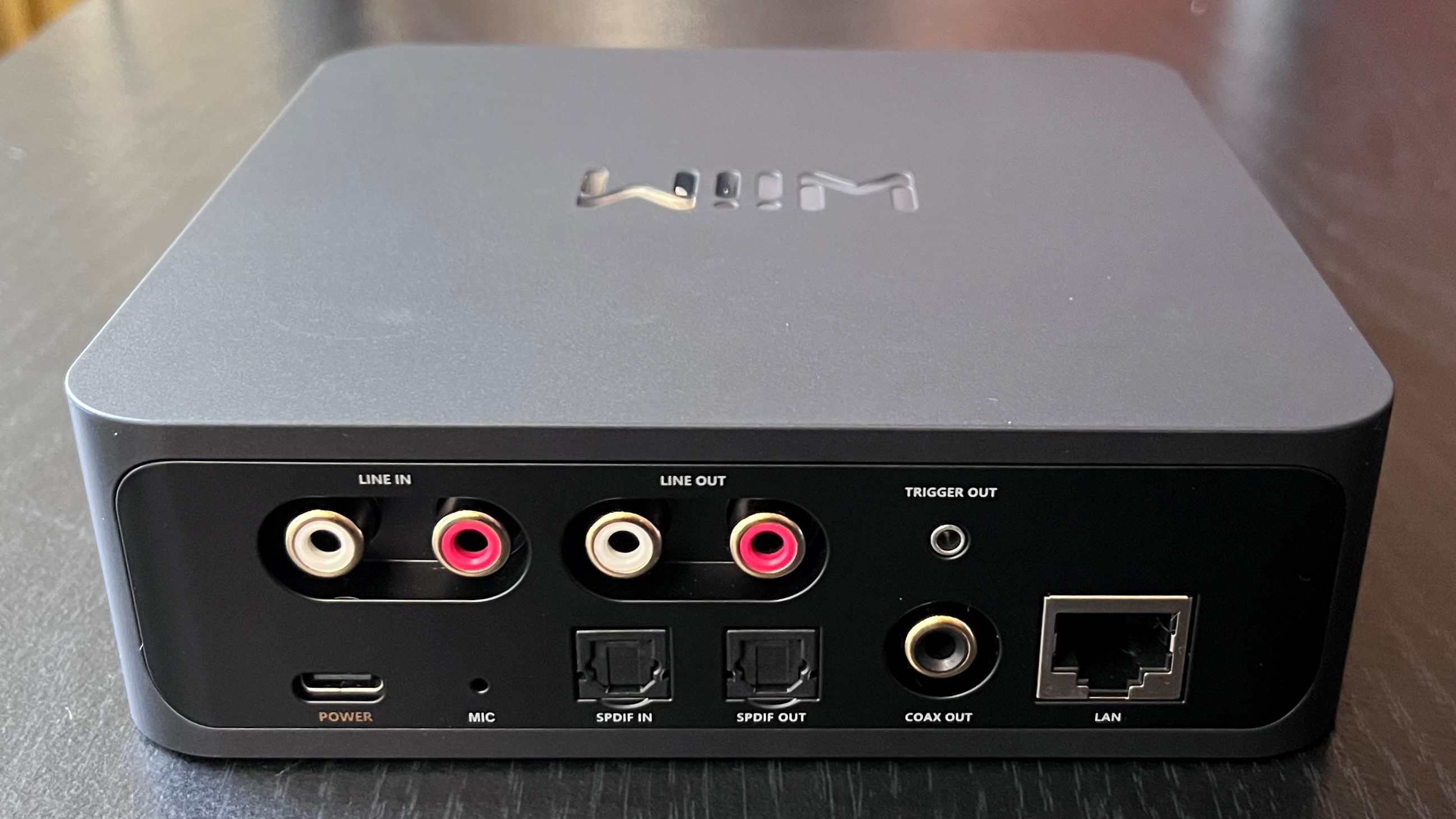 At 5.5 x 1.6 x 5.5 inches (W x H x D), the WiiM Pro is slightly larger than an Apple TV 4K and has the same puck-like design. There's not much heft to the WiiM Pro's plastic case, and it's also not much to look at, so you'll likely want to stash it somewhere to the side of your integrated amplifier or receiver where it can safely and silently do its job.
Output connections include analog stereo and coaxial and optical digital, and there are also analog stereo and coaxial and optical digital inputs for routing external sources through the WiiM Pro. There's an Ethernet port for a wired network connection and a trigger output that can be used to automatically turn on a connected amp. Analog stereo and optical digital cables are included, along with a USB-C adapter and cable for power.
A basic set of touch-sensitive controls are located on the WiiM Pro's front panel to adjust volume, switch inputs, and play/pause tracks. A traditional hardware remote is a $20 extra option, though in most cases you'll simply use the WiiM app or those of whatever music app you're using for streaming to carry out basic control functions.
The WiiM control app is very intuitive and easy to use. Once you've linked the WiiM Pro streamer to your home's Wi-Fi by entering your network password, you sign in to any apps you plan to stream from and then browse your albums, playlists, and tracks the same as you would in the app's own interface. I was glad to see that my Tidal album collection was presented chronologically by date added – an option that's maddeningly not always available in streamer control apps – though alphabetical, artist, and release date sorting was also possible.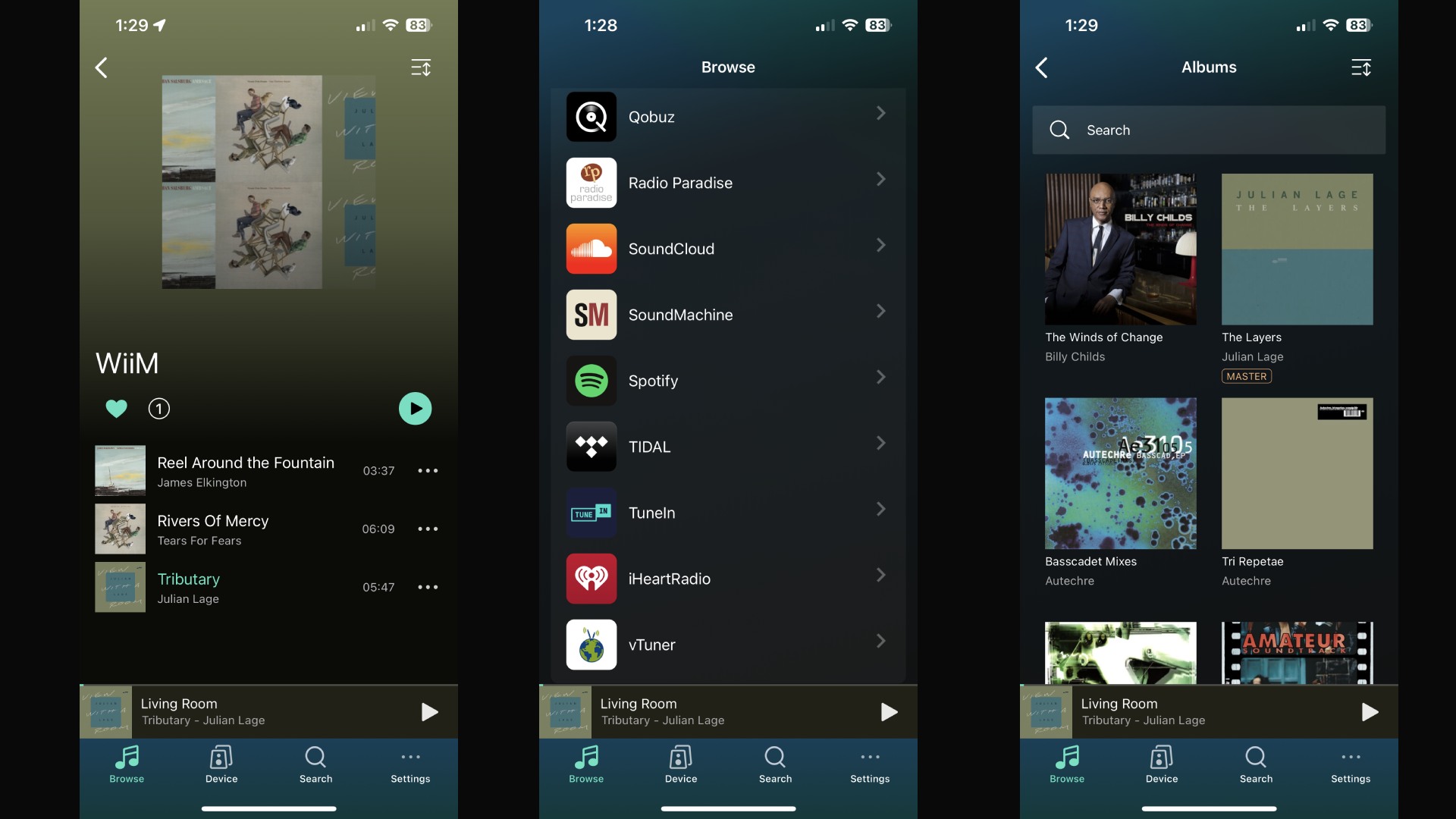 I listened with the WiiM Pro by streaming from Tidal and mostly using its analog stereo output, but also trying the coaxial digital output to compare its built-in DAC to my integrated amp's own DAC. 
The WiiM Pro's sound quality was impressive for a $149 streamer/DAC. Listening to jazz musician Julian Lage's track Tributary, his electric guitar had a clean, compelling tone and the bass guitar had a full-bodied quality. Drums also sounded clean and crisp, and the WiiM Pro presented a super-wide stereo image.
Playing James Elkington and Nathan Salsburg's countrified instrumental cover of Reel Around the Fountain by The Smiths next, both acoustic guitars had good definition and a sense of air around them. And when I next streamed Rivers of Mercy by Tears for Fears, a track with a much denser production than the previous two, both vocal and instrumental layers in the mix were clearly rendered, and the WiiM Pro easily tracked dynamic swells during the chorus.
When I switched over from using the WiiM Pro streamer's analog to its coaxial digital output – something that can be easily done in the app – in order make sound quality comparisons with my integrated amp's DAC, I felt that the WiiM Pro was definitely lagging somewhat when it came to detail resolution and dynamic punch. But the difference wasn't so major that I was disappointed when I switched back to the streamer's analog output, and I'm fairly certain most listeners would feel the same way.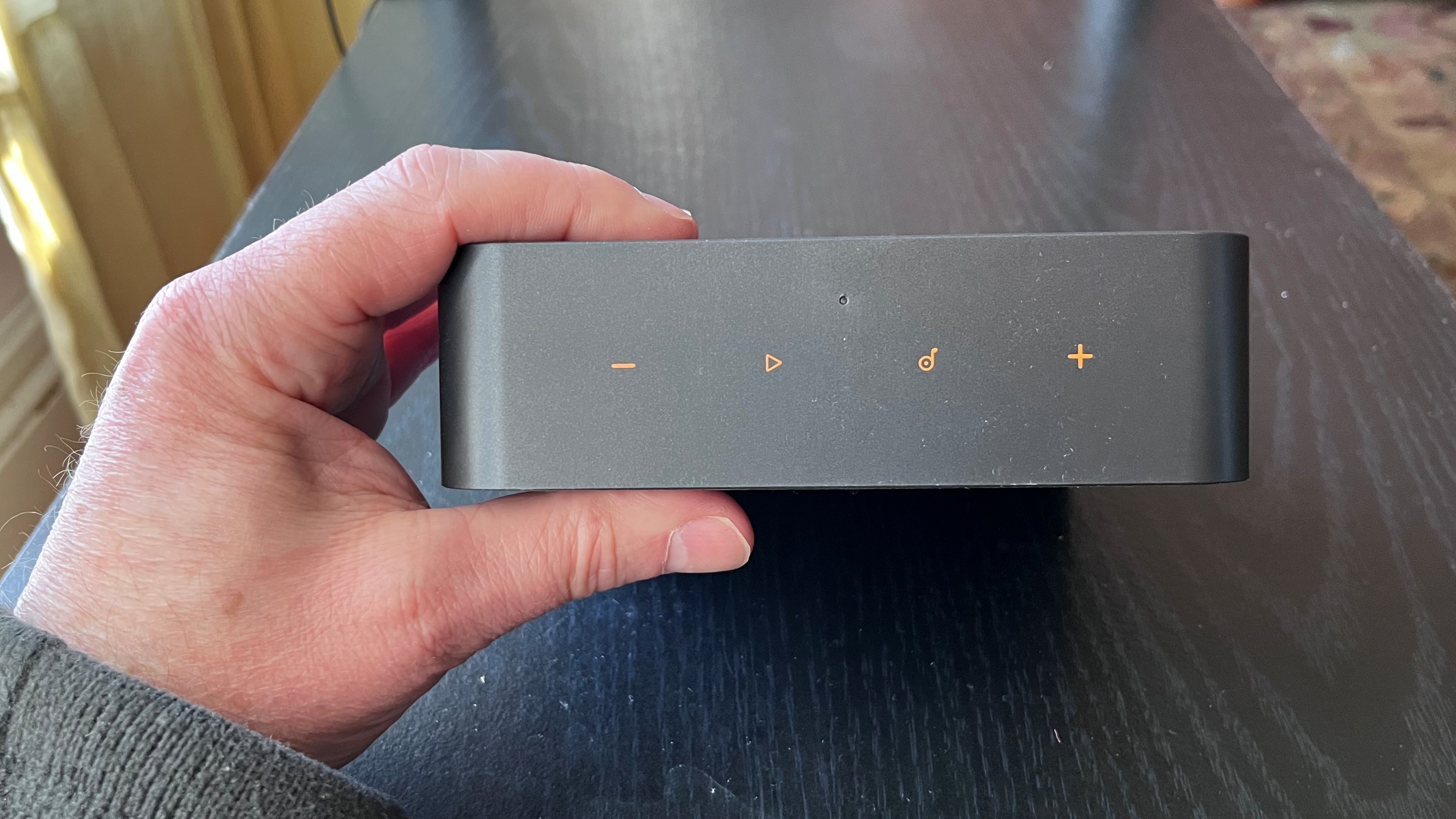 Ultimately, the value category is where the WiiM Pro scores the biggest win – you literally have to spend hundreds more to get a streamer that does as much. And while the simple, unpretentious design isn't going to earn it any oohs and ahhs, it sounds very good, performs reliably, and is equipped to handle almost any music streaming task you would ask of it.
WiiM Pro Music Streamer review: Price & Release date
$149 / £149 / around AU$225
First available: October 2022
The WiiM Pro Music Streamer is available now for $149. Most audiophile-grade music streamers offering this level of versatility cost well above what you'll pay for the WiiM Pro, leaving it pretty much in its own league when it comes to pricing. Step-up models would be the Bluesound Node ($599) and Sonos Port ($449), both of which also support a range of protocols and offer multiroom streaming capability using a control app.
You still might be able to find Google's Chromecast Audio online for nearly half the WiiM Pro's price, but that model has very limited connectivity and only supports Chromecast for streaming.
WiiM Pro Music Streamer review: Specs
Should you buy the WiiM Pro Music Streamer?
Buy it if...
You want to cheaply add music streaming
The WiiM Pro is the cheapest music streamer I know of, with a cost that's hundreds less than the least pricey step-up options. It's a perfect entry point into the world of high-res audio streaming from services like Tidal, Amazon, and Qobuz.
You want multiroom capability
The WiiM app can be used to route music to multiple WiiM Pros around the home, letting each system play the same track or individual systems play different tracks. You can even use multiple apps for multi-room playback.
Don't buy it if… 
You want a streamer with rugged build quality
The WiiM Pro's cheap plastic case is flimsy compared to typical hi-fi components and even A/V streamers like the Apple TV 4K. You're clearly getting what you pay for, though the compact WiiM Pro can be easily hidden away.
You want a streamer with exceptional sound quality
Sound quality using the WiiM Pro's analog stereo output doesn't match what you get with high-end stereo components, but it's very good nonetheless and you can always use its digital outputs to feed an outboard DAC.
WiiM Pro Music Streamer: Also consider
WiiM Pro Music Streamer: How I tested
Streamed music from reference Tidal HiFi playlists
Compared analog output to reference DAC
Evaluated control app for functionality and ease of use
I tested the WiiM Pro Music Streamer using tracks from the Tidal music service. I have created Tidal playlists that allow me to listen for various performance aspects such as detail, dynamic range, and vocal clarity, and those playlists were used along with a new one created specifically for this review.
To compare the WiiM Pro's DAC (digital-to-analog converter) with the one built into my integrated amplifier, I switched between the streamer's analog stereo and coaxial digital outputs. And while the switching process wasn't instantaneous, it did provide me with a good sound quality comparison. I have used the same integrated amp as a reference for many years, and for comparisons in many other audio component reviews, so I have a good handle on its performance.
Part of the testing process involved evaluating the WiiM Pro's control app for functionality and ease of use. I have used apps from competing products like Sonos and Bluesound extensively, so there was a strong base for comparison with the WiiM app.
First reviewed: March 2023