TCL 6-Series Roku TV (2022): Two-minute review
 TCL's 6-Series TVs are known for their combination of impressive picture quality and high value, and the latest version of the company's flagship not just continues that tradition, but improves upon it. Available in 55- to 85-inch screen sizes, the new 6-Series arrived in late 2022, and it offers not just movie fans but gamers on a budget a great big-screen option.
Mini-LED backlighting is common in the best 4K TVs now, but TCL was the first to widely introduce it. In the 6-Series, mini-LED tech enables high brightness, while a quantum dot layer enhances color reproduction, and full array local dimming processing creates deep and detailed shadows. The set features Dolby Vision IQ to make high dynamic range images look good in both dim and well-lit environments, and HDR support extends to HDR10+ and HLG. 
Gaming features on 6-Series TV are enabled via a pair of HDMI 2.1 inputs, with onboard support for 120Hz, Variable Refresh Rate (up to 144Hz), and Auto Low Latency Mode (ALLM). FreeSync Premium Pro is also supported, making TCL's flagship an obvious choice for gaming.
A new design with a sturdy center stand (55-, 65-, and 75-inch models only) improves the look of TCL's 6-Series, and a vanishingly thin bezel creates an "all-picture" effect. The stand has adjustable height for soundbar placement, and can be elevated to accommodate all but the most chunky of bars.
That last feature is an important one because sound quality on 6-Series TVs is just average. Dialogue is clear, but there's very little bass, and the thin overall audio balance can create ear fatigue (for me, at least). You'll want to add one of the best soundbars to this TV, if only a basic two-channel one.
The set I tested uses the Roku smart TV interface (a version with Google TV is also available), which is one of the less cluttered and easy to navigate options on the market. A basic Roku remote provided with the set offers voice commands for searches and basic control, and the TV also works with Siri, Alexa, and Hey Google.
As far as value goes, the new 6-Series is one of the more compelling TV options on the market. This series is packed with great features and the performance is well above-average, especially given the price. TCL has once again made things look easy, rolling out a high-value TV lineup with a surprisingly high level of refinement.
TCL 6-Series Roku TV (2022) review: price and release date
Release date:  September 1, 2022 
From $699 at 55 inches
TCL's 6-Series is the company's top TV line, with screen sizes ranging from 55 up to 85 inches. The version I reviewed comes with the Roku smart TV interface, but similar 6-Series models and screen sizes are available with Google TV. TCL's 6-Series is only available in the US.
Pricing for the 6-Series TVs is comparable to other budget TV offerings in the US such as Hisense and Vizio. 
The 55-inch 55R655 costs $699, the 65-inch 65R655 costs $999, the 75-inch 75R655 costs $1,499, and the 85R655 costs $1,999.
TCL 6-Series Roku TV (2022) review: Specs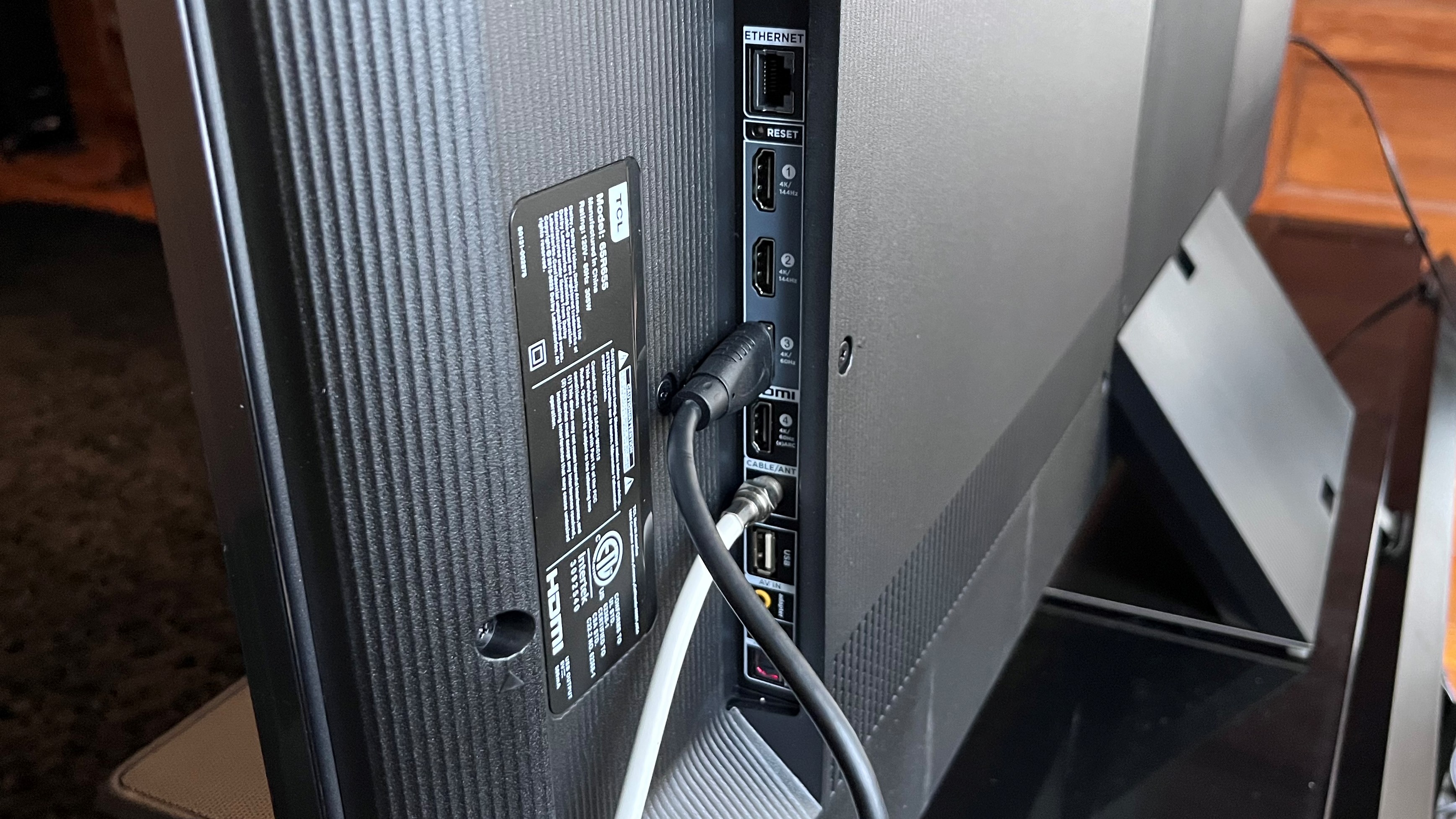 TCL 6-Series Roku TV (2022) review: features
Roku smart TV interface
Dolby Vision, HDR10+, and HLG high dynamic range
HDMI 2.1 inputs with 120Hz and VRR
The TCL 6-Series (2022) model we reviewed features the Roku smart TV interface (Google TV is another 6-Series option). Roku's interface has a clean layout that's very easy to navigate, and it offers the best streaming services, including Netflix, Disney Plus, Amazon Prime Video, HBO Max, Apple TV Plus, Hulu, Peacock, and ESPN Plus. The TV Works with Siri, Alexa, and Hey Google and it has AirPlay 2 support for casting from an iOS device or Mac computer.
TCL's 6-Series sets are QLED models that feature a quantum dot layer for enhanced color and brightness and they use a mini-LED backlight with full array local dimming (288 zones). The company's AiPQ Engine handles video processing and high dynamic range support extends to Dolby Vision IQ, HDR10+, and HLG. 
Two of the set's four HDMI inputs are version HDMI 2.1 with support for 4K 120Hz input, Variable Refresh Rate (up to 144Hz), and Auto Low Latency Mode (ALLM). One port supports HDMI eARC for a soundbar connection, and there's an optical digital audio output and an RF input to connect an indoor TV antenna for use with the set's ATSC 1.0 broadcast tuner. When viewing TV broadcasts, you can rewind live TV up to 30 minutes when a storage device is plugged into the set's USB port.
Overall, the feature package is excellent for the price, with the TV's mini-LED backlight and local dimming features, along with extensive HDR support, making it an excellent choice for movie viewing. And 120Hz, VRR, and ALLM support, along with FreeSync Premium Pro, make it a great option for gaming as well.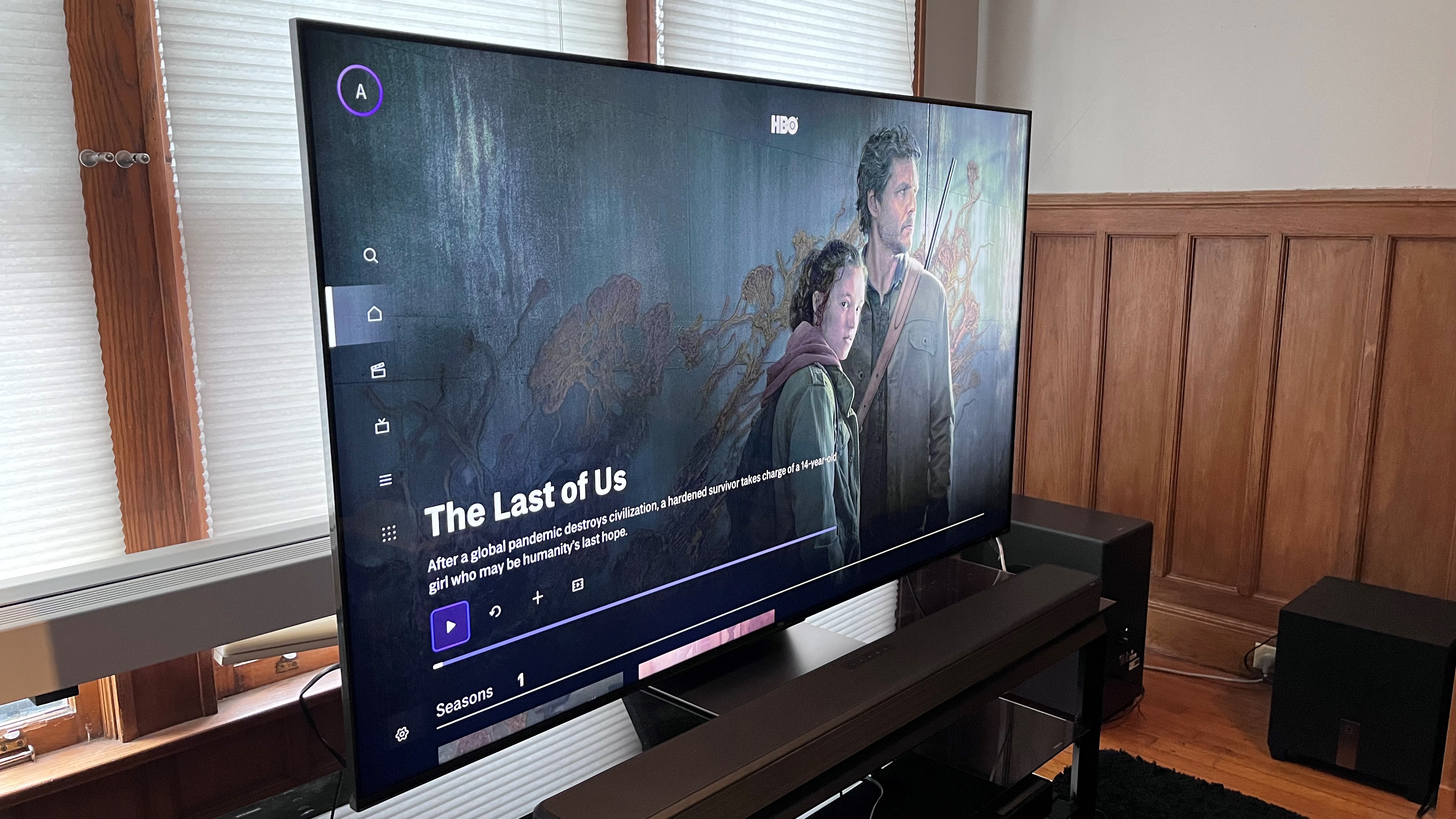 TCL 6-Series Roku TV (2022) review: picture quality
Rich color reproduction
Deep blacks with detailed shadows
Limited brightness for an OLED TV
The 65-inch 6-Series TV I tested offered up the impressive brightness you'd expect from a mini-LED TV, with standard dynamic range peak light output measured at 1,326 nits and high dynamic range at 1,317 nits. That's a bit less than the 1,775 nits I measured on the Hisense U8H, another budget mini-LED model, but still well above what you'd get from an average QLED or OLED TV.
With the set's High Brightness and and High Local Contrast settings selected, it was capable of displaying black at 0 nits to deliver "infinite contrast." With the Local Contrast setting switched off, the set's native contrast ratio was 5,965:1 – still a very good result for an LCD-based TV. For most of my testing, I set Local Contrast at High, which delivered the best black depth and black uniformity.
The TCL's color balance in its default Warm color temperature setting was slightly reddish across the full grayscale, though that could be corrected for using the advanced picture settings in the Roku control app, along with Portrait Displays' Calman color calibration software. Coverage of DCI-P3 (the color space used for mastering 4K Blu-rays and digital cinema releases) was 96.2%, and BT.2020 was 76.3%. Those results are very good, and basically match what I measured on the Hisense U8H.
Screen reflections from overhead lights were minimal on the 6-Series TV I tested. This, combined with the set's prodigious light output, makes it a great option for viewing in a well-illuminated space. Picture contrast and color saturation faded when viewing from off-center seats, but that's a common effect with LCD-based TVs.
Moving on to how the TCL looked with movies and TV, I started my viewing by watching some high-definition documentaries broadcast on a local PBS channel, and the set's 4K upconversion was impressively clean and crisp. Soccer games streamed via ESPN Plus looked somewhat softer, but overall the picture quality was very good for sports streamed in HD resolution. The Bond film No Time to Die has a scene where the camera does a long slow pan across a craggy hillside, and this appeared mostly smooth on TCL's 6-Series TV. (I've seen that scene literally vibrate with judder on some other sets.)
Streaming the The Last of Us on HBO Max in Dolby Vision, the set's Dolby Vision IQ processing presented a well balanced picture packed with subtle yet powerful highlights. In a scene where Joel, Tess, and Ellie wander outside an abandoned museum, for example, the golden sunlight hitting them and their surroundings made the ravaged landscape look almost beautiful. Detail in this scene was also rich, with the CGI-created textures of the fungi crisply rendered.
All Quiet on the Western Front, a 2022 Oscar Best Picture nominee, also looked fantastic on the TCL when streamed in Dolby Vision from Netflix. Shadows in the film's many dark scenes came across as a deep, inky black, and there was a good amount of detail in the dark trenches where the French and German soldiers do battle. I did see a small degree of backlight blooming, mostly on the black letterbox bars at the top and bottom of the picture when flares or some other very bright object appeared. But instances of this were minimal and I only noted it when specifically looking for it.
Overall, I was very impressed with the TCL 6-Series TV's picture quality. Its light output proved to be more than enough for my regular dark room viewing habits, and I ended up scaling it back considerably for most shows I watched.
Picture quality score: 4.5/5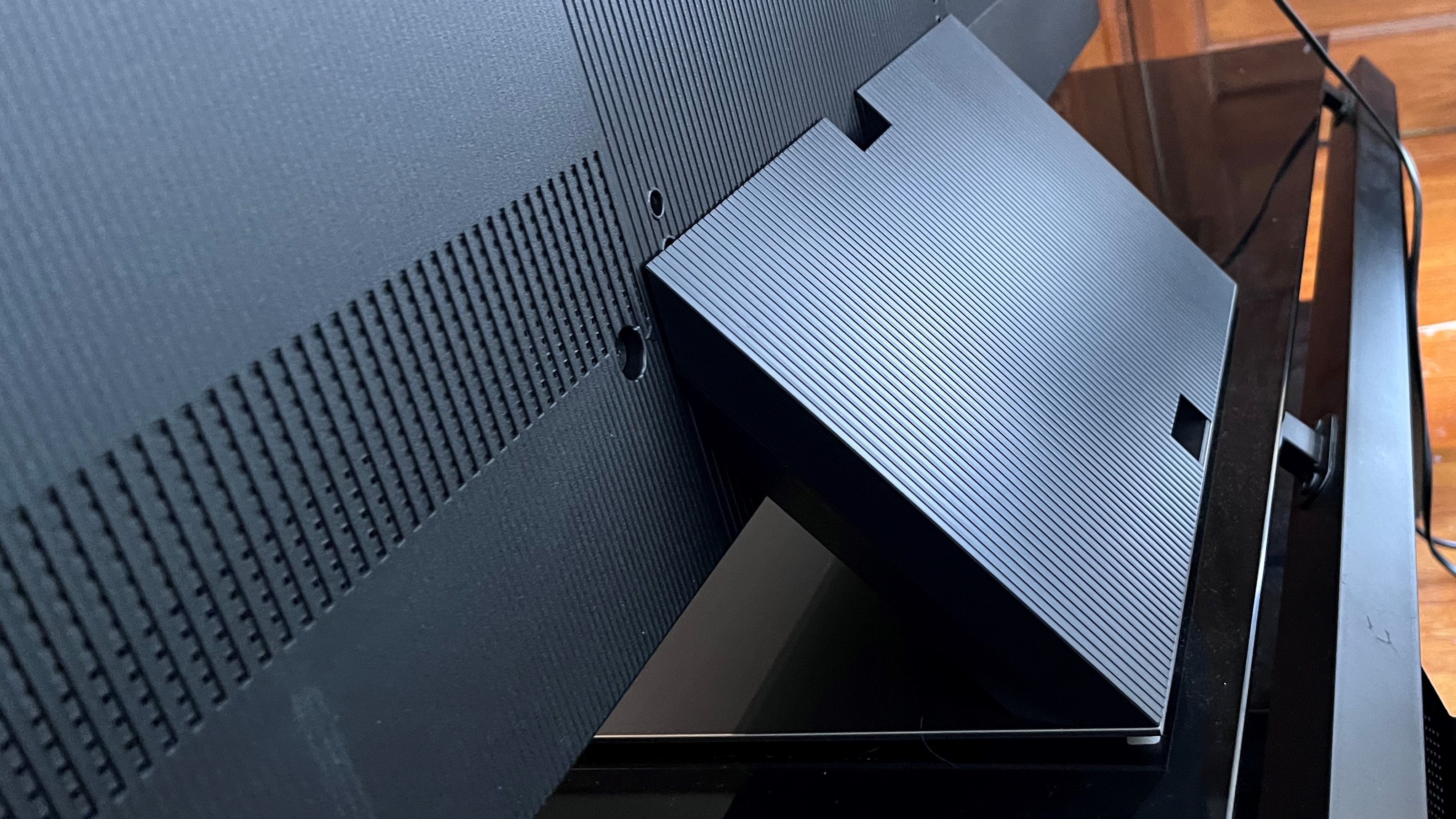 TCL 6-Series Roku TV (2022) review: sound quality
2 x 10 watt speakers
Dolby Atmos support
Thin sound quality with most modes
The 6-Series' audio features are very basic, with a pair of downfiring speakers each powered by 10 watts, handling sound chores. TCL's specs state Dolby Atmos support, but that's limited to virtual Atmos from the set's speaker pair.
I cycled through the TV's multiple sound processing modes, including Theater and Bass Boost, but couldn't find one that didn't have thin audio quality. You do get the option to turn on virtual surround sound for all programs or just for ones with Dolby Atmos, and when used with Atmos soundtracks there is a notable sense of spaciousness to the sound.
Dialogue was very clear with all programs I watched, even ones with medium-loud soundtracks. Even so, this was a case where I felt almost desperate to add a Dolby Atmos soundbar to the TV, and when I did, the sound filled out and made dialogue more balanced with other elements like music and effects. 
Sound quality score: 3.5/5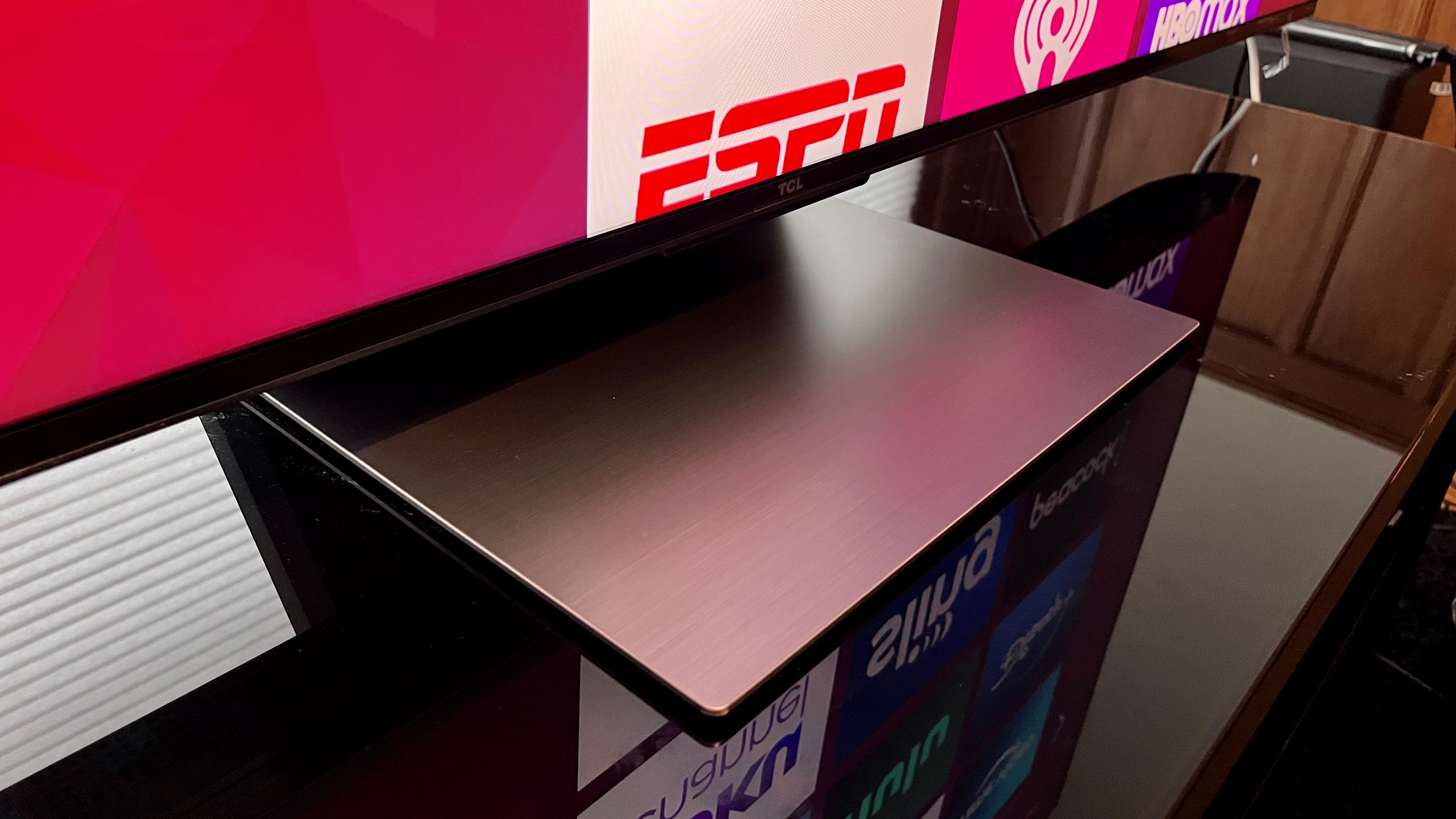 TCL 6-Series Roku TV (2022) review: design
FullView edge-to-edge glass design
Aluminum base with center placement
Roku remote control with built-in mic
The 6-Series has a great look for a budget TV line. TCL's FullView edge-to-edge glass design, along with an extremely thin bezel, means there's an "all picture" appearance, and the aluminum base at center screen provides a sturdy foundation for it to rest upon. 
The base has adjustable height, and after setup there was plenty of space between the screen's lower edge and my TV stand's surface to accommodate a rather sizeable soundbar – always a plus with a TV. Around back, the set has a cable management system, and you can use this to route wires from connected components located on shelves beneath to the inputs section on the TV's side. 
The Roku remote used to control the set will be familiar to anyone who has used that company's streamers. It has a simple button layout, including quick keys to easily access apps like Netflix, and a button to activate the built-in mic for voice searches. It's basic enough to use in a dark room and provides all the controls needed for accessing inputs and picture and sound adjustments via the onscreen menu.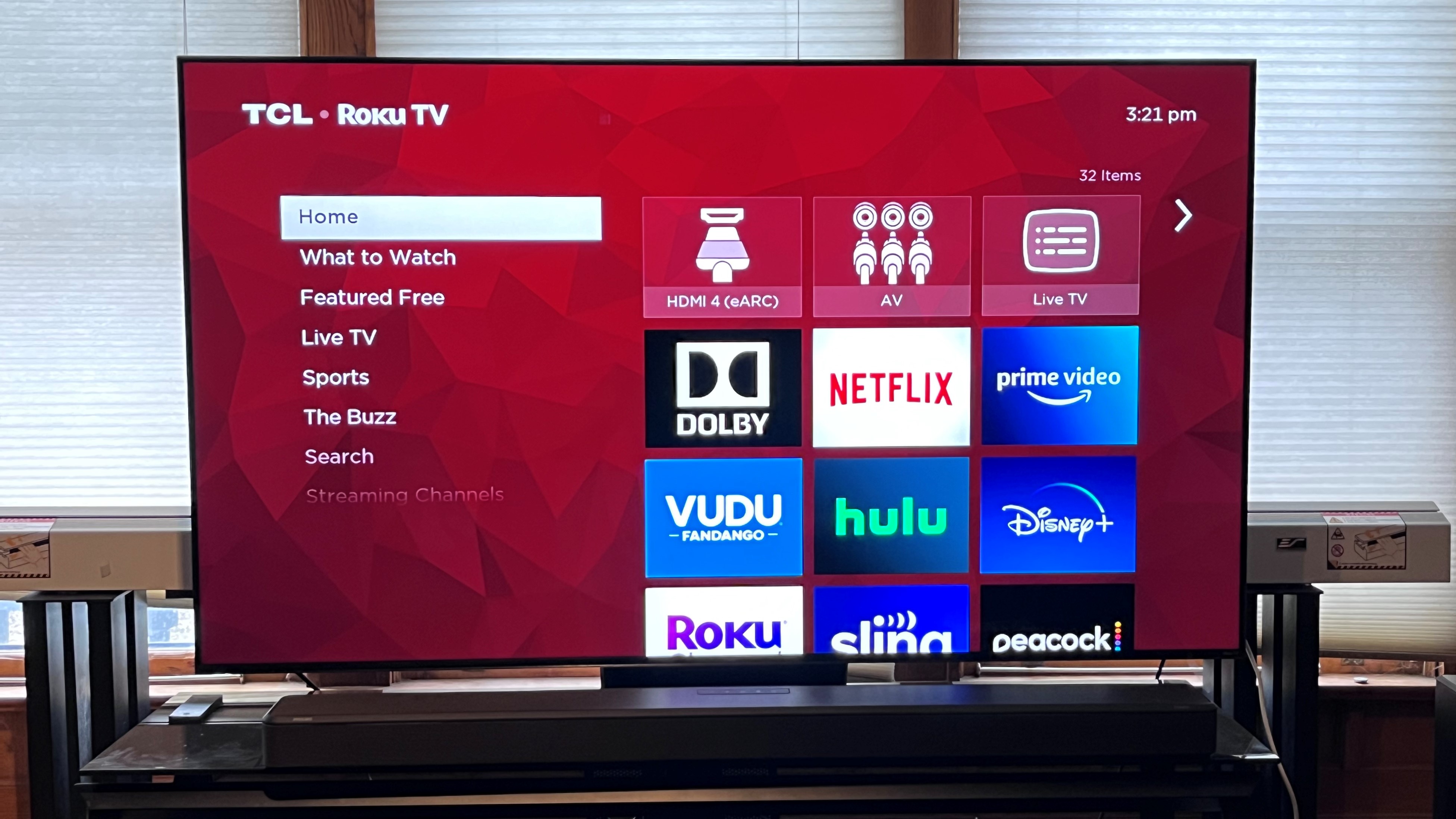 TCL 6-Series Roku TV (2022) review: smart TV & menus
Roku TV interface
Works with Siri, Alexa, and Hey Google
Picture adjustments require lots of scrolling
A Roku product was my very first streamer, and I had used several of them over the years before making a switch to the Apple TV 4K. It's a great interface – easy to navigate, and with extensive app support. One of the issues I have with smart TV interfaces is that they'll often be missing several key apps that I use on a regular basis (Criterion Channel and ESPN Plus among others), but Roku always seems to have it all and more. Unlike other smart TV platforms like Google TV and Amazon, the Roku interface also isn't overloaded with ads and program options being "pushed" at you.
Voice searches can be easily carried out by pressing the mic button on the remote control, and the TV also "Works with" Siri, Alexa, and Hey Google when you add your own device for those platforms. AirPlay 2 is supported for streaming, letting you cast video and music to the TV from your iOS device or Mac computer.
Having never tested a set with Roku baked in before, it took some time to get used to the TV functions being embedded in the long-familiar streaming interface. You navigate and select inputs the same as you do with streaming apps, and a press of the remote's star button calls up the picture settings menu. TCL makes it easy to get up and running, with basic and very general categories like TV Brightness, Local Contrast, and HDR Picture modes (with Dark and Bright settings). But you'll need to keep scrolling, a bit annoyingly, to the Picture Fine Tune menu to access other adjustments like Brightness, Contrast, and Color. There's also a more advanced picture menu with 11-point color temperature adjustments located in the Roku control app (iOS and Android).
When using the set's built in ATSC 1.0 broadcast TV tuner, you'll get program guide-like on-screen overlays with details about the show you've selected, and you can edit the channel list to limit it to just the ones you regularly watch. A neat feature is Live TV Rewind, which lets you scroll back up to 30 minutes when a storage device is plugged into the set's USB port.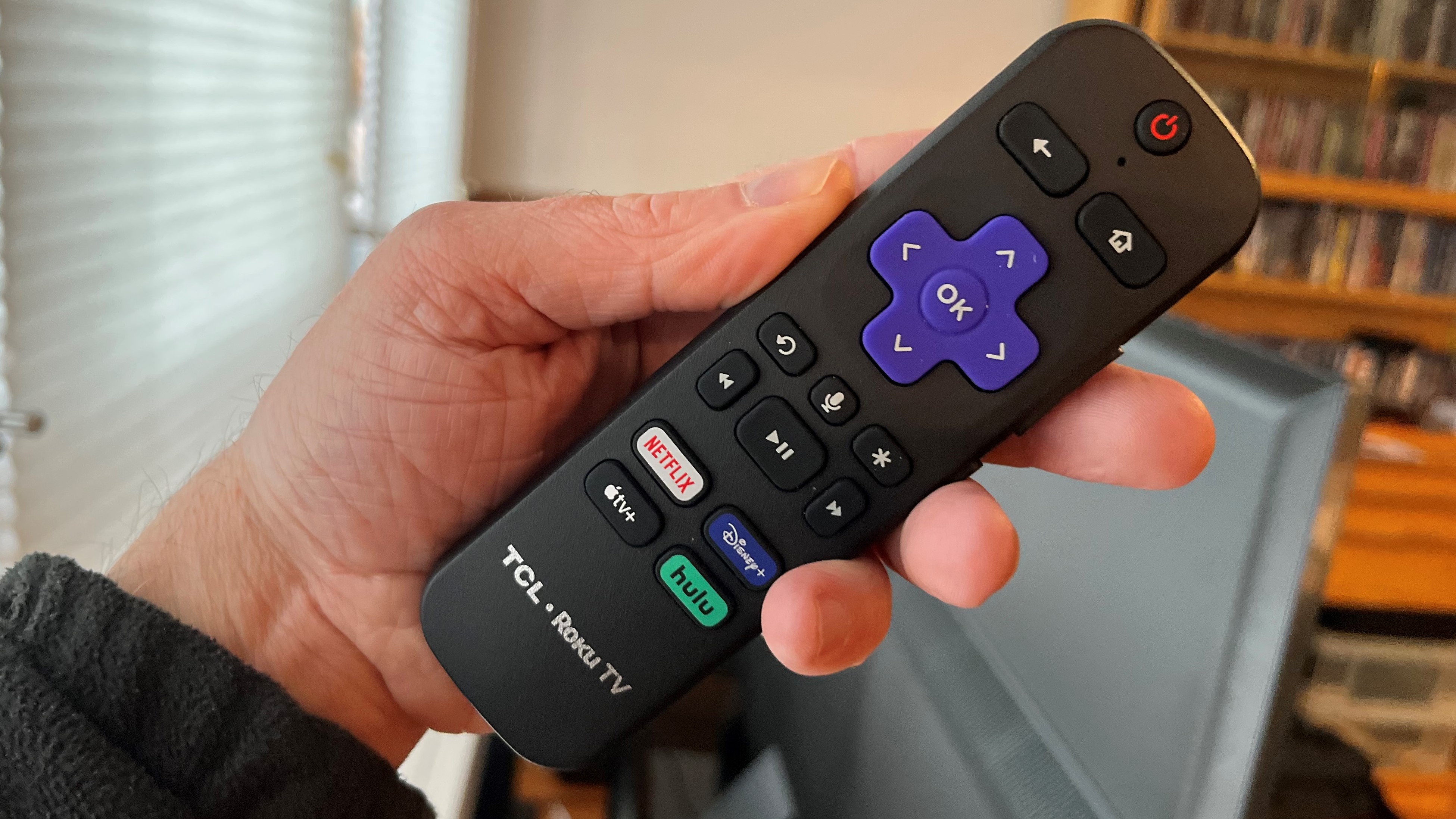 Smart TV & menus score: 4.5/5
TCL 6-Series Roku TV (2022) review: gaming
VRR up to 144Hz, ALLM, FreeSync Premium Pro support
Low 10.1ms input lag
Auto Game Mode
TCL says its 6-Series TVs have Game Studio Pro. And while what that exactly means is unclear, it appears to be an umbrella term for the set's many gaming-related features. Of these, the most notable is VRR with up to 144Hz support. Another is ALLM, along with FreeSync Premium Pro. These are all great gaming extras to find in an affordable TV.
The 6-Series sets also have Auto Game Mode, which basically means that the TV automatically switches over to settings optimized for gaming when it detects an input from a compatible console. Otherwise, there's no "Gaming Dashboard" similar to the ones on LG's TVs, or the Gaming Hub interface found on Samsung's sets.
I measured input lag in the set's Gaming picture mode at 10.1ms using a 4K test meter. That's a great result, and one that ranks the 6-Series among the the best gaming TVs when combined with its impressive feature-set.
TCL 6-Series Roku TV (2022) review: value
Affordable for a mini-LED TV
Great picture quality for the price
Gaming features rival those found on expensive TVs
This is the second budget TV I've tested with a mini-LED backlight (the first was the Hisense U8H), and I'm astonished at the difference that feature makes, and that it can be incorporated into such an affordable set.
The 6-Series TV I tested delivered the kind of deep, rich blacks I'm used to seeing on much more expensive models, and its impressive local dimming ensured that visible artifacts like backlight blooming were kept to a minimum. Overall, this TV delivers a very clean and punchy looking picture for the price.
If you're a gamer, the value of the 6-Series goes up even further. (Unfortunately, our value scale only extends to 5, so I can't give it higher points.) It offers the kind of gamer-oriented features normally found in pricier TVs, and in key ways appears specifically designed to cater to the gaming crowd.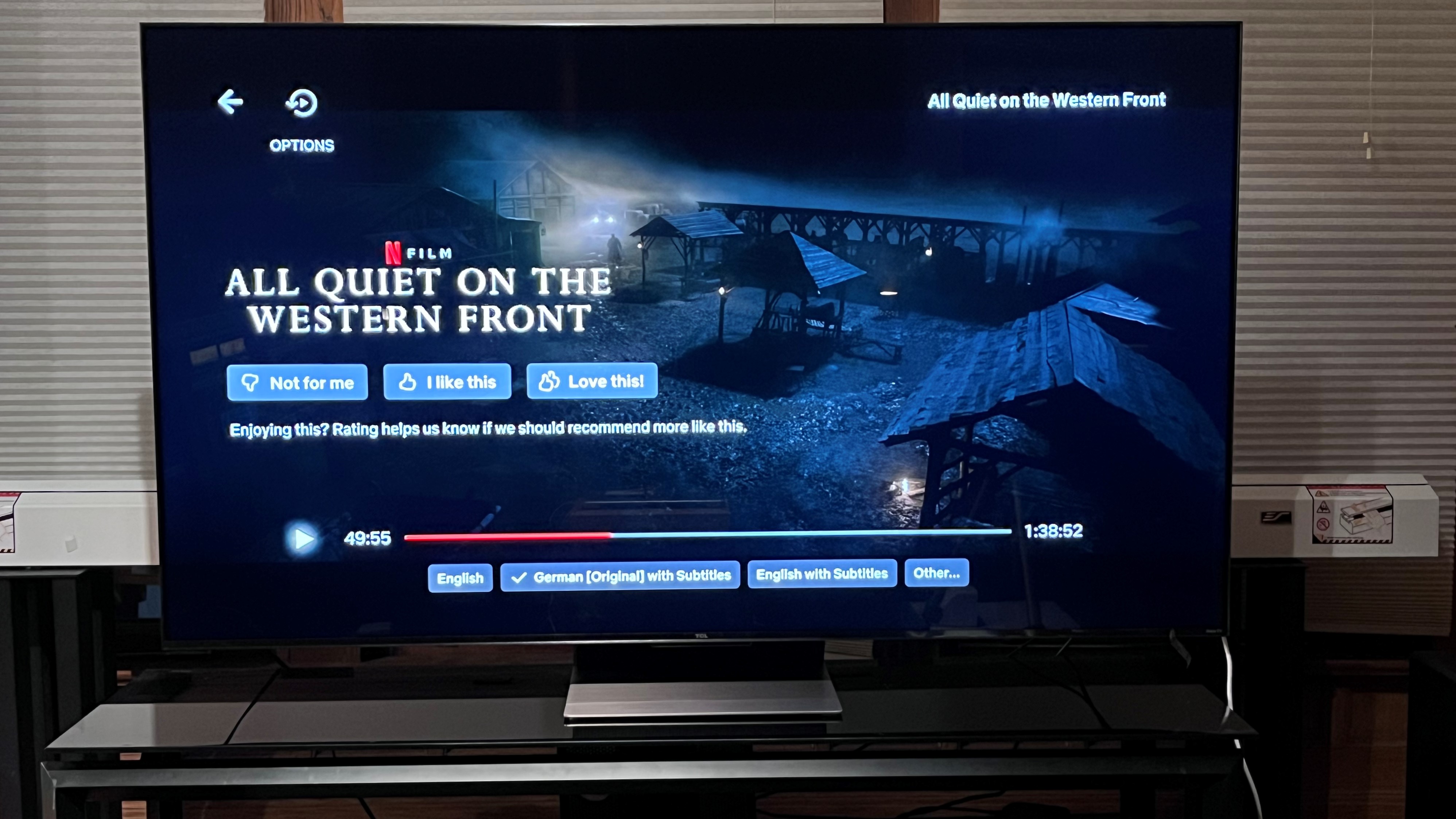 Should I buy the TCL 6-Series Roku TV (2022)?
Buy it if...
Don't buy it if…
Also consider...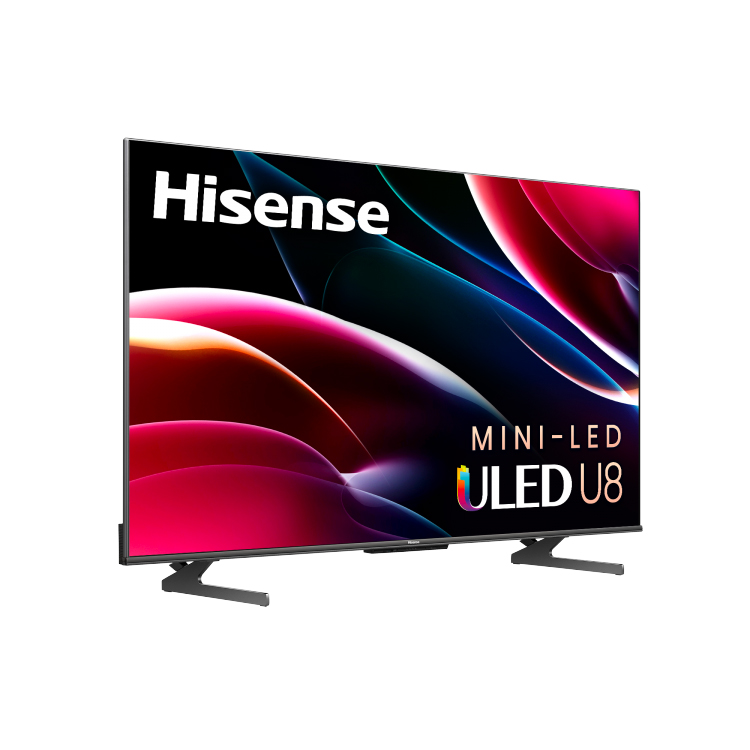 Hisense U8H mini-LED
Hisense's U8H series sets are another example of a budget TV lineup with mini-LED backlighting and high brightness. The U8H series also has gaming oriented features like 4K 120Hz and VRR, though its local dimming isn't as effective as the 6-Series. 
How I tested the TCL 6-Series Roku TV (2022)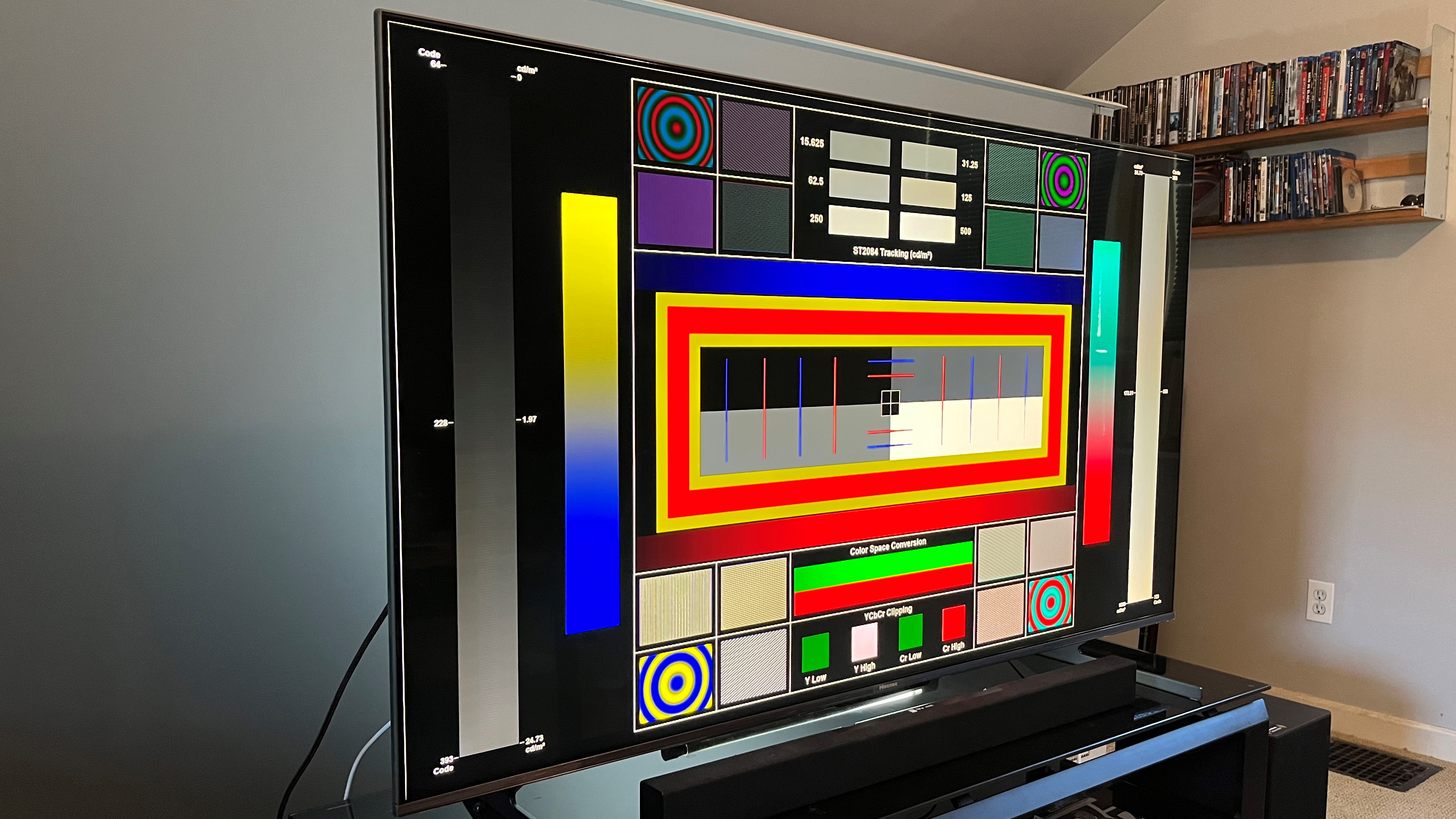 I spent about 15 hours measuring and evaluating the TCL 6-Series Roku TV
Measurements were made using Calman color calibration software
A full calibration was made before proceeding with subjective tests
When I test TVs, my first step is to spend a few days using it for casual viewing for break-in and to assess the out-of-box picture presets. The next step is to select the most accurate-looking preset (typically labeled Movie or Cinema) and measure the white balance (grayscale), gamma, and color point accuracy using Portrait Displays' Calman color calibration software. The resulting measurements provide Delta-E values (the margin of error between the test pattern source and what's shown on-screen) for each category, and they allow for an assessment of the TV's overall accuracy.
Along with those tests, I make measurements of peak light output (recorded in nits) for both standard high-definition and 4K high dynamic range using a 10% white window pattern. Coverage of DCI-P3 and BT.2020 color space is also measured, with the results providing a sense of how faithfully the TV can render the extended color range in ultra high-definition sources.
For the TCL 6-Series Roku TV, I used the CalMan ISF workflow, along with the advanced picture menu settings in the Roku control app, to calibrate the image for best accuracy with SDR and HDR sources. Once done, I watched a range of reference scenes on 4K Blu-ray discs that I've gathered after years of TV and projector testing to assess the TV's performance, as well as new Dolby Vision-encoded material streamed from sources like Netflix and HBO Max.
First reviewed: January 2023